Easy Mother's Day Fruit Bouquets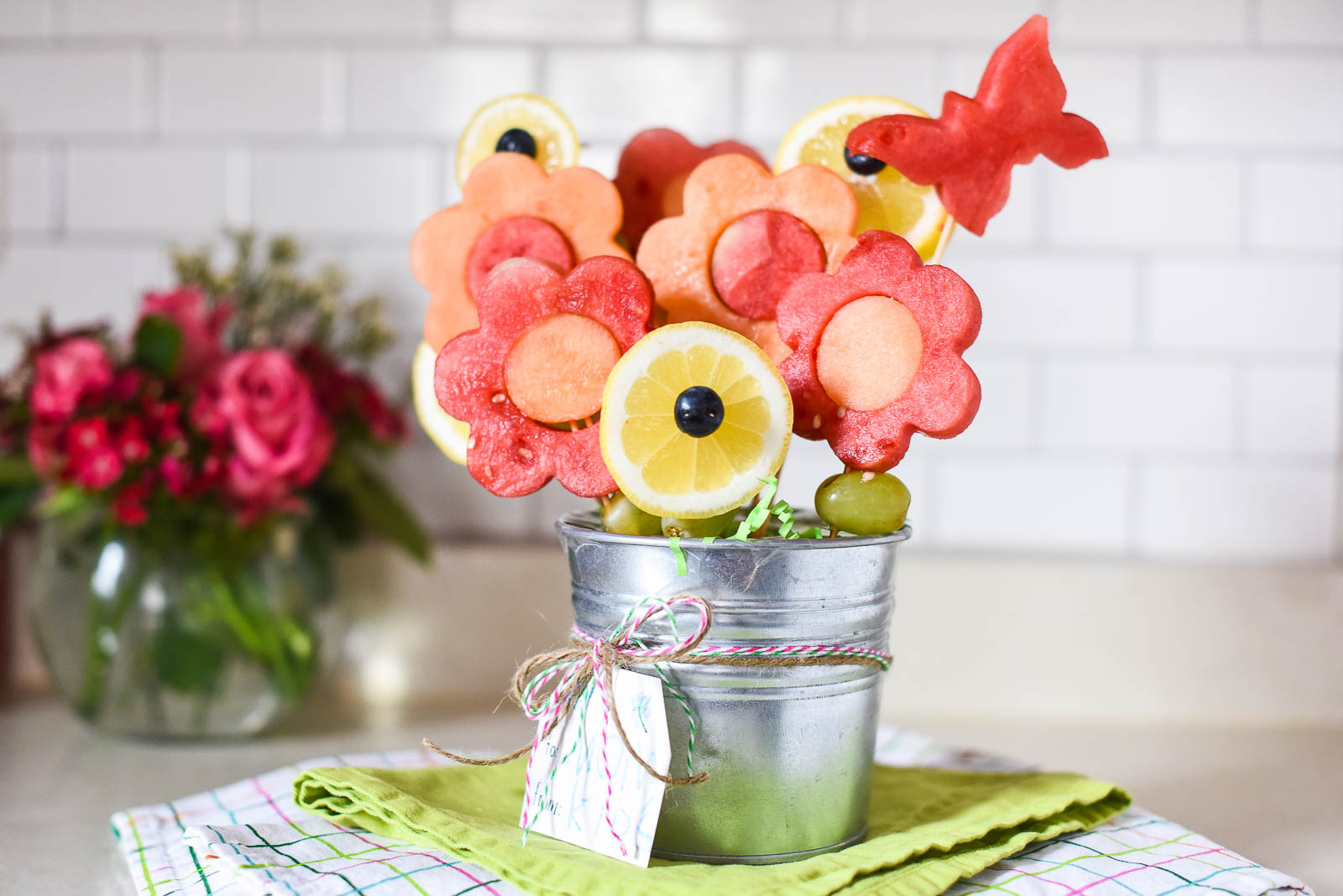 Want to surprise mom with a sweet and unique homemade gift for Mother's Day?
These adorable Mother's Day Fruit Bouquets are a simple, delicious and affordable way to show mom you care. Plus, they're so easy to make, even preschoolers can get involved.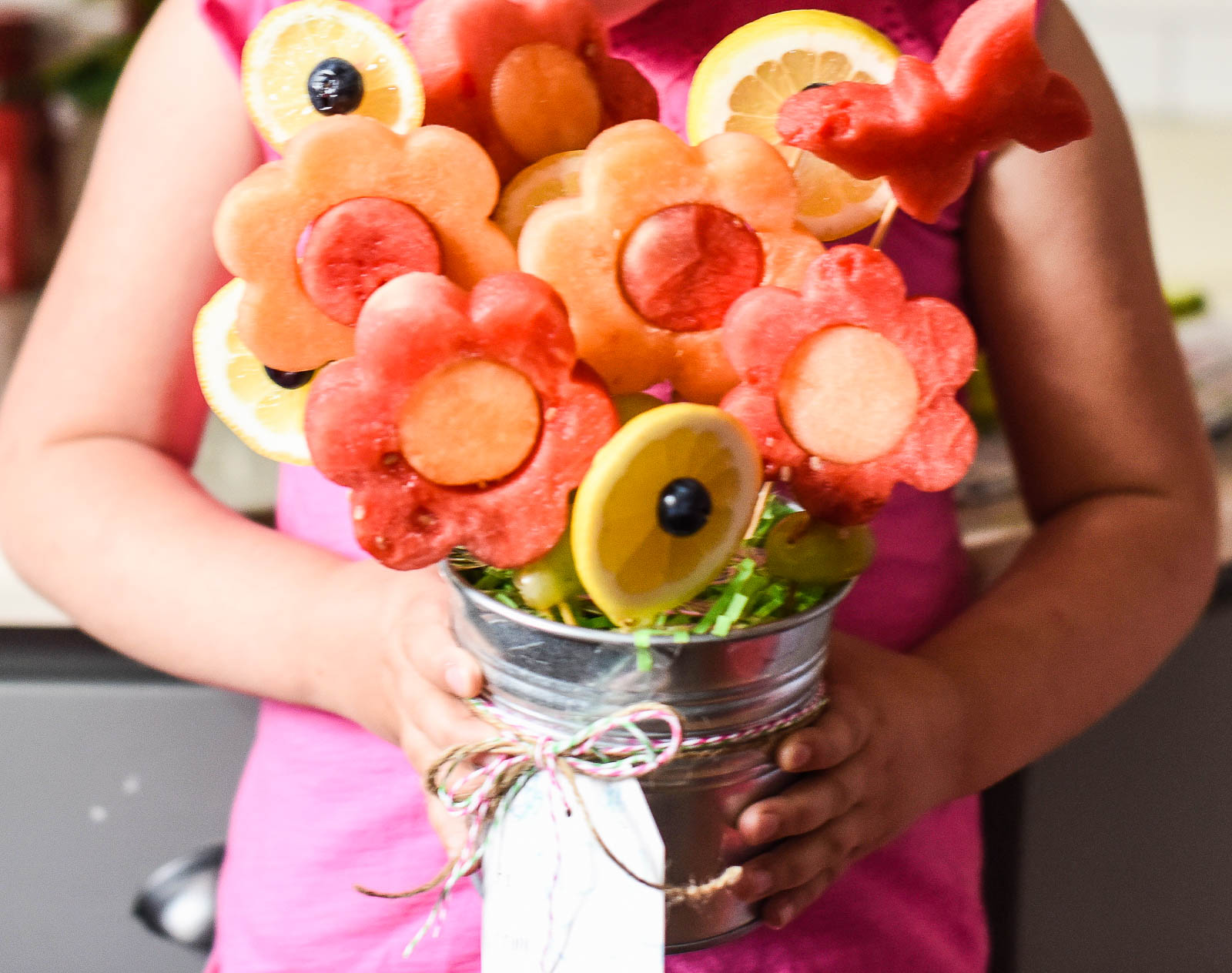 Perfect for bringing along to a Mother's Day brunch or simply to drop off at Grandma's house, this is a sweet surprise that's sure to be appreciated and enjoyed by all.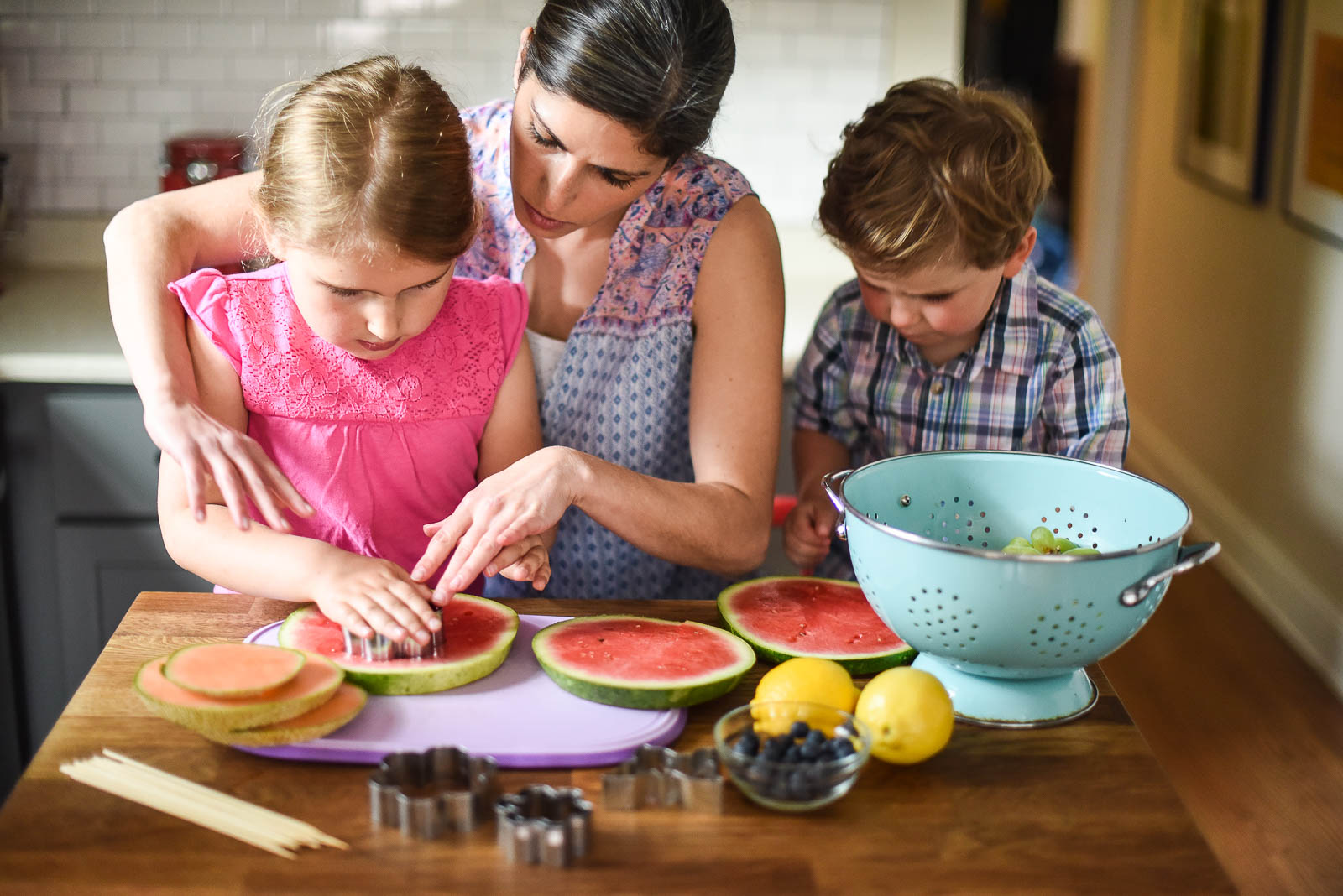 These fruit bouquets are a cinch to create using simple flower cookie cutters and large slices of easy-to-cut melon. In fact, my five-year-old and three-year-old had no problem cutting perfect flower shapes from each melon slice to create a bouquet for their grandma.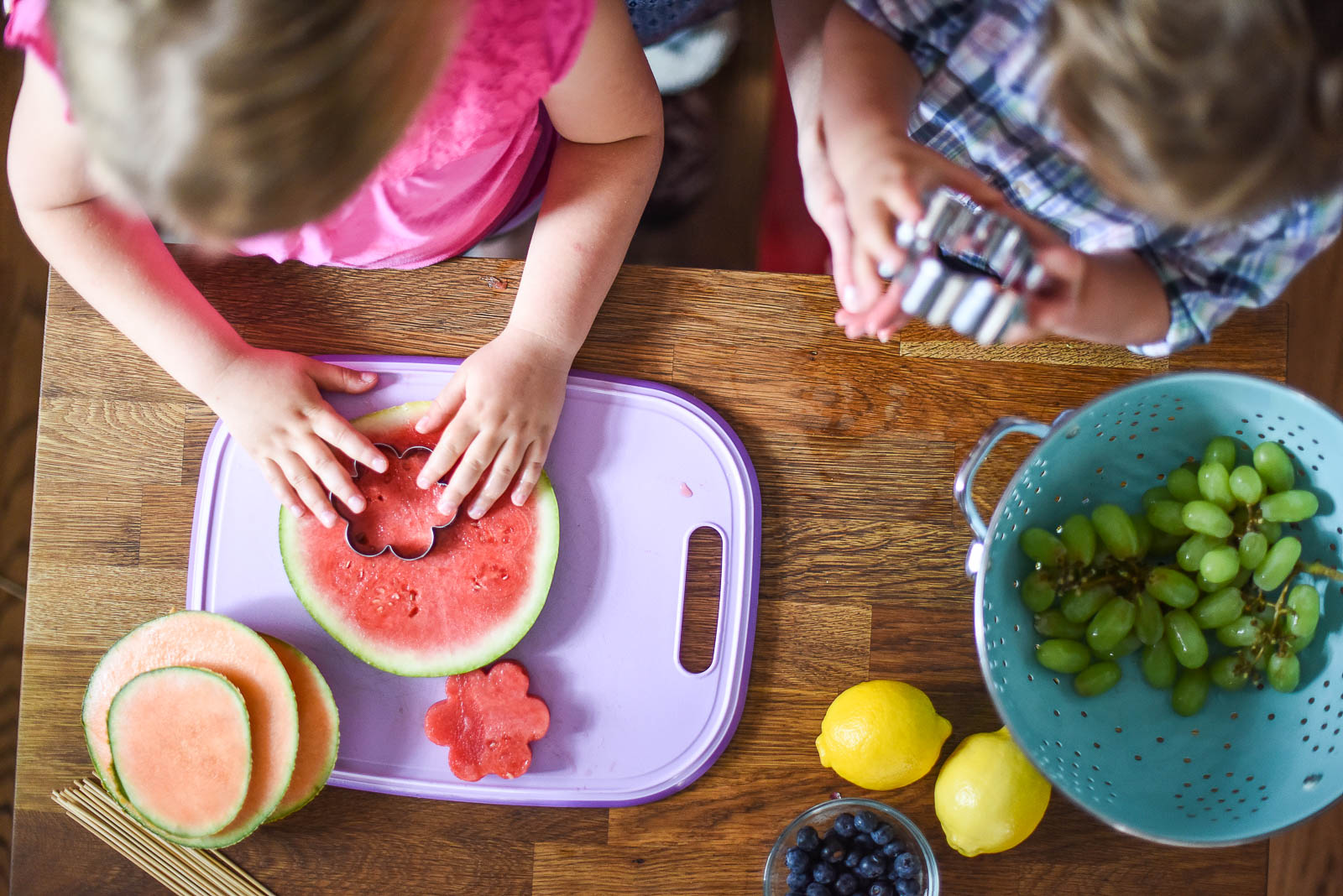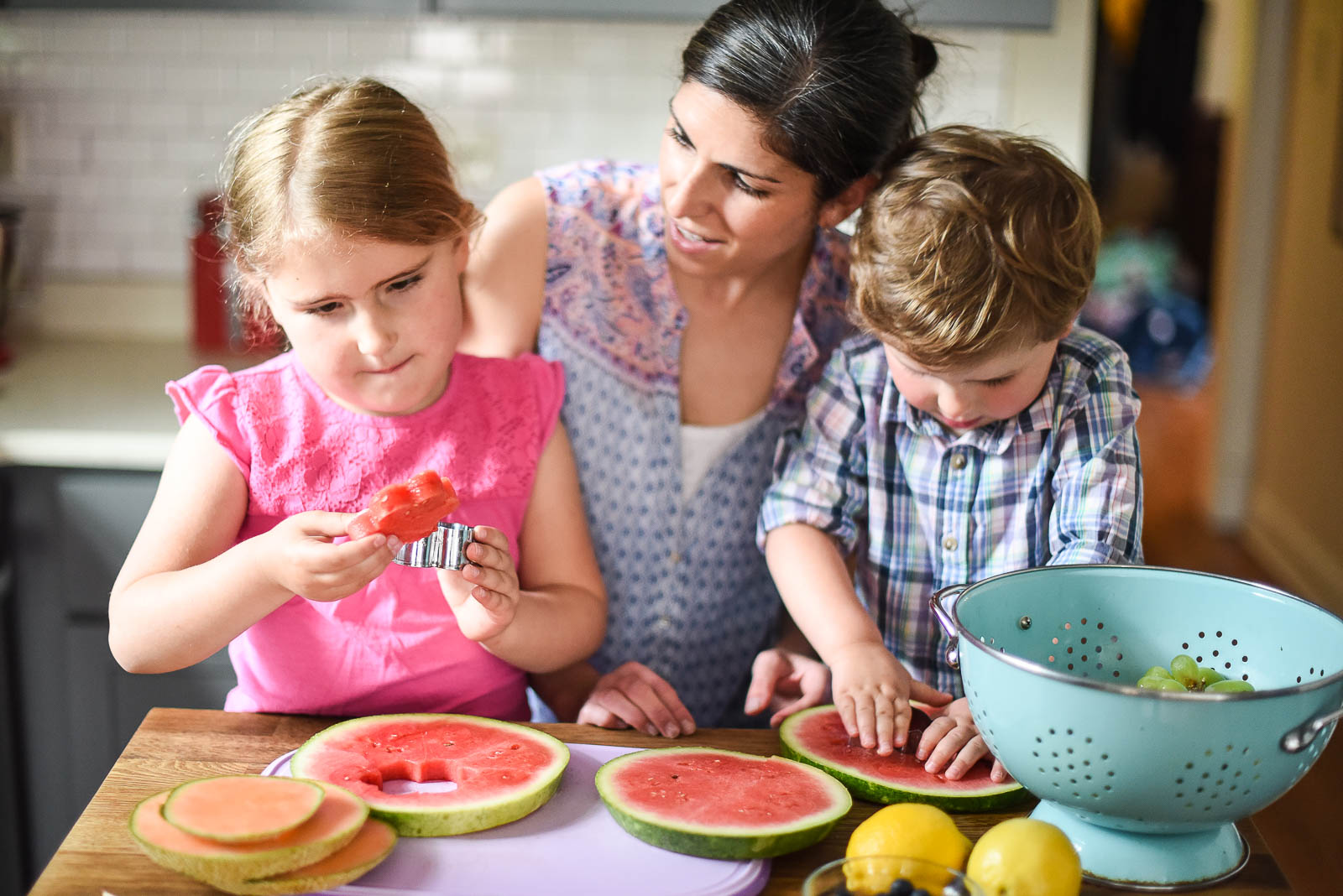 Once the flower shapes were cut, we used smaller, circular cookie cutters to create a contrasting center for each flower using alternating types of melon. We held them together using toothpick and bamboo skewers.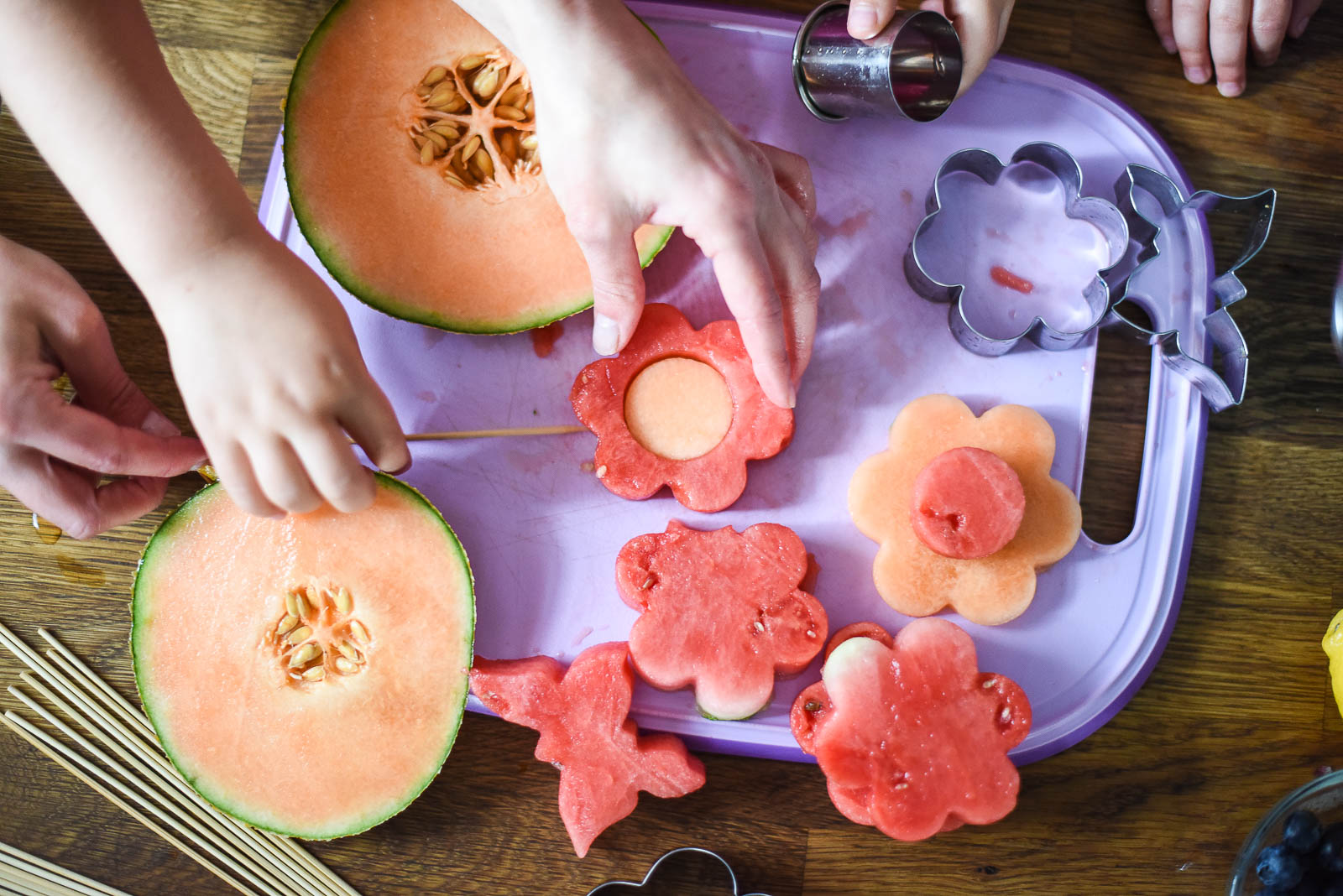 To complete the look, we strung green grapes on the skewers at alternating angles to resemble leaves. This was a wonderful task for my youngest child (who is three). He took it quite seriously and felt proud to help so completely with this important job.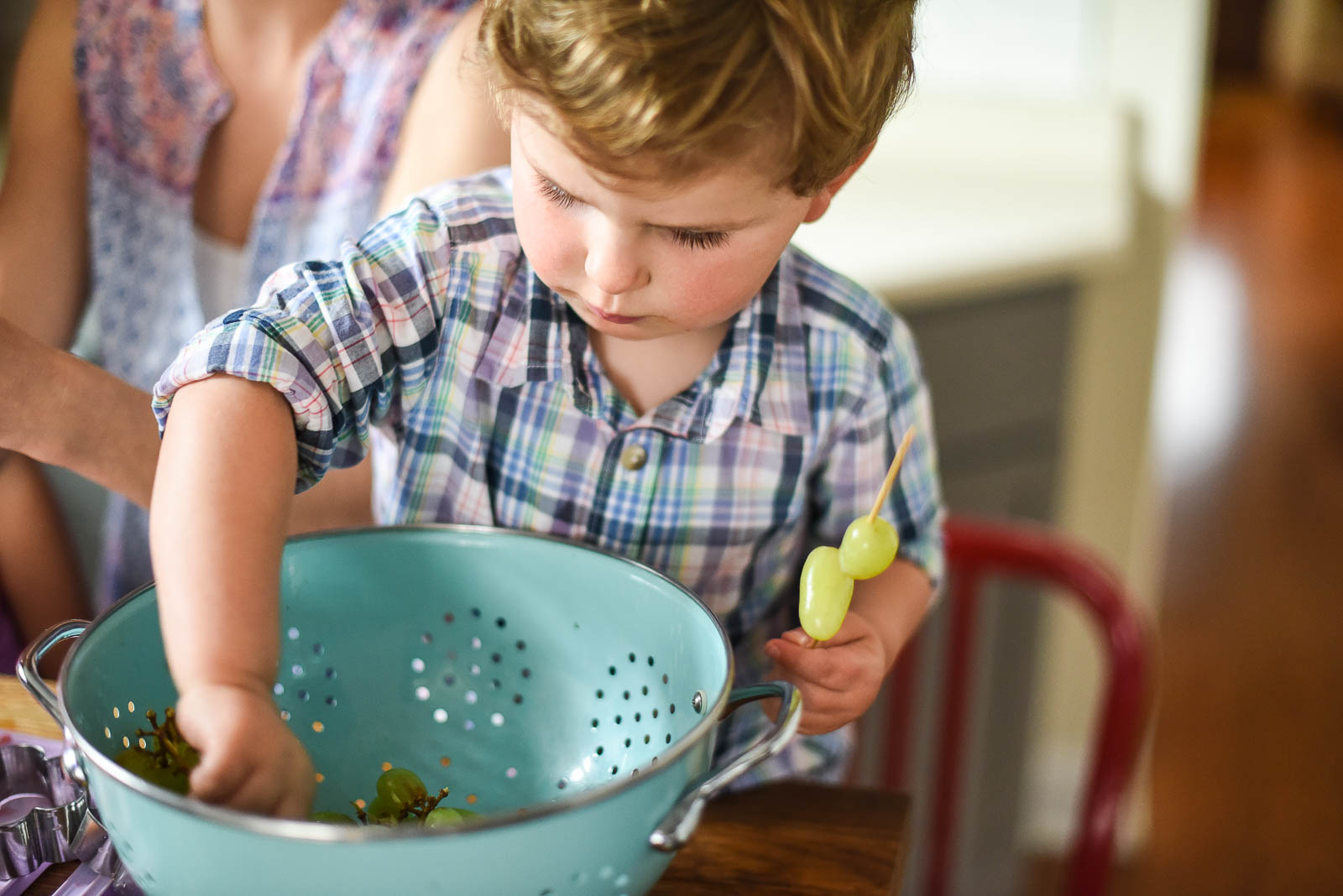 To add a bit of contrasting color and visual interest to our bouquet, we threaded sliced lemons onto skewers and used a toothpick to secure a blueberry in the middle of each one, to create a different type of "flower." This would also work well with orange slices and was another easy task for the kids to complete.
Finally, we arranged our flowers in a small tin flower pot. To keep the pot from tipping, I placed a whole lemon in the bottom. I stuck strips of transparent tape across the top of the pot in a grid pattern before inserting the bamboo skewers to help the fruit flowers stay upright. Then I used a bit of green crinkle paper Easter grass to fill the pot and hide the tape lines.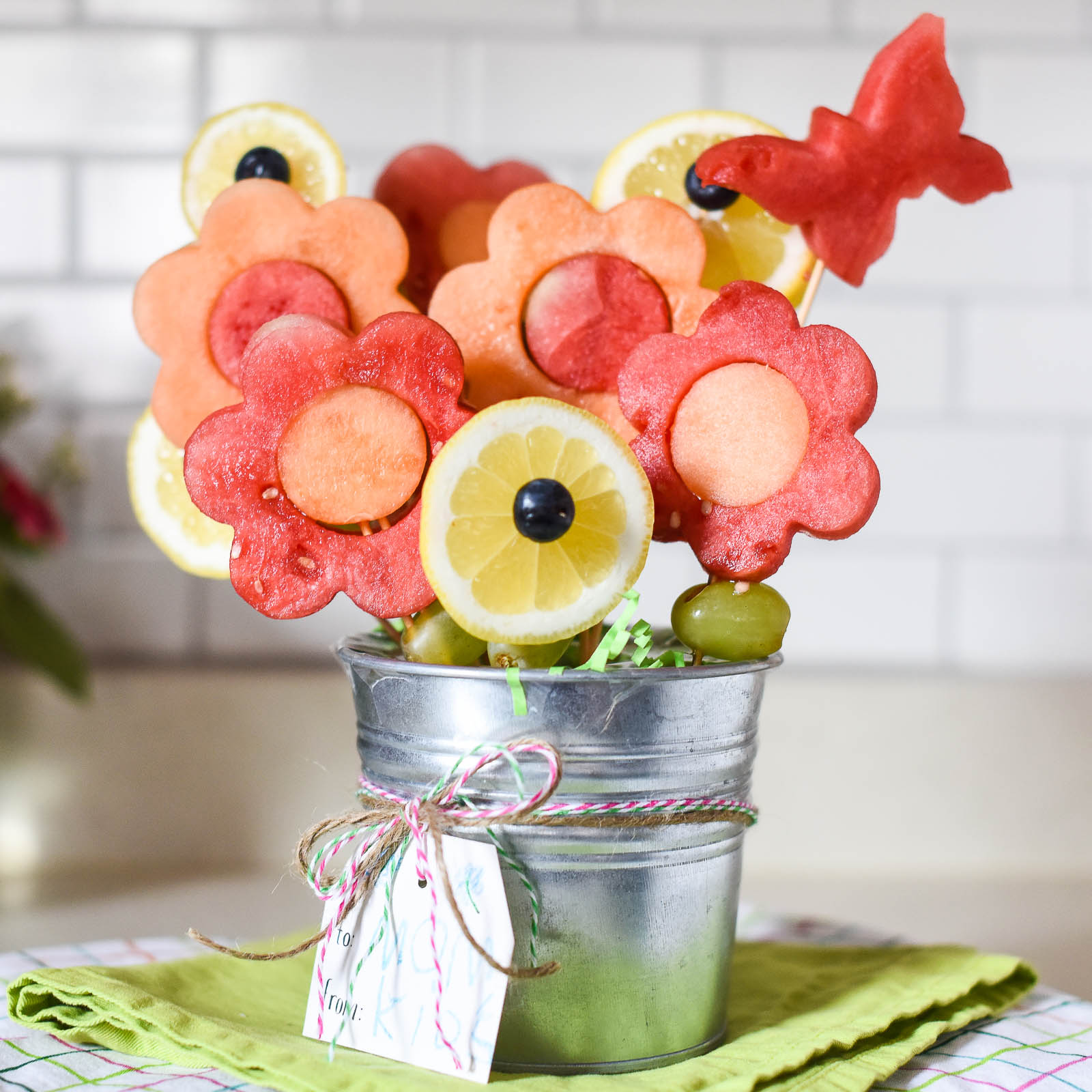 The final effect was really quite adorable and the kids were incredibly proud to share their gift with their grandma (who loved it of course). They were also quite pleased when she shared her treat with them — I've never seen them so excited to eat fruit! In the true spirit of Mother's Day, it was a very sweet and simple moment.
Wishing all the moms out there a very happy Mother's Day!
Mother's Day Fruit Bouquet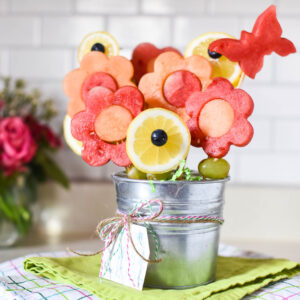 INGREDIENTS
1 small watermelon, sliced into rounds about 1 inch thick 1 small cantaloupe, sliced into rounds about 1 inch thick
2 lemons
1 pint of fresh blueberries
1 bunch green grapes
Small flower shaped and circular metal cookie cutters
10 bamboo skewers
wooden toothpicks
1 small tin flower pot
Transparent tape
Green Easter grass (optional)
INSTRUCTIONS
Cut flower shapes from melon slices. Using a smaller, circular cookie cutter, cut out centers of each flower and fill each hole with a round from another type of melon.
Slide a bamboo skewer into the side of each flower being careful to thread the skewer all the way through the circular centerpiece. Add grapes to the skewers at an angle to resemble leaves.
Place finished flowers on a paper towel until ready to use.
Slice lemon into 1 inch thick slices and thread a bamboo skewer through each slice. Use a toothpick to secure a blueberry to the center of each lemon circle and break off any excess pick.
To create the arrangement, place 1 whole lemon in the bottom of the flower pot. Stick lines of transparent tape across the top of the flower pot in an overlapping grid pattern, leaving holes for the skewers to stand in. Arrange flowers in the pot at various angles and heights until the pot is full. Add Easter grass to the pot to hide the tape.
Cover bouquet loosely with a plastic bag and refrigerate until ready to use.