Heart Healthy Gourmet Waffles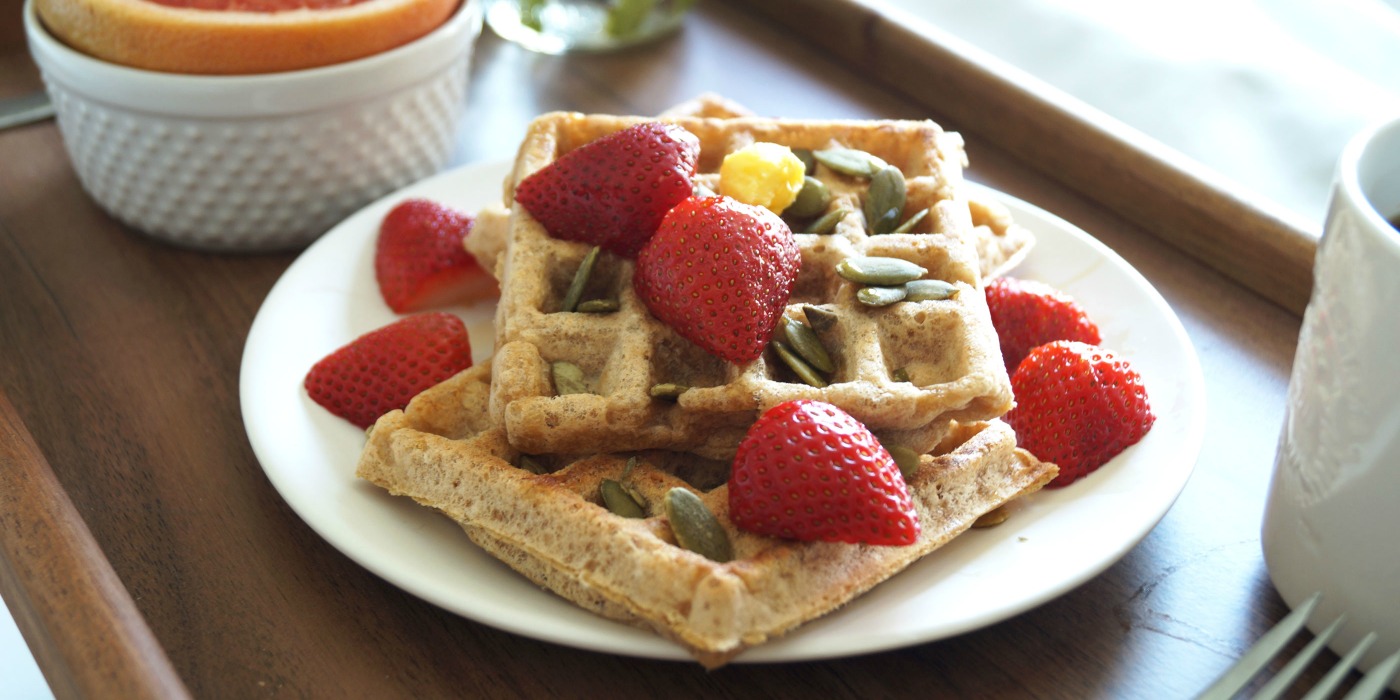 Treat your mom to a heart-healthy + flavorful breakfast in bed this year! She'll appreciate not having to cook and your efforts for creating a meal that is good for her too!
My heart-healthy waffles are made with omega-3 rich flaxseeds, fiber-packed oatmealand detoxifying apple cider vinegar! Top with fresh strawberries + a side of grapefruit for a boost of vitamins and minerals and last but not least, don't forget a hot cup of mom's favorite coffee or tea!
Happy Mother's Day!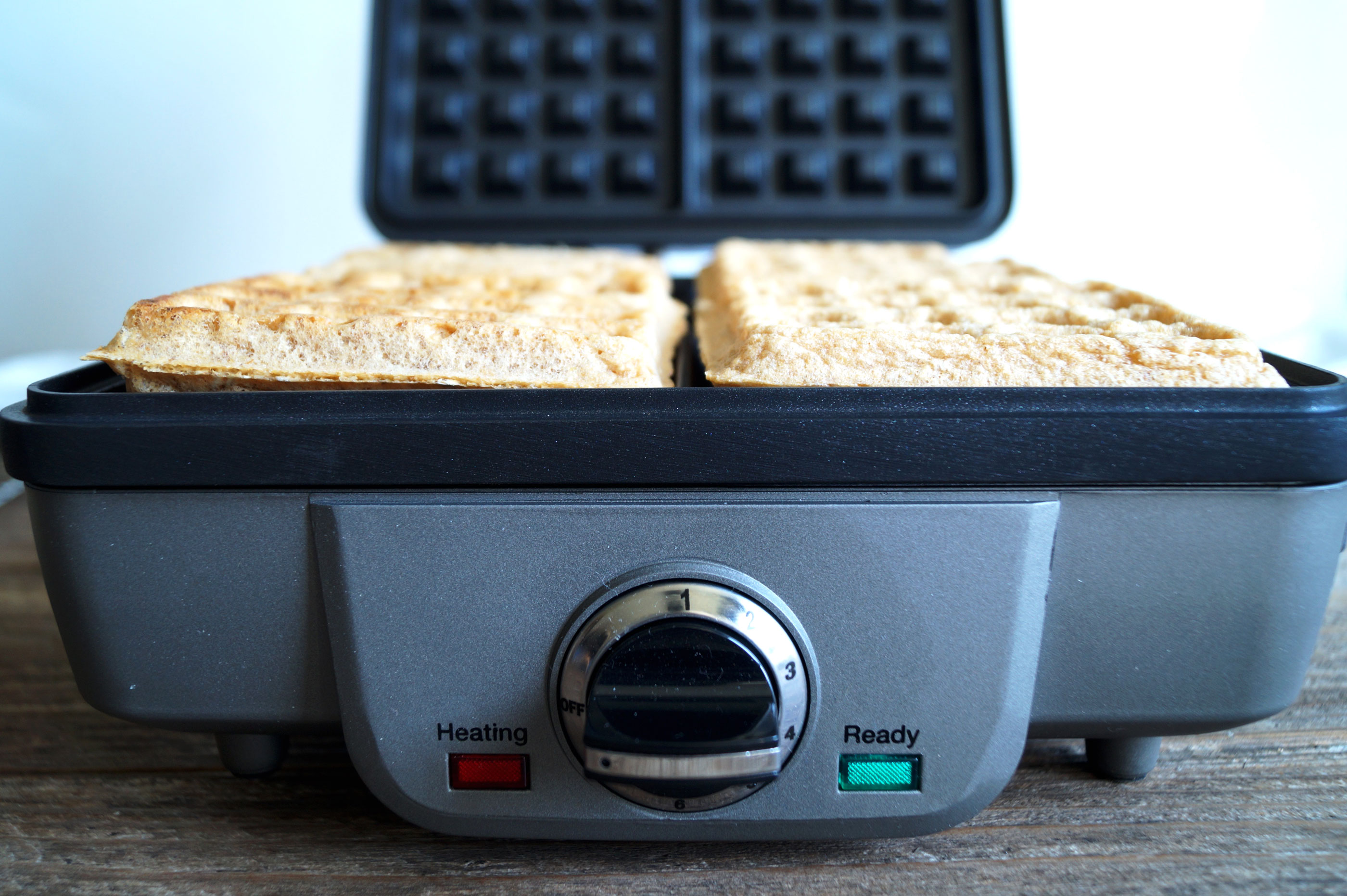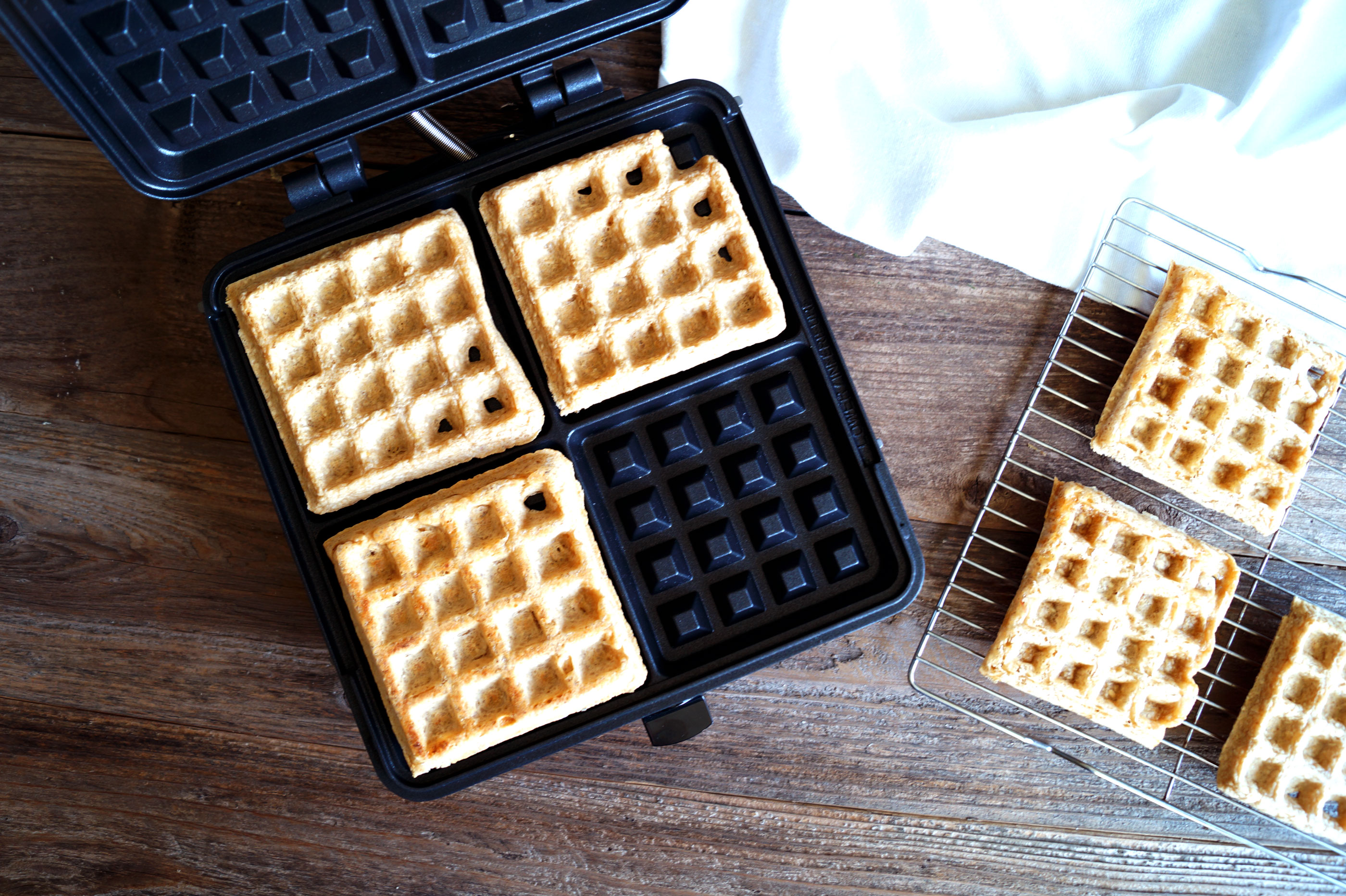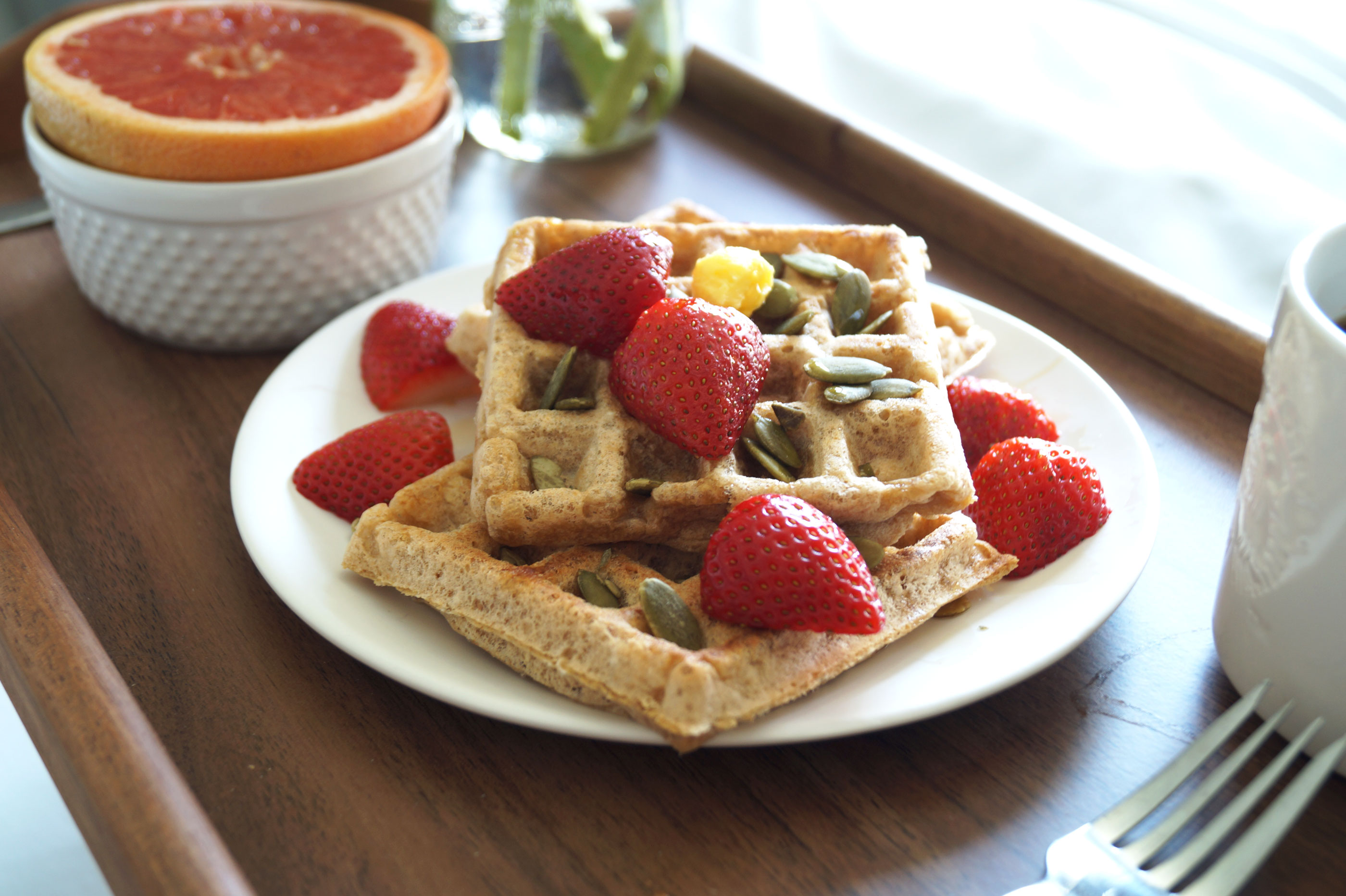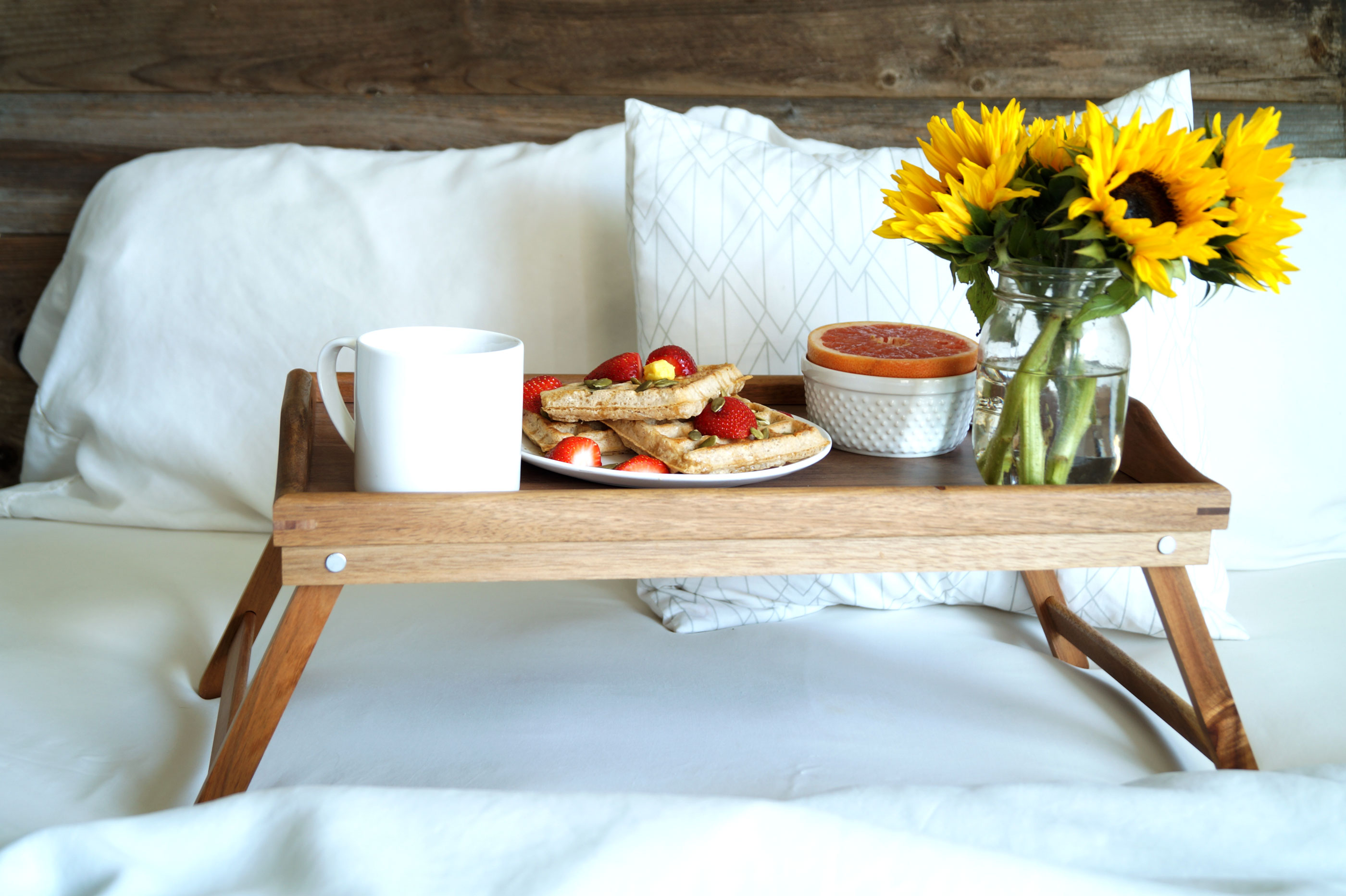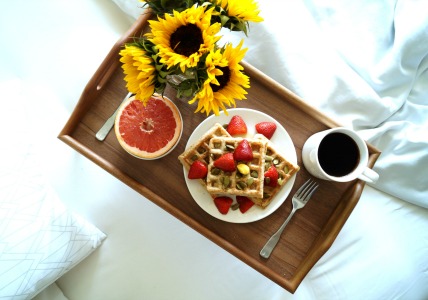 Heart Healthy Gourmet Waffles Recipe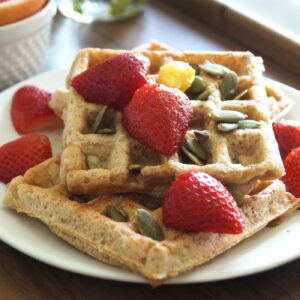 INGREDIENTS
1 cup of whole-wheat pastry flour
½ cup oats (ground into flour)
1 tablespoon of baking powder
½ teaspoon salt
3 tablespoon of coconut oil
1.5 cups unsweetened almond milk
1 tablespoon of apple cider vinegar
2 tablespoons of ground flax seed
6 tablespoons of water
INSTRUCTIONS
In a small bowl, combine ground flaxseeds with water. In another small bowl, combine apple cider vinegar with almond milk. Set both aside for a few minutes.
Using a high-speed blender or food processor, grind oats into oat flour.
Add oat flour, whole-wheat flour, salt and baking powder into a large bowl and mix with a whisk. Then add the almond milk apple cider vinegar mixture, flaxseed water mixture, and coconut oil into a large bowl and whisk everything together.
Make waffles in your waffle maker following the manufacturer's instructions.
When your waffles are nice and crispy, move to a plate and top with a drizzle of maple syrup and fresh strawberries!
More Heart Healthy Ingredients:
Flaxseeds
Flaxseeds contain omega-3 fatty acids, which are known as "good" fats that support heart health. Ground flaxseeds also act as little scrubber brushes helping to clean out & support a healthy digestive system.
Berries
Berries are delicious, low in sugar, packed with fiber and immune boosting anti-oxidants! Berries are one of nature's best sources for antioxidants, which help fight against free-radicals that can damage the lining of your arteries
Oatmeal
Ground oatmeal is a great alternative to traditional white flour for pancakes, waffles or any baked treat! Oats are a fantastic source of fiber, and are made of a special type of soluble fiber called beta-glucan. Beta-glucan has been shown to lower the LDL "bad" cholesterol levels.
Grapefruit
While all citrus are excellent additions to a healthy diet, grapefruit is a classic breakfast citrus. You may be surprised to learn that nutrients in grapefruit have been shown to help lower the LDL "bad" cholesterol levels as well as help improve the elasticity of blood vessels, which can help to improve blood circulation overall!
Coffee
Coffee beans are in fact packed with anti-oxidants! Just make sure to choose Organic coffee to avoid pesticides, which are common for non-organic coffee beans. Plus hold off on the artificial creamer! Try adding a splash of coconut milk with a dash of cinnamon for a healthier coffee treat.