Strata Breakfast Recipe with Roasted Onions and Butternut Squash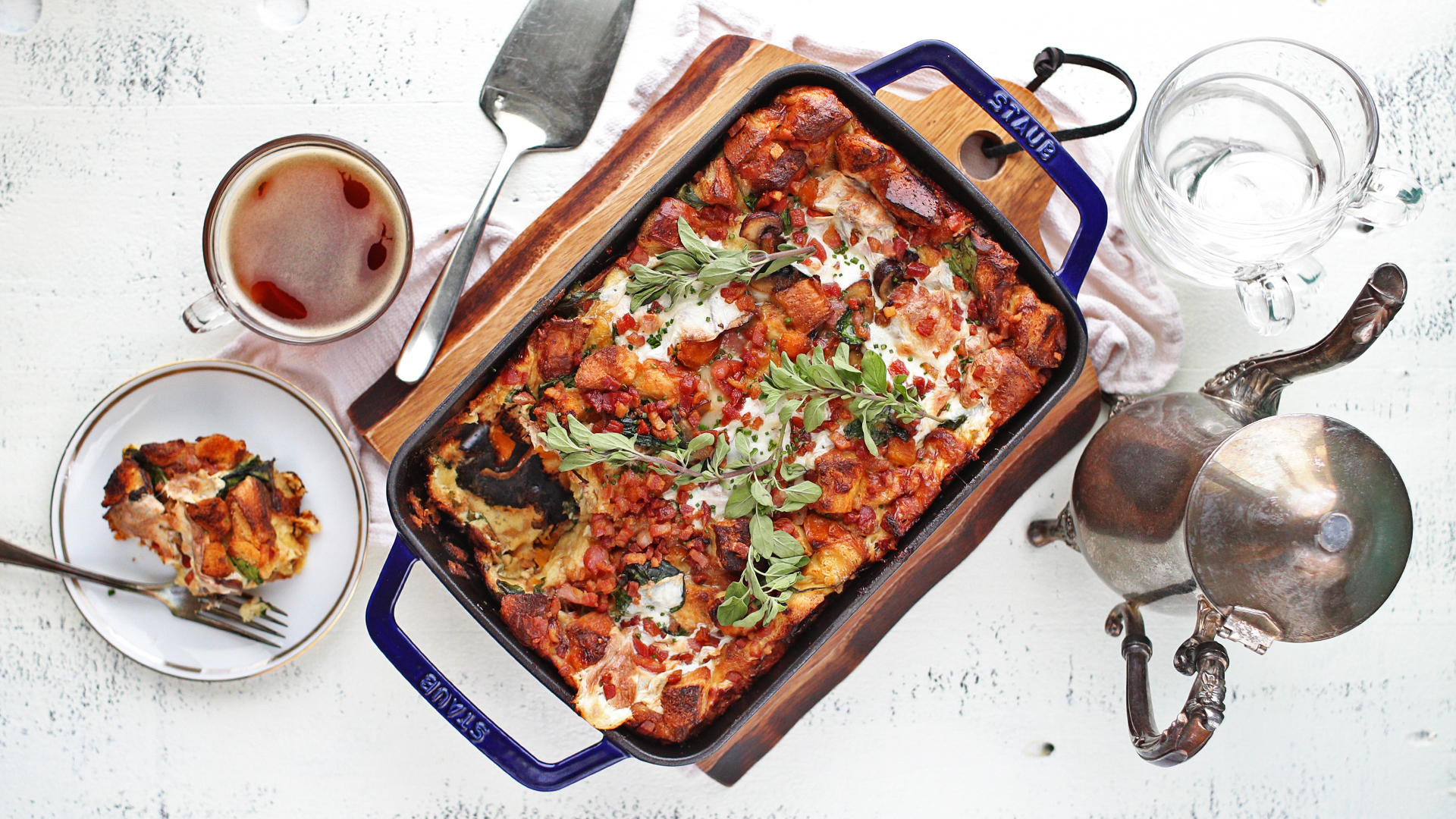 Maybe it's because the holidays are packed into the winter season, but it certainly seems like breakfast and brunch casseroles are always on the menu this time of year. Casseroles are hearty, hot, and always loaded with protein to help stick to your bones on those cold mornings and early afternoons.
A strata is essentially an egg breakfast casserole but with the addition of toasted, or crusty, bread mixed in. Think of it as a savory breakfast bread pudding with vegetables instead of a sweet custard.
One of my favorite things about making something as classic as a strata is the ability to customize it to my liking. For instance, a strata traditionally may use something like peasant bread or perhaps an old French baguette, but in this case I used a loaf of brioche and I could not be happier with my decision. In every dish that I make, I am always looking to provide a balance of flavors, so the sweetness in the bread helps to even out the taste from the salty pancetta or the savory butternut squash and umami mushrooms. There is nothing better than getting a bite with all of the different tastes on them for a flavor explosion. With all of this being said I will say if you want to stick to a traditional strata bread choice, then I say do it, and yes it will still be amazing.
While the bread toasts in the oven I decided to take the time to caramelize some yellow onions in the rendered pancetta fat. To properly caramelize onions you need to take the time to do it, that's it. You are looking at a time commitment of at least 20 minutes to get a nice brown caramelization on the onions. From there, I added in the vegetables and sautéed them for a few minutes. The important thing here is to not overcook the squash and mushrooms because they will also cook in the oven.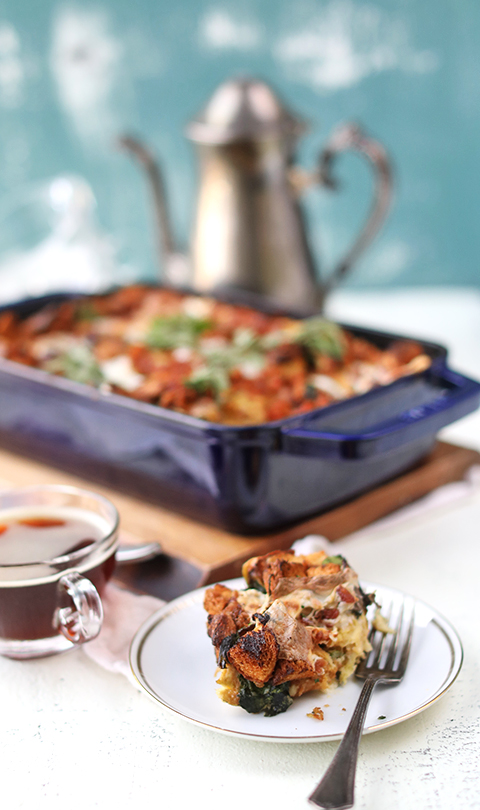 Once everything is cooked, you simply combine with eggs, cheese, milk, spinach, salt and pepper, and place it in your casserole dish. I like really strong flavored cheeses so I went with gruyere, but if that is too intense for you then I would probably look to shredding some mozzarella, or maybe do a combo of both. I topped off the strata with some slices of mozzarella and then the cooked pancetta. You want to cover the strata with foil when baking it, then remove the foil when there is 15 minutes left in the cooking process to help brown the top and allow for it to rise a little bit. Honestly this strata recipe is so good we all ate it for lunch today. Enjoy!
Pancetta & Veggie Egg Strata Breakfast Recipe with Roasted Onions and Butternut Squash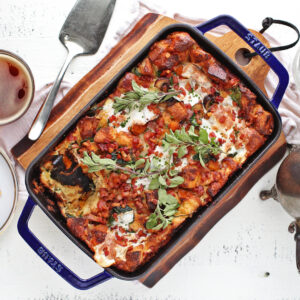 INGREDIENTS
1 loaf of brioche bread cut into 1" cubes
5 ounces of small diced pancetta
1 peeled and julienne yellow onion
1 cup of medium diced butternut squash
1 cup each of sliced cremini and button mushrooms
3 cups of packed baby spinach
10 eggs
2 cups of shredded gruyere cheese
3 cups of whole milk
6 to 8 slices of mozzarella cheese
Kosher salt and fresh cracked pepper to taste
INSTRUCTIONS
Preheat the oven to 375°.
Spread out the brioche on a ½ cookie sheet tray lined with parchment paper and bake for 15 minutes or until toasted on all sides. Set aside.
Next, add a large pan to a burner over medium heat and cook the pancetta until browned.
Once cooked, set the pancetta aside and add the onions to the pan and caramelize, about 20 minutes.
Once browned add in the squash and mushrooms and sauté for 5 to 7 minutes over medium heat. Remove from the burner.
Add the toasted brioche to the pan along with baby spinach, salt and pepper and mix. Transfer the mixture to a deep casserole pan.
In a large bowl whisk together the eggs, milk, gruyere cheese and salt and pepper until combined. Pour the mixture overtop of the toasted brioche and vegetables and mix in.
Spread out the mozzarella slices over top and evenly sprinkle on the cooked pancetta.
Wrap the pan in foil and bake for 30 minutes.
Remove the foil and bake for a further 15 minutes or until browned and firm in the center.
Let cook for 3 to 5 minutes before serving.