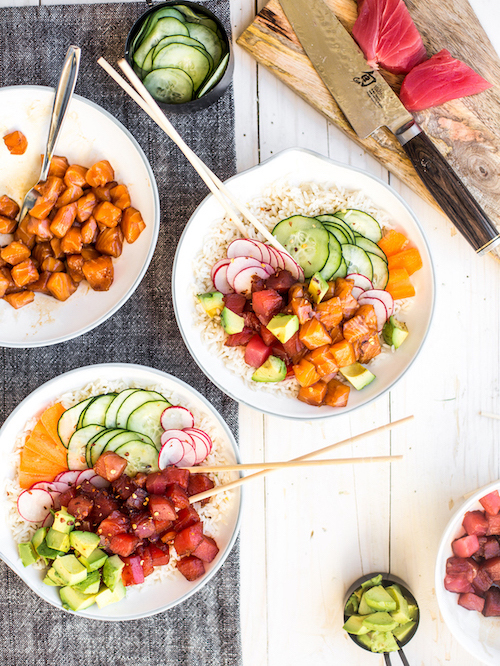 I have decided that my entire body feels like it is constructed of cheese, cookies and champagne from the holidays. On one hand, I feel warm and fuzzy from all the amazing gatherings from the December season, and on the other hand, I couldn't be more ready for a mega reset in my life!
I'll be honest and tell you I have been a walking new year's cliché ever since I watched Marie Kondo on Netflix. We all know that January is a fantastic time to regroup your body and home for the New Year but Netflix really hit the mark this year as far as 'inspirational' shows go! Since watching, I've purged 10 boxes of 'un-joyful' stuff and clothes and it feels amazing.
I figured if I was going to do my life-reset right I needed to do the same with my refrigerator and pantry. I've never been really great at sticking to a crazy diet for January but my goal for the month was to incorporate tons of 'freshness' into my life. For me this meant smoothies, whole fruits and vegetables, and poké! One of my goals for the New Year was to try and make foods that I love to eat out with at home. Poké is a fantastic fresh, reset meal to incorporate into your diet and with a few simple steps you'll have your favorite bowl in the comfort of your own home and you make even save a few bucks (those toppings add up!).
BASE
Poké bowls are traditionally served with a bed of brown or white rice as the base of each bowl. If I'm feeling like I need a lighter meal I'll usually swap out the rice for fresh greens or do half and half for a 'salad' feel.
FISH
When I think of fish options for poké I always scan my favorite sushi cuts and pick something from there. I'm allergic to shellfish so I always opp for tuna or salmon but other fun options include imitation crab mean, baby shrimp, yellow tail, and albacore. One of my girlfriends loves the flavor of poké bowls, but doesn't care for raw fish so she always has cubed tofu. This is a great plant based option for vegans/vegetarians.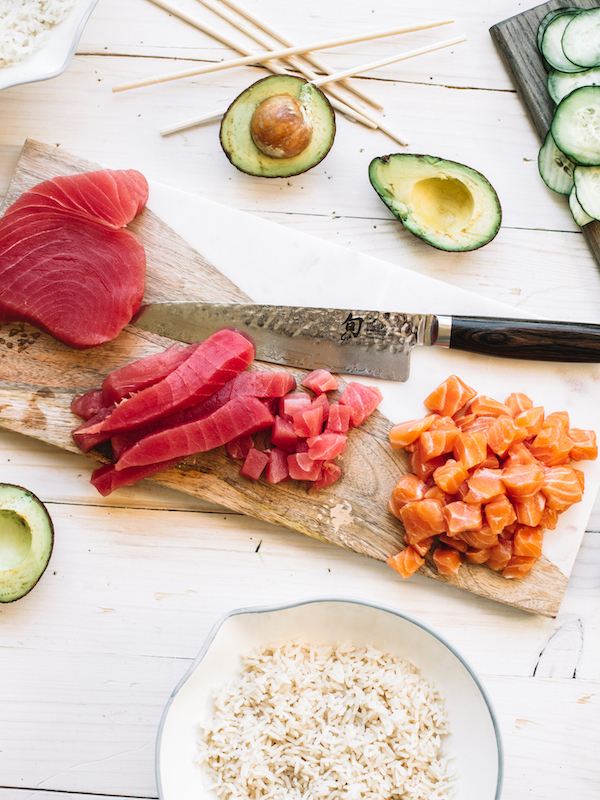 Be sure to buy sushi-grade fish when you're making poké bowls at home. This takes out any guesswork of the quality of fish. Google different Japanese markets in your area to scope out the selection but Whole Foods always has options too! Cutting raw fish can be a little tricky and delicate. Bring out your sharpest knife for these delicate cuts. My favorite for raw fish is my Shun 7-inch Asian chef's knife. This knife handles the most delicate selection of fish.
SAUCE
The sauce and toppings selection is really endless! Go with what you love. A standard blend for me is a drizzle of soy sauce, citrus-based ponzu and sriracha for spice but go with what speaks to you. I've seen everything from sesame oil, to spicy mayo. Make a blend up and mix up your cubed fish before serving.
TOPPINGS
My favorite part! I always go crazy with the toppings. If you're serving for a crowd this is a great way to get people involved and let them customize their own bowl! This is also the most time consuming part of poké. But have no fear, a mandolin will be your best friend! My de Buyer mandoline has a ton of different settings so I can do all sorts of fun slices and shapes with my veggies. I sound silly but having paper-thin cucumber slices always makes my poké bowls feel more authentic at home.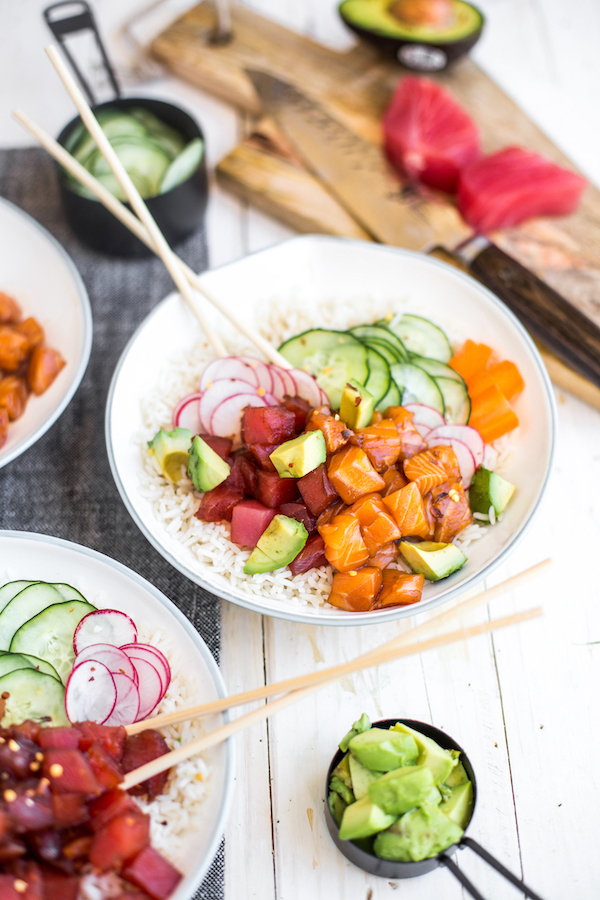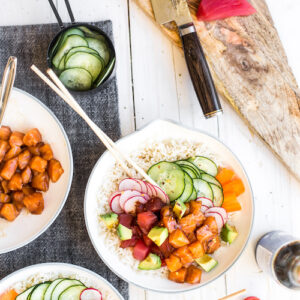 INGREDIENTS
Base:
Brown rice
White rice
Fresh, bite size greens
Fish:
Tuna
Yellowtail
Salmon
Crab Meat
Tofu (just be sure it's Sushi Grade fish!)
Sauces:
Spicy Mayo Sriracha Ponzu sauce
Sesame oil
My Go-To Sauce Blend:
¼ Cup of soy sauce
1 Tablespoon of Sriracha
2 Tablespoons of ponzu
2 Garlic cloves, minced
1 Teaspoon of minced ginger
1 Teaspoon of sesame oil
2 Teaspoons of olive oil
Toppings:

Cubed avocado
Thin cucumber slices
Thin radish slices
Carrot slices
Cilantro
Edamame
Pickled ginger
INSTRUCTIONS
Assemble using the ingredients of your choice!