Bravo for Bravas! Healthy Patatas Bravas with Vegan Avocado Aioli Recipe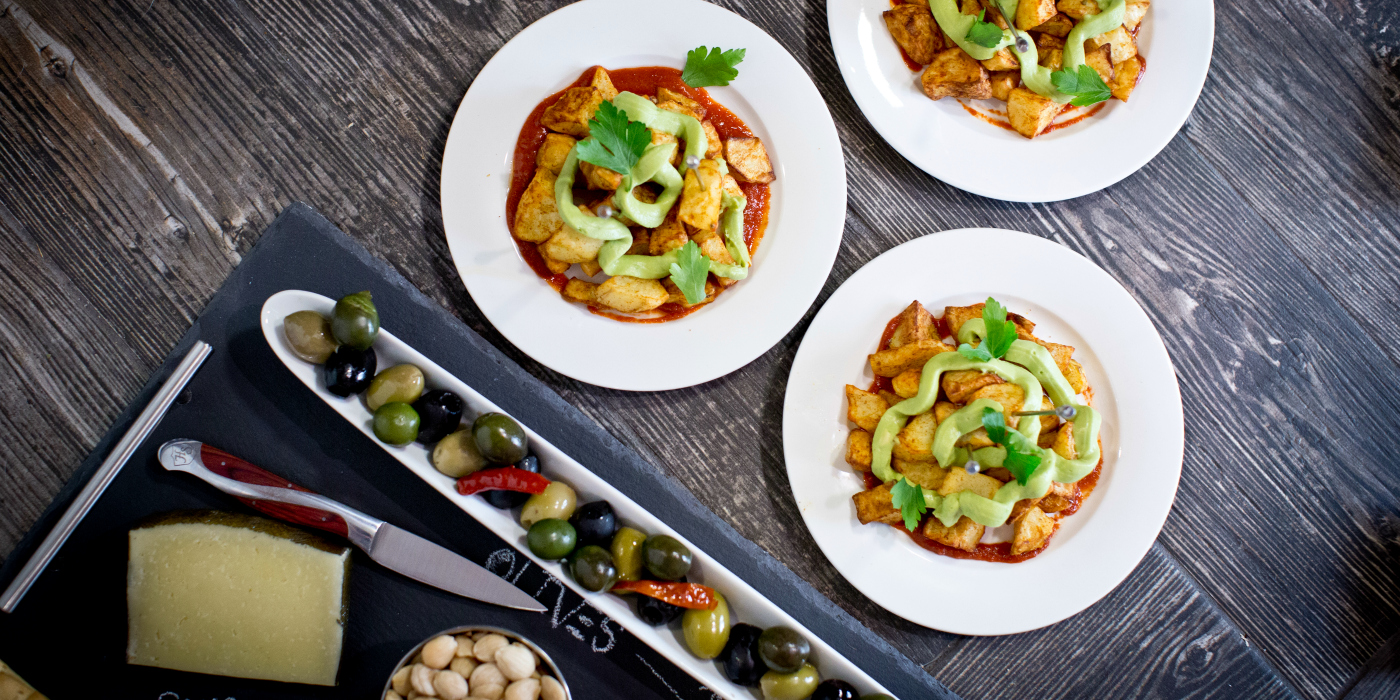 Using an air fryer to create a healthy, modern take on patatas bravas, a Spanish tapas classic.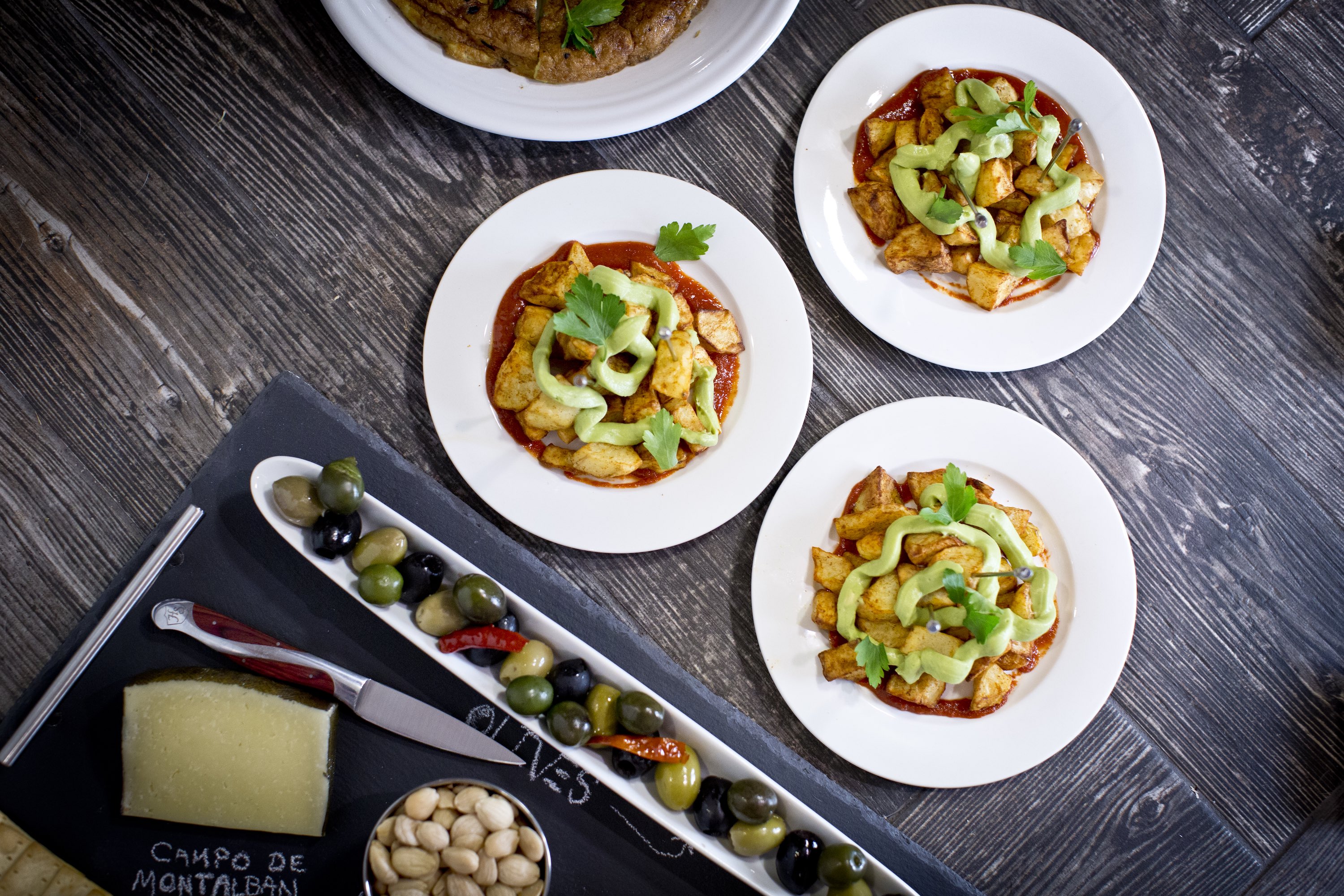 Our friend Kelly is always traveling, but he stopped by for tapas at our house one recent weeknight when he'd returned from his latest jaunt, and he surprised us with the highest compliment about the meal we'd put together. "I feel like I'm back in Spain," he remarked as he surveyed the meal on our dining room table: our take on a Spanish tortilla, a circular omelette we made with onions and feta; patatas bravas with a vegan avocado aioli plus a generous hand with sriracha; wedges of Drunken Goat and Campo de Montalban cheese arranged on Picnic at Ascot's Sardo Cheese Board, a stylish slate piece that includes a white crayon for labeling purposes and contemporary bar-pull-style handles for ease of use; mixed spicy olives adorably nestled in a ceramic olive tray, and a little bowl of Marcona almonds.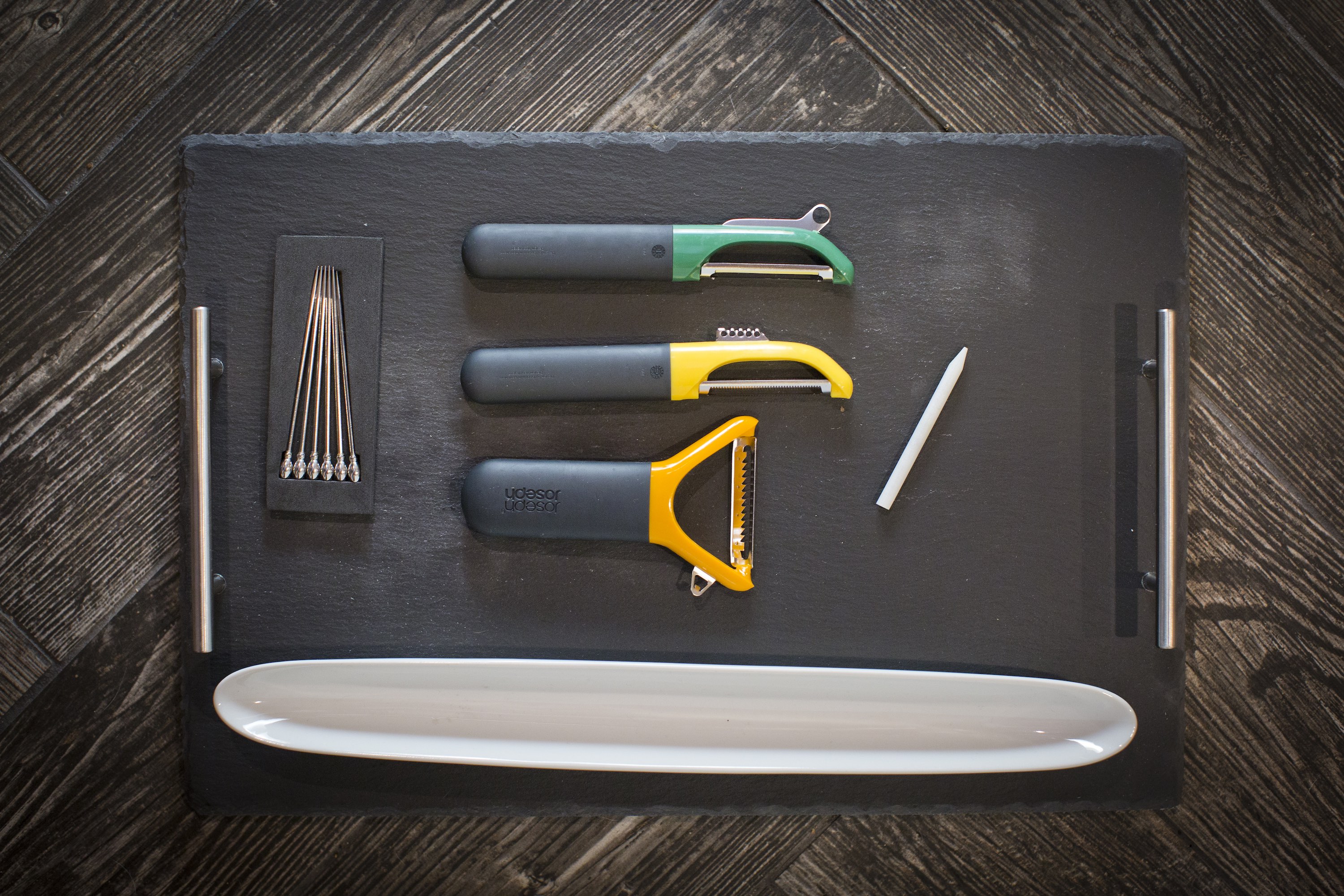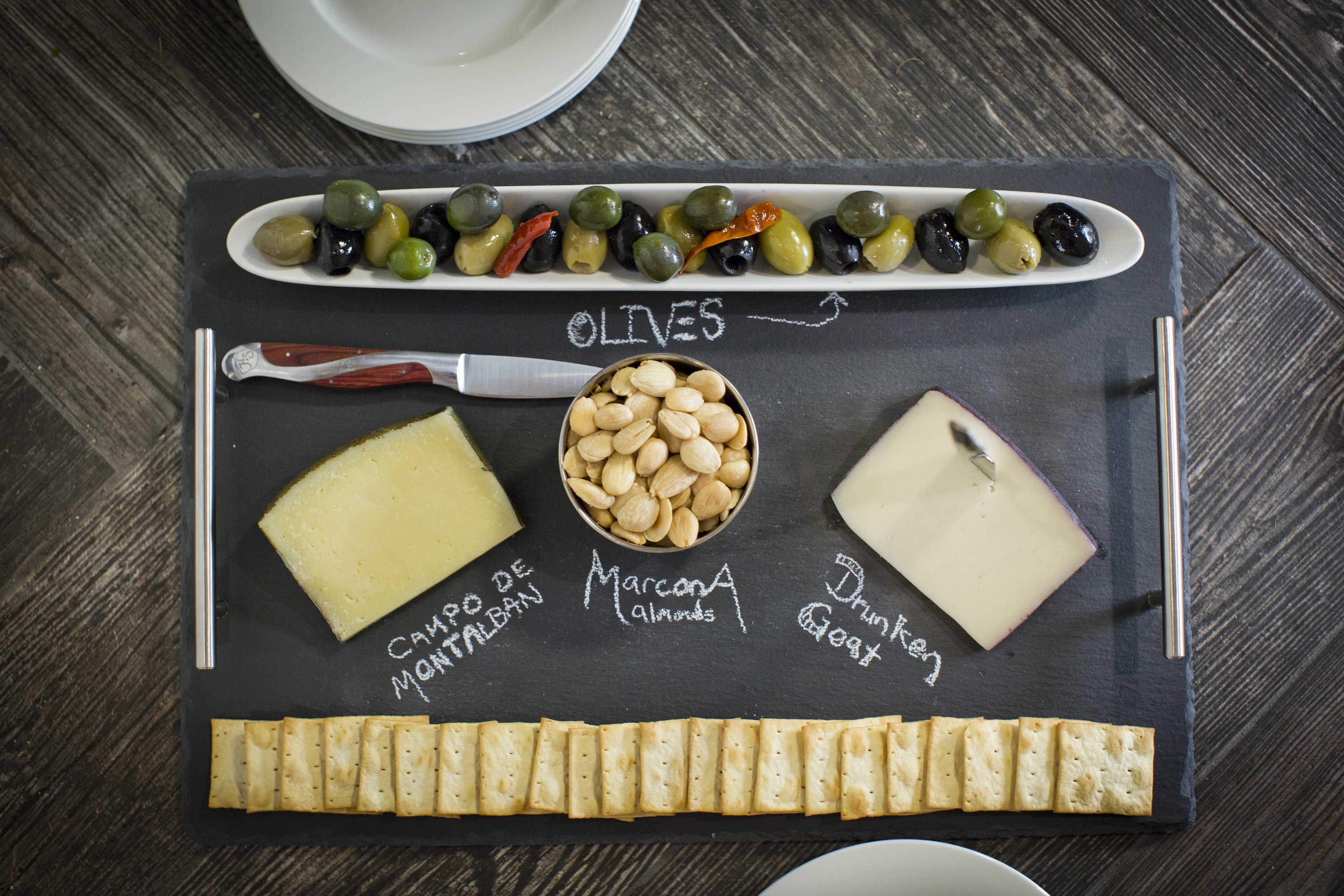 "This is exactly what we had for dinner every night last summer," Kelly told us, and his memories of the trip flooded back to him. We chatted about all that he remembered, and bowled over by the praise and the reminiscing we'd inspired, we just beamed. We strive to be knowledgeable about how to make a dish as authentic as we can, but we usually end up veering off the beaten path at some point. Cooking, for us, after all, is always a creative and interpretive endeavor.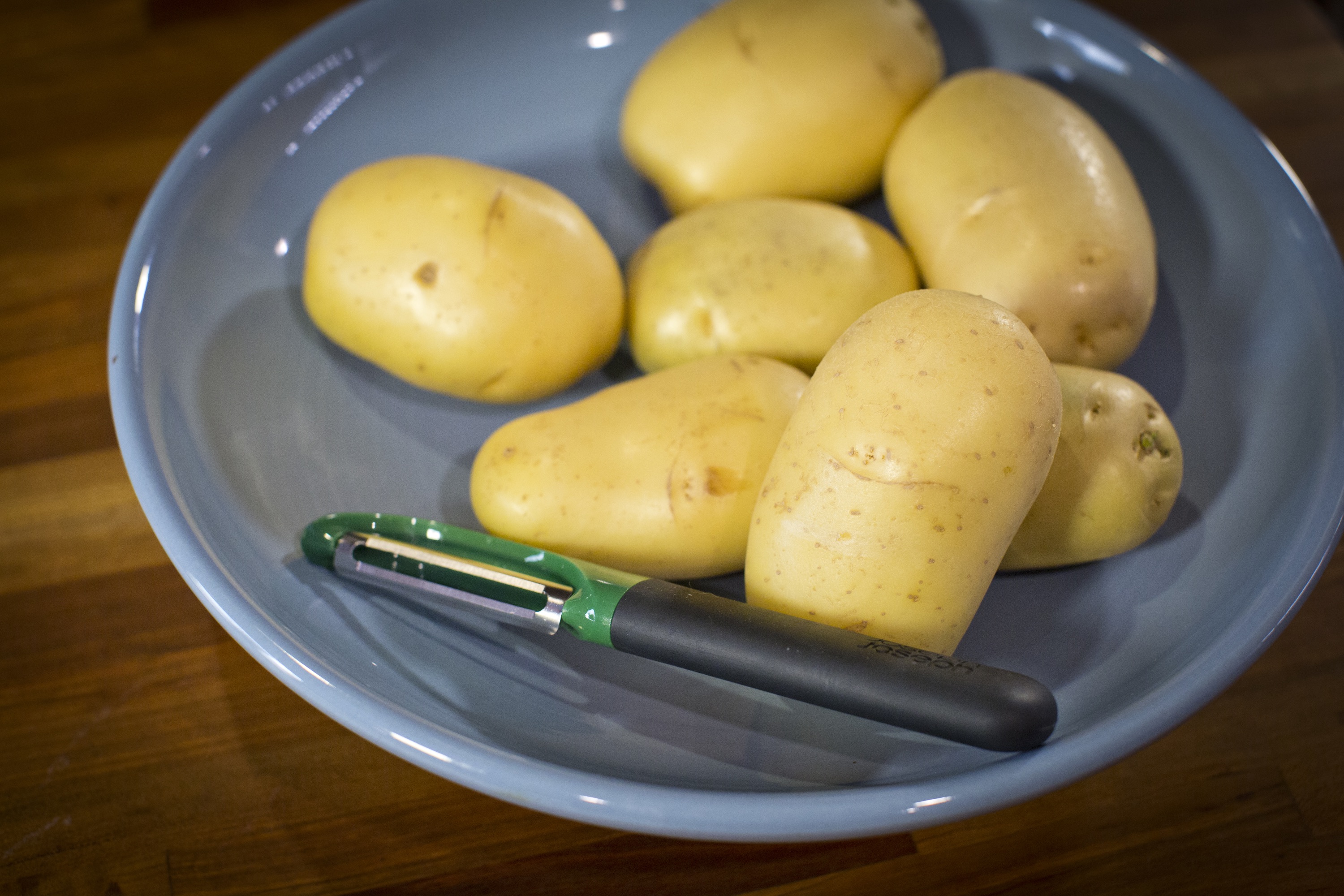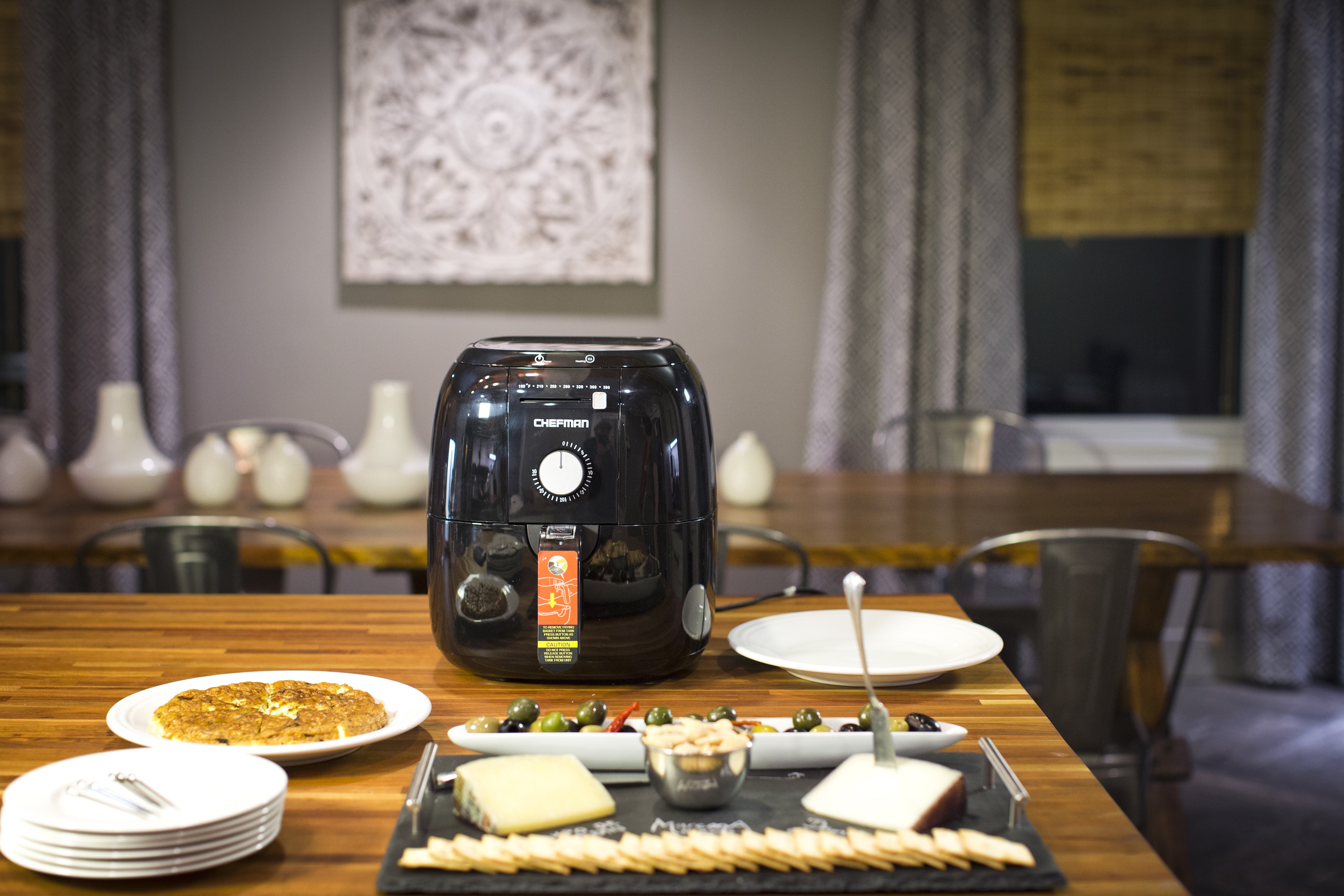 Excited by the possibilities that the air-fryer presented to us, we'd been brainstorming together non-stop about what we'd make first, and some form of fried potatoes was at the top of every list. We decided to try air-fried patatas bravas and riff on the way they make them in Spain, but then we added our own little healthy twist.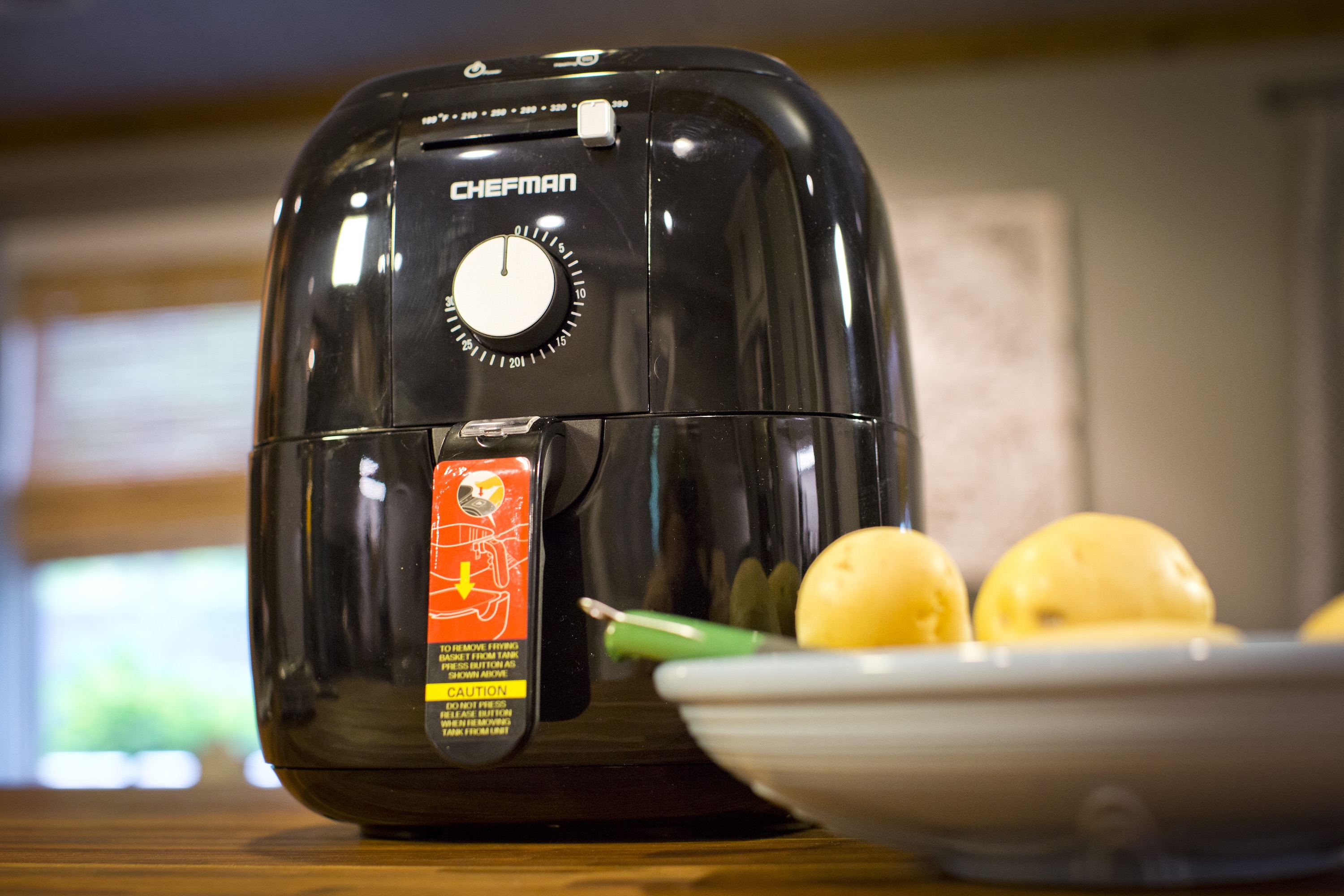 Since we were using only a bit of oil in the air fryer, we didn't want to pile on loads of mayo. That wouldn't make any sense! Instead, we blended an avocado with lemon and garlic. The result was a sauce that was similar in consistency as mayo, but way better for us.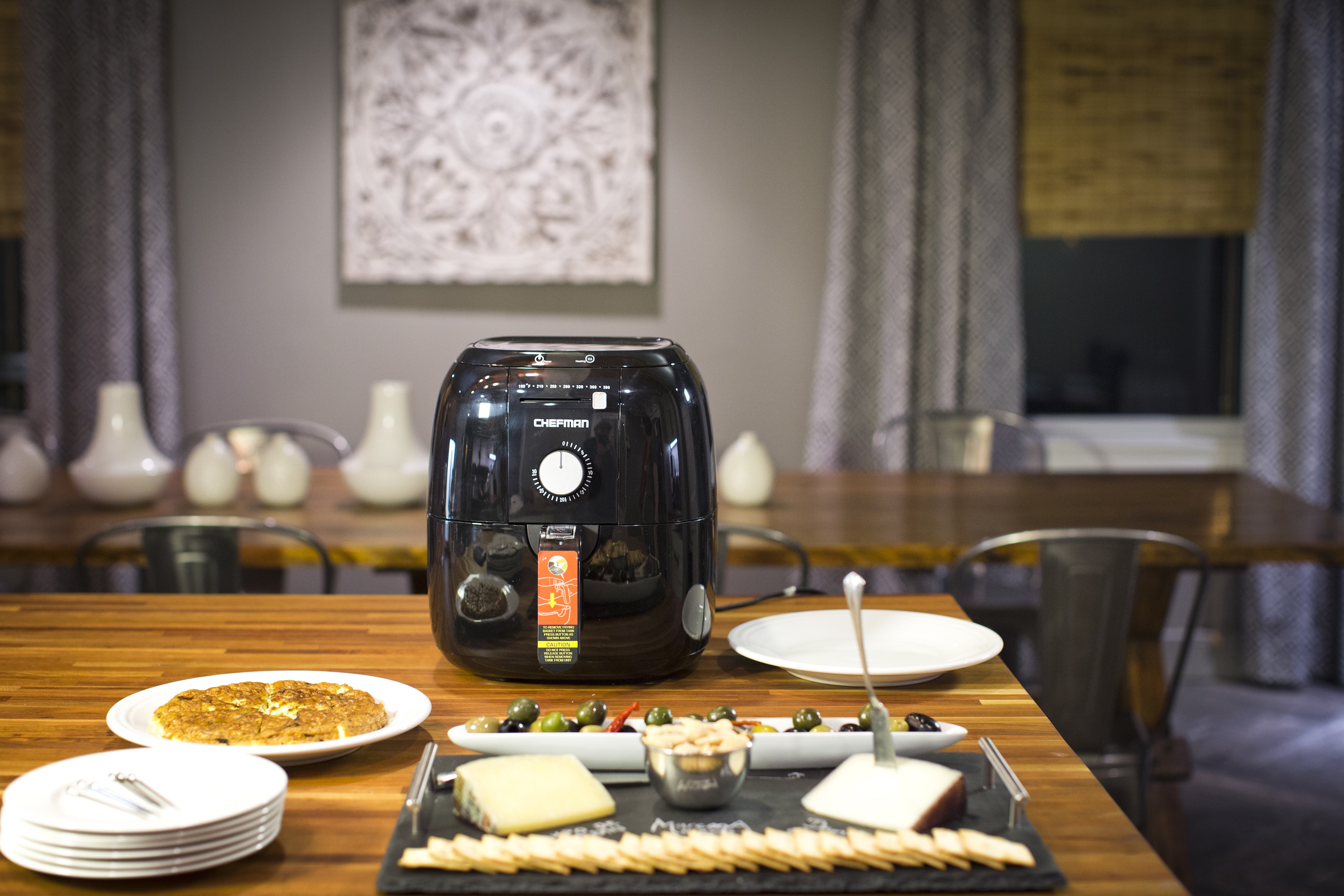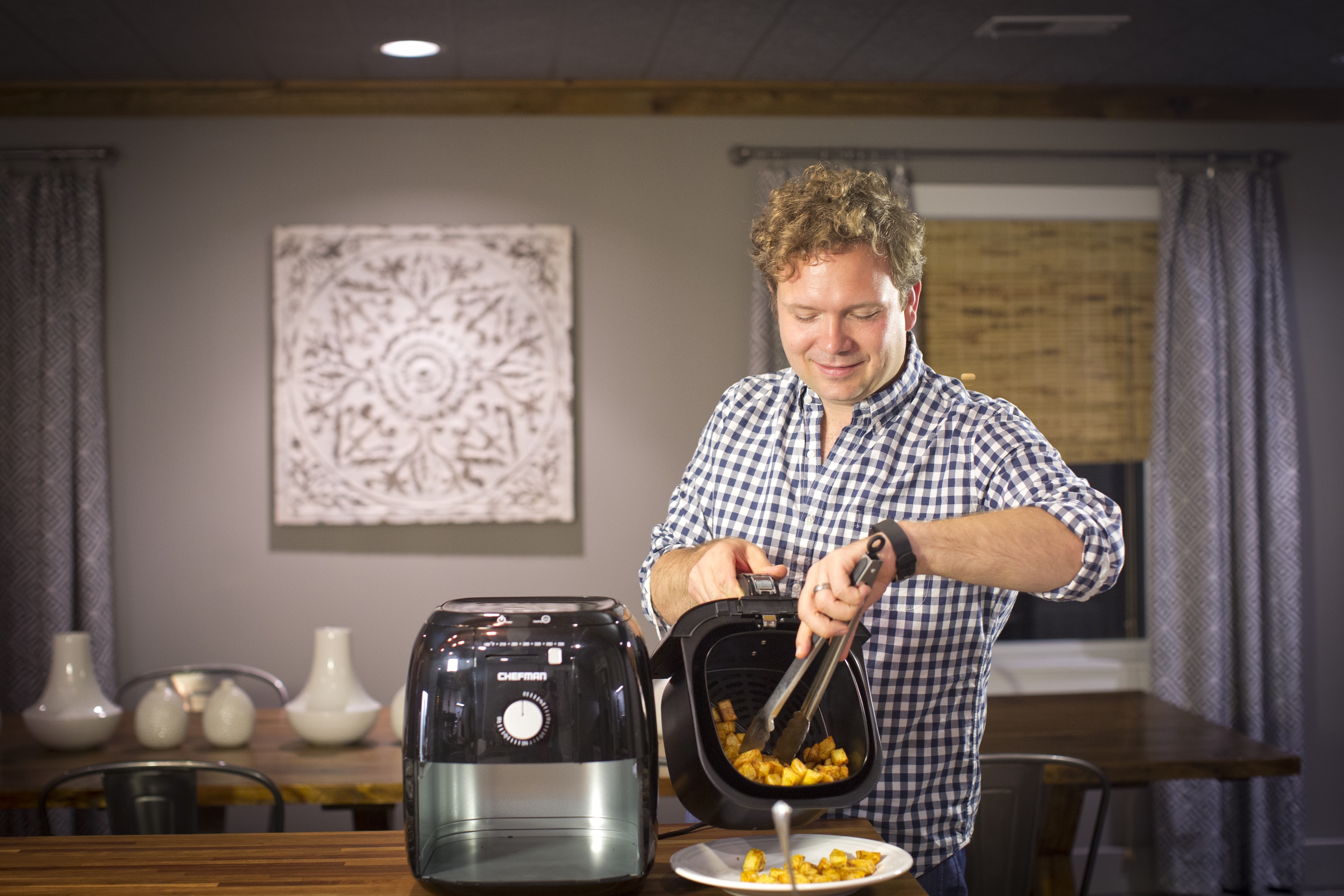 The Chefman Air Fryer was the key to our success, we think. The closed area of convection heat creates a consistent air temperature inside the fryer. This mimics the consistent conditions created by the oil when employing traditional frying methods. In this recipe, two teaspoons of olive oil and twenty-five minutes of cooking time in the fryer made for amazingly crisp patatas bravas, and a few toppings and garnishes dressed up the fried potatoes. We served the patatas bravas on small white plates with metallic Prodyne classic martini picks offered in lieu of forks. We imagined that something similar might be the usual, everyday set-up at a real tapas bar.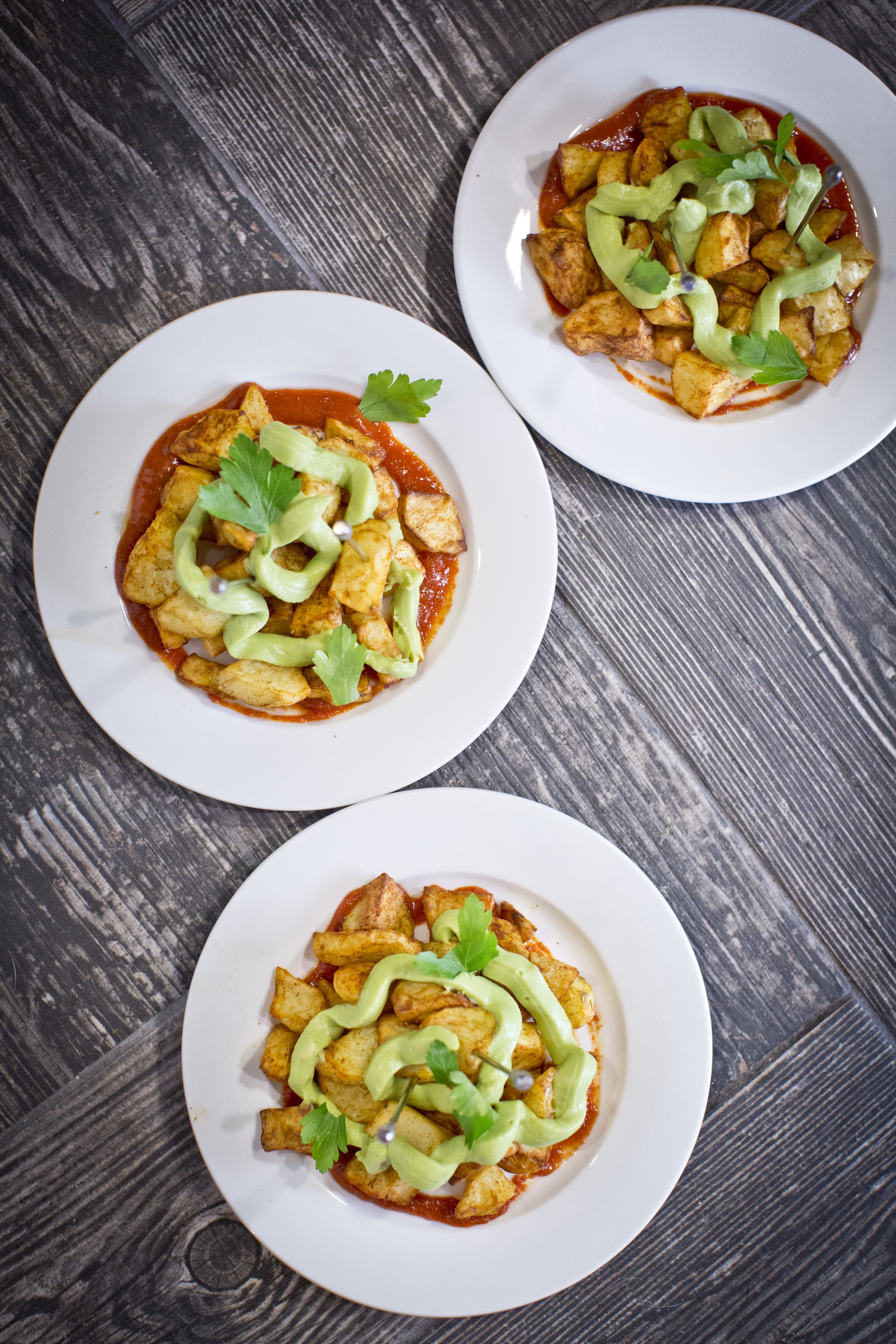 Now we find ourselves newly inspired to take our own trip to Spain in the next year or so, but until then, it's very likely that we're going to do this tapas menu again and again at home…you know, to practice!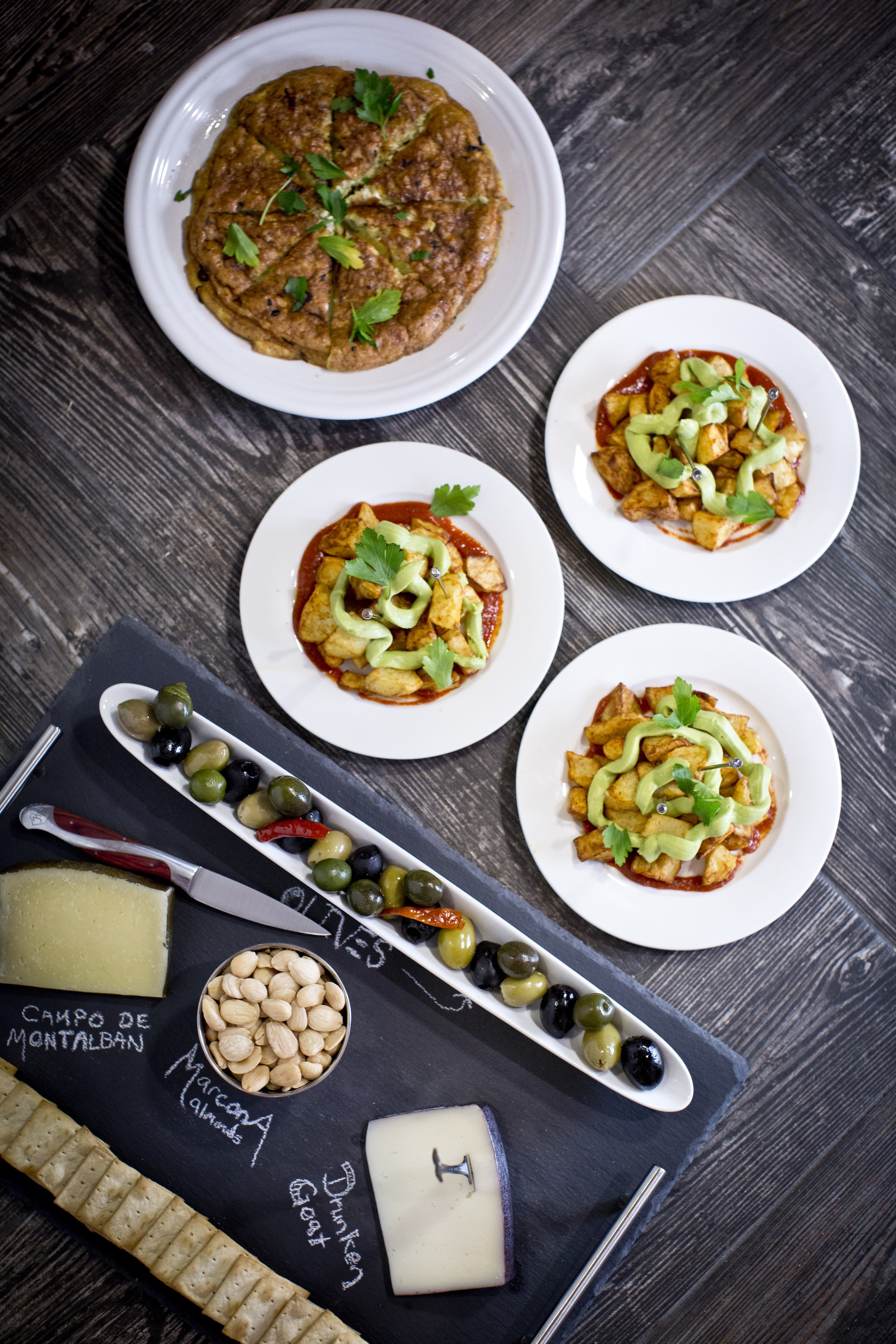 Healthy Patatas Bravas with Vegan Avocado Aioli Recipe
Looking for a modern take on patatas bravas, a Spanish tapas classic? Try this Healthy Patatas Bravas with Vegan Avocado Aioli recipe on The Inspired Home!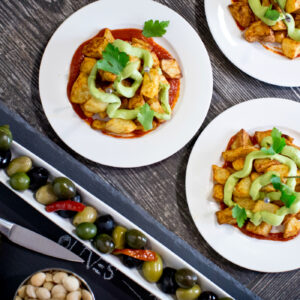 Instructions
For the Patatas Bravas: Preheat your air fryer to 290 degrees. In a large bowl, toss together the potatoes, salt, paprika and olive oil. Place the coated potatoes into the basket of the air fryer and set the timer for 25 minutes.

While the potatoes are cooking, prepare the Vegan Avocado Aioli. Next, place about 1 teaspoon of Sriracha directly onto four plates.

Once the potatoes are ready, add one cup of air-fried potatoes to each plate. Using a pair of kitchen shears, cut off and discard one corner of the sandwich bag that contains the Vegan Avocado Aioli. Squeeze the bag to garnish each plate with a swirl of Vegan Avocado Aioli and then a small sprinkle of chopped parsley. Serve each place with classic martini picks.

For the Vegan Avocado Aioli: Into your food processor or mini-prep, add the lemon juice, garlic, avocado flesh, and salt. Blend until very smooth.

Using a rubber spatula, transfer the purée to a zip-top sandwich bag.

Press out all of the air before closing; this will keep the avocado from turning brown.

Place the bag in the fridge until you're ready to garnish the patatas bravas.