Build-Your-Own Teriyaki Noodle Bowls: Deconstructing Dinner to Please Picky Palates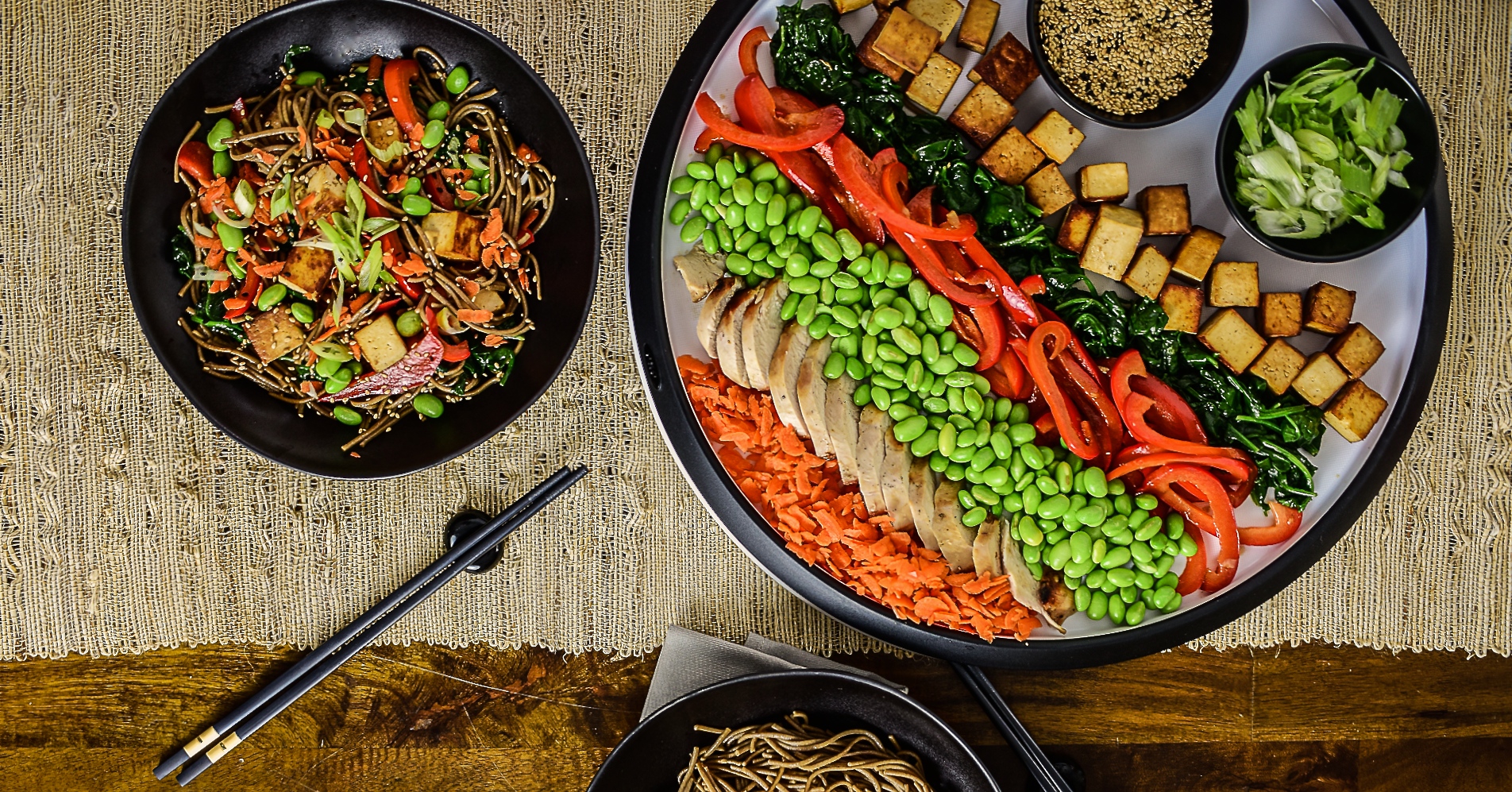 Cooking meals for picky eaters can be incredibly challenging. One person may love chicken, but they dislike the vegetables. Somebody likes noodles but they won't touch rice. The toddler refuses eat foods that are "touching." What's a cook to do? Deconstruct it. This recipe for Build-Your-Own Teriyaki Noodle Bowls is the perfect crowd pleaser!
de·con·struct (verb): reduce something to its constituent parts in order to reinterpret it.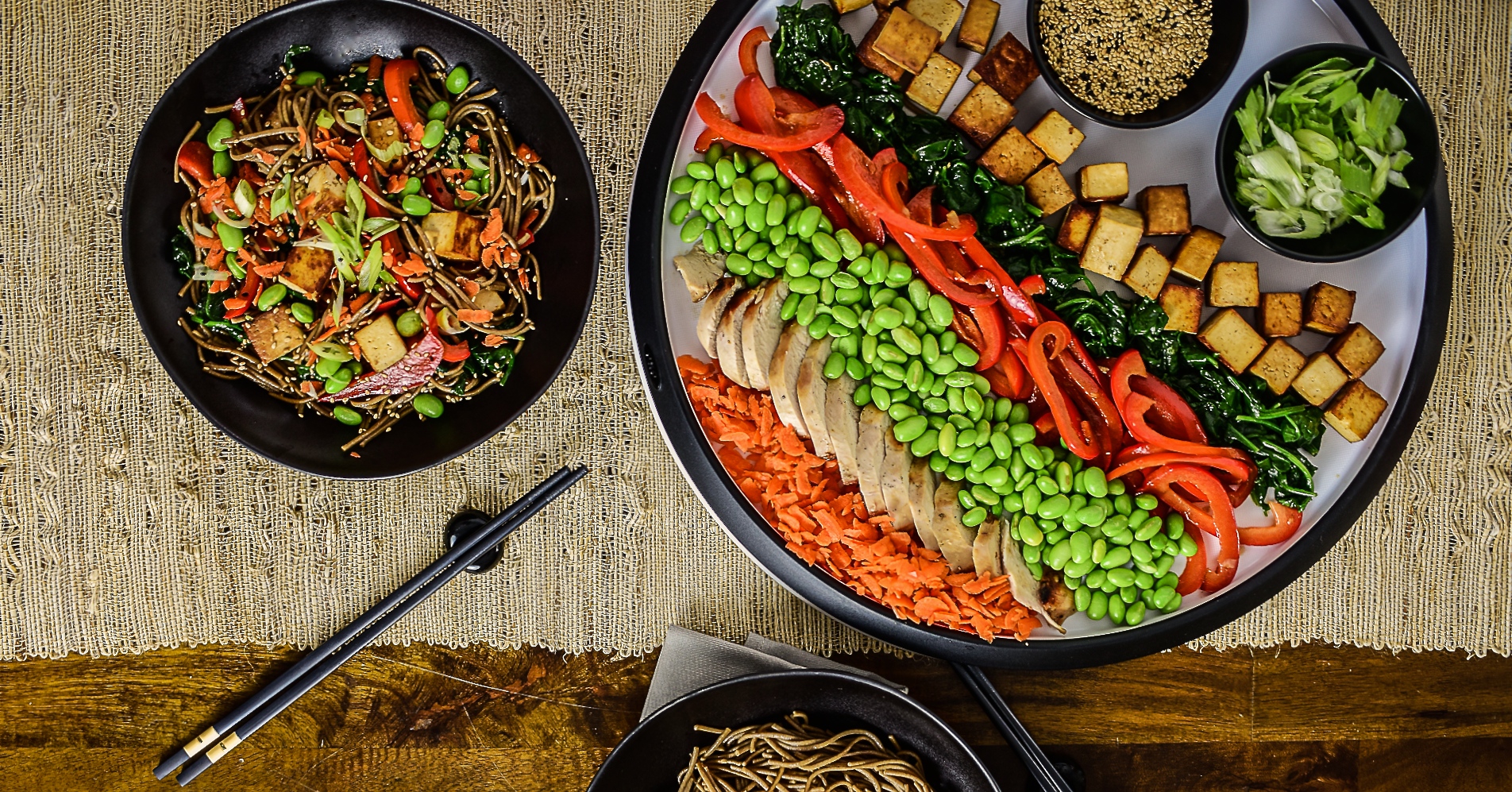 When deconstructing dinner, every component is laid out individually, allowing each family member to create his or her own perfect meal. This strategy has completely changed dinnertime in our home. The majority of our suppers — from pasta to pita pockets — are now served "deconstructed."
The change has been dramatic. The kids love it. Not only have they stopped arguing about what they will and won't eat — they actually feel empowered to try new foods. Veggies that were once shunned are now loaded into the bowl. Sauces are no longer met with immediate, deep suspicion.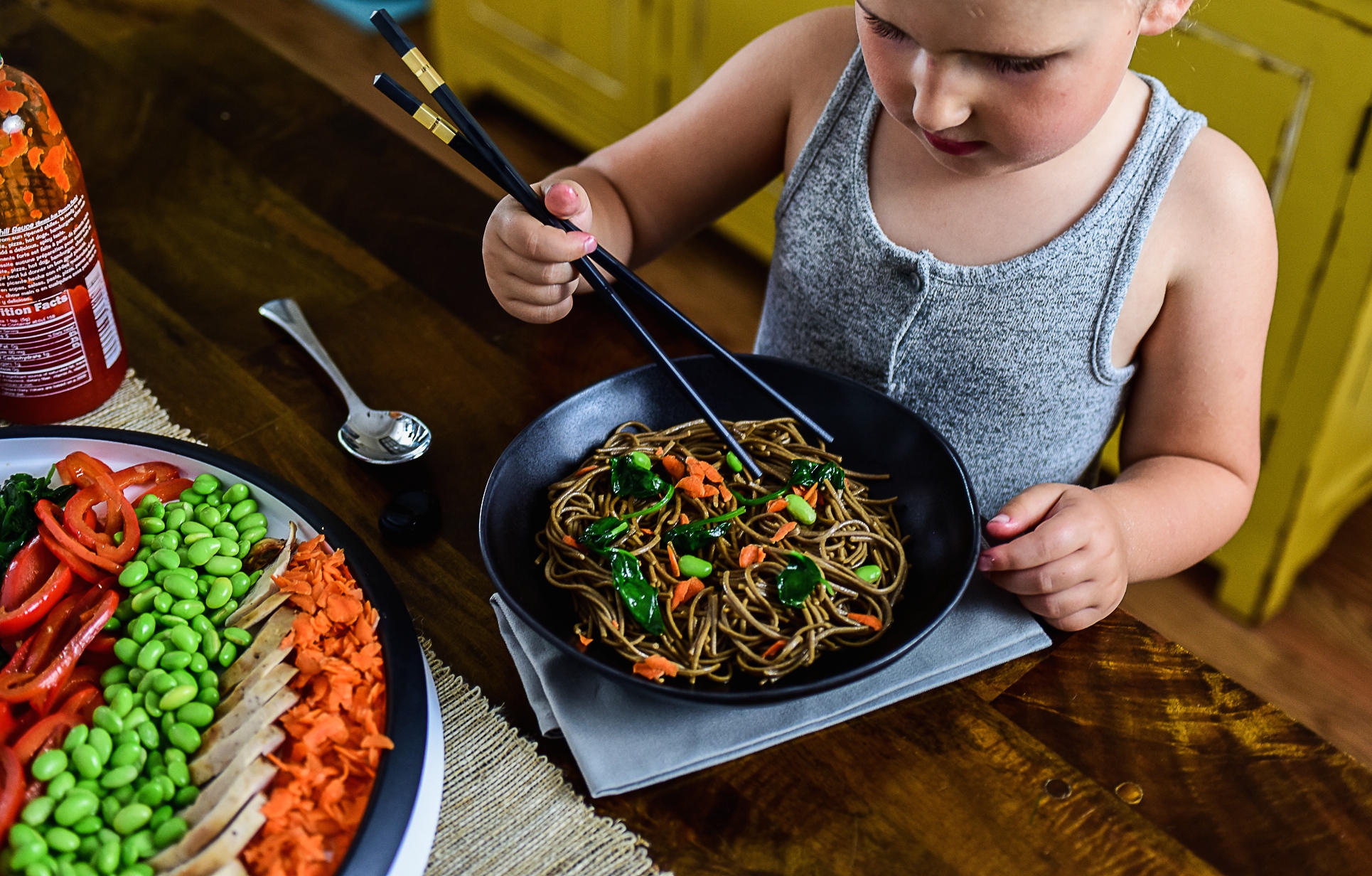 The key to success with this strategy is largely about presentation. Each person receives a bowl of the "foundation ingredient" (think pasta, rice, salad or a bun, for example). Arrange all of the "topping" options on a large platter for everyone to pick and choose from as the please. For most meals, this results in a gorgeous rainbow of culinary possibilities.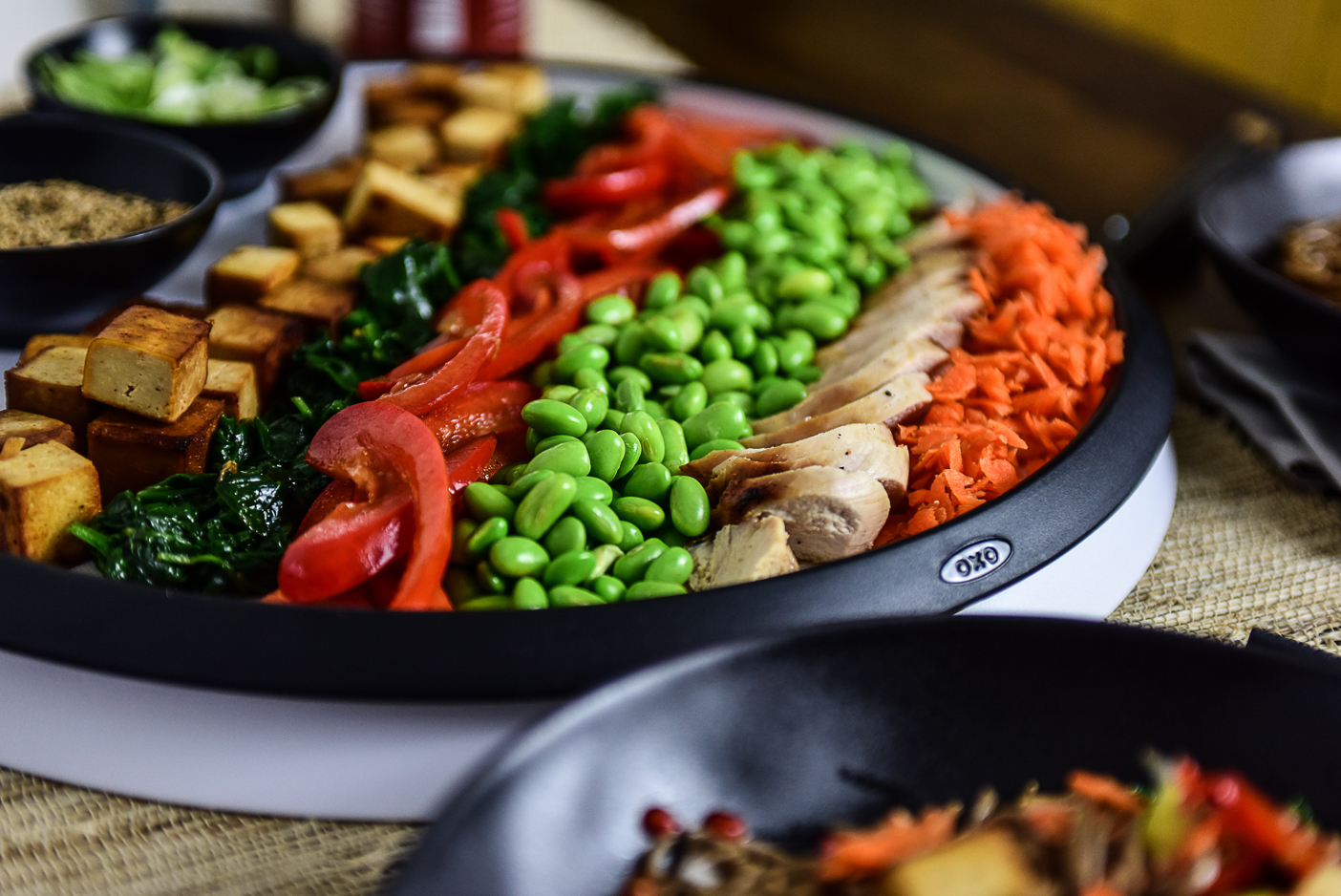 The platter itself is worth some thought. You'll need something large, preferably with a solid white background to really let those veggies shine. My favorite is actually an OXO Good Grips Turntable. The large, non-breakable surface allows plenty of room for various ingredients and the entire platter spins, making it easy (and fun!) for the kids reach everything.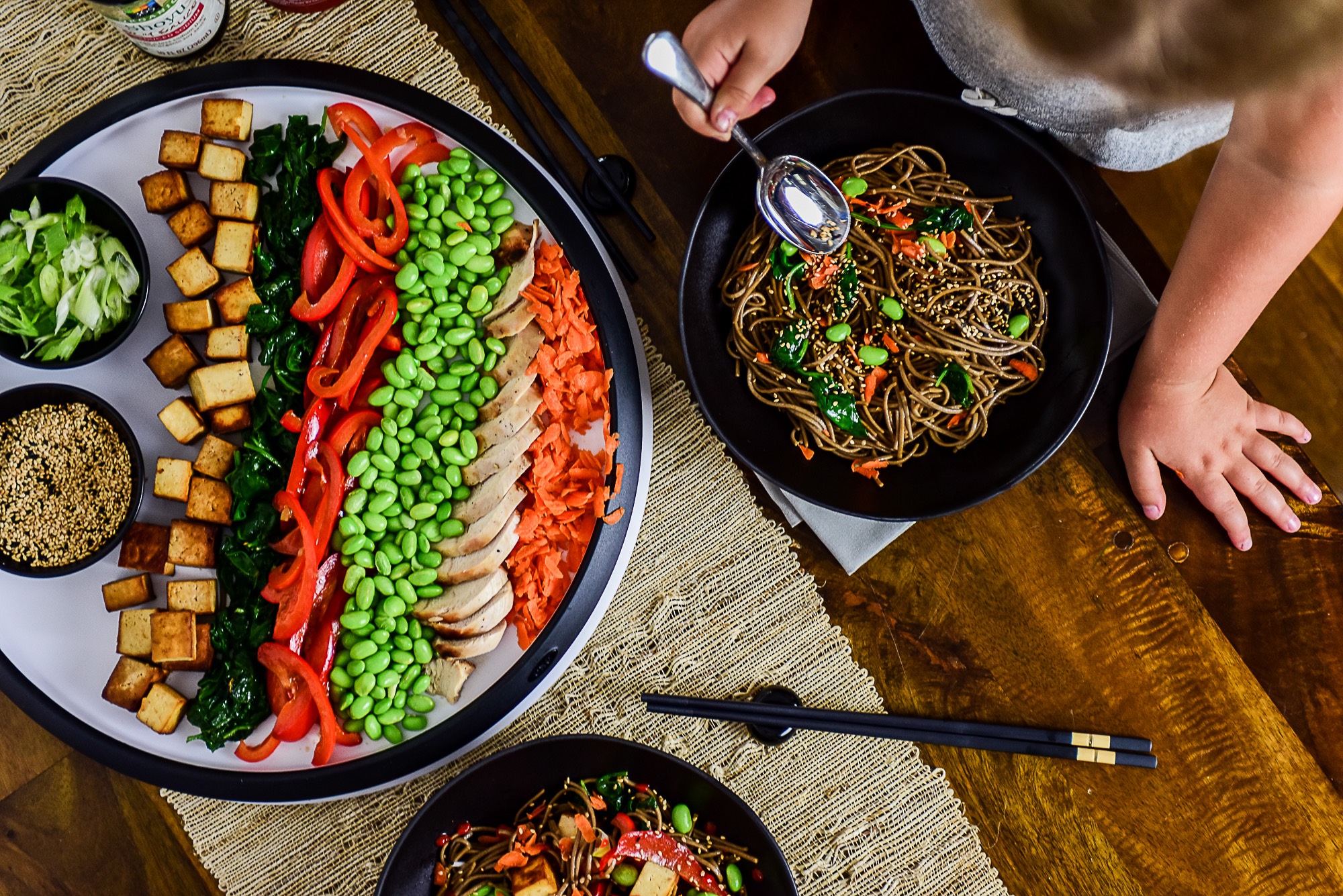 Our house rule is that everyone has to choose at least two items from the platter. And I always make sure there are at least a couple of items that each family member will willingly eat. More often than not, they'll select at least one or two "new" foods to try as well. Once you get in the groove, you'll find that this strategy works for nearly any type of meal. Everything from burger toppings to chopped salad, tacos to stir-fry can be served deconstructed-style with a bit of advance planning. (Visit my blog for more recipe ideas like Pasta with Pesto & Veggies and Greek-Style Grilled Chicken Deconstructed).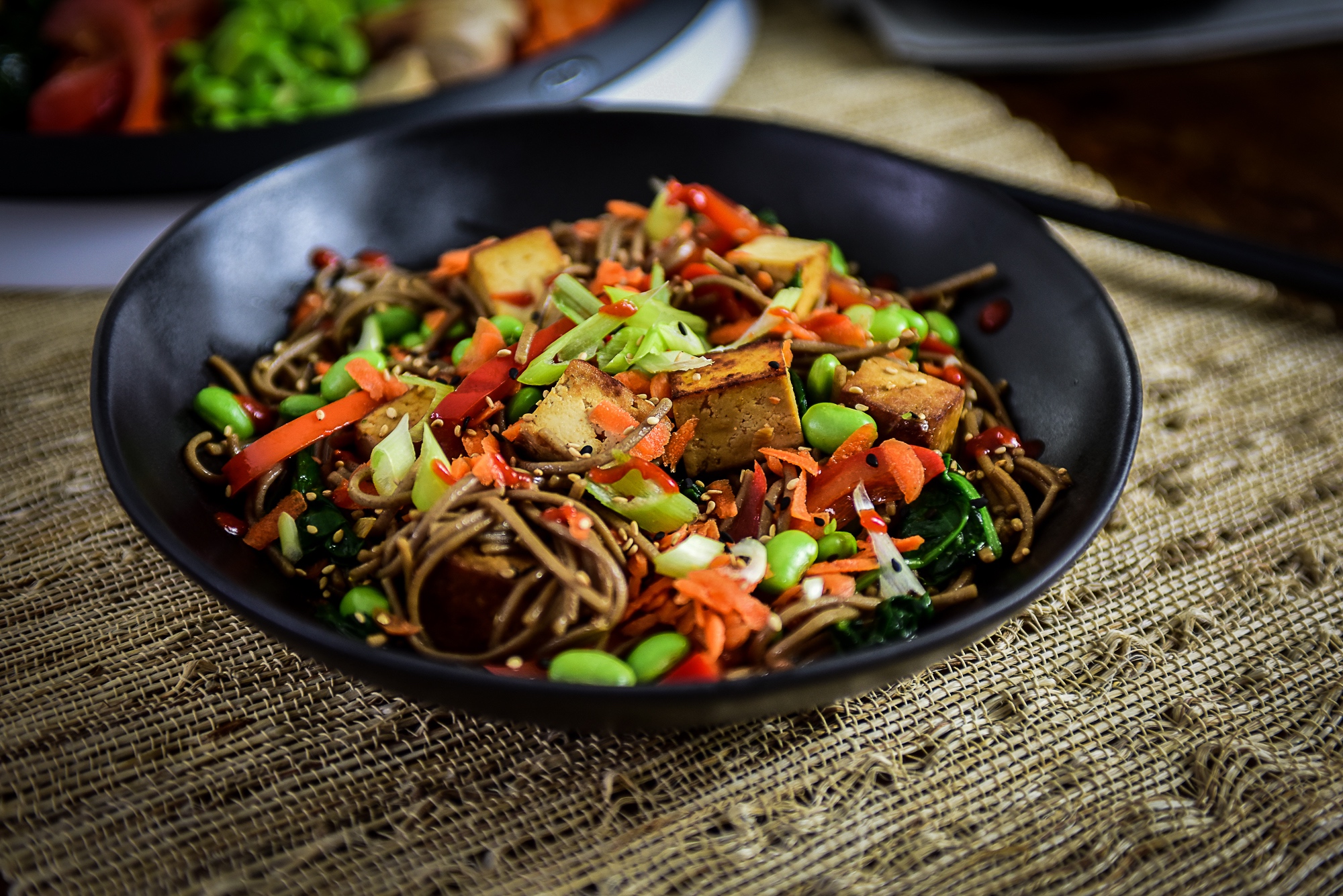 Teriyaki Noodle Bowls were once met with major objections from my kids. Served deconstructed, they've become a family favorite. I start with a simple, homemade teriyaki sauce tossed with buckwheat soba noodles. Next I sauté a variety of fresh veggie and protein options: red peppers, carrot shreds, wilted spinach tossed with sesame oil, steamed edamame and teriyaki baked tofu. If we have leftover grilled chicken (or a supermarket rotisserie chicken) I'll slice some up and add that into the mix too.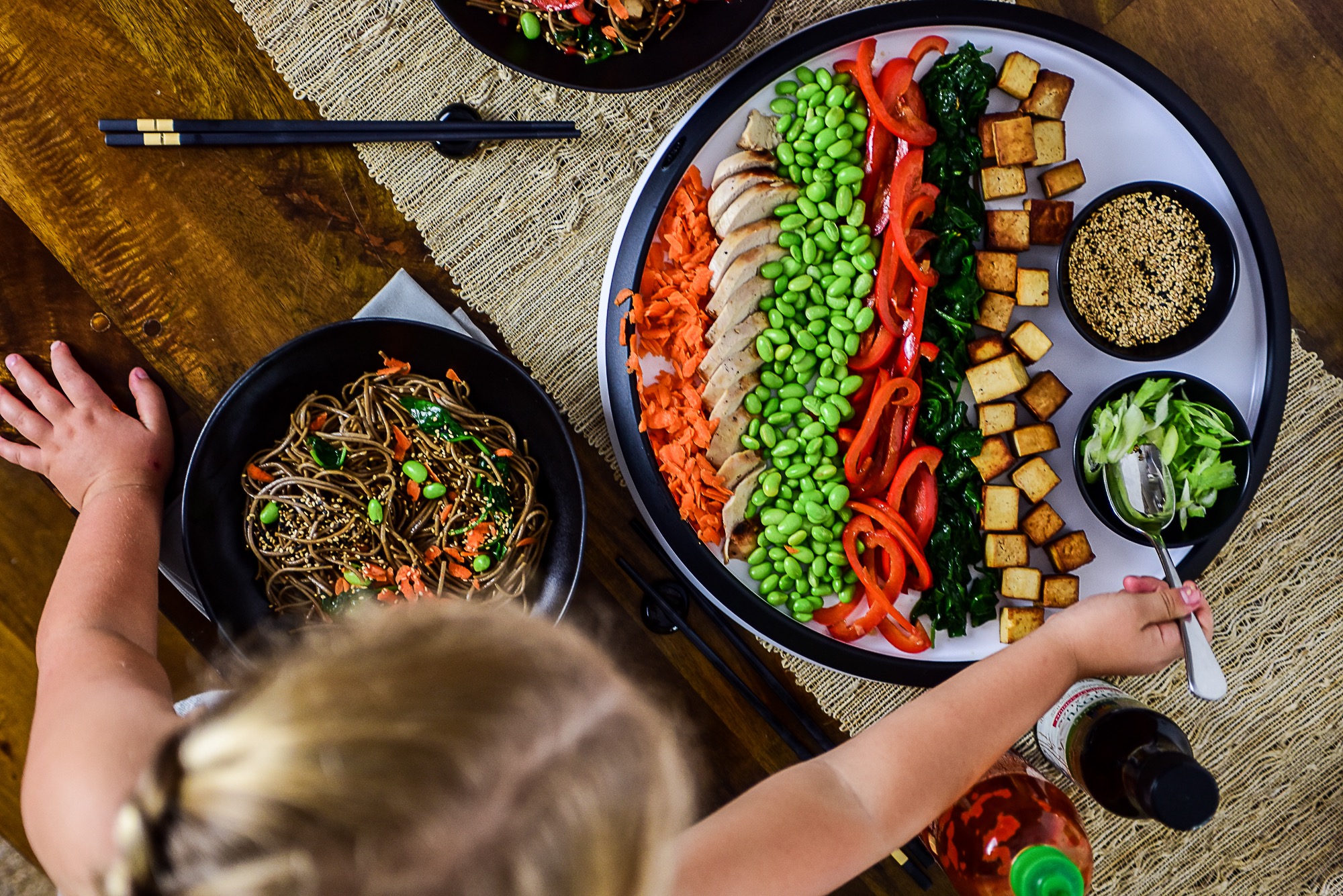 During mealtime, everyone eats well and behaves well. Best of all, instead of arguing about the food we get to spend our time around the table enjoying each other's company, laughing and being a family. And that's the best dinnertime strategy of all.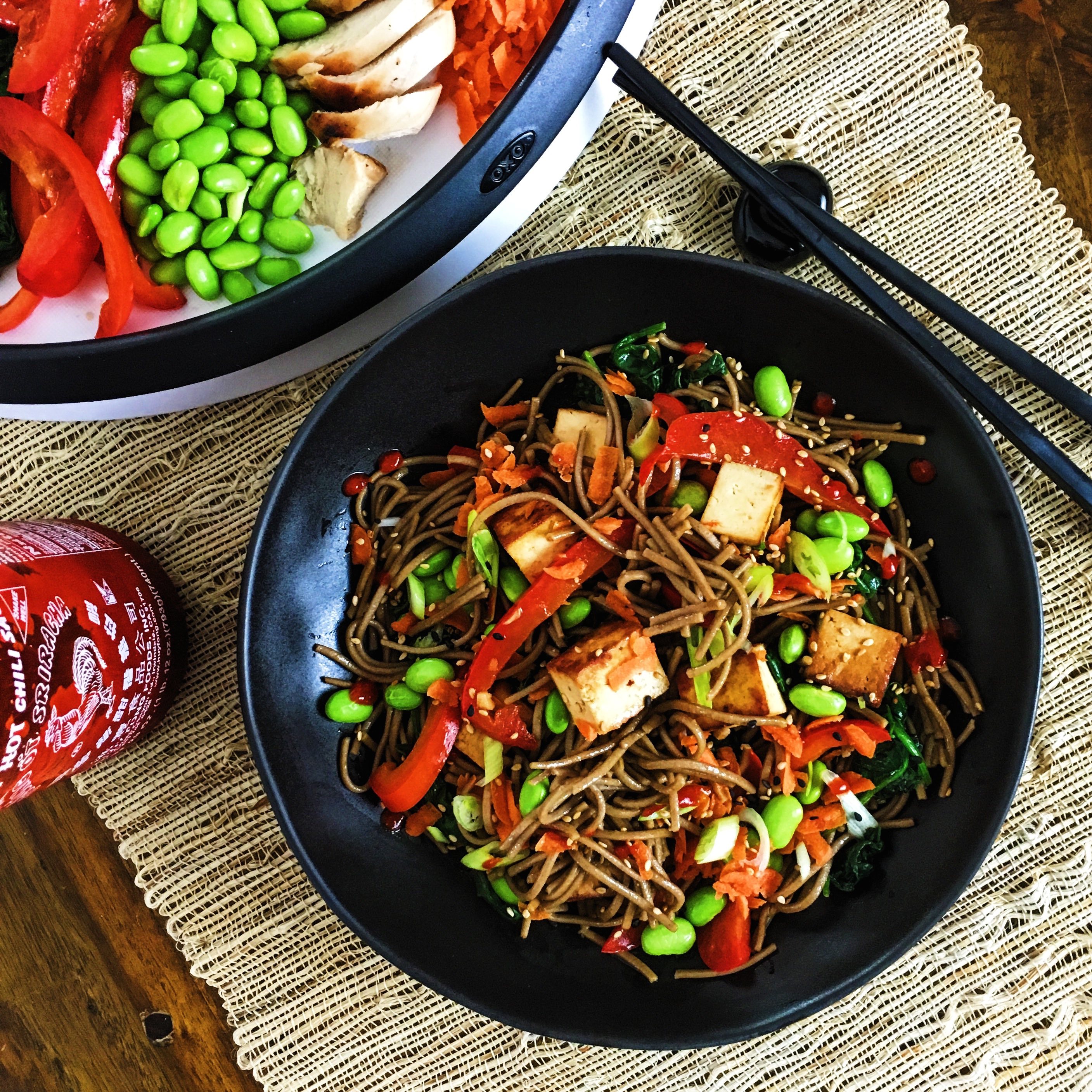 Build-Your-Own Teriyaki Noodle Bowls Recipe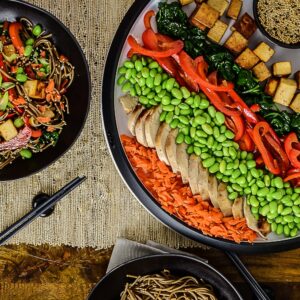 INGREDIENTS
1 package (12 oz) buckwheat soba noodles
¼ cup low sodium soy sauce
3 Tablespoons rice vinegar
3 Tablespoons sugar
2 teaspoons cornstarch
2 tablespoons vegetable oil, divided
1 teaspoon toasted sesame oil
2 cloves garlic, crushed
1 bag baby spinach
1 package teriyaki or sesame baked tofu
1 red pepper, seeded and sliced
1 cup shelled edamame, steamed and
1 large carrot, peeled and shredded
Optional additional toppings:
Sliced grilled chicken or shredded rotisserie chicken toasted sesame seeds, diced scallions, roasted seaweed snacks, diced avocado, sriracha
INSTRUCTIONS
Bring a large pot of salted water to a boil. Add soba and cook 3 minutes. Drain and rinse immediately under cold water until cool. Set aside.
Whisk soy sauce, vinegar, sugar, cornstarch and 3/4 cup water. Set aside.
Heat 1 Tablespoon oil in a large skillet over medium-high heat. Add garlic and spinach and sauté for 3 minutes, until wilted. Toss with sesame oil. Transfer to serving platter.
Add tofu to the same pan and sauté 4 minutes, turning every minute to brown. Remove from pan and arrange on serving platter.
Add pepper to pan. Cook 3 minutes before transferring to serving platter.
Arrange shredded carrots, steamed edamame and any additional topping ingredients onto the serving platter.
Pour sauce into pan and bring to a simmer; cook 2 minutes. Using tongs, toss with cooked soba noodles until heated through.
To serve, divide soba noodles among serving bowls. Place platter of toppings at the center of the table for customized plating.