Homemade Angel Food Cake Trifle Recipe with Fresh Berries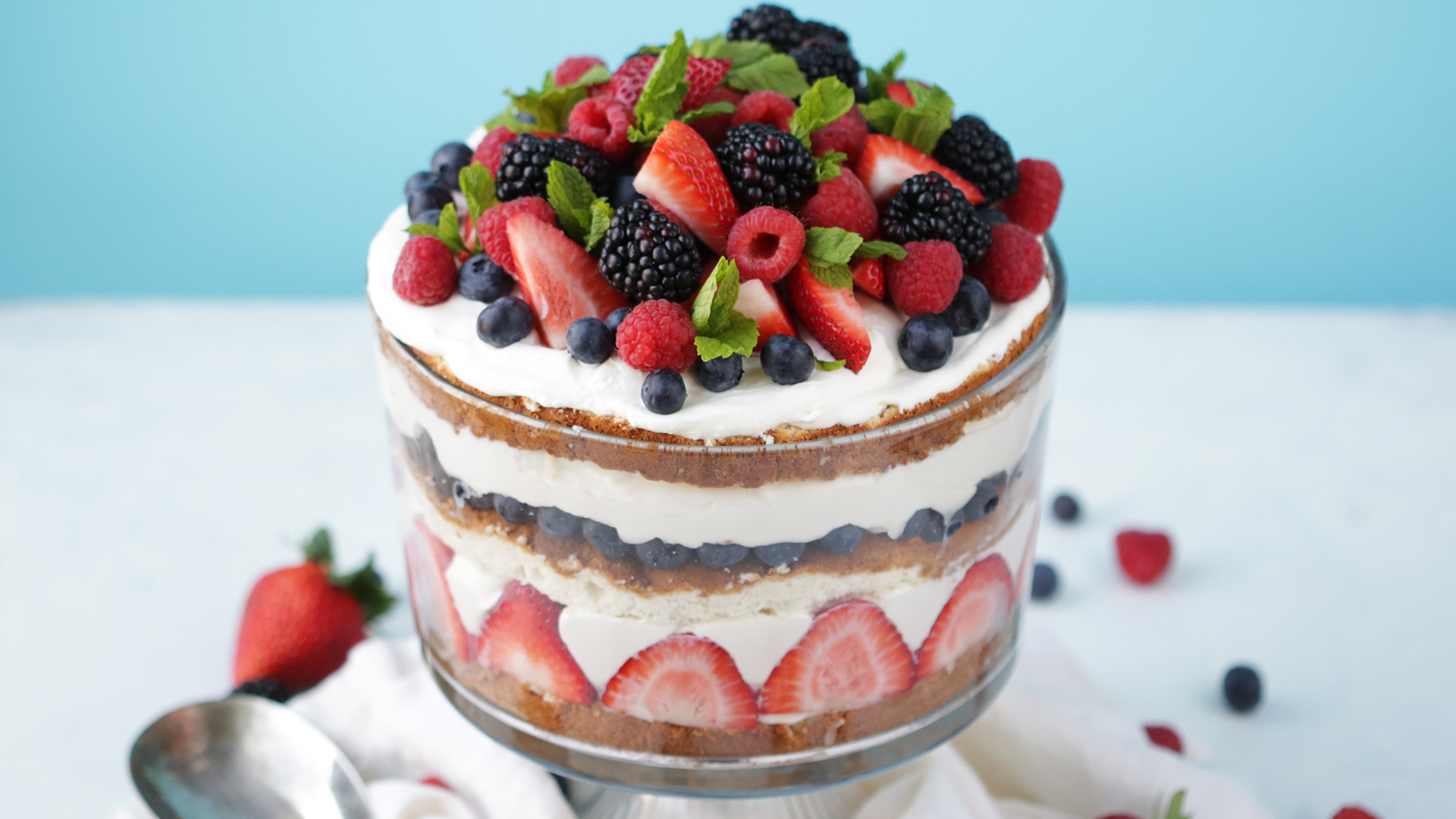 I have the fondest memories of my grandma making angel food cake in her house in Detroit, Michigan.
I feel like angel food cake was always on the dessert menu whether it be after dinner or a holiday celebration. I remember just eating it plain with no whipped cream, no fruit, no nothing, and it just being so light and so delicious that it was hard to not go back for another slice. Since I haven't made angel food cake in about 20 years, I figured I would give it another whirl not only in honor of my grandma's delicious recipe but also as a perfect treat for any summer get together!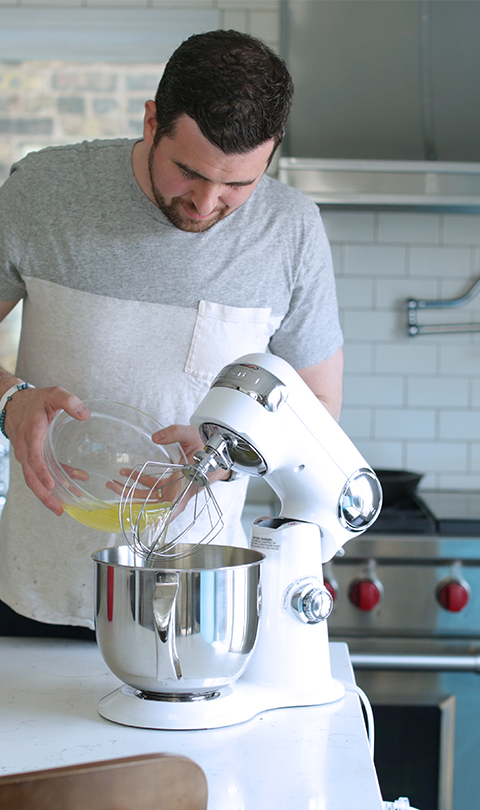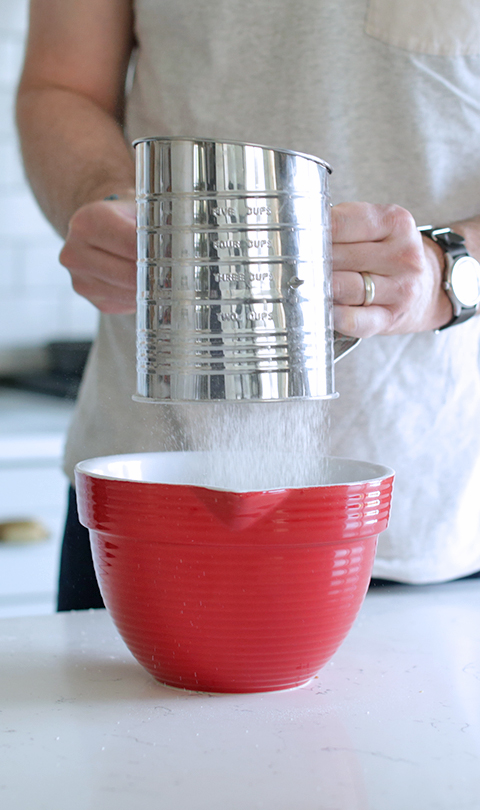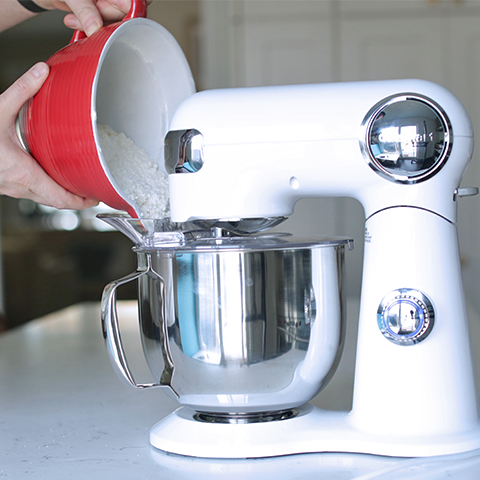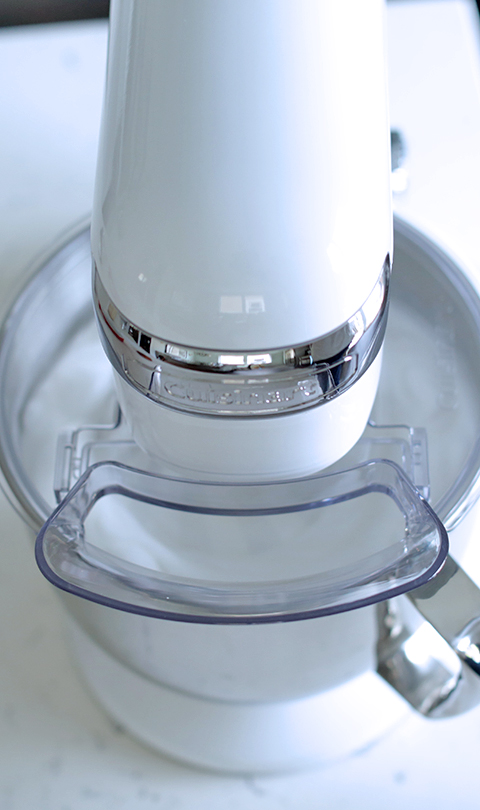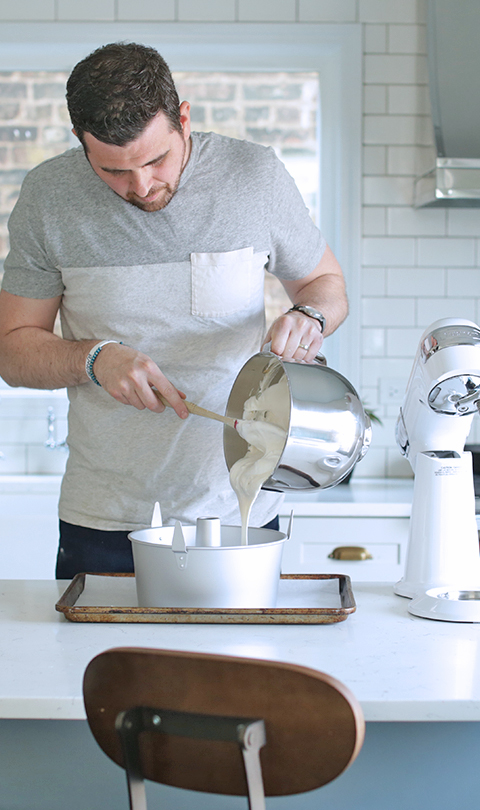 I haven't even looked at an angel food cake recipe in at least decade and I totally forgot just how easy it is to make and how few ingredients are in it. If you are ever looking to make a delicious cake but don't want to deal with the hassle of icing a cake or making a multiple layer cake, then this homemade angel food cake recipe is your ticket to easy dessert baking freedom.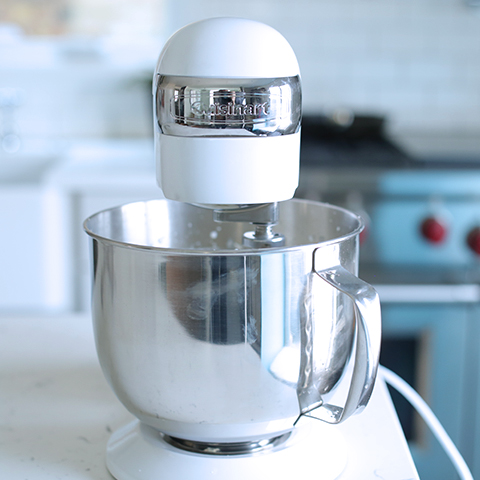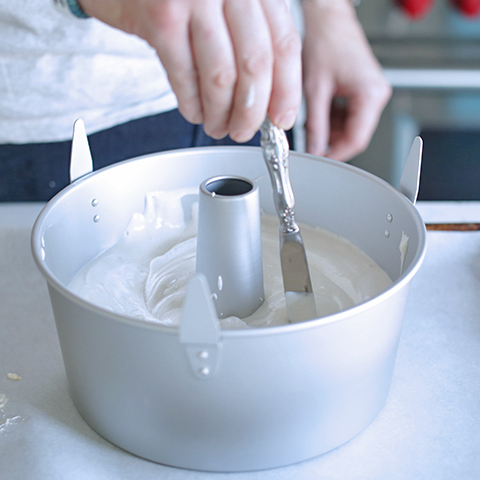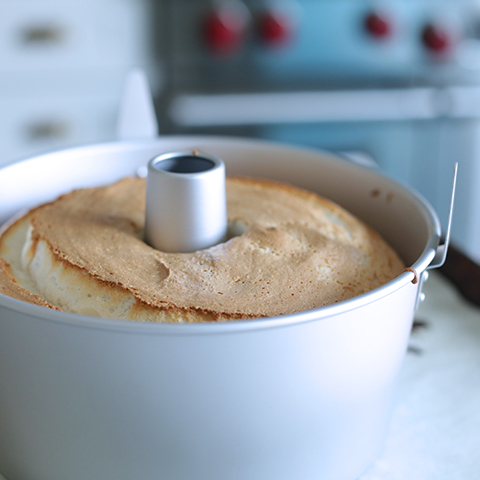 It all starts with cracking a ton of eggs. Not really a ton, but 14 so get those yolk separating skills ready as you drain that delicious ball of cholesterol from the protein rich whites while taking the utmost care not to let any yolk in. If you get a string of yolk in there that you just cannot remove, I hate to break the news to you but you need to start over again. All the fat in the yolk will ruin your beautifully whipped egg whites so it's a necessity to not let it in. Another quick note is that the egg whites need to be at room temperature before whipping… I actually don't have an answer as to why, I just remember my grandma saying that it needs to be done this way. Never question the chef!
Once the peaks of the egg whites are stiff you then want to add in the dry ingredients very slowly until combined and then pour the batter into a angel food cake pan. The best part about the Nordic Ware Angel Food Cake Pan is that it has little knobs that help ventilation circulate it as you invert the pan after you bake it. It takes about an hour or so to completely cool and then you want to use a knife to cut around the outside to remove the cake. This pan really is a gem so if you plan on making quite a few angel food cakes then make your life easy and snag one of these.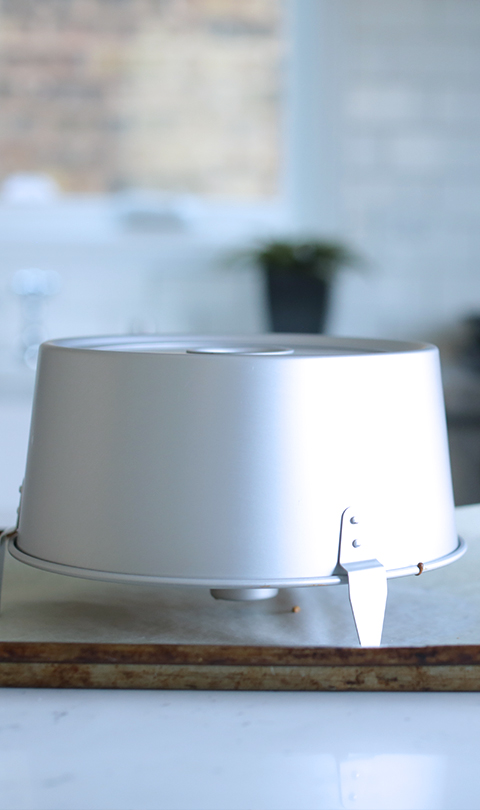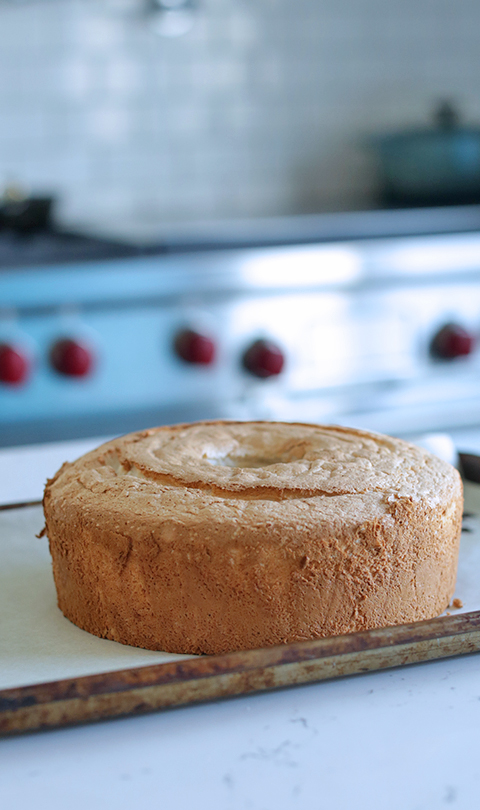 After the cake is cooled you then want to make thick slices or cut it up into medium sized chunks because the goal is to layer up the trifle glass with fresh berries and homemade whipped cream. The cutting is totally up to you, just know that it needs to be done.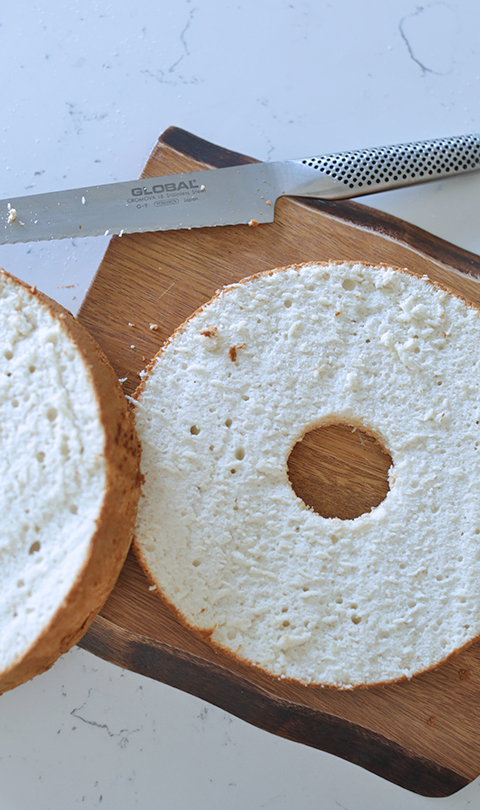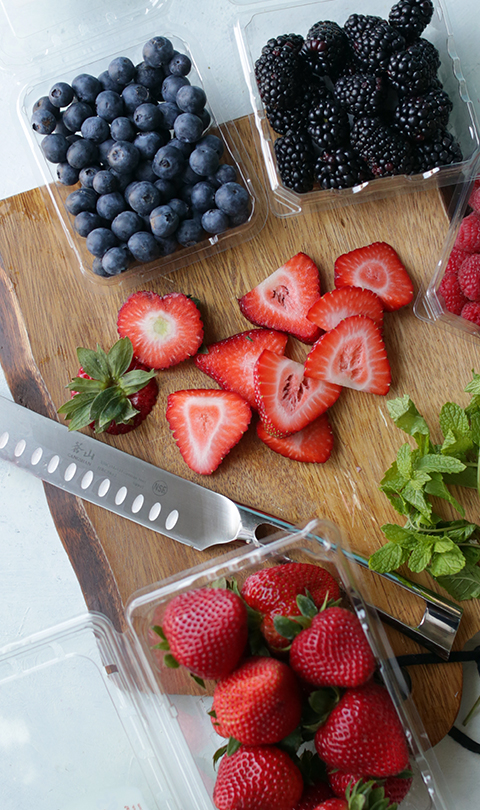 The only other thing you need to do with this recipe is wash all of the berries and then slice up the strawberries, and then make whipped cream. Whipped cream is simply heavy whipping cream and sugar whipped to stiff peaks, but if you are calorie counting then maybe the canned whipped cream would be a bit more appropriate. Regardless, you need whipped cream or you could possibly even use yogurt if you wanted to.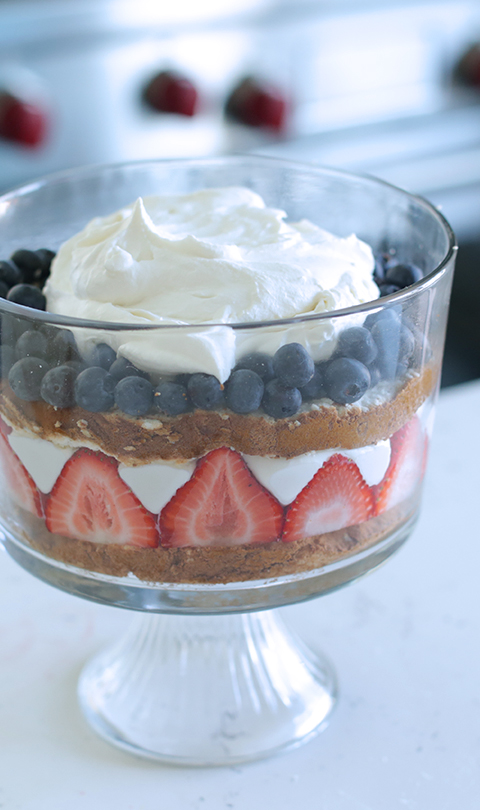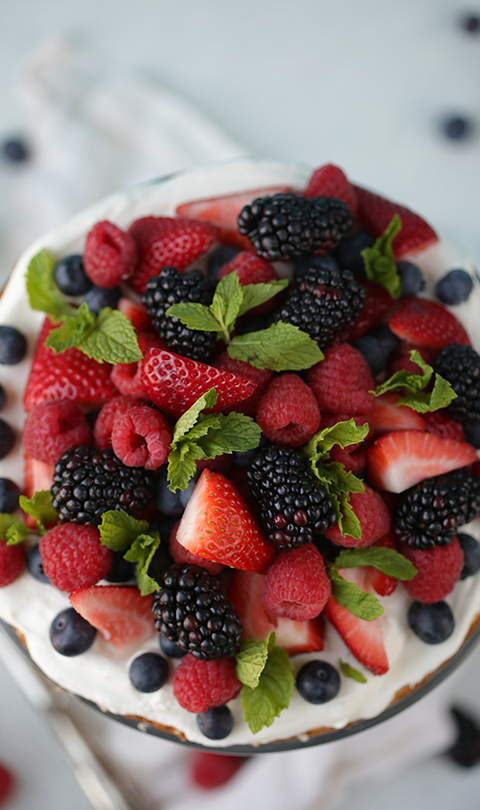 Enjoy layering up this cake and more importantly have a fantastic Memorial Day weekend! Happy Baking and Happy Memorial Day.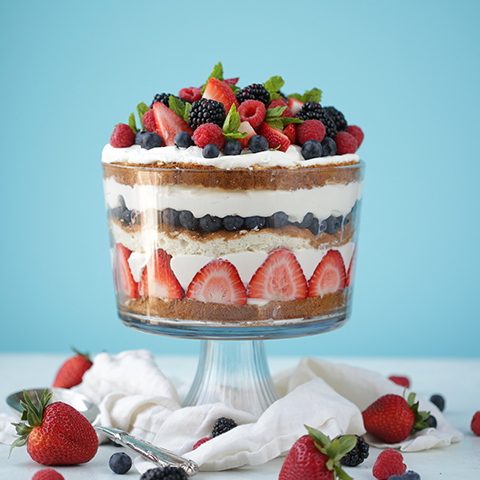 Homemade Angel Food Cake Trifle Recipe with Fresh Berries Recipe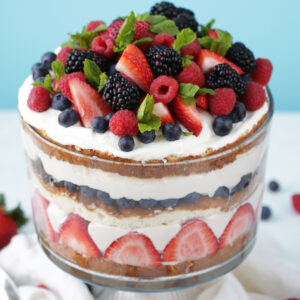 INGREDIENTS
14 egg whites, at room temperature
1 ½ teaspoons of cream of tartar
½ teaspoon of Kosher salt
1 ¼ cups of cake flour
3 cups of sugar
3 teaspoons of vanilla extract
1½ quarts of heavy whipping cream
2 pints of sliced fresh strawberries
2 pints of blueberries
2 pints of raspberries
2 pints of blackberries
INSTRUCTIONS
Preheat the oven to 350°.
beat egg whites, cream of tartar to stiff peaks in a standing mixer with the whisk attachment on high speed.
Next, slowly add 1 cup of sugar until combined and the whip on high speed until stiff peaks are formed.
In a bowl sift together the flour and 1 cup of sugar and then fold that mixture in with the whipped egg whites along with 2 teaspoons of vanilla extract.
Pour the batter into an angel food cake pan and run a knife through to make sure there are no air pockets.
Bake at 350° for 30 to 35 minutes or until lightly browned and softly firm.
Invert the pan and let cool for 1 hour, then use a knife to scrape the outside of the pan so that the cake releases. Cut into medium size chunks or thinly slice the cake ring into 3 pieces. Set aside.
Whip the heavy cream, 1 teaspoon of vanilla and remaining sugar into a standing mixer on high speed with the whisk attachment until stiff peaks are formed.
Layer the trifle with cake, whipped cream and fresh berries.
Serve cold!