Cranberry White Chocolate Macadamia Hot Cross Buns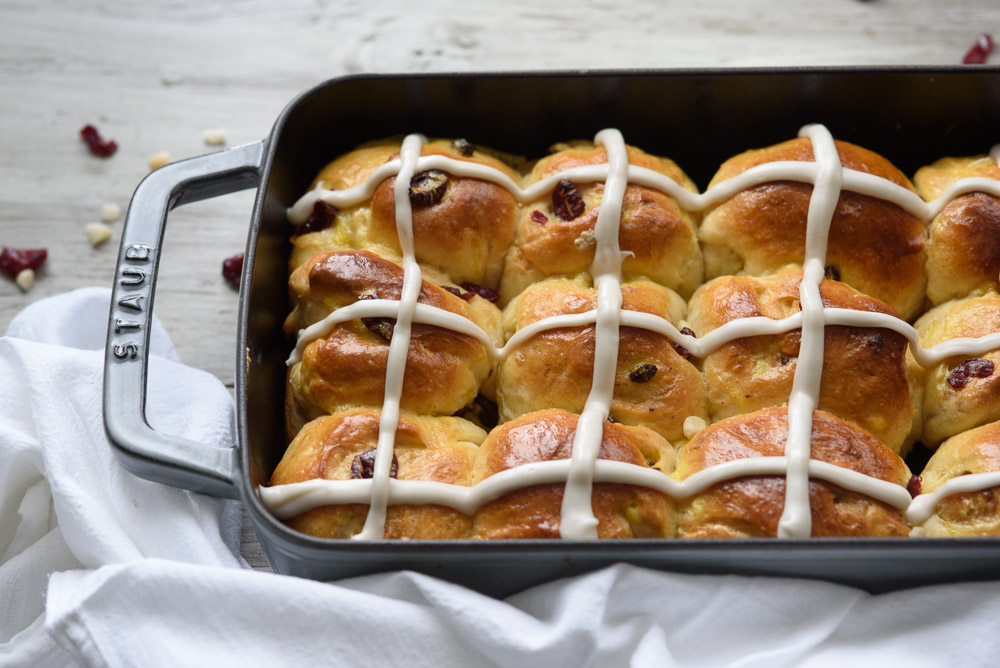 Hot cross buns are a staple Easter food all across the world and well worth the effort. But don't leave them just for Easter, they are perfect with a steaming mug of coffee or tea any time of the year!
Hot cross buns go waaay back… like the 1500's kind of way back and possibly even earlier than that (the ancient Greeks had a version according to some reports). They were traditionally made for the celebration of Good Friday. Since Good Friday falls during Lent, the buns were historically made without dairy and eggs since the consumption of any animal products was forbidden.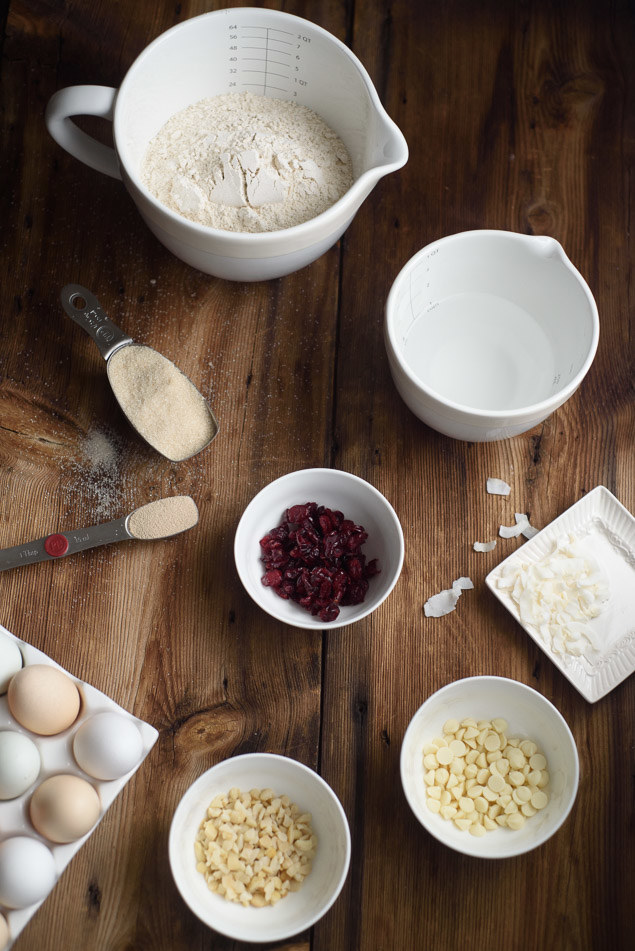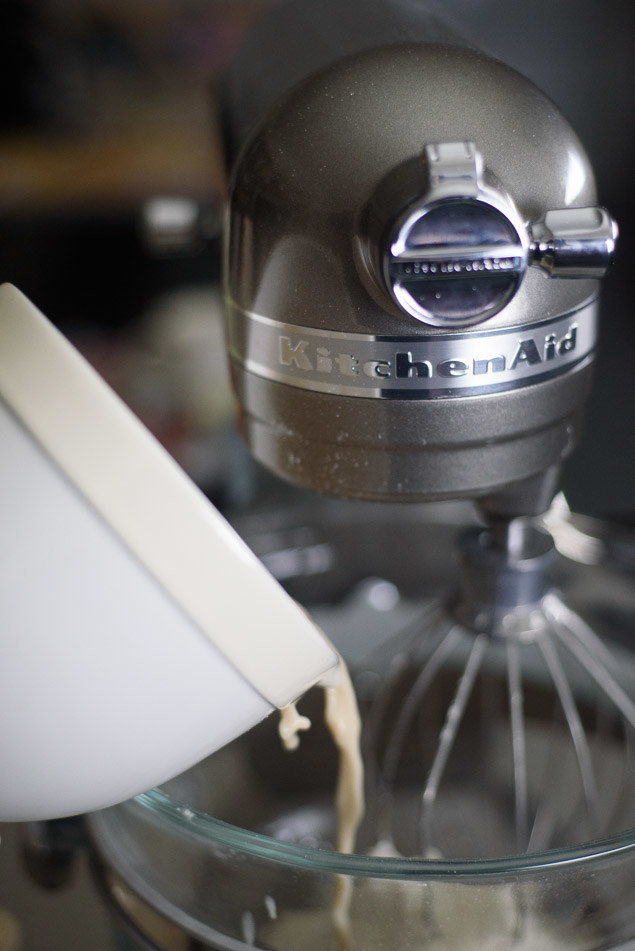 Fortunately for us, modern day Lent rules have
loosened a bit and most tend to be okay with anything but actual meat products, so I took some liberties to make these a little more luxurious with eggs and
milk in the dough. And I maybe got a little excited about all the fillings in
them! Instead of the normal currants and candied citrus peel, I used dried
sweetened cranberries, white chocolate chips and macadamia nuts.
Since our family never baked these for our
Easter celebrations I had so much fun reading all the old stories and
superstitions surrounding these little buns; they truly are all over the board!
From hanging them in your kitchen for a whole year to ensure your bread rose
perfectly, to warding off evil spirits and preventing kitchen fires, they have a
colorful history. But unquestionably, the belief that they would help prevent
shipwreck was a key trait in helping spread their tradition from society to
society as they were carried to new lands.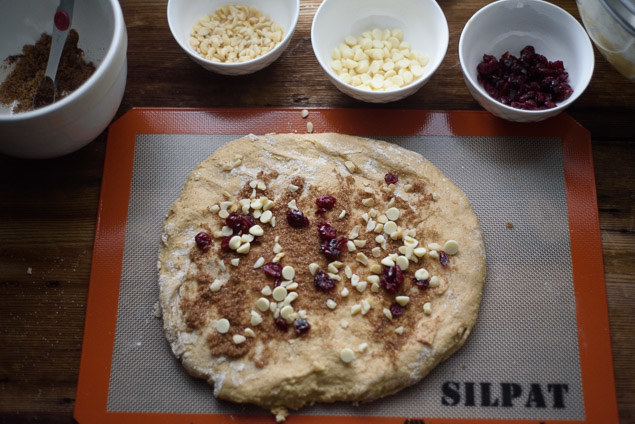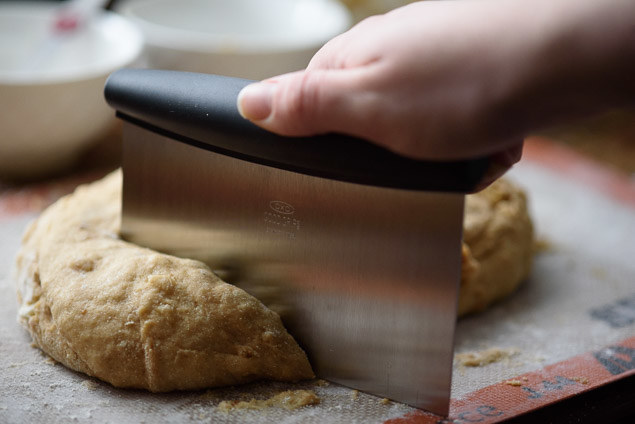 The classic cross that marks each bun was in
remembrance of the cross. Historically the crosses on the buns were made with a
flour and water paste or a bit of shortbread dough pressed onto the top of the
buns before they baked. But modern day versions are often decorated with a
white frosting. Since these remind me a ton of cinnamon rolls, I thought that
the frosting sounded like the best plan to me!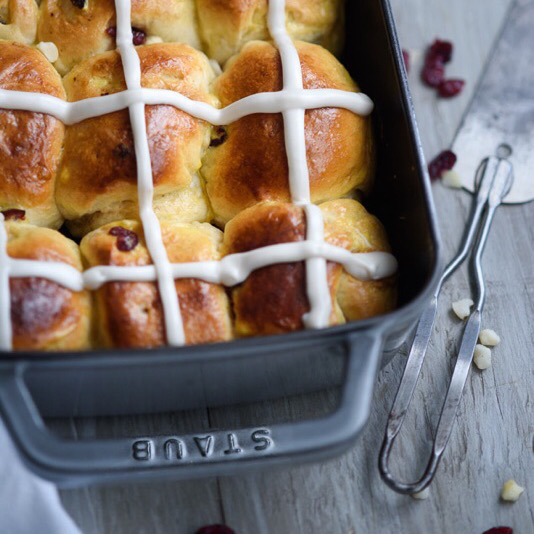 I can't wait to bring these to Easter dinner
this year and share the story behind them with our family!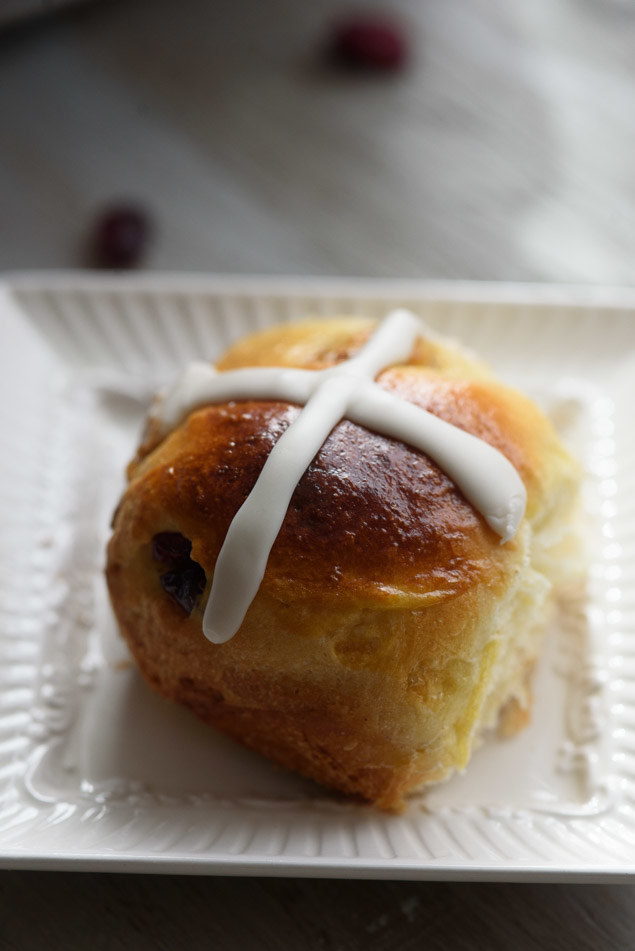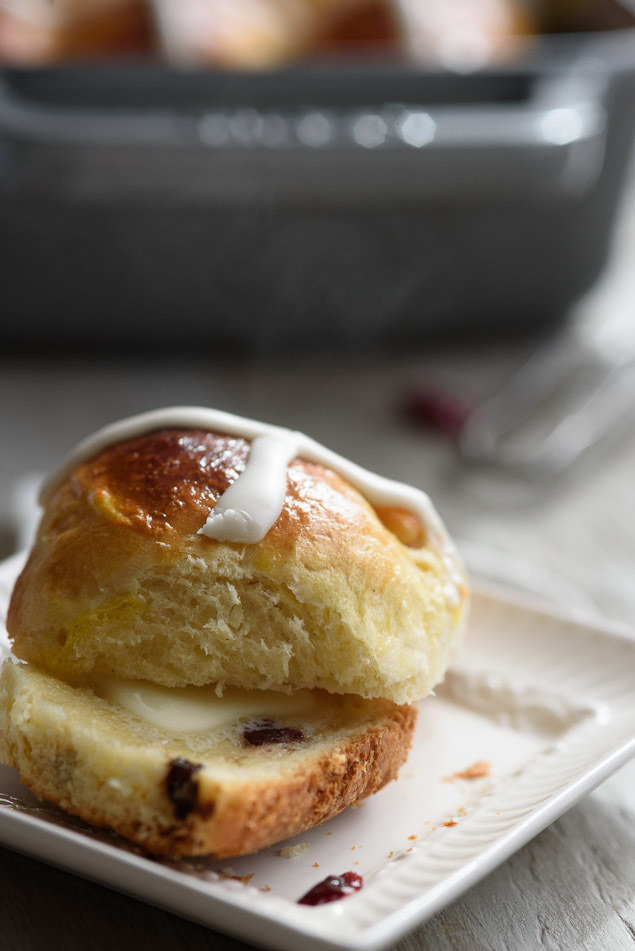 Cranberry White Chocolate Macadamia Hot Cross Buns Recipe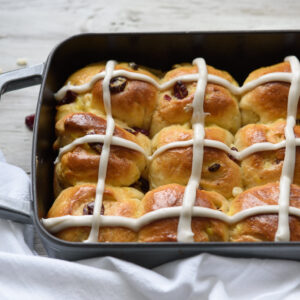 INGREDIENTS
For the buns:

1 cup warm milk (110 degrees)
2¼ teaspoons active dry yeast (not instant, I recommend Red Star Yeast)
¼ cup sugar
½ cup butter
⅓ cup honey
3 eggs, whisked
¼ teaspoon salt
5½ cups unbleached all-purpose flour plus extra
¼ cup white chocolate chips
¼ cup dried cranberries
¼ cup macadamia nuts
¼ cup sugar
1 teaspoon pumpkin pie spice
For the egg wash:
1 egg plus 1 tablespoon milk
Frosting:
½ cup powdered sugar plus 1 tablespoon milk
INSTRUCTIONS
Mix warm milk, yeast and sugar together in the bowl of a stand mixer or a large bowl. Let sit 5 minutes until bubbly.
Melt butter and honey together, ensure temperature is not above 110 degrees. Should just be warm not hot.
Add honey butter mixture, eggs, salt and 3 cups of flour to stand mixture. Start on low and allow mixture to come together in mixer. Add remaining flour in ½ cup increments until dough is pulling away from edges and cohesive. It should be soft and pliable not sticky.
Pour out onto a clean floured surface and knead for 2-3 minutes.
Combine sugar and pumpkin pie spice.
Add half of the sugar mixture and half of the white chocolate chips, cranberries and macadamia nuts to the dough. Knead to combine. Add the remaining half of all ingredients and knead into dough.
Place in a lightly oiled mixing bowl. Turn the dough over in the oil so that the top is lightly coated. Cover and place in a warm location.
Let rise for 1 hour or until doubled in size.
Cut into 24 pieces and roll into balls. Place in oiled pan and cover with plastic wrap that has either been lightly oiled or sprayed with non stick spray.
Allow to rise for 1 hour or until desired size. Whisk egg and milk together and brush the rolls with mixture.
Bake at 350 for 20 minutes until browned nicely. Cool buns completely.
Whisk frosting together until smooth. Frosting should be very thick and white, if it is not thick enough continue adding powdered sugar. Using a ziplock with the corner clipped off frost buns with a cross across each bun.
Serve with butter or jam. They are best warm or toasted.