Cranberry Chicken Burgundy Recipe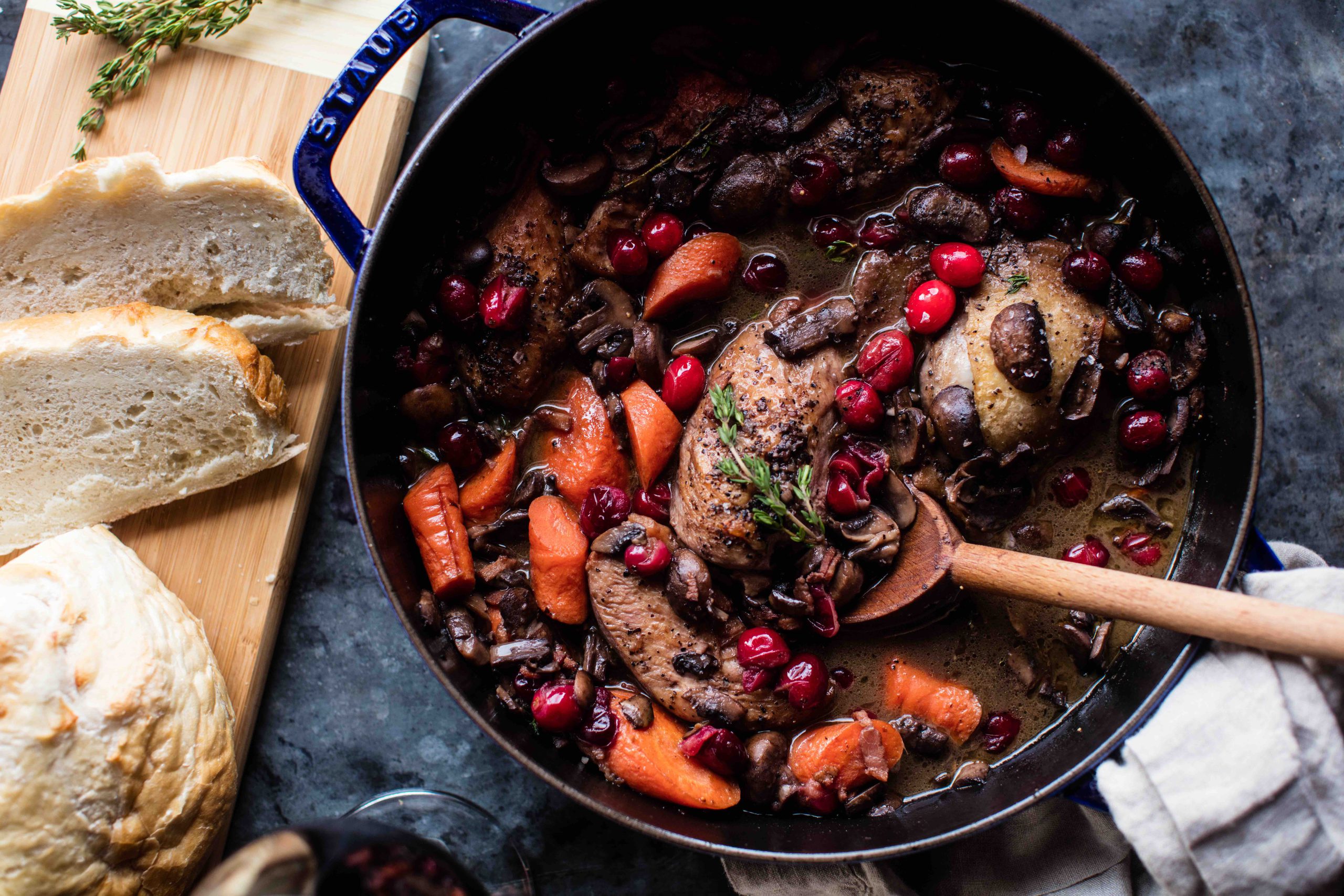 This dish has classic French flavors: wine, mushrooms, garlic and thyme. It also acquires a hit of unexpected sweetness from the cranberries…not to mention a pretty pop of festive red color! It's perfect for this time of year, right before the holidays when our homes are filled with family and friends and everyone needs a good hearty meal after coming in from the cold.
This Cranberry Chicken Burgundy recipe is the ultimate winter comfort food. It's great because it's simple to make, quick cooking and typically pleases everyone at the dinner table. During the colder months of the year, I love using fresh cranberries in savory recipes. They are fruit that most people associate with sweet dishes, but I absolutely love pairing them with wine based chicken and beef recipes. They add a nice tart flavor, but the tartness is balanced out by the sweet red wine it's delish!
This is the perfect one-pot meal to serve up this week (or any week) for a family dinner, of even your next holiday dinner party. I love to serve it with egg noodles or mashed potatoes and always with a nice loaf of crusty bread…always with the bread. It's perfect for soaking up any of that leftover sauce! Yum!
Happy Holidays Everyone!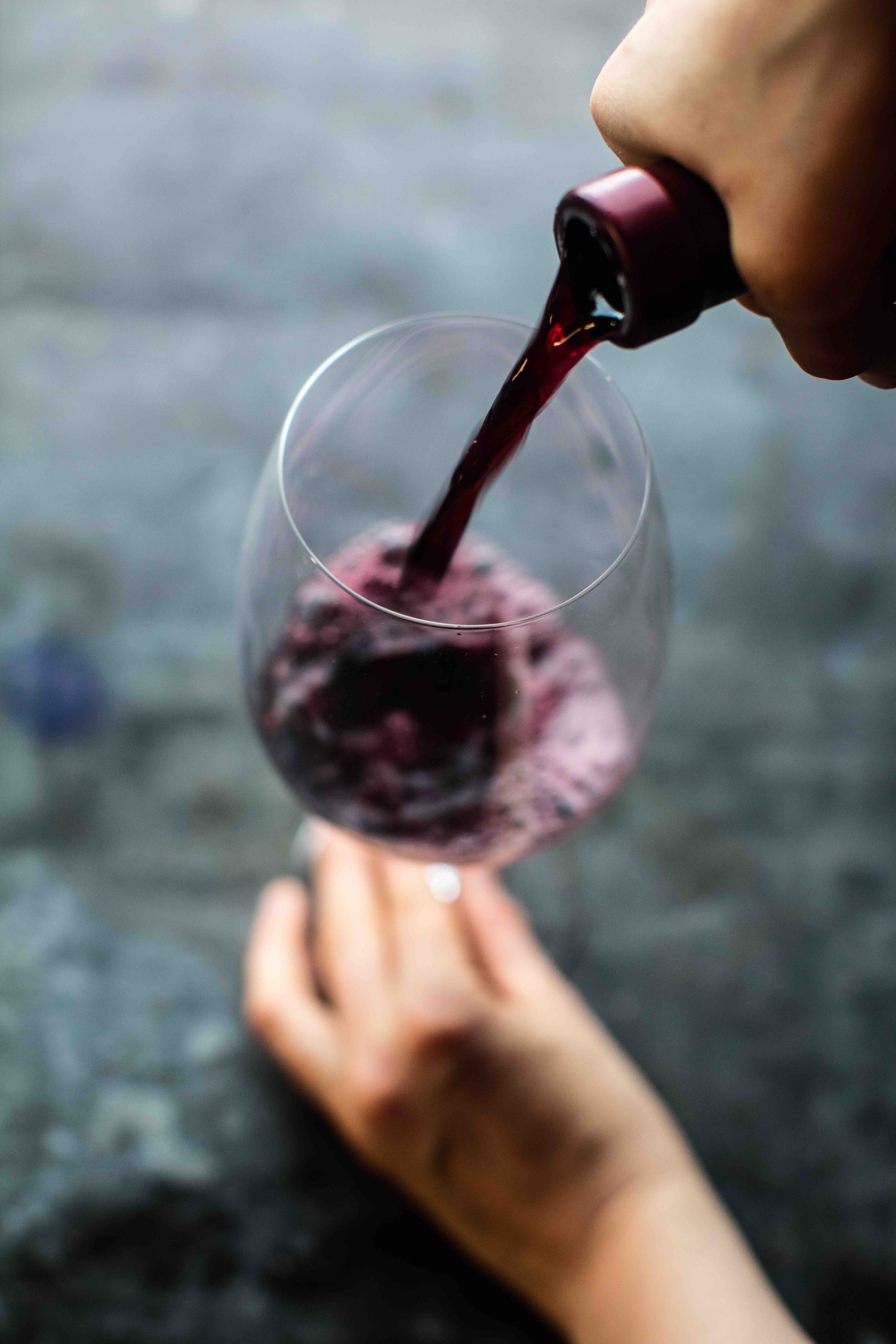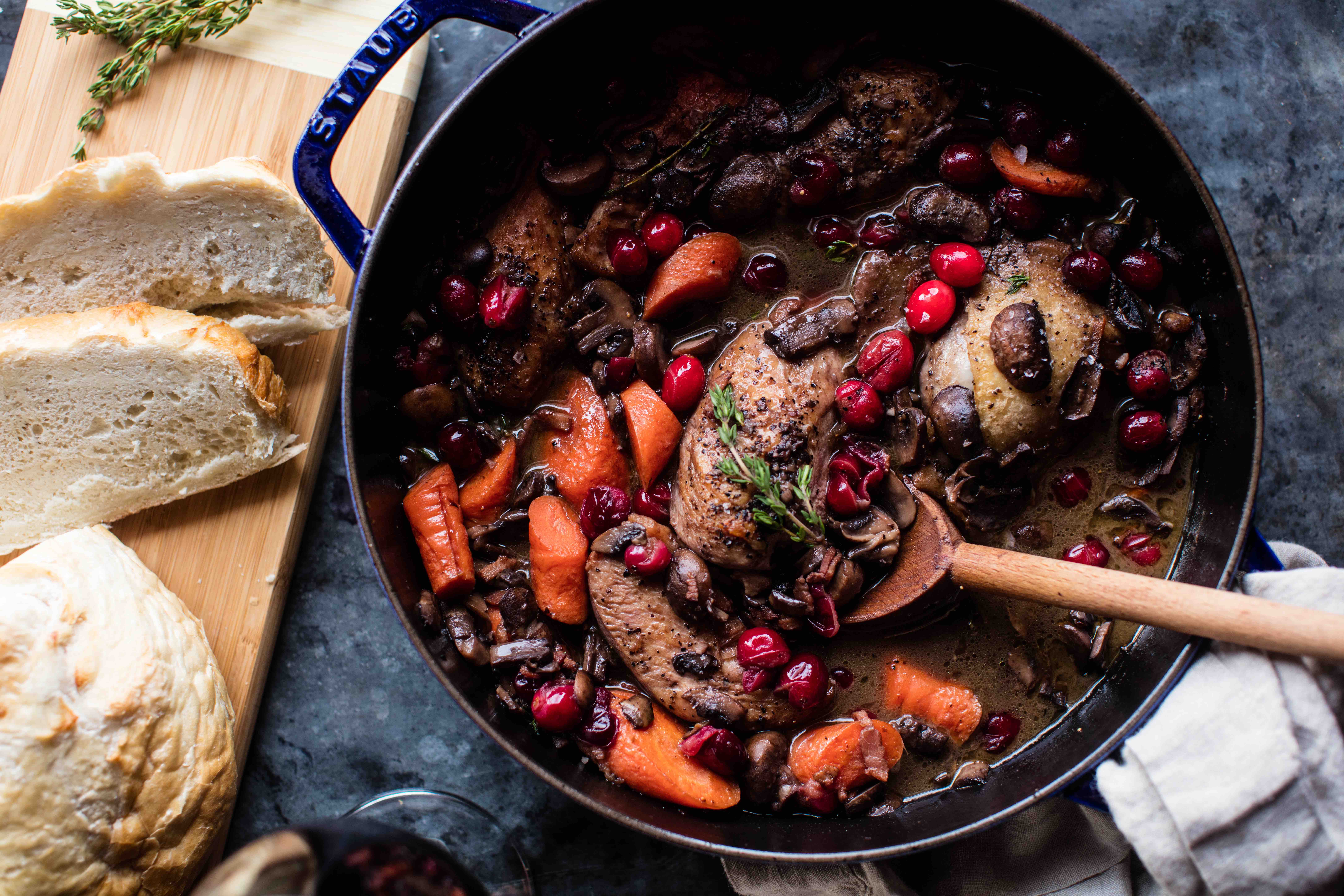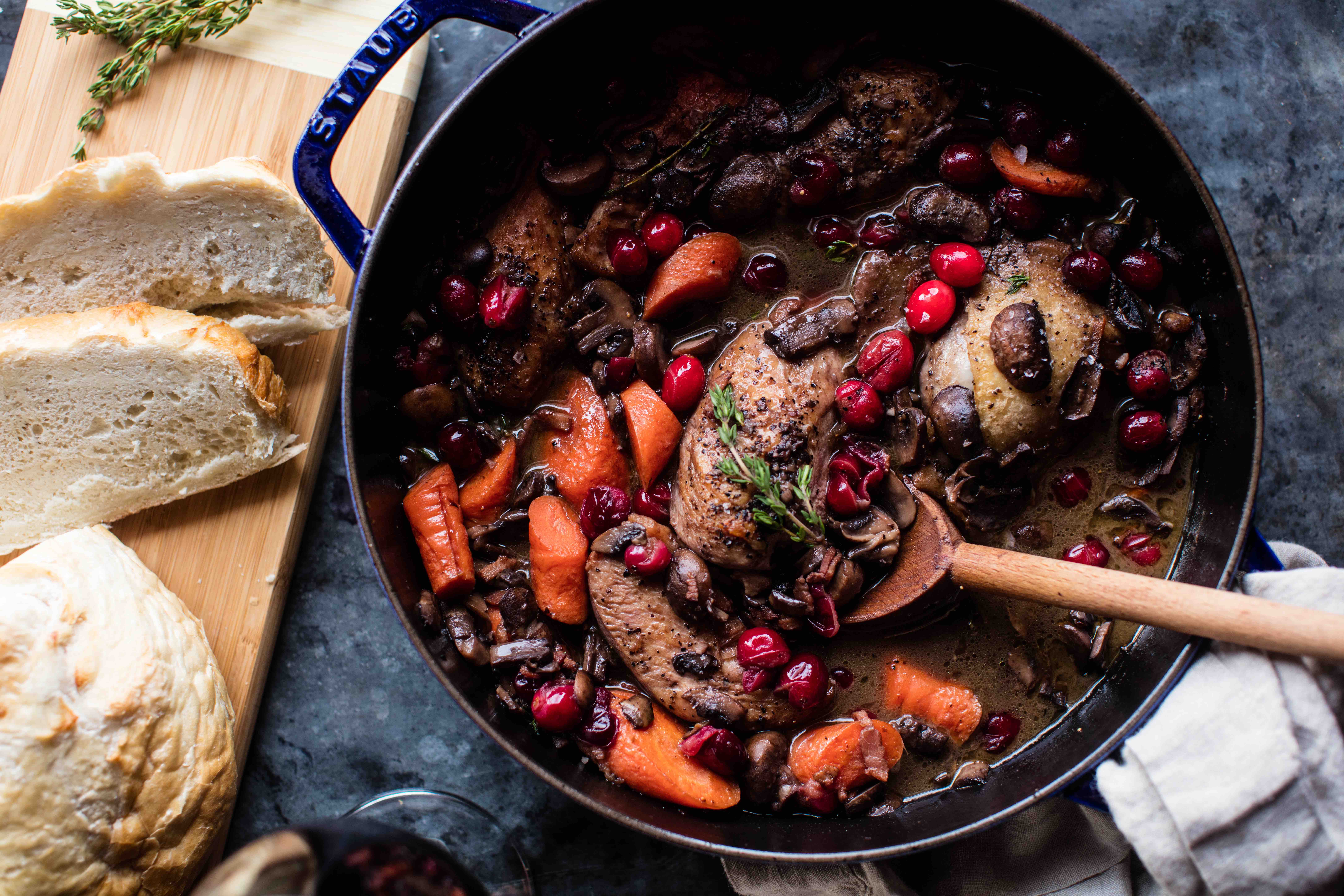 Cranberry Chicken Burgundy Recipe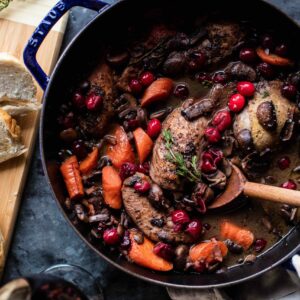 INGREDIENTS
4 thick cut slices bacon, chopped
1 ½ pounds chicken breast or thighs
4 tablespoons olive oil
kosher salt and pepper
1 sweet onion, diced
4 cloves garlic, minced or grated
2 medium size carrots, chopped into 1/2 inch pieces
2 tablespoons tomato paste
2 cups cremini mushrooms, sliced
2 cups red wine, plus more if needed
2 cups chicken broth
2 bay leaves
4 whole sprigs fresh thyme
1 ½ cup fresh cranberries
½ cup fresh parsley, chopped
INSTRUCTIONS
Heat a large dutch oven over medium-high heat and cook the bacon until crispy. Remove the bacon to a paper towel lined plate to drain. Add 2 tablespoons olive oil, when the oil is shimmering, add the chicken. Season with salt and pepper and cook the chicken until browned, about 5 minutes per side. Remove the chicken from the pot and place on the plate with the bacon.
To the same pot, add 1 tablespoon olive oil, then add the onion, garlic, and carrots. Cook the veggies, stirring often until soft and lightly caramelized, about 5 minutes. Stir in the tomato paste and mushrooms and cook another minute or two. Slowly pour in the red wine and chicken broth. Add the bay leaves and thyme and season with salt + pepper. Stir back in the chicken and bacon. Add the cranberries, stir to combine and then bring the sauce to a boil, reduce the heat to medium and simmer for about 20-30 minutes or until the sauce has reduced by about 1/3 and the chicken is cooked through. Cooking times will vary depending on the thickness of your chicken.
Serve the chicken with egg noodles, mashed potatoes and or bread. Garnish with fresh parsley.