Cooking With Kids: The Basic Kitchen Skills Your Junior Chef Needs to Get Started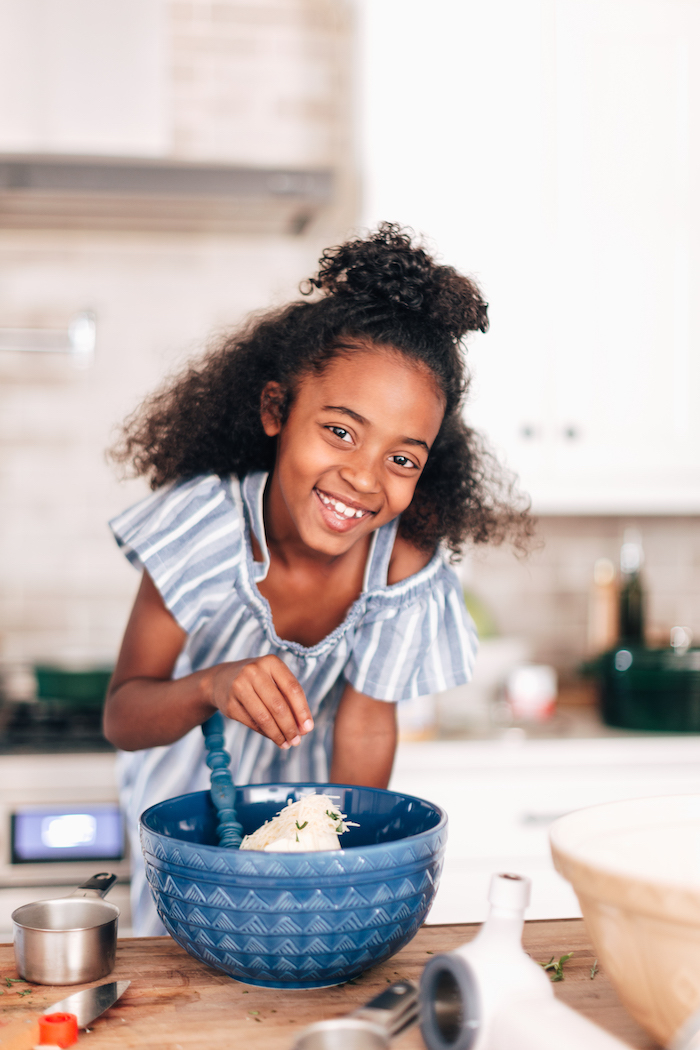 There are a lot of basic skills life skills I'll need to teach my kids during their 18 year (or longer) stay with us. How to brush their teeth, wake up on time, speak up for themselves, be a good helper, have a grateful heart, and even doing their own laundry.
One skill that will need to be taught for sure is how to make a meal! Kitchen safety and the ability to read and follow a recipe is something each one of them will need to know before they leave!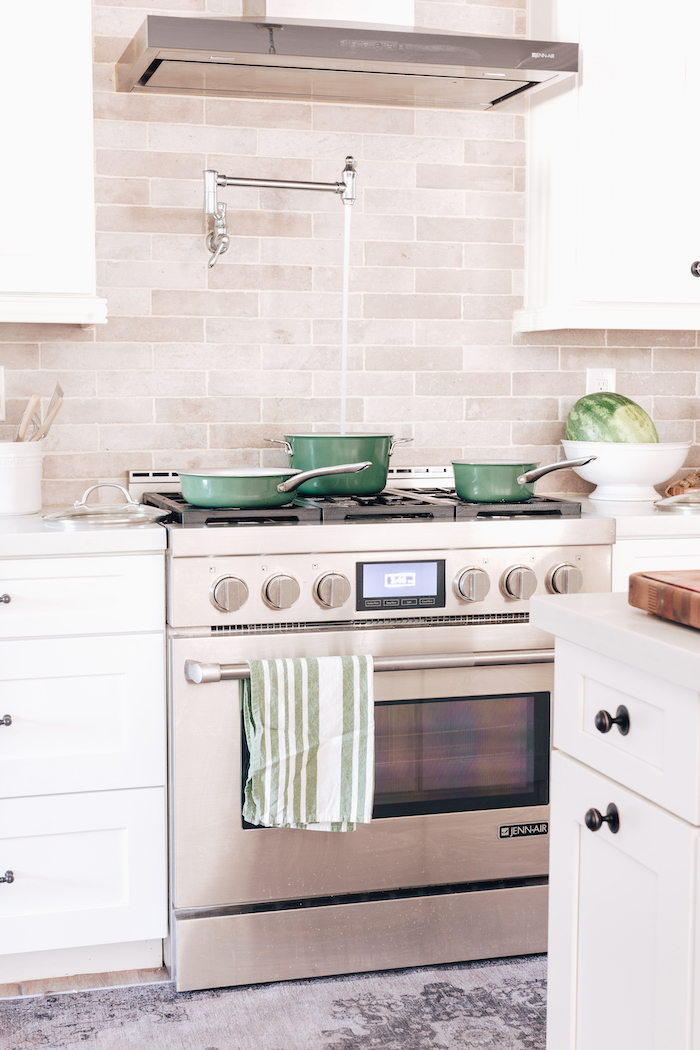 When my kids were super little, making anything in the kitchen was more about spending time together and making memories. But now that they're a bit older, I can start to teach them some real kitchen skills that they can build on over time.
12-Pc. Cookware Set

By Ayesha Curry Home Collection

Shop Now
Last week I decided to bring my youngest into the kitchen to make some lasagna. She has showed interest in cooking for the longest time, so she was more than happy to join me!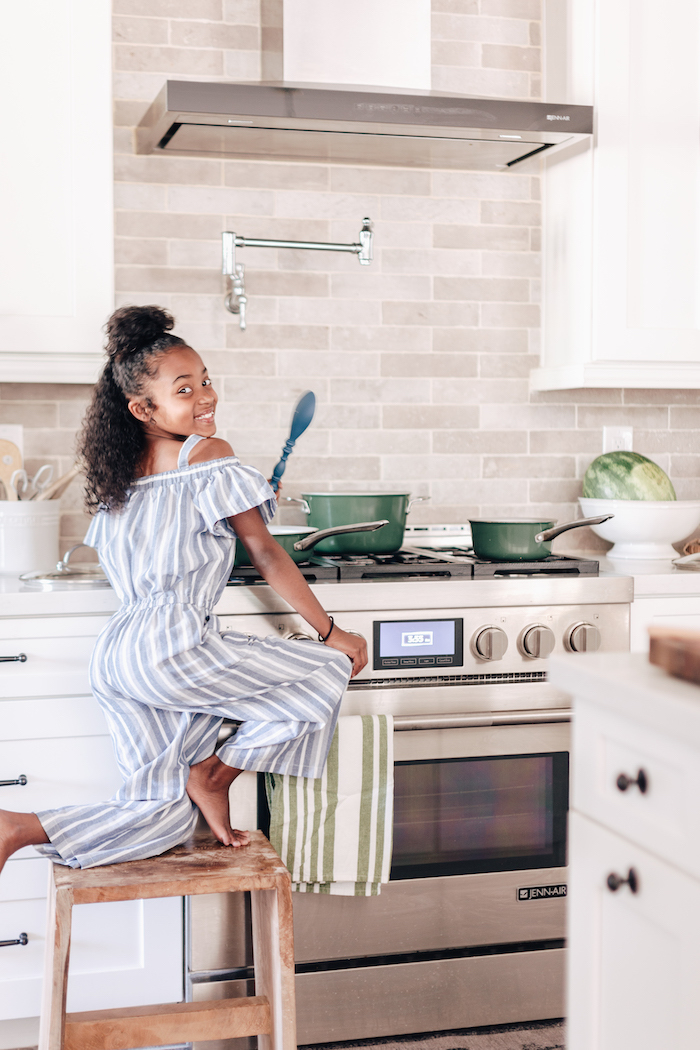 Making lasagna involves a lot of basic cooking skills like turning on the stove and oven on, cutting vegetables, measuring and stirring. With supervision from me, I walked her through the process step-by-step while giving some tips along the way!
Teach Kids to Read the Recipe
The first thing I taught my kids when they entered the kitchen was to read the ENTIRE recipe. Even as an experienced home chef, I forget to read the entire recipe and end up mid-recipe without the proper tools or sometimes ingredients! As they read the recipe, have them get out everything they will need to make the dish.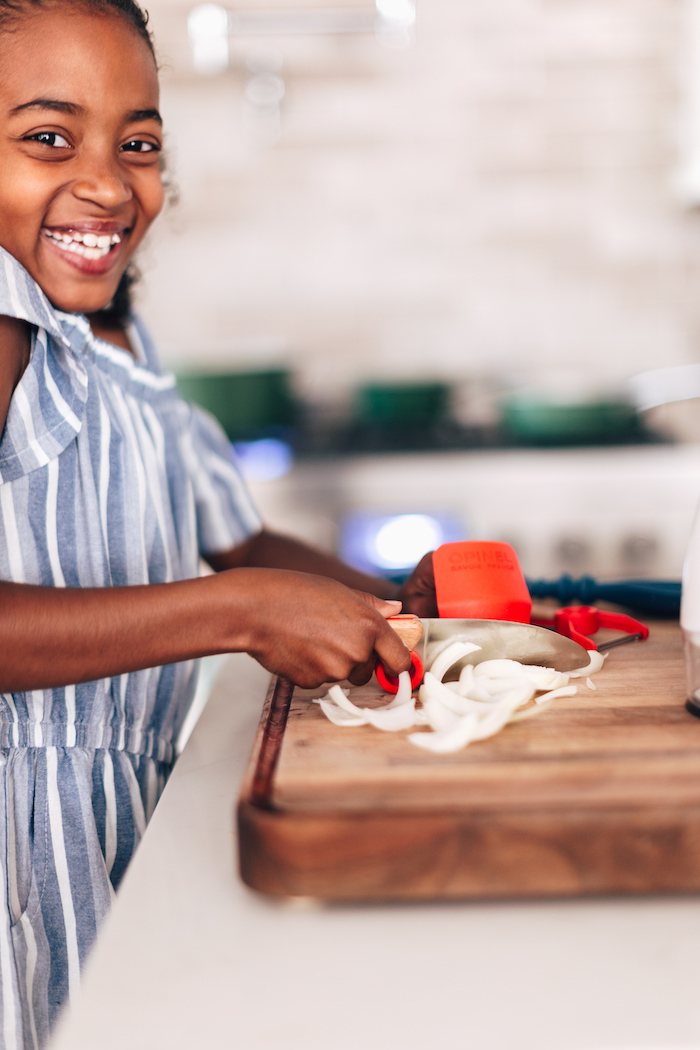 Vintage Inspired Mixing Spoon

By Talisman Designs

Shop Now
Turning On the Oven
Another skill that's important in the kitchen is turning on appliances big and small.
Before we ever turn on the oven, I make them check two things:
Is the oven hot?
Is there something in there?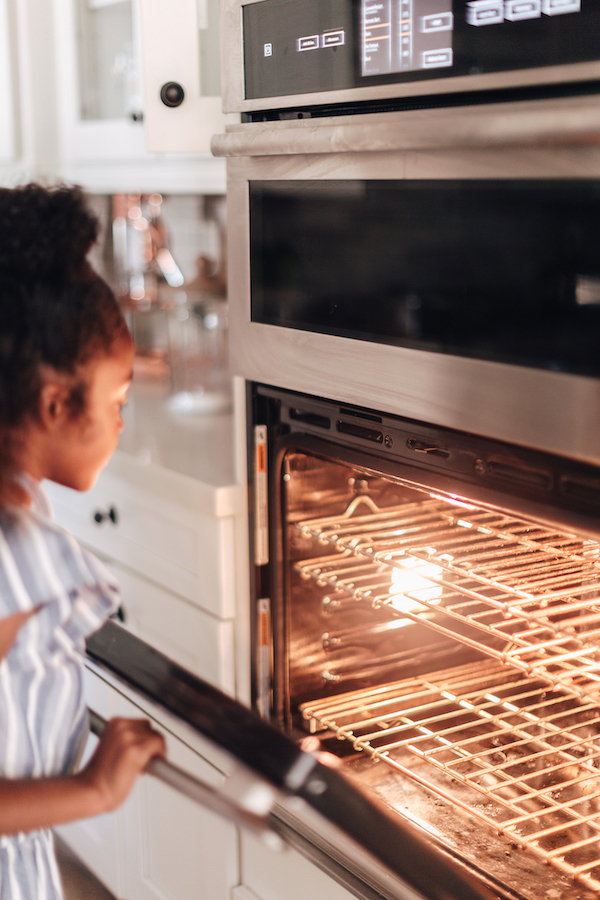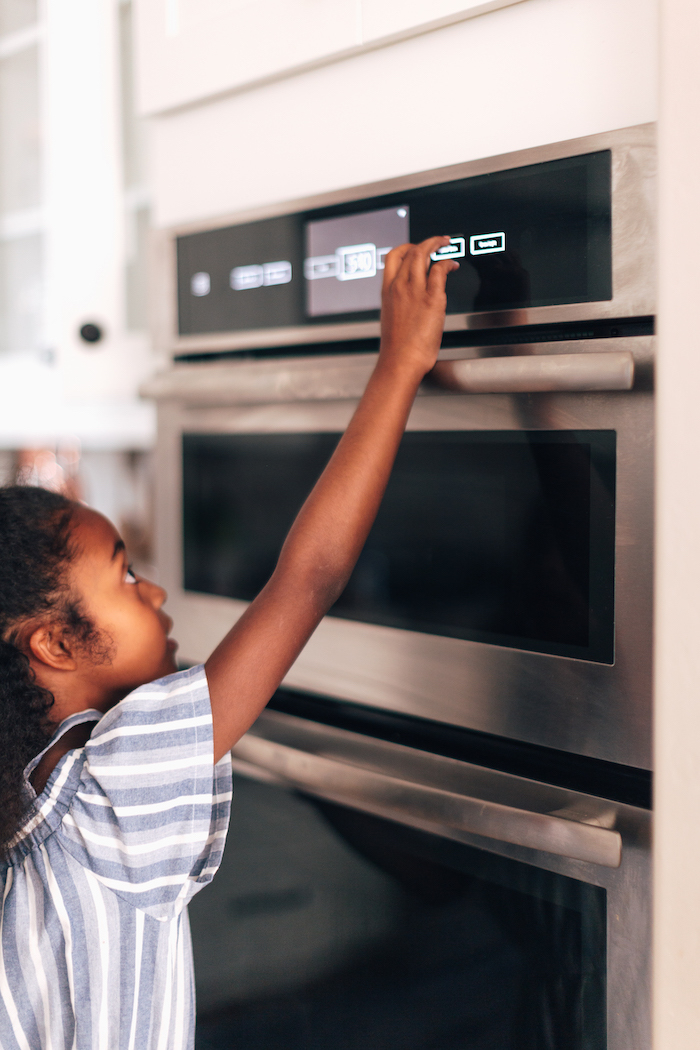 This is very important. So many accidents happen in the kitchen because something that was in the oven got cooked when it wasn't supposed to be in the oven! After all is clear, I have the kids check to see what temperature the recipe calls for (usually the preheat setting) and have them turn the oven on.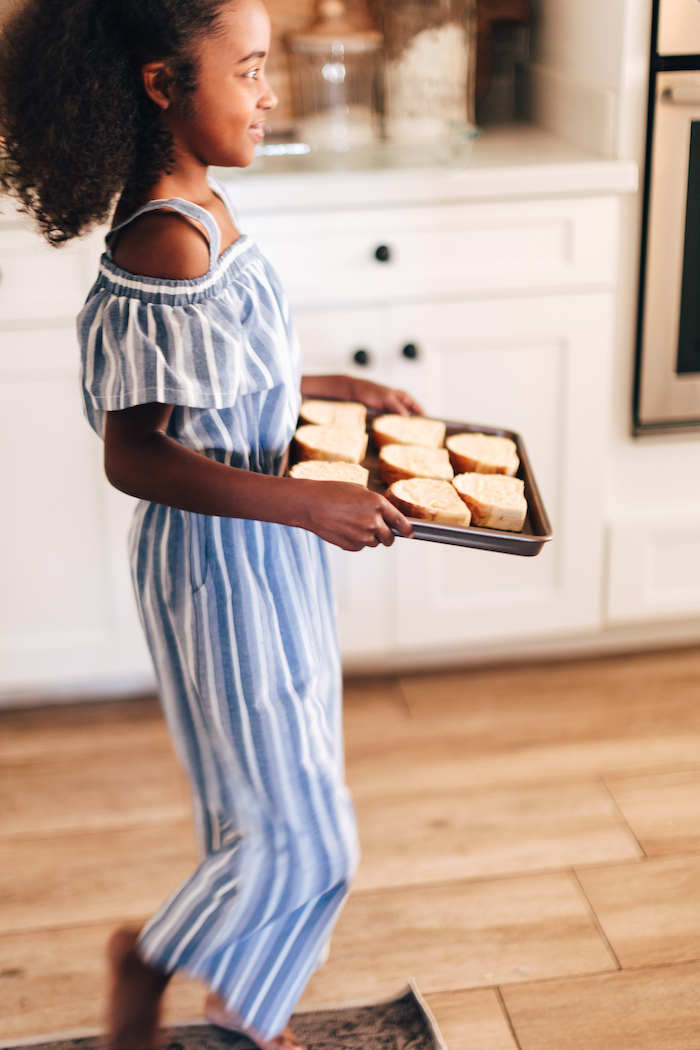 Elite Non-Stick Bronze Baking Sheet

By Chicago Metallic

Shop Now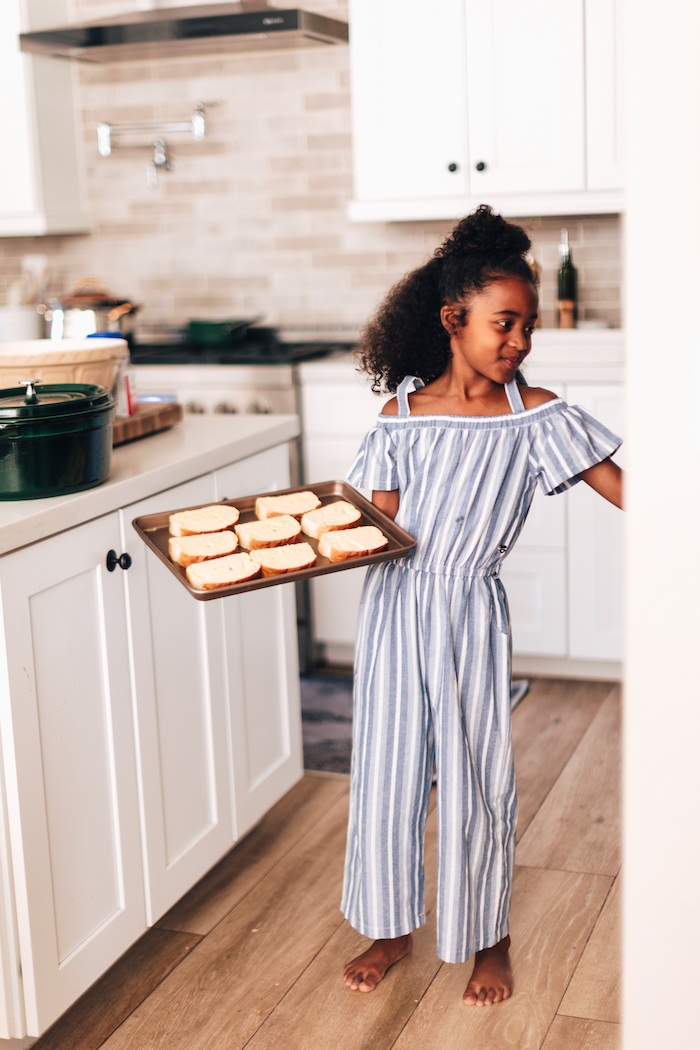 Measuring and Mixing
Another skill kids will need to learn is measuring and mixing ingredients! For the most part this will be guided and kids should have basic math skills!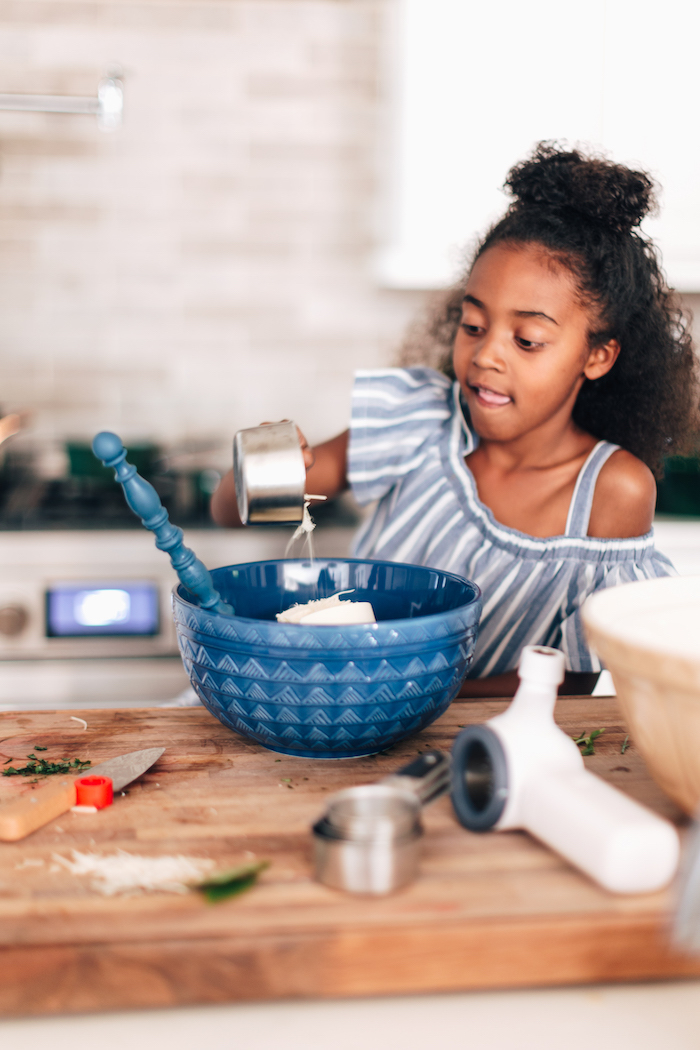 Here are some tips:
Show your child how to level off and pack down when using a measuring cup.
Use nesting cups and spoons like these from OXO for simple explanations! Plus these are magnetic so its easier to remove and use.
Show them how to pour over a bowl without making a mess.
Use a comfortable mixing spoon like this beauty from Talisman Designs.
Use a nice sturdy bowl so kids can easily stir the ingredients without worrying about the bowl tipping.
Stainless Steel Measuring Cups and Spoons

By OXO

Shop Now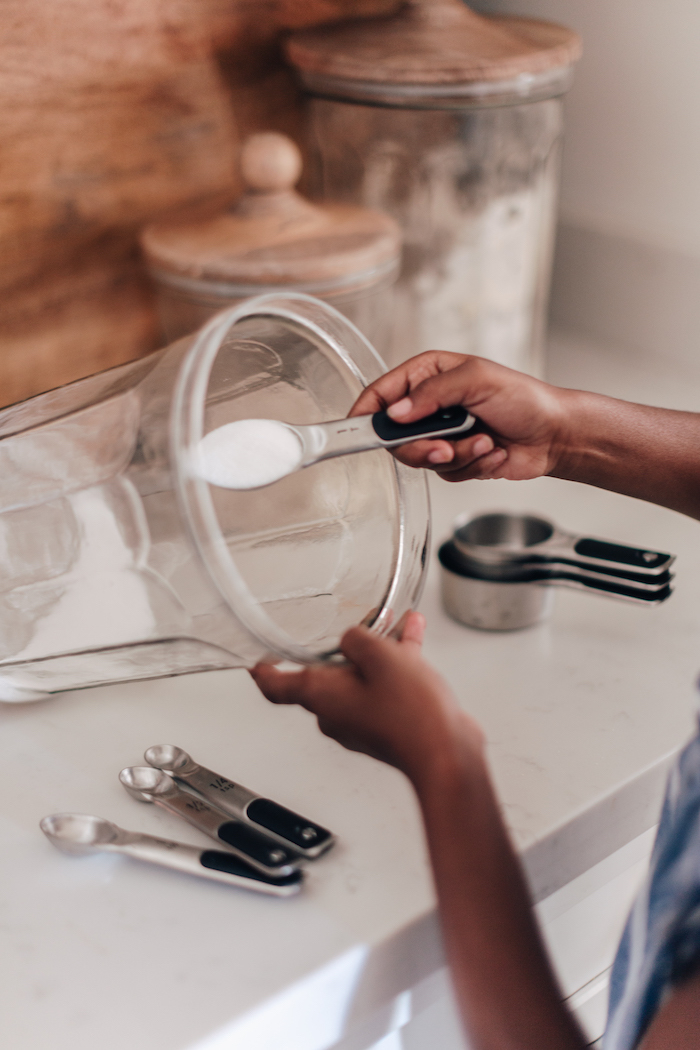 Summit Heirloom Mixing Bowl

By Now Designs

Shop Now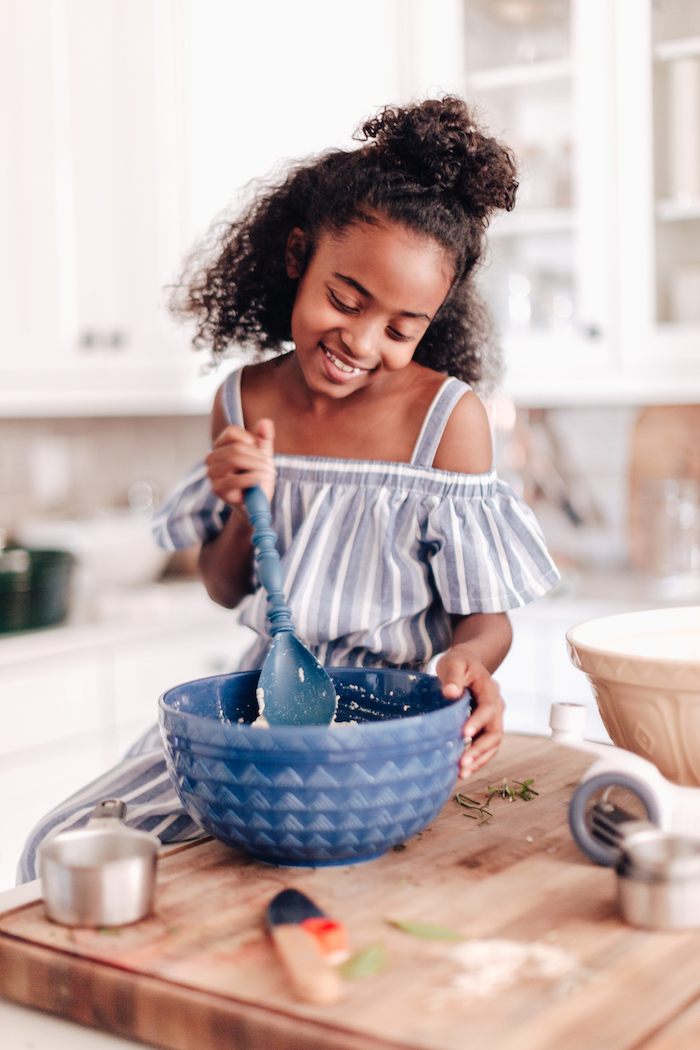 A Real Kitchen Knife Just for Kids
Listen, learn and watch are three things I'm always telling the kids when I'm teaching them new skills. They must listen to directions and apply it when they try it out. Usually I will give them a step-by-step.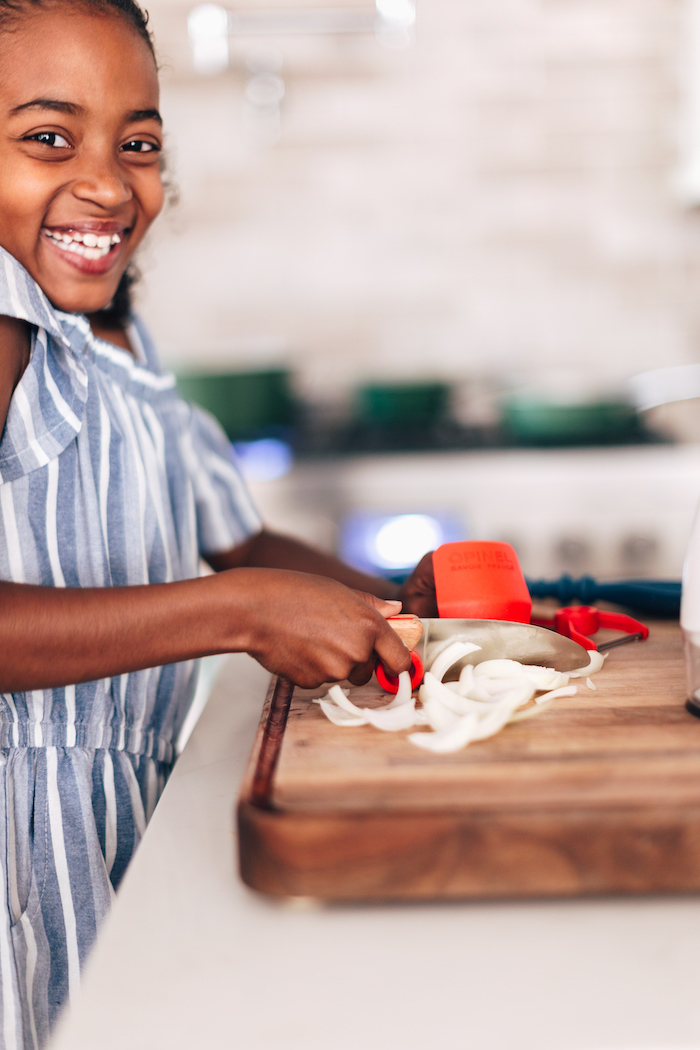 This Le Petit Chef knife by Opinel is the perfect starter knife. It's made specifically for little hands and also comes with a finger guard to keep little fingers out of the way! This knife also teaches kids the correct technique that is used by professionals. When they slide their finger into the guard rings their hand naturally takes shape of the claw grip position.
Le Petit Chef Box Set

By Opinel

Shop Now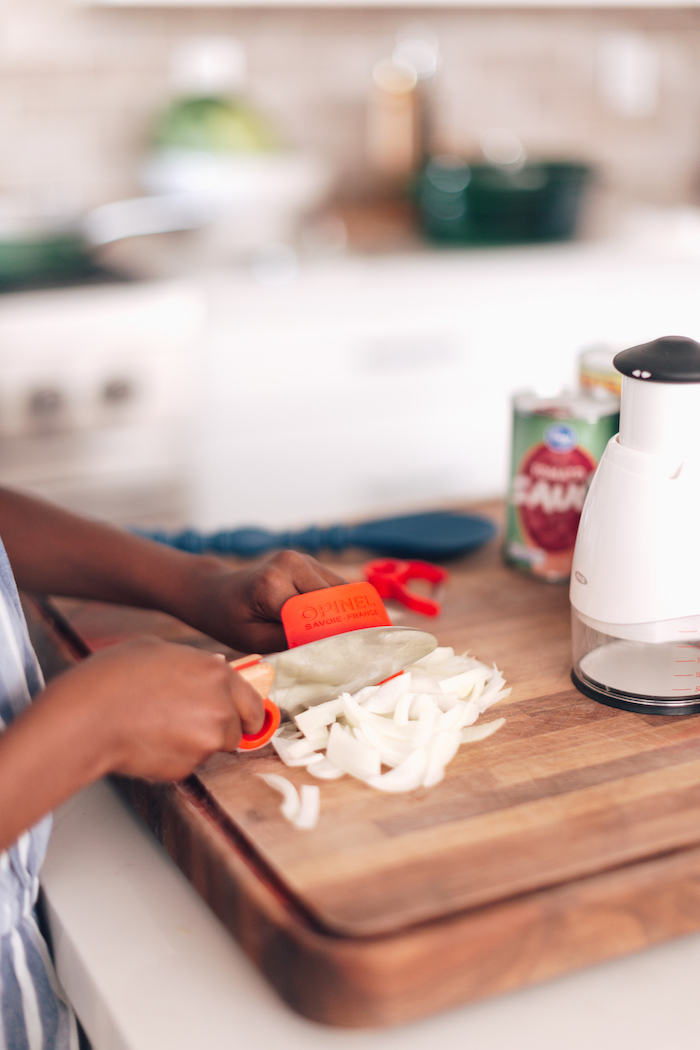 Stovetop Safety for Kids
Because we have gas stovetop, I still assist my kids. It will still be a couple of years before I trust them to do it without me. Gas can be very dangerous if left on too long. So with my help, I first show them and then allow them to do it. But before we begin I tell them to make sure nothing is around the stove, that they have no long sleeves, hair hanging down or anything else that might catch on fire.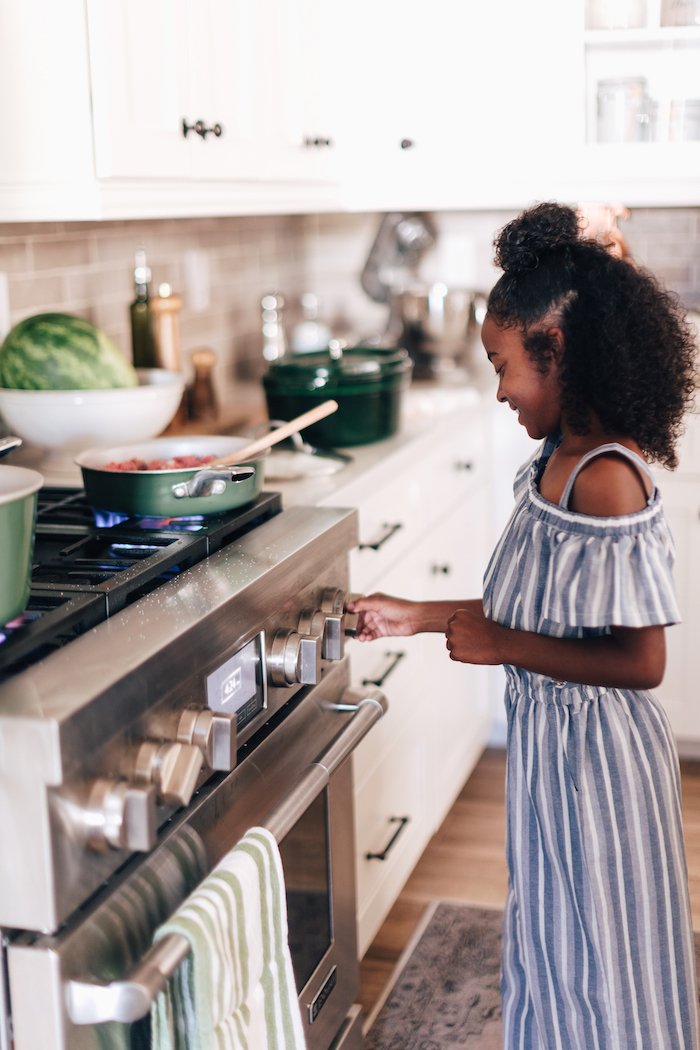 Here are some other safety tips for the stovetop:
Slowly push and turn the dial
Wait to hear the gas
Hear the click and watch the flame
Slowly turn it to the lowest setting
Keep cookware handles inward
Teach them how to turn the stove off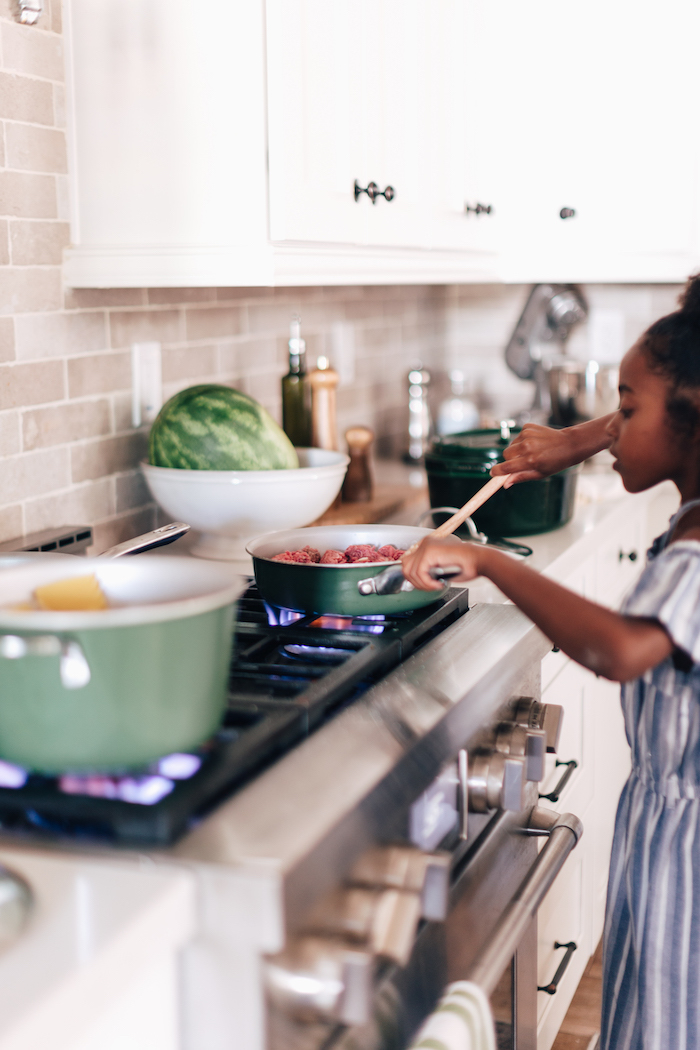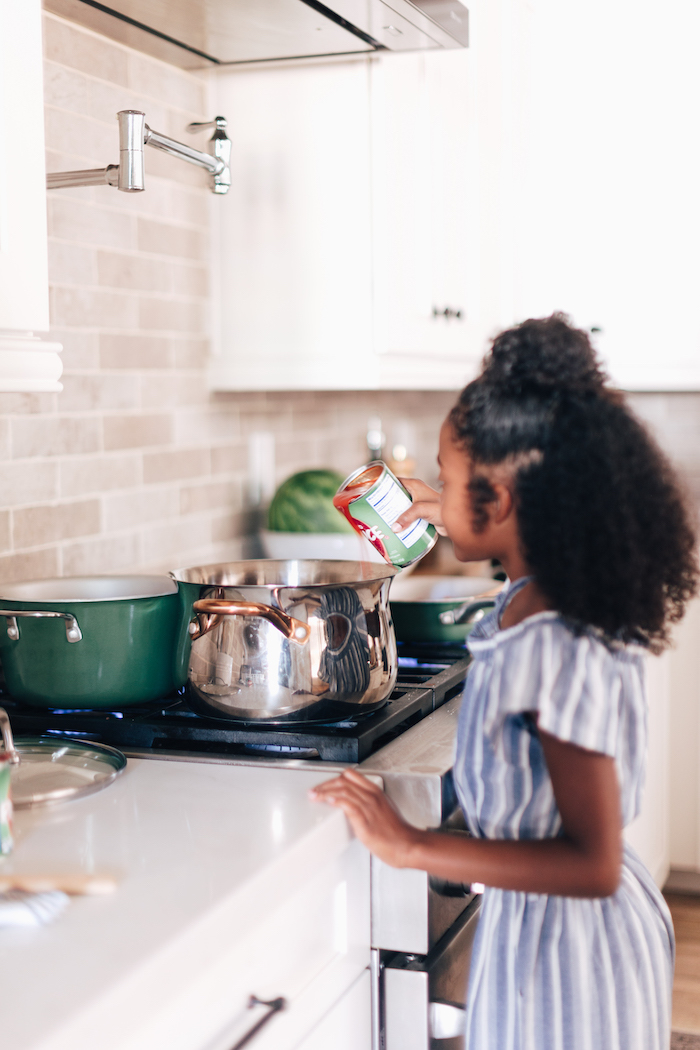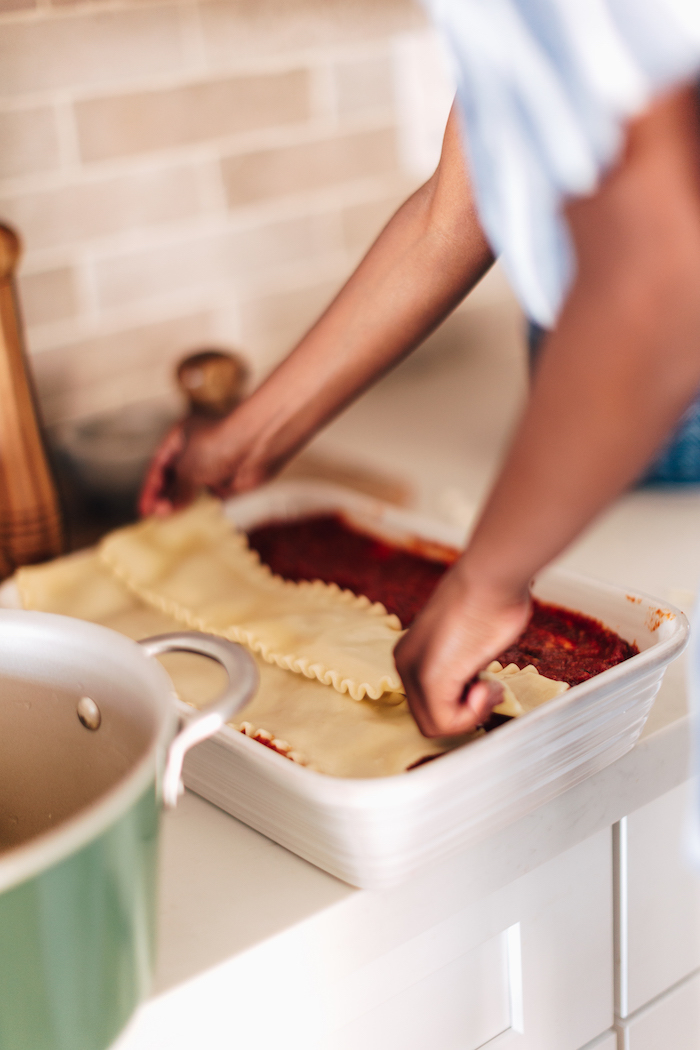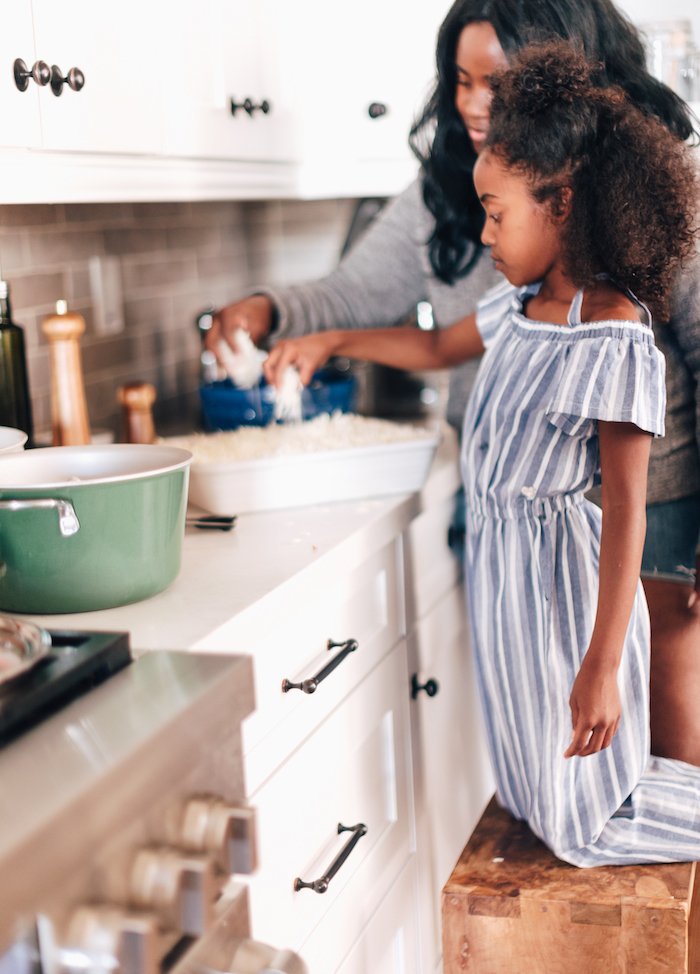 Teaching your kids basic cooking skills can be so rewarding to you both! Plus one day all that hard work will pay off when they make you all your favorite dishes! Get in the kitchen today with your kids, make some memories, and enjoy a good meal!