Comforts of Spring: Chicken + Vegetable Mini Pot Pies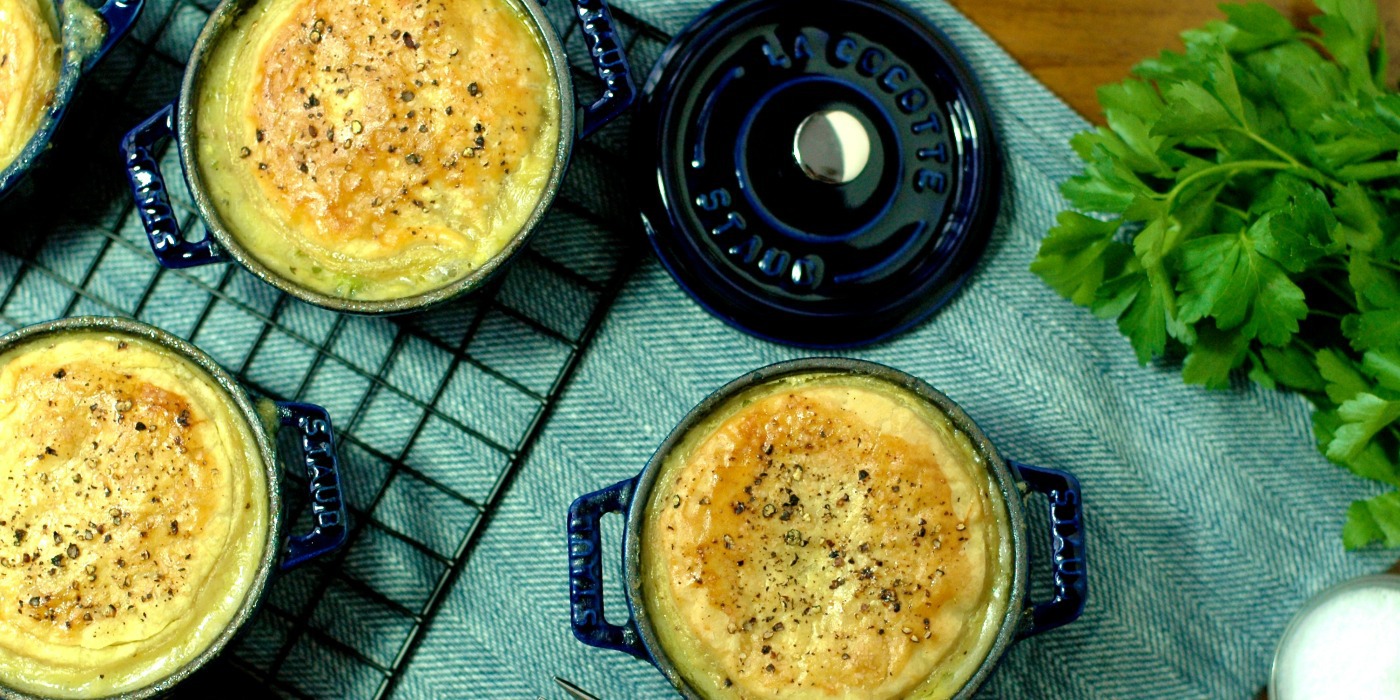 March is a strange time of
year from a culinary standpoint, if you ask me. We're all craving a taste of
spring while still fighting through the wintery chill.
Walking the tightrope between seasons, I start infusing my favorite comfort foods with a taste of spring. Roast chicken gets paired with a light grain salad instead of potatoes. Pasta sheds its wintery coat of bolognese in favor of an aparagus pesto jacket. And chicken pot pies, while still as hearty and comforting as ever, burst with the brightness of fresh parsley, spring peas and carrots.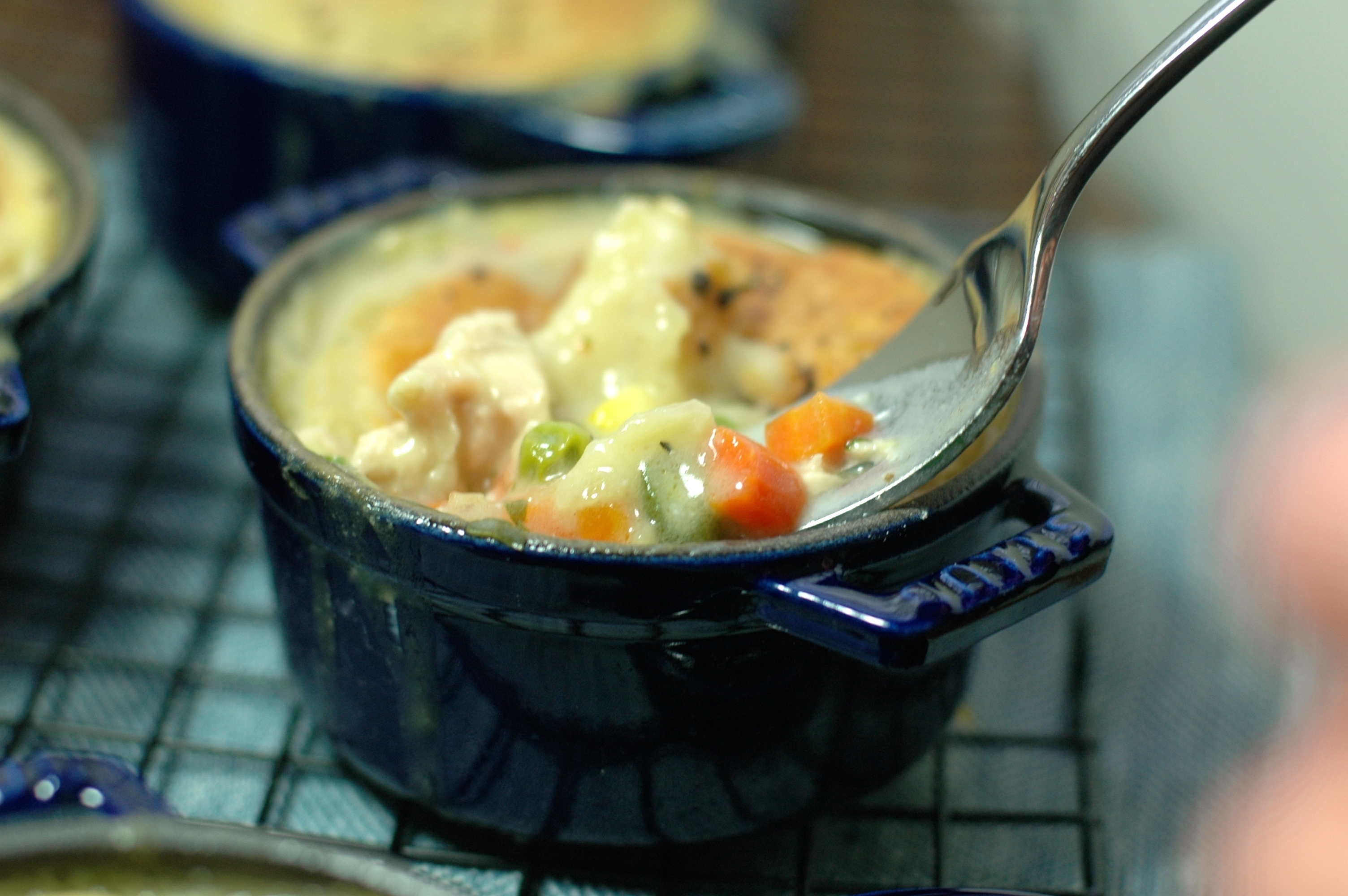 The heart of this dish is the
rich, creamy chicken and vegetable mixture. In March, it can still be hard to
find really great fresh vegetables in the northern half of the country, so I
turn to the consistency and convenience of a frozen mixed vegetable blend that
includes peas, carrots, corn and green beans. You can sub your favorite blend
and mix up the herbs to suit your taste. I love the freshness that parsley
imparts but adding basil or oregano could take things in a completely new
direction. Paired with roast chicken and
cream, this luscious sauce is amazing poured over noodles or fresh baked
biscuits.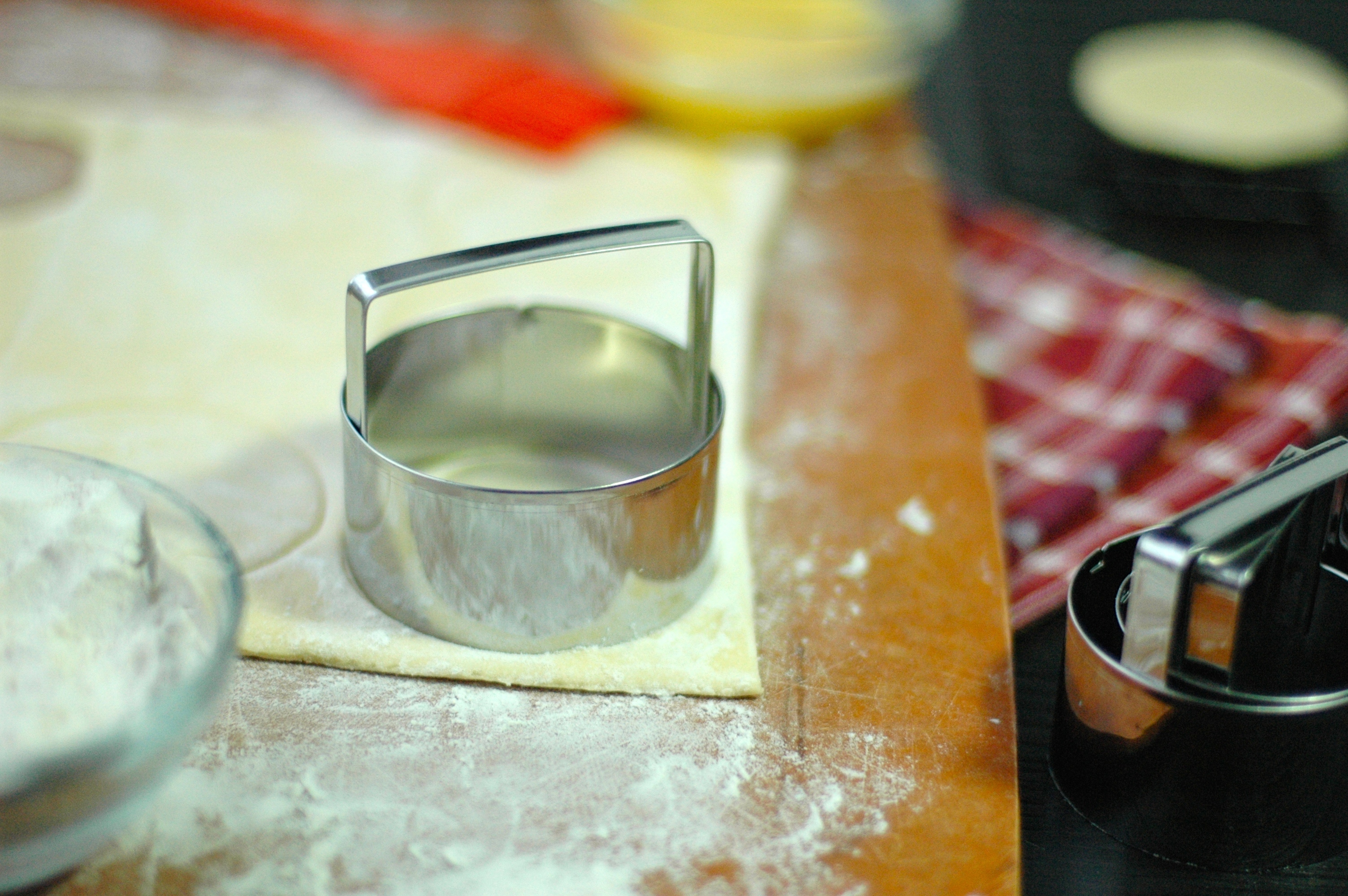 For perfectly simple pot
pies, I turn to frozen puff pastry for a flaky crust. While homemade pie crust
is delicious, you can't beat the convenience and decadence of prepared puff
pastry. Simply unroll the thawed pastry, cut to size with a biscuit cutter and
go. My husband loves his pot pie extra crusty, so I tuck a pastry disc into the
bottom of each dish before adding the filling.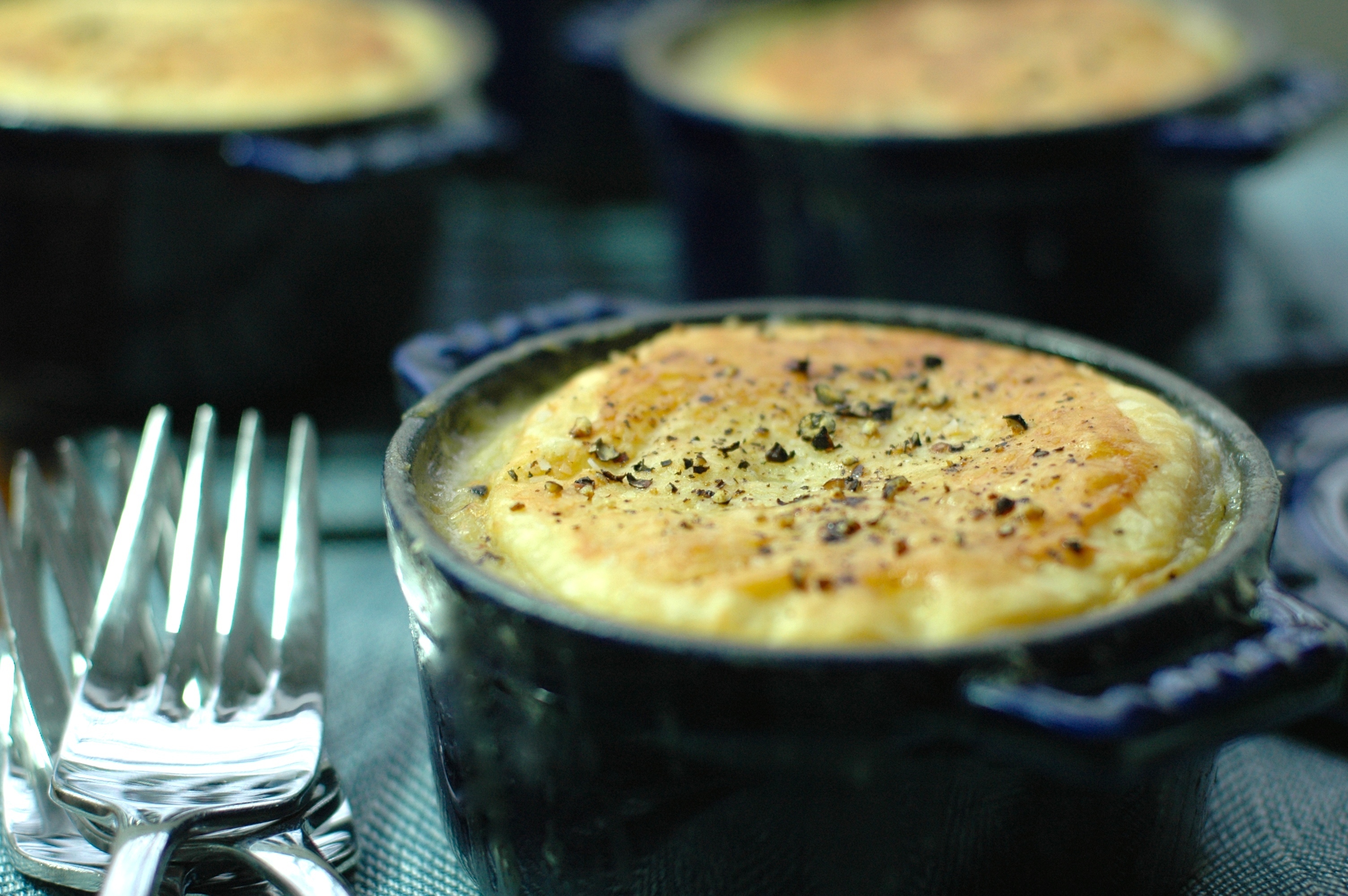 Instead of making one big
pie, I love baking personal-sized pot pies in these adorable little cast iron mini cocottes from Staub. Pair with a fresh green salad for a satisfyingly
spring-inspired supper. Once cooled,
cover leftover pies with their lids and stick them in the fridge. They'll
quickly reheat for hearty, weekday lunches throughout the week.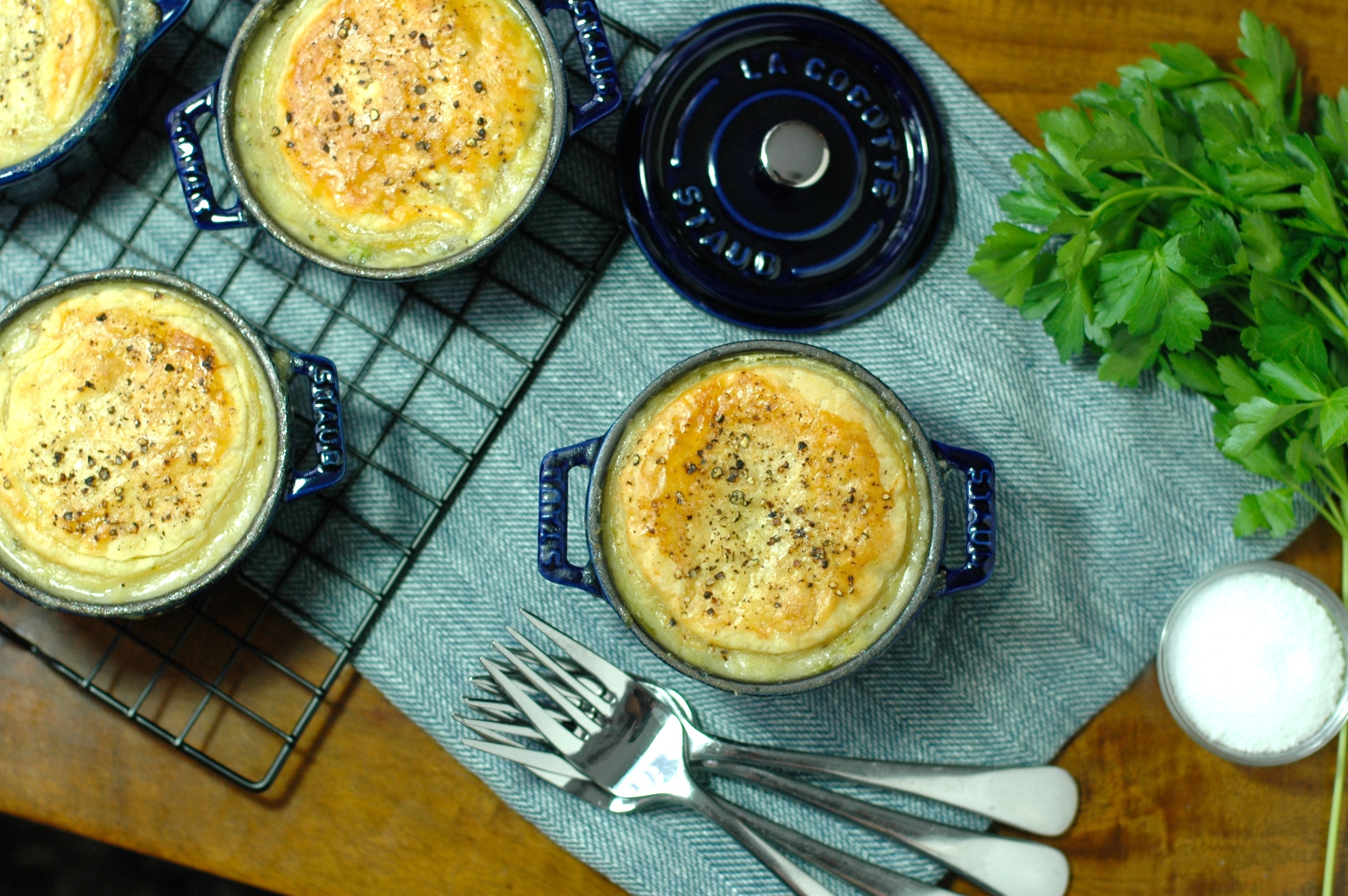 Chicken + Vegetable Mini Pot Pies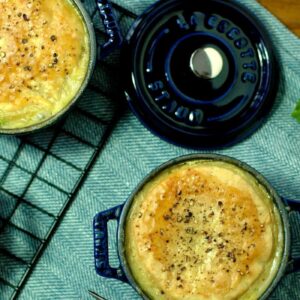 INGREDIENTS
1 bone-in, skin-on chicken breast (2 split)
1 Tablespoon olive oil
4 Tablespoons butter
1 large onion, diced
2 carrots, peeled and diced
½ cup flour
4 cups low sodium chicken broth
¼ cup half & half
2 cups frozen mixed vegetables, thawed
¼ cup fresh parsley, chopped
2 sheets (1 box) puff pastry, thawed according to package instructions
1 egg, beaten and mixed with 1 Tablespoon water
Kosher salt & fresh ground pepper to taste
INSTRUCTIONS
Preheat oven to 350 degrees F. Place chicken breasts on a baking sheet lined with parchment paper. Season chicken breasts with salt and pepper and drizzle with olive oil. Bake chicken in preheated oven for 30 minutes or until chicken skin is golden brown. Allow chicken to cool.
Once chicken has cooled, remove skin and discard. Cut or pull chicken from the bones. Discard the bones and dice the meat into bite-size pieces. You should have about 1.5 to 2 cups of chicken.
In a large pot or Dutch oven, melt butter over medium heat. Add onion and carrots and cook until onions are translucent and carrots are soft, about 5 minutes. Add flour and cook for about 2 minutes more.
Slowly add chicken broth, stirring continuously to create a smooth sauce. Cook over medium heat about 10 minutes, until sauce has thickened.
Remove from heat and add half & half, mixed vegetables, chicken and parsley. Season mixture to taste.
To assemble pies, unroll puff pastry and use a biscuit cutter to cut 16 discs sized to fill each cocotte. Place a piece of pastry in the bottom of each cocotte. Pour in filling until each cocotte is about ¾ full. Top with a second piece of puff pastry.
Brush each pie with egg wash and sprinkle with salt & pepper. Place cocottes on a rimmed baking sheet. Bake in a 375 degree F oven until pastry is golden and filling is bubbling, about 30 minutes. Remove from oven and transfer cocottes to wire racks to cool slightly.
Serve immediately or cover and refrigerate for up to 2 days.