Bacon Wrapped Scallops with Parmesan Risotto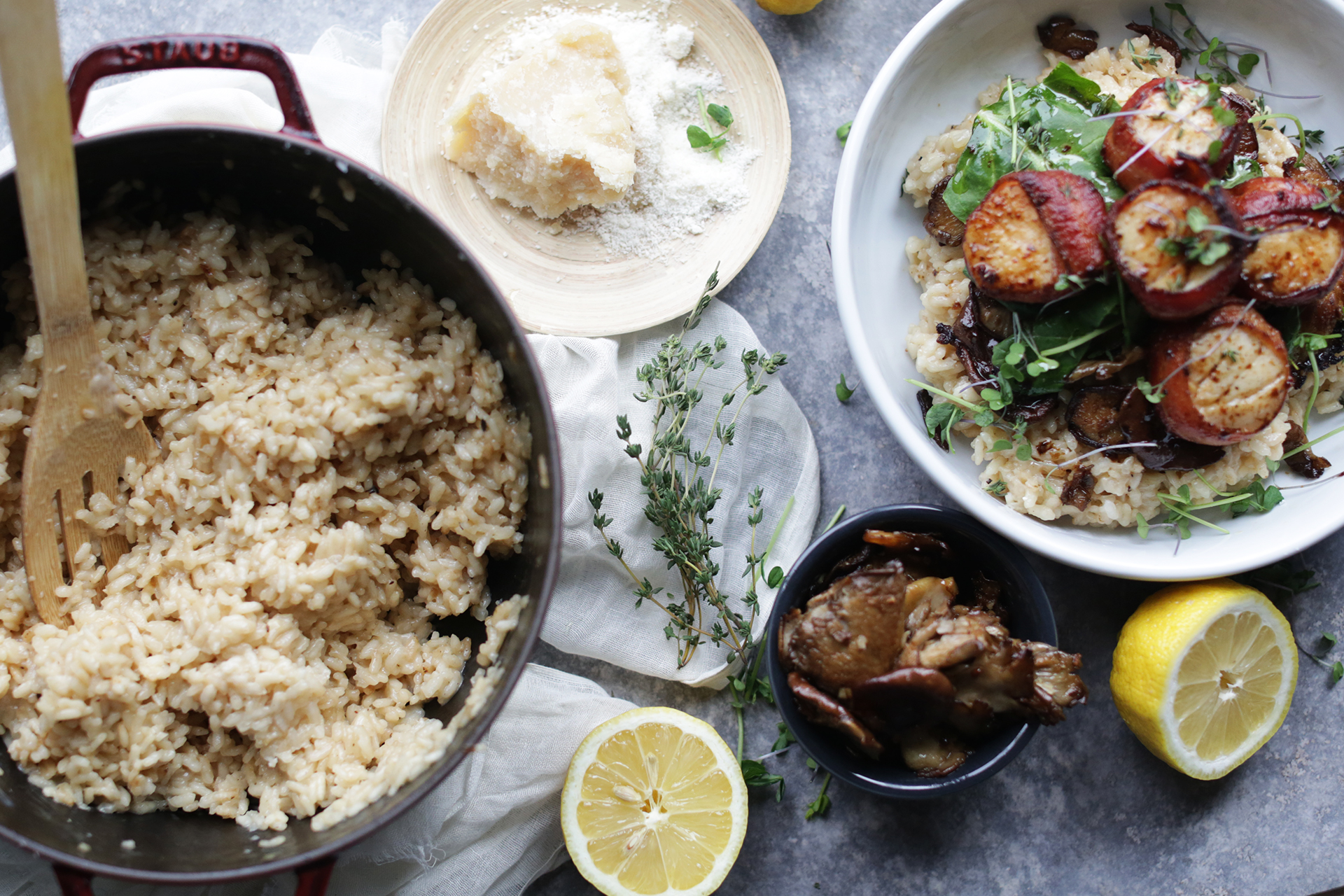 Risotto is one of the first things I ever learned to make once I started cooking in the restaurant industry. I worked at an Italian restaurant so of course risotto was a staple on the menu, and because of that it was made often and with lots of love. Risotto is so versatile that it can be eaten as a side or as a main entrée that is loaded with proteins and vegetables. For instance, you can have a seafood risotto, or a roasted chicken risotto, or a simple Parmesan Risotto like the one I did in this Bacon Wrapped Scallops with Parmesan Risotto recipe.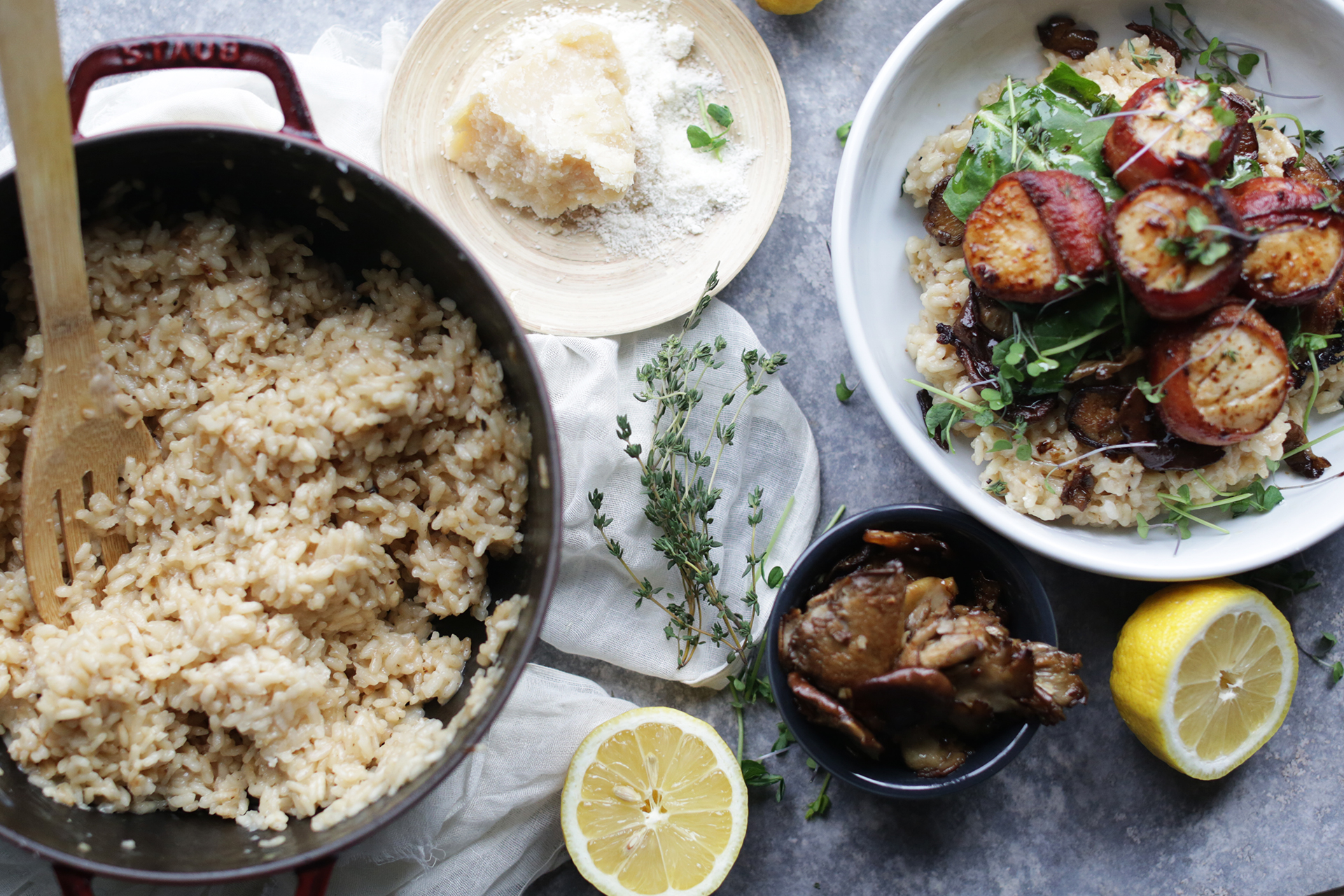 A few years later when I went to culinary school I was tasked to make risotto for the restaurant in our school. Of course having extensive experience in doing so from my job at the Italian restaurant I thought no problem. Well little did I know that I would get a thorough reaming, which could have been a complete joke, on how it was necessary to use a large wooden spoon when making risotto and that it had to be stirred the same way throughout the entire cooking process. Needless to say, I've used a wooden spoon and have stirred the same way ever since that point. I was 18 and listened to everything my chefs told me, whether they were gospel or not.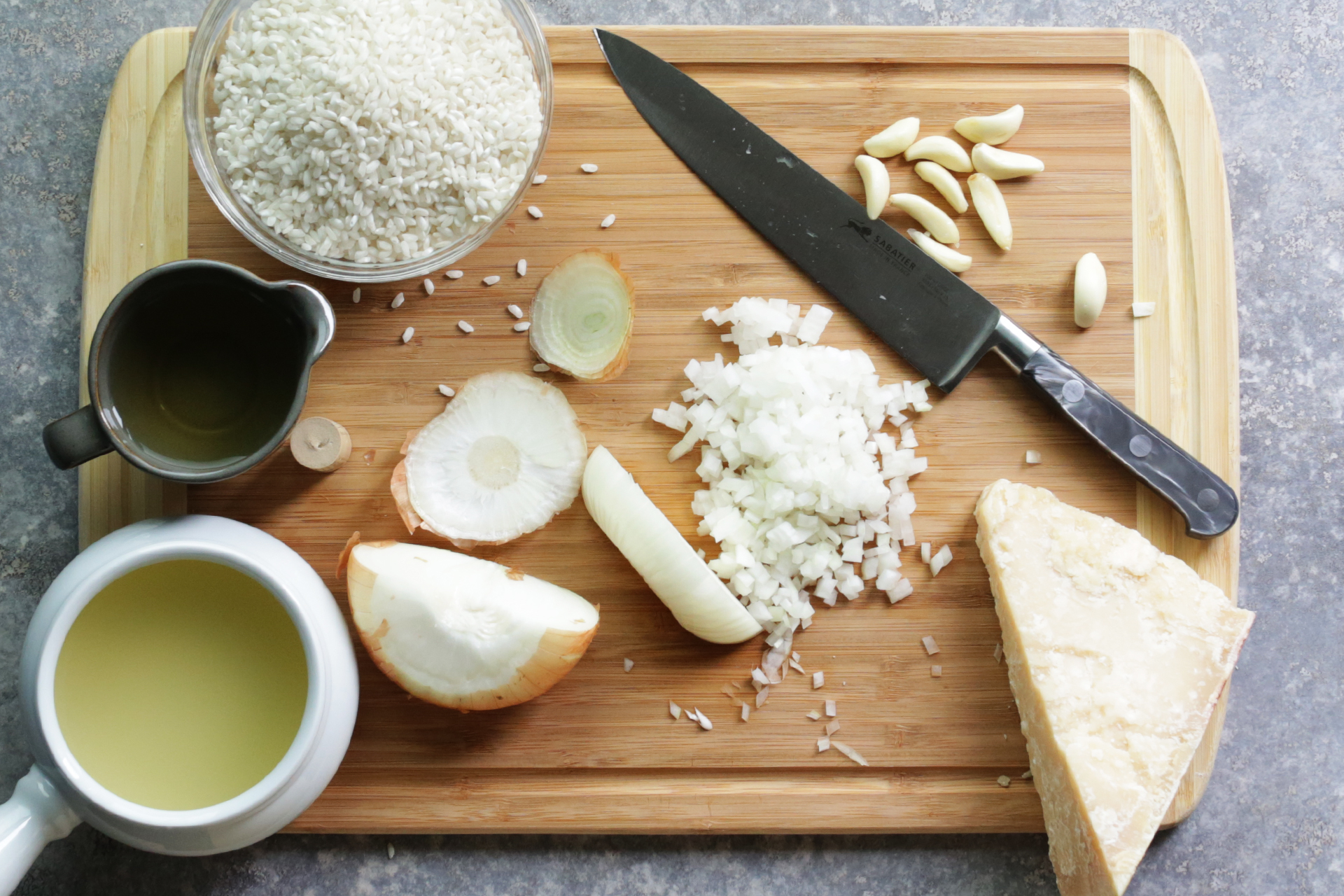 Risotto starts with two essential ingredients, diced onions and garlic. Take the time to caramelize them in butter over medium-low heat until they are a nice brown, but still soft in a large cast iron dutch oven pot. I prefer using Staub because of its thick non-stick coating on the pot which will help release all of the rice from it. The next step is to add in the Arborio rice and toast for 4 to 4 minutes. You'll notice that the rice will start to become a little white and some will be browned from the toasting, don't worry this is perfect!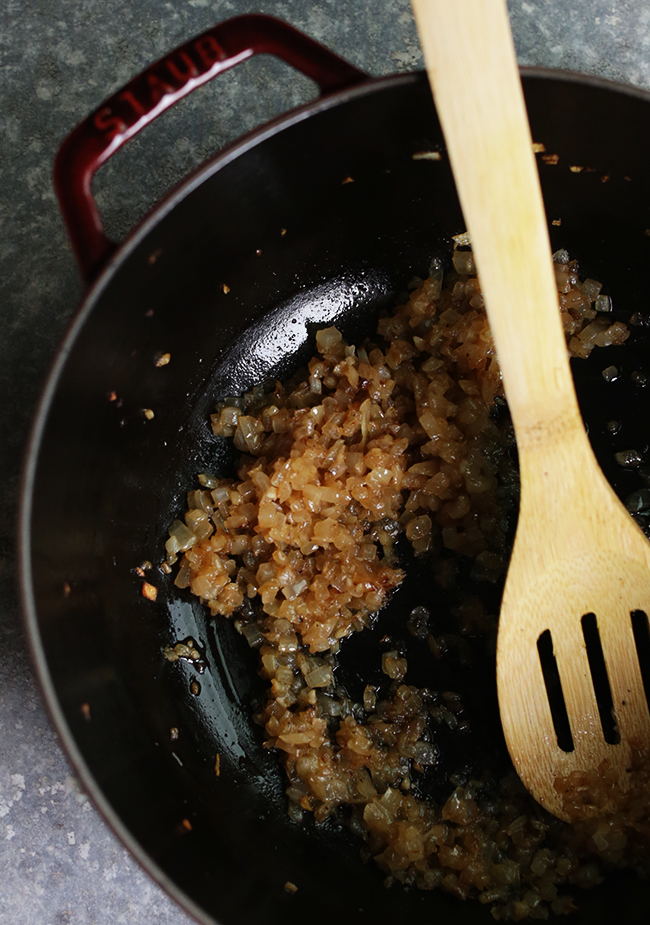 Deglaze with a good amount of white wine while beginning to stir. You'll notice immediately that the rice will soak up the liquid which means it's perfect timing to start adding in your chicken or vegetable stock 1 ladle (6 to 8 ounces) at a time while stirring until the liquid is absorbed. Remember, wooden spoon and stir the same way constantly.
Finish the risotto with some whole butter, freshly grated parmesan cheese, salt and pepper and kept it warm until it's time to serve. Because risotto goes so great with roasted mushrooms, as do scallops, I thought it would be great to add a little wild shroom to this dish. For some reason I've been obsessed with the shitake/oyster mushroom combo but in this case I decided not to slice or tear them, instead I left them whole. The greens in the picture are simply baby kale which I put in raw in the final dish and simply folded them into the hot risotto. You could also use spinach if you'd like 🙂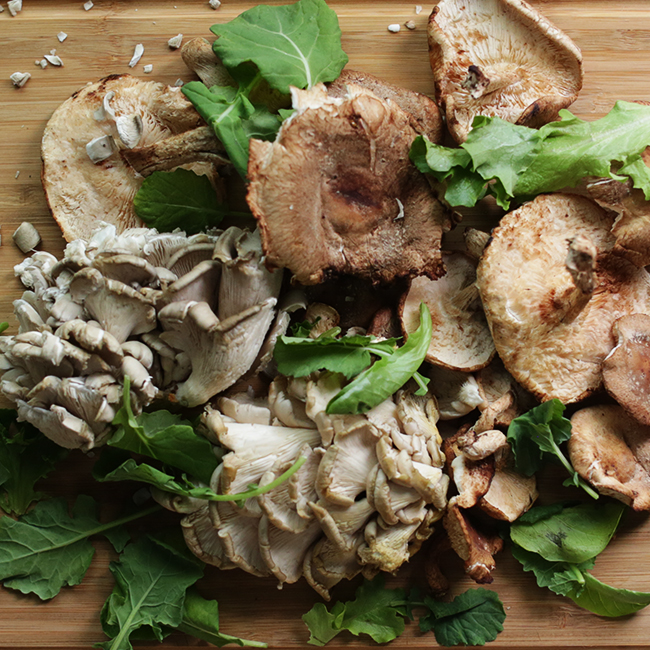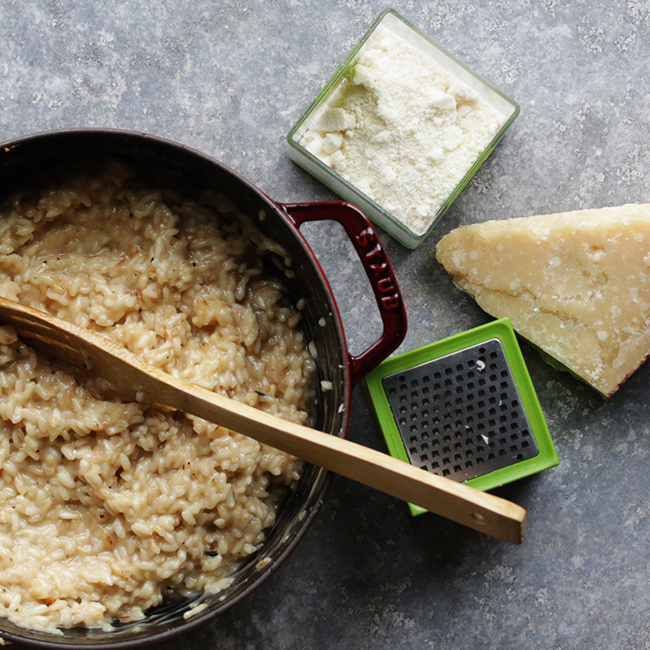 Because mushrooms soak up so much moisture you are going to have to make sure there is ample oil as well as a really really hot sauté pan. Once your oil begins to smoke it's time to saute, and be sure to let them cook by not itching to move them around in the pan every two seconds. I finished them off with a little sautéed garlic in butter and deglazed with a hint of white wine, ending with salt and pepper.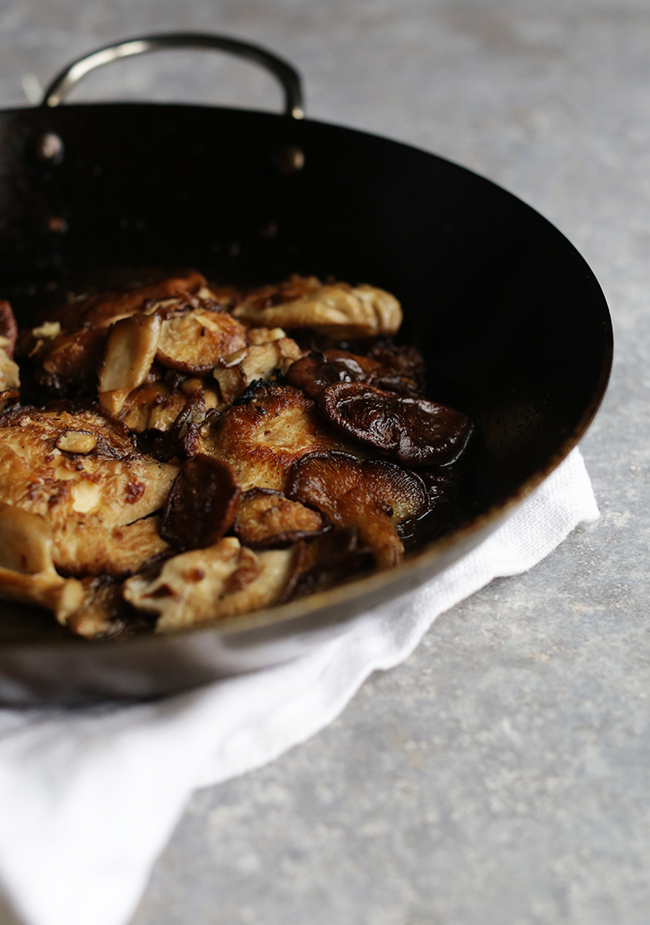 It can be really challenging to cook scallops for cooking newbies simply because most of the time folks are unsure how long to cook them. Scallops are best served medium to medium-well, not well done and chewy, but because they are so delicate they actually cook pretty quick. I used the age old trick of wrapping them in bacon, because why not, seasoning them in salt and pepper and searing them up in a tad bit of olive oil. I sautéed them in a Green Pan which I was extremely impressed with because it is so non-stick, light in weight and not harmful to your body once hot, and not-too-mention are extremely affordable.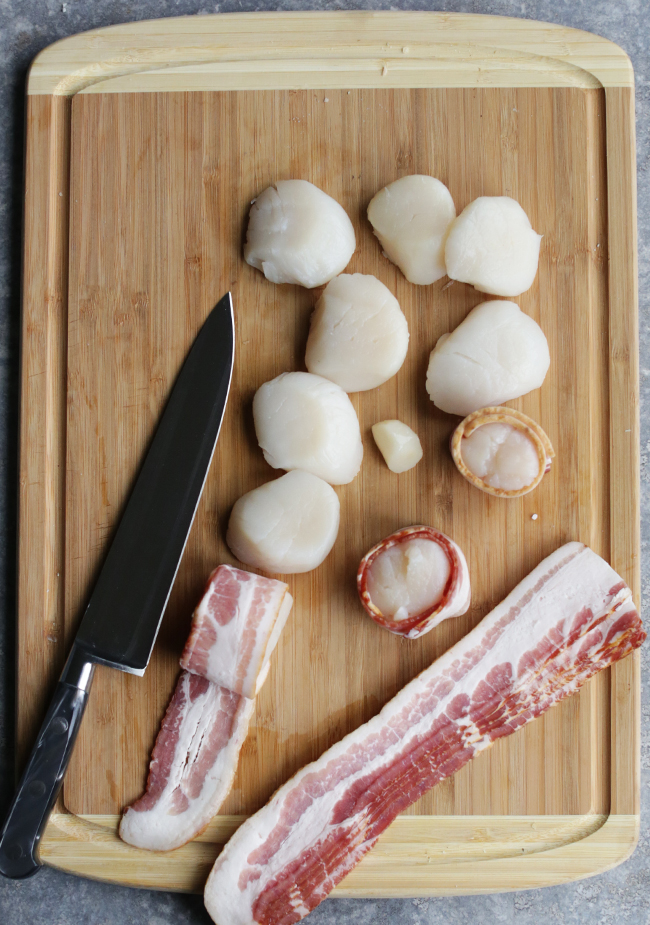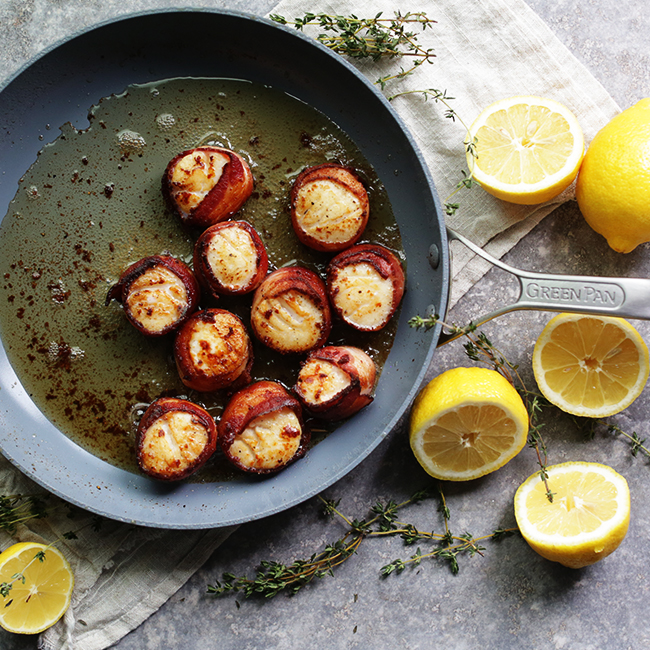 Cook the scallops on the bacon side first to close the bacon shut around the scallops and them simple cook on each side until golden brown, 2 to 3 minutes on each side once the bacon around the outside is cooked. Remove them from the pan, deglaze with fresh squeezed lemon and finish with cold butter. Now put all this goodness together on a plate and pour the butter over top garnishing with fresh thyme leaves and microgreens. You have to do this recipe, it is not an option 🙂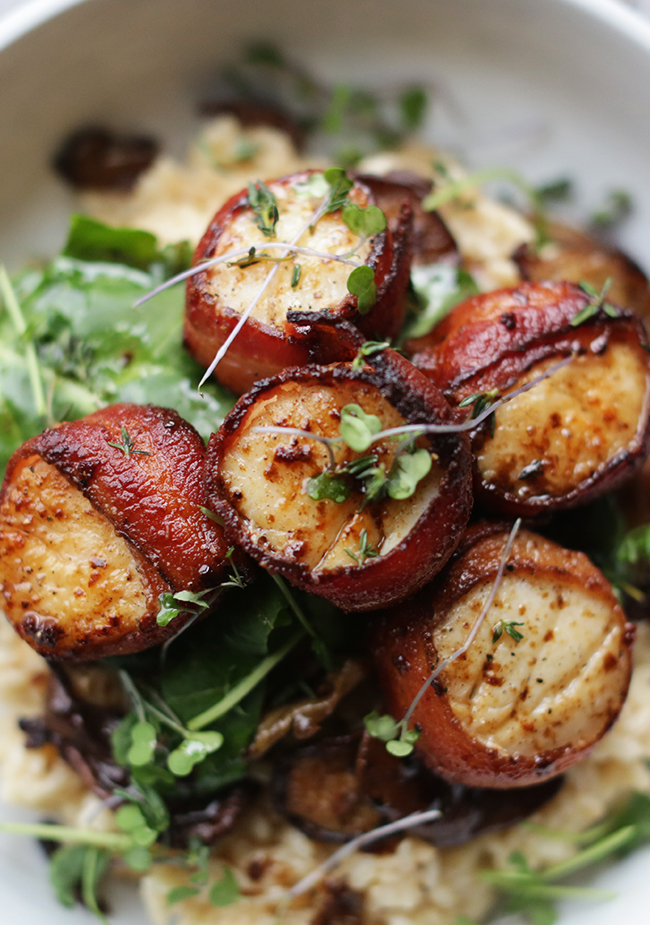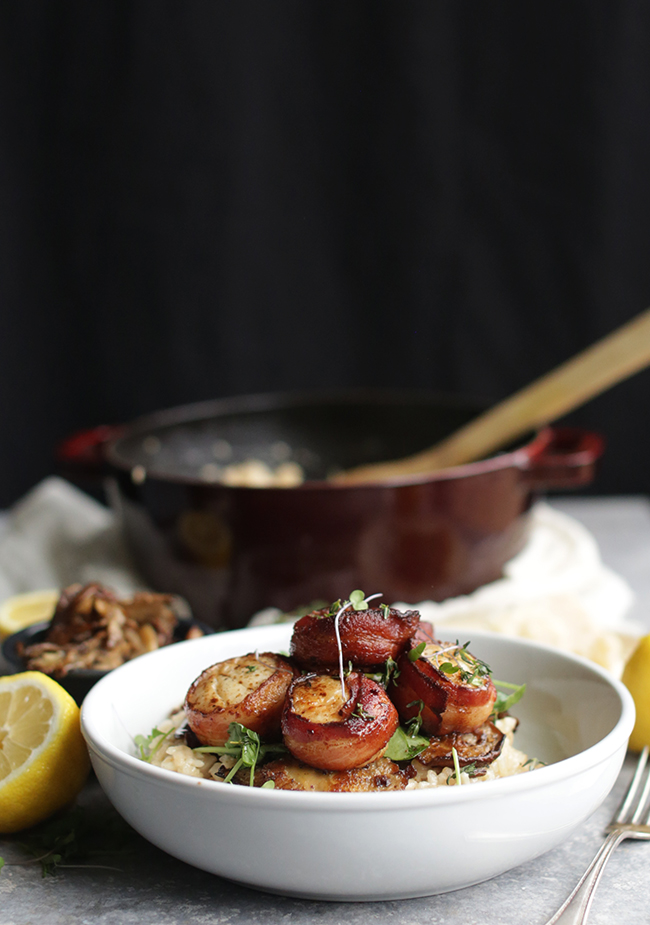 Bacon Wrapped Scallops with Parmesan Risotto Recipe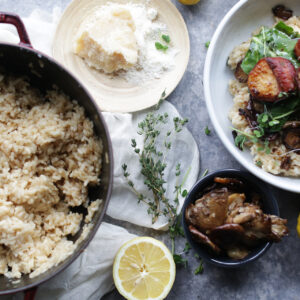 INGREDIENTS
For the Risotto:
5 tablespoons of unsalted butter
1 small diced yellow onion
3 finely minced cloves of garlic
2 cups of Arborio rice
1 cup of white wine
32 ounces of good chicken or vegetable stock
1 cup of grated parmesan cheese
Kosher salt and fresh cracked pepper to taste
For the Mushrooms:
3 tablespoons of olive oil
8 ounces each of whole shitake and oyster mushrooms, stems removed
2 tablespoons of unsalted butter
3 finely minced cloves of garlic
2 tablespoons of white wine
Kosher salt and fresh cracked pepper to taste
2 cups of packed baby kale
For the Scallops:
1 pound of scallops
10 strips of bacon
1 teaspoon of olive oil
Juice of 1 lemon
4 tablespoons of cold butter
Kosher salt and fresh cracked pepper to taste
1 tablespoon of fresh thyme leaves
Microgreens for garnish
INSTRUCTIONS
Risotto: Melt 1 tablespoon of butter in a large dutch oven pot and caramelize the onions and garlic over medium-low heat, about 15 minutes. Next add in the rice and toast for 3 to 4 minutes.
Deglaze with white wine and once it's absorbed add in the chicken stock 6 to 8 ounces at a time until it's absorbed while constantly stirring. Finish remaining butter, parmesan cheese, salt and pepper. Keep warm before serving.
Mushrooms: Add olive oil to a large saute pan over high heat. Once it begins to smoke add in the mushrooms and caramelize until browned on all sides, about 10 to 12 minutes.
Scoot the mushrooms over to one side of the pan and on the other side add the butter and garlic and cook until the garlic is lightly browned. Stir everything together and deglaze with white wine and season with salt and pepper. Keep warm before serving.
Scallops: Wrap each of the scallops in a strip of bacon. Add olive oil to a hot saute pan and sear the bacon on all sides of the scallops cooking it until brown and then cook on the scallop side until they are browned, about 2 to 3 minutes.
Remove the scallops from the pan, drain some of the bacon fat, deglaze with lemon juice and whisk in the butter. Season with salt and pepper.
Serve: Lay down some risotto and layer on some roasted mushrooms, baby kale and a few scallops. Pour on some of the lemon butter and garnish with fresh thyme leaves and microgreens.
For a seasonal twist, check out this recipe for Butternut Squash & Sage Risotto with Bacon.