Coconut Rice Pudding Made in a Rice Cooker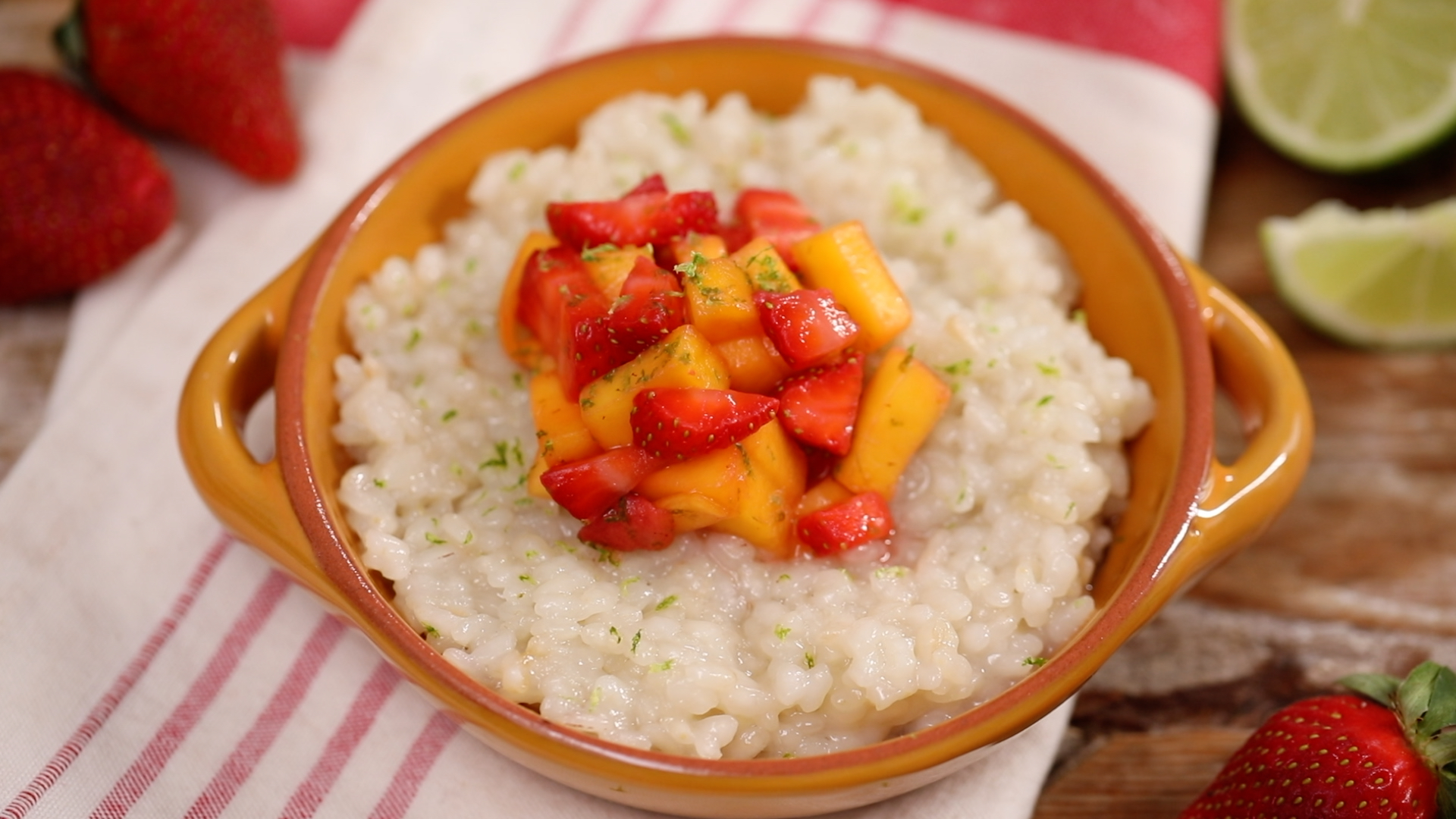 To me, rice pudding is serious comfort food. Growing up in Ireland, rice pudding was often a dessert that would warm you up on a freezing Winter's evening, and many times Fall and Spring evening too. This Coconut Rice Pudding is easy to make in a rice cooker, and a luscious, creamy non-traditional dessert made with coconut milk and topped with sweet, juicy strawberries, mango and lime salsa.
I thought I would put more of a tropical twist on this rice pudding dessert that is normally spiced with cinnamon and nutmeg. I am taking some of my favorite flavors which are Asian inspired and marrying them all together in this one decadent dessert that you can make in a rice cooker!
A creative twist on the norm is replacing the regular milk and cream for coconut milk. Still rich and creamy, coconut milk adds its own unique flavor without the dairy to this rice pudding recipe. It is still "fatty" like cream so you still get that richness.
The fruit salsa on top is the icing on the cake. Once you pair it with a spoonful of the rice pudding it will all make sense. It's like a tropical explosion that you can't believe you never had before. In my opinion it's the combination of texture, temperature and the lime zest that makes this simple dessert stand out. For easy zesting, invest in the original Microplane, they are a lifesaver. It's incredible and makes the labor of zesting a thing of the past. Also, if you were admiring my cutting board I used, it is from Boos, the masters in cutting boards. This board is so durable and well made, it will last you a lifetime.
I made my rice pudding in a rice cooker. It doesn't only cook plain rice like you might think Rice cookers have multiple uses. What I like about rice cookers is you can add in all of your ingredients, mix it, set it and forget it. This rice cooker is an inexpensive piece of kitchen equipment that has multiple uses. All tools in my kitchen have to do more than one job otherwise I don't have space for them.
Coconut Rice Pudding Made In a Rice Cooker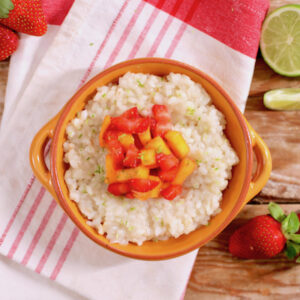 INGREDIENTS
¾ cup arborio rice (3¾ oz / 115g )
1 can (414 mL) coconut milk
½ cup (4 oz / 120g) water
2 teaspoons vanilla extract
½ cup (4 oz / 120g) sugar
A pinch of salt
Fruit Salsa
1 ripe mango, cubed
10 strawberries, cubed
Zest of 1 Lime
INSTRUCTIONS
Place rice, coconut milk, water, vanilla extract, salt and sugar in your rice cooker. Turn on and cook for 25-30 minutes or until the rice is fully cooked and the liquid has been absorbed.
Alternatively you can place them in a heavy bottomed saucepan on medium-low heat and cook for the same amount of time. Stir frequently to avoid sticking.
The rice should be soft and cooked at this point. Turn off the heat and leave it to stand.
To make the Fruit Salsa: Mix together the strawberries, mango and lime zest. I like to let it sit and marinate for 15 minutes before topping my rice pudding. This gives the flavors time to marry together. While still warm and steaming, top your tropical rice pudding and enjoy straight away. It can also be enjoyed cold but I prefer it warm. There is something more comforting about it.