Classic Chicken Cacciatore Recipe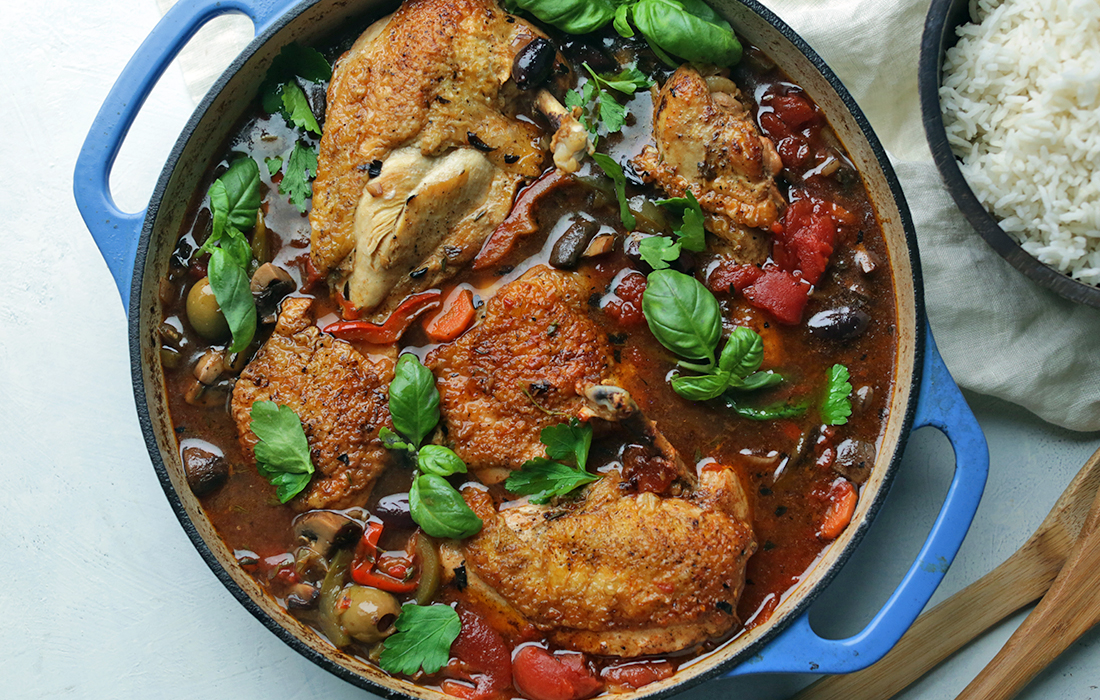 There are quite a few of those chicken dishes out there, i.e. chicken kiev, chicken cordon bleu, chicken diablo, etc., that are timeless and always seem to make their way back to the dinner table as a "trend."
I think chicken cacciatore falls right within those same recipes, but for me it's always been a trend. Whether you scour Pinterest or Instagram for cooking inspiration or recipes, you will undoubtedly see chicken cacciatore in there somewhere. It may be crafted a little different, for example it may have noodles instead of rice, use only 1 type of olive, or different types of bell peppers, but it usually comes out the same.
In my chicken cacciatore recipes I used white rice as the side. I thought about using noodles, but my daughter seemed to eat quite a bit of pasta from the week and I didn't think she wanted more, so I opted for rice. If you are a big rice eating family, then I highly suggest getting a rice cooker. It is absolutely mindless and beyond easy to use. Simply pour in your water and rice and press start. The rice cooker even keeps the rice warm if you aren't quite ready to serve it yet. Rice cookers nowadays are almost like slow cookers. You won't believe what they can do!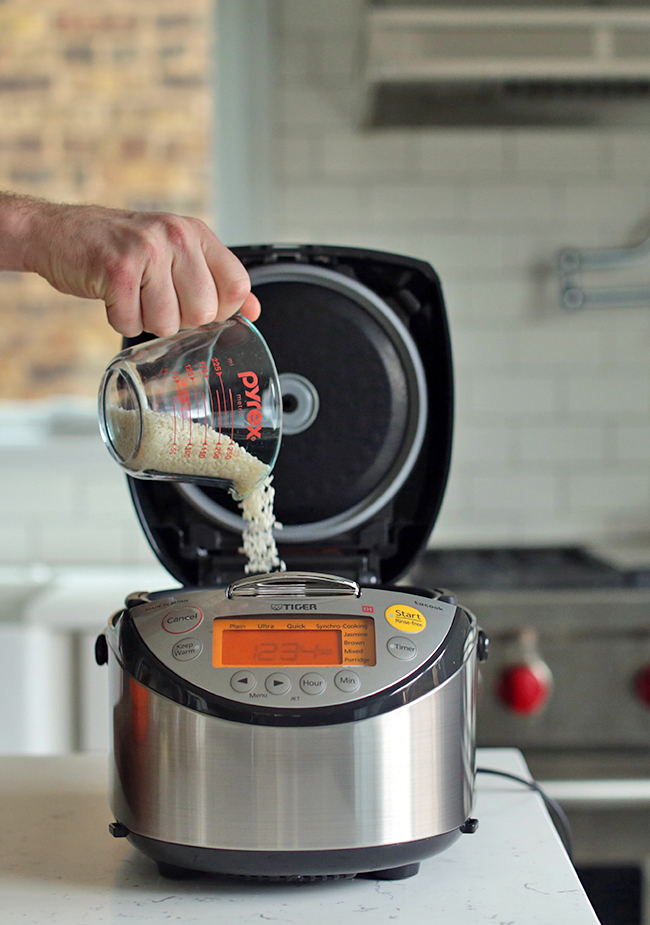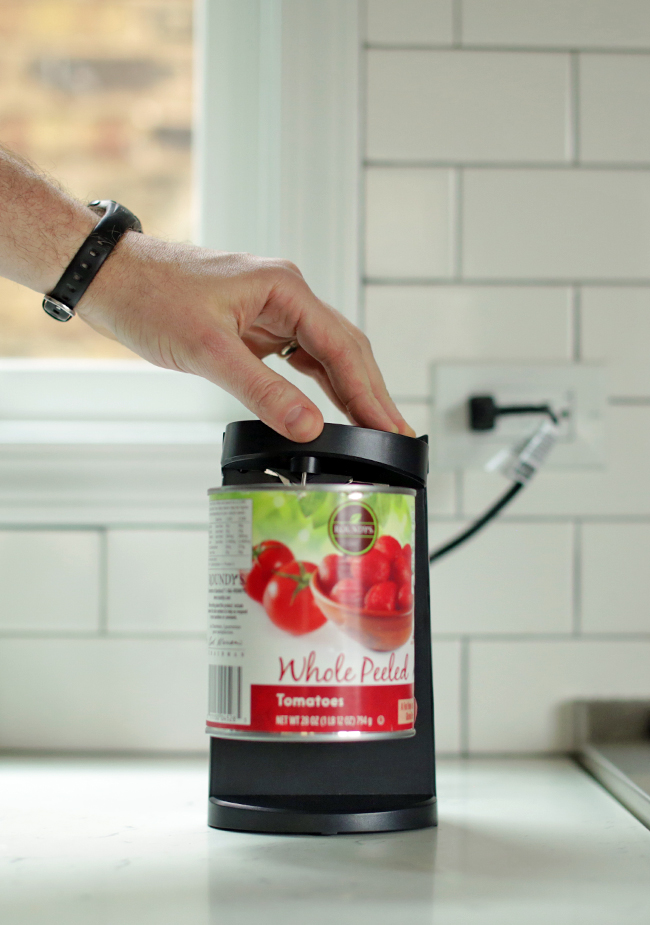 Lately when preparing and cooking chicken I've been buying the chicken whole and fabricating it myself. I've known that this has always been the most efficient way to purchase chicken because of just how much edible chicken is on a whole chicken, but I still mostly opt for the parts I need. When making chicken cacciatore, you have the option of searing the chicken in a pan in some olive oil or lightly breading it in some flour and then searing it. If you bread it, it may make your liquid a little thicker because of the roux effect that it gives off. However, I don't really think there is that much of a difference so I simply season and roast in a pan until they are golden brown. Once I flip the chicken over I add a little fresh oregano in there to help kick up the flavor of the chicken.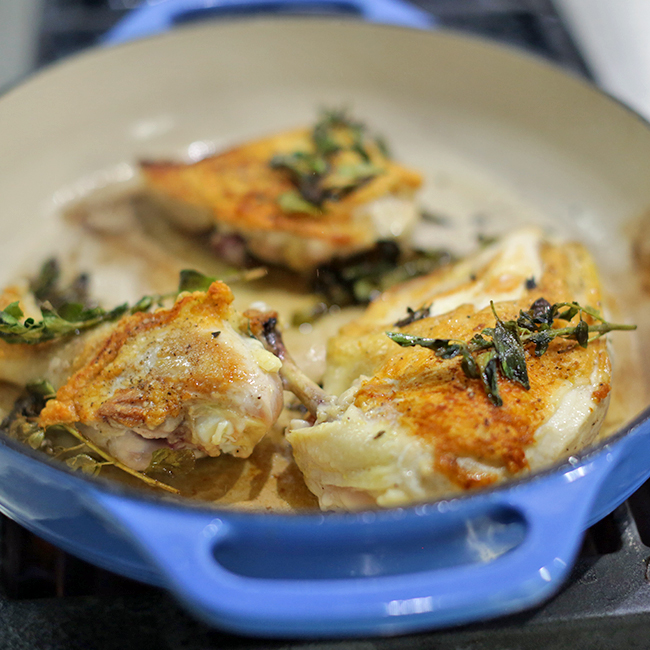 As I stated earlier, Chicken Cacciatore has few variations but will essentially turn out the same flavor we all desire. I used a combo of bell peppers, onions, cremini mushrooms, olives, capers and tomatoes as my veggies in this dish. This recipe is versatile so you can use any colored bell peppers you'd like along with any olive you'd like.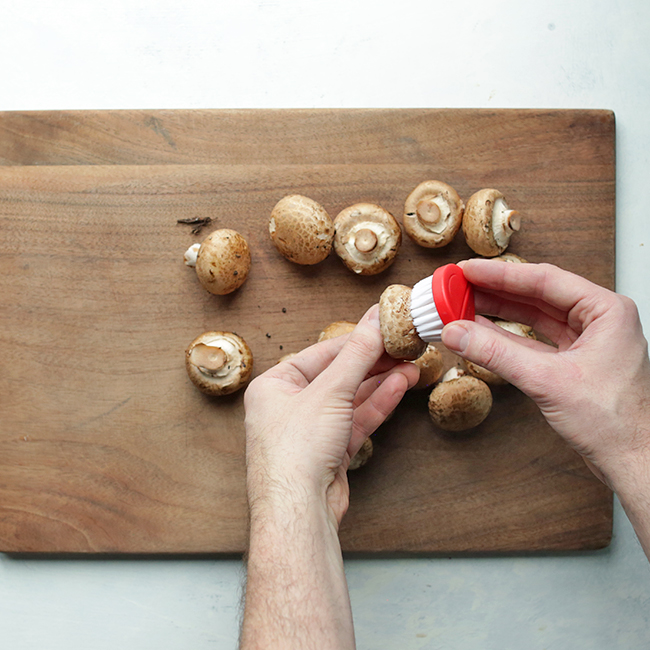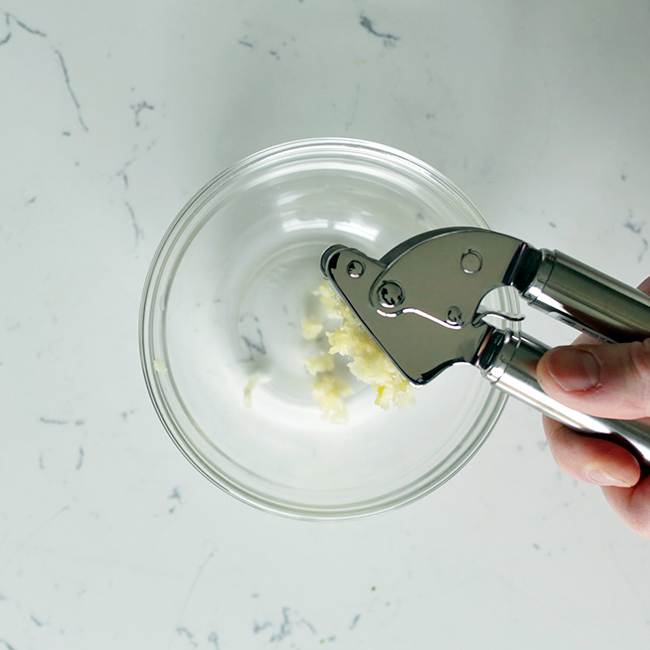 The point though is to get a nice brown on them, and quickly. We aren't looking for a slow and low caramelization, we want quick brown from a smoking hot pan. I say this because we are going to kind of slow cook the chicken for some time, and if you slow cook the vegetables in oil they will be mush by the time everything is done slow cooking. So in the end, stir-fry up your veg!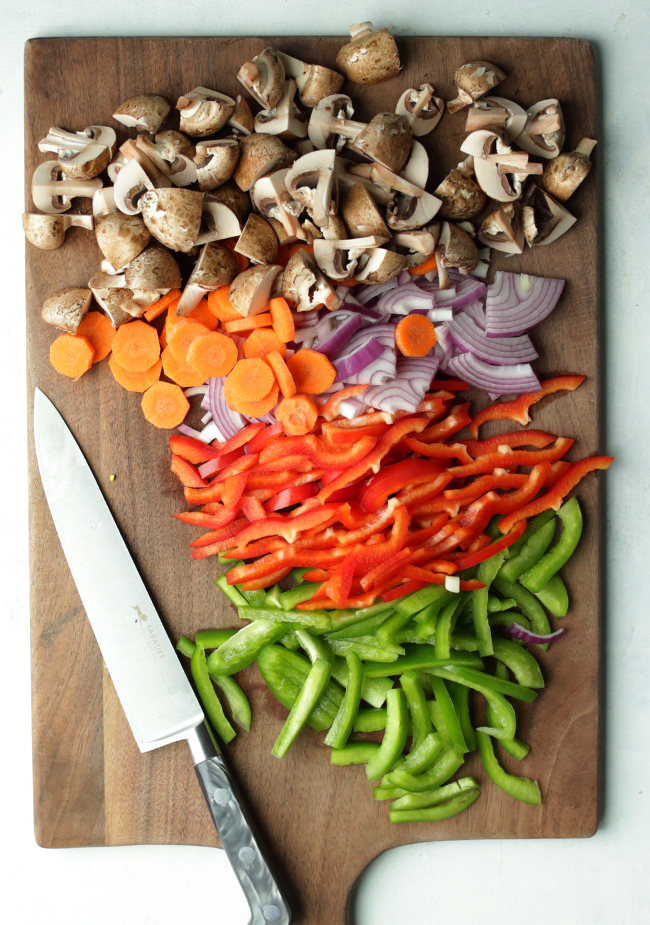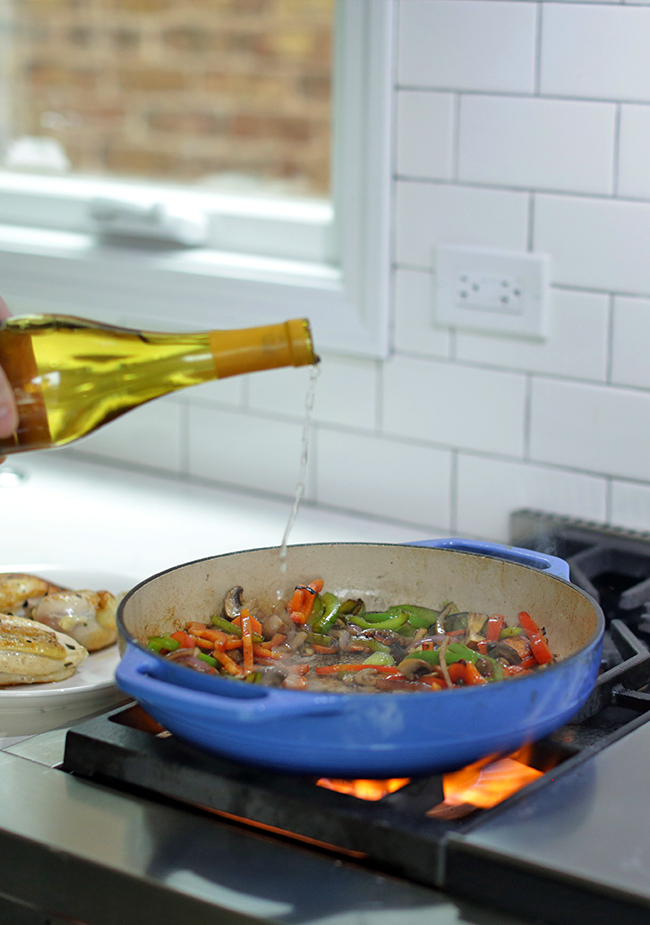 Welcome now to the art of braising, which is where you sauté in oil and add in liquid to cook the rest of the way. This is hands down my most favorite method of cooking. You get that perfect golden brown crust with that delicious fall apart center. I like to think of it like BBQ I suppose, caramelized on the outside and slow and low cooked in the middle. Honestly, if you can do this in all of your cooking it too will become your favorite.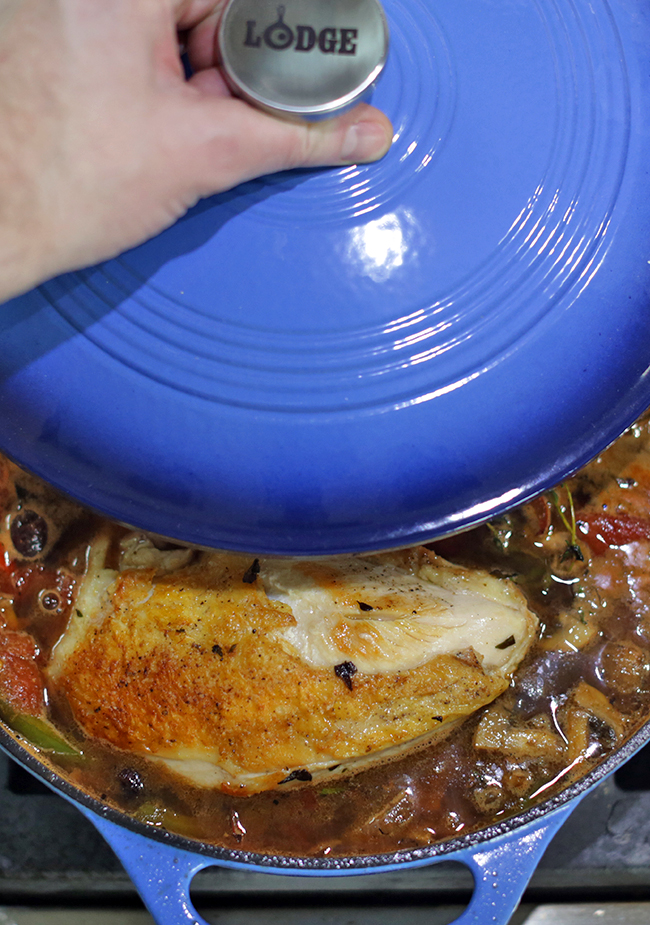 Once the top is on, you can either cook it until the chicken is just done, or cook it until the chicken falls of the bone. I prefer the latter, and honestly so does my family. If you are looking for a delicious weeknight meal, then look no further than this Classic Chicken Cacciatore Recipe.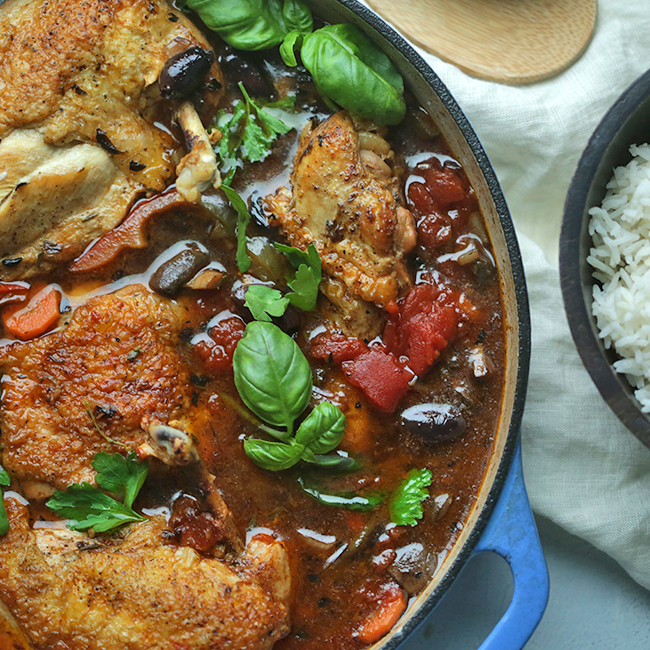 Classic Chicken Cacciatore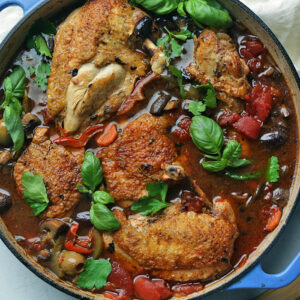 INGREDIENTS
1 tablespoon of olive oil
2 chicken breasts
2 chicken thighs
2 chicken drumsticks
3 sprigs each of fresh oregano and thyme
½ seeded and thinly sliced red bell pepper
½ seeded and thinly sliced green bell pepper
½ thinly sliced small red onion
1 cup of sliced cremini mushrooms
2 minced garlic cloves
1 cup of white wine
15-ounce can of diced or whole plum tomatoes and juice
2 cups of chicken stock
6 to 8 each Kalamata and green olives
1 tablespoon of capers
6 cups of cooked white rice
Kosher salt and fresh cracked pepper to taste
INSTRUCTIONS
Heat olive oil in a cast iron pan over medium-high heat and add in salt and pepper seasoned chicken parts, and brown well on each side, about 3 to 4 minutes. Add in oregano leaves after flipping the chicken over for the first time.
Remove the chicken from the pan and add in the peppers, onions, mushrooms and garlic and saute over high heat until lightly browned, about 3 to 4 minutes.
Deglaze with white wine and cook until it has been absorbed.
Next, add in the tomatoes, stock, olives, capers, thyme, season with salt and pepper and back in the seared chicken and cover and simmer over low heat for 2 hours, or until the meat easily separates from the bone.
Serve the chicken, vegetables and liquid over the cooked rice.