Chocolate Crunch Soft Russian Toffee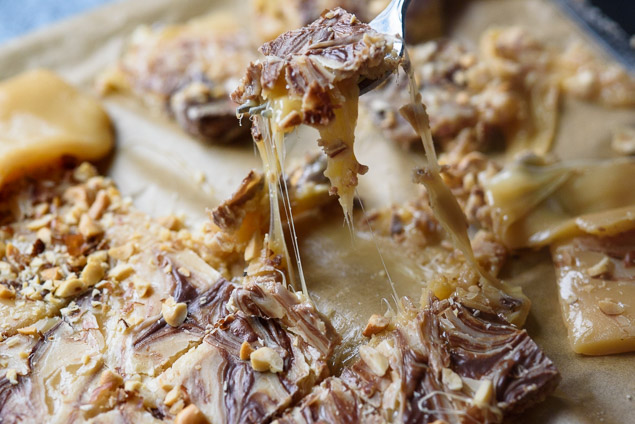 A delightful twist on classic toffee, this toffee is similar to toffee in flavor but has a soft sticky caramel texture. Swirled with dark chocolate and topped with crunchy peanuts it's a perfect addition to your holiday platters. Or twist it up in parchment paper and tuck it in pockets of everyone who stops by!
Recently we stumbled upon a recipe for a sweet called Russian Toffee. We set upon making it expecting our very American version of toffee… crisp, crunchy and stick to your teeth. But what we got instead was something quite different and altogether delicious.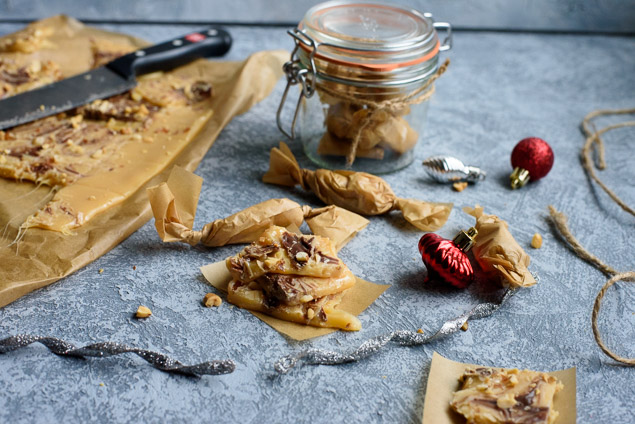 In further reading, we have come to see that this delicious sweet bares little similarities to our understanding of toffee. It is more of a cross between a fudge and caramel and bears many many names in various cultures. From milk toffee in India to Scottish tablet there seems to be an endless varieties of this simple candy.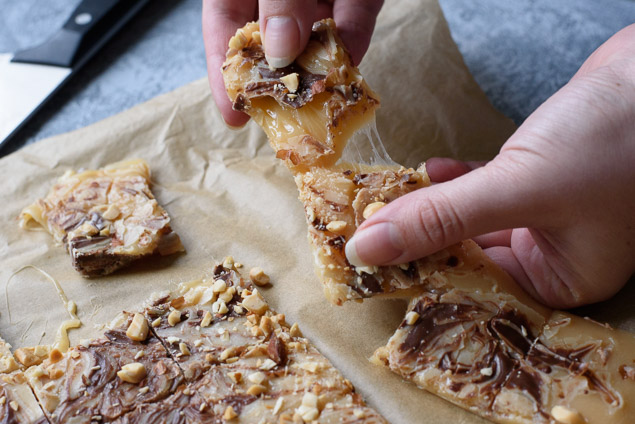 A simple mixture of sweetened condensed milk, butter and sugar it bubbles on the stovetop and without a candy thermometer to judge it's consistency, lends a slightly different texture with each batch. And yet that seems to be part of it's charm and it was gobbled up without complaint in every rendition we tried.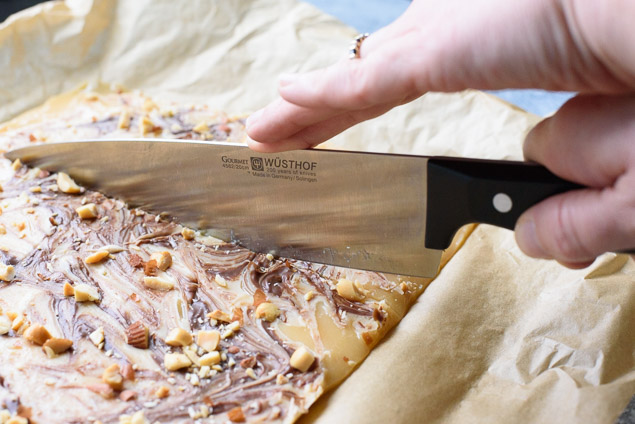 Our favorite test was this chocolate swirled peanut version. Simple, beautiful and just the right amount of crunch.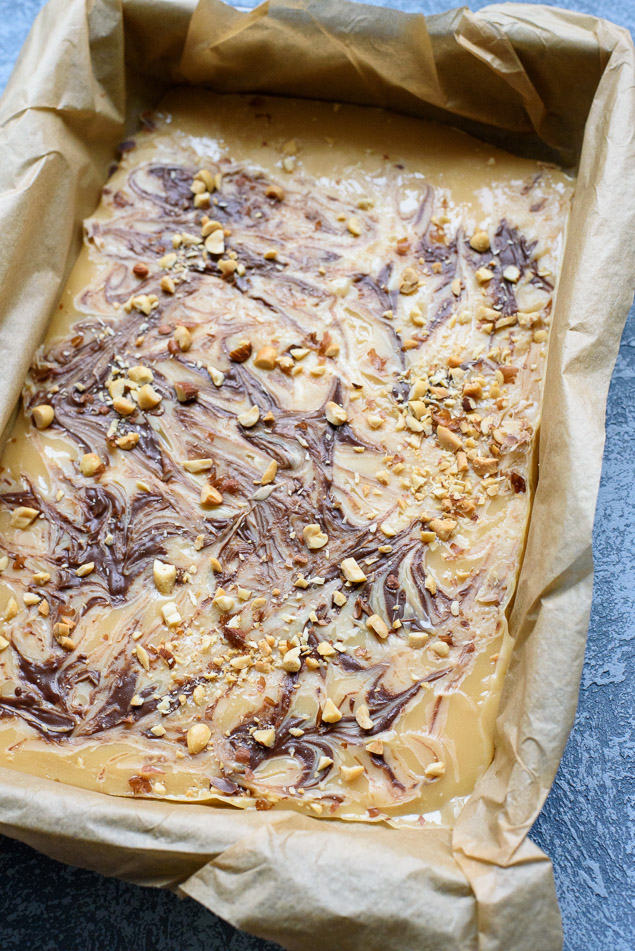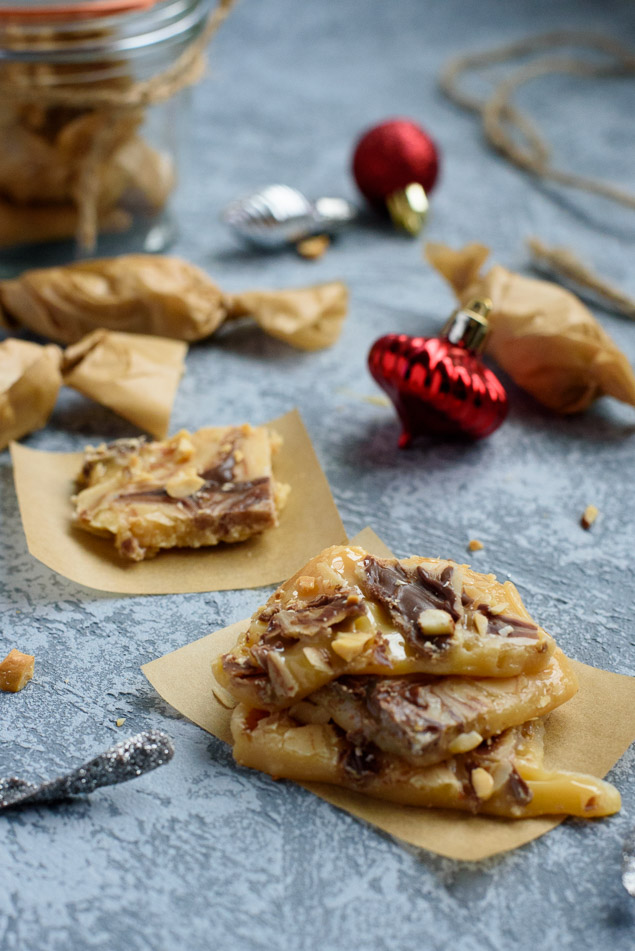 Packaging these little guys up proved to be rather tricky. They are too soft and sticky to just be sliced like fudge so wrapping them in paper like taffy was our preferred method if you aren't making a sweets platter.
So no matter what these are called….they will be a regular addition to our holidays from now on!
Chocolate Crunch Soft Russian Toffee Recipe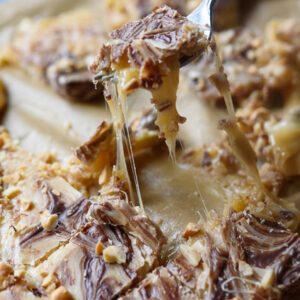 INGREDIENTS
1 (12 ounce) can sweetened condensed milk
2 ¼ cups white sugar
1 stick salted butter (4 ounces)
2 milk or dark chocolate bars, chopped
¼ cup peanuts, chopped finely
INSTRUCTIONS
Add milk, butter and sugar into a saucepan and bring to a boil. Stir constantly (to prevent sticking or burning) and cook gently until it becomes a caramel color. This generally takes around 15 minutes.
Pour into a greased or wax paper or parchment paper lined 9 x 11 pan (wax is preferable but parchment works).
Warm chocolate bars in microwave in 20-30 second increments or in a glass or metal bowl placed over a pot of simmering water (be sure water does not touch bowl or boil dry).
Pour chocolate over toffee in stripes, then swirl the mixture with a toothpick to create patterns.
Top with crushed peanuts.
Cool completely in fridge.
Slice and serve or package up in small paper twists.