Cherry Cobbler Topped with Honey Butter Vanilla Bean Biscuits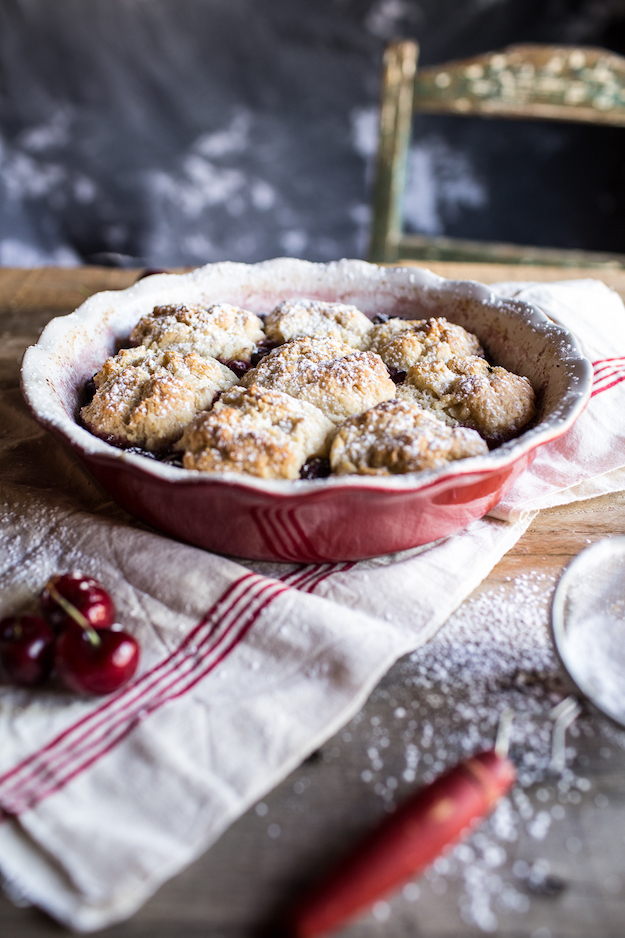 It's July. The air is hot, relaxed attitudes are rampant and cherries are literally falling off the trees!
This is all great news for me.
1. I love the month of July, there is just something so fun and playful about it!
2. The heat is my best friend – gotta get it while I can — warm temps don't last long up here in my neck of the woods!
3. I am without a doubt addicted/obsessed with cherries.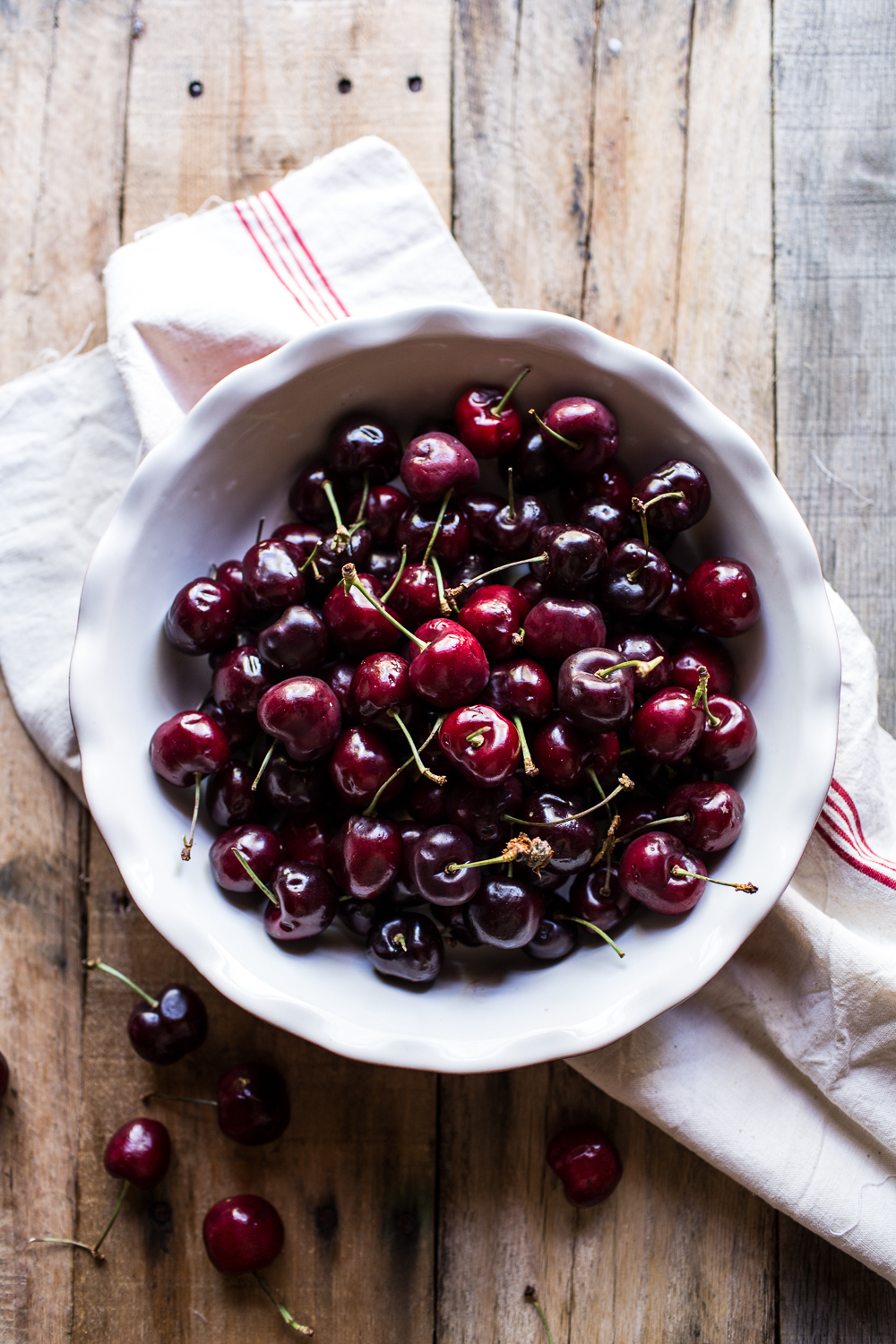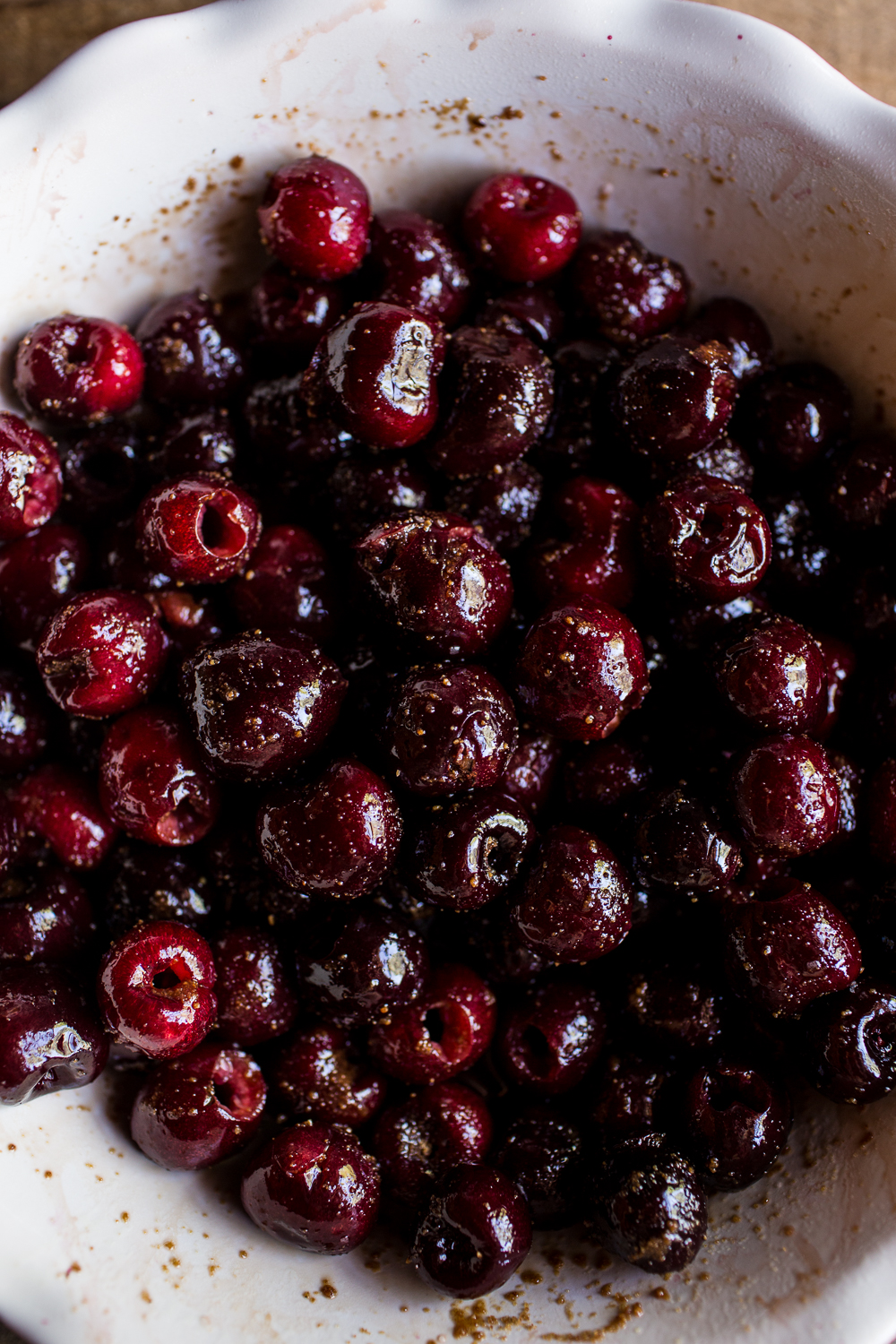 It was not long ago that I said I did not like cherries. I know, the horror, right? Actually, it was two summers ago when I realized that cherries are one of the most delicious things summer has to offer.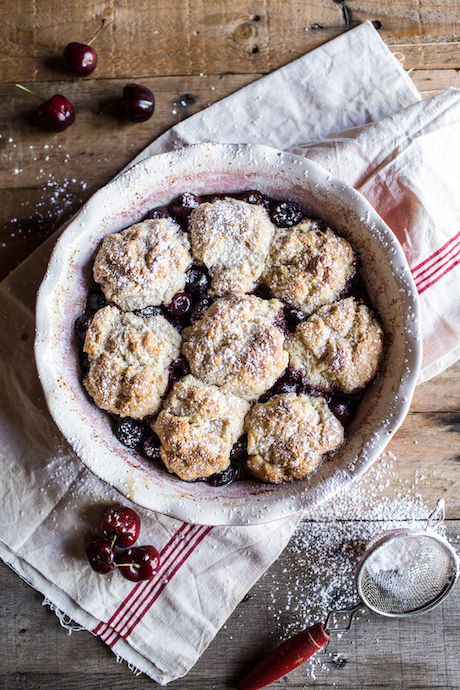 I was spending the summer up in Mt. Hood, Oregon with my family when my dad brought home a basket full of fresh Oregon cherries. You know what I actually said? "Why did you buy cherries? I hate cherries." Seriously, could I be more selfish? Anyway, the point is, I ended up eating almost all of the cherries myself. When everyone asked what happened to them, I had no way of concealing my cherry binge, as my fingers were stained a pretty shade of reddish purple. And so it became official: I loved cherries, and I continued to devour them the rest of the summer.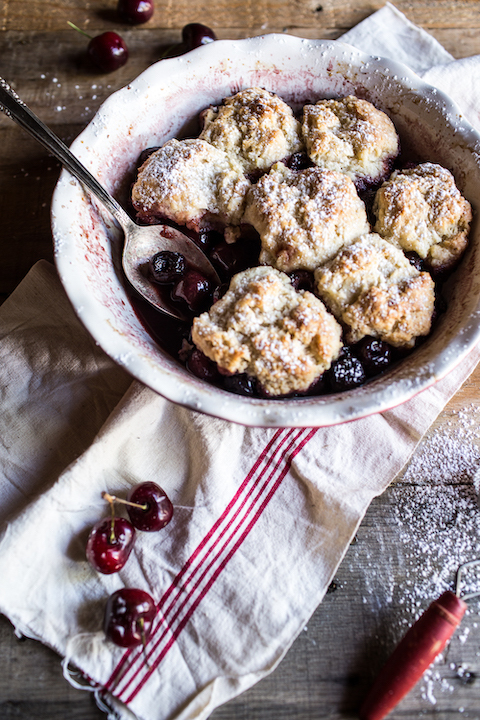 It was not until this summer, though, that I actually began cooking and baking with them. So, today I am sharing a quick, simple and easy cherry cobbler with the most delicious honey butter vanilla bean biscuits. I mean, come on, doesn't that sound delicious?!?!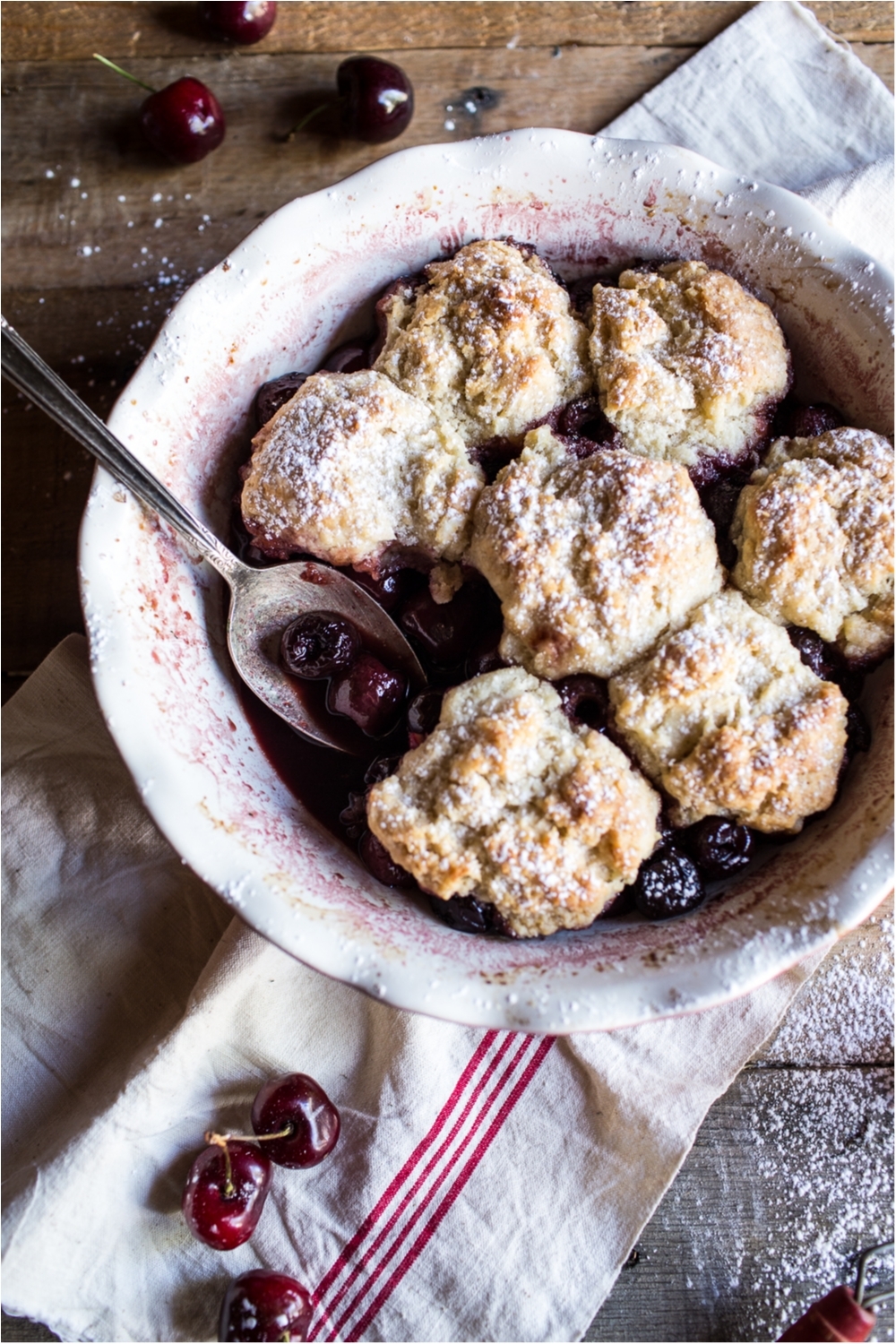 The cherry filling gets spiked with a little bourbon, which is clearly awesome, and the biscuits get a whole lot of love from some honey, vanilla beans and a hefty amount of butter. YUMMERS.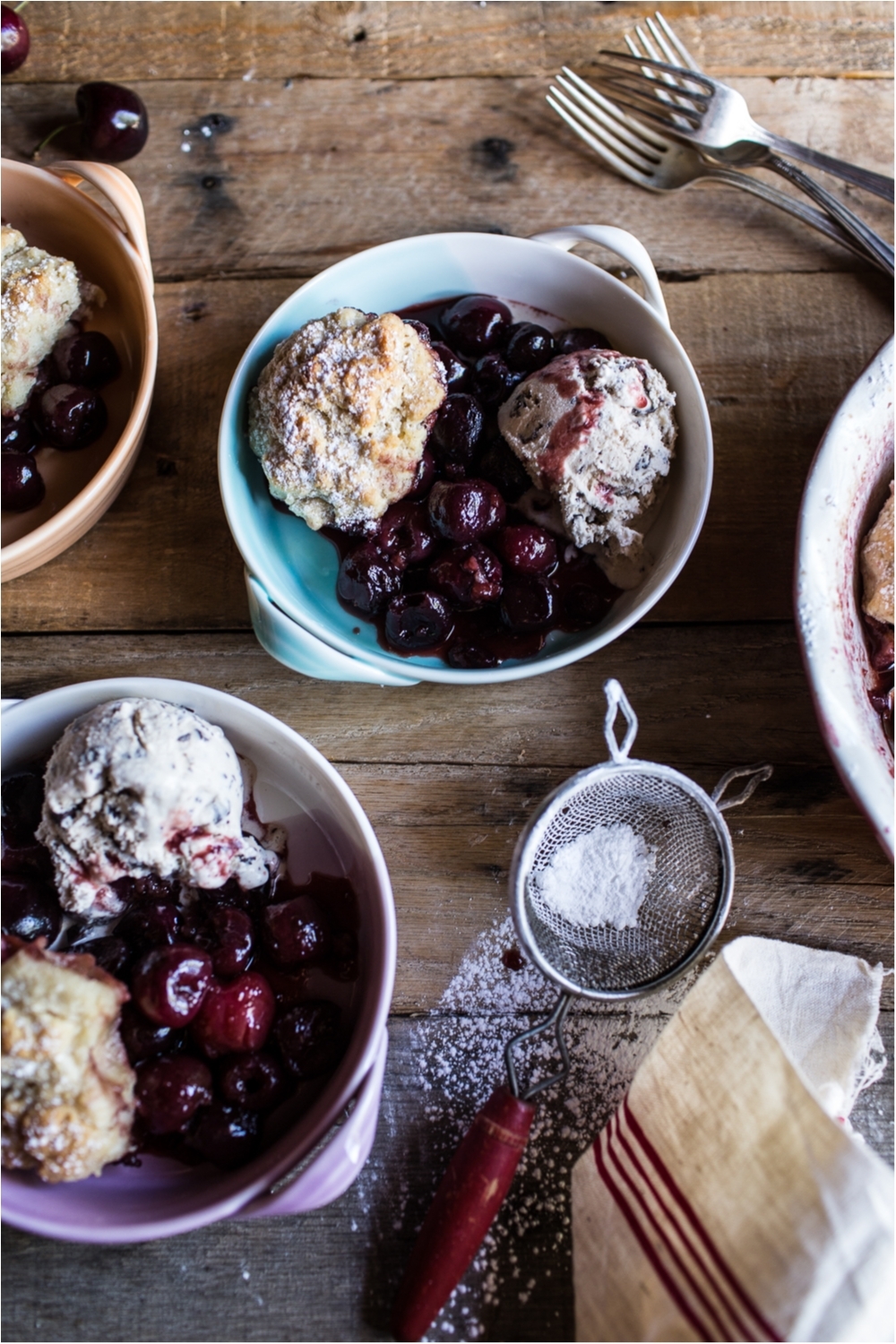 I promise you guys, this is going to be your go-to dessert until the last of the cherries have disappeared from our markets. And when that happens, don't be sad, it just means it's time to swap out those cherries for crisp fall apples!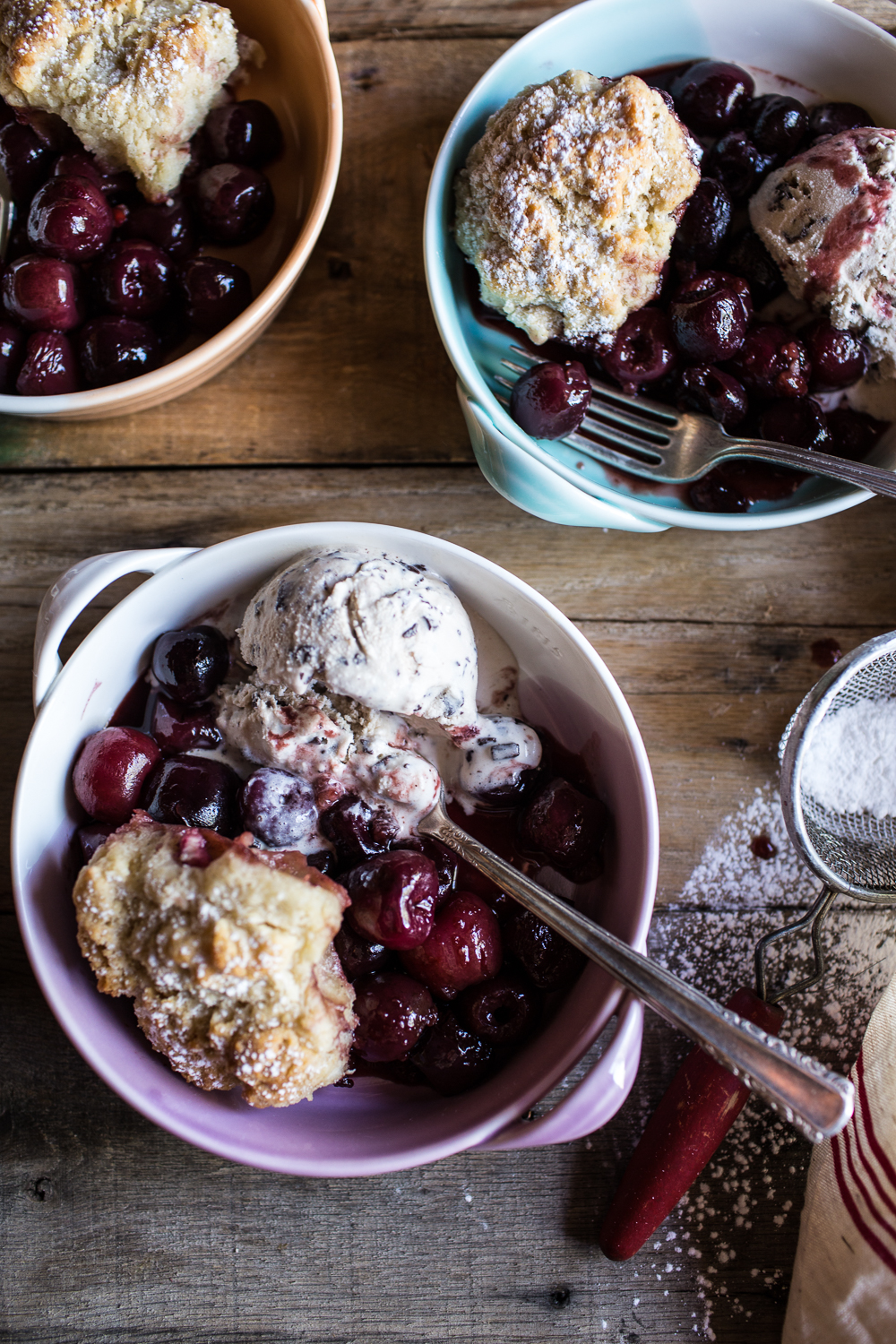 Cherry Cobbler Topped with Honey Butter Vanilla Bean Biscuits Recipe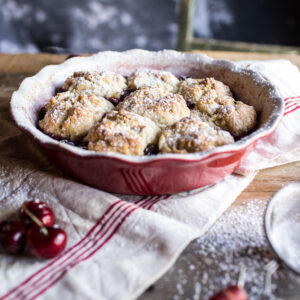 INGREDIENTS
For the Cherry Cobbler:

4 cups fresh or frozen cherries, pitted
1/3 cup coconut sugar (may sub brown sugar or granulated sugar)*
2 tablespoons fresh lemon juice
2 teaspoons vanilla + one vanilla bean (optional), seeds removed
Pinch of sea salt (about 1/4 teaspoon)
1 tablespoon bourbon (optional)
Powdered sugar, for dusting
For the Biscuits:
1 1/2 cups all-purpose flour
1 teaspoon baking powder
6 tablespoons cold salted butted (or unsalted with a pinch of salt), cubed
1/2 cup buttermilk
1/4 cup honey
1 vanilla bean, seeds removed
INSTRUCTIONS
Preheat the oven to 375 degrees F.
Lightly rub 8-9 inch pie plate with a little softened butter or cooking spray. In the pie plate, combine the cherries, coconut sugar (use 1/2 cup if you prefer things a bit sweeter), lemon juice, vanilla, vanilla bean (if using), a pinch of sea salt and bourbon (if using). Toss well to combine.
In a large bowl, combine flour and baking powder. Whisk until combined. Using a fork, pastry blender, or your hands, add butter pieces to the flour and mix until coarse little crumbles remain. Whisk together the buttermilk and honey and pour into the flour. Stir with a spoon until just combined, trying not to over mix. Use your hands if needed to bring the dough together.
Use a 1/4 cup measure to drop batter onto the cherries or press dough on a sheet of parchment paper or cutting board, and then use a biscuit cutter to shape the dough into rounds. Place the rounds on top of the cobbler.
Bake the cobbler for 40-45 minutes or until the cherries are bubbling and the biscuits lightly golden. If the biscuits begin to get too golden, cover the cobbler with foil until the cherries are fully cooked. Serve warm. Dust with powdered sugar and serve with scoop of ice cream if desired.