Carbonated Cocktails That Bring All the Fireworks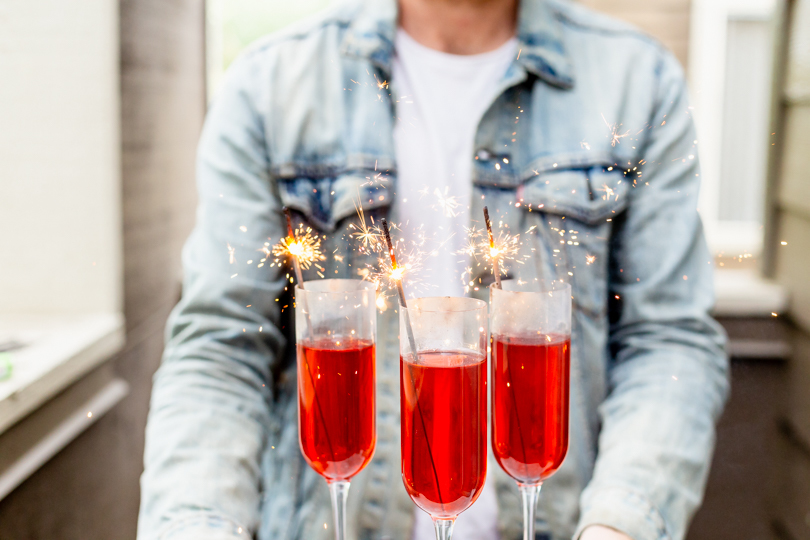 I can't even tell you guys how excited I am to finally be sharing one of my long time obsessions — the force carbonated cocktail. Ice cold and effervescent, this entire category of drinks is the perfect match for summer's sun and celebratory spirit.
Like so many other cocktail enthusiasts, my personal mania for carbonated cocktails started when I first read Dave Arnold's Liquid Intelligence. It's where I first learned that carbonation is an actual flavor, like salty or sour, and should be treated like an ingredient, not an afterthought. It's also where I learned just how difficult carbonation is to achieve and sustain — which is why so many G&Ts, for example, are practically flat by the time we consume them.
Once you go down the carbonation-geek rabbit hole, it's difficult to turn back. I won't bore you with the details, but suffice it to say that I have an entire closet in my tiny apartment dedicated to a 50lb CO2 tank and pressure regulator that I've long used to carbonate with the 'cap and tank' method. The tonics and spritzes I can make with this thing are totally unmatched — but totally unrepeatable without this enormous, expensive equipment (or so I thought). Which is why I've never — not once — shared a carbonated recipe, even though I mess around with them at home more than any other category of drink.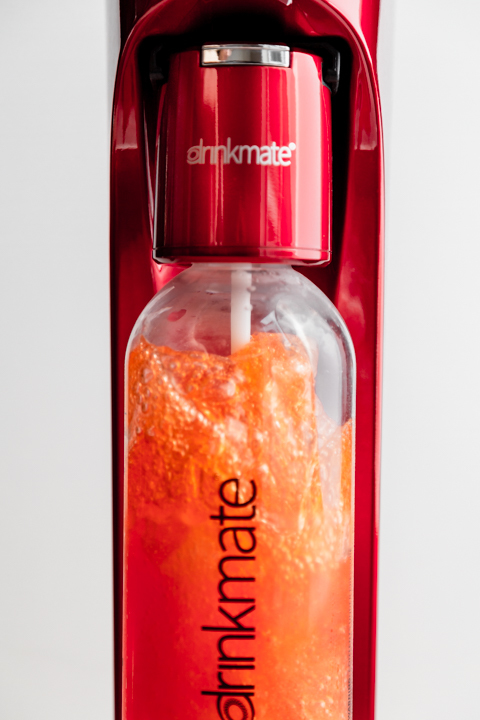 Until now. It came to my attention this year that a new product — the Drinkmate — allows you to force carbonate liquids with the push of a button. The best part: you can carbonate anything in a Drinkmate. Not just water. Which means that carbonated cocktails are now on the table for everyone — as in literally on the table or countertop, and not inside a closet housing a huge CO2 tank.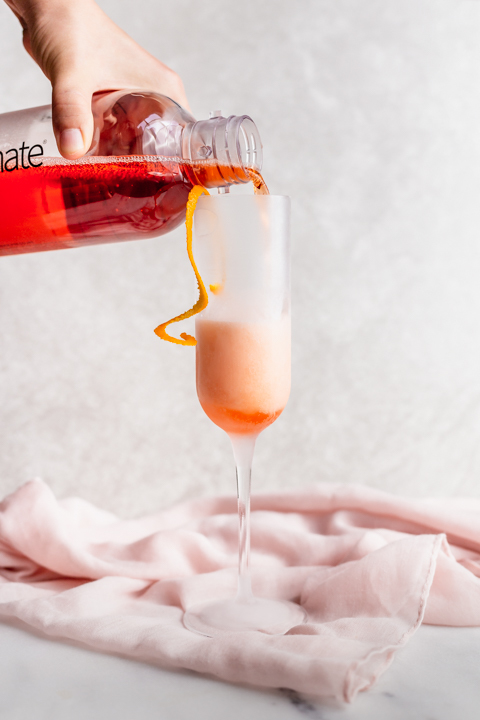 So, what to carbonate? Well, you can't just pop any old drink in there and expect good results, because carbonation is still tricky, Drinkmate or not. Your liquid needs to be clear — not cloudy, pulpy, or juicy — and absolutely ice cold. The clearer and colder the better. For this reason, drinks like margaritas or daiquiris are not good candidates. But spritzes — think Campari, Aperol, and Vermouth — are absolutely perfect.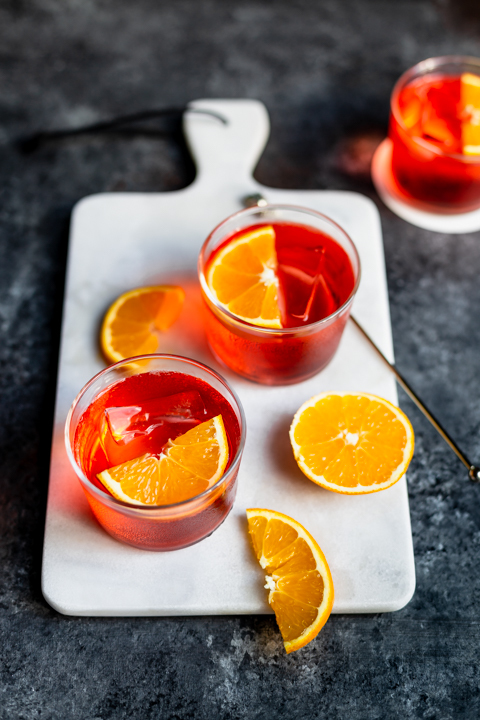 Here's the method I used to get a mind-blowingly-perfect Aperol Spritz. You can serve this two ways — the traditional method, with ice and an orange slice, or up in a chilled champagne flute. My strong preference is the flute, because ice and garnishes cause carbonated drinks to fizz up (they serve as nucleation points for the CO2) and quickly go flat. But I totally get that not everyone is as obsessed with bubbles as I am, so if you wanna put an orange in your drink I'm not gonna knock you for it — Europeans have been serving them that way for years.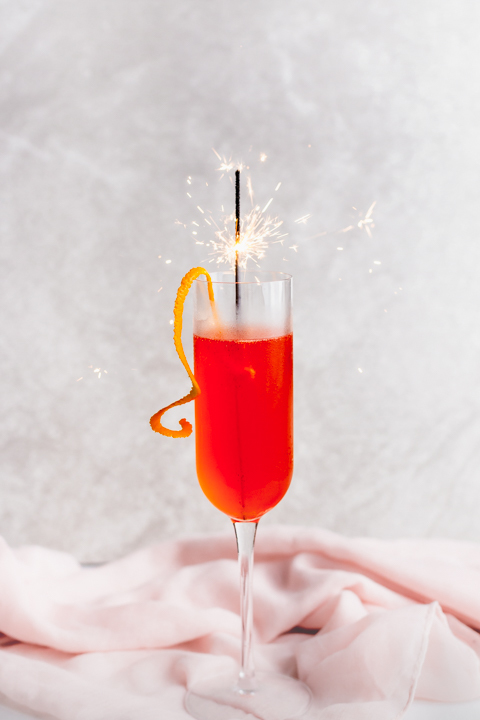 Oh, and the fireworks? I wanted to capture the fun, sparkling nature of the drinks in a photo, but I absolutely do not recommend them as a garnish. They can burn and break your glasses, and drop ashes into your cocktail. I do recommend serving them with sparklers — as in a sunset sparkler toast, where the sparklers are held and not dropped in the glasses.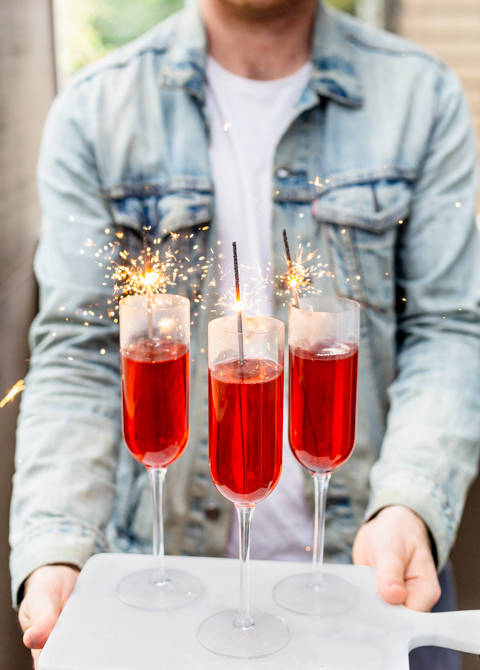 It's arguable that the Aperol spritz is the drink of the season. It's light, fresh and herbal flavors are perfect for hot summer days.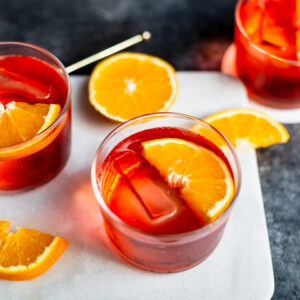 Ingredients
8

oz

Aperol

12

oz

Pinot Grigio

3

oz

filtered water

pinch of salt
Instructions
Start with ice cold ingredients or combine them in the Drinkmate bottle and freeze until very well chilled.

Carbonate according to Drinkmate instructions, by pressing down the button until you hear gas escaping. Use the release valve to allow more gas to escape and the drink to foam up, then repeat the carbonation process.

Once you've carbonated a second time, allow the drink to settle for a minute before releasing the pressure very slowly. You want as little foaming as possible this time, which means the more slowly you release pressure the better.

Open and pour gently down the side of a champagne flute chilled in the freezer. If you choose to serve over ice with an orange slice, use a large ice cube and balance the orange on top.
Nutrition
Serving:
1
g
Calories:
80
kcal
Carbohydrates:
20
g
Sodium:
11
mg
Sugar:
20
g