Lobster Spring Rolls with Spicy Dipping Sauce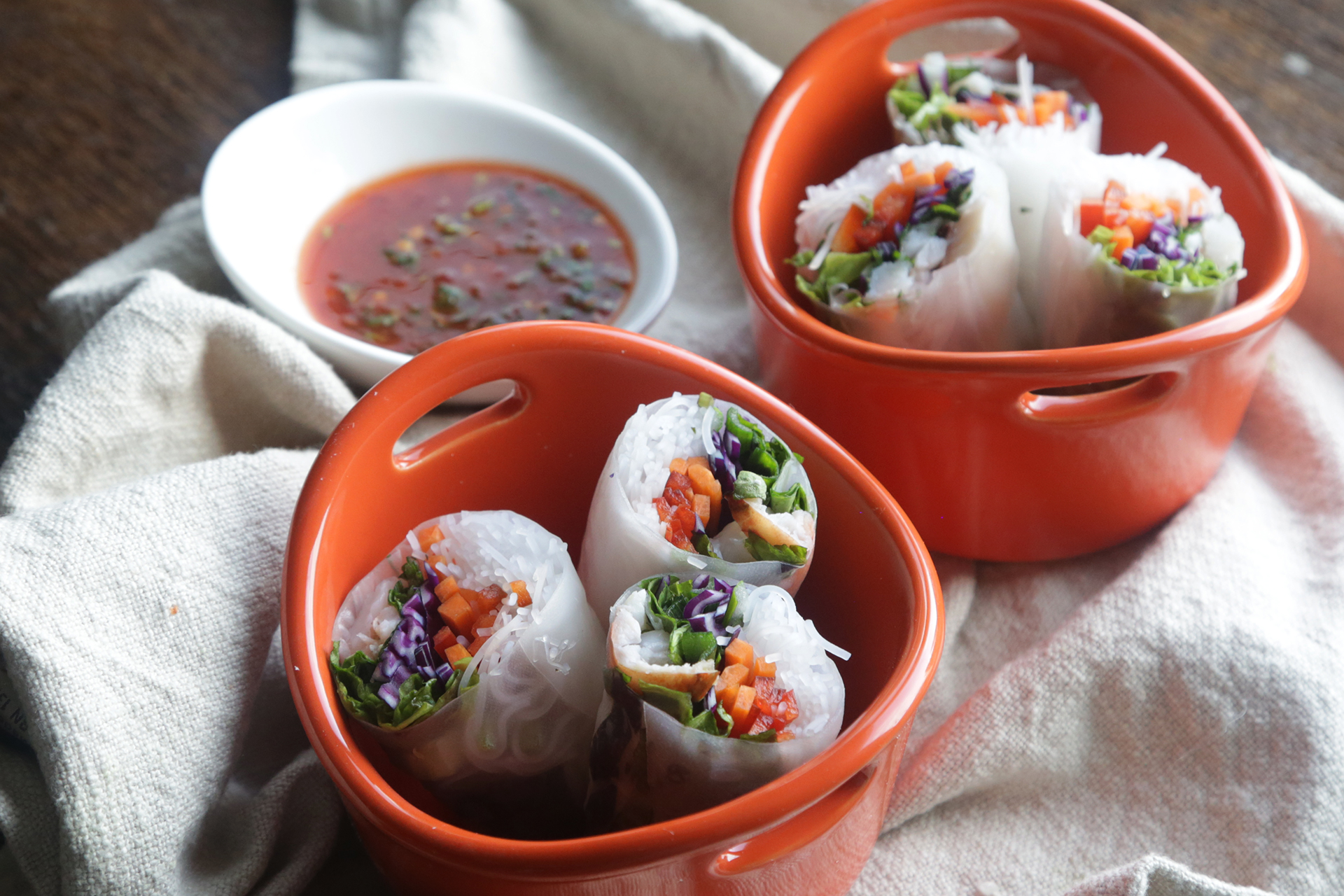 I've actually been making this recipe, and several variations, for a number of years and they're always delicious. I was first introduced to Vietnamese Spring Rolls while working at a French restaurant called, Malmaison. The French have a huge influence in Vietnam stemming all the way back to the 17th century, so by nature there is an emersion of the two cultural foods.
The dipping sauce is incredibly easy to make and packs a fierce punch of flavor, but if you're not careful it can burn up your taste buds!! In any event, these spring rolls are all prep with just a bit of cooking to get to the finished product.
Enjoy!!
Lobster Spring Rolls with Spicy Dipping Sauce Recipe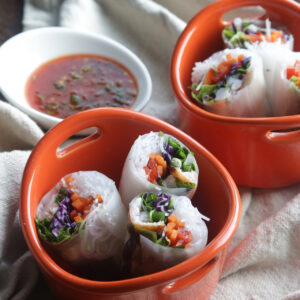 INGREDIENTS
For the Spring Rolls:
2 8-ounce lobster tails
¼ cup of Kosher salt
3 peeled and julienne carrots
5 thinly sliced red leaf lettuce leaves
1 bunch of thinly sliced green onions
1 seeded and sliced red bell pepper
1 cup of thinly sliced red cabbage
¼ cup of chiffonade fresh basil
¼ cup of chiffonade fresh mint
¼ cup of picked fresh cilantro leaves
1 pack of rice stick noodles softened in hot water, strained and cooled
12 to 15 rice paper sheets softened in hot water one at a time
For the Dipping Sauce:

½ cup of chili garlic sauce
2 tablespoons of water
juice of ½ lemon
1 teaspoon sugar
1 tablespoon of chopped cilantro
INSTRUCTIONS
Lobster: Boil the lobster in 6 cups of water and ¼ cup of salt for 10 to 12 minutes or until they are cooked through and the shells are bright red.
Remove the lobster from the water and cool completely before removing form the shell and thinly slicing.
Sauce: Whisk together all of the ingredients until combined and keep cool.
To Prepare: Heat the rice paper sheets 1 at a time and once it becomes soft remove from the water and place on your cutting board. In the center of the rice paper sheet add a few of each ingredient: julienne carrots, red leaf lettuce slices, sliced green onions, sliced red bell peppers, sliced red cabbage, chiffonade fresh basil, chiffonade fresh mint, cilantro leaves and rice stick noodles.
Starting from the bottom fold in the sides and roll to the top making sure to make it tight so the rice paper sticks together.
Slice and serve alongside the dipping sauce.
Note: If you are holding for later cover them in a damp paper cloth 1" from each other.