Brown Butter, Salty Manuka Honey, Pecan & Apple Crumble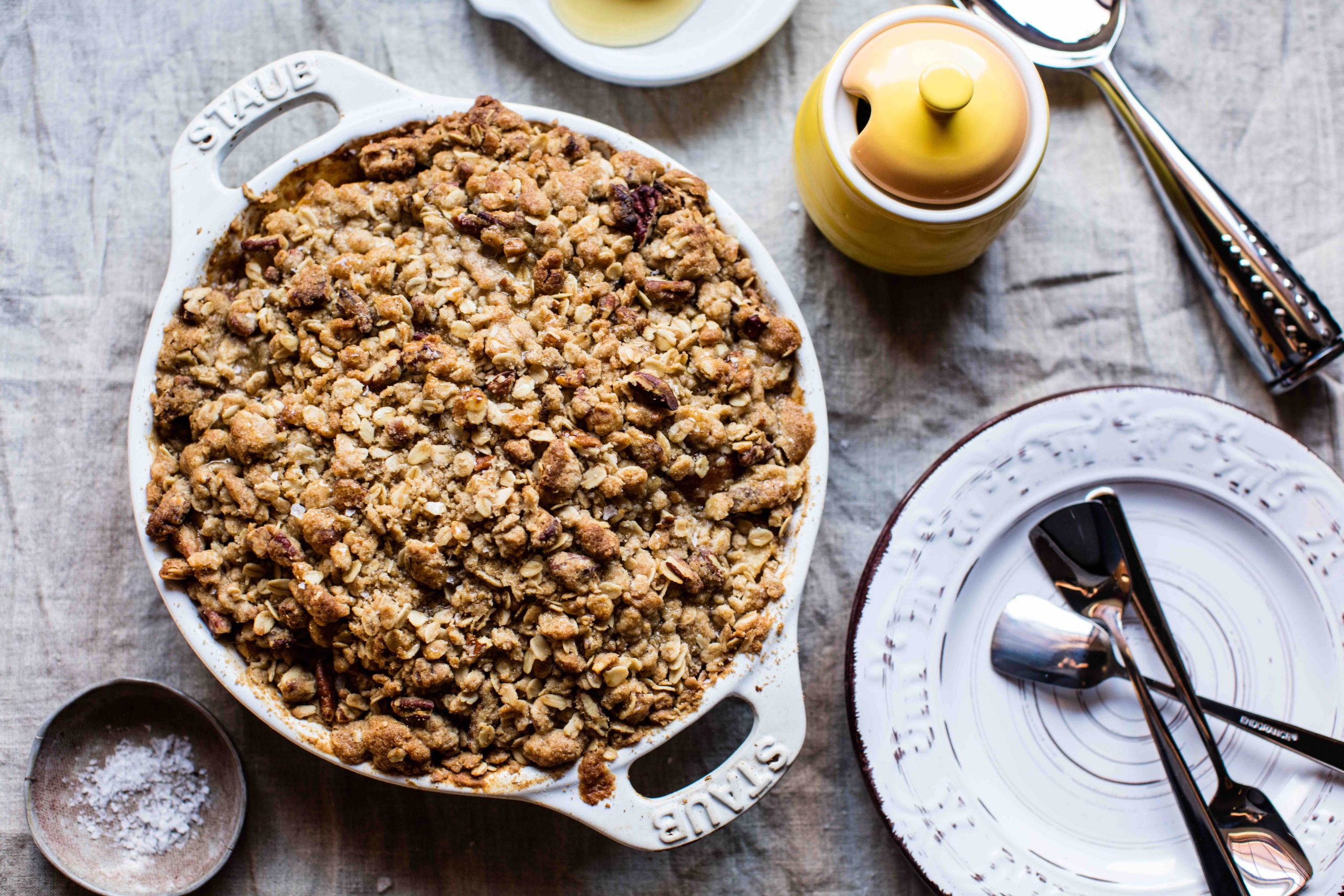 If there is one thing that simply screams fall, it's this apple crumble. It is all things cozy and PERFECT.
I like to use Honeycrisp apples and leave the skins on for extra texture and flavor. If you prefer a smoother texture, please feel free to peel! With or without skins, the real secret to this apple crumble is the manuka honey (and an added pinch of flaky sea salt). Manuka honey is a little stronger in flavor than every day honey… it's also unbelievably good for you!
This honey claims healing benefits from boosting the immune system to preventing hair loss… and everything in between! Nevertheless, it's the manuka's flavor that I really love. When paired with the crisp, juicy apples and the brown sugar and cinnamon in this crumble, well it's kind of like fall in a dish!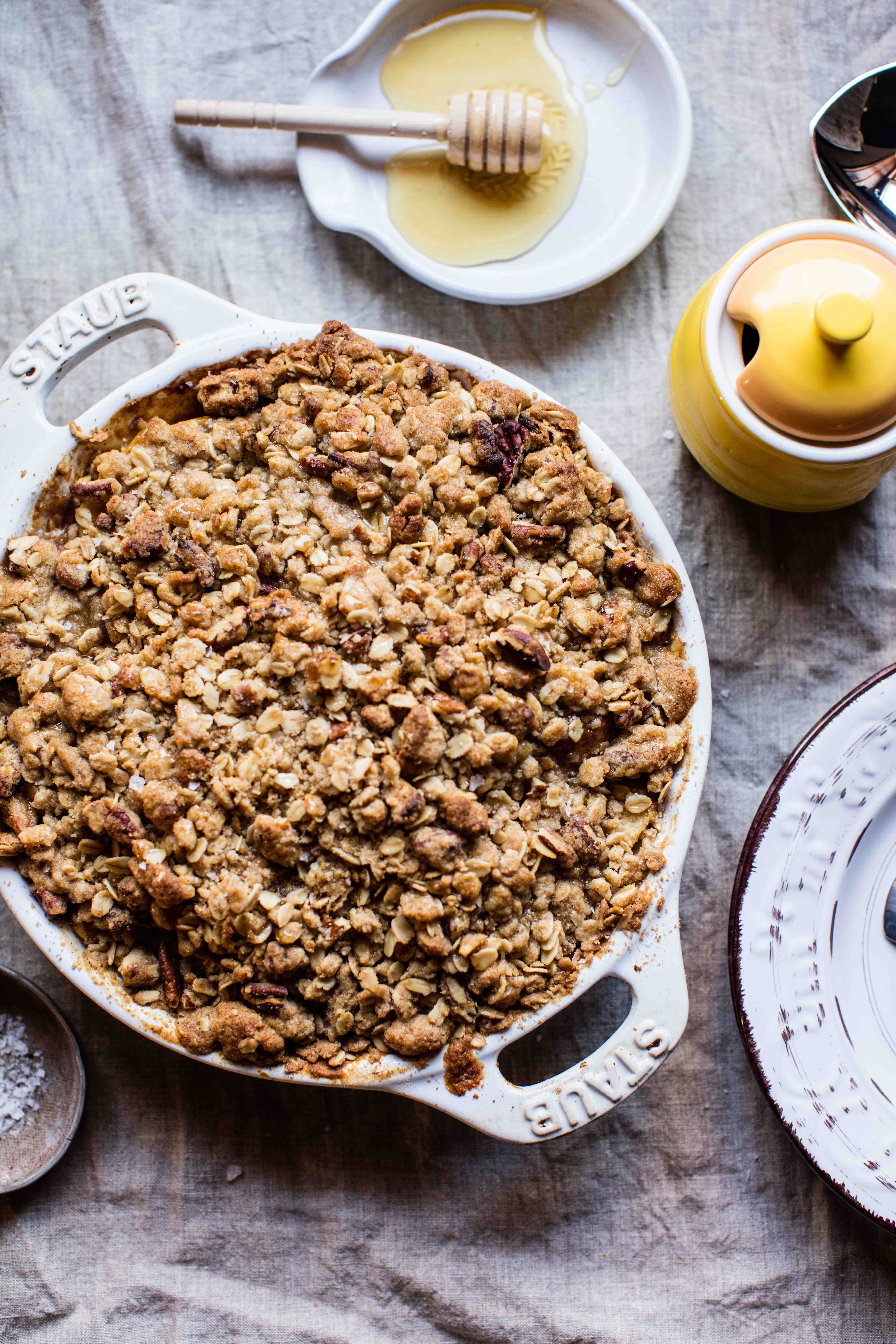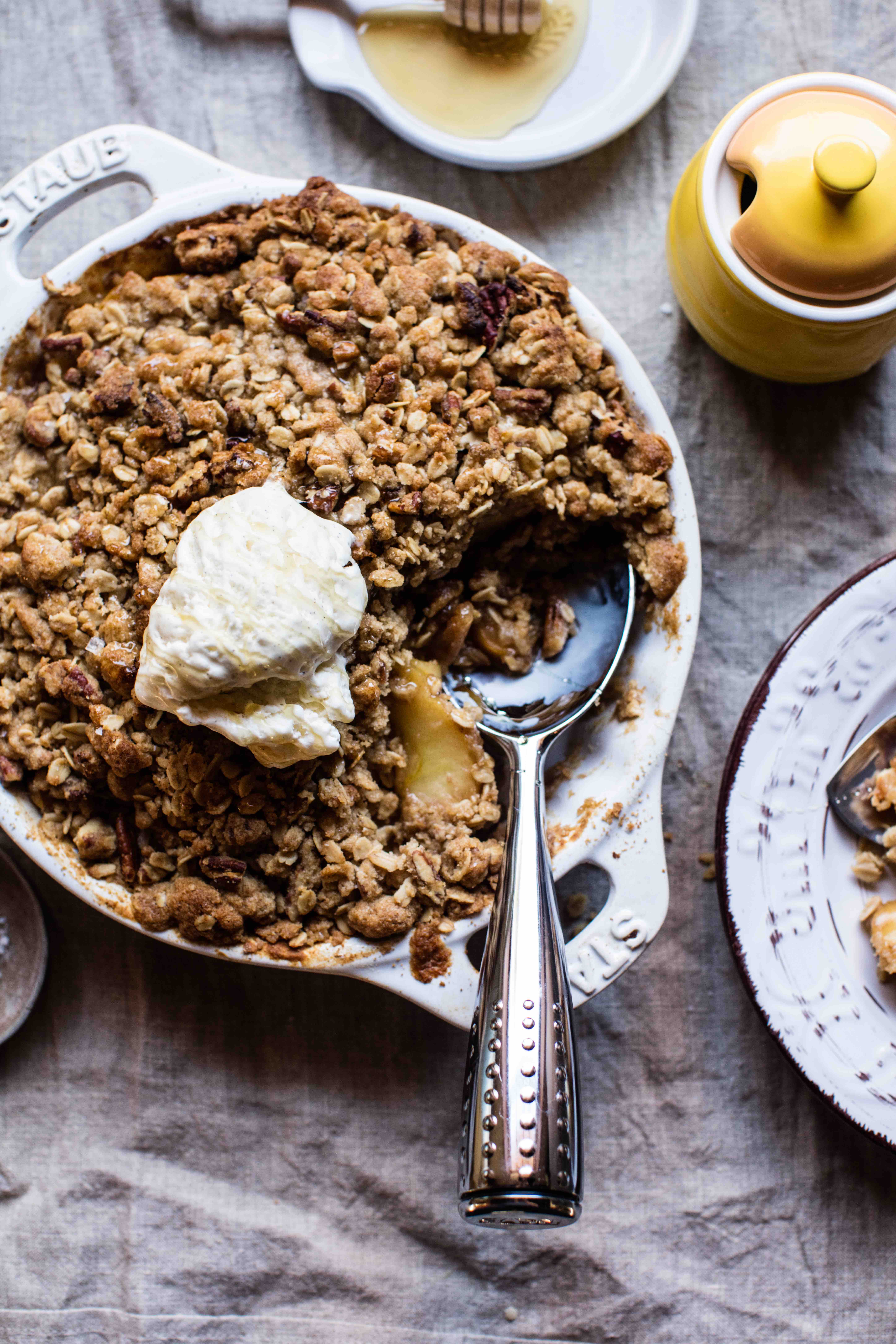 DELICIOUS.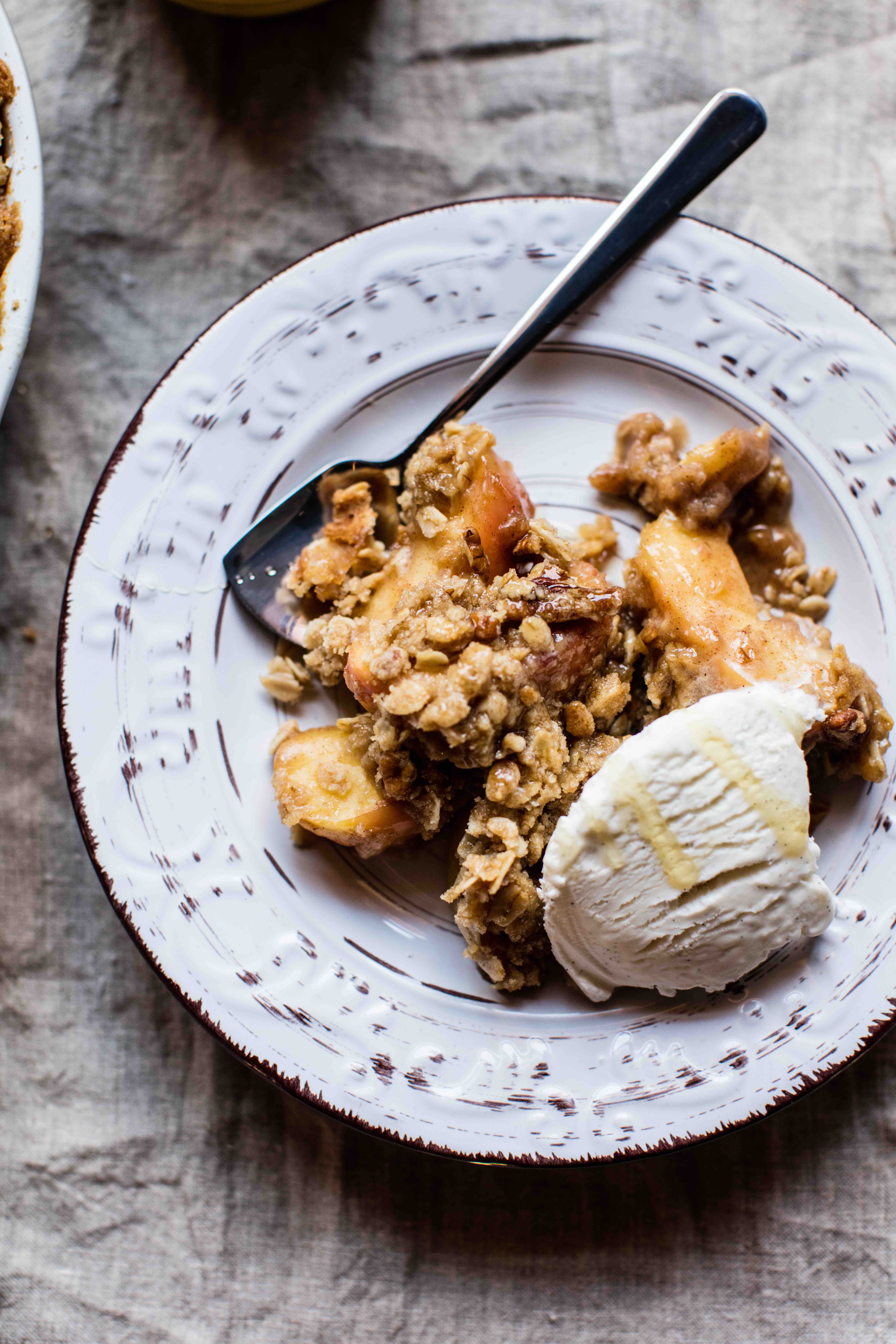 Finish everything off with an extra buttery pecan crumble and you'll truly have the perfect fall dessert. Equally great any day of the week or to serve at your next holiday party! Can you believe it's that time of year again? Good thing we have this easy apple crumble recipe for impromptu gatherings.
Brown Butter, Salty Manuka Honey, Pecan & Apple Crumble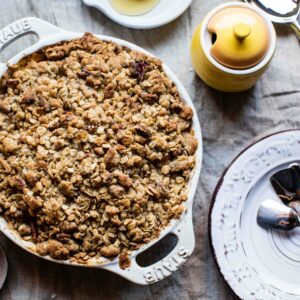 INGREDIENTS
6 large Honeycrisp apples, cut into wedges
2 tablespoons lemon juice
¼ cup all-purpose flour
¼ cup manuka honey
¼ cup brown sugar
1 teaspoon cinnamon
½ teaspoon nutmeg
Pinch of flaky sea salt
For the Pecan Topping:
1 cup all purpose flour
¾ old fashioned oats
¾ cup brown sugar
½ cup pecans, chopped
1 teaspoon cinnamon
¼ teaspoon salt
8 tablespoons softened butter, cubed
INSTRUCTIONS
Preheat the oven to 350 degrees F. Lightly grease an 8 inch glass baking dish.
To the baking dish, add the apples, lemon juice, flour, brown sugar, honey, cinnamon and nutmeg, plus a pinch of sea salt. Gently toss to combine; this does not need to be perfect.
To make the topping, place the butter in a small saucepan and cook 5-8 minutes or until lightly golden brown and toasted. Combine the flour, oats, brown sugar, pecans, cinnamon and salt in a medium size mixing bowl. Add the butter and mix until everything is moist and clumps together. Sprinkle the topping over the apples.
Place the dish on a cookie sheet to catch drips and place in the oven. Bake for 40-45 minutes or until the top is golden and the apples have created a caramel like sauce that is bubbling. Remove from the oven and let cool slightly. Serve warm or at room temp with a big scoop of vanilla ice cream!