Brown Butter Lobster Ravioli with Tomato Cream Sauce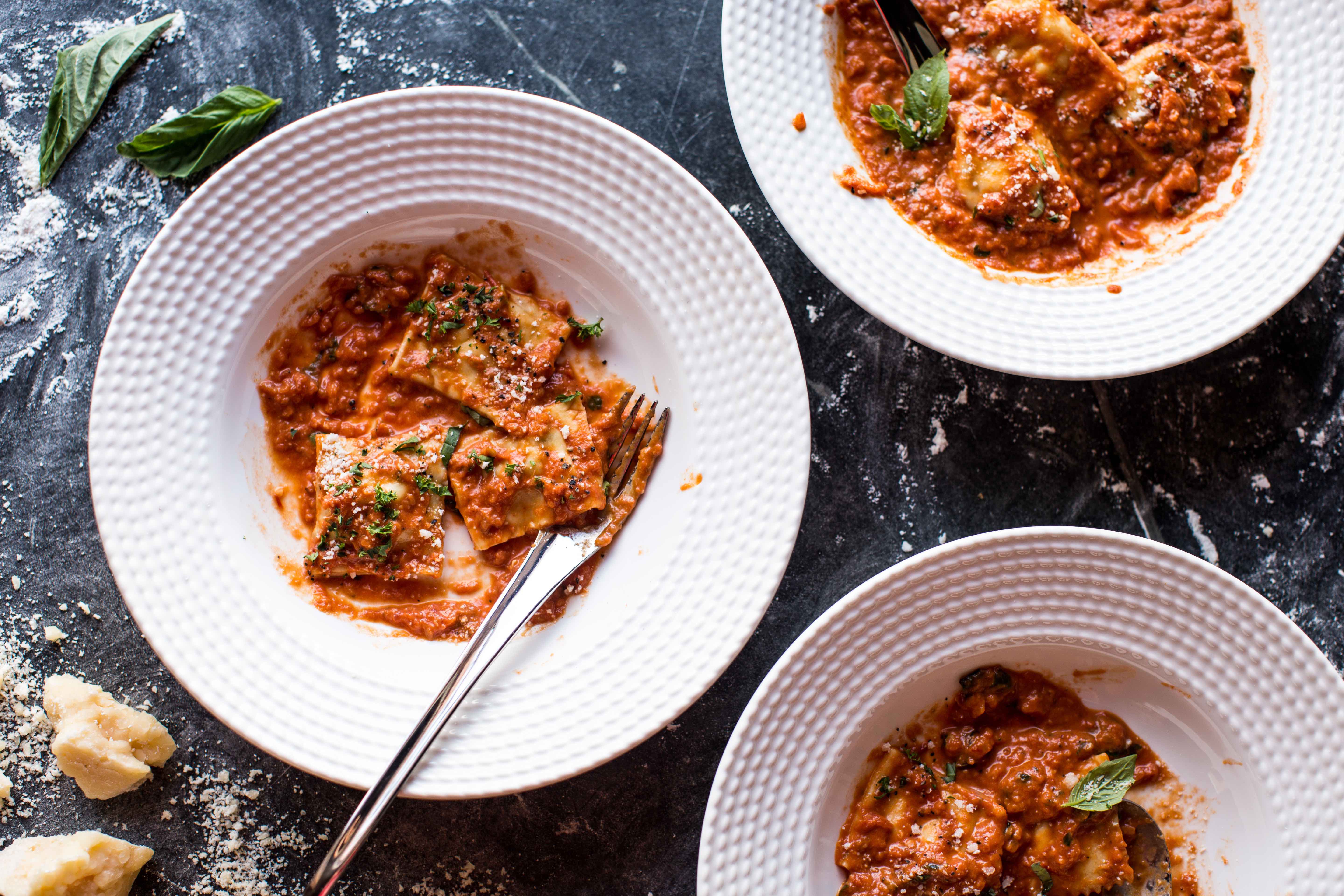 When time allows, I really love getting in the kitchen and making a big batch of homemade lobster ravioli. It's one of my favorite foods… and with good reason… pasta, cheese and butter! YUM. Today, I'm sharing my recipe for Brown Butter Lobster Ravioli with Tomato Cream Sauce. The filling and sauce for this lobster ravioli is so, so good.
The thing is, making ravioli from scratch is a process. There's just no denying that homemade ravioli takes some time. The good news is that KitchenAid is helping to make that process a little faster and easier with their ravioli stand mixer attachment. This attachment has really changed the game of ravioli making for me. The attachment makes rows and rows of fresh homemade ravioli in just seconds. It's kind of magic.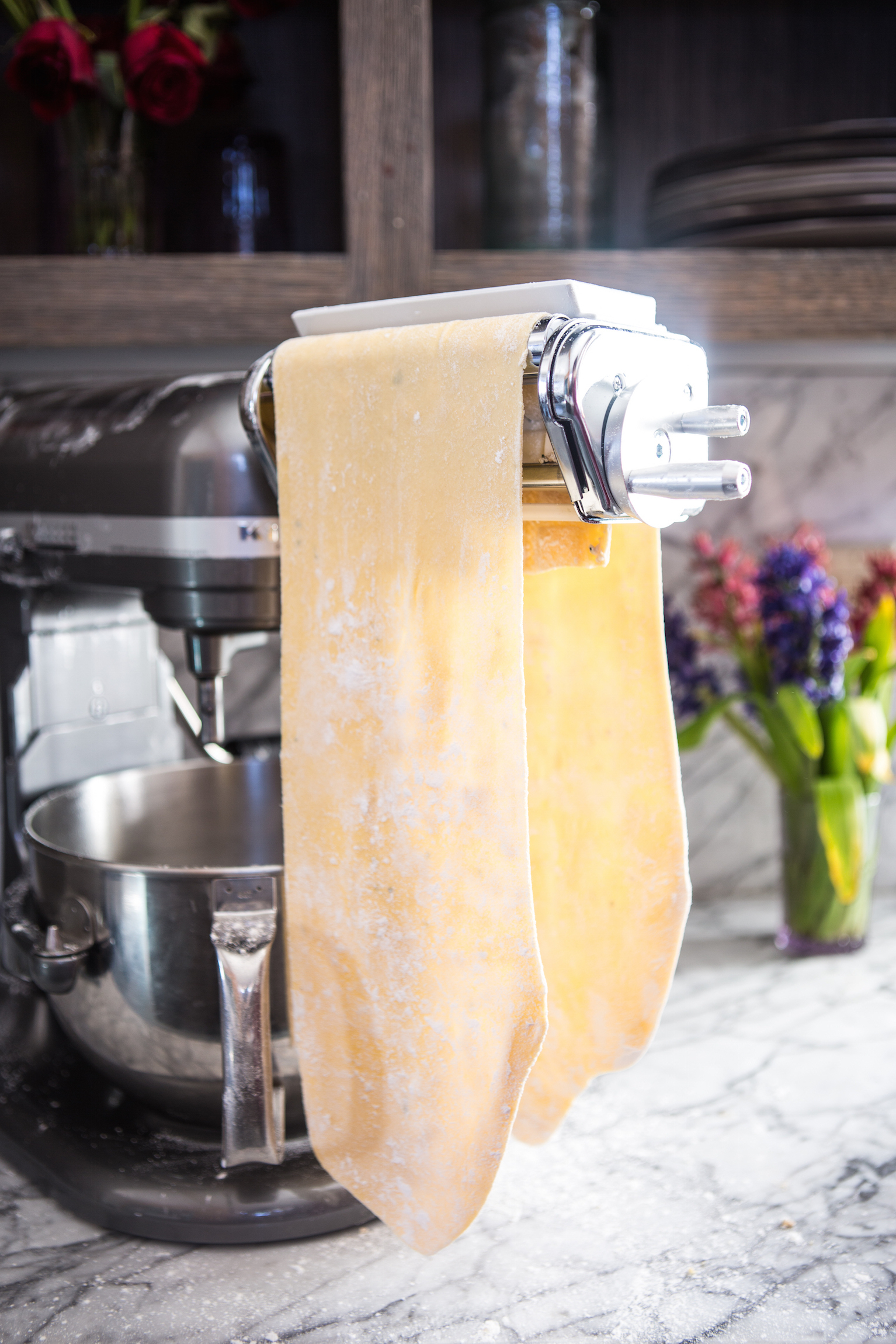 First off, you'll want to start with some fresh pasta dough. This can be homemade or store-bought, either works great, but I am giving you my homemade pasta dough recipe below. Once you have your dough, you will need to run it through the lasagna roller attachment to get nice long and evenly flat sheets of dough. Once you have those, just set up the ravioli attachment as directed on the attachment's instructions. Stuff with your filling (in today's case – lobster!) and then start rolling. It's important to make sure you heavily flour your sheets of pasta dough so that the dough doesn't stick. This will ensure a beautiful rip free ravioli.
As for the filling, today I am going the super delicious route… obviously. Brown Butter Lobster Ravioli with a Simple Tomato Basil Cream sauce. I know, I know, so YUMMMY!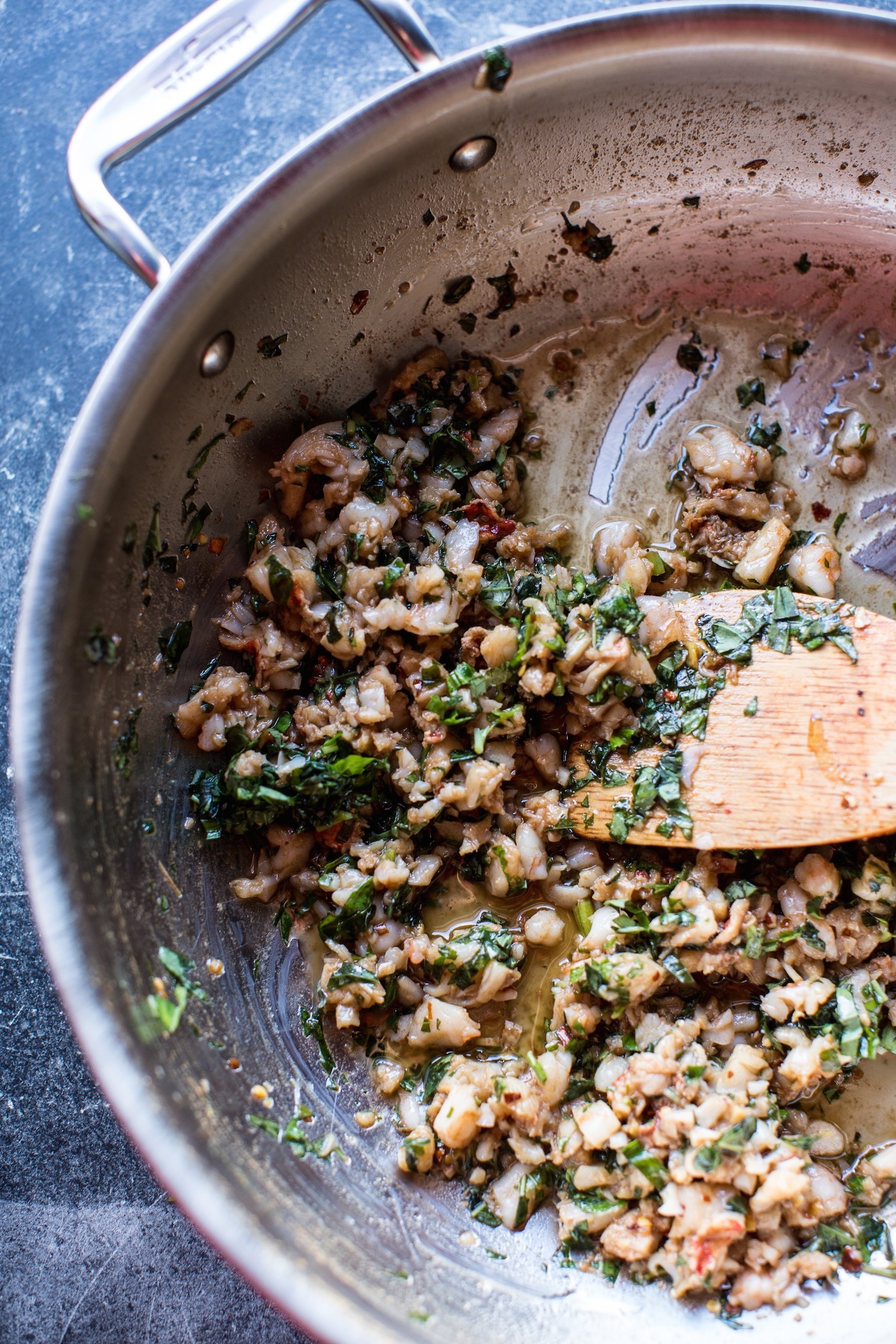 The filling is made up of lobster, shrimp, fresh herbs, lots of browned butter and ricotta cheese. The tomato cream sauce is very simple… tomatoes, garlic, herbs and cream. Do not let the simplicity of this sauce fool you, it is beyond delicious. As my dad would say, don't confuse effort with results. The results are what matters and this sauce has plenty!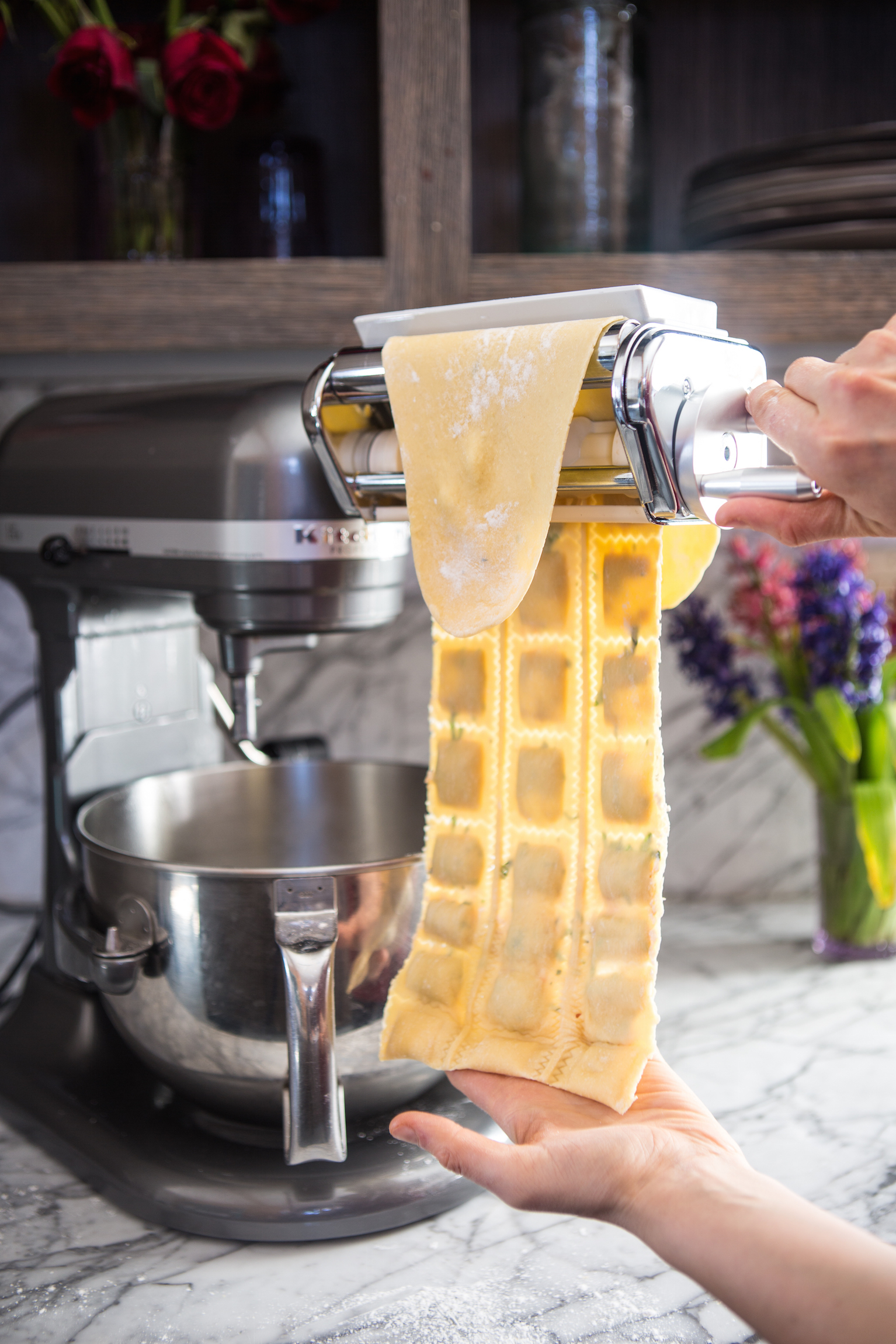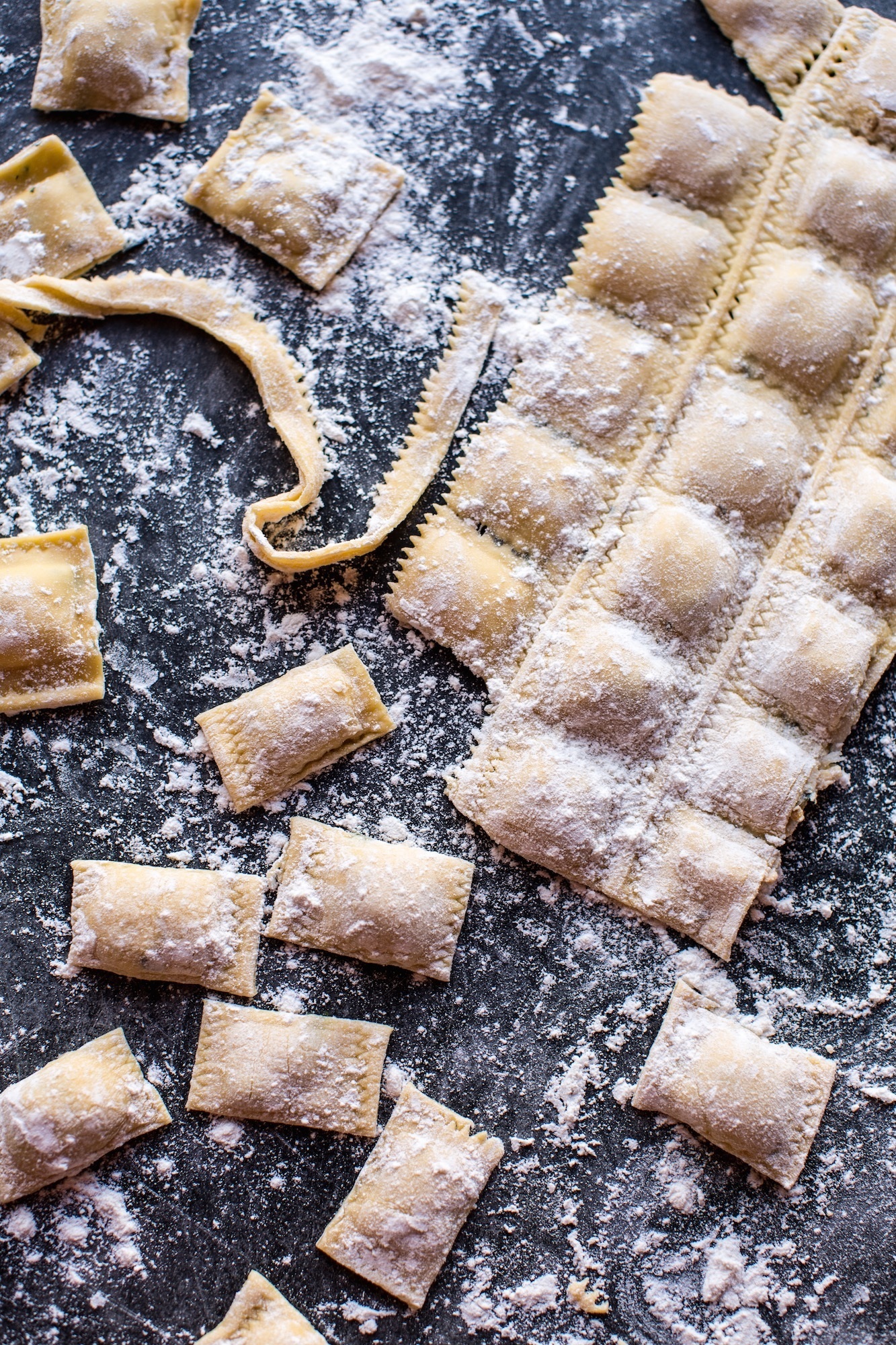 Finally, you should know that this is the ultimate ravioli recipe. If you are looking to impress, make this recipe! It will become your new GO-TO. You can even make the ravioli in large batches and freeze them. Just leave the ravioli on the parchment paper on top of the cookie sheets. Then once frozen, add them to a freezer safe bag and freeze up to four months. The sauce can be frozen separately in a freezer safe container or bag. So you see, you NEED to make these ravioli! You can eat some now and freeze the rest for easy meals. Yeah!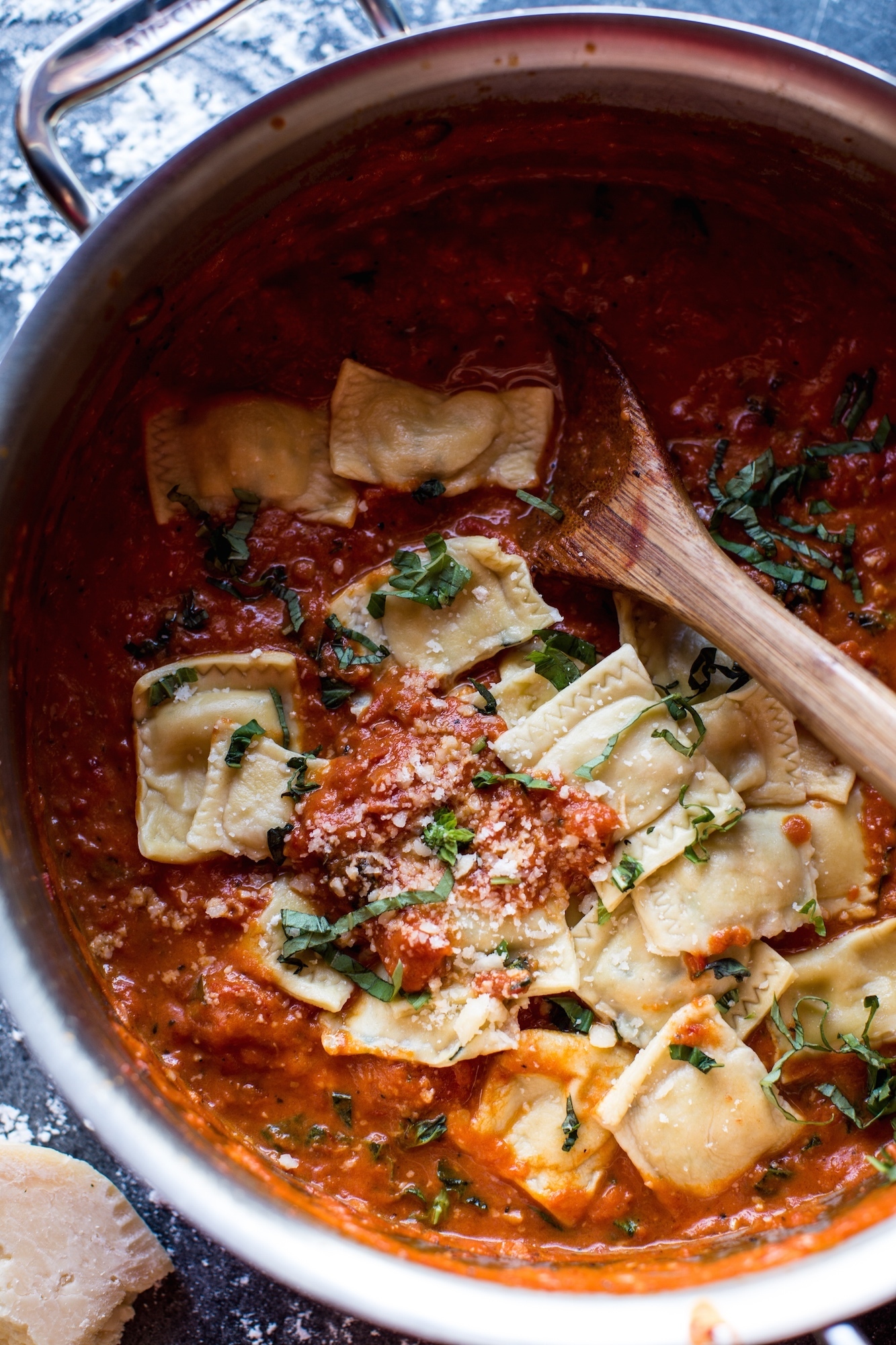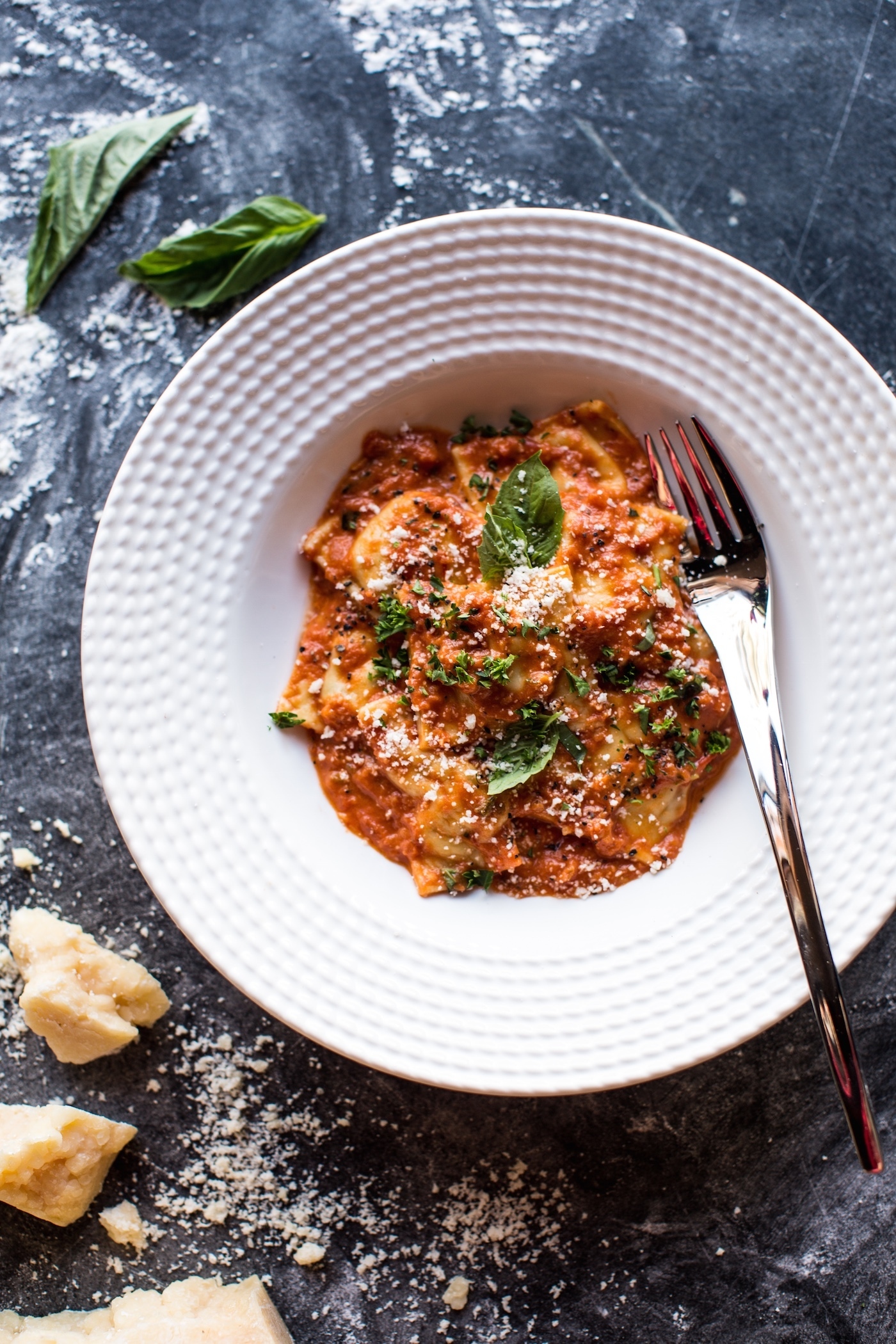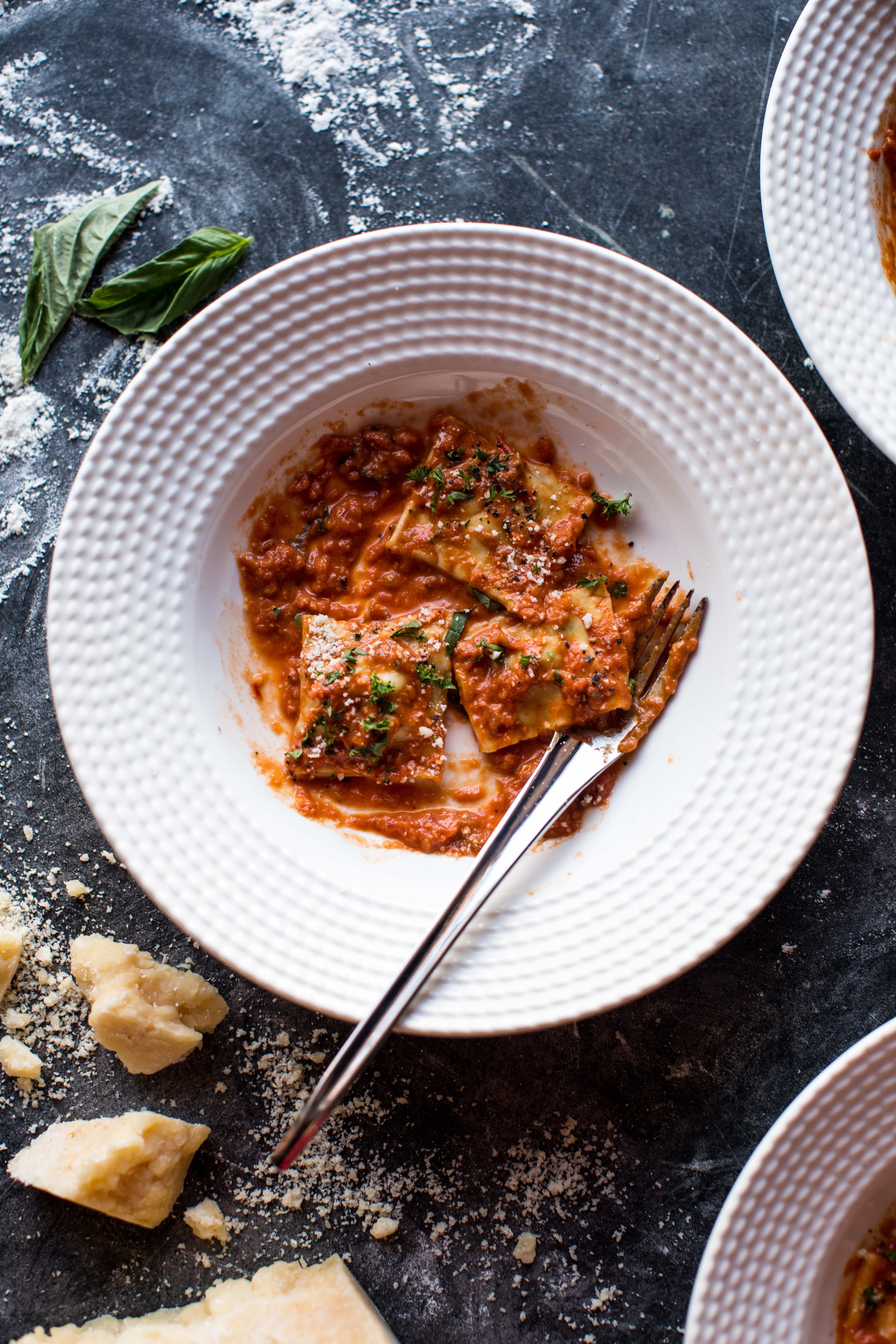 Brown Butter Lobster Ravioli with Tomato Cream Sauce Recipe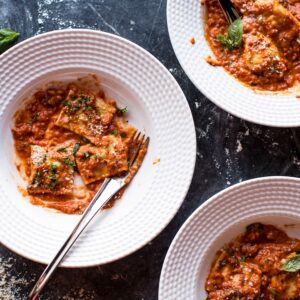 INGREDIENTS
Tomato Cream Sauce
2 tablespoons olive oil
2 tablespoons butter
1/2 of a medium sized onion, finely diced
4 cloves garlic, minced
1 can (15 ounce) tomato sauce
1 can (15 ounce) diced tomatoes
salt and pepper, to taste
1 cup heavy cream
1/4 fresh parsley, chopped
1/4 cup fresh basil, chopped
1/4 cup freshly grated parmesan cheese, plus more for serving
Pasta Dough
2 1/2 cups Flour
4 Eggs
Water
Brown Butter Lobster Filling
3 lobster tails (preferably wild caught)
1/4 pound (about 9) uncooked shrimp, peeled & deveined (preferably wild caught)
1 stick (1/2 cup) butter
2 large cloves garlic, minced
1/4 cup fresh parsley, chopped
1 teaspoon lemon juice
1 teaspoon crushed red pepper flakes (optional)
8 ounces (1 cup) ricotta cheese
1/2 teaspoon salt + pepper, plus more to taste
INSTRUCTIONS
Tomato Cream Sauce
Heat the butter and oil over medium heat. Add the onions and cook for 5 minutes until they begin to soften and caramelize.
Add the garlic and cook for another minute or so.
Pour in the tomato sauce, diced tomatoes, salt and pepper to taste.
Stir and cook over low heat for at least 30 minutes stirring occasionally. Using the back of a fork break up any large chunks of tomato. Stir in the cream.
Add the parmesan cheese, fresh parsley and basil, plus salt + pepper to taste.
Simmer over low heat until ready to serve.
Pasta Dough
In the bowl of a stand mixer fitted with the dough hook, add the flour and eggs.
Knead the dough until it comes together and forms a ball. If your dough seems too dry add more water, a teaspoon at a time, being careful not to add too much. If the dough becomes too sticky, just sprinkle in a little extra flour.
Quarter the dough and shape into four disks. Place the disks on a lightly floured board and cover with a damp kitchen towel or place in a gallon size Ziploc bag to keep it from drying out.
Lobster Filling
Place the lobster tails on a cutting board, using kitchen shears or a sharp knife, cut through the top shell lengthwise. Gently pull the shells apart, away from the meat. Finely chop the meat - actually, pretty munch mince it.
Heat the olive oil in a large skillet over medium heat. Once hot, add the lobster and shrimp meat. Cook, stirring often until the lobster and shrimp are cooked through, about 5-7 minutes. Carefully slide the cooked meat onto a plate.
Place the stick of butter in the skillet and immediately begin whisking. Stir the butter as it bubbles, after 2-3 minutes or so, you should see brown bits appear on the bottom of the pan. Remove from the heat immediately and continue to whisk for another 30 seconds or so. Add the garlic and stir well. Add 1/4 cup chopped fresh parsley, the lemon juice, crushed pepper flakes (if using), salt and pepper. Stir in the cooked lobster and shrimp. Add the ricotta cheese and mix well. Set the filling aside.
Prepare the Ravioli
Grab the balls of fresh pasta dough. Flatten one dough piece at a time, and dust generously with flour, brushing off excess. Set your pasta machine to the widest setting; run the dough through. Fold the dough into thirds like a letter, then run it through again, short end first. Run it through 2 more times. Dust with flour if the dough gets sticky. Return the dough sheet to the floured board, cover with a towel and repeat with the remaining 3 dough disks. Keep any dough you are not working with covered with a damp kitchen towel or in the bag.
Roll all the dough sheets through the machine again 3-4 more times (machines vary), adjusting the machine up to the next setting each time. I roll my pasta sheets out to the fourth setting.
Now switch to the ravioli attachment and run the dough through one more time. Prepare the ravioli as directed according to the attachment instructions, using the lobster filling to stuff each ravioli. Lay the individual ravioli out on a parchment lined baking sheet and continue making the ravioli until you've used all the lobster filling. Make sure to cover the ravioli with a damp towel as you work. At this point you can freeze the ravioli for later, if desired, or continue on with the recipe.
Bring a large pot of salted water to a boil.
Boil the ravioli for 1-2 minutes or until they float. Carefully remove the ravioli from the water and gently stir them into the tomato cream sauce. Divide the ravioli among plates and top with fresh basil and parmesan cheese. Serve immediately.
Enjoy!
Want to learn more about making homemade pasta? Check out Chef Billy Parisi's video on making homemade pasta, then try some of these cool variations.