The Best Rigatoni Bolognese Recipe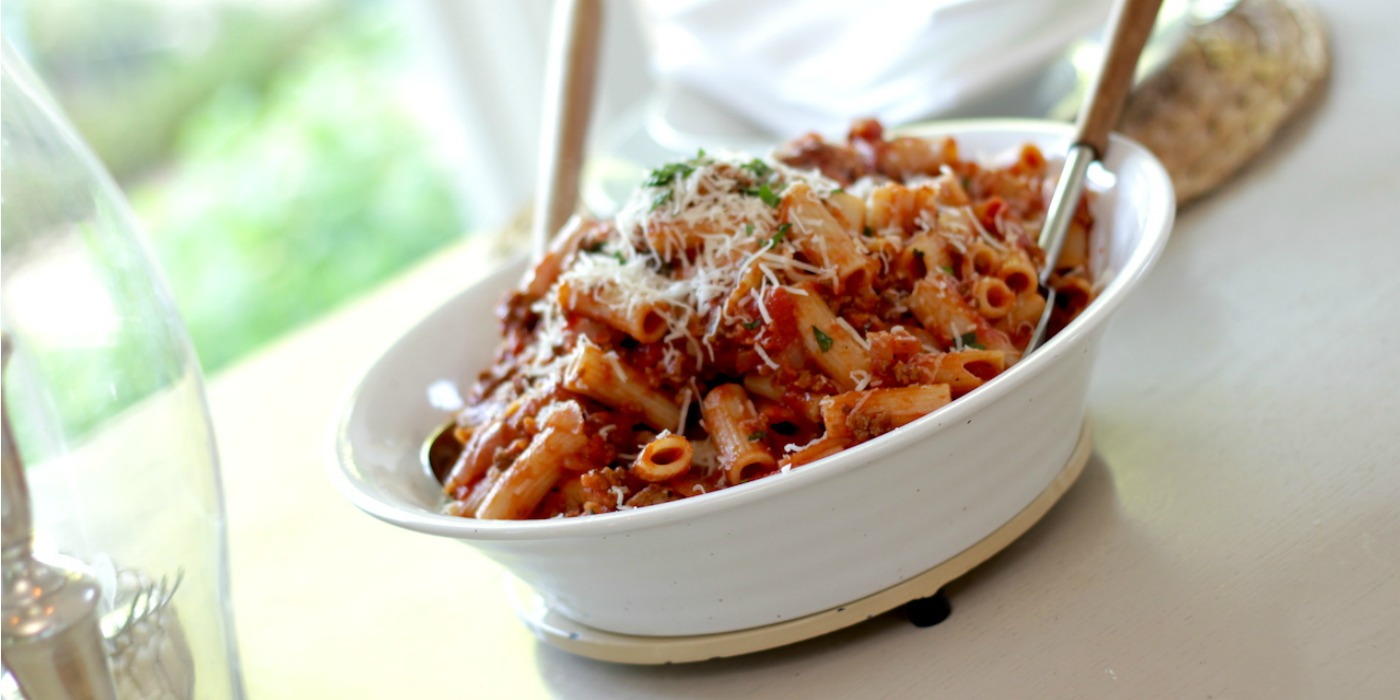 Is there anything better than fresh, warm baked pasta? We don't think so! This Rigatoni Bolognese recipe is one of the best, and sure to be one of your new favorites! Go big with fresh tomato sauce, and make the most of summer's seasonal produce!
This delicious, satisfying Rigatoni Bolognese recipe has it all. Rich, fresh tomato flavors. Warm, melty parmesan cheese and fresh herbs. Substitute the cans of tomato sauce with your homemade sauce for an even more delicious take on this classic pasta recipe!
The Best Rigatoni Bolognese Recipe Recipe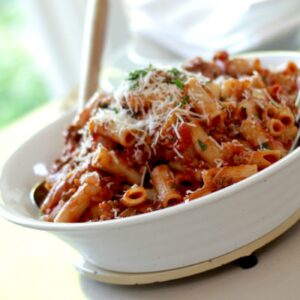 INGREDIENTS
1 lb (450 g) Rigatoni
1 tbsp (15 ml) olive oil
1 yellow onion, diced
1 lb (450 g) ground beef
1 tsp (5 ml) Italian seasoning
Freshly cracked pepper to taste
1 ½ tsp (7.5 ml) salt (separated)
2 15-ounce cans (890 ml TOTAL) of tomato sauce
1 15-ounce can (445 ML) diced tomatoes
2 garlic cloves, minced
2 tbsp (30 ml) chopped basil + 1 tsp for garnish
Freshly grated parmesan cheese to taste
INSTRUCTIONS
In a large stock pot, cook rigatoni according to package instructions.
Meanwhile in a large skillet, sauté onion in olive oil until tender. Add beef, Italian seasoning, ½ tsp of salt and freshly cracked pepper. Brown meat on all sides until cooked through.
Add tomato sauce and diced tomatoes, garlic and 1 tsp salt. Simmer for 30 mins. Add fresh basil.
Drain pasta and toss with sauce. Garnish with freshly grated parmesan cheese and more chopped basil.
Dinner is ready!