Boozy & Festive Wine Poached Pears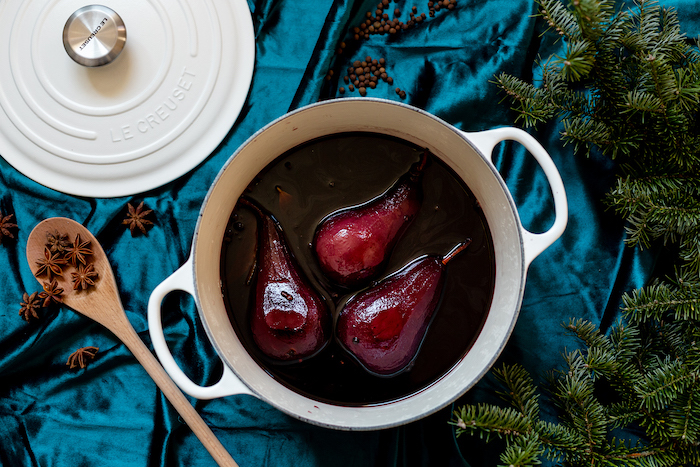 Pears poached in spices and wine make for one of the easiest boozy desserts to grace your table this holiday season.
Confession: I love to buy holiday-scented soaps and candles (hello, frasier fir everything), but hardly ever get to use them, because my house is already filled with the intoxicating scent of something mulling on the stove. If you've tried my Scandi Mulled Wine, One Pot Holiday Punch, or Sous Vide Manhattans, you know what I'm talking about. The smell of warm cinnamon and star anise on the air couldn't be more festive to me.
If you're craving that same holiday spice aromatherapy with a hearty side of show stopping dessert, you're in luck, because this recipe delivers both in spades. I love a good boozy dessert, and this one is perpetually in my repertoire because it's easy to make and, frankly, hard to mess up. It's not like a cookie or cake you have to babysit in the oven — a little overcooking or undercooking doesn't really matter here.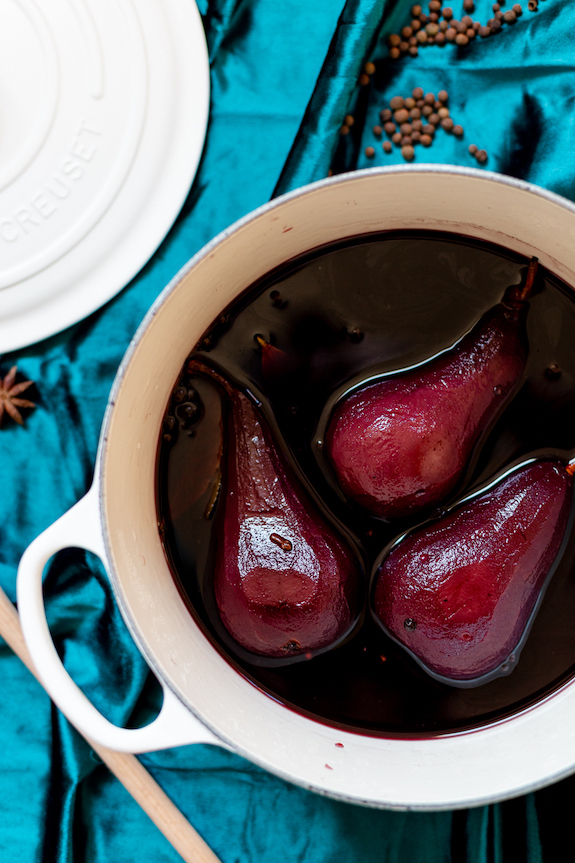 And a welcome bonus: as far as desserts go, this one scores very high on the guilt-free spectrum. It's basically just a pear, soaked and drizzled in a very lightly sweetened wine sauce. If you don't eat refined sugars, you can even swap in honey (just use 3/4 cup instead of the 1 cup brown sugar the recipe calls for).
Now, you might take one look at the long ingredient list and think "thank u, next," but I'm gonna let you in on a little secret: you can skip almost every ingredient in the recipe and it will still turn out okay. This is almost never the case with cocktails OR desserts, but it sure-as-Sam is here.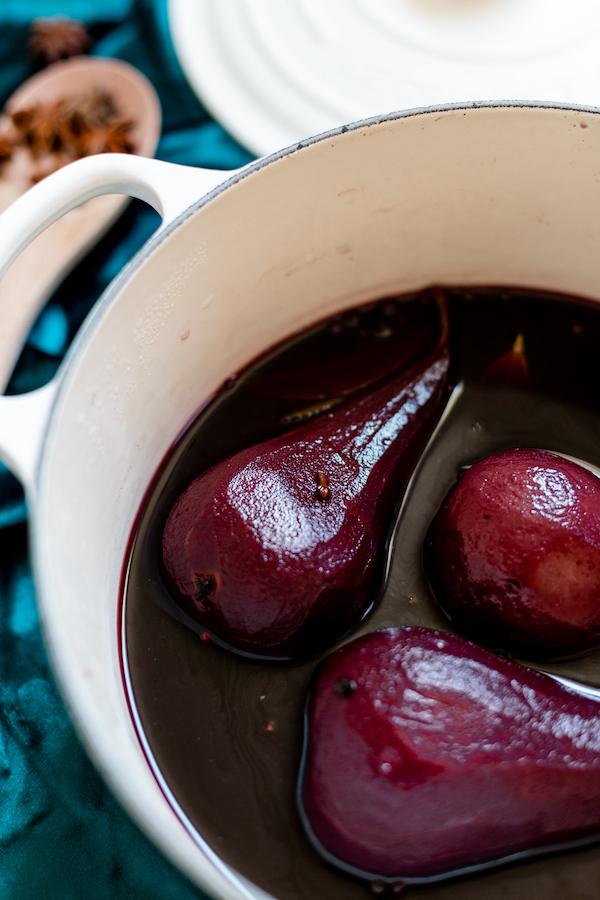 What you absolutely need are the pears (obviously), the wine, the sugar, and the cinnamon. THAT'S IT. Everything else is in there to make the sauce more complex, but I'm here to tell you it will be delicious without all that depth anyway.
So use what's in your cabinet (I had all of these spices on hand, but I mull and bake a lot), and don't go running to the store for the items you don't have. When I sent my husband out for ingredients for this, it was literally just for the pears. Another pro tip: use inexpensive wine (think cheap wine but not trash wine). I used Bota Box, which I usually have on hand this time of year anyway (for above mentioned mulling).
Finally, the trick to getting such a vibrant, rich purple color is using firm pears so you can cook them longer (about an hour), then letting them cool in their liquid, turning them a few times if the liquid doesn't cover the pears ( which will depend on size of your pot and how many pears you use). Better yet, make them ahead and let them sit in the cooking liquid overnight. I throw my whole dutch oven in the fridge with the cover on, then reheat the whole thing on the stove before serving.
Pears poached in spices and wine make for one of the easiest (and jaw-dropping) boozy desserts to grace your table this holiday season.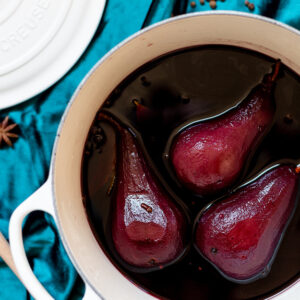 Ingredients
6

firm bosc pears, peeled (not soft/fully ripe)

4

cups

dry red wine

1

cups

water

1

cups

packed light brown sugar

peel of 1 orange (white pith removed, orange zest only)

2

cinnamon sticks

5

cloves

3

bay leaves

3

star anise pods

1

tsp

peppercorn

1

tsp

allspice berries

1

vanilla bean, split lengthwise

1

pinch freshly grated nutmeg

1

pinch ground cardamom

Optional: mascarpone for serving
Instructions
Combine all in a dutch oven or heavy pot over medium heat; stir to combine and bring to a simmer.

Let simmer, turning the pears occasionally, for up to one hour, until pears are fork tender. Remove from heat and let cool (in liquid, covered) to just above room temp.

Serve drizzled heavily with the cooking liquid, optional: with a large dollop of mascarpone cheese.
Nutrition
Serving:
2
g
Calories:
629
kcal
Carbohydrates:
103.2
g
Protein:
2.3
g
Fat:
0.9
g
Saturated Fat:
0.1
g
Sodium:
37
mg
Fiber:
9.7
g
Sugar:
76.7
g