BLT Grilled Peach Pizza with Jalapeño Honey & Gorgonzola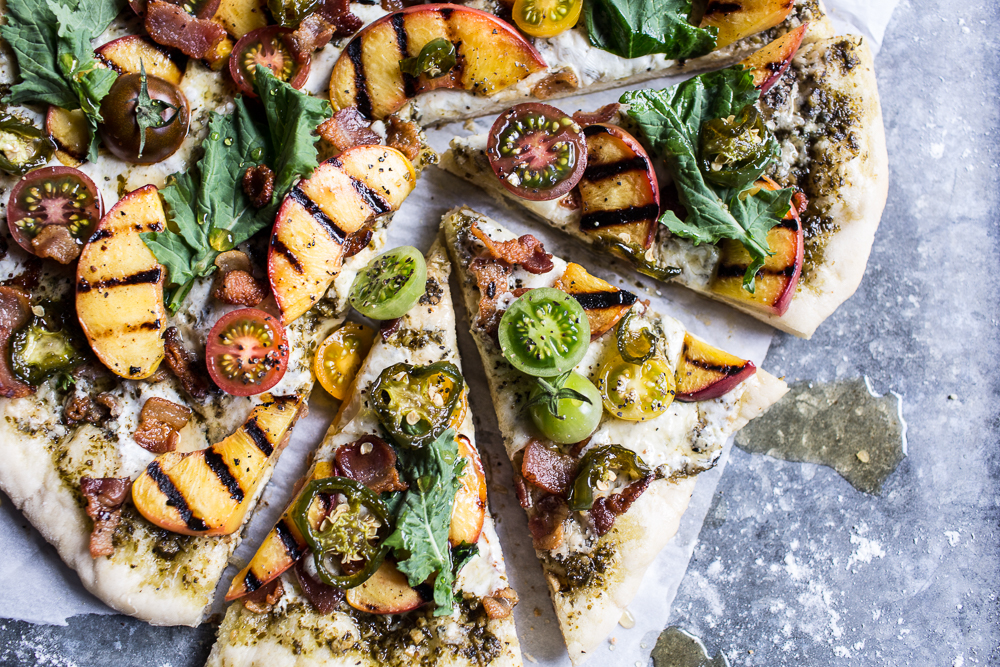 Cooking with the very best that summer has to offer, means recipes full of tomatoes, peaches (and all stone fruits), berries and ok, a lot of corn.
I am always trying to think of fun and exciting ways to bring new light to my favorite summer produce. I will not lie, most of the time I end up simply grilling my corn and slathering it with butter, salt + pepper, and chomping right into my tomatoes and peaches. The basic enjoyment of fresh produce just as it is never gets old. And this recipe for a BLT Grilled Peach Pizza with Jalapeño Honey & Gorgonzola is one of our favorite summer recipes!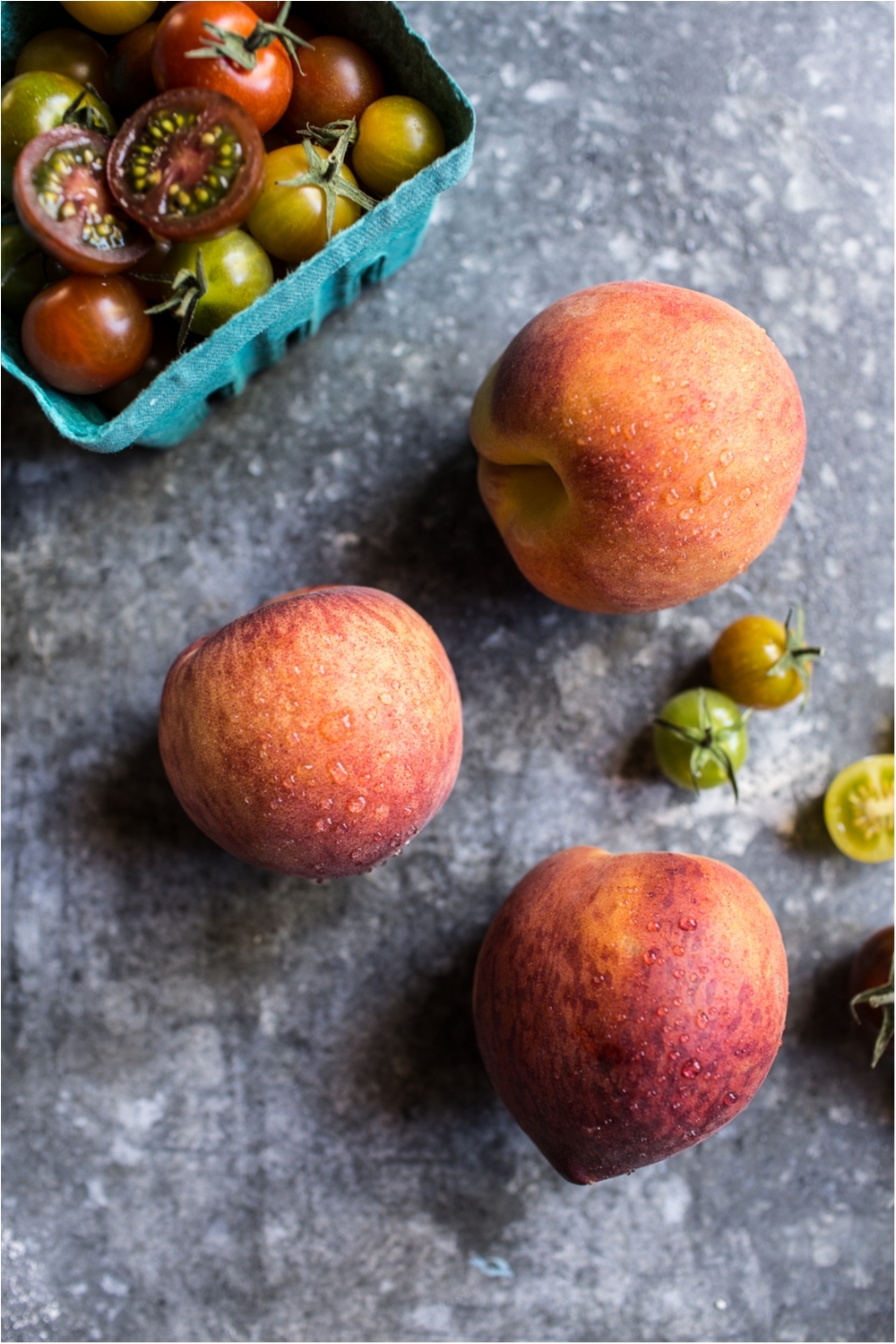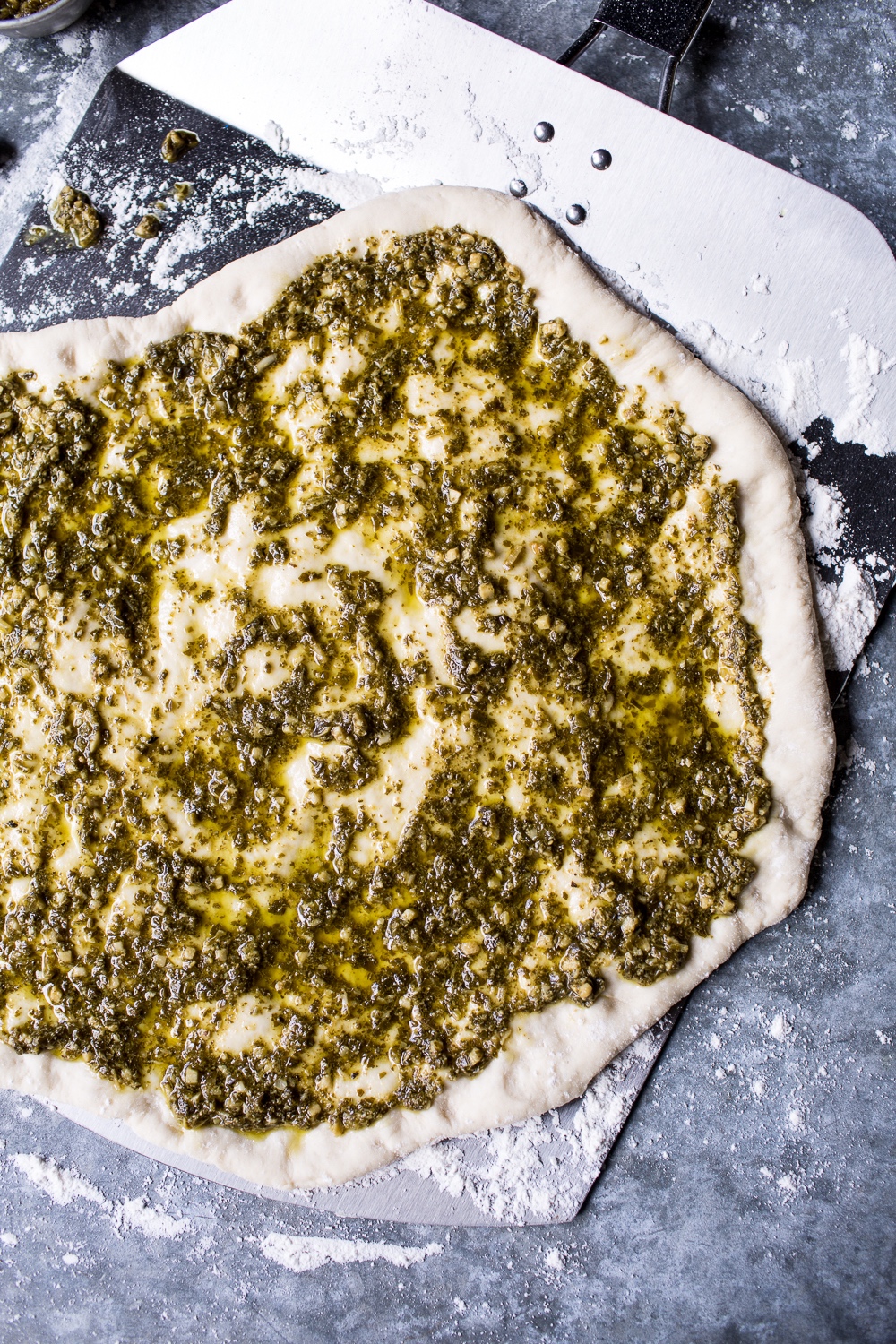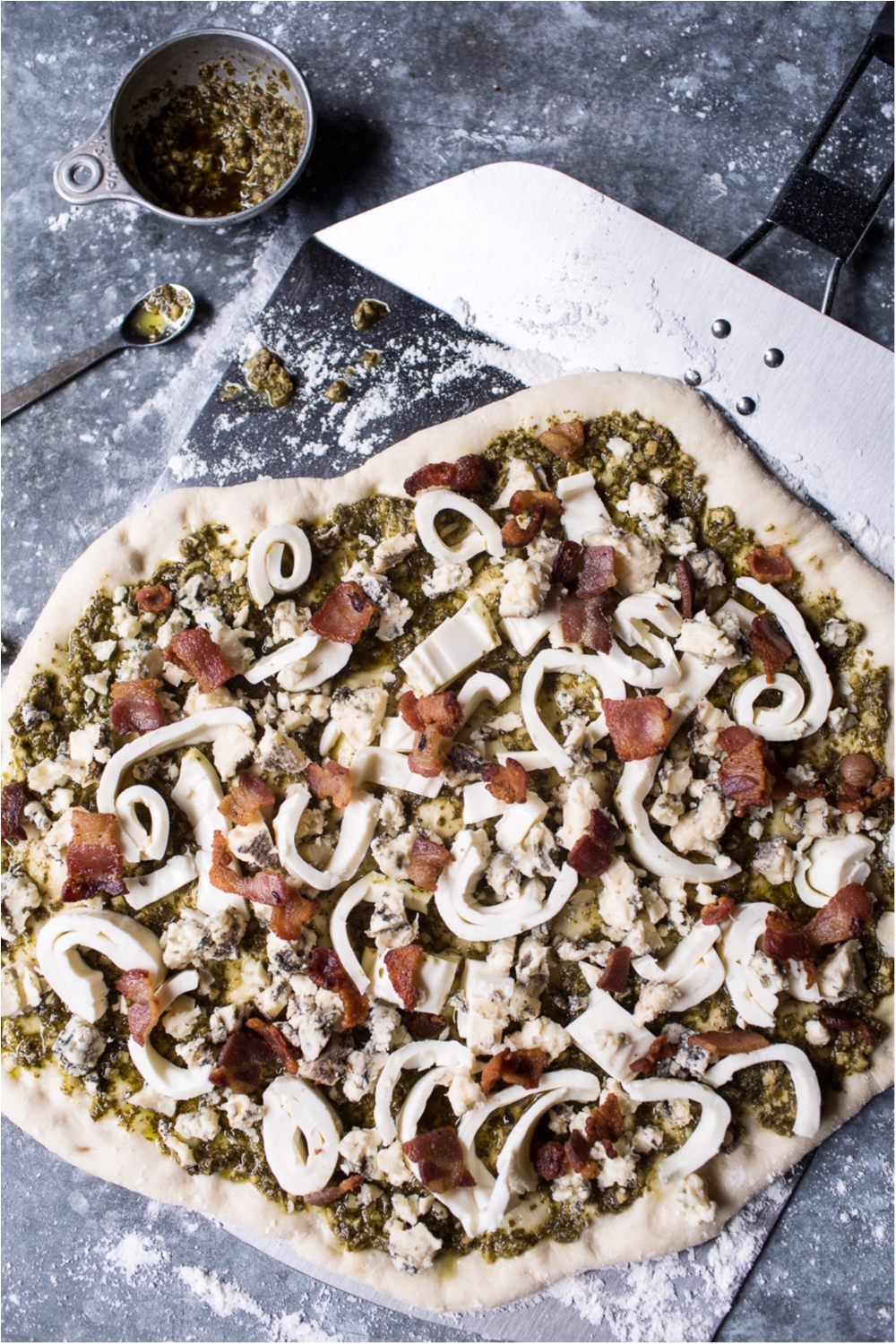 BUT when I am looking for fresh new dinners I try to think a little outside the norm. That's where this pizza comes in. It's has everything I love and then some. I promise that fruit on your pizza is one of the best decisions you will make this summer. DELISH.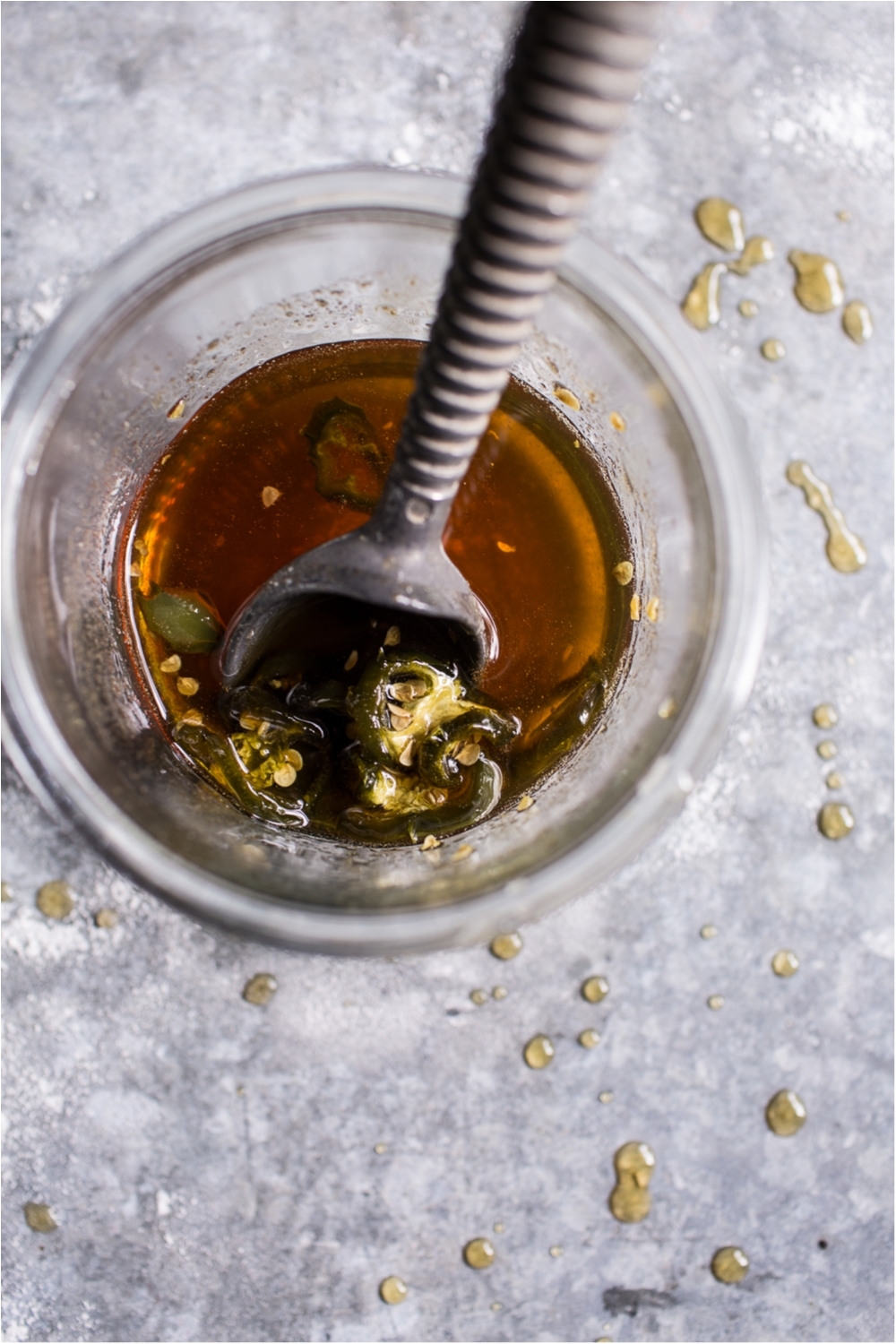 Then again, how could you go wrong with a cheesy pizza topped with bacon, tomatoes, grilled peaches AND jalapeno honey. Simple answer? You can't.
I should mention that I have served this pizza to a lot of skeptics. They all ask about the grilled peaches and the jalapeno honey. I know, they are not your average pizza ingredients, but I promise the sweet, spicy and savory combo is one of the best around. Just trust me on this.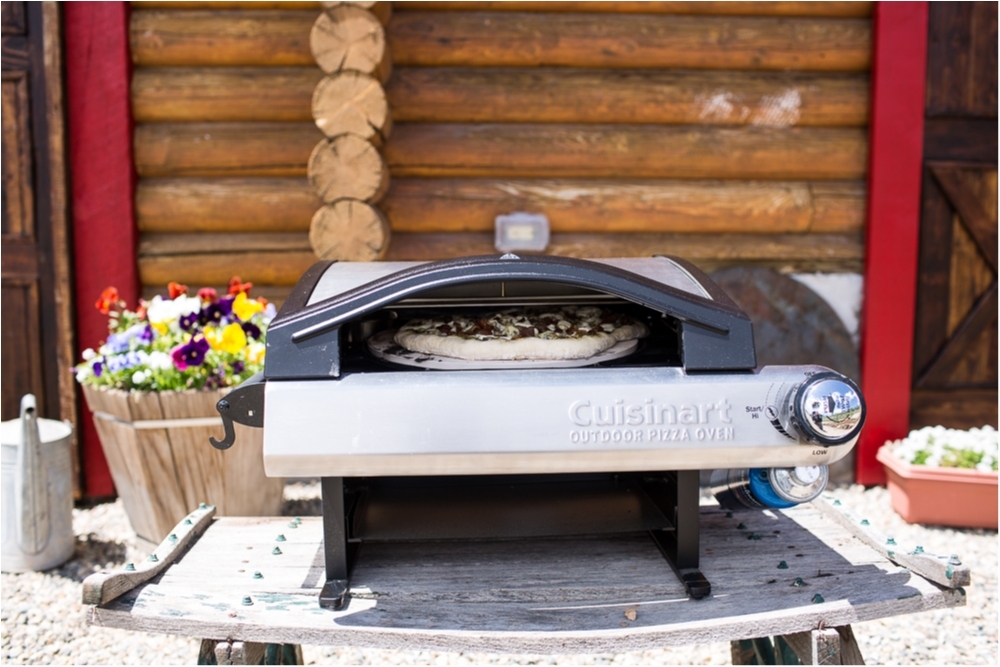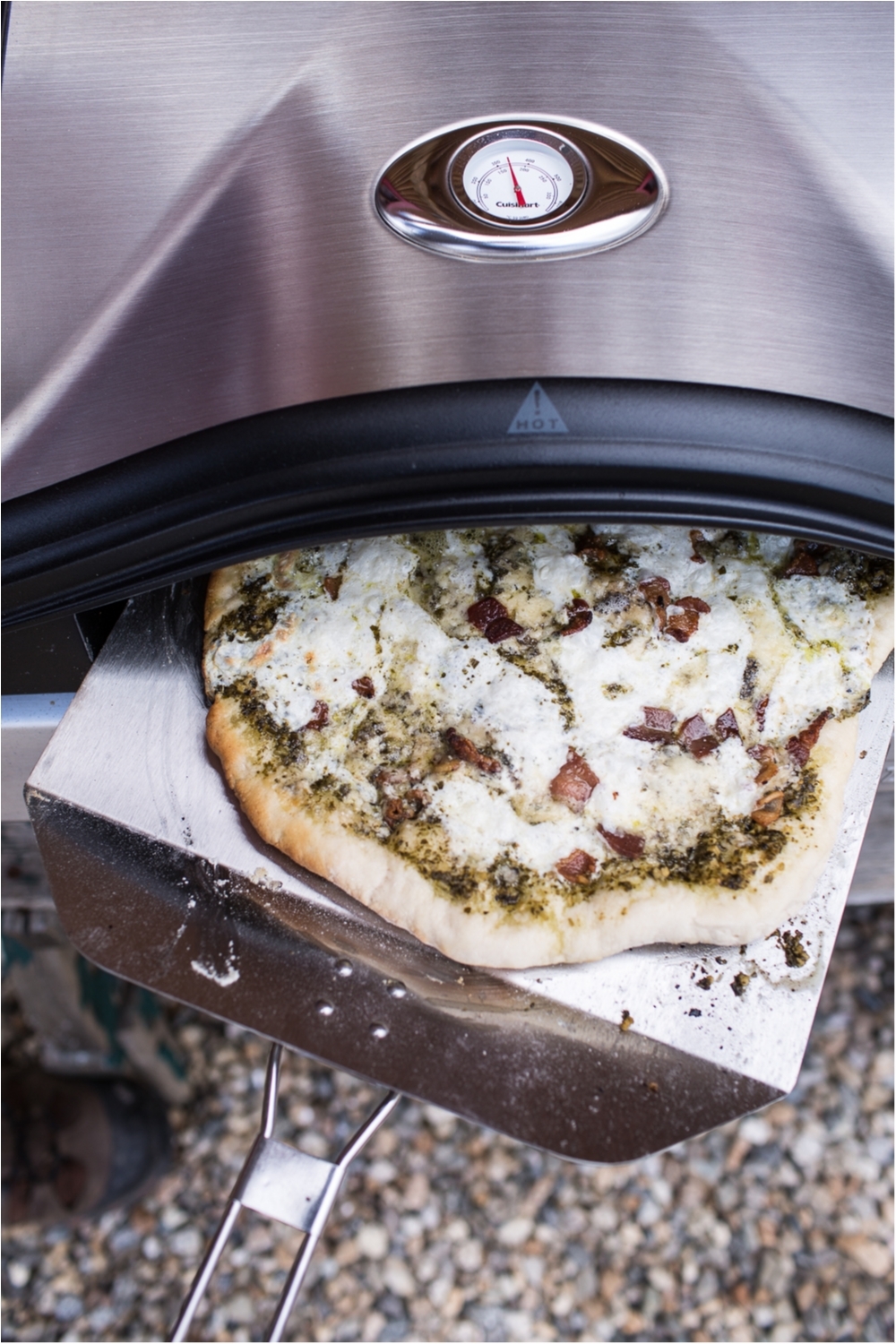 The pizza itself comes together pretty quickly, especially when using the Cuisinart Outdoor Pizza Oven. In ten minutes you'll have a perfectly cooked pizza prepared just like they would over in Italy. Nothing beats the way this pizza oven cooks the crust, it's pure perfection. YUM! Bonus, it also makes for easy cleanup while keeping the house cool.
Yes please!!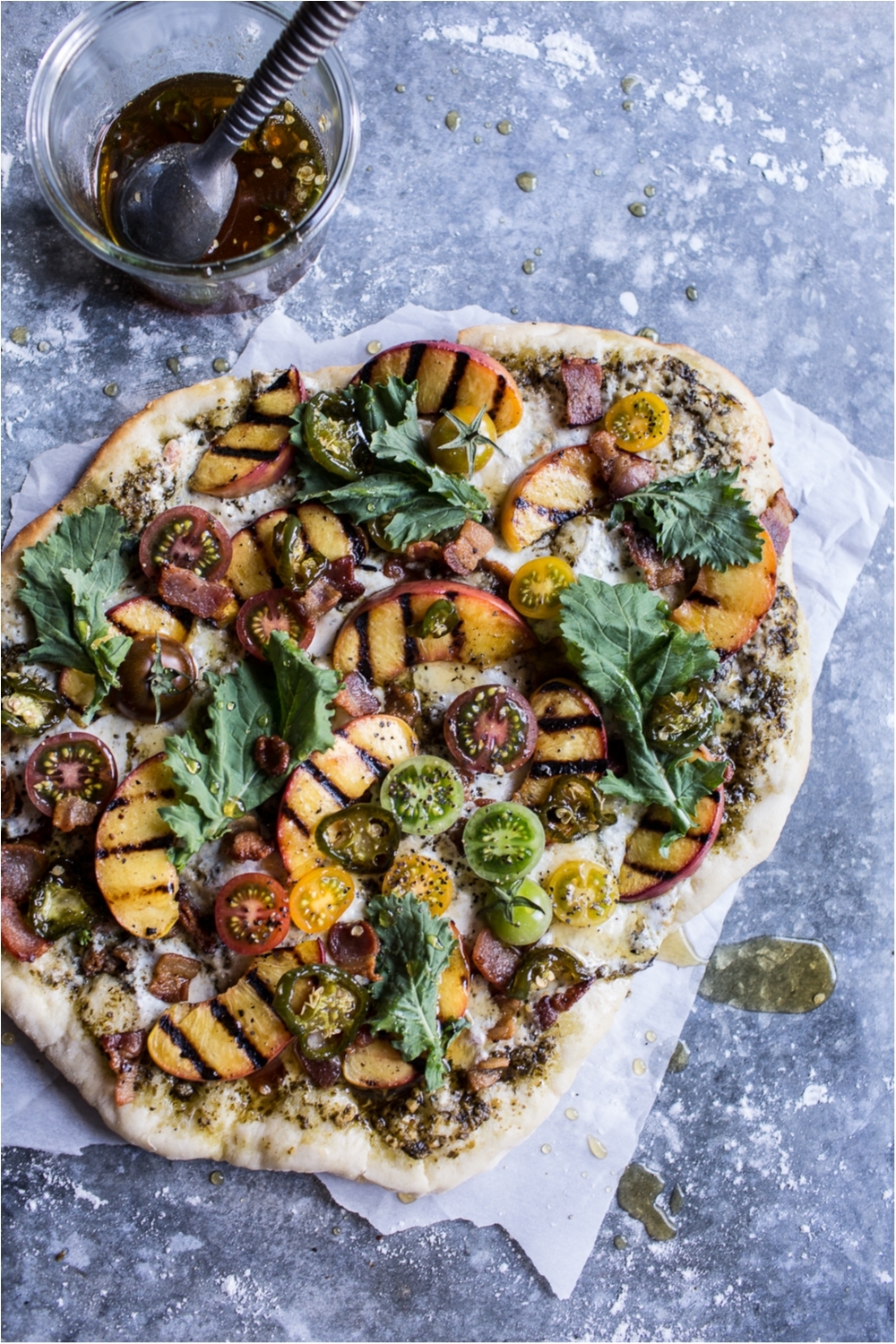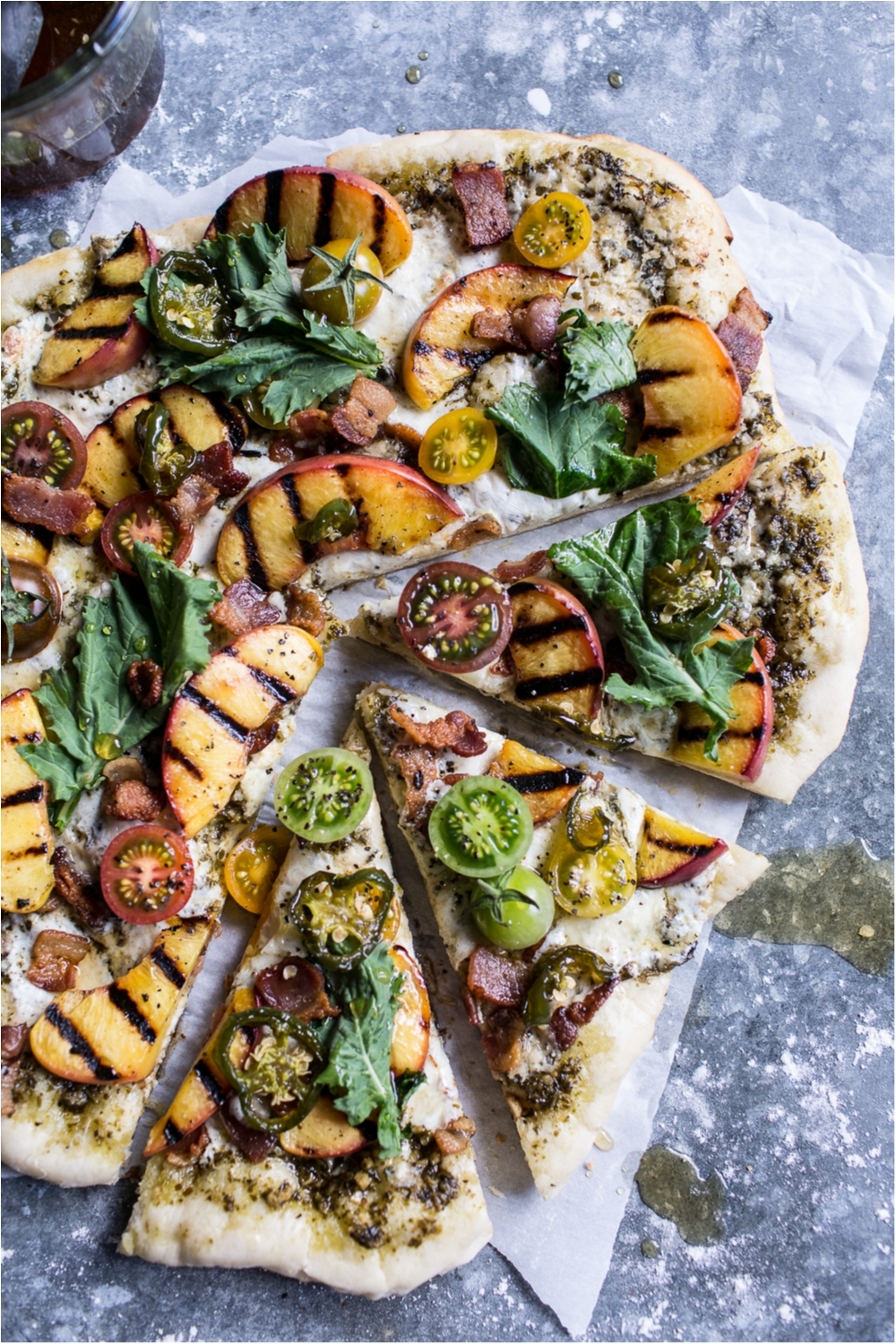 BLT and Grilled Peach Pizza with Jalapeno Honey + Gorgonzola Recipe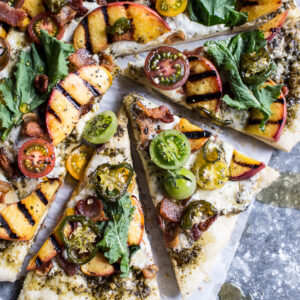 INGREDIENTS
Pizza Dough
1/2 cup warm water
1 1/2 teaspoons active dry yeast
1 1/2 cups flour
1 1/2 teaspoons salt
Jalapeño Honey
½ cup honey
1-2 jalapenos, sliced
Pizza
1 tablespoon olive oil
2 peaches, sliced into wedges
½ cup basil pesto
4 ounces mozzarella cheese, shredded
4 ounces gorgonzola cheese, crumbled
8 slices thick cut bacon, fried
1 cup cherry tomatoes, halved
2 cups butter lettuce, baby kale or arugula
INSTRUCTIONS
Pizza Dough
In a large bowl, combine water and yeast. Mix with a spoon, then let sit until foamy, about 5 minutes. Add in the flour and salt, stirring with a spoon until the dough comes together but is still sticky.
Using your hands, on a floured surface, form the dough into a ball and if needed, work the additional 1/2-cup flour into the dough. All of the mixing and kneading can also be done in a stand mixer with the dough hook attachment.
Next, rub the same bowl with olive oil, then place the dough inside, turning to coat.
Cover with a towel and place in a warm area while you prepare the pesto; let sit at least 20 minutes.
Jalapeño Honey
In a small saucepan bring the honey to a low boil.
Add the jalapeños and cook one minute longer. Remove from the heat.
Store in an airtight container in the fridge for up to one week. Warm again before serving.
Pizza
Heat a grill or grill pan to high heat. Toss the peaches with the olive oil. Once the grill is hot, place the peaches on the grill and grill until char marks appear, about 2 minutes per side. Remove from the grill and set aside.
Preheat you Cuisinart Outdoor Pizza Oven to 500 degrees F.
Lightly flour a counter. Use your hands or a rolling pin to roll the pizza dough out until you have a flattened disk. Then use your hands to gently tug, pull and push the pizza dough into a rough 10-12 inch circle. Dust your pizza peel with a generous amount of flour.
Spread the pesto all over the pizza crust. Top with mozzarella and crumbled gorgonzola. Sprinkle the bacon over top and then arrange the peaches over the cheese.*
Once your pizza oven is preheated, carefully slide your pizza from the peel and onto the pizza stone. Bake for 8-10 minutes or until the cheese is melted and bubbly. To remove the pizza, slide the peel under the pizza and pull the pizza out. Top the pizza with cherry tomatoes, basil and lettuce. Drizzle with jalapeno honey and EAT!
*If you prefer, you can add the grilled peaches after the pizza is done cooking. However, I think I liked the pizza best when the peaches were cooked onto the pizza.

**If you do not have a pizza oven, you can bake the pizza at 425 degrees for 15 to 20 minutes OR if using a pizza stone, 500 degrees F. for 10 minutes.