Grilled Summer Vegetable Pizza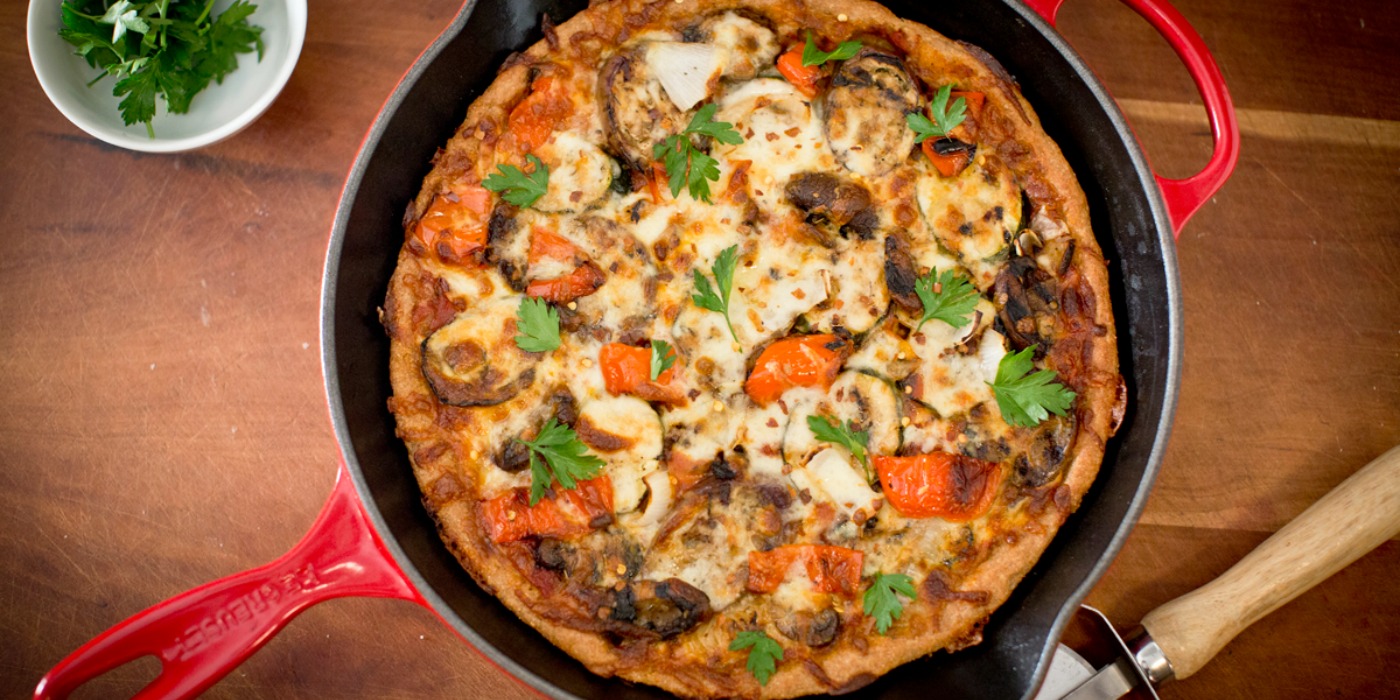 Okay, we realize it—pizza's not usually what comes to the forefront of anyone's mind when you're trying to dream up new ways to work more vegetables into your meals.
In addition, pizza might not be the first thing you think of when it comes to cast-iron skillets. Maybe we're crazy, maybe we're just born contrarians, but we think all of these elements can come together in a really flavorful way.
Sometimes, we love to grill outside…and sometimes we don't. Last night, we decided to use the cast iron Le Creuset extra-large grill that fits perfectly on our stovetop. Cast iron grill pans like this one (or similar versions by Lodge) impart a nice, smoky flavor to whatever you cook on them because the juices drip in-between the grooves and are transformed into a flavorful smoke—no charcoal needed.
Always trying to figure out appealing ways to sneak more vegetables into every meal, we chose to highlight summer produce favorites such as Japanese eggplant, zucchini, farmers market spring onions, mini bell peppers, and baby Bella mushrooms. We definitely got some good grill marks on all of these thickly sliced beauties.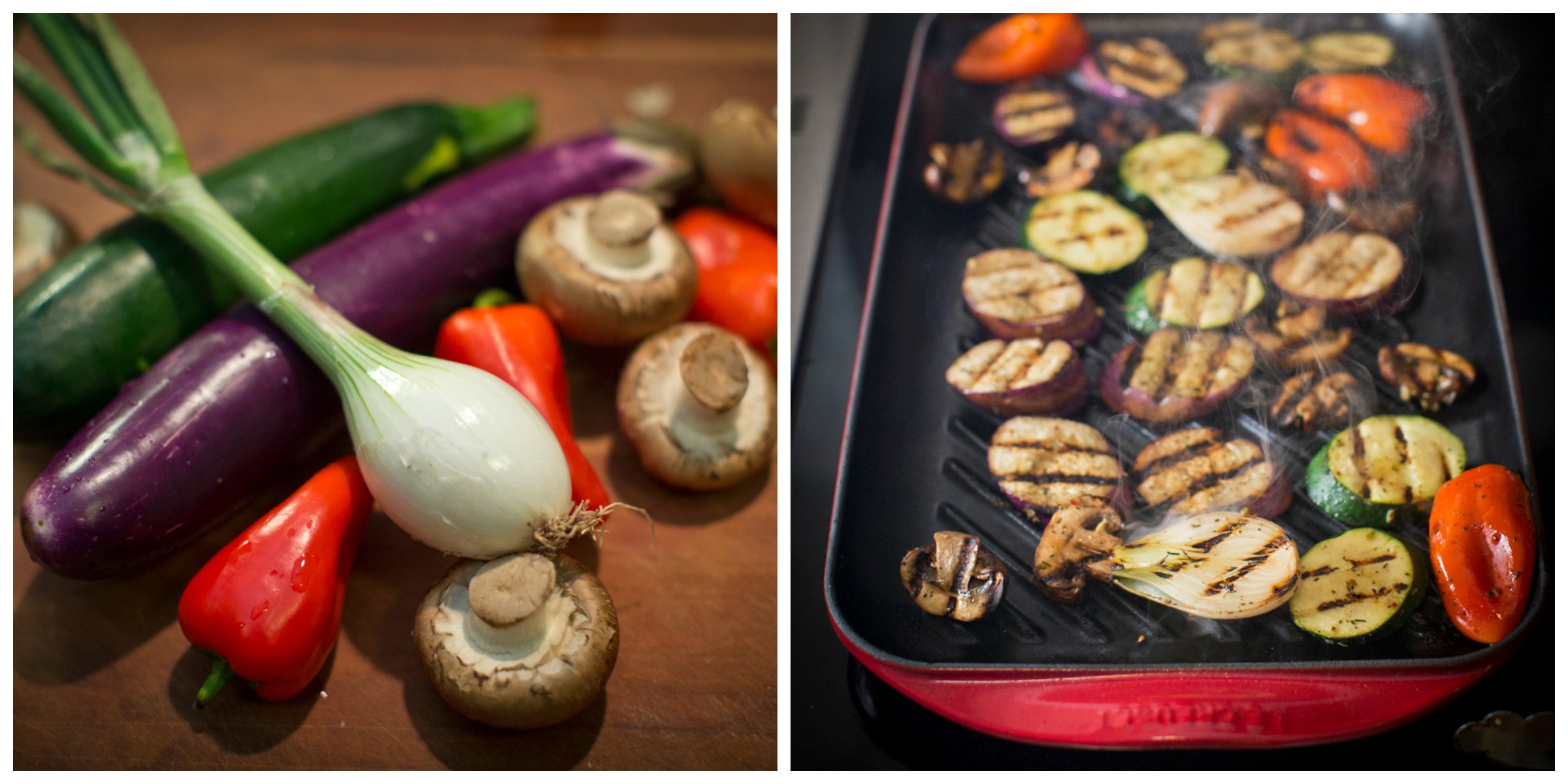 Now, the crust! If you've never made a crust from scratch before, this is your chance. You don't have to proof it overnight or toss it in the air like a pizzolo. The whole thing easily came together in an 11-and-3/4-inch iron handle skillet, our enameled red Le Creuset version. The best part is that this crust just may remind you of your favorite chewy, crunchy deep-dish pizza crust from a certain hut-shaped pizza restaurant you loved back when you were a kid. The first step is drizzling a generous amount of olive oil into your iron handle skillet; this helps to ensure that your crust will be crispy and airy.
It all comes together in a healthy and satisfying meal that eats like comfort food, but provides a ton of great nutrition, and isn't that the combo we all want more of in our lives? Now let's get cooking!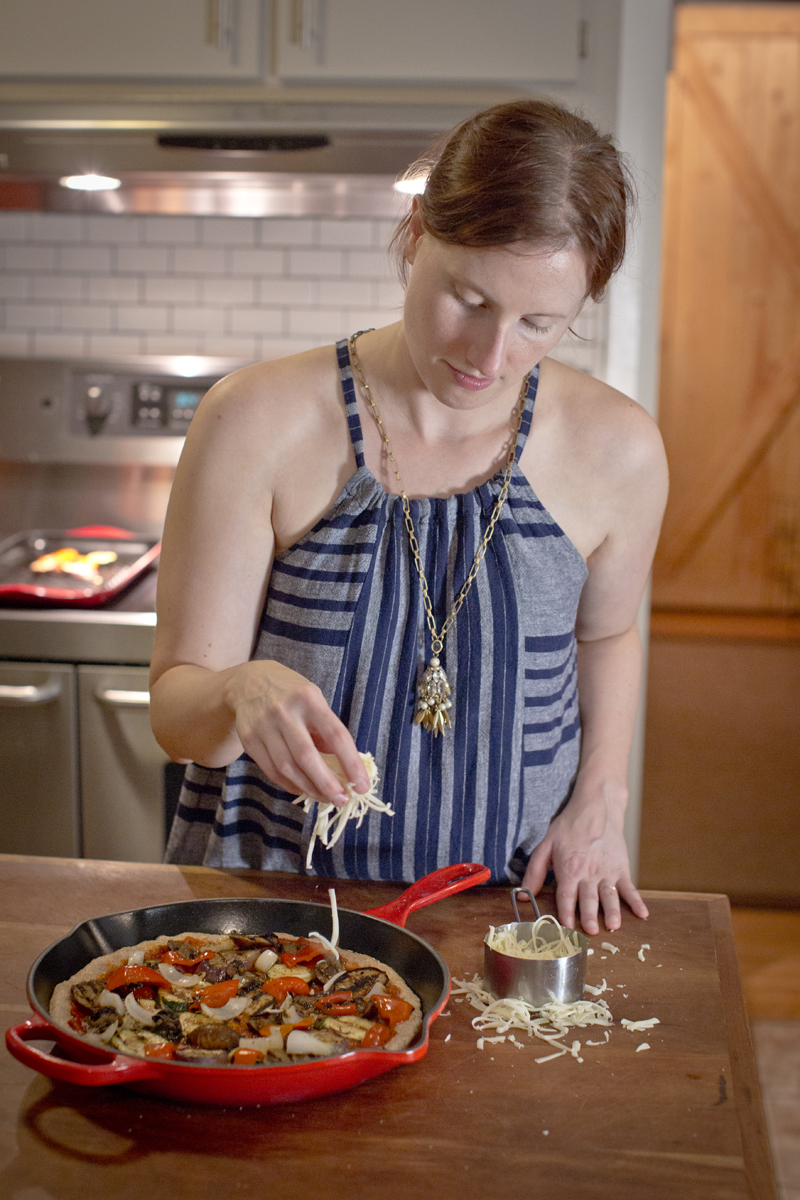 Grilled Summer Vegetable Pizza on an Olive Oil & Whole Wheat Crust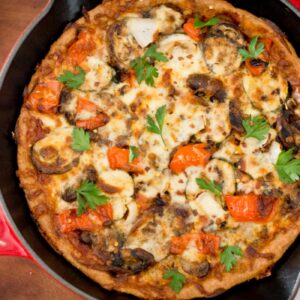 INGREDIENTS
1 Sprouted Whole Wheat Pizza Crust (recipe follows)
2 tablespoons olive oil (divided)
5 large baby bella mushrooms
1 small Japanese eggplant (sliced into 1/2-inch rounds)
3 mini red bell peppers (halved, seeded)
1 small zucchini squash (sliced into 1/2-inch rounds)
1 spring onion (halved)
1 tablespoon balsamic vinegar
1 teaspoon Italian seasoning
1/2 teaspoon Kosher salt
1 cup of your favorite tomato sauce
1 cup loose-packed, shredded mozzarella cheese
Fresh parsley leaves (for garnish)
Crushed red pepper (for garnish)
INSTRUCTIONS
Preheat the oven to 500 degrees. Make the Sprouted Whole Wheat Pizza Crust according to the recipe. Add 1 tablespoon of the olive oil to your 11-and-3/4-inch cast iron skillet. Add the pizza dough and press it into a circle to fill the pan. Cover with plastic wrap and set aside to allow the dough to rise.
Preheat your cast iron 15-and-3/4-inch extra-large grill or grill pan to medium. In a large mixing bowl, toss the cut vegetables with the remaining tablespoon of olive oil, balsamic vinegar, Italian seasoning, and salt. Grill vegetables for 4 minutes per side or until well-marked by the grill grates. Remove and set aside until you're ready to assemble your pizza. At this point, you may want to slice the cooled peppers and onions into bite-sized pieces.
Assemble your pizza by removing the plastic wrap from your cast iron pan with the crust in it and spread the tomato sauce on top of it in an even layer. Next, layer in your grilled vegetables followed by the cheese. Place the pan into the preheated oven for 20 minutes or until hot and bubbly. Carefully remove the pan and let it cool for at least 5 minutes; the pizza will be very hot in the middle. If you like, garnish pizza with fresh parsley leaves and crushed red pepper. Slice into 4 large pieces.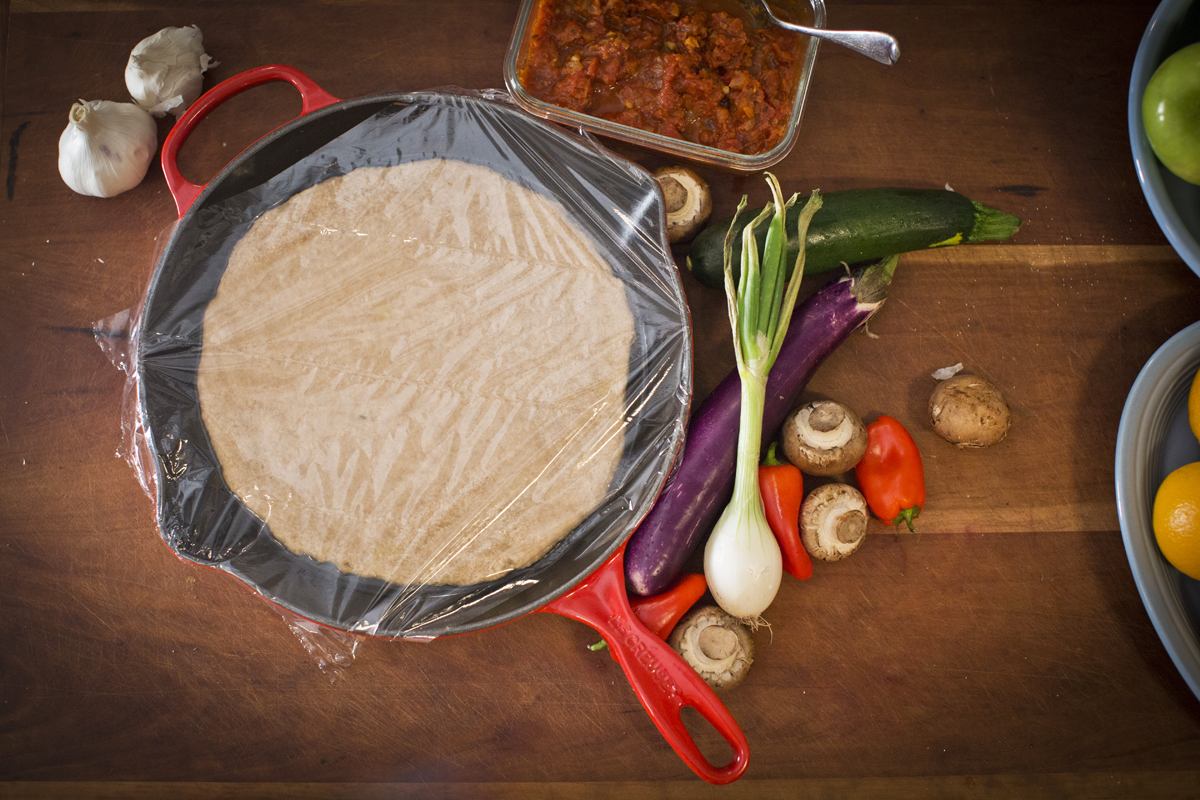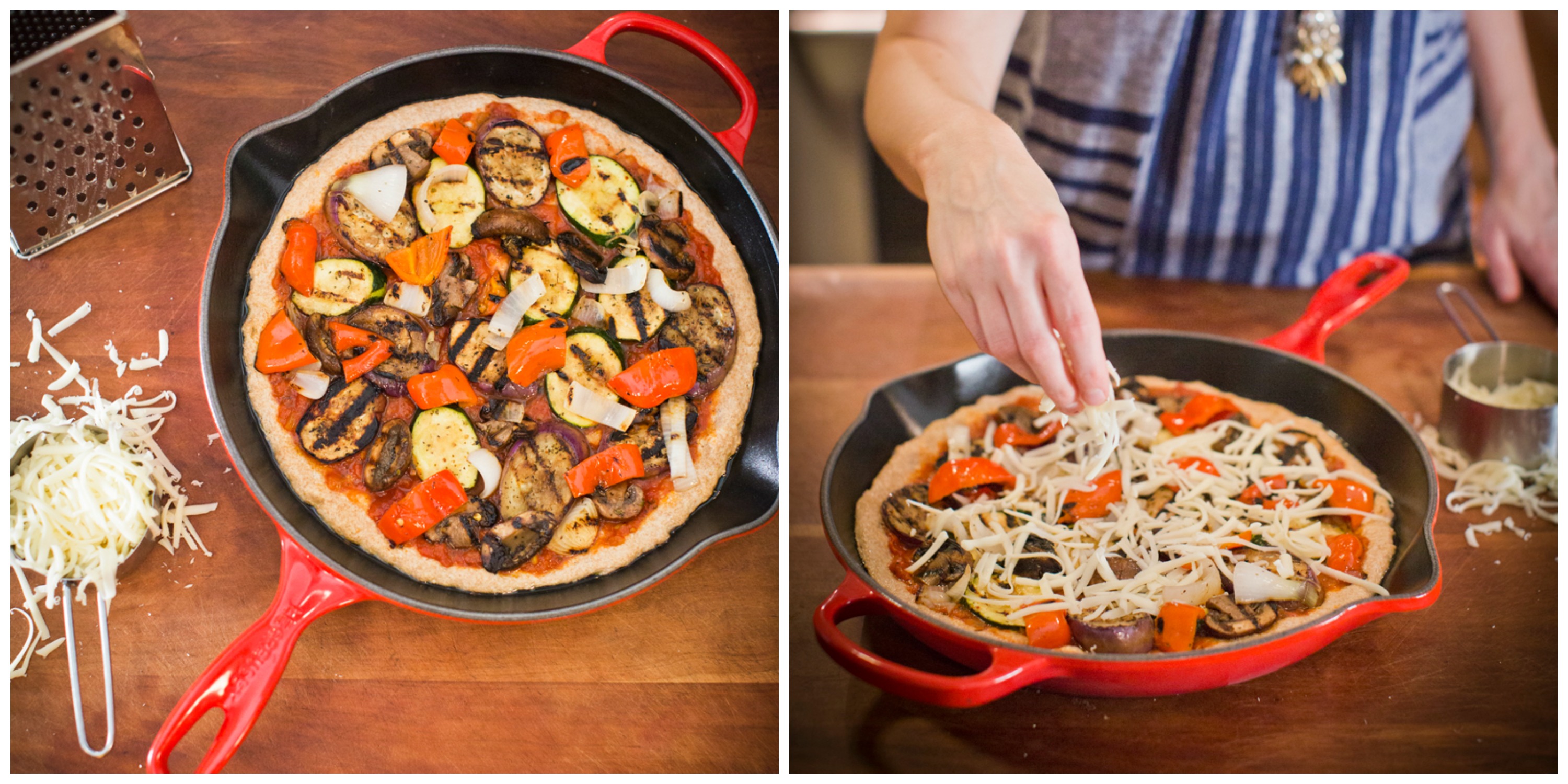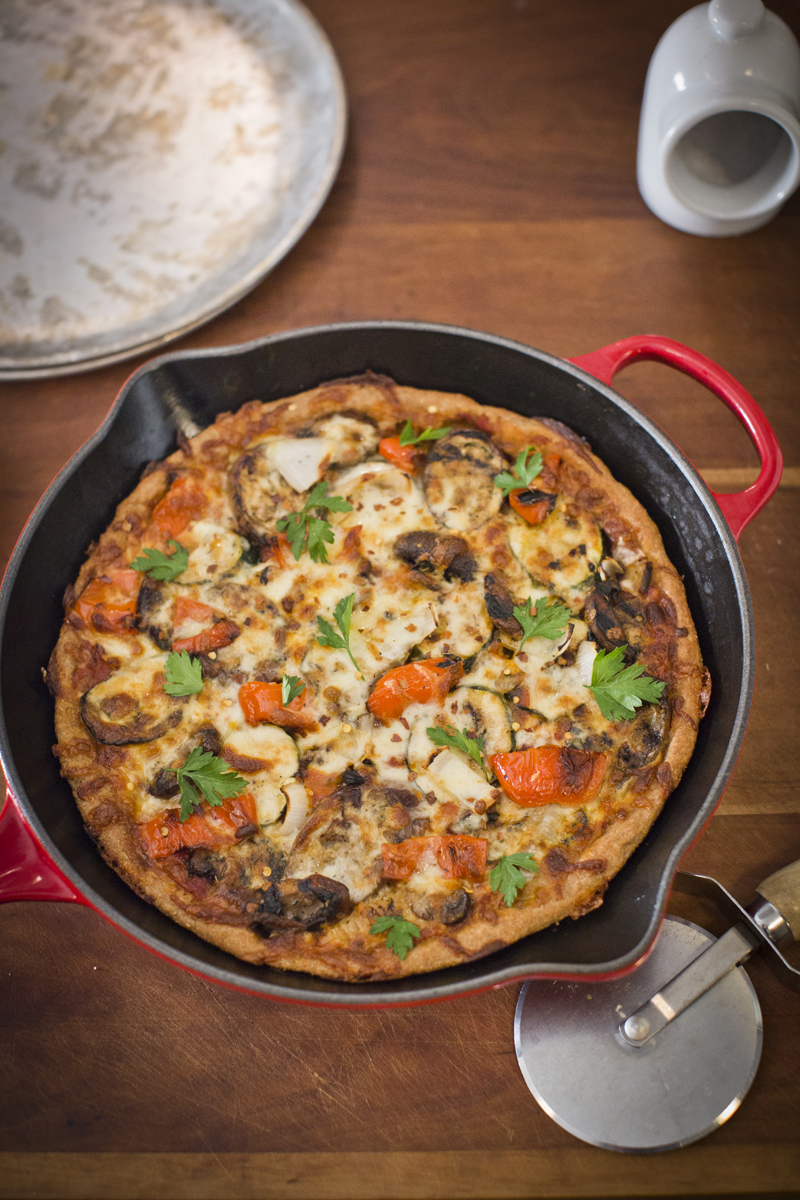 Sprouted Whole Wheat Pizza Crust
Tomatoes, eggplant, zucchini, onions, bell peppers, and baby Bella mushrooms... This Grilled Summer Vegetable Pizza recipe has it all!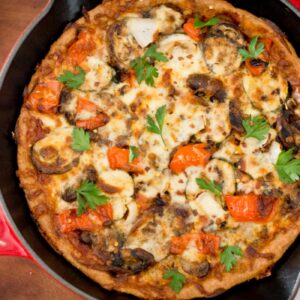 Ingredients
1

cups

sprouted whole wheat flour

1

tsp

rapid-rise yeast

.5

tsp

sea salt

.5

cups

water
Instructions
In a large mixing bowl, combine the flour yeast, salt, and water. Mix until all four are incorporated. Cover and set aside.

Note: One of our favorite substitutes for traditional white flour is sprouted whole wheat flour, which we use here. Feel free to make this crust with whole wheat flour if that is the option available in your kitchen.