Bibimbap with Steak & Gochujang Recipe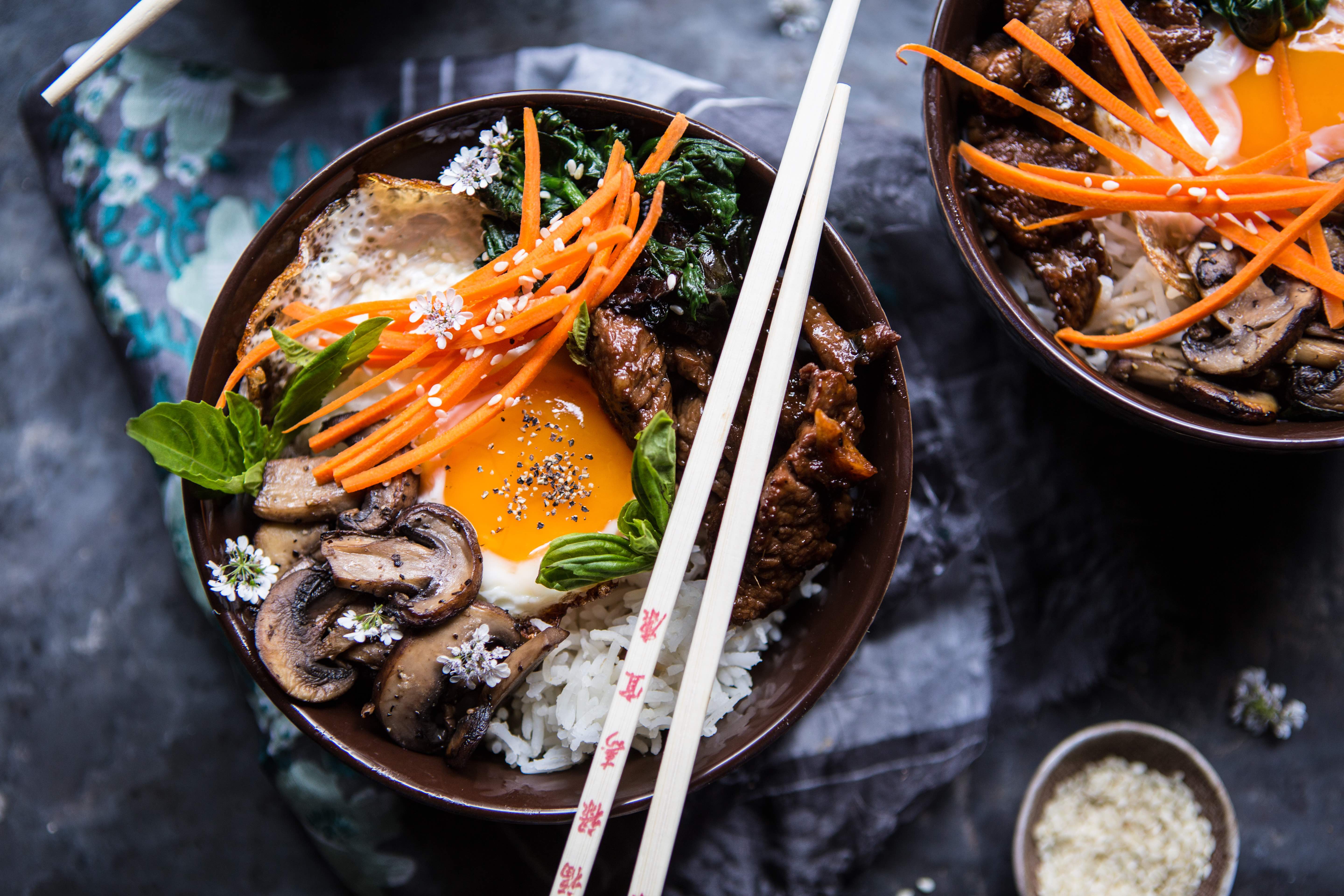 So let's talk about these bibimbap bowls. They're kind of my favorite. Full of color, flavor, textures and um, a fried egg! Yes, please!
I love any and all Korean food, but Bibimbap has to be one of my favorites. There's just so much going on in one bowl!!
Let me break down the key players in this Korean Bibimbap bowl recipe. First you'll need the rice. It's the base of the bowl… and a must!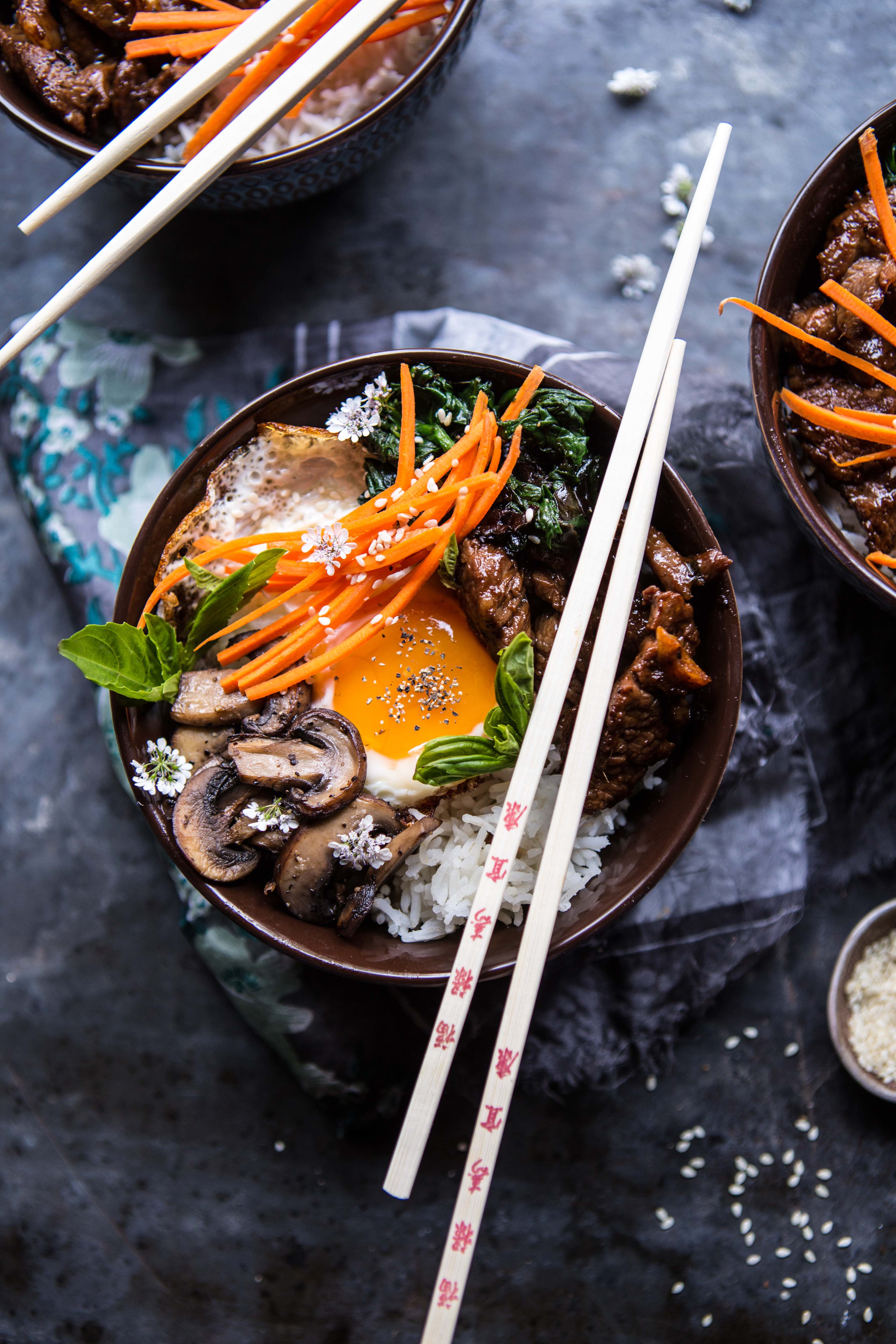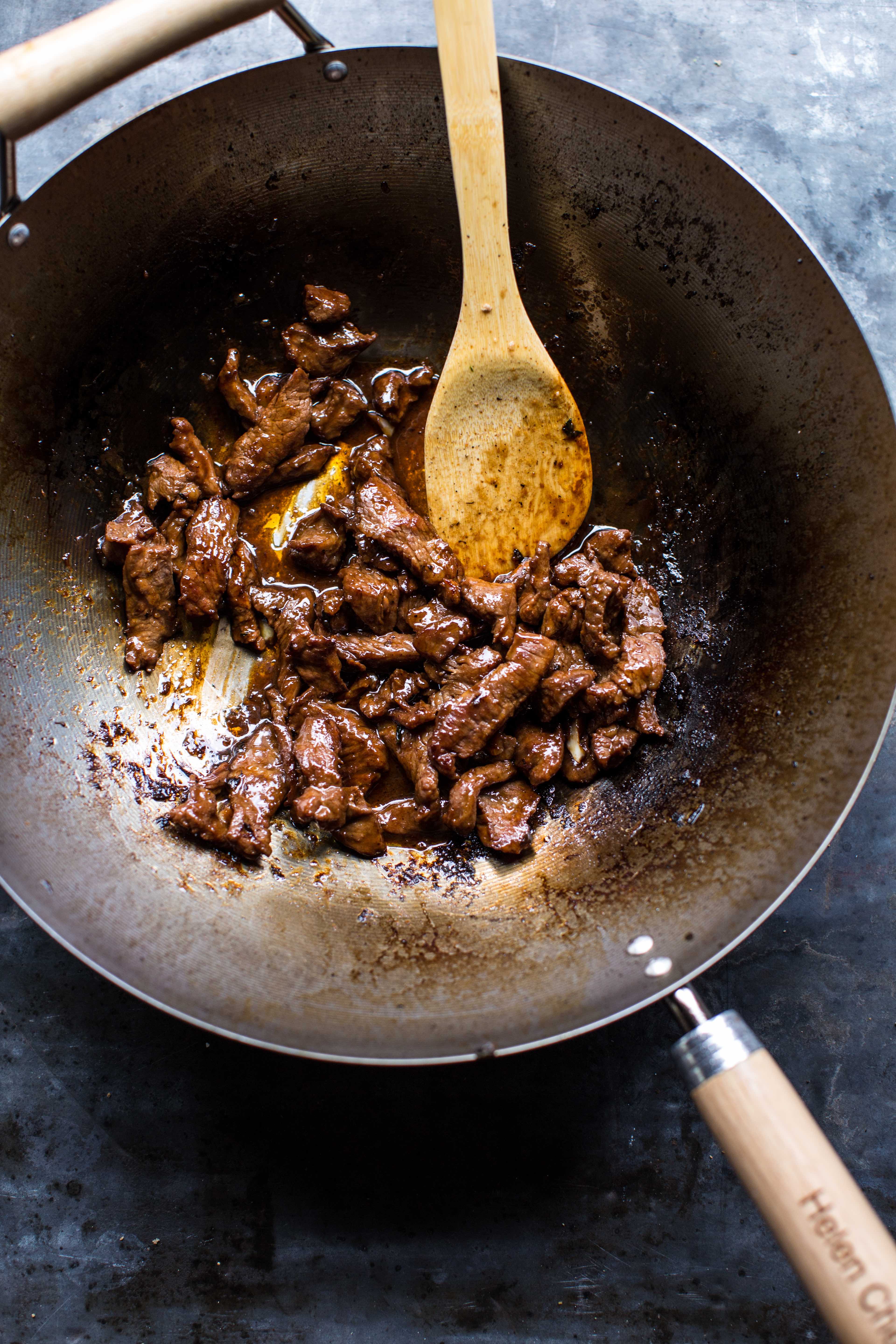 … steak. This steak is unreal, it's all about the marinade, which is a mix of soy sauce, chili paste, garlic, ginger and brown sugar. Honestly, this is one of my favorite ways to prepare a flank steak, it's so delicious and never disappoints!
…veggies!! A good bibimbap just isn't complete without a mix of raw and fermented veggies. They add color, texture and great flavor.
…last, but definitely not least, a fried egg. You really can't skip the fried egg, it simply completes the bowl.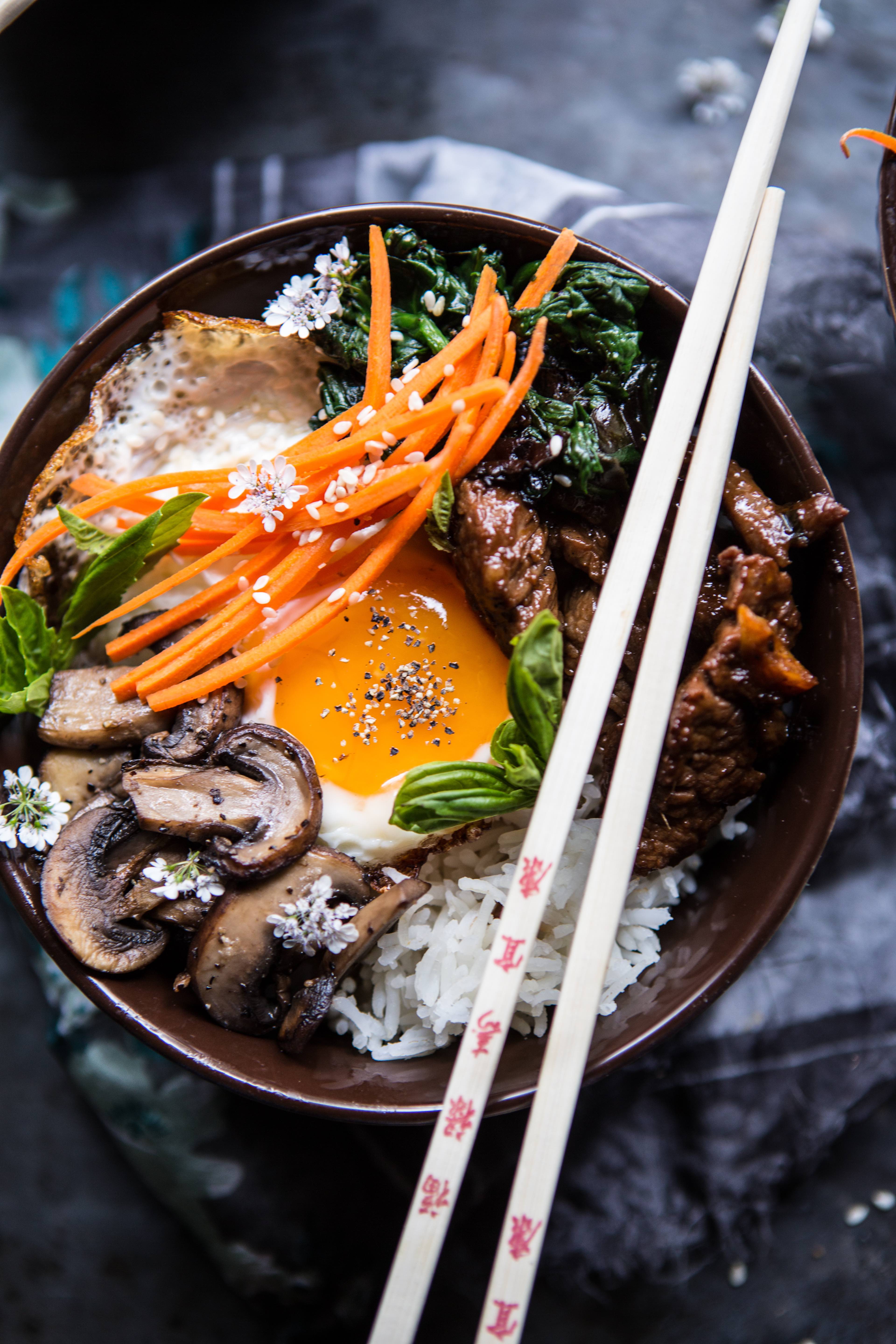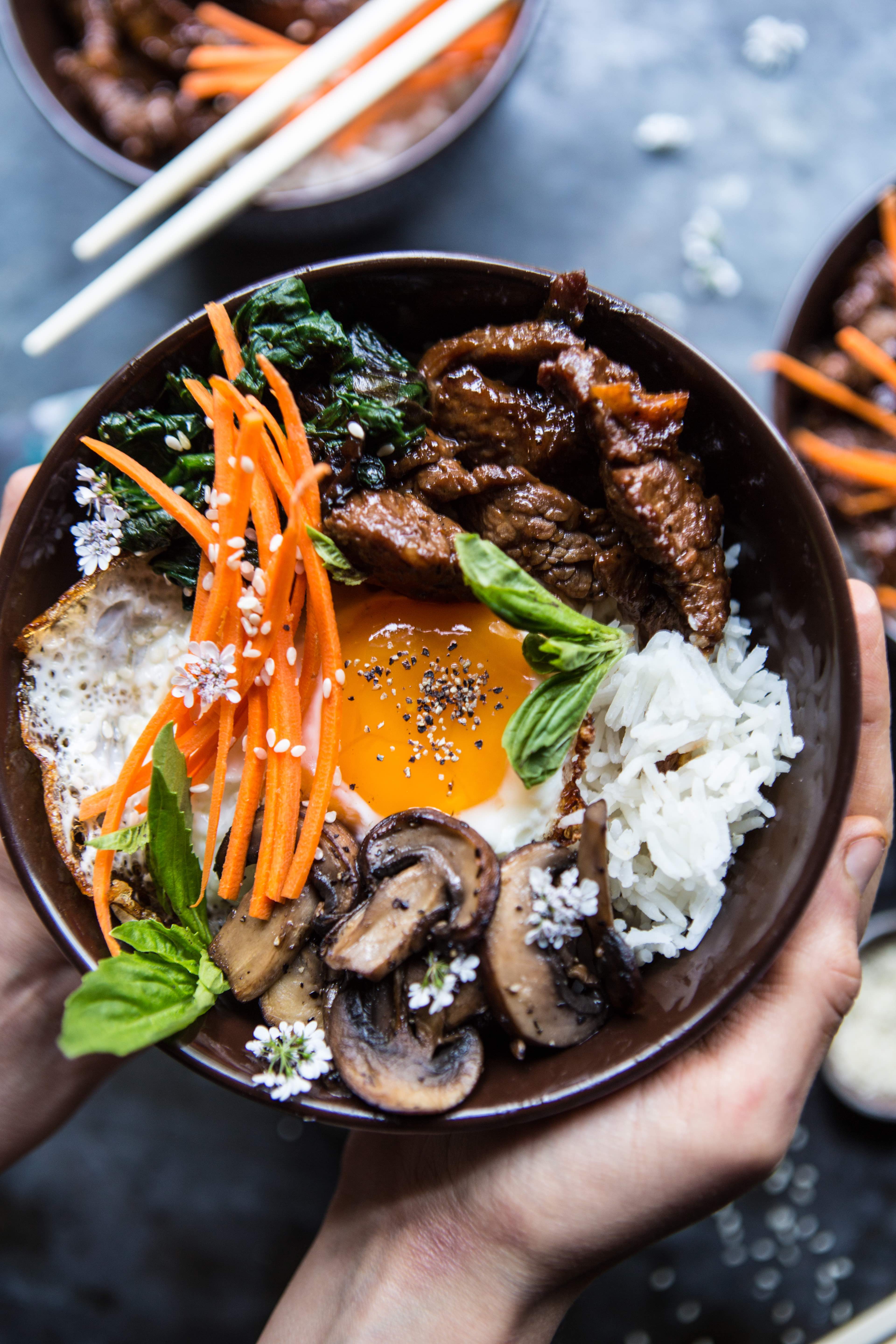 Now you can see why I love this bowl so much? If you have yet to make bibimbap at home, I highly recommend giving this recipe a try. It's simple to prepare, healthy, and a meal everyone will love! If you'd prefer to use another meat in place of the steak, try chicken or shrimp. I think both would be great options!
Bibimbap with Steak & Gochujang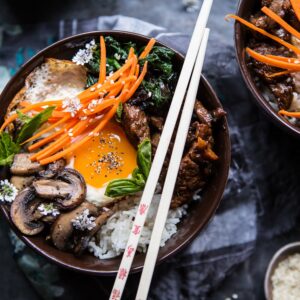 INGREDIENTS
For the Rice:
1 ½ cups uncooked jasmine rice
3 cups water
2 tablespoons toasted sesame seeds, plus more for serving
For the Steak:
1 cup low sodium soy sauce
1/3 cup brown sugar
1 tablespoon Gochujang - Korean chile paste (can also sub sriracha)
1 tablespoon fresh ginger, grated
4 cloves garlic, minced or grated
2 tablespoons sesame oil
2 pounds flank or skirt steak, thinly sliced
2 tablespoons toasted sesame seeds
For the Bowls:
2 tablespoons sesame oil
1 pound shiitake mushrooms
12 ounces fresh spinach
2 carrots, cut into matchsticks
4 scallions, chopped
1 handful fresh basil and or cilantro
1 cup kimichi**
4 fried eggs (or cooked to your liking)
Sesame seeds and sriracha, for serving
INSTRUCTIONS
For the Rice:
Add the water to a medium size pot.
Bring to a low boil and then add the rice and sesame oil. Stir to combine, then place the lid on the pot and turn the heat down to the lowest setting possible.
Allow the rice to cook ten minutes on low, then turn the heat off completely and let the rice sit on the stove, covered, for another 20 minutes (don't take any peeks inside!).
After 20 minutes remove the lid, fluff the rice with a fork and stir in 1-2 tablespoons toasted sesame seeds.
For the Steak:
In a large bowl or gallon size zip lock bag, combine the soy sauce, brown sugar, Gochujang (Korean chile paste), ginger, garlic and sesame oil.
Add the steak and toss well to coat. Try to make sure that almost all of the steak is submerged in the sauce. Cover and place in the fridge for 1 hour or overnight.
Heat a large wok or skillet over high heat. Add 1 tablespoon sesame oil, remove the steak from the marinade and add it to the hot pan.
Let the steak get a nice caramelization on one side, then flip and let it caramelize another 2 minutes on the other.
Add in a few tablespoons of the marinade and cook 2-3 minutes or until the sauce has thickened slightly and coats the steak.
Remove from the heat and stir in a handful of toasted sesame seeds.
For the Bowls:

Heat a large skillet over medium heat, add a drizzle of sesame oil. Once hot, add the mushrooms and spinach, season with salt and pepper.
Cook until the spinach has wilted and the mushrooms are caramelized, about 8 minutes. Remove from heat and season with salt and pepper if needed.
Divide the rice among bowls. Top with the steak. Add the cooked spinach and mushrooms. Add the carrots, scallions, basil, cilantro and kimchi. Fry an egg and place it next to the steak.
Serve with toasted sesame seeds and Sriracha.
*Gochujang is a spicy Korean paste that can be purchased at your local health food store (Whole Foods carries it) or bought online. I buy mine through Amazon.
**Kimichi is a Korean side dish made up of fermented cabbage and a variety of seasonings.