Simply & Tasty Tuna Poké Bowl Recipe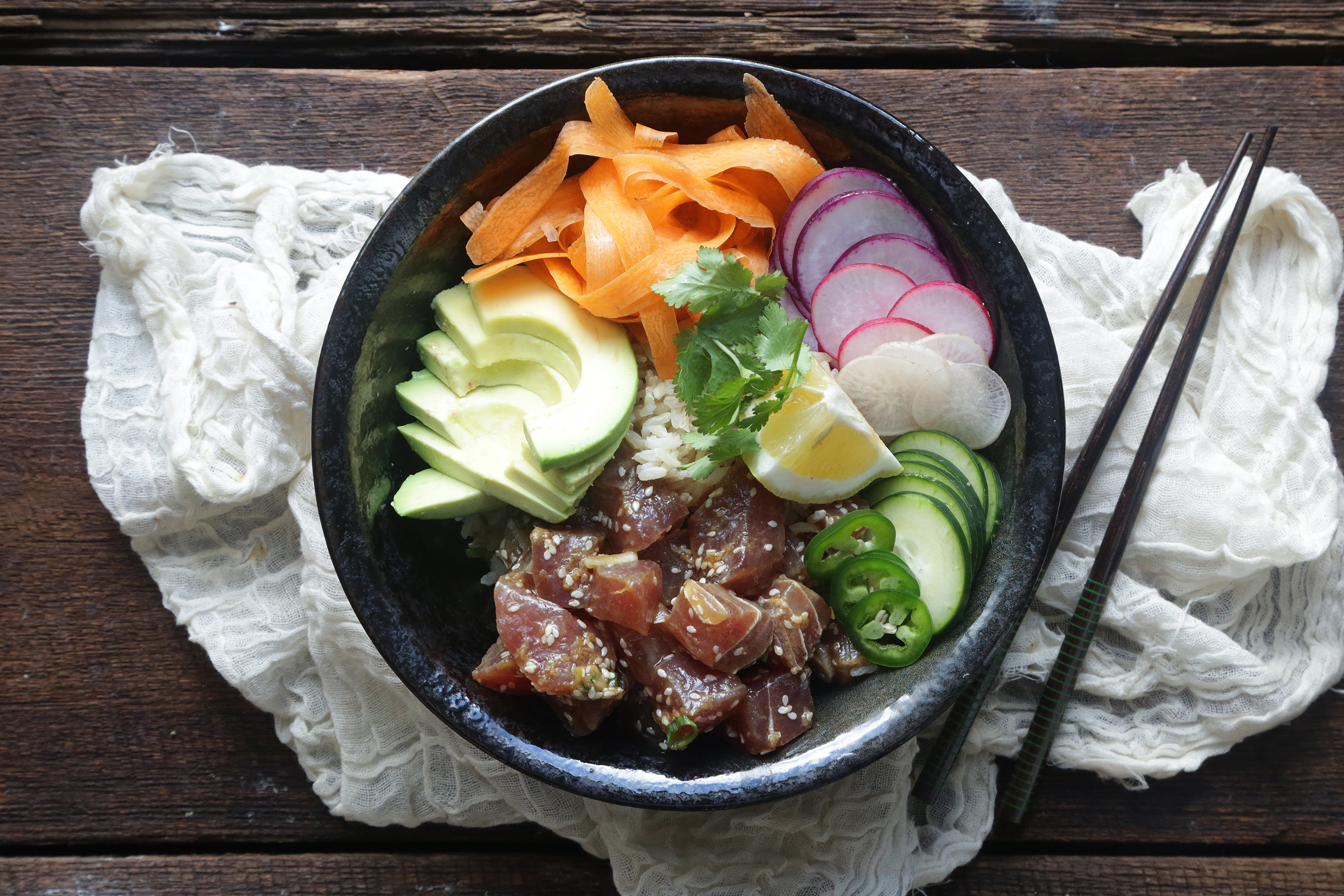 I always enjoy hearing about new food trends and the Tuna Poké craze is no different. Think "Ceviche" except for now it's called Poké and it's from Hawaii :). Call something bread and it won't sell, call it a baguette and you can't keep 'em on the the shelf. I suppose the biggest different between poké and ceviche is that the ahi in the poké isn't cooked in citrus acid, it's infused with delicious soy, rice vinegar, ginger, garlic and sesame flavors.
The tuna in the poké will cook slightly because of the salt in the soy and acid in the vinegar, but nothing like it does in a ceviche recipe. If you are looking for a delicious healthy recipe that is extremely simple to make, look no further than this Tuna Poké and Vegetable Bowl. You can also try using different fresh fish. Just make sure they are sushi grade!
Tuna Poké + Vegetable Bowl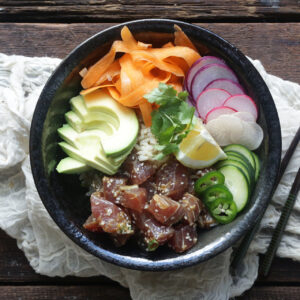 INGREDIENTS
For the Vegetable Bowl:
3 cups of cooked brown Jasmine or Sushi rice
3 thinly sliced radishes
½ thinly sliced cucumber
½ thinly sliced jalapeño
½ sliced avocado
3 shaved baby carrots
Lemon wedges for garnish
Cilantro for garnish
For the Tuna:
1 pound of ahi grade tuna cut into 1" pieces
3 tablespoons of soy sauce
2 tablespoons of sesame oil
1 ½ tablespoons of rice vinegar
1 tablespoon of sesame seeds
1 tablespoon of sliced green onions
1 teaspoon of finely grated fresh ginger
1 teaspoon of finely grated fresh garlic
INSTRUCTIONS
Tuna: Combine all ingredients in a bowl and mix. Chill before serving.
To Plate: Add the cooked rice to a bowl and top off with some of the marinated ahi tuna, sliced radishes, cucumber, jalapeño, avocado, shaved carrots, and garnish with lemon and cilantro.