Air Fryer Sesame Fish Fritters with Fingerlings and Thai Chili Aioli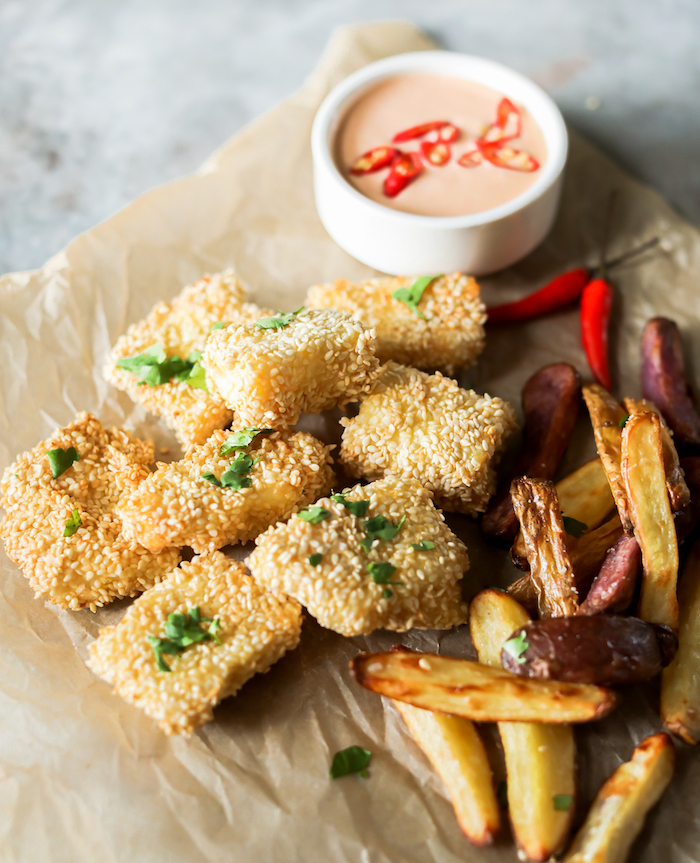 There's something about a basket of fried fish that reminds me of home. It's such a New England thing, but it's definitely a comfort food for me. I love that the flaky fish can be dipped and eaten with hands, and the salty batter with fries sure tastes great. It's really so delicious, but definitely heavy and hard to eat regularly. I wanted to make a slightly healthier, more accessible version using an air fryer to recreate this nostalgic meal for myself and for you!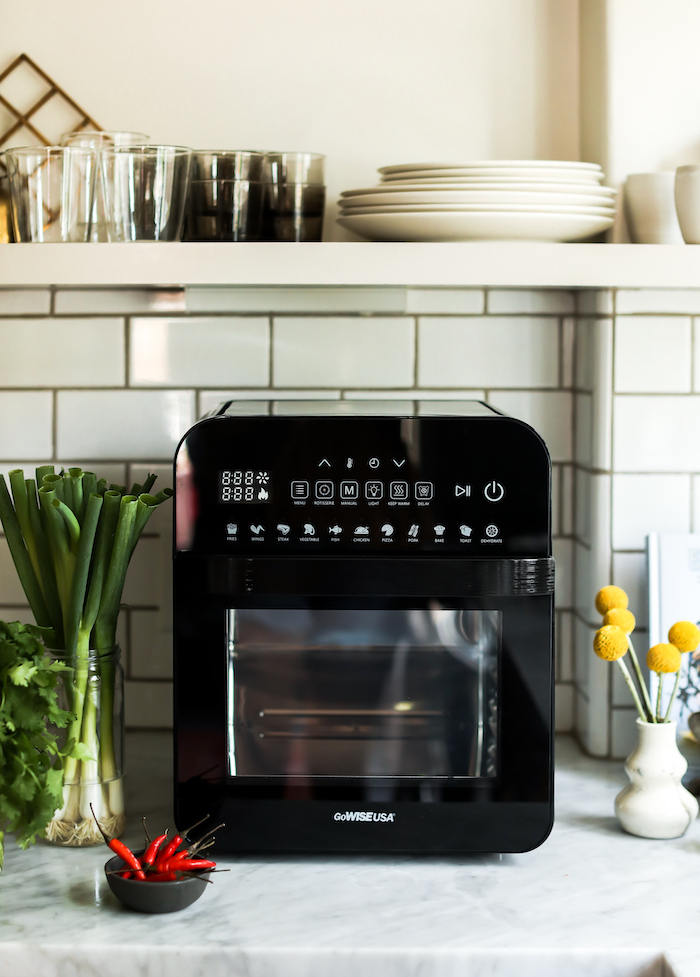 Air Fryer Oven Ultra

By Go Wise Products

Shop Now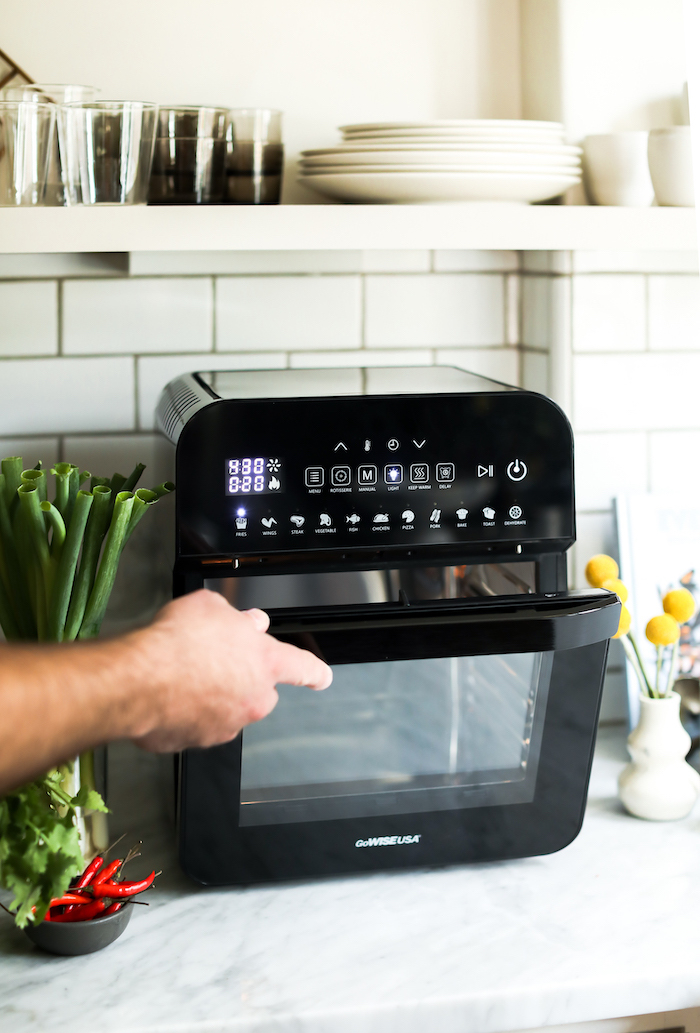 When I was brainstorming for this recipe I thought, "What could I create that feels slightly different and more exciting, and could be in many ways easier than classic fish and chips?"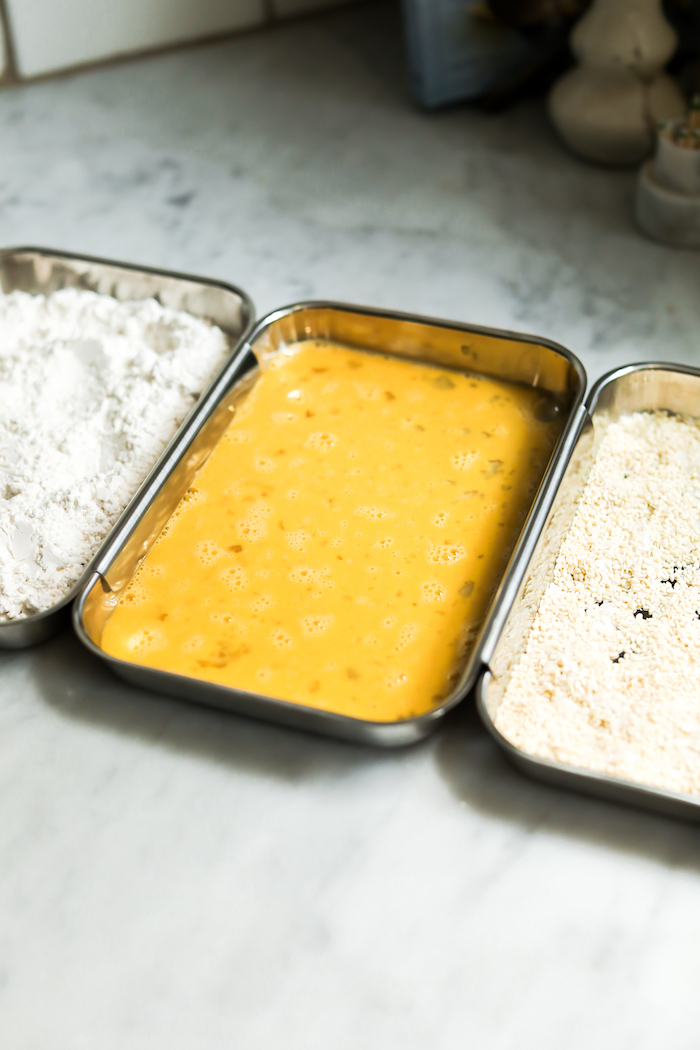 Breading Pan Set

By Kuchenprofi

Shop Now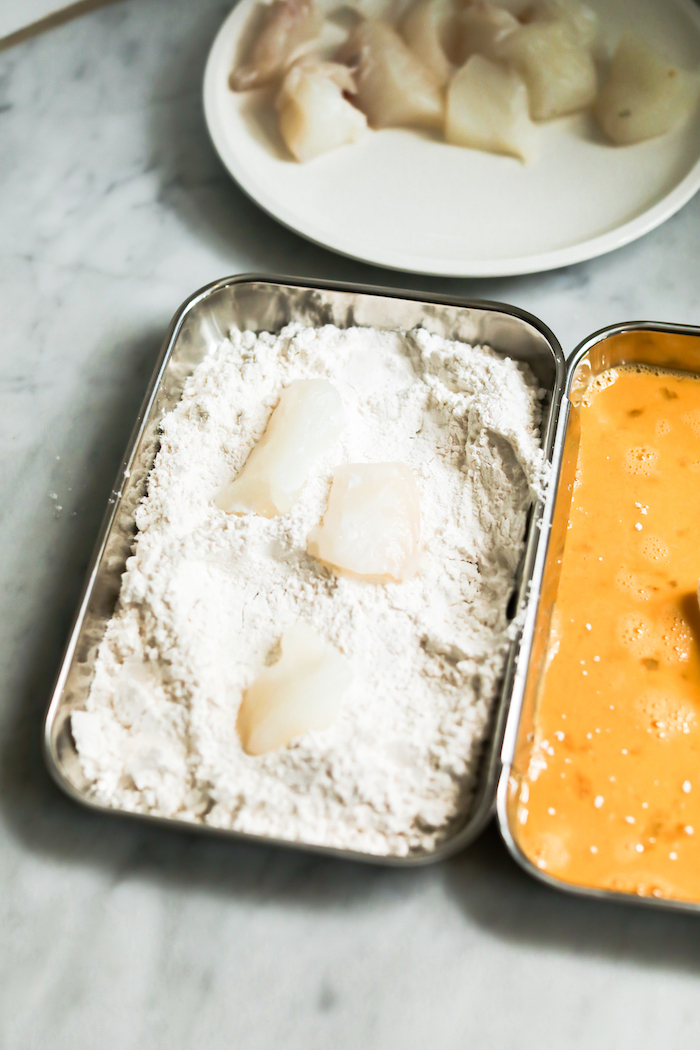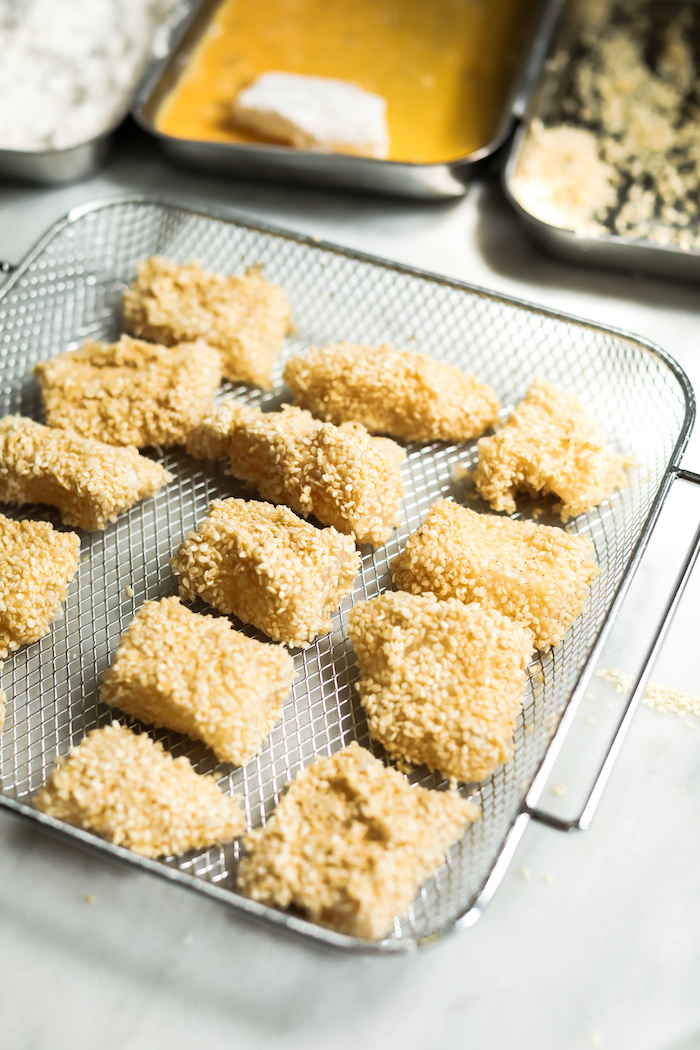 I landed on sesame fried fish fritters with fingerlings and from there decided that, while I love tartar sauce, something fun like a Thai Aioli would accompany the sesame flavors really nicely. Plus, it gives everything a nice spicy kick.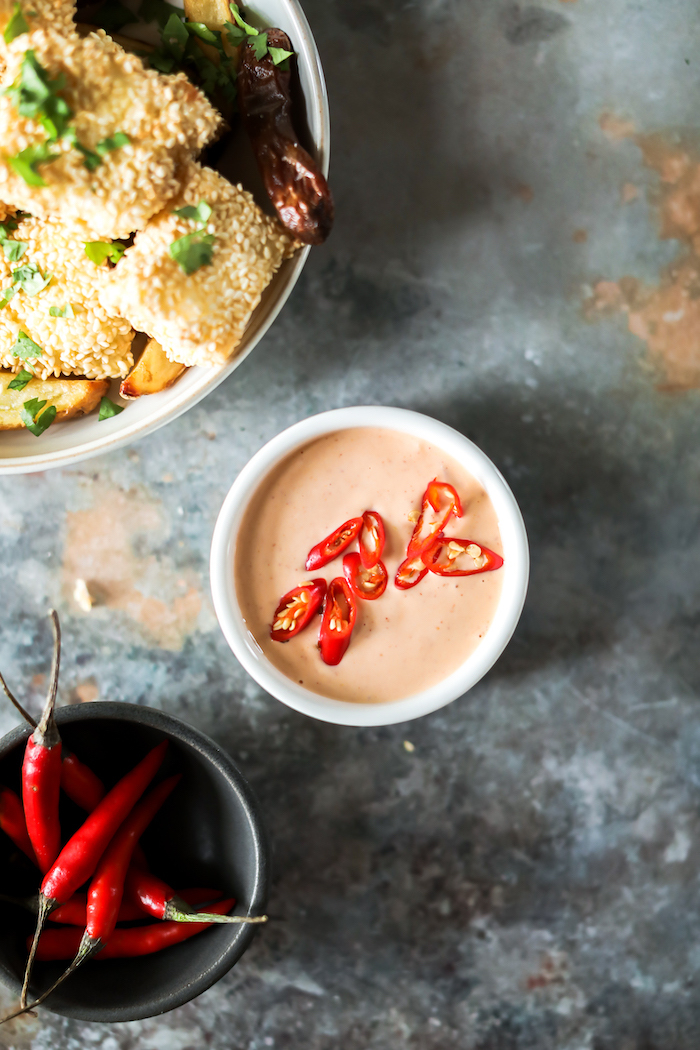 After my first test run, my husband gobbled them up and the fritters were the perfect size for my one year old's little grasp. My husband commented that he loved the Aioli and started dreaming up all the different dishes we could use it with. The sesame flavor comes on nicely with each bite, and gives each flaky bite a nice little chew.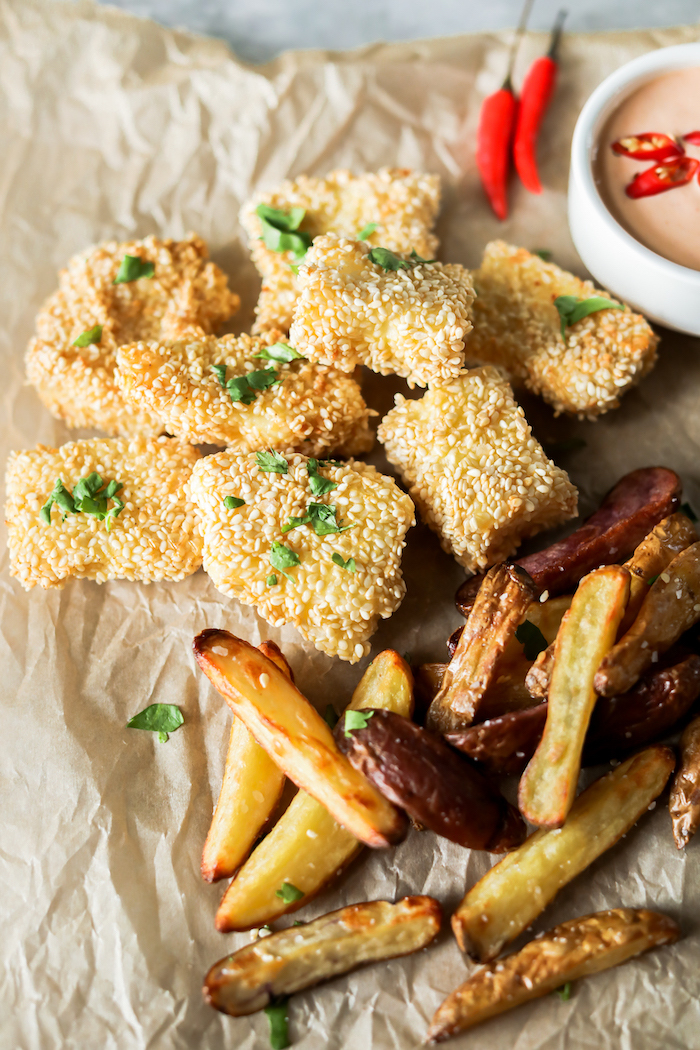 The biggest takeaway from my first recipe test was to follow your own settings and NOT the automatic fish settings. Halibut is such a beautifully flaky fish, but overcooking it, while still actually delicious, dries this white fish out and makes it too chewy.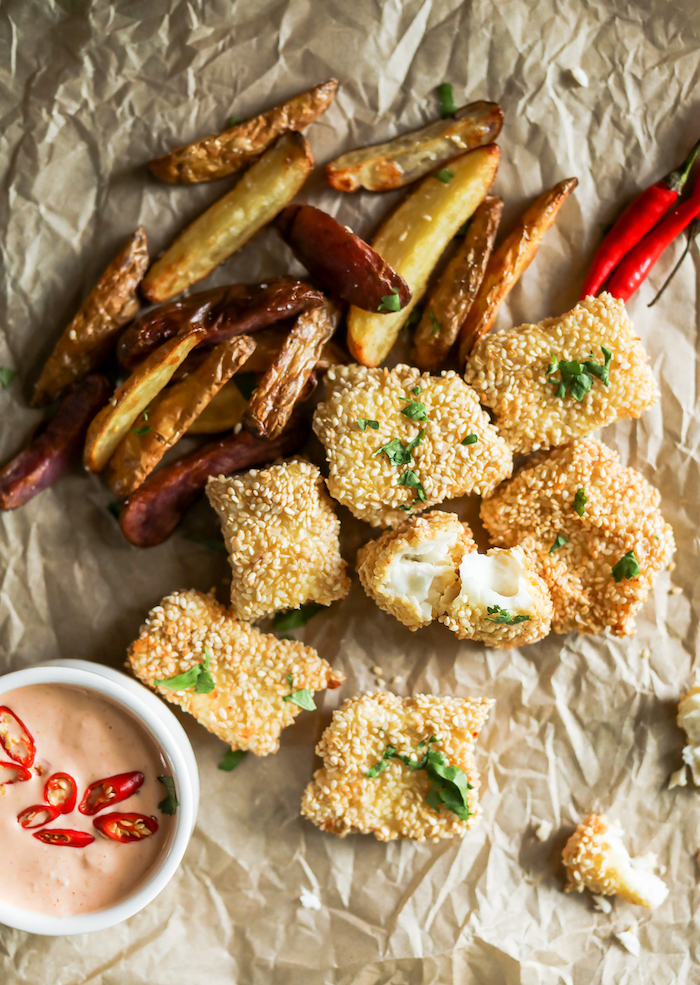 A nice way to test is to pull one fritter out, and carefully (it'll be super hot!), press down on the center with your thumb. The fritter should give way on all side relatively easily. The center should be fully white, and not the white-grey-ish opaque that it looks like when raw, but still moist and soft. Not extra bouncy!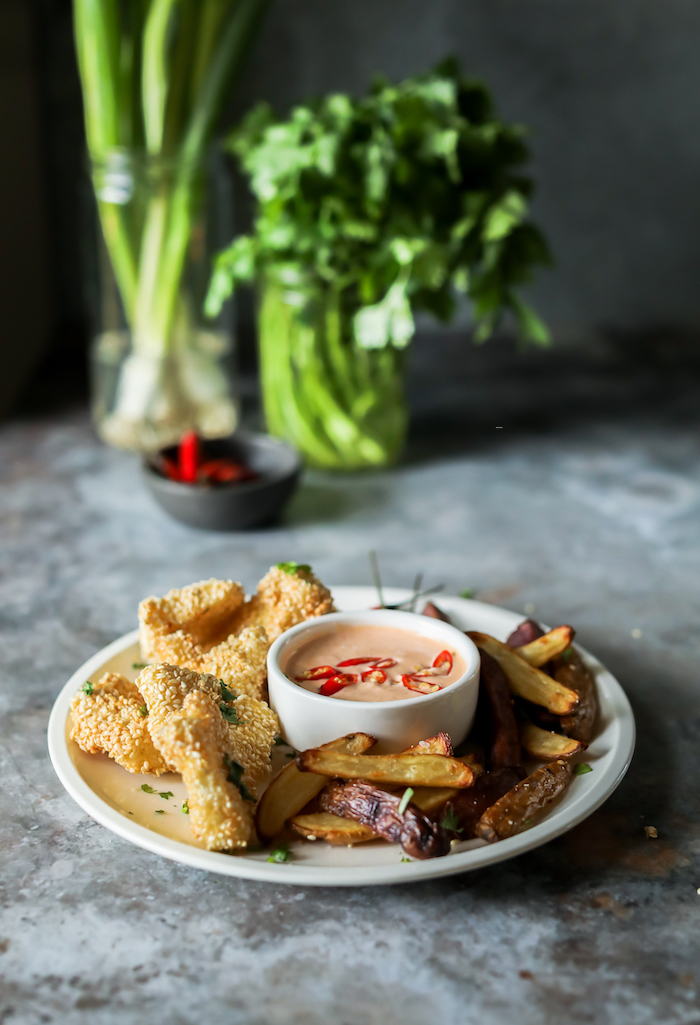 Fortaluxe Accent Ramekins, Set of 12

By Fortessa

Shop Now
You are more than welcome to play around with any kind of white, flaky fish, all should be wonderful in this dish! I bet a swordfish would even be delicious!! Enjoy this one, friends.
Air Fryer Sesame Fish Fritters with Fingerlings and Thai Chili Aioli
These sesame fried fish fritters with fingerling potatoes is an exciting play on fish and chips. Paired with a Thai aioli that accompanies the sesame flavors really nicely, it gives everything a nice spicy kick! Try this dinner tonight!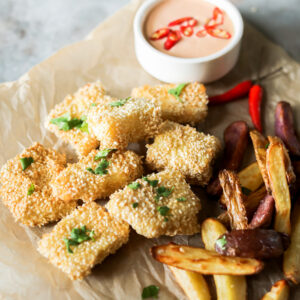 Ingredients
10

fingerling potatoes, sliced the long way in half, or quartered depending on thickness

2

tbsp

canola oil

heavy sprinkle of Kosher salt

0.5

lb

Halibut, cut into 15 pieces

2

eggs, beaten

0.5

cups

flour

3

oz

sesame seeds

2

tbsp

flaked salt

lb

freshly chopped cilantro, for garnish

0.5

cups

mayo

1

tsp

freshly grated ginger (1″ piece)

0.5

tsp

sugar

1

tsp

rice vinegar

1

tsp

Sriracha

0.5

tsp

salt

5

Thai chilis, plus 1 for garnish
Instructions
In a large bowl, toss the sliced potatoes, oil, and Kosher salt. Using a slotted spoon, transfer to the air fryer's rotisserie basket. Make sure to let any loose oil drip off before placing the potatoes into the basket. Use your machine's fry setting, or cook in the Air Fryer at 430 degrees for 20 minutes.

While the potatoes cook, pat the halibut dry and prepare three dredging plates with flour, egg wash, and sesame seeds mixed with flaked salt. Create an assembly line of halibut, dredging plates in the order above, followed lastly by the Air Fryer's basket tray. Using one hand for dry and one hand for wet, coat each piece of halibut in the flour. Shake off excess flour, still using your dry hand, and move each piece over to the egg mix. Flip each piece, careful not to get your dry hand wet with egg. Now using your wet hand, make sure each side of the fish is coated and let any excess egg drip off before moving each piece into the sesame and salt mixture. Use your dry hand to sprinkle sesame seeds over the top of the egg-washed fish. Use your wet hand to flip the fish and make sure each side is coated with sesame seeds. Shake off excess seeds, and move each piece onto the basket tray. Repeat until all 15 pieces have been coated.

Once the potatoes are done, place the prepared fish in the Air Fryer set for 350 degrees and 10 minutes. Empty the cooked potatoes onto parchment and sprinkle with a bit more salt. Set aside while you prepare the aioli.

While the fish is cooking, prepare the aioli by mixing all of the listed Thai Chili Aioli ingredients in a medium size bowl. Whisk to combine, taste and add more garlic or ginger if needed. Place in a small bowl next to the fingerlings and garnish with one more sliced chili.

Once the fish is cooked, immediately move to the serving plate and garnish with a cilantro. Dip and enjoy!
Nutrition
Calories:
944
kcal
Carbohydrates:
74.4
g
Protein:
50
g
Fat:
51.5
g
Saturated Fat:
5
g
Cholesterol:
237
mg
Sodium:
1132
mg
Fiber:
8
g
Sugar:
9
g