An American Hanukkah Meal: Sweet Potato Latkes and Cranberry Applesauce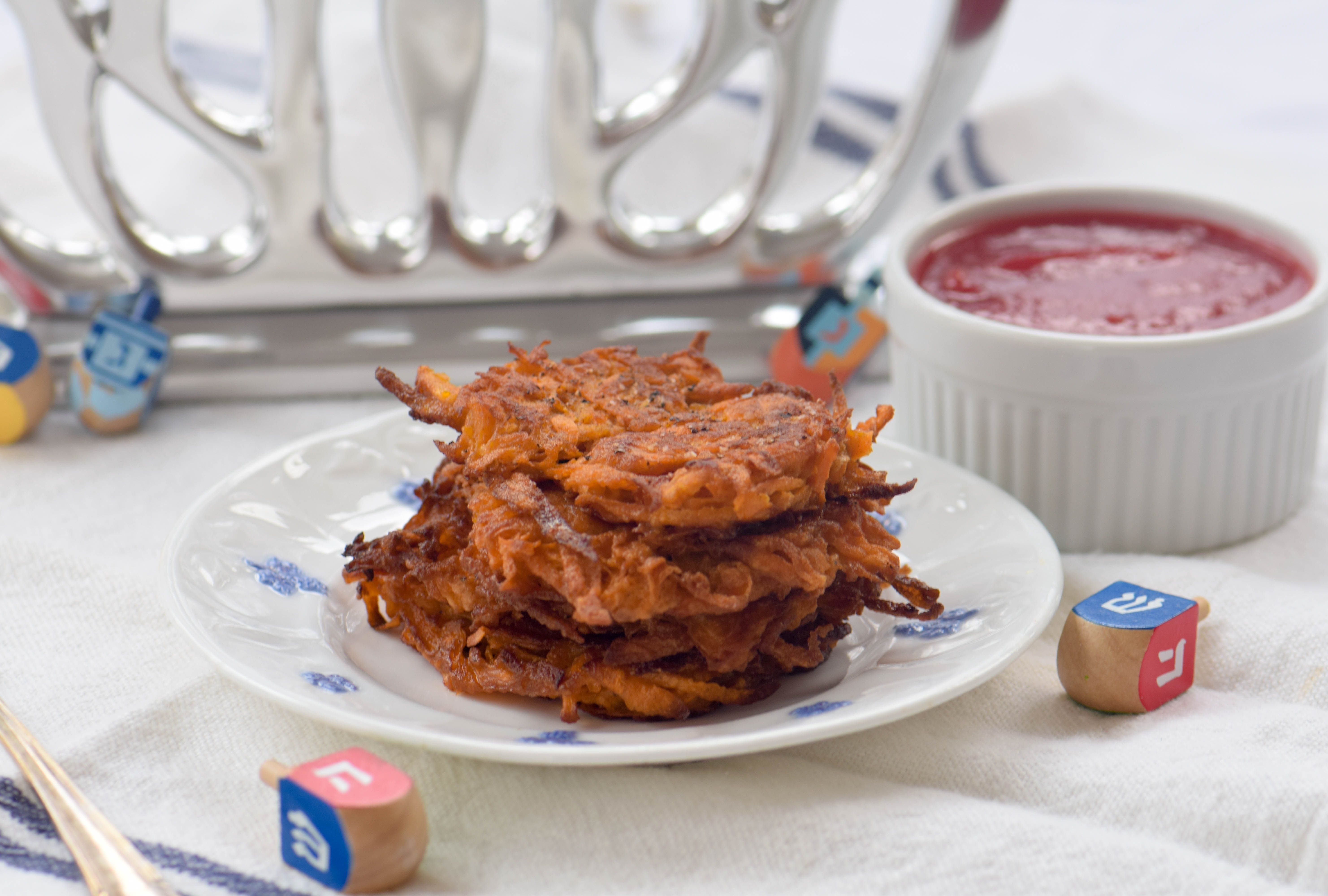 Next week, Jewish families around the world will gather together to celebrate Hanukkah, the festival of lights, by exchanging gifts, lighting candles, and sharing a festive holiday meal of potato pancakes (latkes) and applesauce. But you don't have to be Jewish to love latkes!
Hanukkah commemorates the victory of a small group of Jews over the Greek army in the second century BCE. After the Jews drove the Greeks out of their land, they attempted to restore their temple, which had been destroyed, only to discover that there was just enough oil to light the lamp that held the eternal flame for one day. A miracle occurred and the small amount of oil lasted for eight days, which was enough time to make new oil to light the flame.
In honor of this miracle, Hanukkah lasts for eight days. On the first night, we light one candle on the traditional Hanukkah candelabra, known as a menorah. On the second night we light two candles and so on until finally we light eight candles on the eighth night. It is certainly a cheerful sight to see the candles burning on a dark winter's night!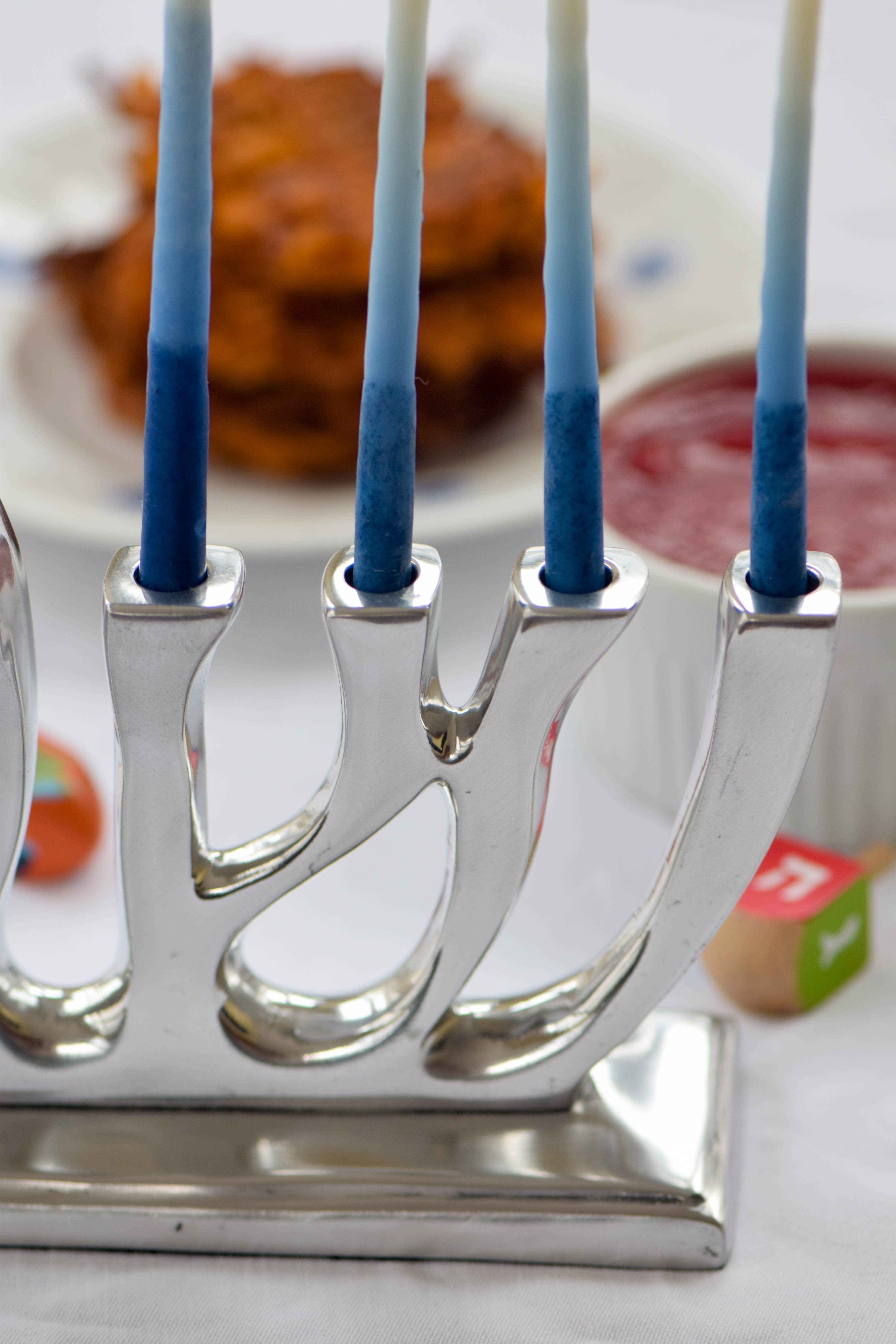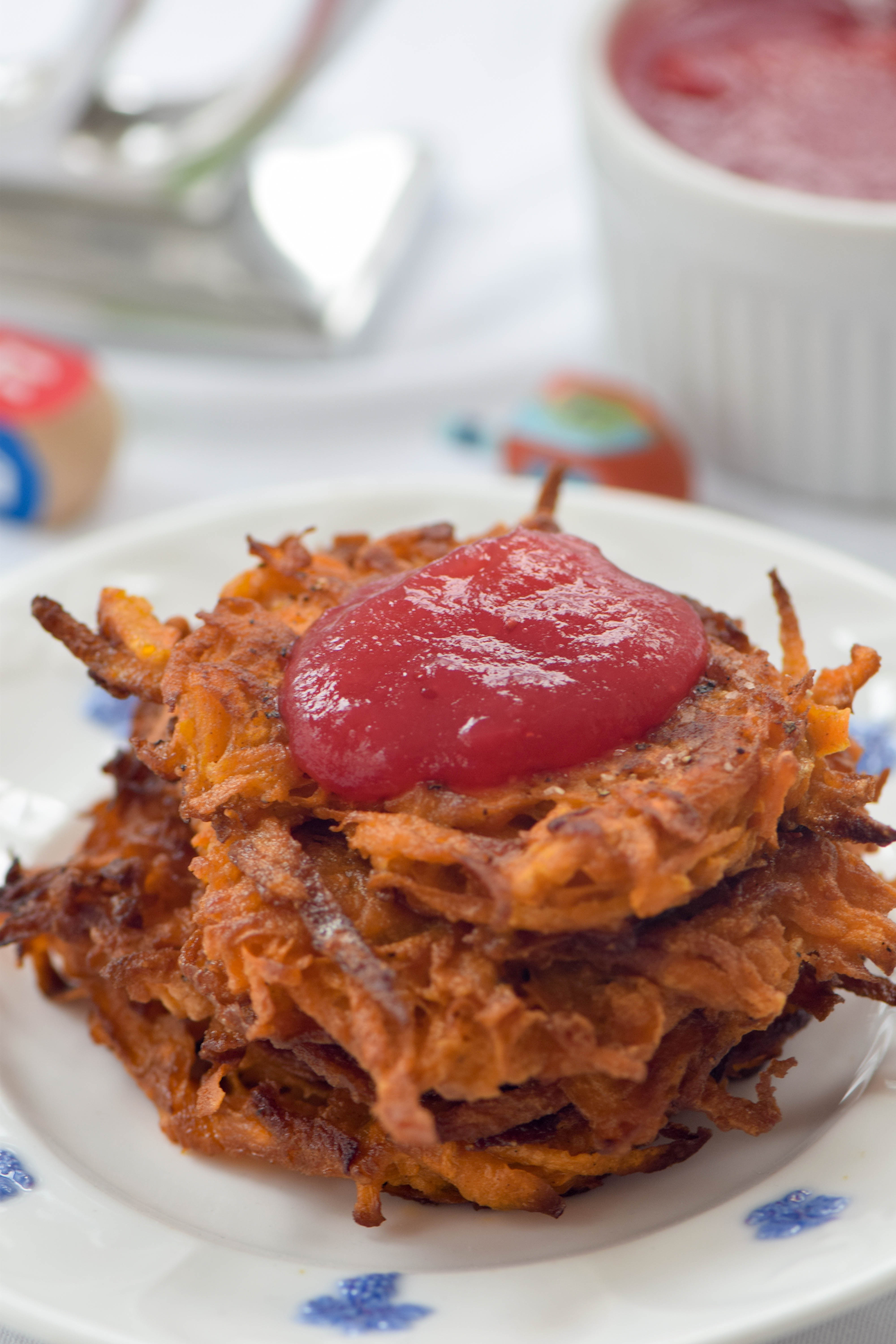 It is traditional to celebrate Hanukkah by eating fried foods. In Israel, for example, they eat fried jelly doughnuts called sufganiyot. The best-known Hanukkah food for Americans is a potato pancake called a latke. Latkes are not exactly health food — especially if you top them with sour cream, which some people do — and the smell of oil lingers in your house for days after you make them. But they are absolutely delicious and it wouldn't be Hanukkah without them.
What if, however, you wanted to make a slightly healthier version of latkes? You might start with some vegetable other than potatoes. Indeed, there are lots of recipes out there for latkes make with carrots, zucchini and other colorful vegetables.
For my healthy take on the latke, I start with sweet potato, which is loaded with antioxidants, such as beta-carotene, vitamin C, and vitamin E. Sweet potato latkes also have more taste than the regular kind, especially when seasoned with warm spices like cinnamon, ginger and allspice.
Begin by grating sweet potatoes on the coarse side of a box grater. You can save time by using a food processor, but I find that grating by hand produces a better-tasting latke. Luckily the razor-sharp blades and sturdy design of the Microplane Elite Box Grater make grating by hand both quick and easy.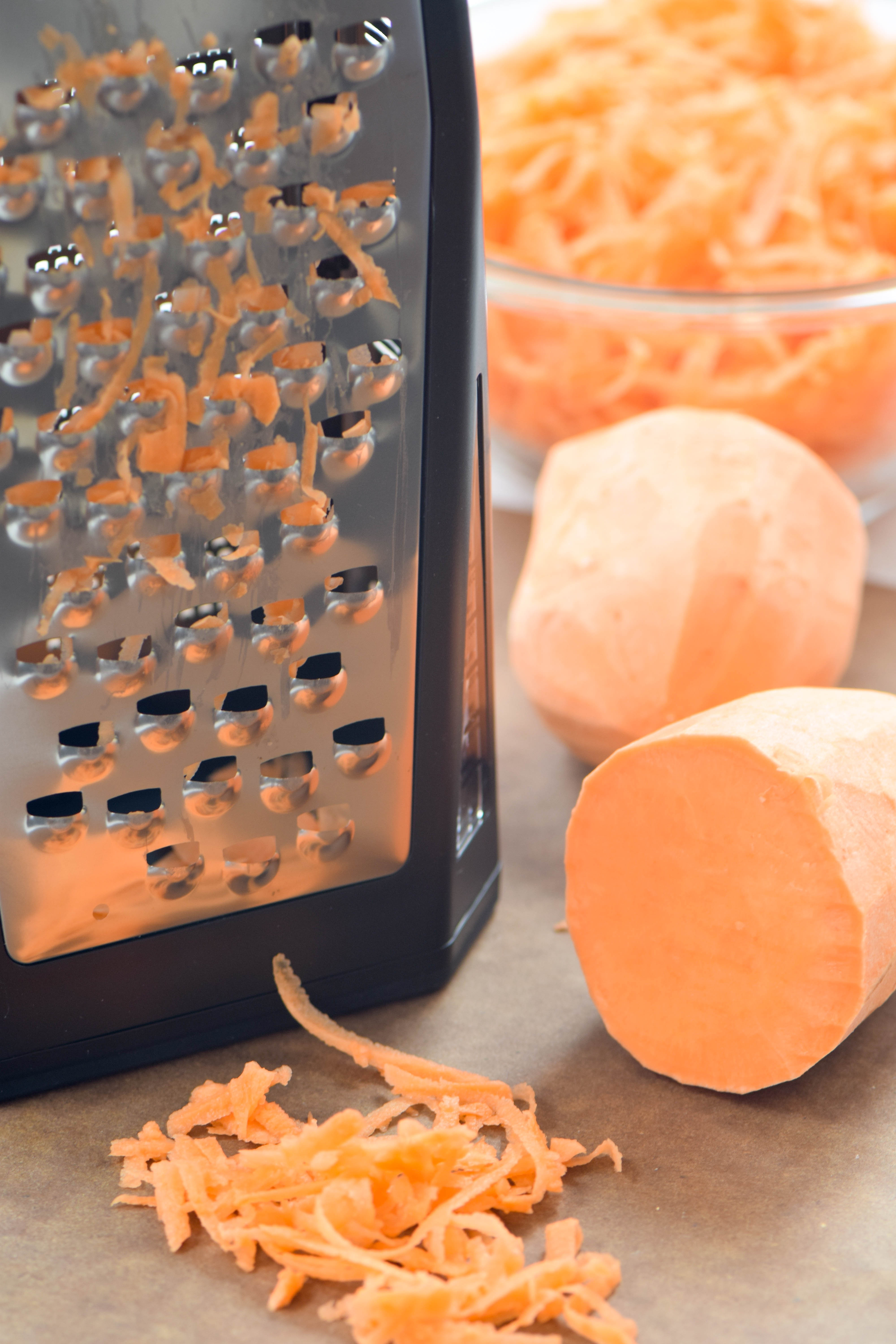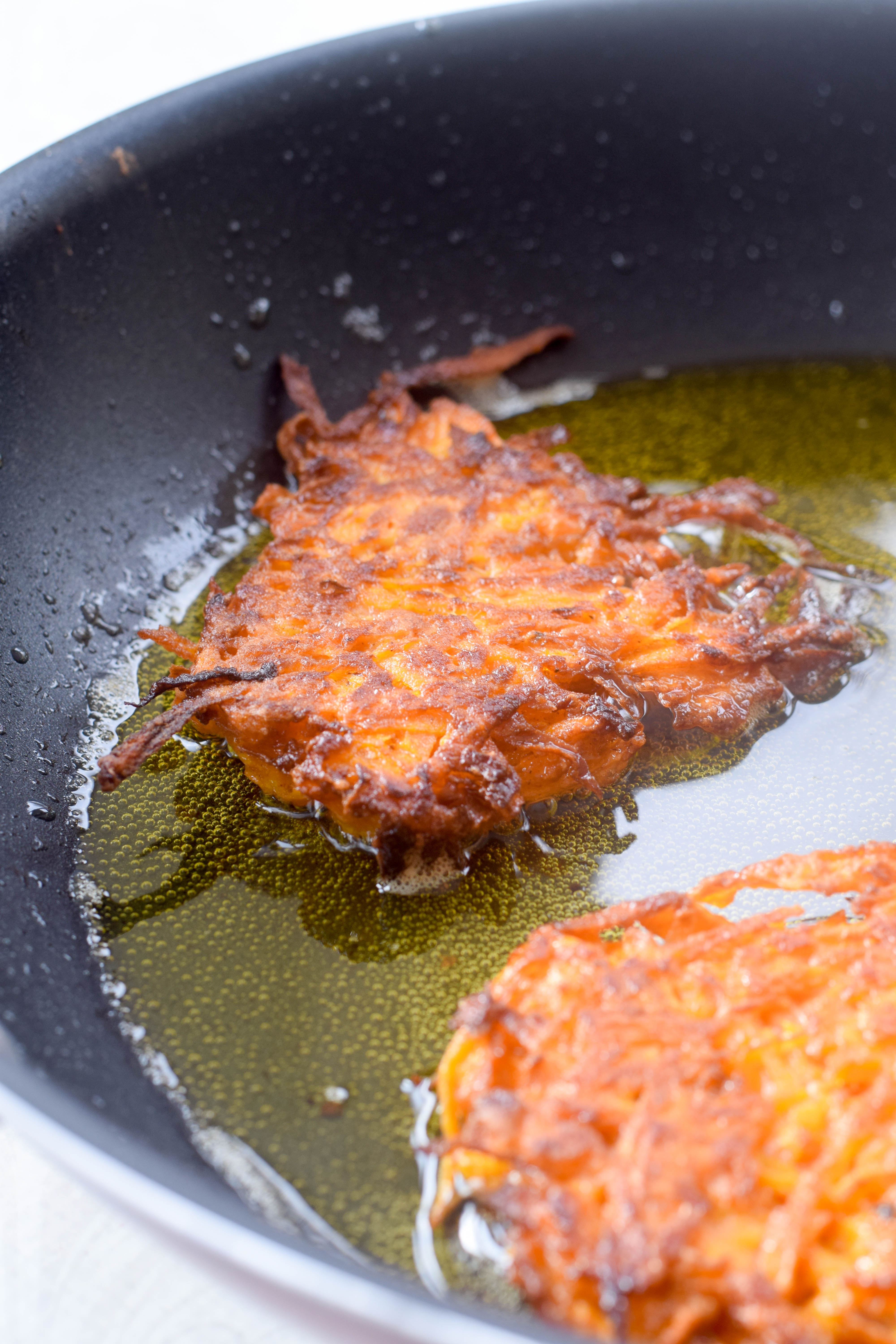 Once you have made your batter, heat the oil in a large, sturdy, nonstick skillet and fry the latkes three or four at a time, being careful not to overcrowd the skillet. Cooked latkes can be kept in a warm oven until the others are finished. But don't wait too long: latkes are best served right away!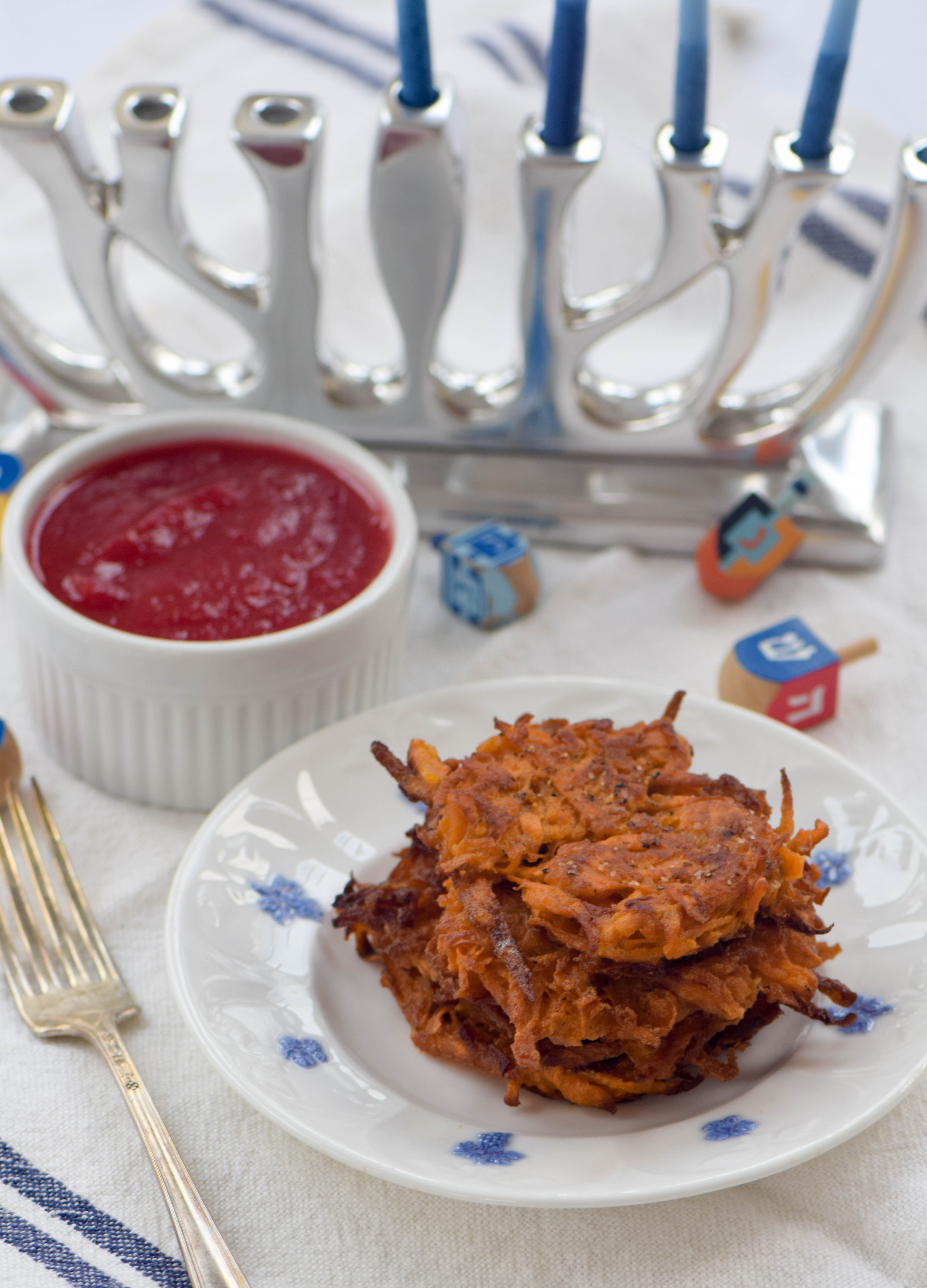 Sweet Potato Latkes for Hanukkah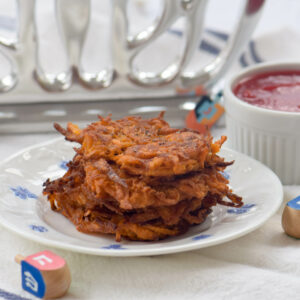 INGREDIENTS
1¼ lbs. sweet potatoes, peeled
½ cup all-purpose flour
1 tsp. salt
½ tsp. cinnamon
½ tsp. ground ginger
¼ tsp. allspice
Pinch cayenne
2 eggs, lightly beaten
6 TB vegetable or other neutral oil
INSTRUCTIONS
Preheat the oven to 250 and line a baking sheet with foil.
Grate the sweet potatoes on the coarse side of a box grater and place the shreds in a large bowl.
In a small bowl, whisk together the flour, salt, and spices until combined.
Add the flour mixture and the beaten egg to the sweet potatoes and toss with a fork to combine.
Heat the oil over high heat in a large nonstick skillet.
When the oil is sizzling, turn the heat down to medium-high and scoop 1/4 cup of the sweet potato mixture into the skillet and flatten with a spatula. You can cook three to four latkes at a time, but do not overcrowd the skillet.
Flip the latkes when the underside is browned, about two minutes. Cook the second side for one and half to two minutes until browned. Repeat with the remaining batter.
Cooked latkes can be kept warm in the oven until needed.
To top your latkes, you must choose between the two traditional toppings, sour cream or applesauce. It's a very controversial topic in Jewish households. Are you Team Sour Cream or Team Applesauce?
I think that if the applesauce is homemade, it beats out sour cream every time. Store-bought applesauce can be overly sweet and mushy, like baby food. Homemade, on the other hand, is silky and tangy with a surprisingly complex flavor. Luckily, applesauce is an easy do-it-yourself project. My recipe for applesauce includes cranberries because they are a quintessentially American ingredient and add a beautiful rosy color!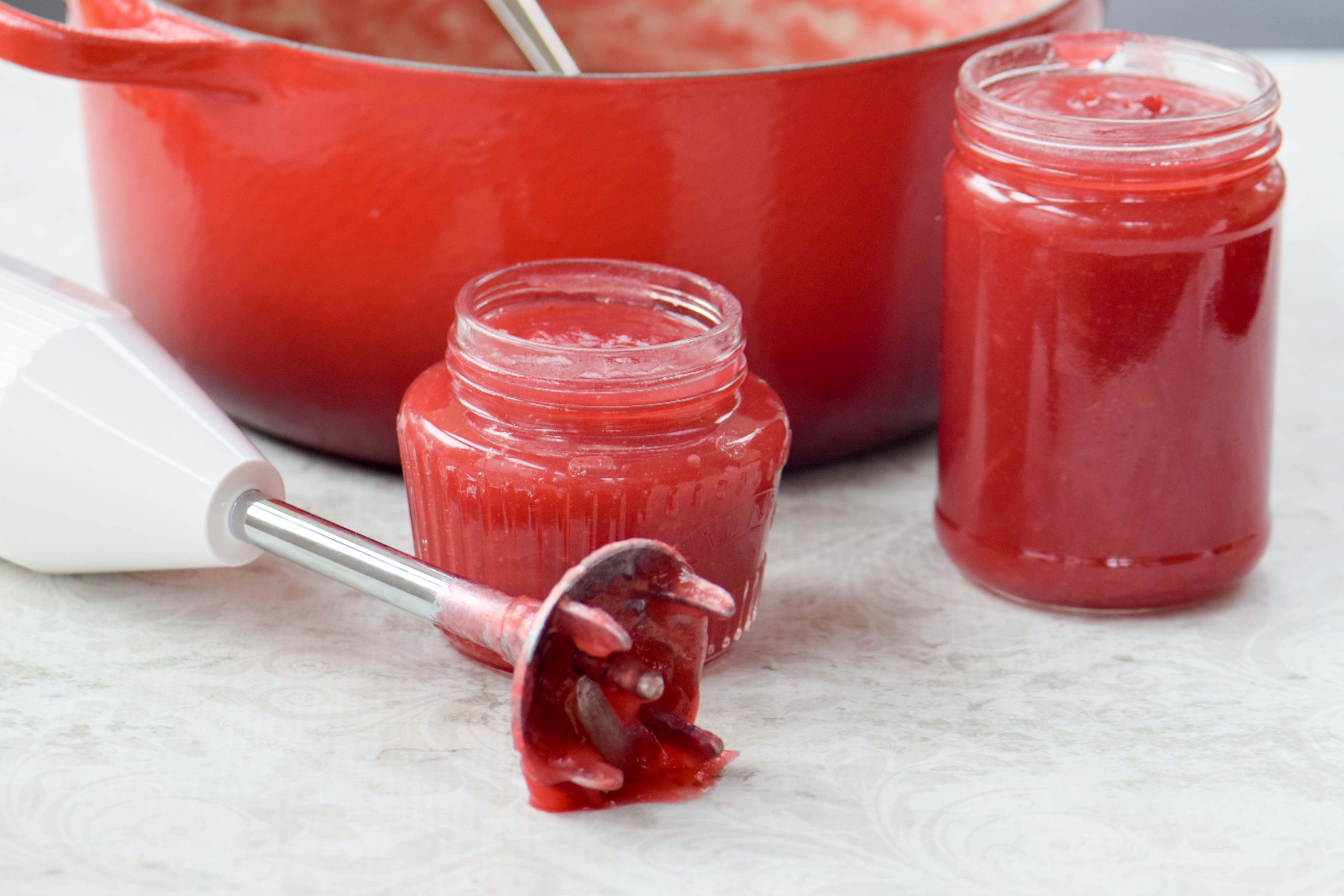 To make especially quick work of your applesauce, cook the apples with liquid in a large saucepan just until softened. Then, puree them right in the same pot using an immersion blender such as the Bosch Immersion Blender. You will have the smoothest, most comforting applesauce of your life.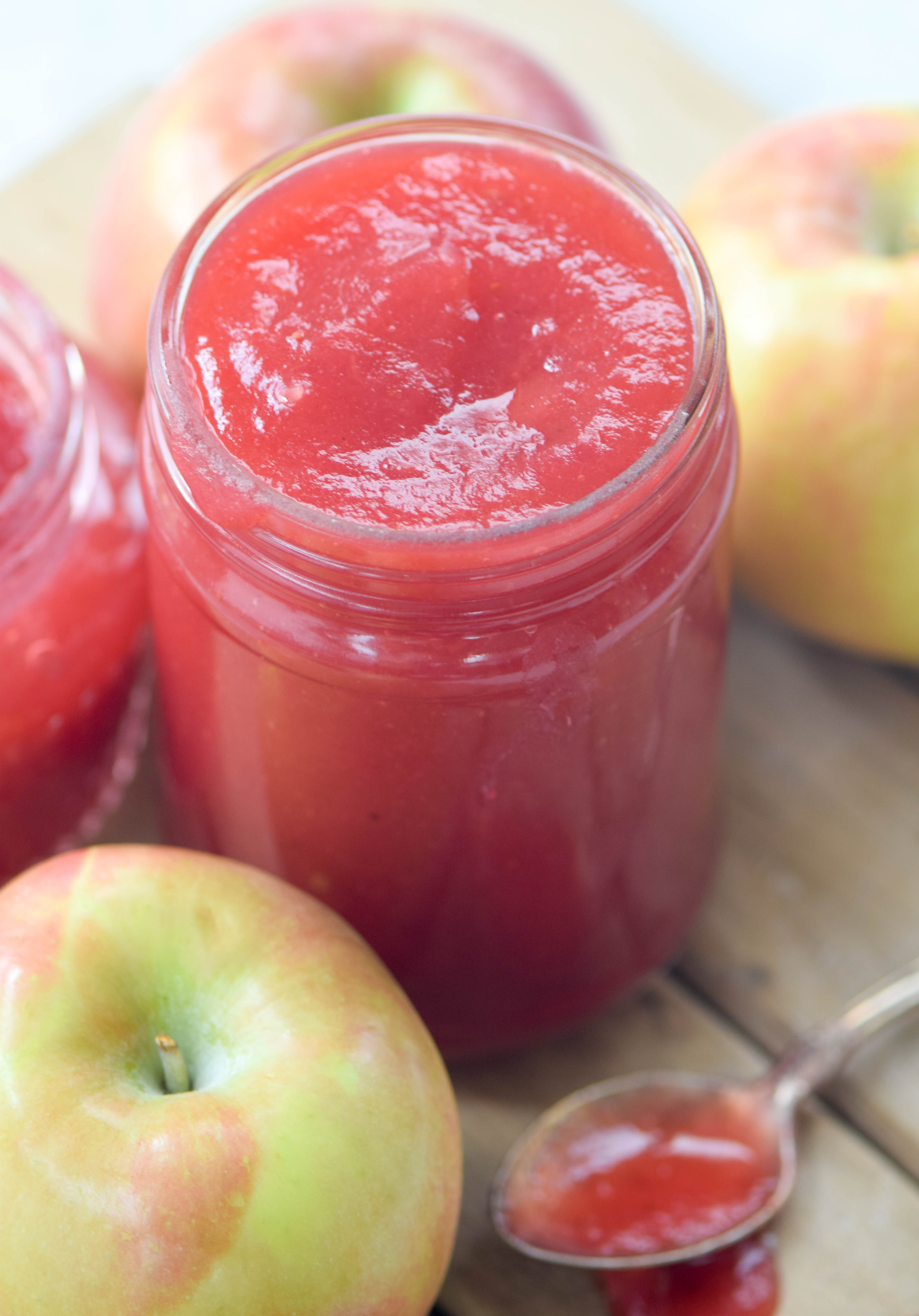 Happy Hanukkah to all!
Cranberry Applesauce Recipe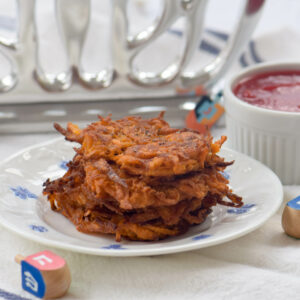 INGREDIENTS
4 lbs apples, peeled, cored and chopped
2 cups whole cranberries
¼ cup lemon juice
1½ cups sugar
½ tsp cinnamon
¼ tsp cloves
INSTRUCTIONS
Combine the apples, cranberries, 1/2 cup water and lemon juice in a large saucepan. Bring the liquid to a boil, turn down the heat to low and simmer the apples, covered, stirring occasionally.
Meanwhile, prepare a boiling water bath canner and heat four pint jars.
When the apples are tender, about thirty to forty-five minutes depending on the varieties you use, remove from heat. Puree mixture with an immersion blender until smooth but leave some chunkiness for texture.
Add sugar and spices and return mixture to a simmer, stirring to dissolve the sugar and distribute the spices.
Refrigerate until needed.