Hanukkah Beyond the Latke: Sufganiyot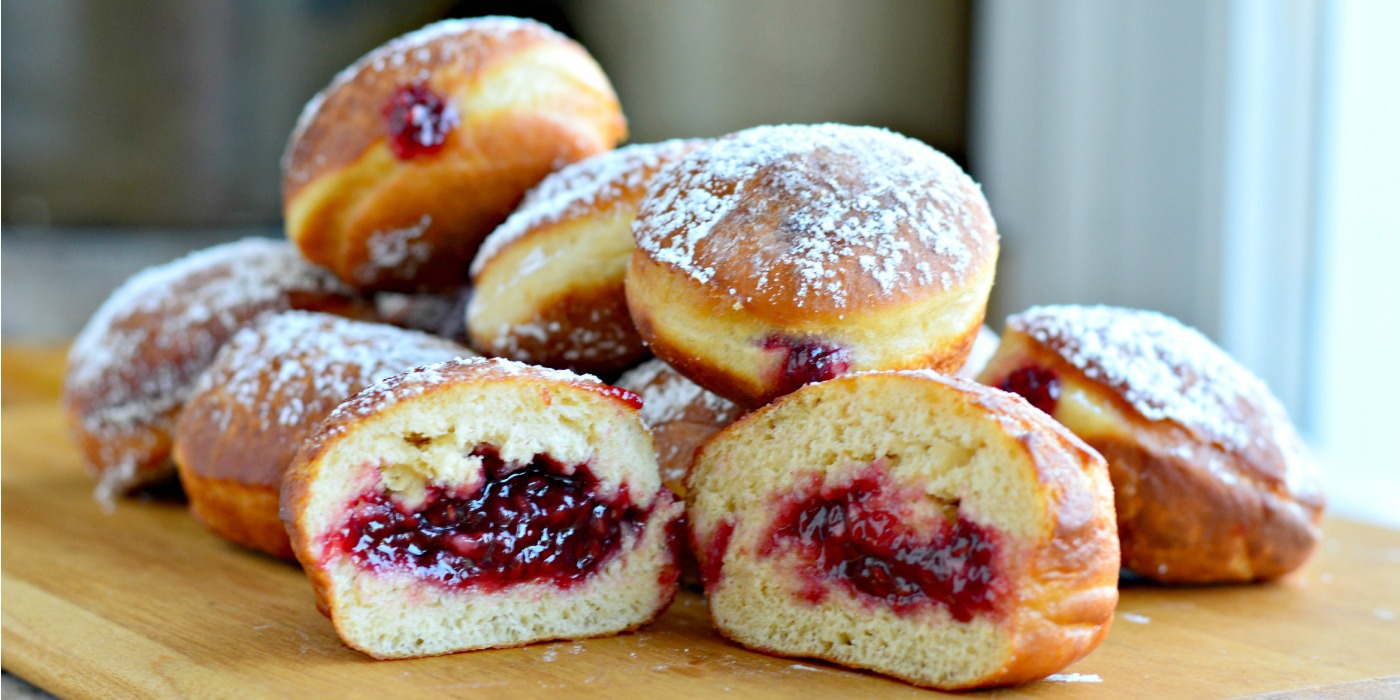 This year Hanukkah, the Jewish festival of lights, begins at sundown on December 6th. All over the world, Jewish families will gather to light the menorah, spin the dreidel, and enjoy a festive dinner.
Most Americans, when they think of Hanukkah dinner, think of latkes, crispy potato pancakes fried in oil and topped with either applesauce or sour cream depending on your personal predilections.
Latkes are a special holiday treat that my family looks forward to all year. But they are not the end-all and be-all of Hanukkah foods. Not even close! In truth, any food fried in oil is traditional for this holiday. That's because Hanukkah commemorates a miracle from the second century BCE when, after a Jewish victory over the Greek army, a day's worth of oil used to light the eternal flame in the temple lasted for eight days.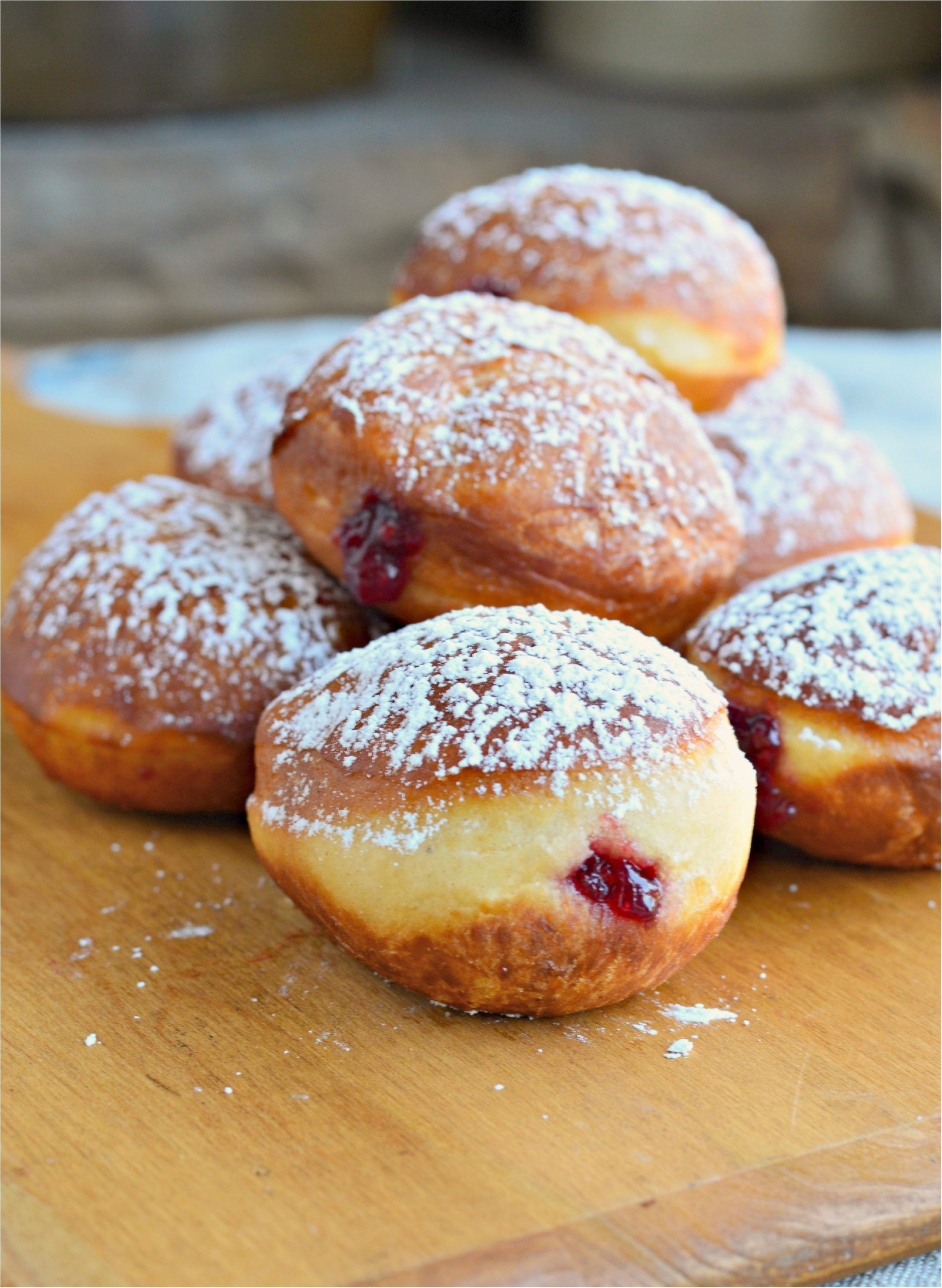 In Israel, for example, the food most associated with the festival of Hanukkah are fried jelly doughnuts known as sufganiyot. Israelis go mad for sufganiyot during Hanukkah with hundreds of thousands of the pastries sold throughout the country and newspapers holding competitions to see which bakery makes the best ones.
Sufganiyot are a fun project to tackle at home, especially if, like me, you have a stockpile of homemade jam left from the summer. But you can fill your sufganiyot with custard or even chocolate if that is more to your taste. Kids especially go crazy for these fried balls of deliciousness.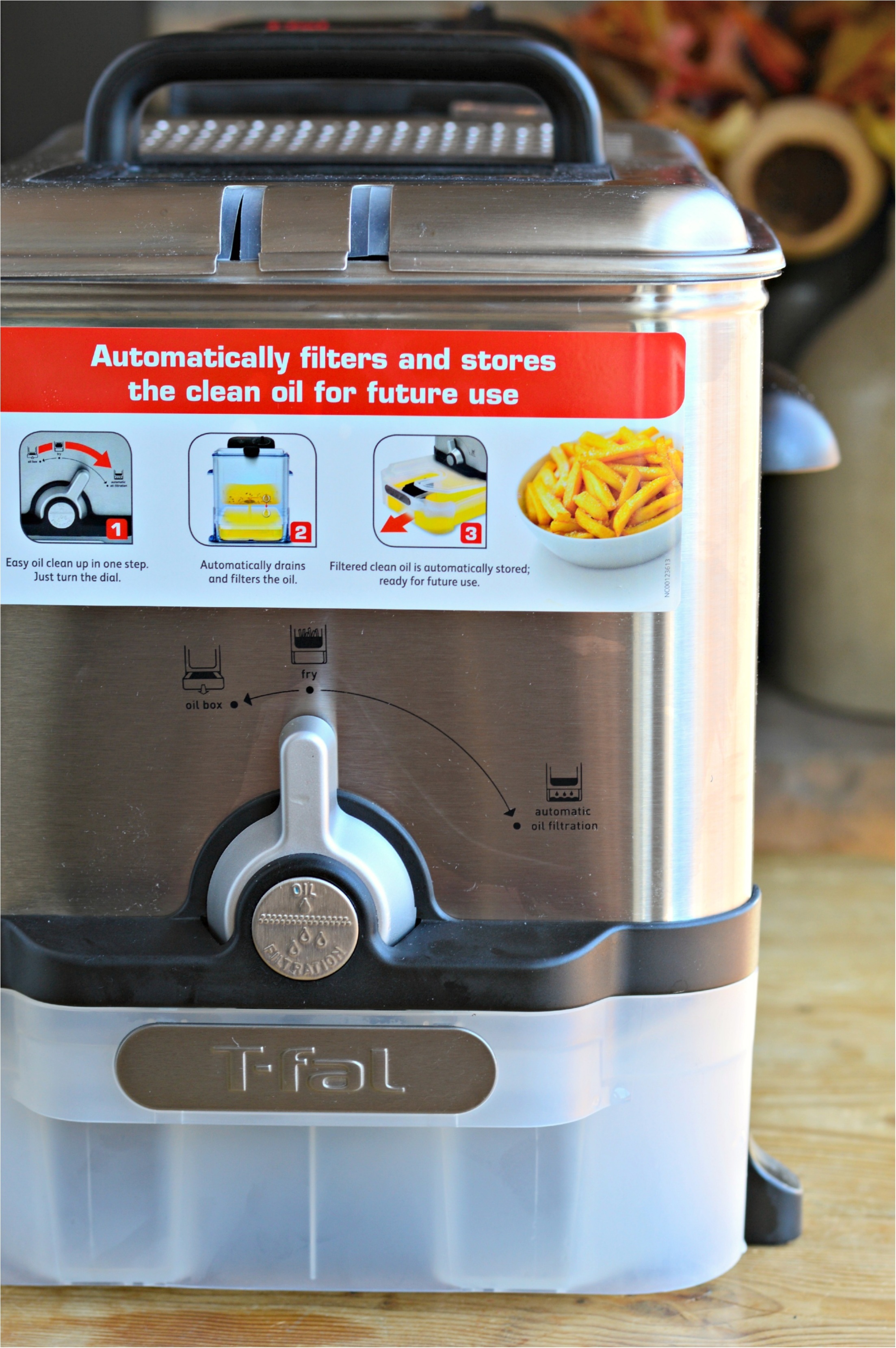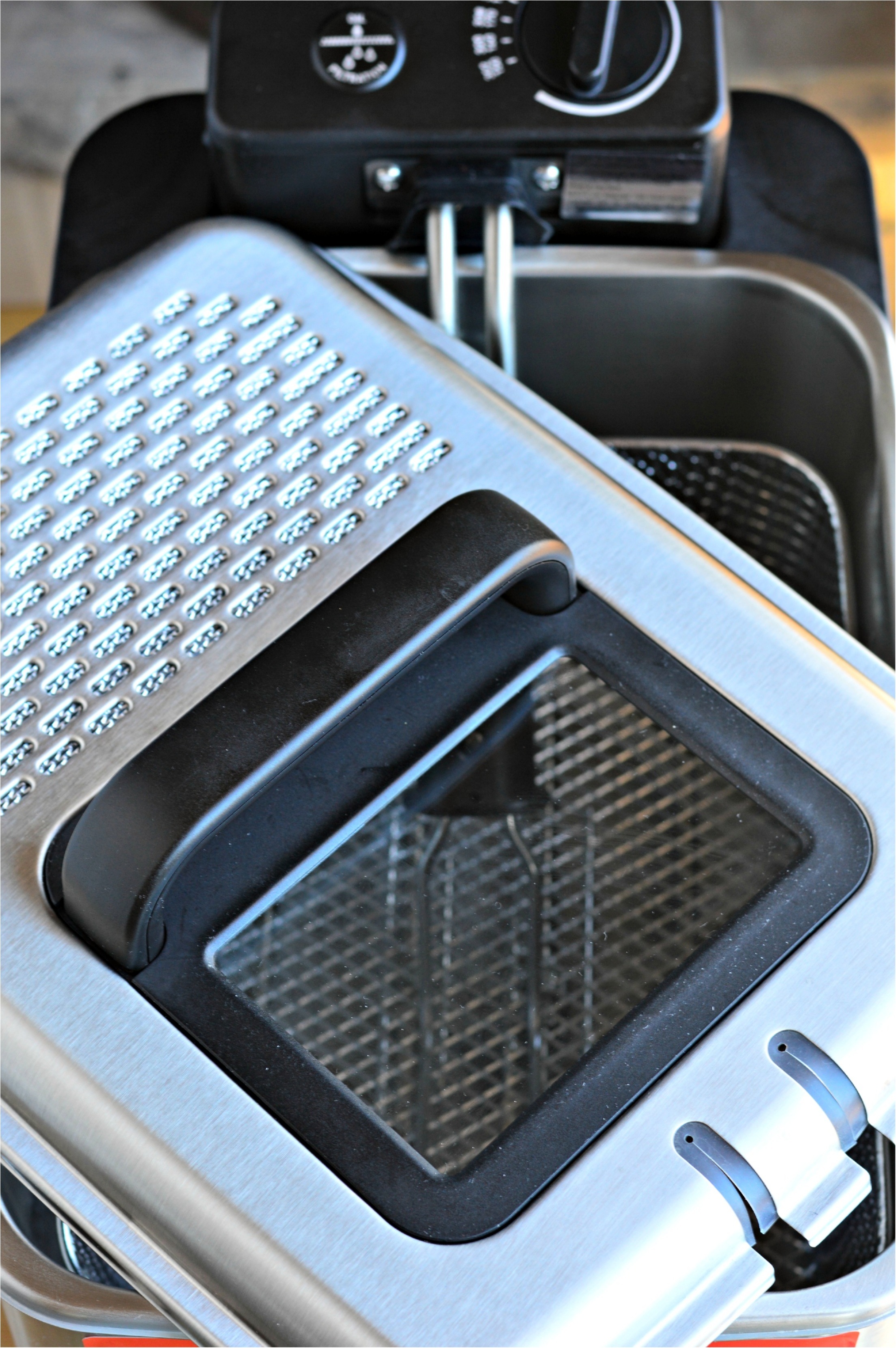 I used to think that frying food at home was a pain. Oil splattered everywhere, burning my arms and making a mess, and the house smelled for days. That all changed, however, when I started using the T-fal® EZ Clean Deep Fryer. Imagine frying food with no mess and no odor! Also, when the oil is heated to the proper temperature, which is easy to achieve with the EZ Clean Deep Fryer's immersed heating element, the food absorbs less oil. The result is a light, and not greasy, doughnut.
Sufganiyot is made from a yeast-risen dough, so start the project several hours before you plan to fry your doughnuts. Begin by mixing the dough and kneading it until smooth. Allow the dough to rise for at least an hour in a warm place.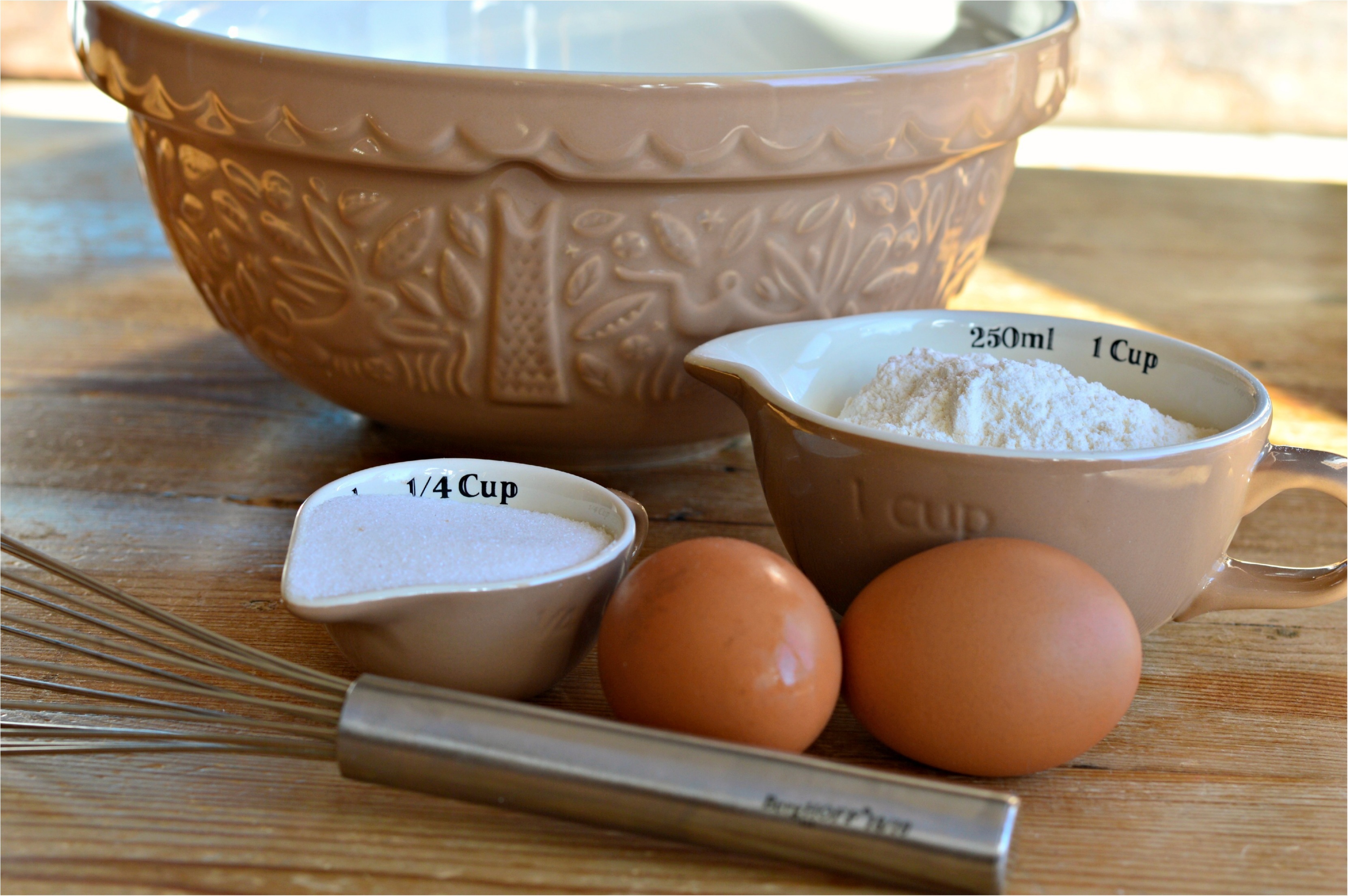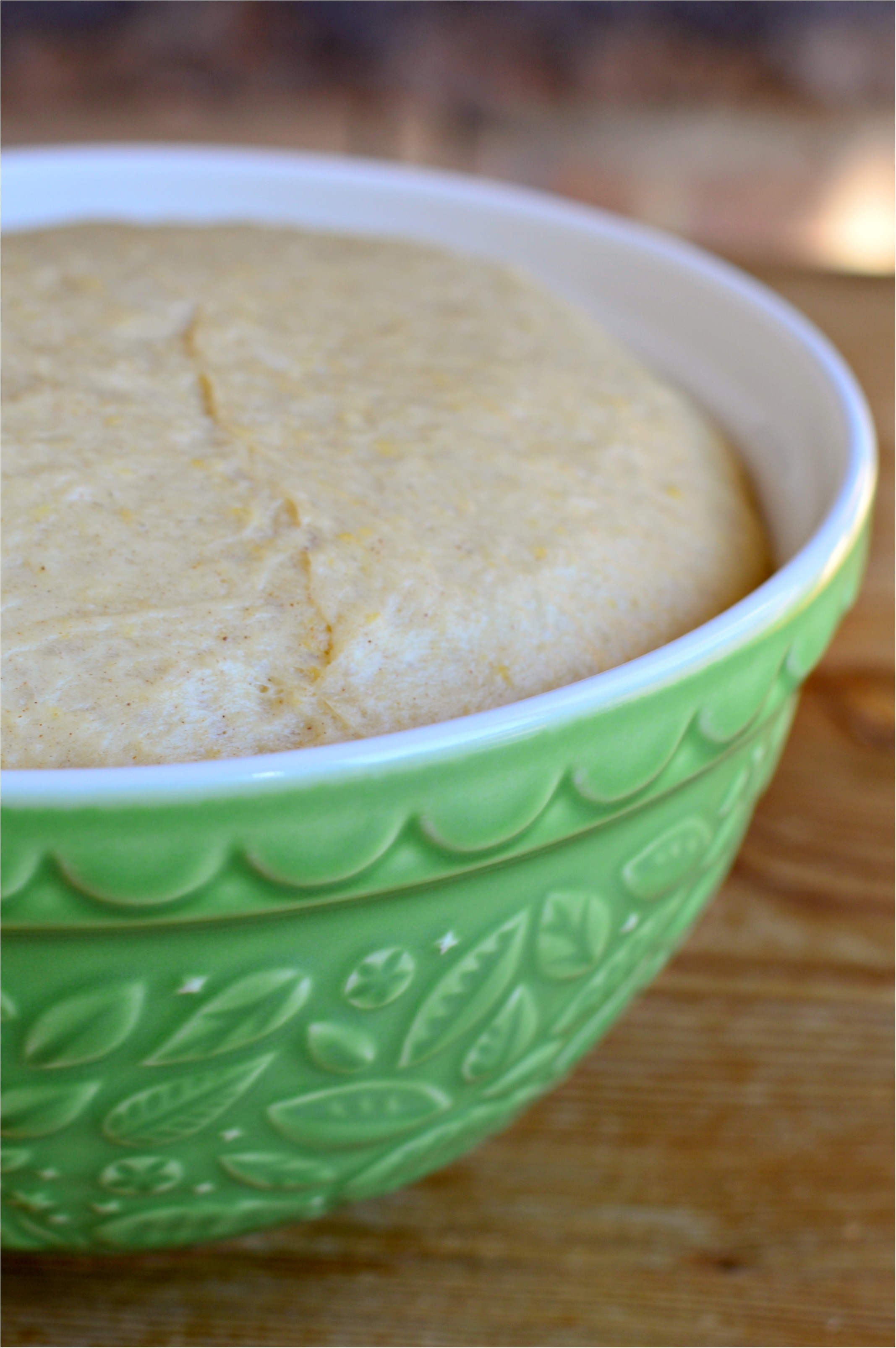 Then roll out the dough on a well-floured board. When rolling out dough, I always use my Epicurean Big Block cutting board because of its large size and because the rubber feet ensues that the board does not slide around on the countertop. Next, cut out circles of dough using a 3-inch round cookie or biscuit cutter. Allow the circles to proof for an additional thirty minutes prior to frying.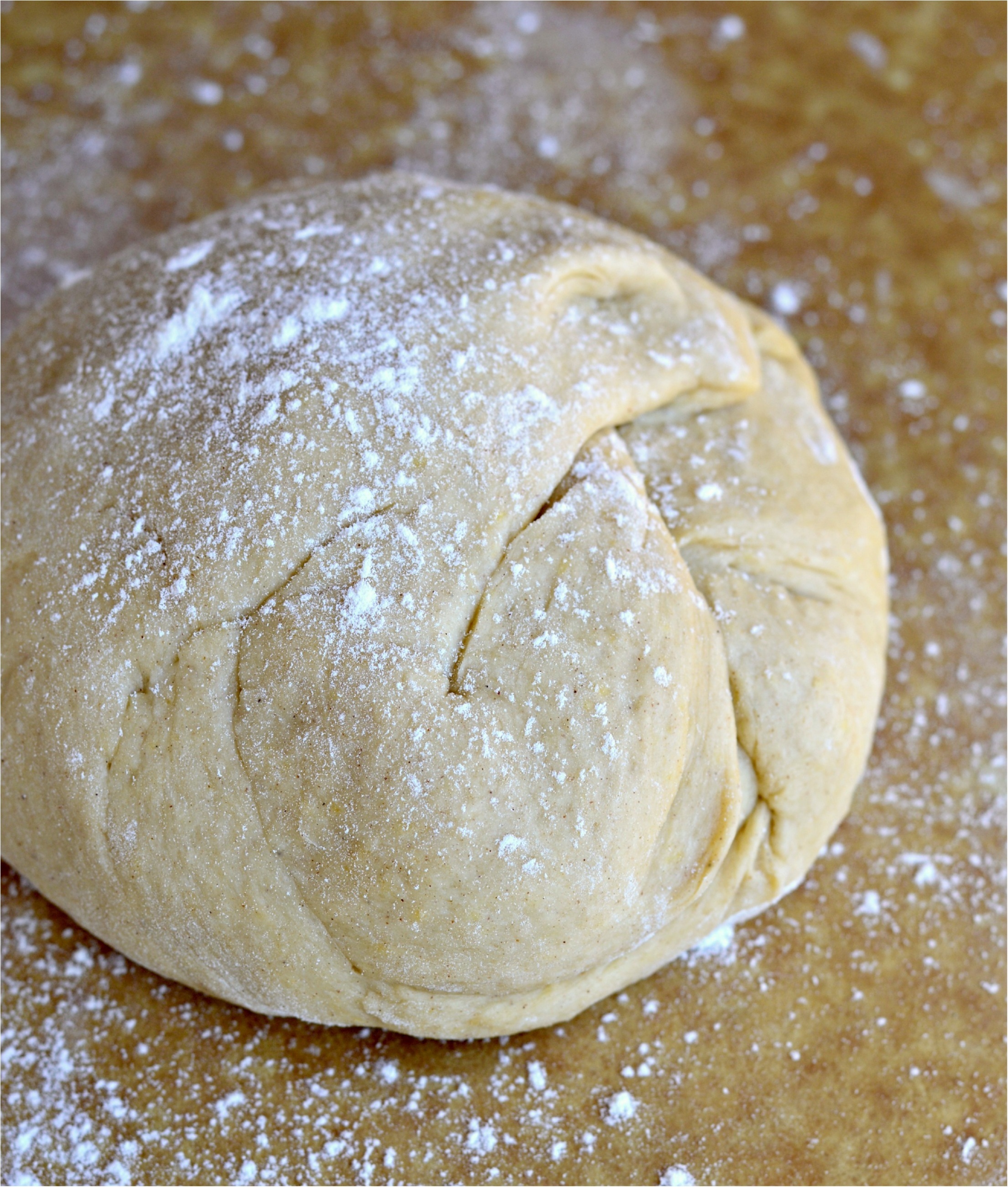 While the dough is proofing, preheat the oil in the fryer to 365 degrees. Then fry the dough in batches, turning the doughnuts once halfway through cooking. They only take a minute or so in the fryer so pay attention! Remove the doughnuts with a slotted spoon — I love my stainless steel slotted spoon by Calphalon — and drain on paper towels. When the doughnuts are cool enough to handle, make a small hole in the side and pipe in the jam using a piping bag outfitted with a 1/4 inch tip. Dust with powdered sugar and enjoy!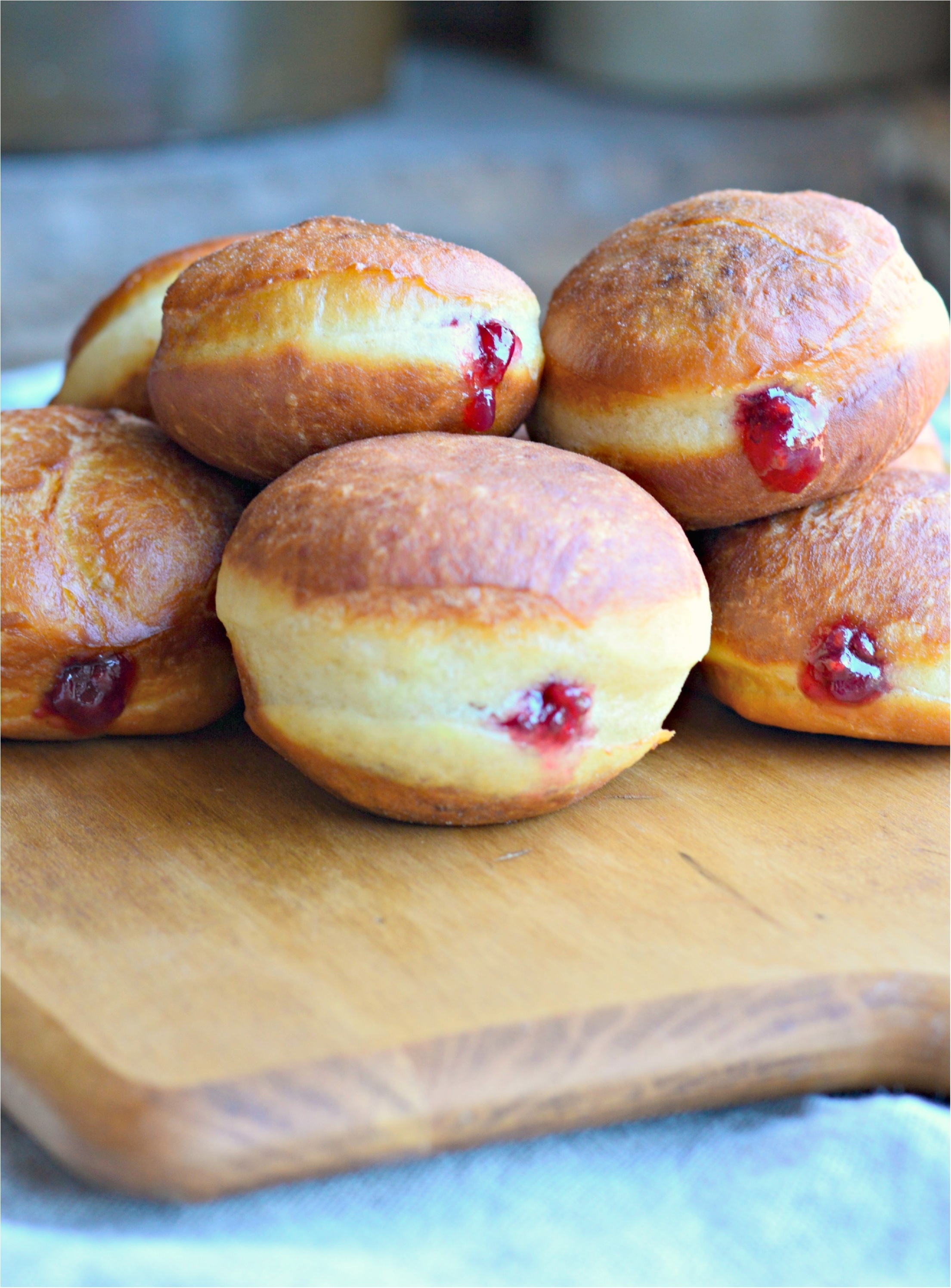 Your family will devour the hot, crispy sufganiyot until their fingers are sticky with jam and their mouths coated in powdered sugar. Latkes? Who needs latkes?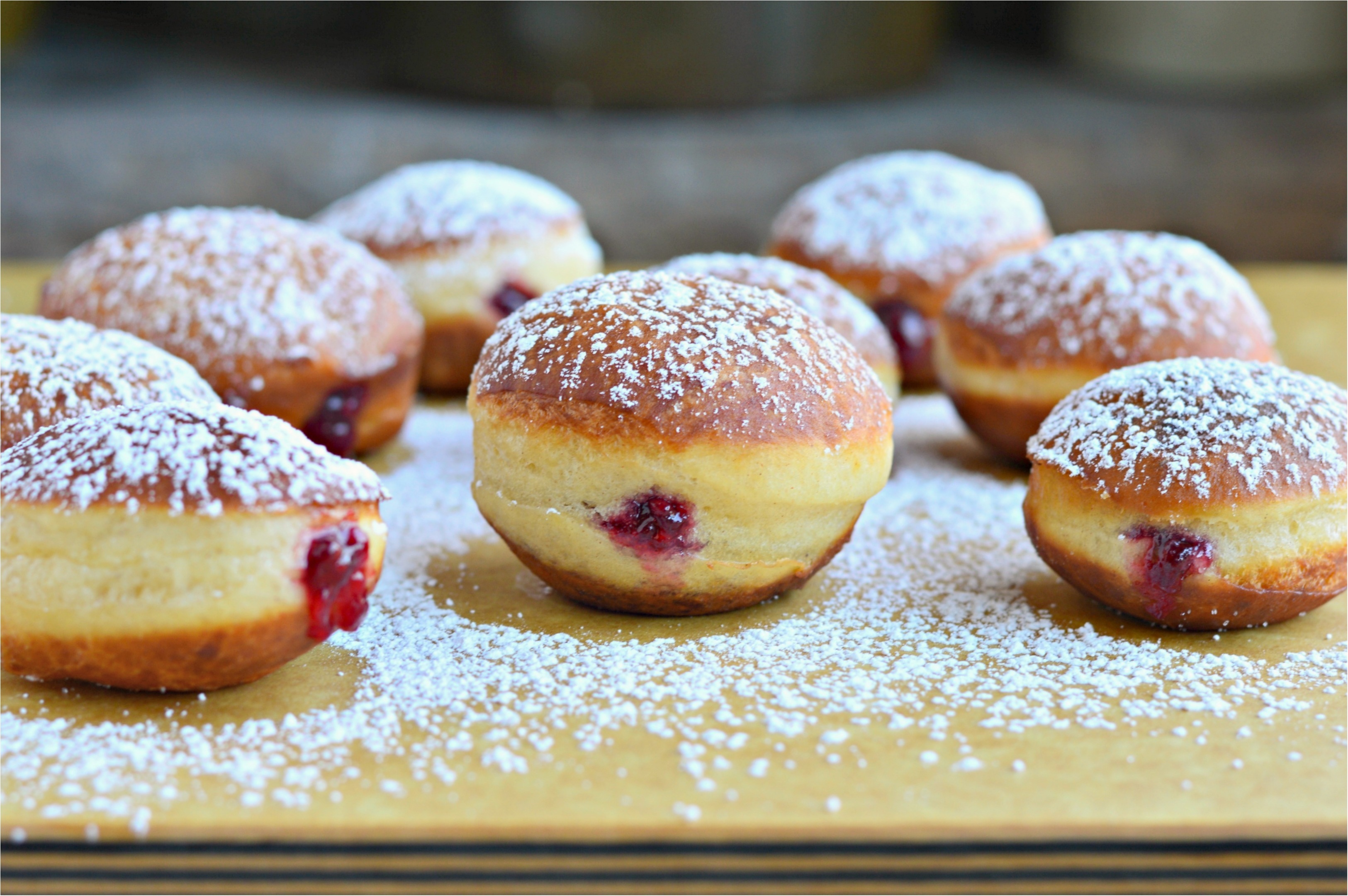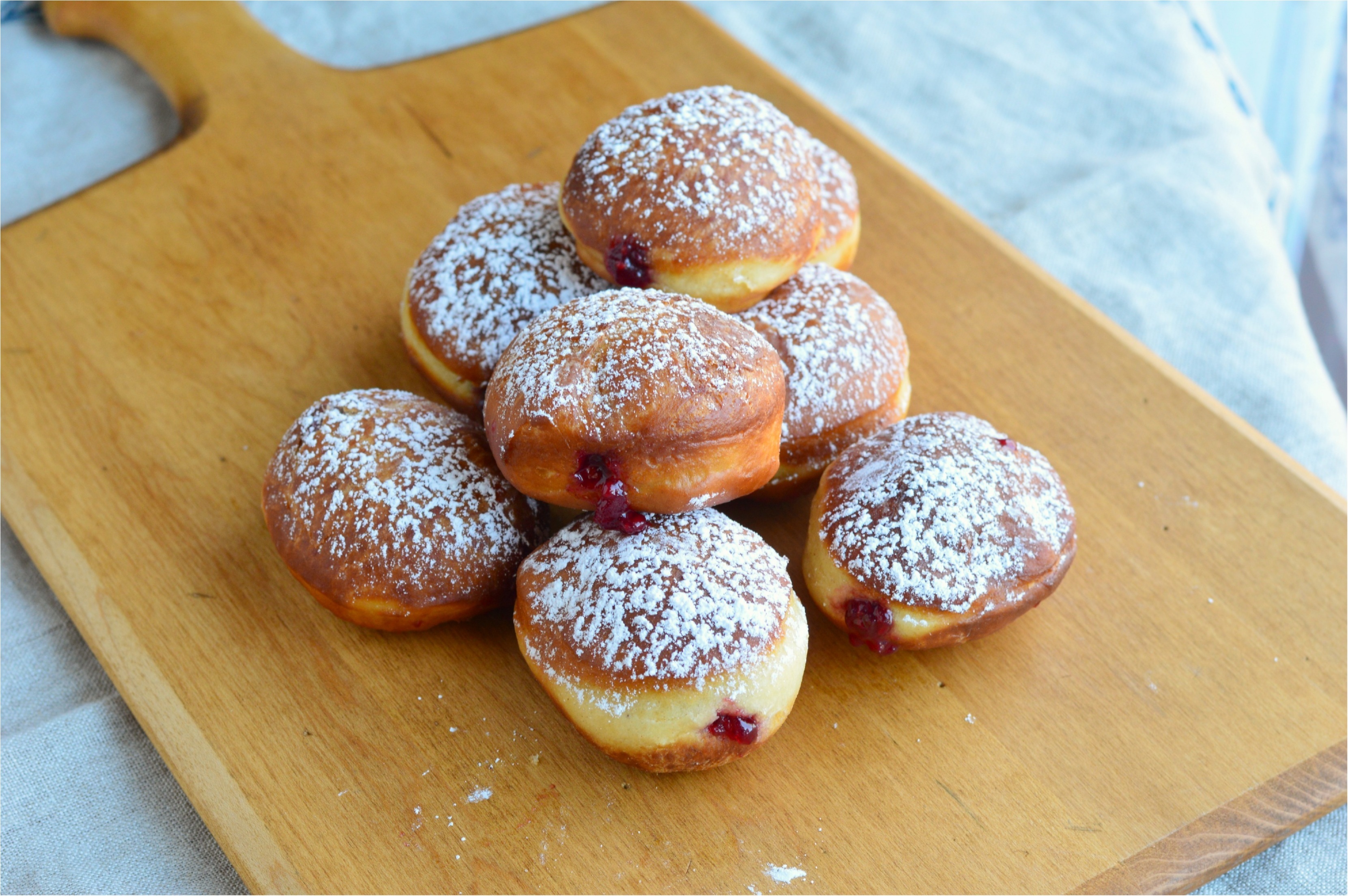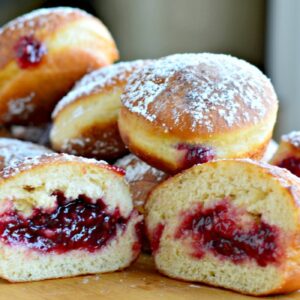 INGREDIENTS
2 ¼ tsp yeast
½ cup milk, warm
2 /12 cups AP flour
¼ cups sugar
Pinch salt
¼ tsp cinnamon
2 eggs at room temp
2 TB butter, softened
1 tsp vanilla extract
12 oz jam
INSTRUCTIONS
Mix yeast, warm milk and a pinch of sugar together in a small bowl and allow to rest until foamy, about ten minutes.
In a large mixing bowl, whisk together the flour, sugar, salt and spices.
Add yeast mixture and start to mix with a wooden spoon.
Add eggs one at a time.
Add butter in small pieces.
Continue to mix until the dough comes together. Turn out onto well-floured board and knead by hand until dough is smooth and elastic, for roughly five minutes.
Place bowl in oiled bowl and allow to rise in a warm place until doubled in size, one hour.
Punch down dough and turn out onto a well-floured board. Roll out until 1/4 thick. (Dough may spring back. Allow it to rest.)
Using a round cookie cutter 3 inches in diameter, cut out as many circles of dough as you can. Gather the scraps and roll out again. Cut out more circles. Should get 12 to 14.
Place circles on a baking sheet lined with parchment paper. Cover with a clean towel and allow to rise again for 30 minutes.
Meanwhile, follow package directions and heat oil to 365 in deep fat fryer. (This takes about 9-10 minutes so plan accordingly.)
Add doughnuts in batches of four.
Turn after 1 minute. Cook until both sides are golden brown, about 2 minutes total.
Drain on paper towels. Repeat with remaining doughnuts.
When doughnuts are cool, poke a hole in one end with a skewer and move the skewer around inside the doughnut to create space.
Fill a piping bag fitted with a small tip with your favorite jam. (Smooth jams work best.)
Pipe jam into hole in sufganiyot just until it starts to spill out. Repeat with remaining doughnuts.
Dust with powdered sugar and serve!