The Dos and Don'ts of Air Frying Vegetables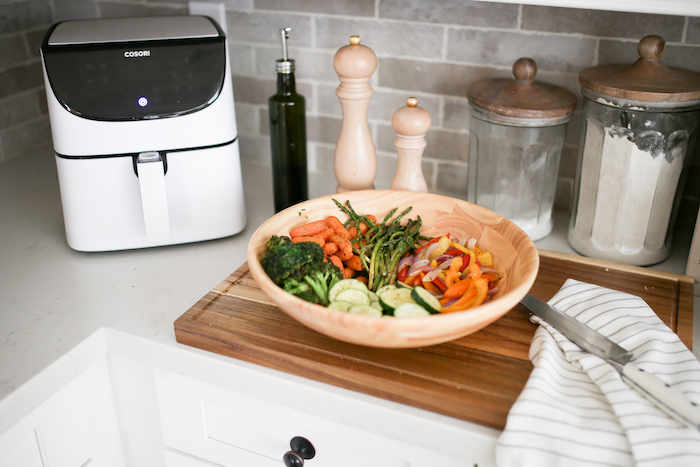 There are so many wonderful things you can do with an air fryer. Remember last year we featured these amazing Chicken and Waffles made with an air fryer? Or what about Air Fryer Pumpkin Spice Churros?!
I think just about any vegetable you put into the air fryer will work! It just depends on if you like your veggies a bit firmer (on the raw side) or tender (easier to eat). After a few tries you will get the hang of making vegetables in the air fryer.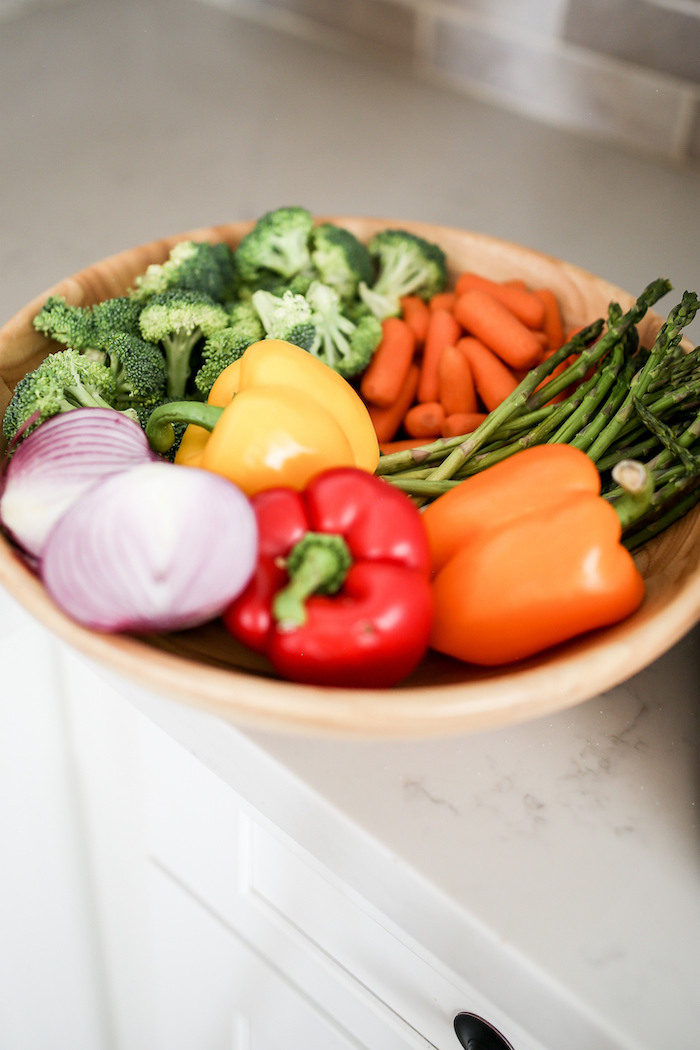 Kenosha Wood Cutting Board

By Kenmore

Shop Now
Today I'm chatting about vegetables in the air fryer and some simple best practices so you can get your vegetables just the way you want!
15-Piece Triple Rivet Cutlery Block Set

By Cuisinart

Shop Now
If you're in the market for a new air fryer, I'm trying out this beauty from Cosori. It has a gorgeous white finish that will fit in well with a white kitchen like the one I have, and it has some pretty amazing features that I think you'll love!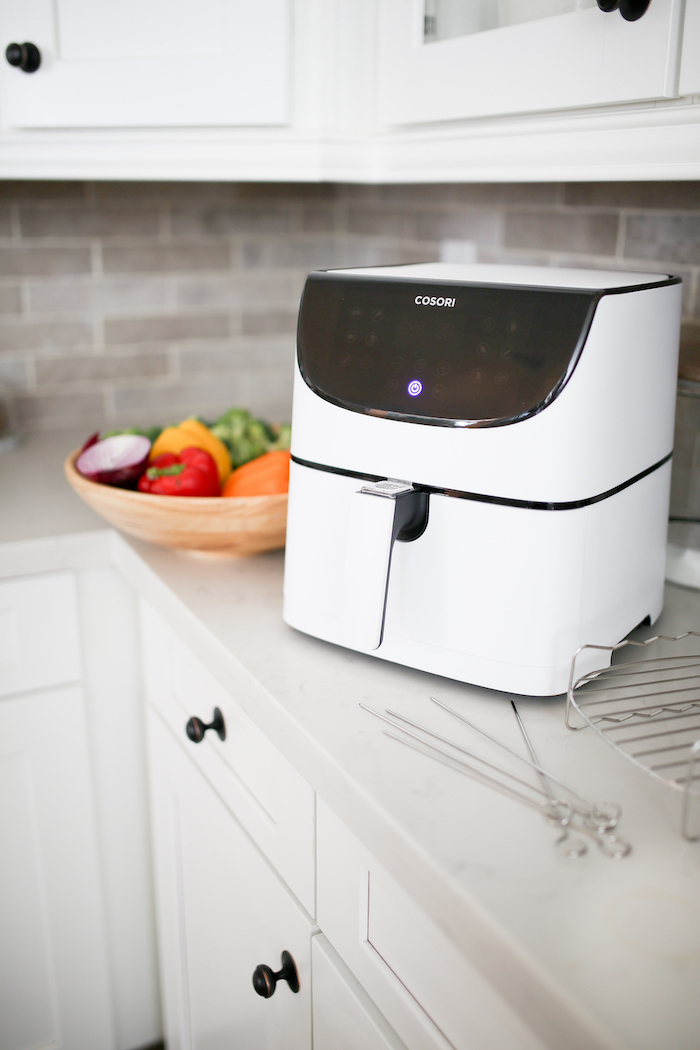 Premium 5.8-Quart Air Fryer

By Cosori

Shop Now
It has 11 different presets to make the art of air frying that much easier. You can do anything from steak to eggs to cobbler in this beauty! It also has a shake reminder that I thought was so clever. Basically, letting you know when to shake the contents for an even fry! Genius.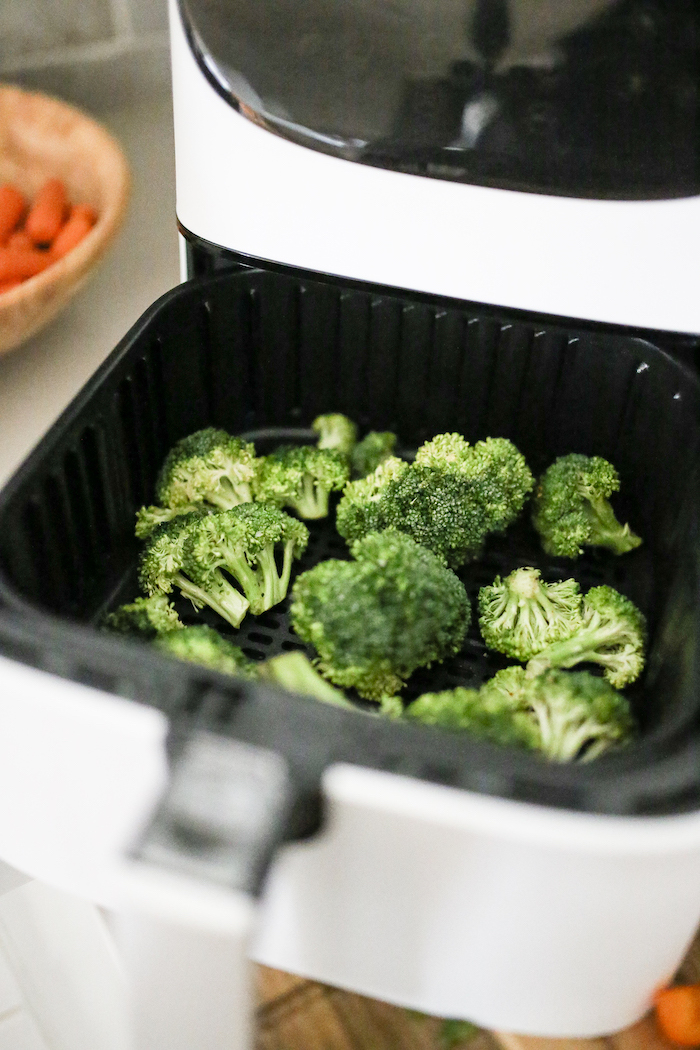 This air fryer also has a detachable basket that is dishwasher safe and nonstick! All winners in my kitchen.
Check out these easy Dos and Don'ts for air frying your vegetables:
DO wash your veggies and soak starches if needed, for better crisp.
DON'T cook your veggies at a high temperature. 350-375 is a great starting point for most veggies. If you are cooking frozen vegetables give them a little thawing time before they enter the air fryer and pat dry. If you are air frying potatoes or root veggies those can go up to 400 degrees for 10 minutes.
DO chop or slice vegetables to the appropriate size. I like mine to be in cubes and slices. If you are baking a potato in the air fryer, no need to cut, just a small slit will do.
DON'T overcrowd the air fryer with the veggies. You need room for the air to circulate around the veggies and "fry" it.
DO check on the veggies and flip them every few minutes are so. Don't go too far because they might get too crispy.
DO give your veggies a little drizzle of oil. This gives them a bit of a crisp!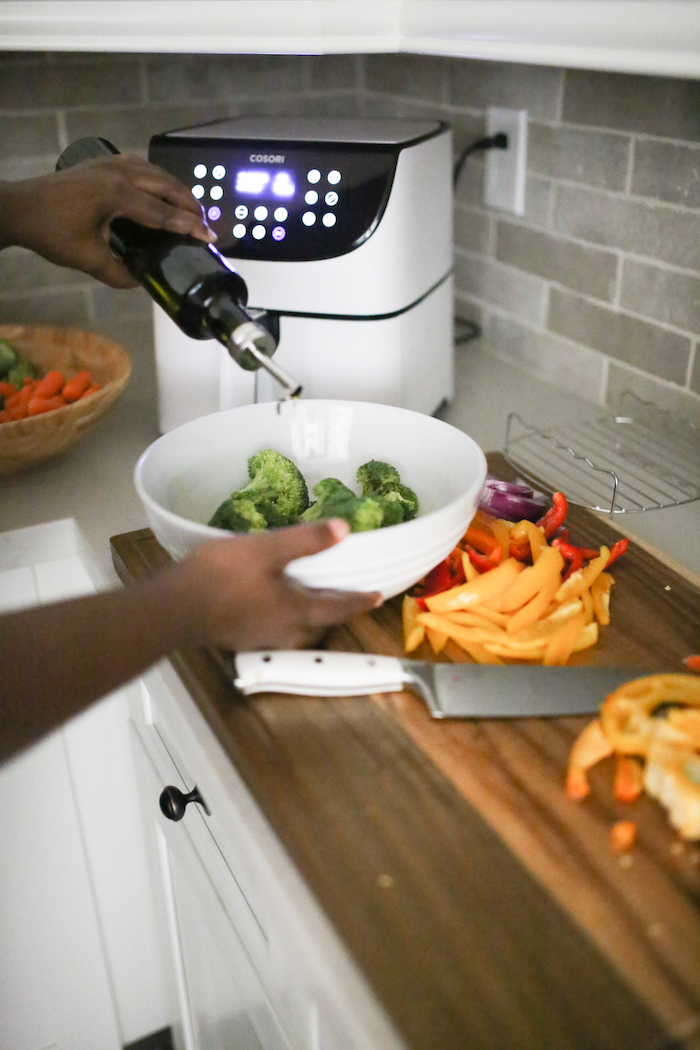 Ready to give your air fryer a go with some of your favorite vegetables? Let us know what you're making on Instagram!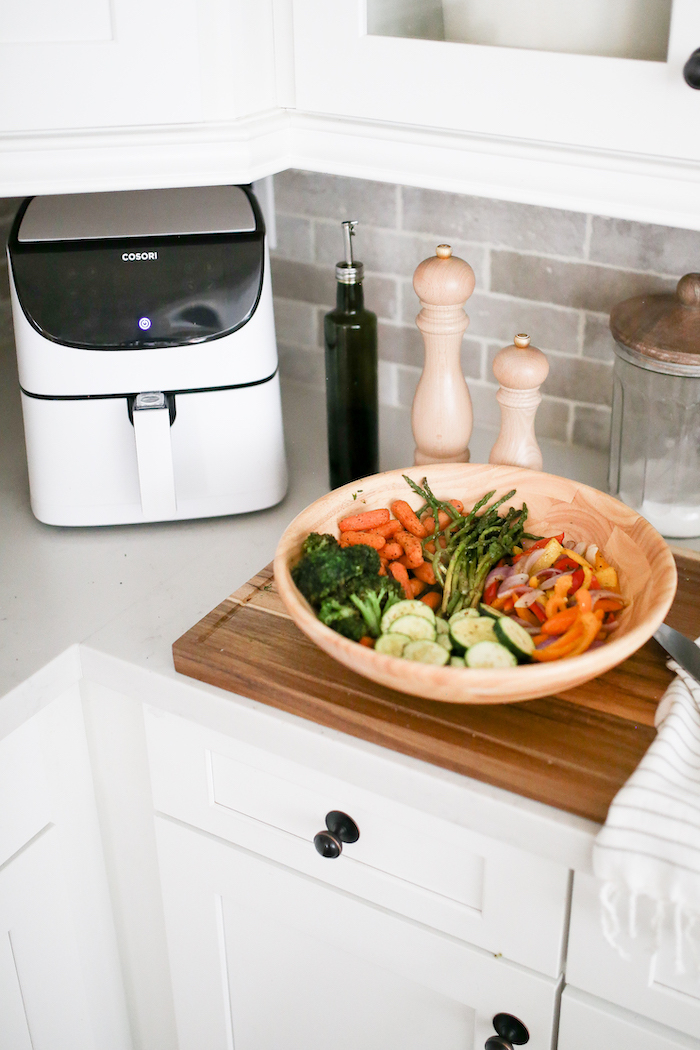 Pantryware Parawood Wood Bowl

By Rachael Ray

Shop Now
Air Fried Mixed Vegetables
Use these secrets to perfecting your veggies in the air fryer! You will find the perfect level of crisp!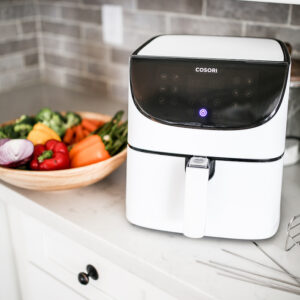 Ingredients
2

cups

asparagus

2

cups

carrots

2

cups

broccoli

1

cups

yellow pepper

1

cups

red pepper

1

cups

onion

1

tbsp

cooking oil

salt and pepper, to taste
Instructions
Preheat air fryer for about 5 minutes at 350 for most vegetables. 400 degrees for root vegetables.

Evenly chop veggies and toss with oil and salt and pepper.

Put the veggies into the air fryer. Give the vegetables some space.

Fry for 15-20 minutes and stir/ shake the vegetables about every 5-8 minutes.

Remove veggies from tray once the veggies have a nice crispy outside and are tender.
Nutrition
Serving:
4
g
Calories:
142
kcal
Carbohydrates:
26
g
Protein:
5.6
g
Fat:
4.4
g
Saturated Fat:
0.7
g
Sodium:
64
mg
Fiber:
9.7
g
Sugar:
6.1
g