9 Ways to Organize Your Linen Closet That'll Make You Feel Like Marie Kondo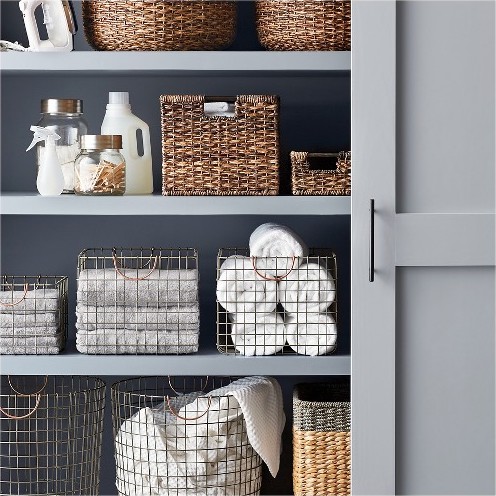 Steps to Organizing Your Linen Closet
Feeling those beautiful linen closet feels aren't as hard to experience as you might think. We've put together a step-by-step process for you to follow, a few tips on taming your fitted sheets (see below our How to Fold a Fitted Sheet Recipe originally published by the Queen Homemaker herself, Martha Stuart), and other style-meets-function organization hacks to make cleansing your closet and other parts of your home therapeutically easy. Here are the steps to take to maximize your closet space.
Step 1: Designate a staging area to lay out all closet items.
Step 2: Pull everything out of your linen closet and lay everything out on the staging area.
Step 3: Wash the inside of your closet and to take it one step further, consider applying a fresh coat of paint to the inside of your closet as well. A crisp new space is the way to inspire yourself to stay in tune with your organizing groove.
Step 4: Purge your non-essential linens (get rid of the linens that haven't been used or touched in years, but make sure you keep seasonal linen staples).
Step 5: Get a feel for how big your closet shelf space is (this is the step where you'll likely need to consider whether or not shelving height is worth it).
Step 6: Categorize your linens by type and size. Separate your Kings, queens, fulls and twins. Like matching your socks after a load of laundry, make as many sheet sets as you can.
Step 7: Fold the sheet sets and ensure they're tightly bundled up to conserve room in your bins (see next step). For larger, bulkier bedding or thick flannel sheets, try a vacuum sealed, airtight storage bag to shrink them down (this is a very cost effective way to save space).. Also try to recreate the tight little rectangle that you see when the sheets are newly packaged in-store to save space.
Step 8: Place strategically your classic rattan baskets, woven leather baskets, plastic containers, or wire metal storage baskets (basket or container material is solely a design preference), and start to fill your baskets with sheet sets, pillow cases.
For Smaller Linen Closets
Consider investing in adjustable shelving. They are easy to install and economical in the long run since they can accommodate new basket buys and different organizational needs down the road. If you're looking to keep your laundry bin height hidden, adjust the lowest shelf in the close to be directly at bin height.
Other Linen Closet Organization Tips
Turn Old Towels Into Cleaning Rags for the Garage, Basement or Backyard
Let it go.
Before you can start organizing, sort and retire old sheets, worn-out towels *you know you don't and never will use them). Select the durable towels that can be turned into wash clothes for other rooms of the house—you always need cleaning rags, so cut your worn linens into smaller pieces to put those retired linens to work. If you don't want to recycle all of your towels and they're in decent shape—call your nearest homeless shelter to donate them.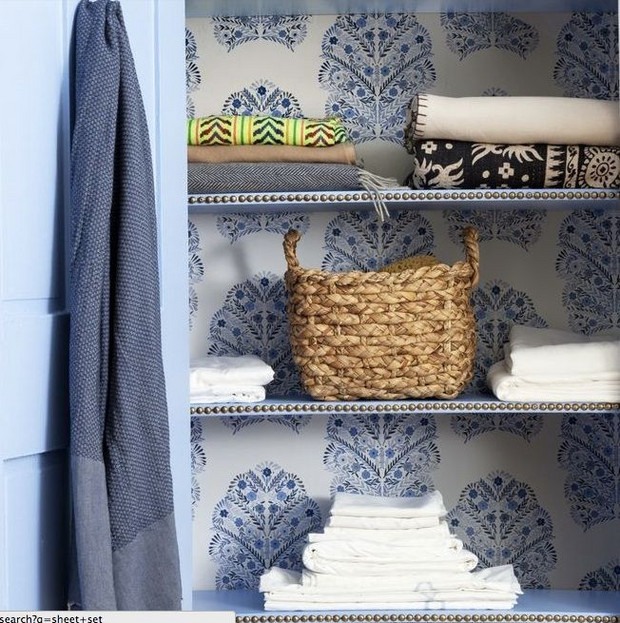 Bucketize by Room
Edit it. Group like items together by room by stacking sheets for your master suite in one pile, your kids' sheets in another and create a separate pile for guest room sheets. Do the same for bath towels and any other items you store in your linen closet. Limit yourself to 3 sets of sheets and towels per bedroom. Guest rooms should have 2 sets of sheets, towels, extra pillows and a blanket.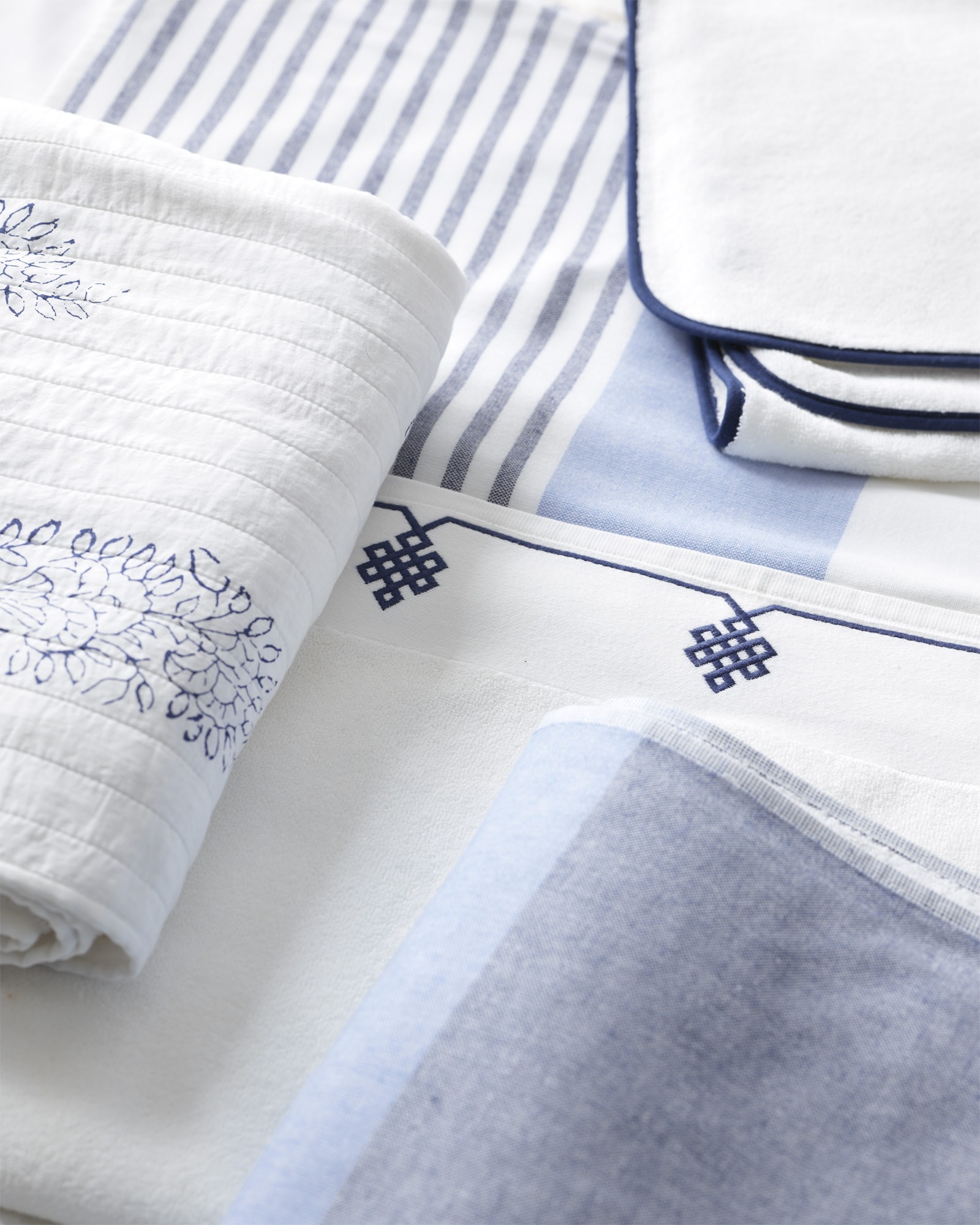 Blueprint What's Going to Go Where
Allocate space via shelf arrangement.
Before you start putting items back into the closet, create zones for sheets and towels by room, arranging shelves with most frequently used items in the front. It saves time and makes it easier to find what you need. Basically, make the closet space work for you and your family's lifestyle.
Protip – Invest in a week's worth of towels per person in the household, and tailor each towel to the individual (color coding can be your best friend here). You can make this a fun design play by searching for complimentary towel patterns and color families that are different enough to tell them apart but similar enough to make them look like they were intentionally and stylistically put together.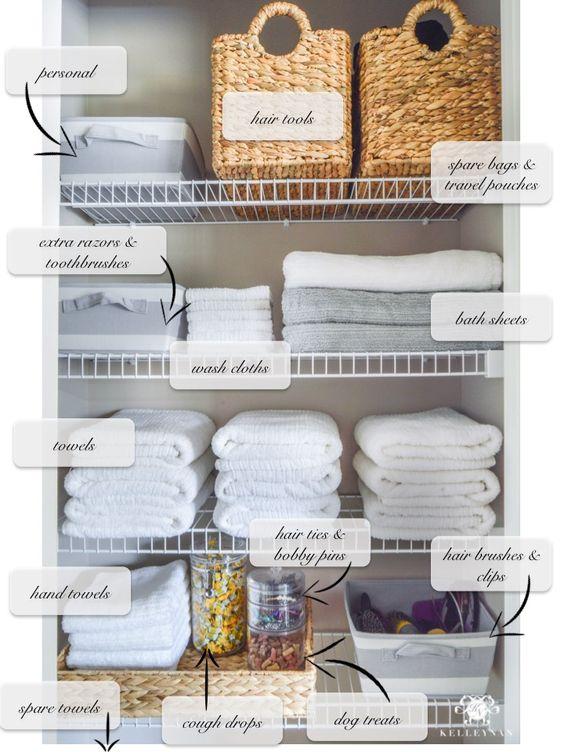 Practice Your Towel Folding Skills
Go with THE fold.I can't say enough about how important "THE fold" is when it comes to folding linens. Facing the fold in the front is the easiest way to streamline the look of your closet. All my towels are white, but try stacking your towels by color (light to dark) to keep a clean look. It's also perfectly okay to roll, stack and contain towels in bins if you're short on space.Plus, you're giving yourself the post-shower gift of a wrinkle-free towel. What's better than that?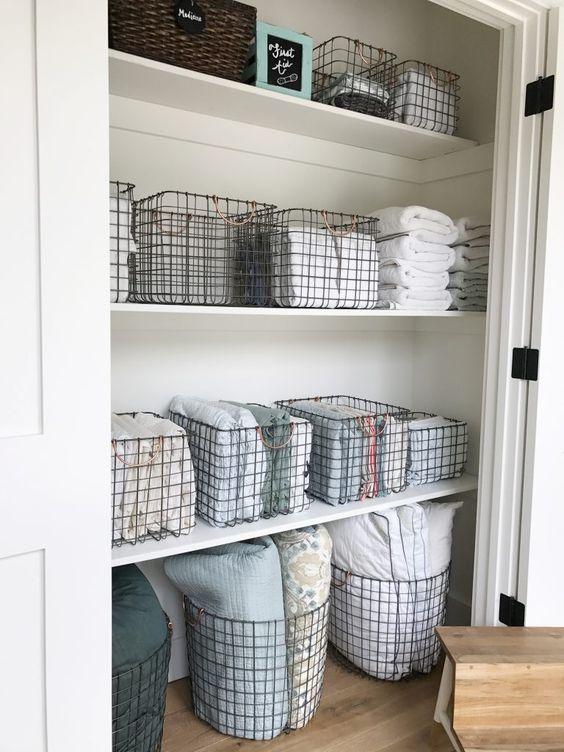 Pinpoint Your Path Forward with Pillowcases
Bag it. Bundle it. Or bury it.The best way to store sheets is inside the matching pillowcase. Fold sheets, stack them, and place them in your closet. This makes it easy to just grab the bag next time you change your linens. You can also stack and bundle them with ribbon to keep them from shifting or fold your pillow cases into the inside of your sheets to keep them properly nested.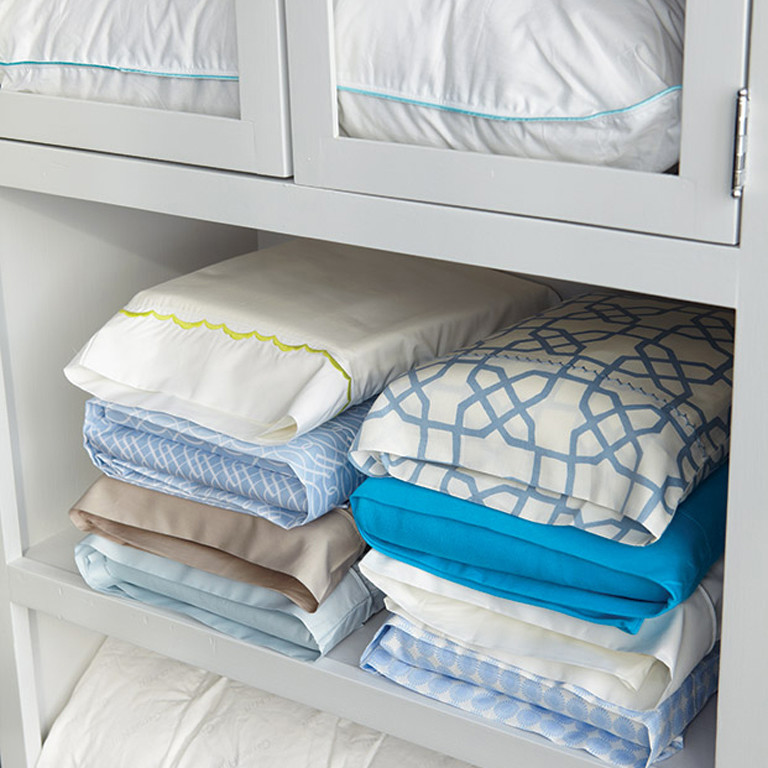 Invest in Closet Storage Baskets & Bins
Contain it.
Basically, fall in love with baskets and bins. I am a firm believer in containing everything. Use baskets, bins, and totes to store sheets, towels, tissue paper, extra laundry detergent, personal items and other linen closet items. There are so many baskets and bins to choose from online, so when you do, look for ones that are durable with a soft aesthetic.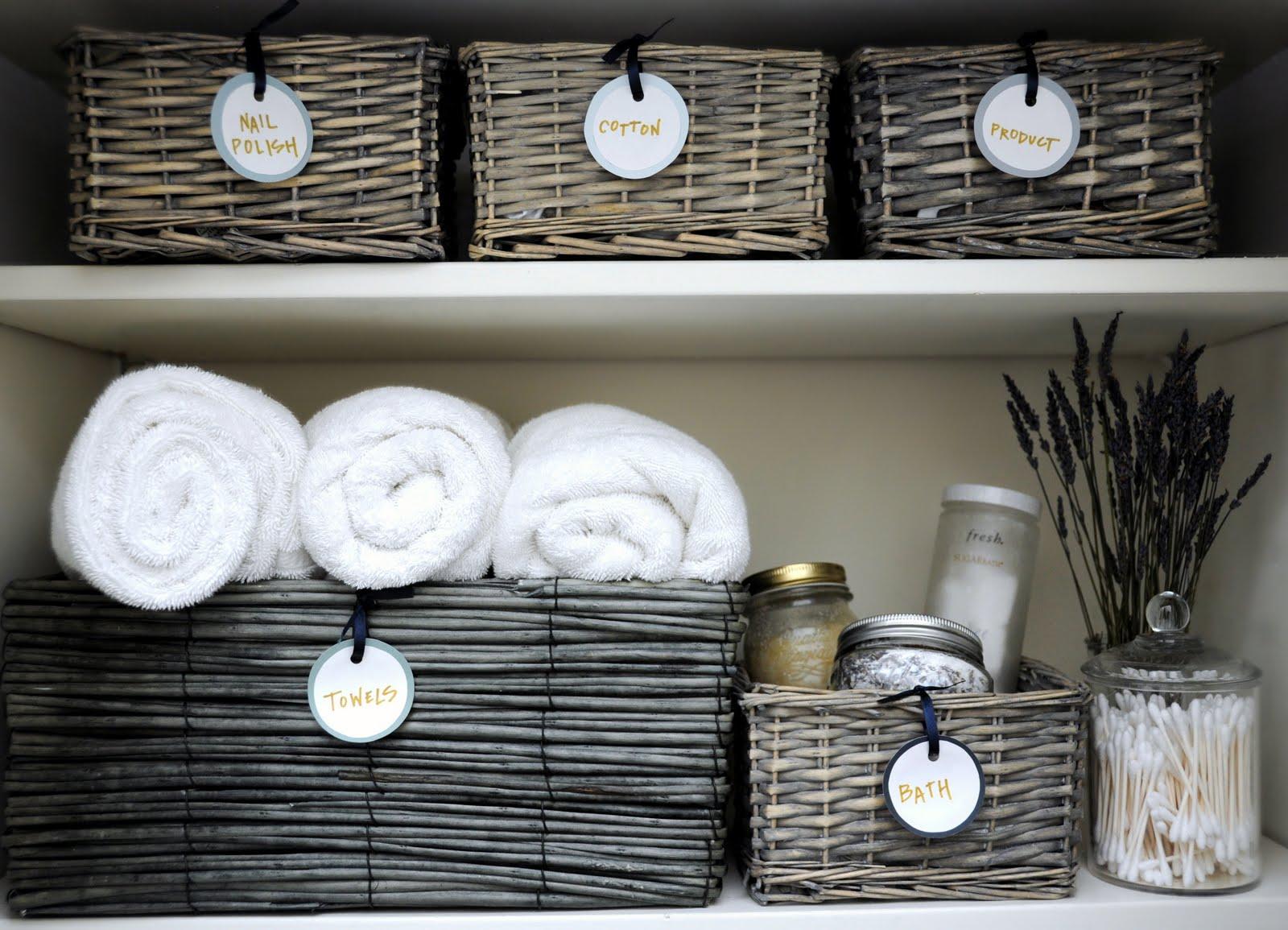 Buy a Label Maker
Label, label, label.Get your label makers ready. Labeling will make the way you run your home that much more efficient for the whole family. Labeling the contents of each basket and bin makes it easier to find what you need in a faster amount of time, but is also the answer to maintaining all of the neatness and reducing unnecessary mess. Try assigning labels to each basket by bedding size or linen type. So for example, you would create labels for the following items: "Queen," "Double," "Twin," "Towels," "Pillow Cases."
Keep your Linens Smelling Fresh
Add fragrance.Add dryer sheets to the back of your linen closet so that all linens are kept smelling like a fresh load of laundry at all times of the day. Or, invest in a little scented card to tuck behind the baskets for the same effect.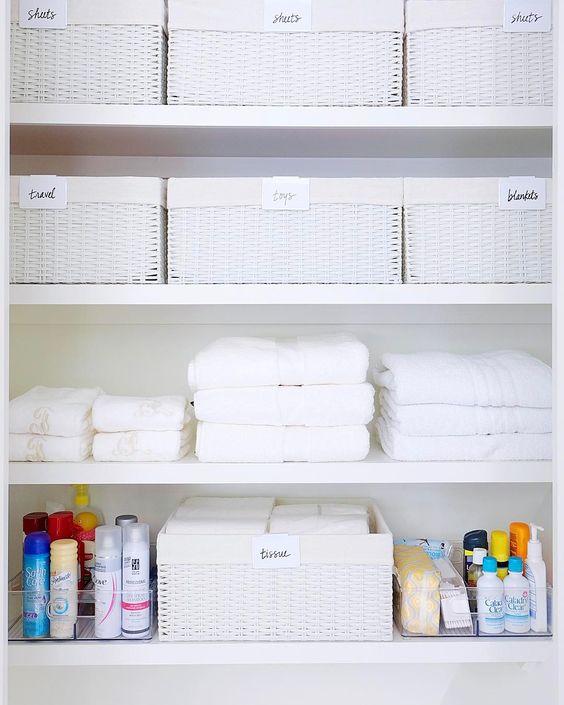 Be Consistent and Coordinated in your Design Choices.
Style it. Aim for fresh, light, and clean. That's what we think of when we think of linens right? Keep bins, baskets and storage items in sync by streamlining a color story with matching airy neutrals like whites, beiges, grays, and other organic natural colors (this is highly worth the investment as it will make you happy each time you open the closet door!) Try to use glass canisters and clear bins to store small items and designate baskets with labels for maintaining neatness and tucking away larger items. And, if you're feeling like a designer, add some fabulous wallpaper or stick on tile to spruce the space up.Protip – Get a wider basket to hold all unpackaged paper towels and toilet paper so that the entire house has access to it at all times. Organizing this way makes replenishment a breeze. It's in your best interest to make everything visible and easily accessible. Everyday items should be up front, while seasonal items — such as beach towels should be stored on the top or bottom shelves. Try not to line items tightly packed on shelves and always leave some space to allow linens to breathe.Remember, style is good, function is better. If you need to hang some towel racks on the inside of your door to make the space as practical and useful as possible.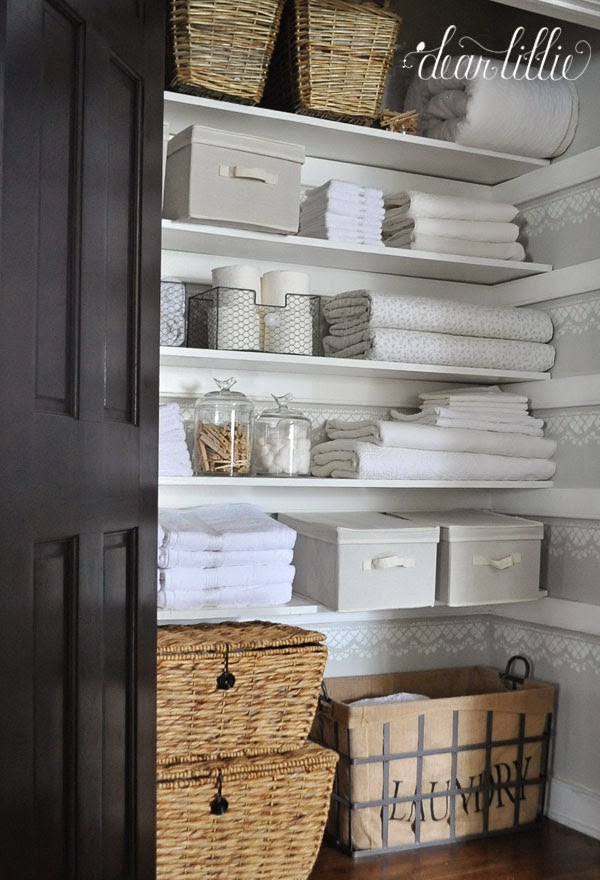 Recipe: How to Fold a Fitted Sheet (From Martha Stewart)
1. Stand holding the sheet by the two adjacent corners of one of the shorter edges. With the sheet inside out, place one hand in each of these two corners.
2. Bring your right hand to your left, and fold the corner in your right hand over the one in your left, enveloping it. Next, reach down and pick up the corner that is hanging in front; bring it up, and fold it over the two corners in your left hand; the corner that's showing will be inside out.
3. Bring the last corner up, and fold it over the others; with its right side showing, it should envelop the other three corners.
4. Lay the folded sheet on a flat surface and straighten it into the shape shown.
5. Fold the two edges in so all the elastic is hidden.
6. Fold the sheet into a rectangle.
7. Continue folding until the rectangle is the size you want it to be.