5 Steps to a Simple Summer Seafood Boil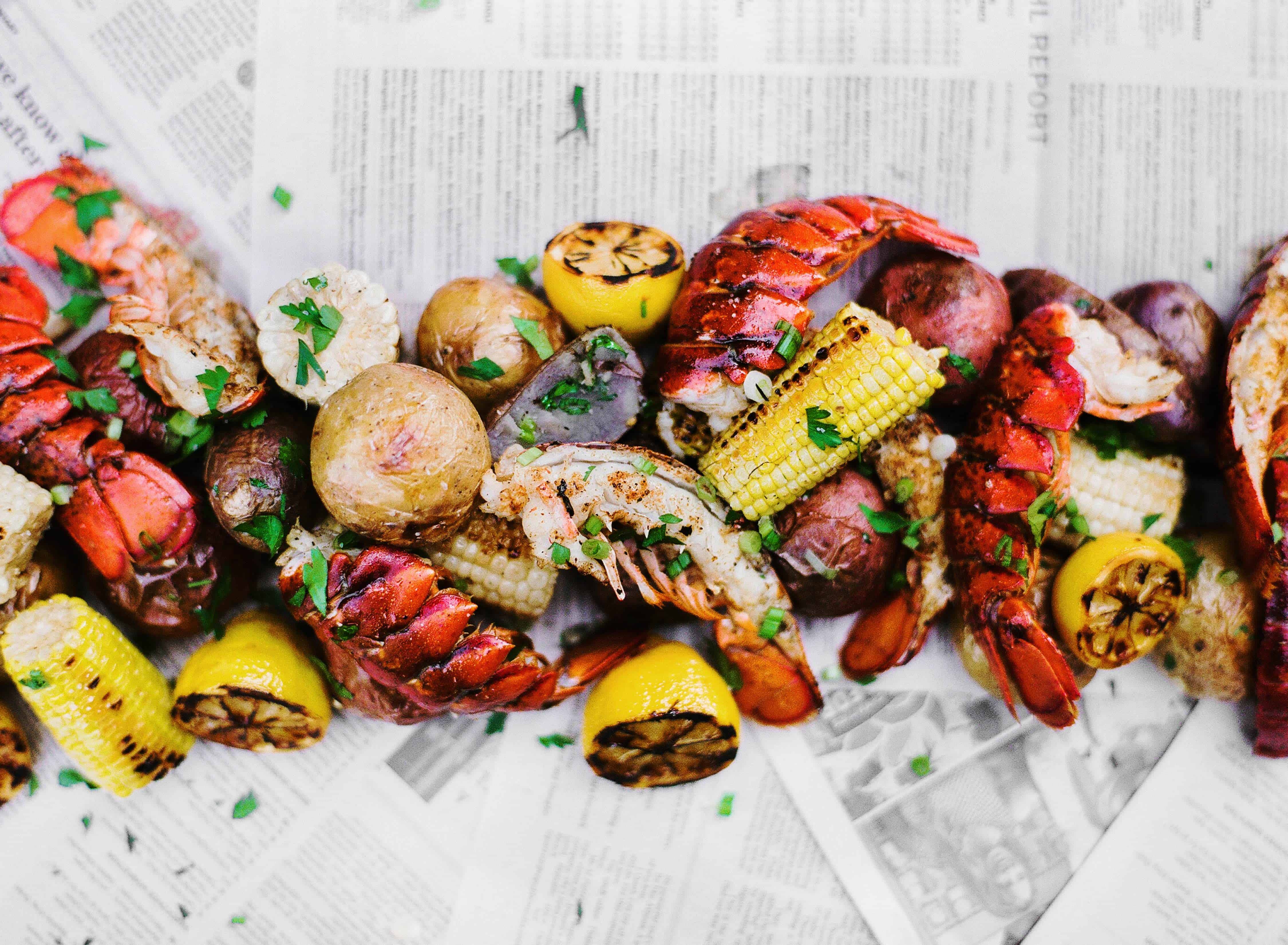 Looking for a fun way to launch into summer? Might I suggest a simple, fresh seafood boil. This classic-but-often-overlooked American pastime not only features delicious, universally appealing fare, it also manages to involve the outdoors, the grill and good wine. It's big fun, low stress and with a little extra prep work, practically hosts itself.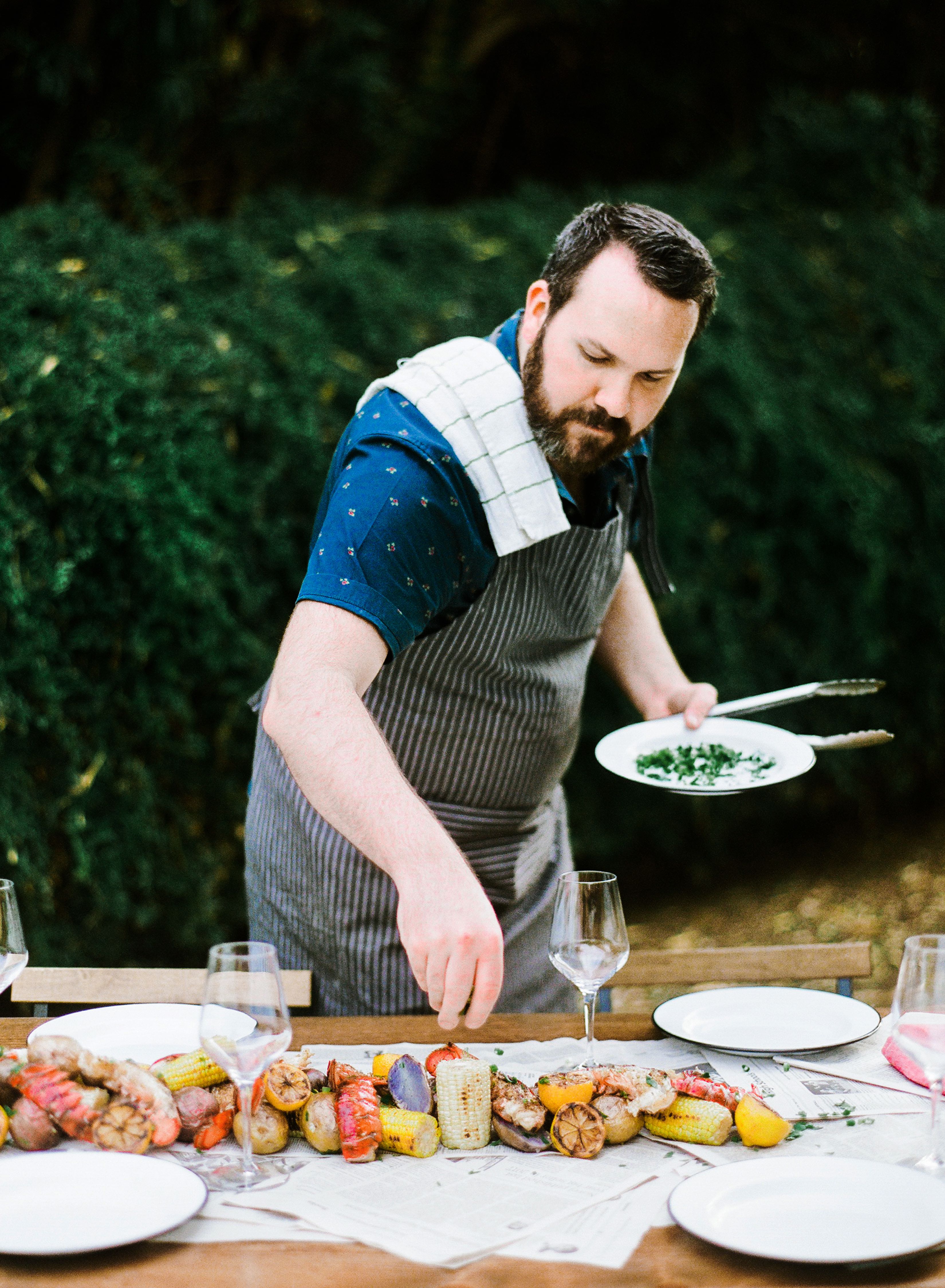 Still unsure? Not after you get a load of our five-step prep.
Step One: Pre-Party Prep
Gather up the plates, spices, trash bins, newspaper (to line table), and clear a prep spot in the backyard (preferably separate from your entertaining space). All the fun will take place on the big table to be sure, but it's nice to also have a side table for drinks and accoutrements.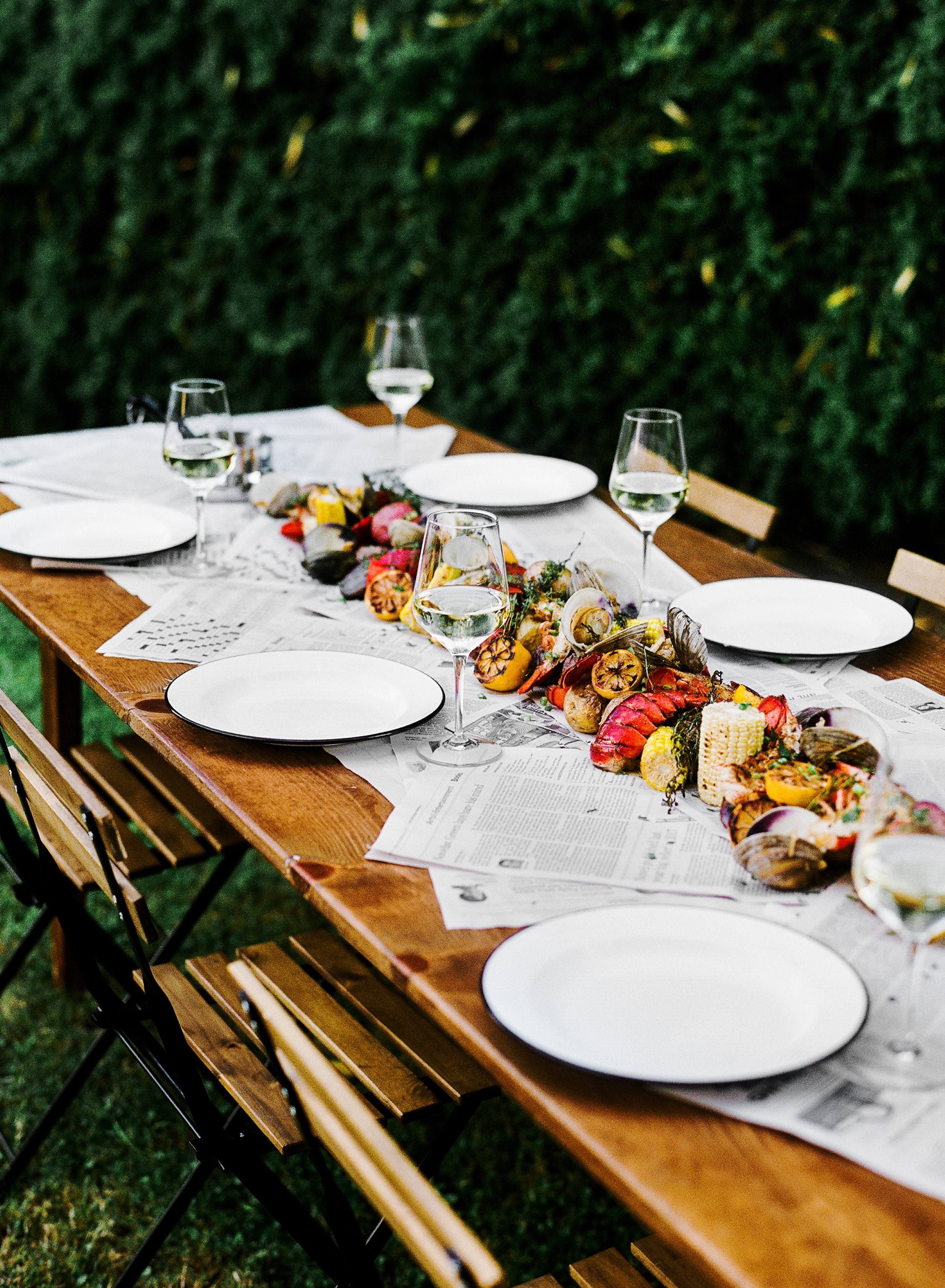 Step Two: Prep the Food
This is the fun part. Get your water up to a rolling boil and get ready for something delicious. For our TIH-tested and approved recipes, flip to the back of this story. You'll find more where those came from at TheInspiredHome.com/Journal. Every last dish featured here is easy to make — and even better to eat. Don't be surprised if they become your new summer staple.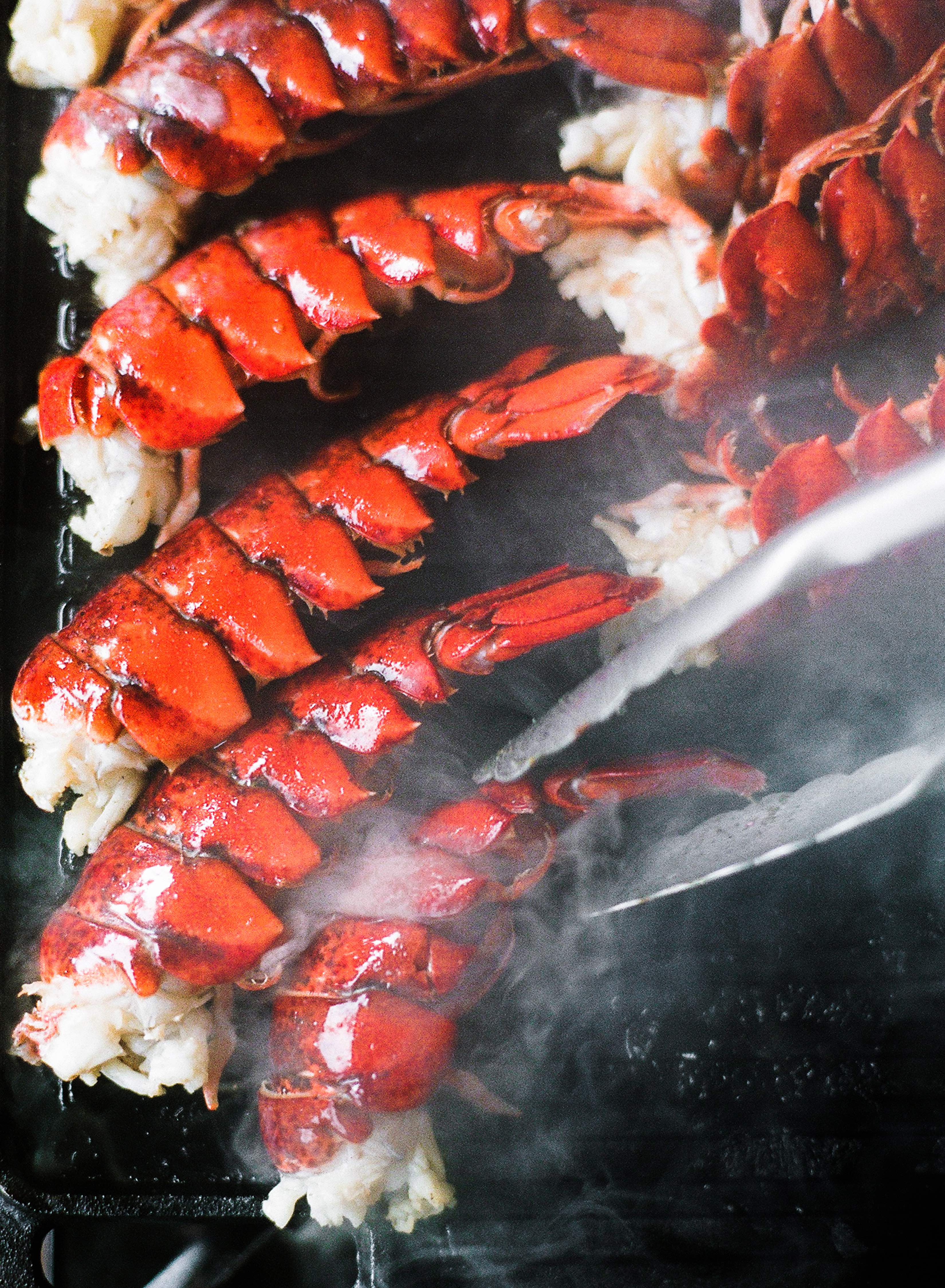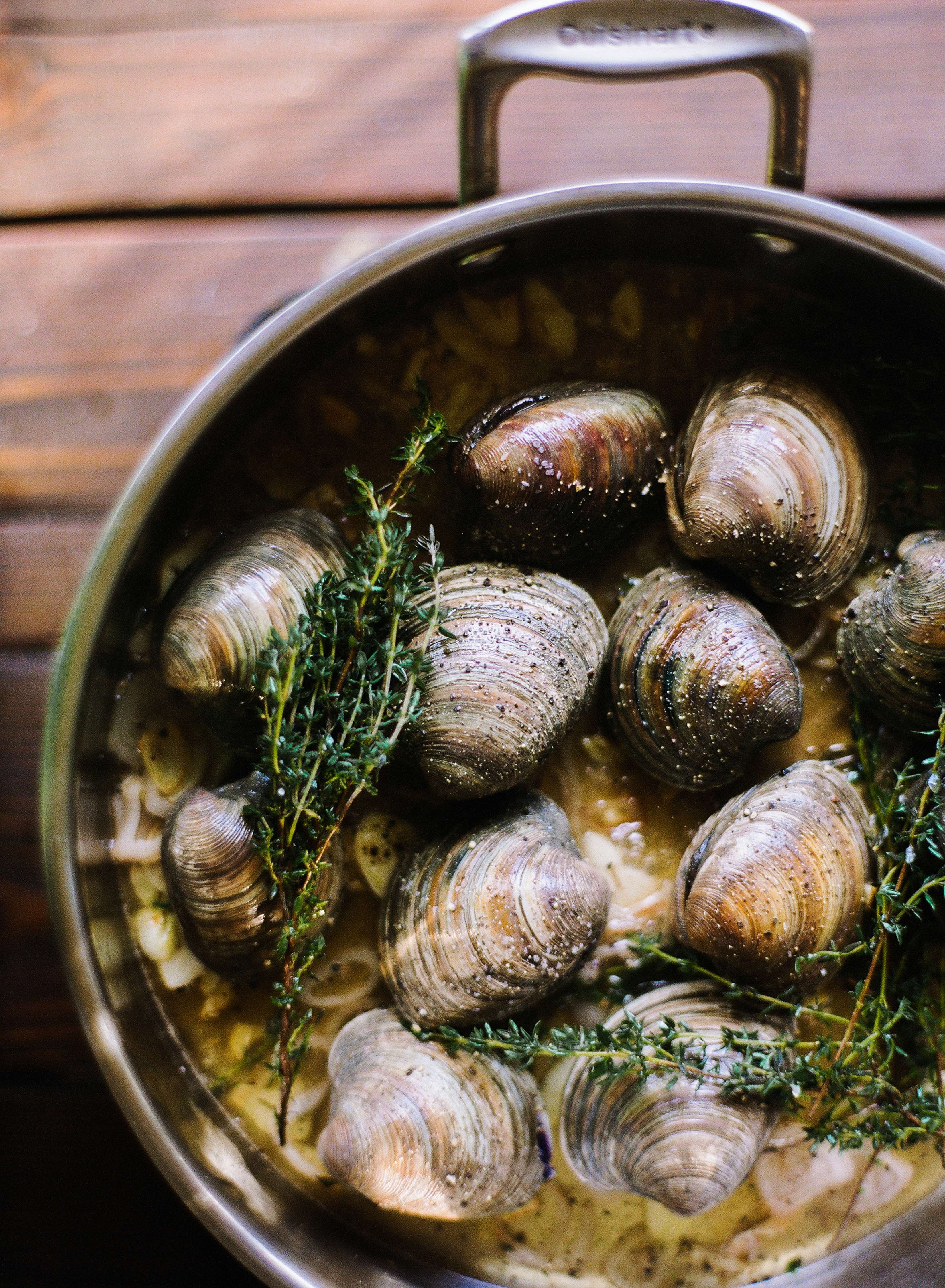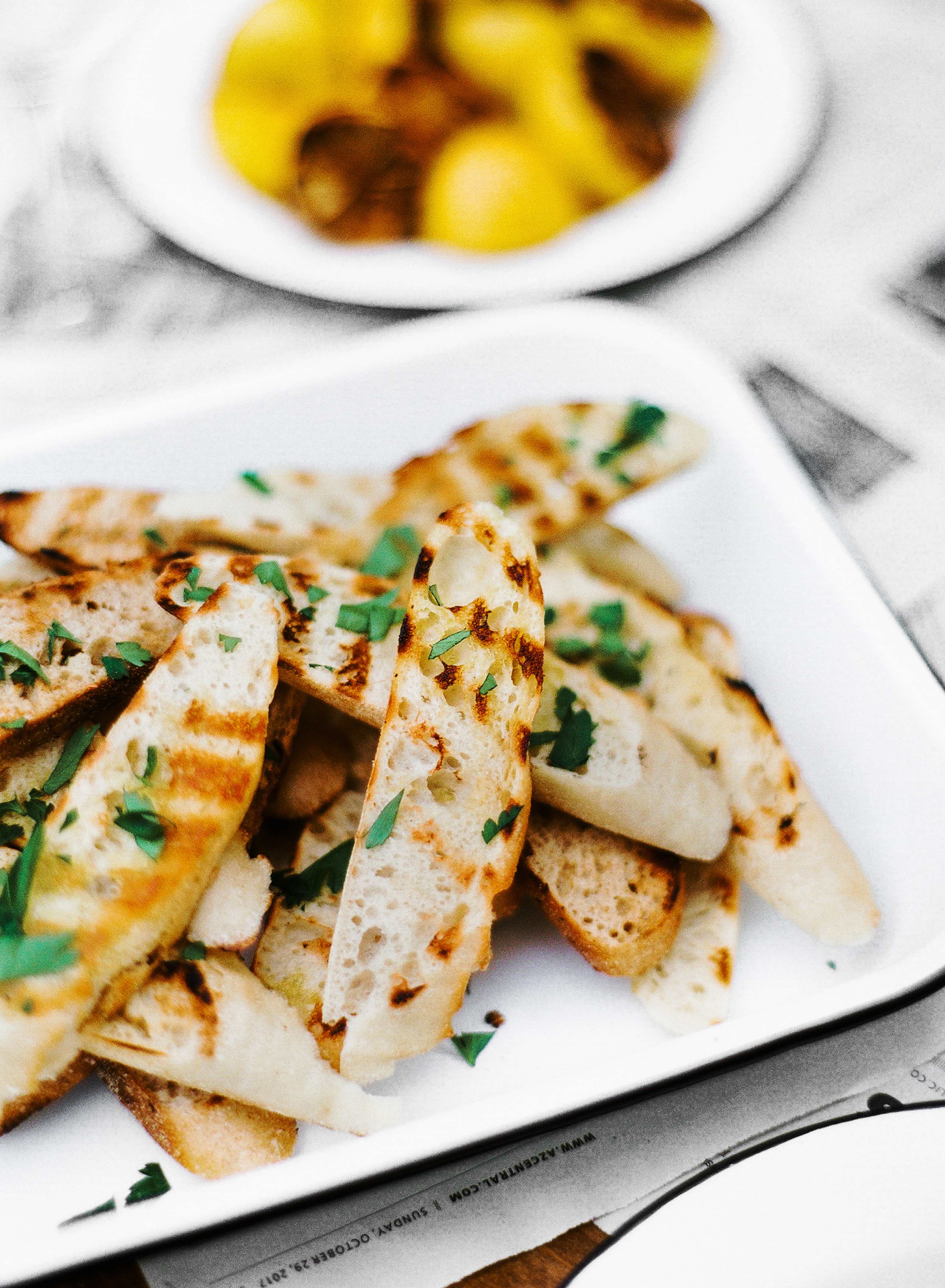 Step Three: Prep the Table
Line tables with newspaper — I lay down three or four layers, because you're not at a fish boil if you're not getting messy. Bring out big bowls for shells and cobs, and by all means set out straws. Buttered and oiled hands don't lend well to gripping beverages, so set the table with tall glasses spiked with straws. Straw-sipping wine is optional of course, but not as optional is the wine's variety: Dry, crisp whites or roses are made for fish like PB is made for J.
Line large bowls down the center of the table, and encourage your guests to discard their shells into them. This strategic setting serves a dual purpose: more room for eating and less time on clean-up duty. In a second lineup of small bowls, serve melted butter sprinkled with pepper and other spices. Hot sauce for dipping goes without saying.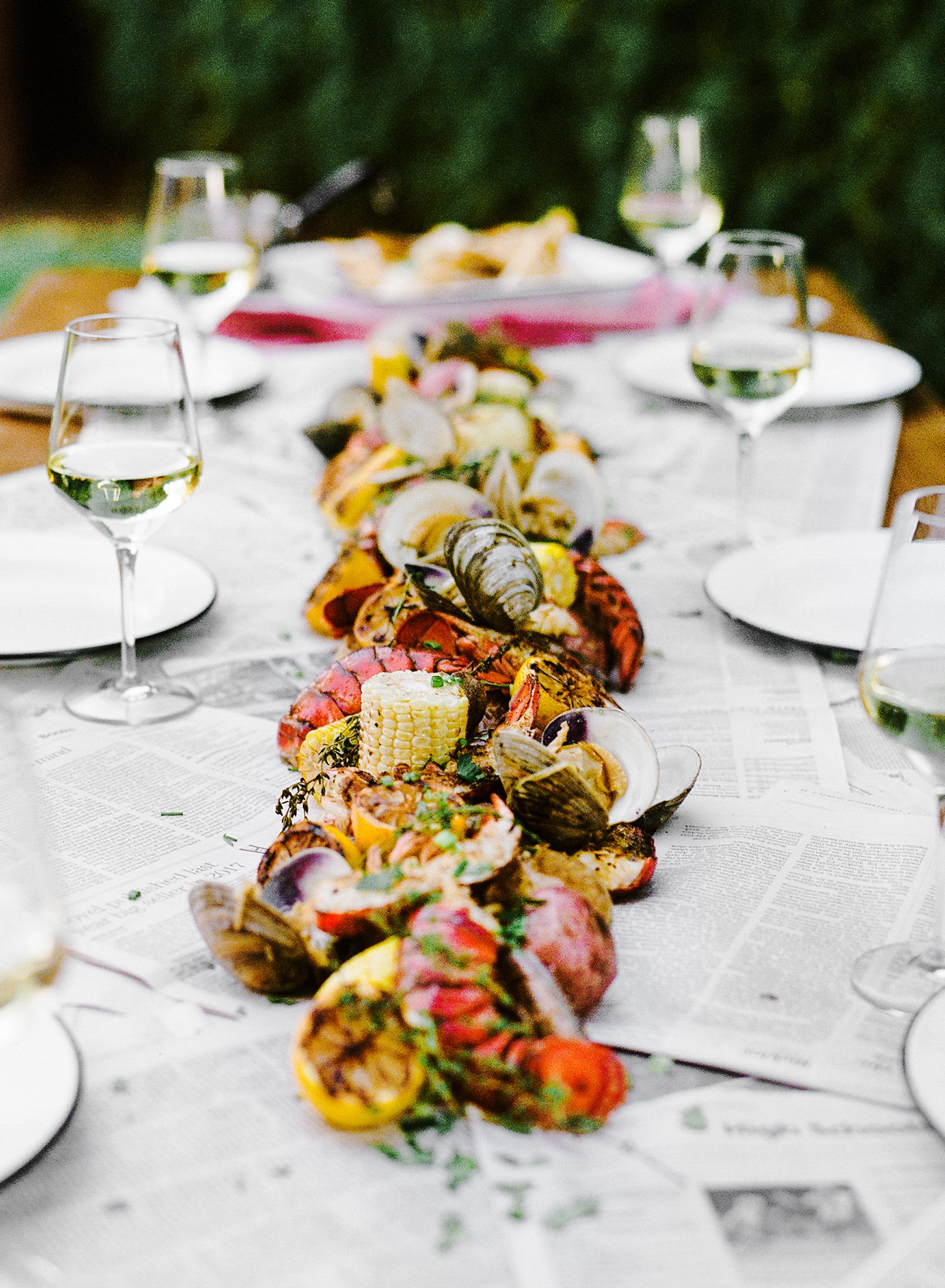 Step Four: Serve It Up!
One of the best parts of a seafood boil is getting to eat with your hands, so embrace the mess! Make sure every spot at the table has a bib (and have a few extra on-hand for the drop-by guest and extra-messy eaters). Place crackers and tools within easy reach.
Serve the boil right on top of the newspaper. I like to set out little dishes of toothpicks as well for picking up the bits of potato or sausage that are too hot to handle. In their fabulously utilitarian way, the toothpicks, bibs, straws and newspaper will send the subliminal signal that this party not only accepts mess — it demands it! Using mismatched tableware (for the condiment bowls, for example, or water glasses), is another great way to support the casual vibe.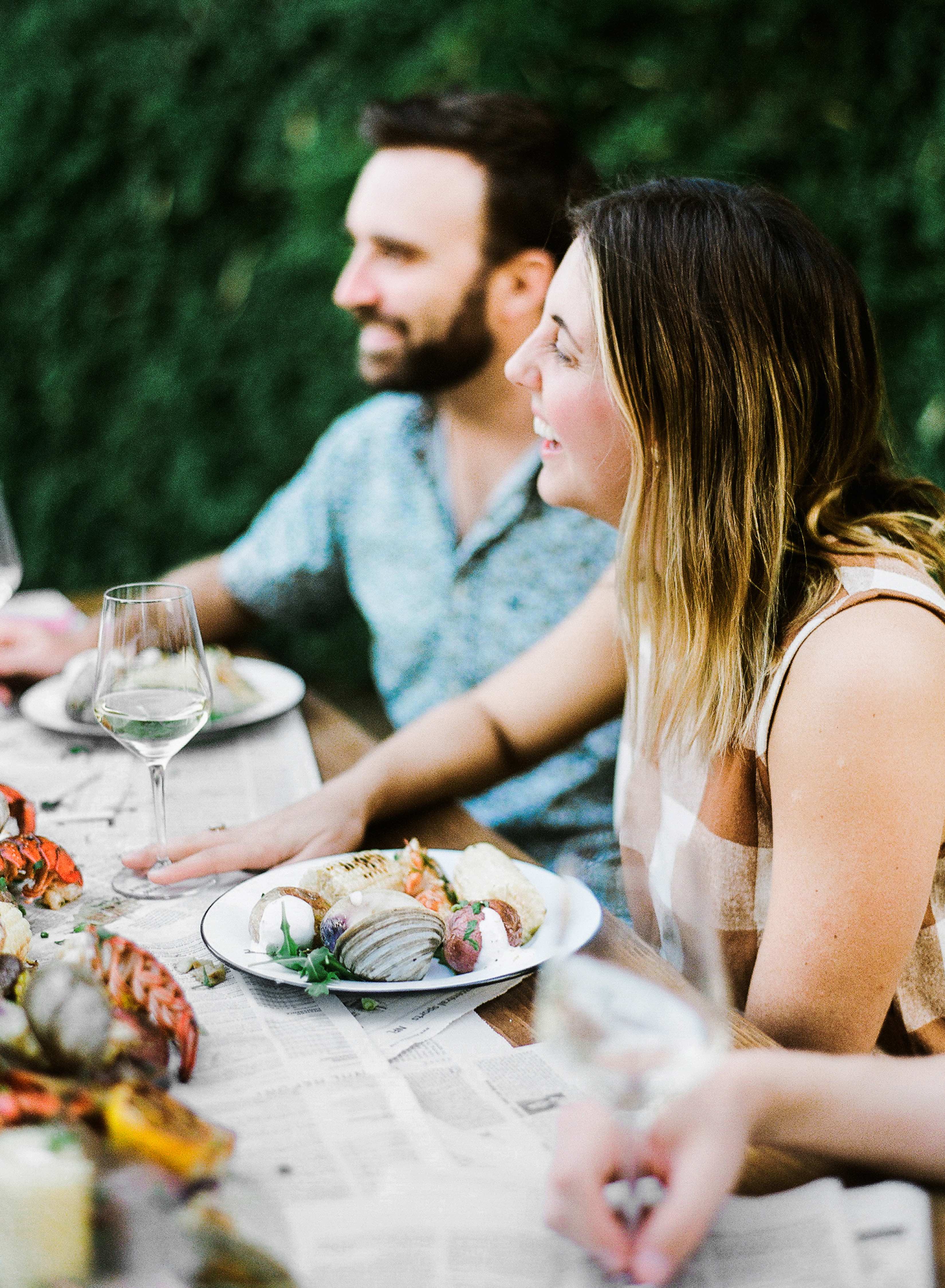 Step Five: Clean Up
Nearly as great as the food served at this party is its clean-up shift: Dump food scraps and paper products onto newspaper; wad up newspaper; toss. Done! The glassware can wait until tomorrow. For tonight, pour yourself another glass of wine, sit back, and enjoy the good company (and good mojo) you orchestrated with your simple summer seafood boil.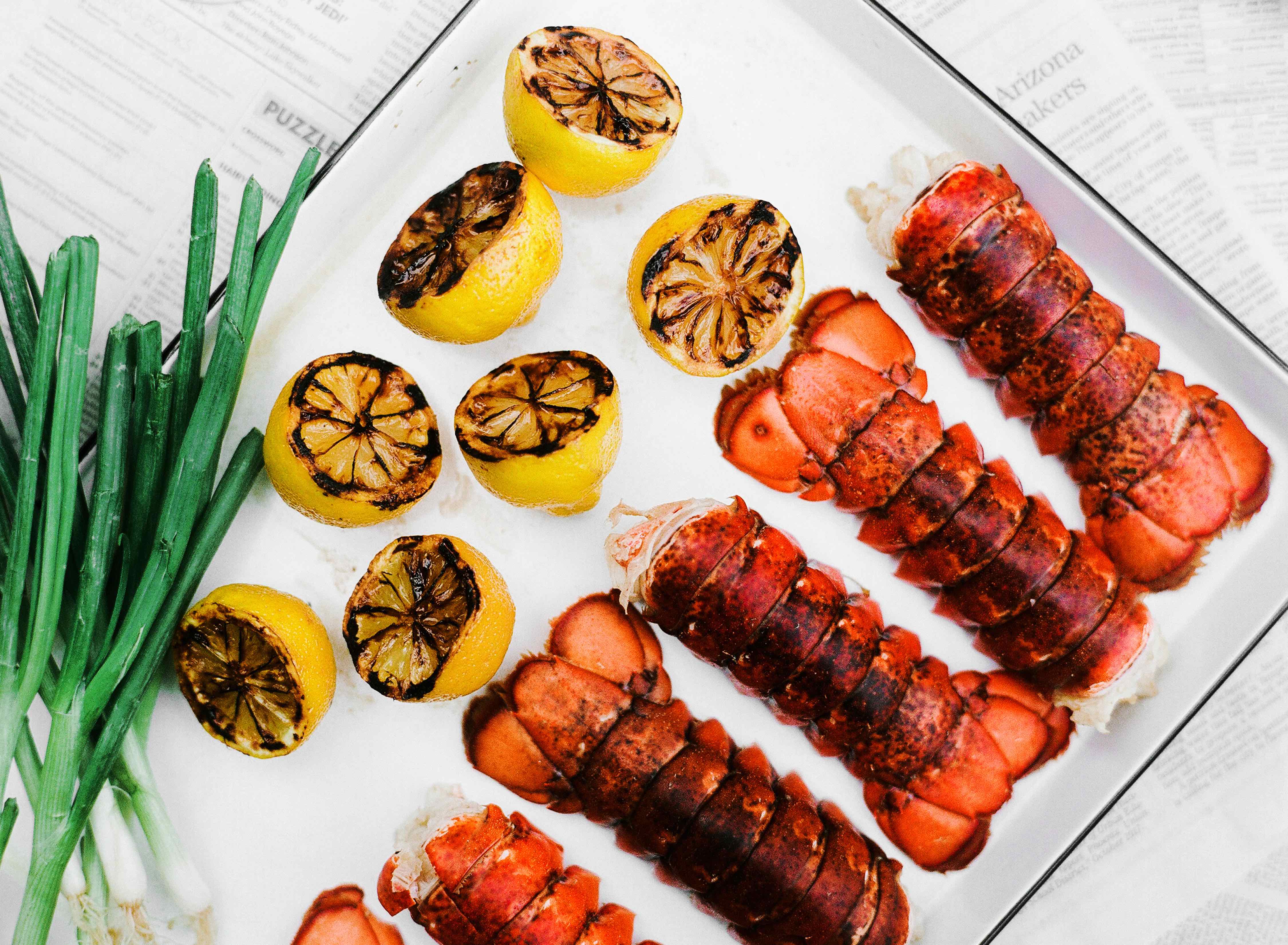 Enjoy this simple yet tasty recipe to grill lobster on a warm summer night!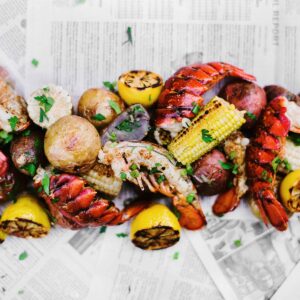 Ingredients
6

lobster tails, cut in half

4

cups

vegetable stock

4

cups

water

4

carrots, cut into large pieces

4

celery stalks, cut into large pieces

2

onions, quartered

2

sprigs fresh thyme

1

tbsp

salt

1

tsp

black peppercorns

1

bay leaf

olive oil

Old Bay seasoning

6

lemons, cut in half
Instructions
Into a large pot over medium-high heat, add vegetable stock, water, carrots, celery, onions, thyme, salt, peppercorns and bay leaf. Bring to a boil.

Into boiling stock, add half of lobster tails. Par-cook 2 minutes, until shell color is set.

Remove lobster from stock and set aside on a sheet tray. Repeat with remaining lobster tails.

In a grill or grill pan on medium-high heat, place lobster tails and generously sprinkle with old bay seasoning.

Brush grill with olive oil. Place lemon halves flesh-side down. Grill 5 minutes, until caramelized.

Brush grill once more with olive oil. Place lobster tails flesh-side down on grill. Cook 6 minutes, until meat is firm and cooked but still tender. Remove from heat and serve immediately.
Nutrition
Serving:
1
g
Calories:
263
kcal
Carbohydrates:
15.4
g
Protein:
42.6
g
Fat:
3.4
g
Saturated Fat:
0.7
g
Cholesterol:
310
mg
Sodium:
4836
mg
Fiber:
4.8
g
Sugar:
6.2
g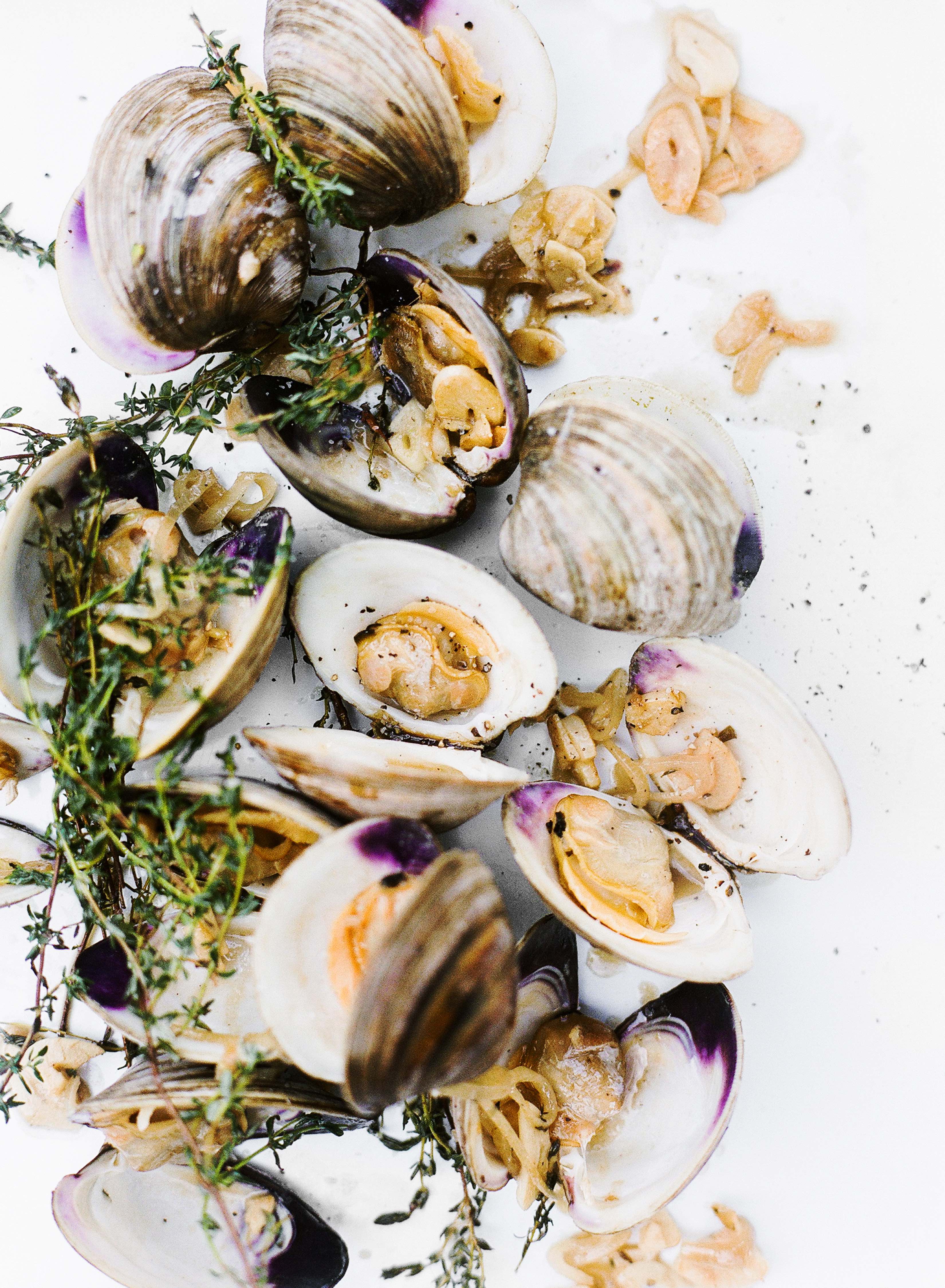 Enjoy this simple yet tasty recipe to steam clams!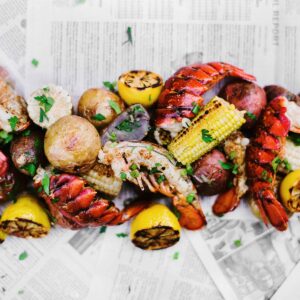 Ingredients
3

lb

fresh clams, washed

2

tbsp

olive oil

4

cloves garlic, sliced thin

4

sprigs fresh thyme

1

shallot, sliced thin

4

sprigs fresh thyme

4

tbsp

butter

Salt and pepper
Instructions
Into a large pan on medium heat, add olive oil, garlic and shallots. Cook 3 to 4 minutes, until translucent.

Add clams, thyme, vinegar and wine. Cook for 2 minutes. Add lid to pan and cook 10 minutes, until clams open. Discard any clams that do not open.

Lower heat. Add butter to pan, gently stirring. Season to taste with salt and pepper.

Serve in a large bowl. Top with chopped parsley, lemon wedge and grilled bread.
Nutrition
Serving:
1
g
Calories:
255
kcal
Carbohydrates:
27.3
g
Protein:
1.7
g
Fat:
12.9
g
Saturated Fat:
5.6
g
Cholesterol:
20
mg
Sodium:
878
mg
Fiber:
1.2
g
Sugar:
7.9
g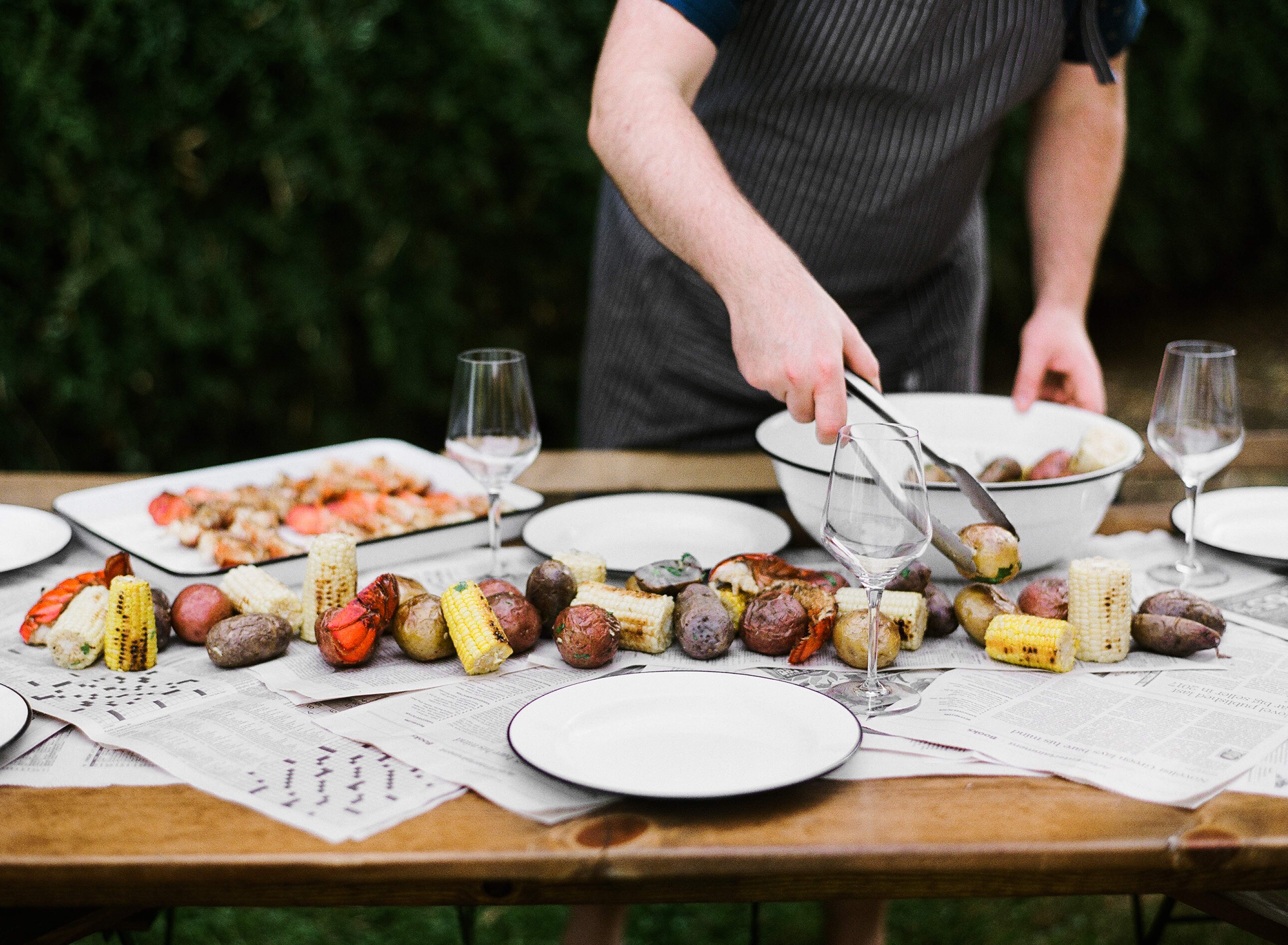 Grilled Corn & Baked Potatoes
Enjoy these tasty sides that go with tons and tons of meals!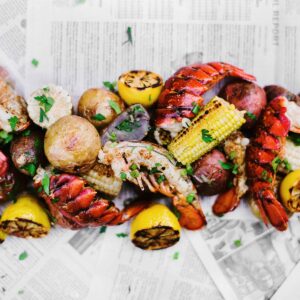 Ingredients
4

ears corn, in husks

6

red potatoes

6

golden potatoes

6

purple potatoes

2

tbsp

butter, melted

1

tsp

salt

.25

tsp

black pepper

.25

cups

parsley, chopped
Instructions
Preheat oven to 350 degrees. Onto a large baking sheet, sprinkle a light layer of salt.

Onto one side of baking sheet place ears of corn (still in husks). Place potatoes on the other half.

Bake for 25 minutes. Remove corn. Place potatoes back in oven and continue baking an additional 20 to 25 minutes, until skins are crispy and flesh feels soft.

Shuck corn and cut into thirds.

Into a large bowl add butter, salt and pepper. Add corn cobs and toss to coat.

Onto a grill or grill pan on medium-high heat, grill corn for 10 minutes, rotating occasionally to ensure equal browning/charring. (This can be done just before you grill lobster tails).

Remove potatoes from oven. In a large bowl, add corn, splash of olive oil and chopped parsley. Toss together.
Nutrition
Serving:
1
g
Calories:
512
kcal
Carbohydrates:
109.6
g
Protein:
15.6
g
Fat:
5.4
g
Saturated Fat:
2.7
g
Cholesterol:
10
mg
Sodium:
454
mg
Fiber:
11.6
g
Sugar:
8.5
g