30-Minute One Pot Portobello Mushroom Chicken Alfredo Pasta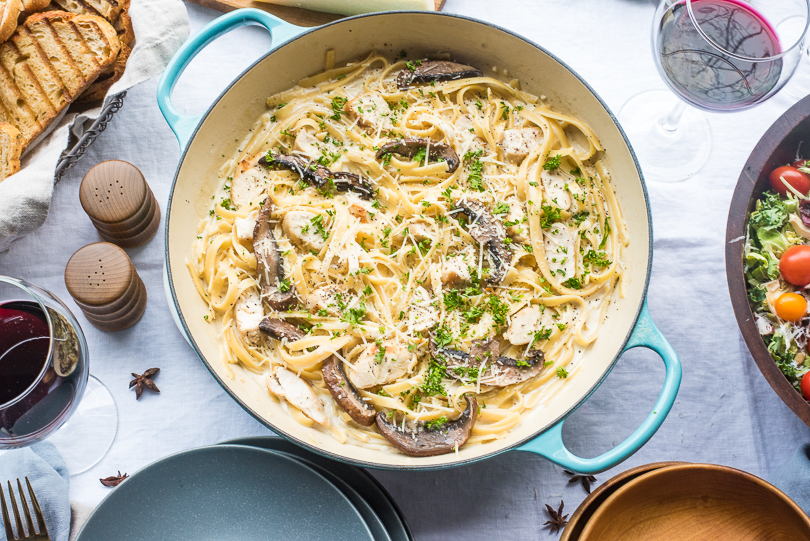 This creamy one pan Portobello Mushroom Chicken Alfredo Pasta is a winner every time we make it! 30 minutes and easy-to-find ingredients helps it earn a place in the dinner rotation.
Dustings of snow drifted across our yards this weekend and the cold in the air is biting as it rushes through the door. We've been cleaning and organizing like crazy people lately, getting ready for the long winter. Watching the clocks turn back is always a turning point in the year for me, solidifying that indeed we are headed into the dark wet season again.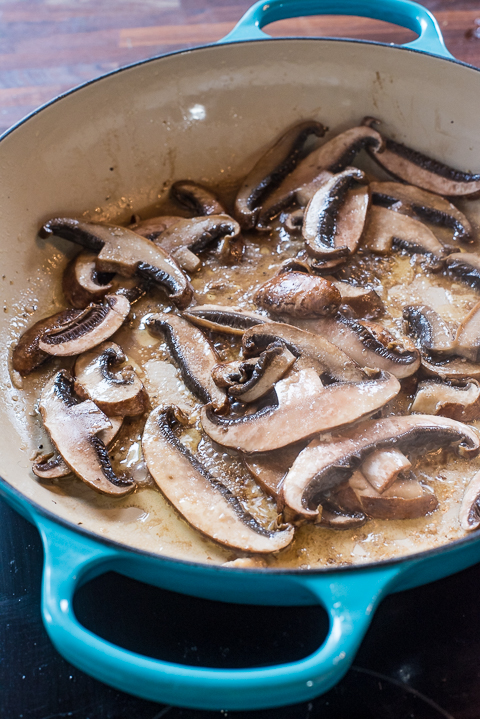 The smells of frying chicken and mushrooms cooking in butter in this dish is one of those calming, homey smells. Knowing that everyone will arrive home cold and a little wet, and oh-so-ready for good food.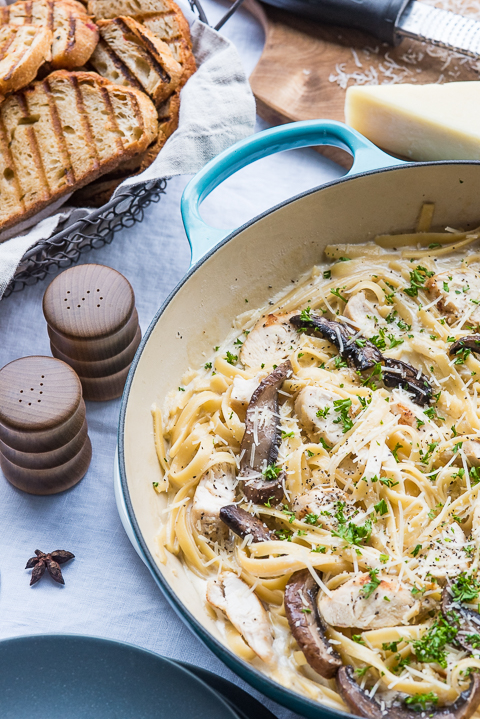 We've started instituting mandatory family dinner time again in the house and it feels so good. Summer was so insane with construction and running every which way, that food became almost an afterthought many days. Sandwiches and paper plates and too many really random dinners thrown together starts to wear on a person.
This 30-minute dinner was my two young boys favorite of this past week of dinners and the leftovers were few and first to be claimed on "leftover night" the following evening.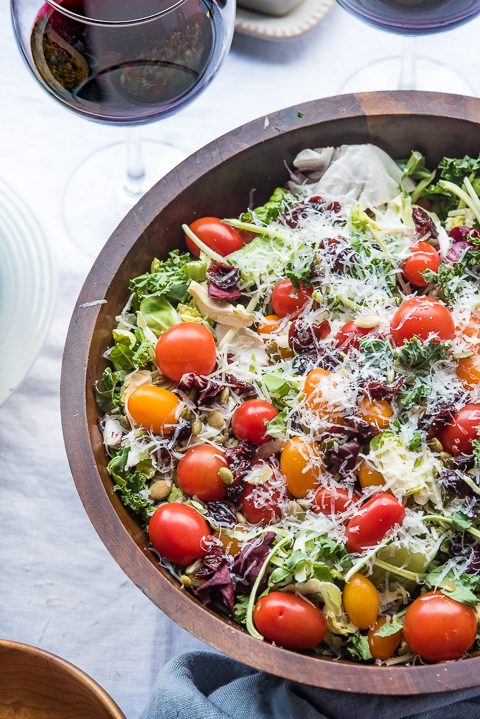 So grab someone you love, a few simple ingredients and make this pasta dinner tonight together. Toss a salad, toast some bread and pour the wine. It's time to reconnect and celebrate winter and the winding down of the year.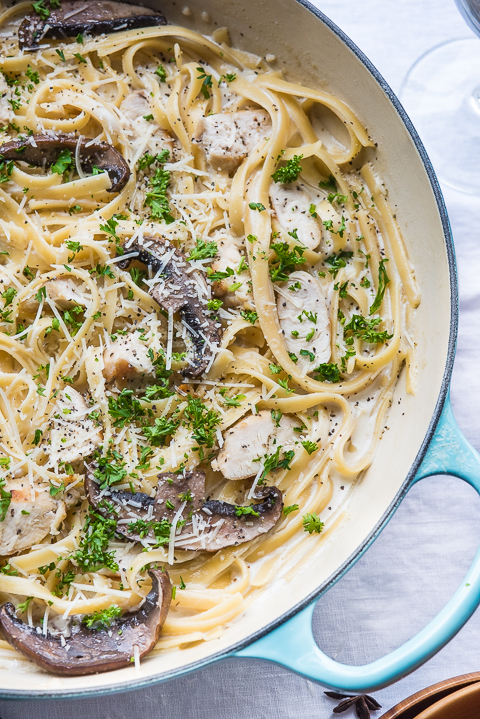 Portobello Mushroom Chicken Alfredo Pasta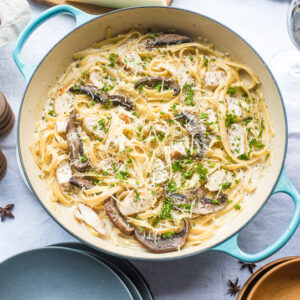 INGREDIENTS
6 ounces chicken
2 large Portobello mushrooms, sliced
2 tablespoons salted butter
10 oz. dry fettuccine noodles
2-3 cups chicken stock
2 cups milk
2 cloves minced garlic
1 cup heavy cream
½ cup freshly grated parmesan cheese
Black pepper & salt (to taste)
Garnish with:
Parsley & Basil
Parmesan Cheese
Serve with:
INSTRUCTIONS
Season chicken well.
Heat 1 tablespoon of butter in 12-15 inch large saucepan over medium heat. Season chicken with salt and pepper, and cook until juicer are clear and exterior is nicely browned. Once chicken has cooked through, set aside.
Add remaining tablespoon of butter and cook the Portobello mushrooms until softened. Set aside with chicken.
Add chicken stock, milk, and minced garlic. Bring just to a simmer over high heat.
Reduce heat to medium, add pasta directly to pan, do not crack in half.
Stir pasta with tongs every few minutes to prevent sticking. Replace lid after stirring each time. If at any point, your pasta is not mostly covered in liquid, add additional chicken stock and/or milk. Cook for about 10 minutes (pasta will not be fully cooked).
Add heavy cream, parmesan cheese, and plenty of fresh cracked pepper (to taste), and additional salt if desired.
Simmer until sauce is just thickened and pasta is cooked (sauce will continue to reduce as it stands, so pull a bit before you think you should).
Slice chicken and add chicken and mushrooms to the pan.
Serve with plenty of freshly grated parmesan, parsley, basil and more pepper if desired.
Note: In one pan pastas, liquid needs can vary drastically depending on the size of pan you have to use and your stove's exact heat temperature. A smaller pan will require less liquid as it boils and evaporates slower. Your pasta should always be mostly (if not fully) covered in sauce or it will not cook through. Adjust as needed and thin sauce with additional stock or milk if needed to keep pasta submerged.
Looking for more recipes with Portobello mushrooms? Check out 31 Delicious Portobello Mushroom Recipes for Dinner.