Mediterranean Greek Power Bowls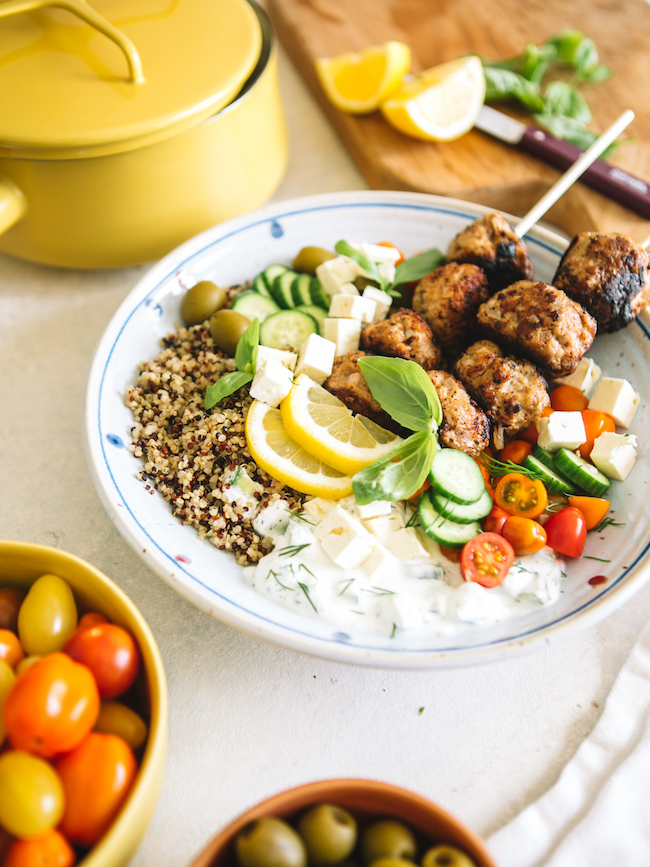 These Mediterranean Greek Power Bowls are super healthy and flavorful; it's an energizing meal to enjoy any night of the week! This Greek power bowl recipe is packed with tons of protein with Greek turkey or chicken meatballs, quinoa, and a Mediterranean Greek yogurt sauce that's to die for!
I don't know about you, but I feel like when you combine tons of healthy ingredients into a giant bowl and slather a homemade Tzatziki sauce on top of all your efforts, it makes it so much more satisfying.
Lately, with the warmer months and longer days, I find myself looking for quick and easy protein-packed meals that make me feel good and energized.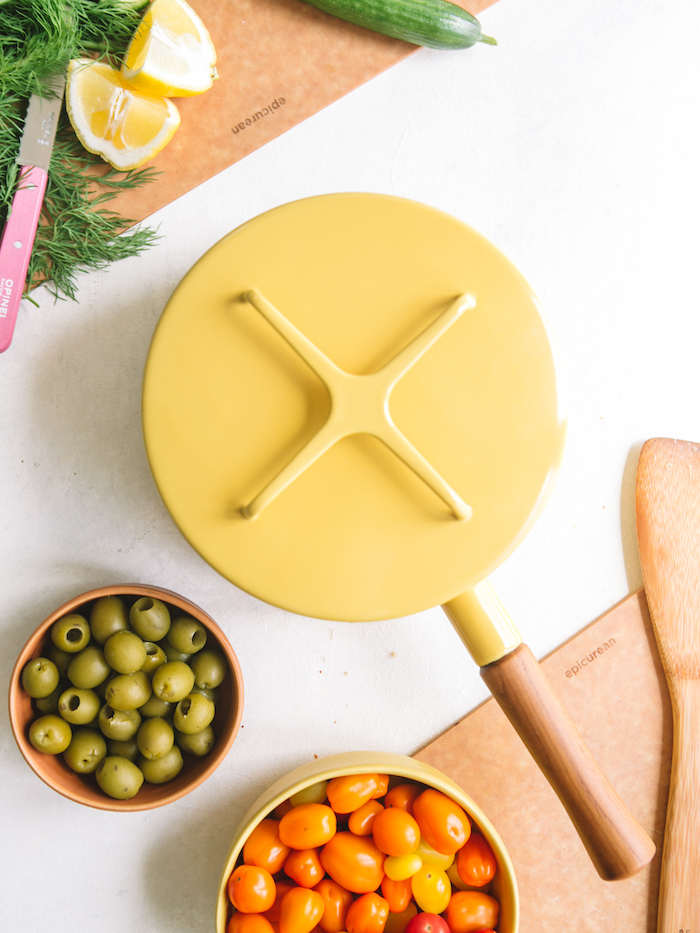 Now that summer is coming, Jared and I like to take weeknight trips to the beach, enjoying the cool ocean breeze and beautiful, golden sunset. So to get to the beach early enough to watch the sun go down, I had to come up with a recipe that was super fast, but light and refreshing all at the same time. Kinda like my 'Chipotle Style' Healthy Chicken Burrito Bowls, but with a lot more fresh, summer flavors.
That's where these Mediterranean Greek Power Bowls come in! Super light with tons of flavor. And putting the meatballs on skewers just screams all things summer to me. Why does food on skewers look so much more appetizing?! I don't know, but I love it!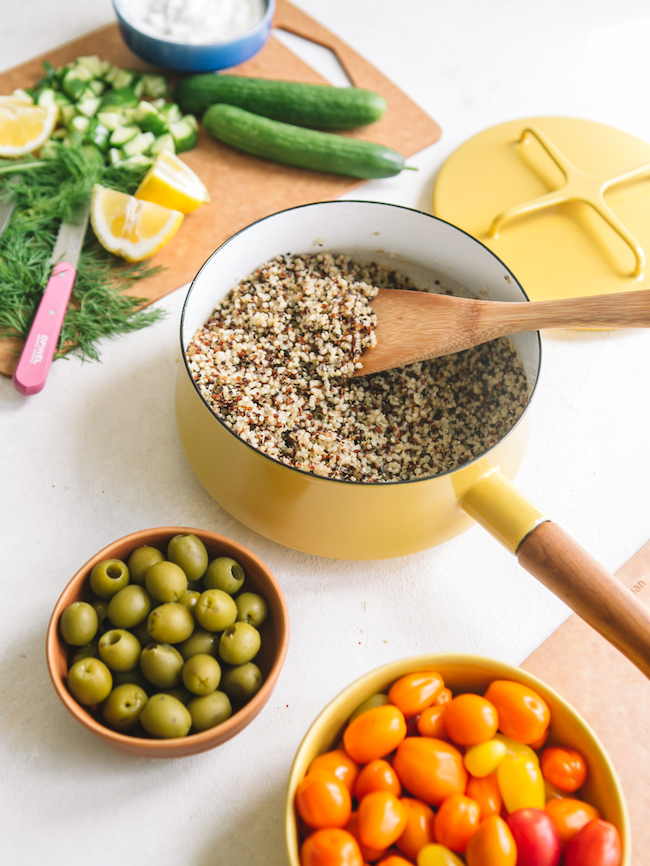 What is Mediterranean Greek Power Bowl, anyway?
Basically, it's just another name for a nutritious and delicious meal all combined into one bowl. There are so many different variations and the possibilities are endless, but today we are making a Mediterranean Greek Power Bowl.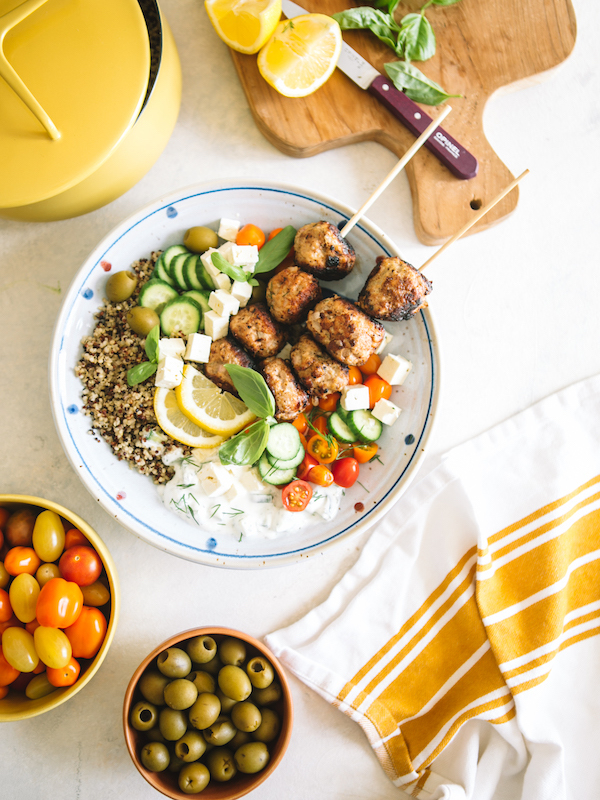 This means it is packed with Greek turkey or chicken meatballs, quinoa, greens, red onions, tomatoes, cucumbers, Feta cheese, and Tzatziki sauce, one of the greatest culinary inventions on Earth!
Whenever I'm chopping up a bunch of fresh veggies I love to break out my multi pack of Epicurean cutting boards. They're lightweight, easy storing, and wash up like a dream.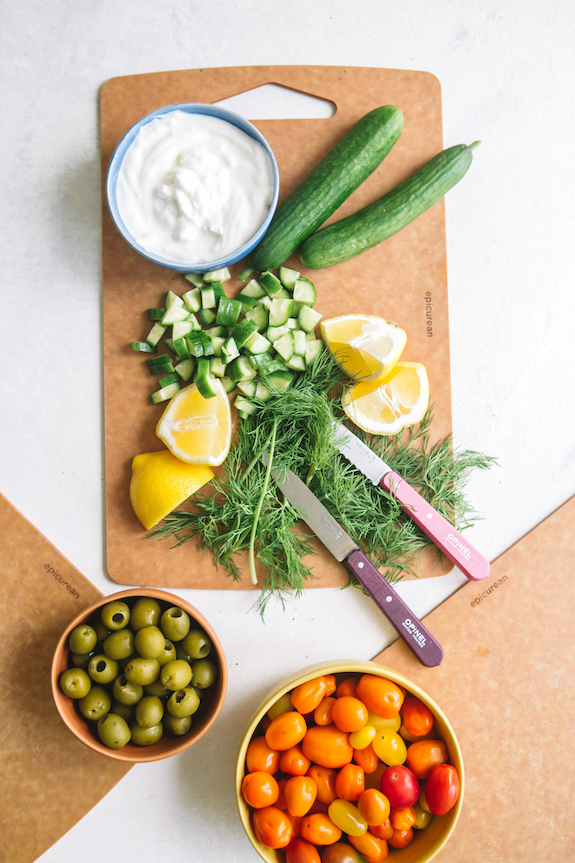 Eco Cutting Boards

By Epicurean

Shop Now
Nothing brings a smile to my face while prepping like Opinel's colorful knife sets. These sturdy kitchen tools come in all sorts of colors and instantly bring out your personality in the kitchen.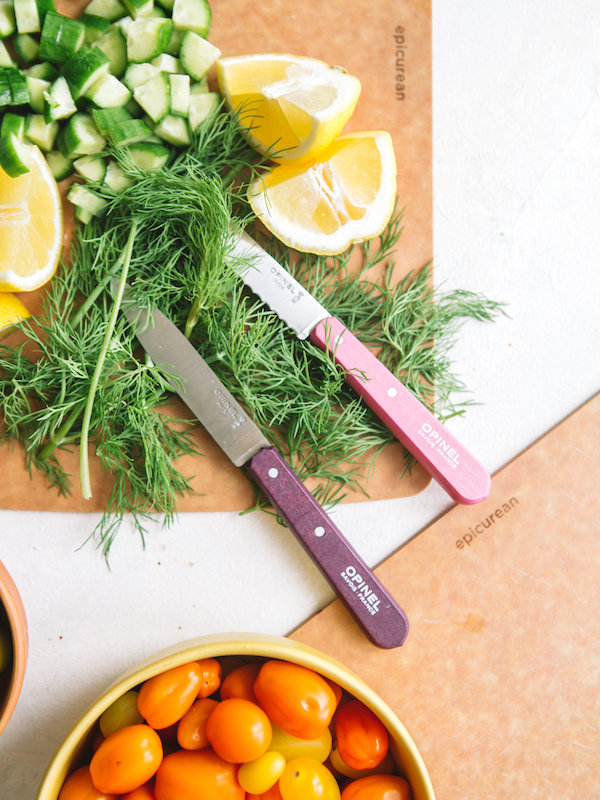 Essentials Small Kitchen Knives

By Opinel

Shop Now
Turkey or Chicken Meatballs
The choice is really up to you! I made my Mediterranean Greek Power Bowls with ground turkey, but ground chicken can easily be substituted. Both varieties are found in the supermarket these days.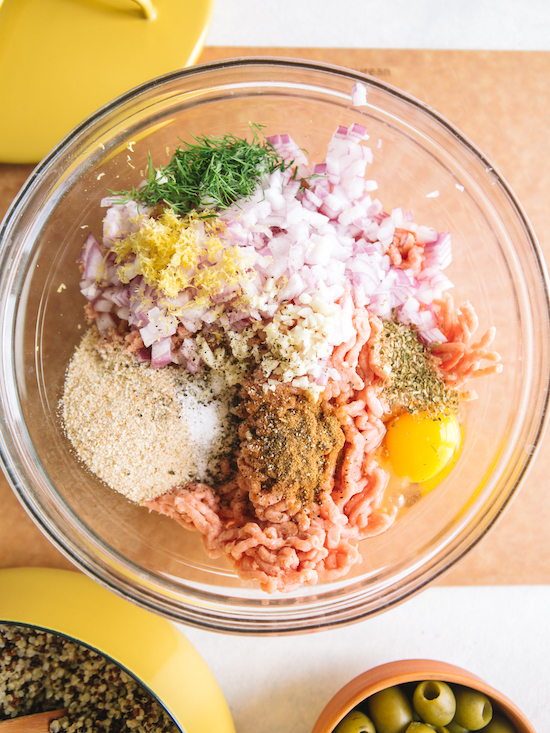 Since they are both poultry, just make sure to cook the meatballs all the way through. For a one inch size meatball, this should take about 8-10 minutes in a cast iron skillet set over medium heat.
A Little Note on Tzatziki Sauce
Have you ever had Tzatziki sauce?? If the answer is no, you are about to reach Greek power bowl heaven! Tzatziki sauce is basically a Greek yogurt and dill sauce that can be slathered on pretty much anything. The ingredients are simple:
Full Fat Greek Yogurt
Lemon Juice
Fresh Dill
Persian Cucumber
Salt & Pepper
It's the perfect topping for this Mediterranean inspired power bowl. But it can also be served as a super healthy dip for your next crudites (aka vegetable) board, slathered on a Healthy Greek Chicken Pita Wrap, or eaten straight out of the bowl with a spoon!
I hope that bowl food is here to stay. It's super satisfying and nutritious. Even better, making Mediterranean Greek Power Bowls means less time slaving over the stove and more time enjoying life on the beach!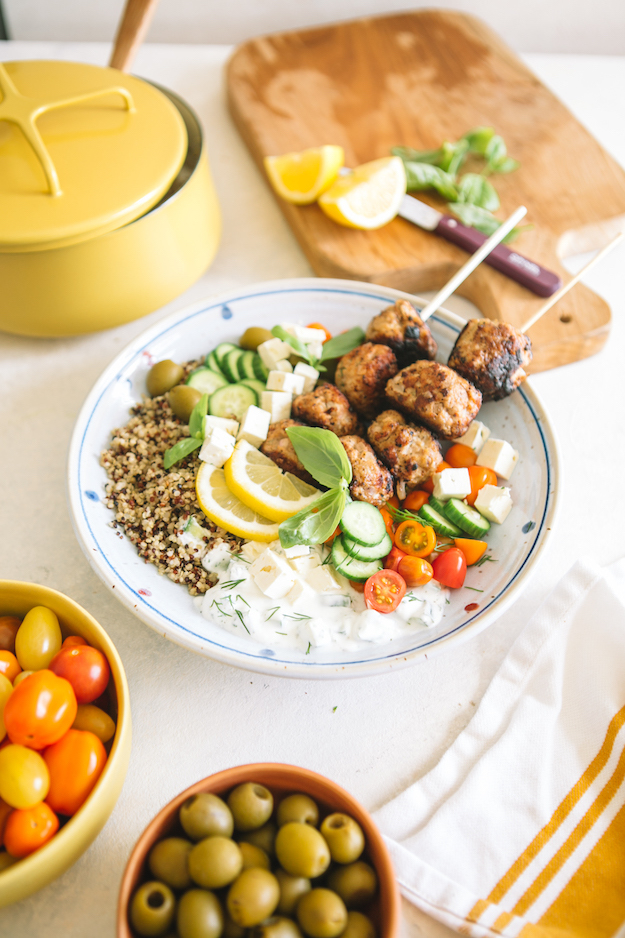 Mediterranean Greek Power Bowls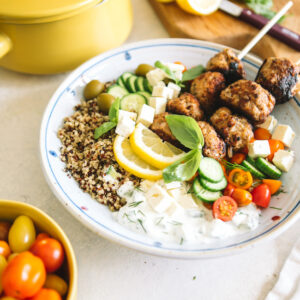 INGREDIENTS
For Greek Meatballs:
1 lb ground turkey or chicken
¼ red onion, finely diced
1 egg
1/3 cup bread crumbs
3 garlic cloves, minced
1 teaspoon Kosher salt
½ teaspoon black pepper
½ teaspoon ground cumin
½ teaspoon dried oregano
Zest of 1 lemon
1 tablespoon oil, for the skillet
For Tzatziki Sauce:
1 cup plain, full fat Greek yogurt
Juice of ½ lemon
1 tablespoon chopped fresh dill
1 Persian cucumber, finely diced or grated
¼ teaspoon Kosher salt
¼ teaspoon black pepper
For the Pickled Red Onions:
1 red onion
½ cup apple cider vinegar
1 tablespoon sugar
1 ½ teaspoons Kosher salt
For Power Bowls:
Greens
Quinoa, cooked
Pickled red onions
Cherry tomatoes, halved
Cucumbers, diced
Feta cheese, cubed
INSTRUCTIONS
For the Greek Meatballs:
In a large mixing bowl, add in ground turkey/chicken, red onion, egg, bread crumbs, garlic cloves, salt, pepper, cumin, oregano, and lemon zest. Mix well until combined.
Roll out 1-inch meatballs.
Heat a cast iron skillet over medium heat, add the oil, and heat for 1-2 minutes. Add the meatballs, with space in between, and cook for 8-10 minutes, or until golden brown and cooked through.
For the Tzatziki Sauce:
In a small bowl, mix together Greek yogurt, lemon juice, fresh dill, cucumber, salt, and pepper.
Taste test for seasonings, add more salt and pepper if needed, cover, and refrigerate until bowls are ready to assemble.
For the Pickled Red Onions:
To quick pickle your red onions, thinly slice red onion and place into a large mason jar.
Pour apple cider vinegar, sugar, and Kosher salt.
Shake jar vigorously and place into the refrigerator for 1 hour. Will keep for 2 weeks.
To Assemble the Bowl:
Assemble each bowl with a bed of greens and a small scoop of cooked quinoa.
Top with cooked Greek meatballs, Tzatziki, pickled red onions, cherry tomatoes, cucumbers, and Feta cubes.