Whole Roasted Lentil Stuffed Salmon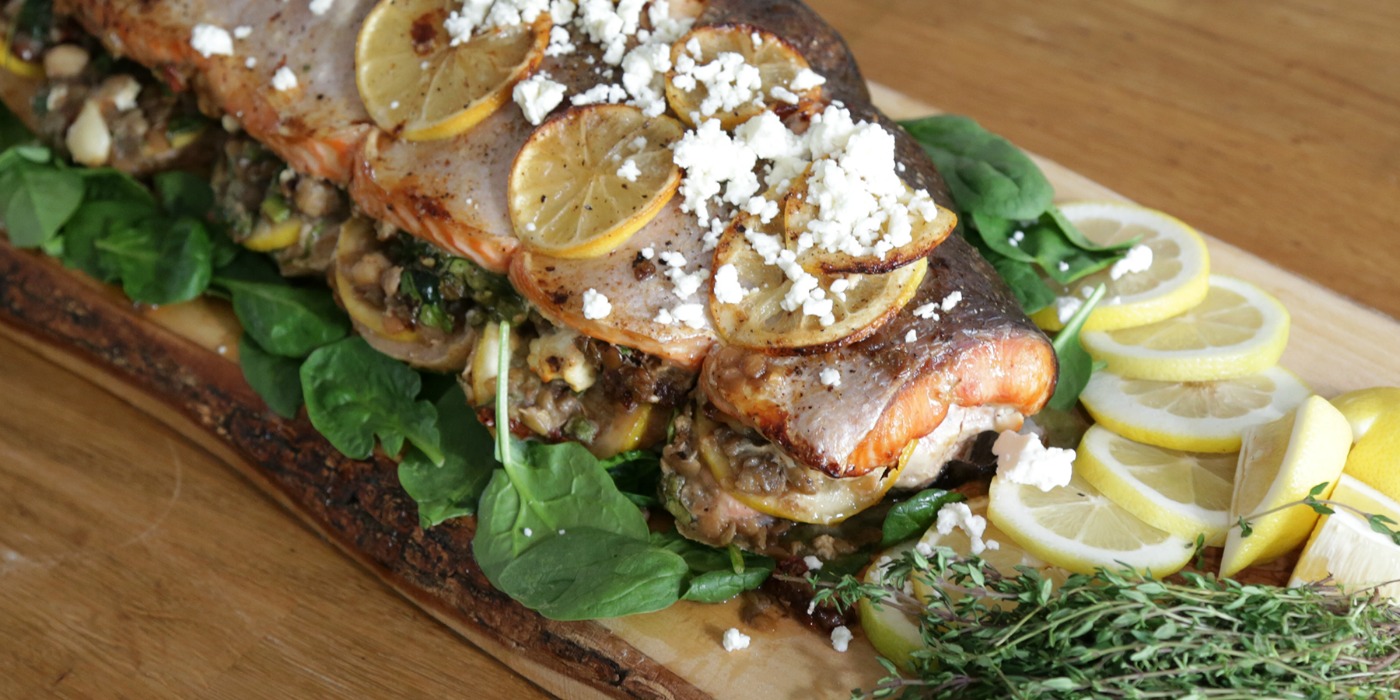 Make restaurant quality seafood at home with this delicious Whole Roasted Lentil Stuffed Salmon Recipe.
​ Whole Roasted Lentil Stuffed Salmon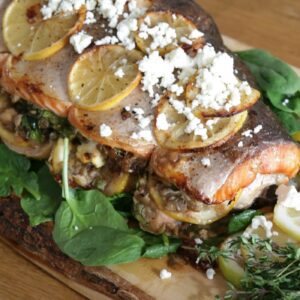 INGREDIENTS
3 cups of cooked lentils
1 cup of sliced sun-dried tomatoes
1 cup of sliced green onions
2 cups of chickpeas, strained
2 packed cups of baby spinach
½ cup of roasted garlic cloves
2 teaspoons of chopped thyme
1 whole fresh salmon, head and back bone removed
2 thinly sliced lemons
¾ cup of Feta cheese
½ cup of melted butter
Kosher salt and fresh cracked pepper to taste
INSTRUCTIONS
Preheat the oven to 375°.
In a large bowl mix together the cooked lentils, sun dried tomatoes, green onions, chickpeas, spinach, roasted garlic cloves, 1 teaspoon of thyme and salt and pepper until combined and set aside.
Season the inside of the salmon well with salt, pepper and 1 teaspoon of thyme.
Evenly spread the lemon wheels all over the inside of 1 side of the salmon and place half of the amount of the lentil stuff evenly over top of the lemons inside of the salmon and sprinkle on ¼ cup of Feta cheese.
Fold the other side of salmon over and truss with butcher's twine placing lemon wheels underneath each line of twine.
Pour the butter over top of the salmon, season the outside well with salt and pepper and bake at 375° for 60 minutes.
Remove the butcher's twine and add on ½ cup of Feta cheese to the top of the salmon before serving.