You Have to Make This Mediterranean-Inspired Chicken Dinner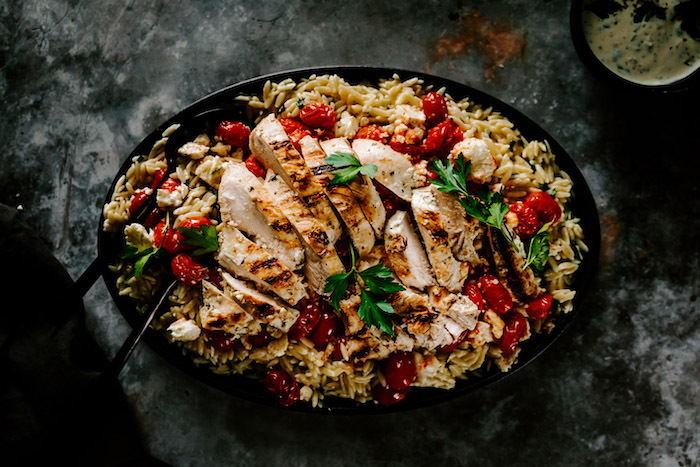 I love Mediterranean flavors. I've talked about it before, and I will again, but there's nothing like the brightness of citrus, the freshness of herbs, and deliciousness of olive oil, in almost any dish. Case in point, I recently had olive oil and sea salt on frozen Greek yogurt and it was one of the best flavor combinations I've ever had. I just love how easy and fresh these flavors are, and I know you will, too.
I was recently inspired to make this dinner when a friend of mine shared a roasted shrimp recipe that I pretty much completely messed up. Her recipe is amazing, but I accidentally roasted feta with tomatoes and shrimp, instead of layering it all in the appropriate cooking times, and although the shrimp was overcooked, the baked feta as amazing, and I was instantly in love.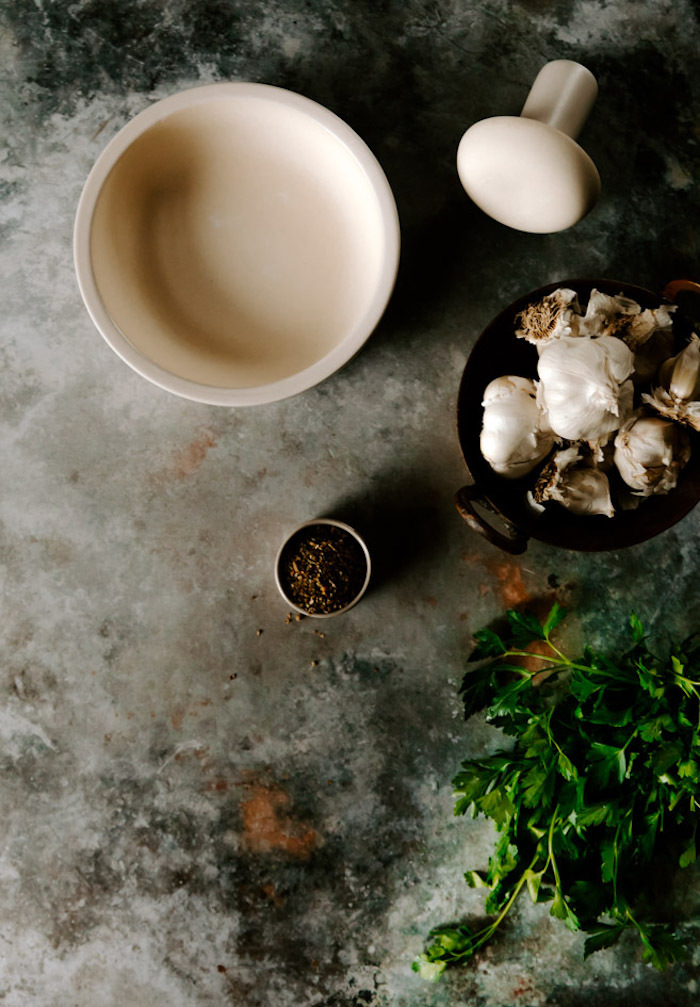 This dish is different and calls for chicken, but the truth is, I don't tend to cook a lot of meat in my house. I just don't love handling it, and chicken is absolutely no exception to that feeling.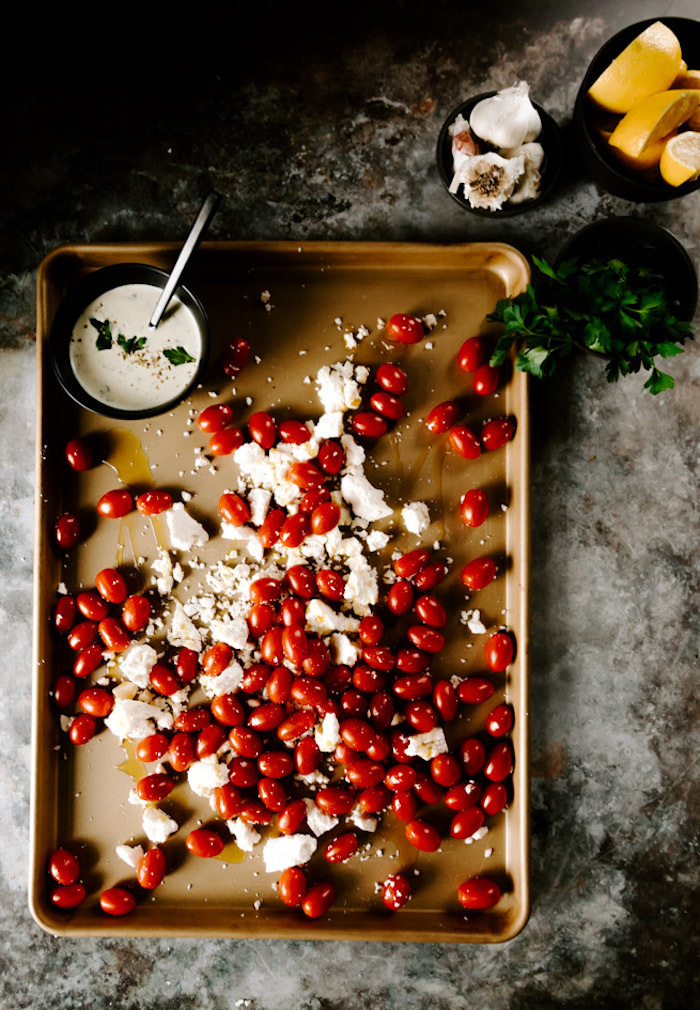 Gold-Coated Nonstick Sheet Pan

By Nucu

Shop Now
I wanted to explore an easy Greek-inspired marinade that required minimal raw meat handling, had awesome flavor, and was super easy to prepare. Voila! I bring you Greek Marinated Chicken with Roasted Tomatoes and Feta over a Lemon Parsley Orzo.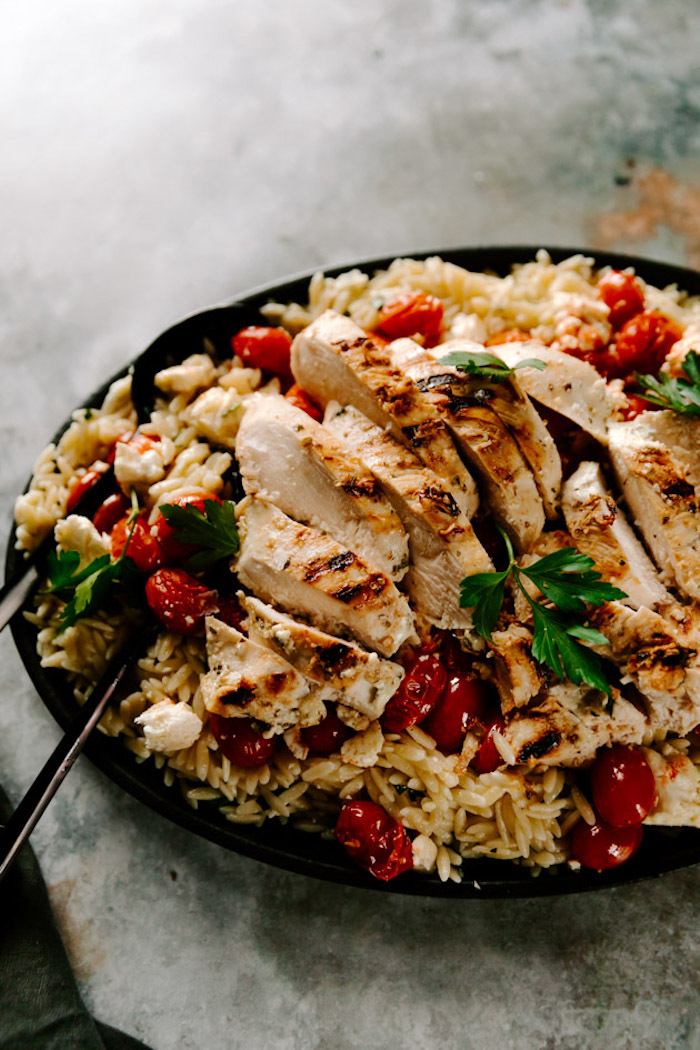 Perissa Serving Tray

By Fortessa

Shop Now
Greek Marinated Chicken with Roasted Tomatoes & Feta Over Lemon Parsley Orzo
This easy Greek-inspired marinade requires minimal raw meat handling, has awesome flavor, and is super easy to prepare! Make this Greek Marinated Chicken with Roasted Tomatoes and Feta over a Lemon Parsley Orzo anytime you need an easy delicious dinner.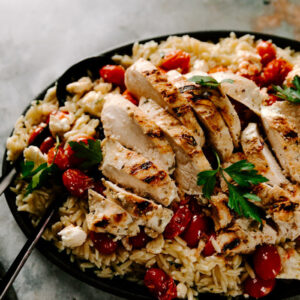 Ingredients
2

lb

trimmed chicken breasts

1

cups

whole milk plain Greek Yogurt

1

ripe lemon, juiced

1

tbsp

honey

3

tbsp

fresh chopped parsley

2

tsp

dried oregano

3

tsp

salt

cups

Greek olive oil, approximately

1

lb

cherry tomatoes

1

block feta cheese, drained from liquid and hand broken into big and small pieces

heavy salt, to sprinkle

1

lb

orzo

handful fresh parsley, chopped
Instructions
Using a mortar and pestle, macerate garlic with the fresh herbs for the marinade. In a medium bowl, mix the paste with all of the remaining ingredients. Place in a gallon plastic bag along with chicken. Seal removing as much air as possible and store bag of marinating chicken on a plate and let marinate for at least 30 minutes. Ideally a few hours or overnight in the refrigerator.

Preheat oven to 375 and place marinated chicken in a shallow baking dish. Bake for about 20-25 minutes. Heat a cast-iron grill pan and remove the chicken from the oven. Place each piece individually down on the grill pan and sear. This is called a "reverse sear" (see recipe notes for more on this).

Cook until chicken pulls away from the grill pan on its own, without too much effort, about 5 minutes on each side. Let the chicken rest on a cutting board until ready to serve, then slice just before plating.

Meanwhile, prepare the tomatoes and feta on a baking dish. Drizzle with olive oil and sprinkle generously with salt. Give it a good shake to mix and roast in the same oven as the chicken for about 10 minutes, or until the tomatoes begin to burst and feta is beginning to brown.

While everything cooking in the oven, bring a pot of water to a boil, salt generously and cook the orzo to package instructions. Strain in a fine-mesh strainer and place cooked orzo back into the pot. Season with lemon juice, parsley, salt, and generous amounts of olive oil.

On a large serving tray, layer orzo, roasted tomatoes and feta, and sliced chicken. Garnish with flaked salt. Taste and add lemon juice or parsley as needed.

Optional: If there is any marinade leftover that has NOT touched raw chicken, feel free to put it in a small dish and serve alongside the meal.
Nutrition
Recipe Notes
Chicken
Absolutely use whatever cut of chicken you prefer. Thighs are always a good idea, but I call for the ever-popular chicken breast in this recipe for familiarity. I call for a reverse sear using a grill pan. This is basically what it sounds like — chicken is cooked and then seared as opposed to the other way around. I prefer to do it on a grill pan for extra flavor, but a regular cast iron, heavy bottom pan, or even under the broiler will do.
Marinade
This recipe makes enough for 2lbs worth of chicken. Make sure to taste before you add the raw chicken and adjust the seasoning as needed. Marinate the chicken for at least 30 minutes, but overnight in the fridge is ideal. This step is crucial for super tender chicken. No one likes dried out chicken!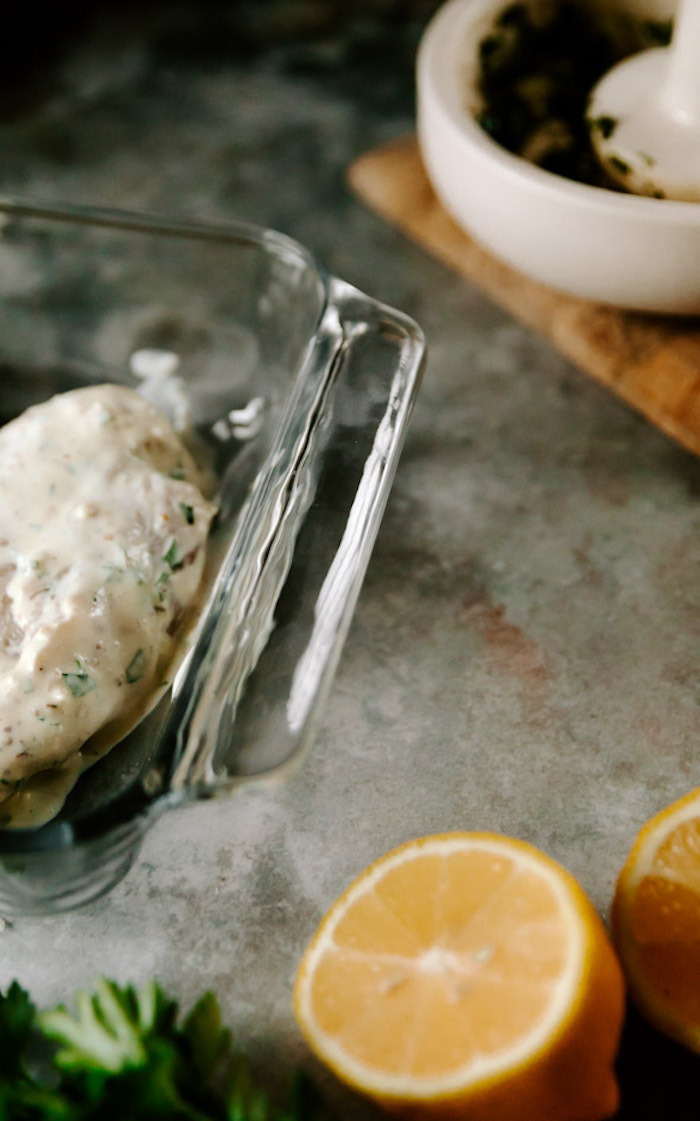 Baker's Premium Square Casserole Dish

By Libbey

Shop Now
Freshness
Because this recipe calls for a few but fierce ingredients, it's important that everything is as fresh and ripe as possible. Now is the time to refresh that old jar of dried oregano.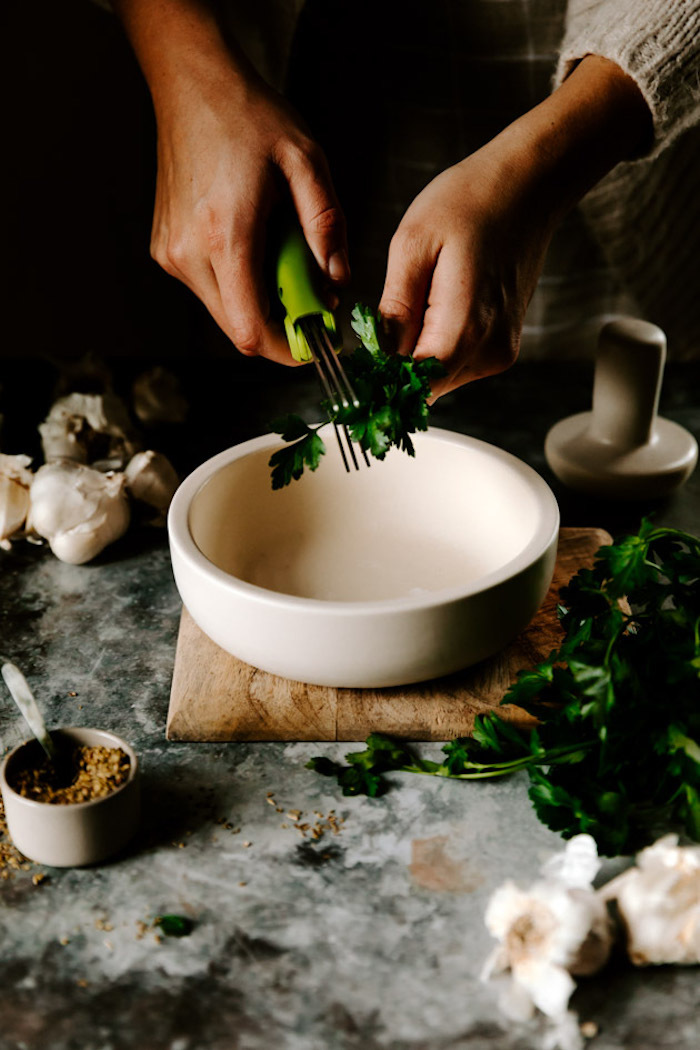 Mortar & Pestle
I call for this type of equipment here because I love making a sauce or paste of spices this way. If you don't have one, go ahead and mince the garlic fine before adding to the rest of the seasoning.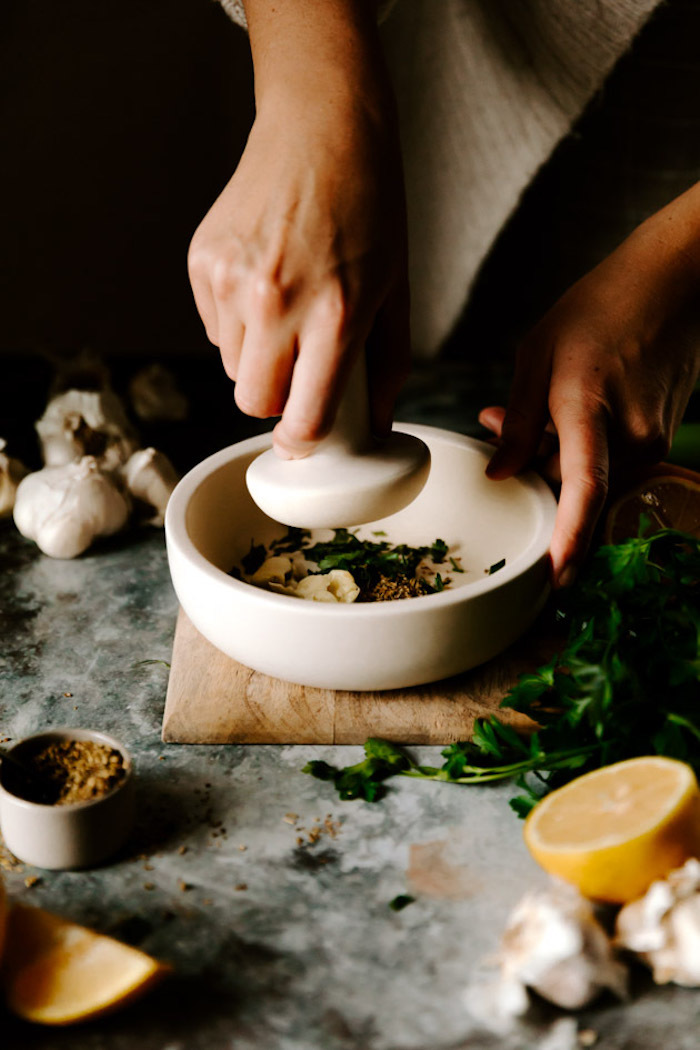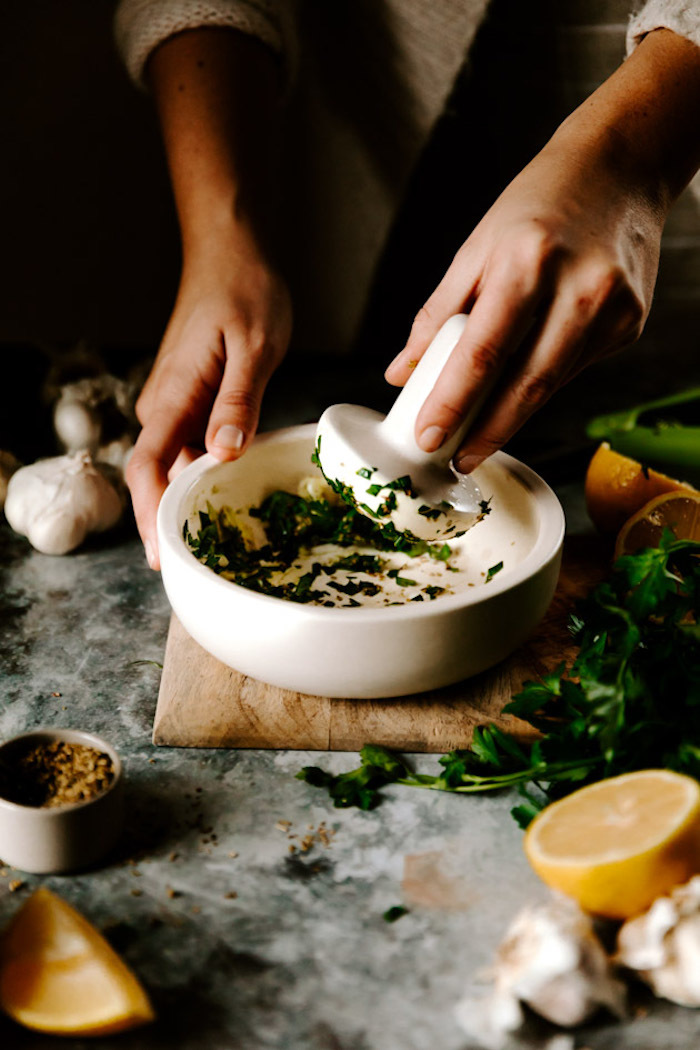 Leo Mortar & Pestle

By BergHOFF

Shop Now
Lemon
I love lemon. It adds acidity and brightness at almost every step of the way here. When tasting as you go, try a bit of lemon before you try salt and continue flip-flopping until you get the flavors just right.
Taste as you go.
Crucial with fresh ingredients because every lemon or olive oil is different. These flavors layer in together but need to stand on their own with seasonings, too. Taste and adjust to your preferences.
Arezzo 20-Piece Flatware Set

By Fortessa

Shop Now