30-Minute One-Pot White Lasagna Soup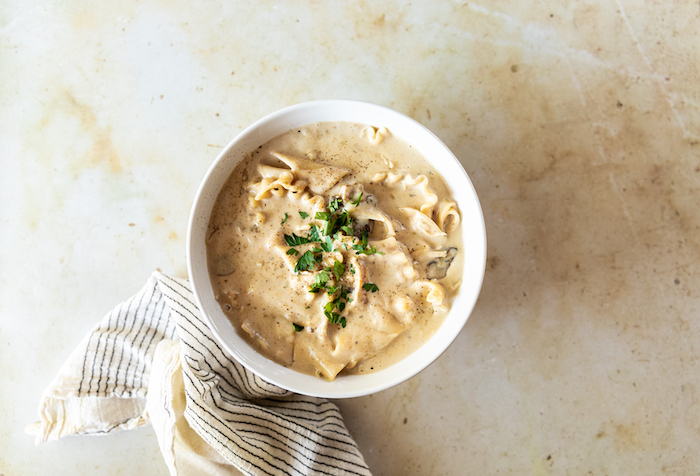 This recipe is one of those soups that you see in a picture and immediately crave. It's luscious and creamy, and an overall nourishing one-pot meal. White lasagna soup is the ultimate autumn or snowy day meal that takes about 30 minutes from start to finish, and will fill you up with just a small bowl.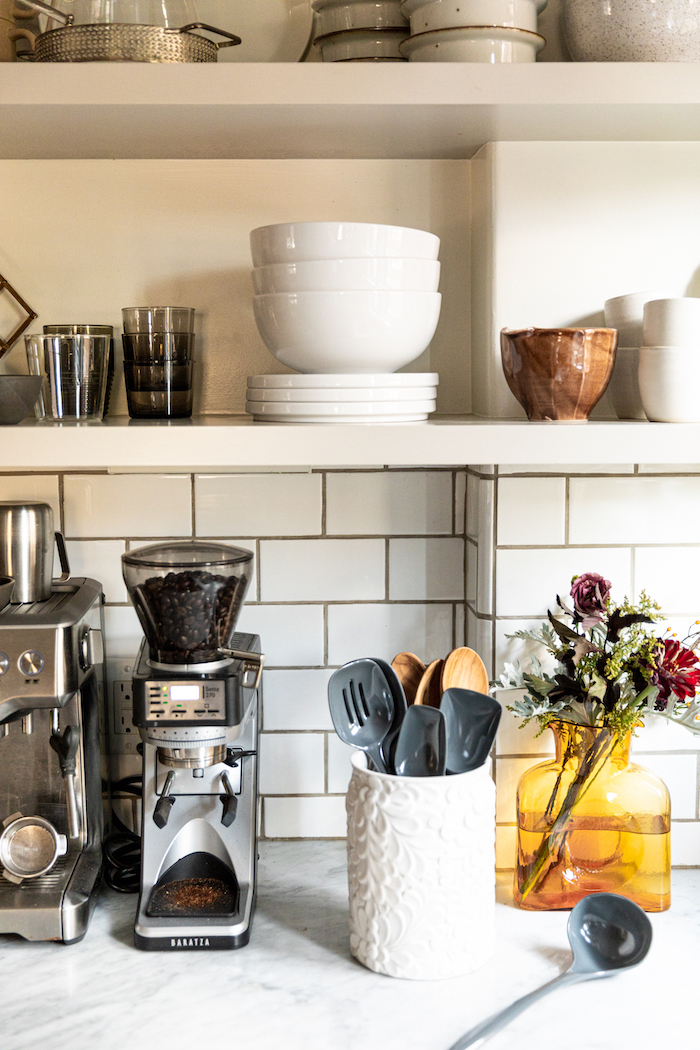 White lasagna soup is the ultimate autumn or snowy day meal that takes about 30 minutes from start to finish, and will fill you up with just a small bowl.
6-piece Bowl and Lid Set

By Over & Back

Shop Now
I highly recommend making this soup to give to a friend or family that needs a meal. Whether that's because of a new baby, family event, or because they are in need of a little extra TLC.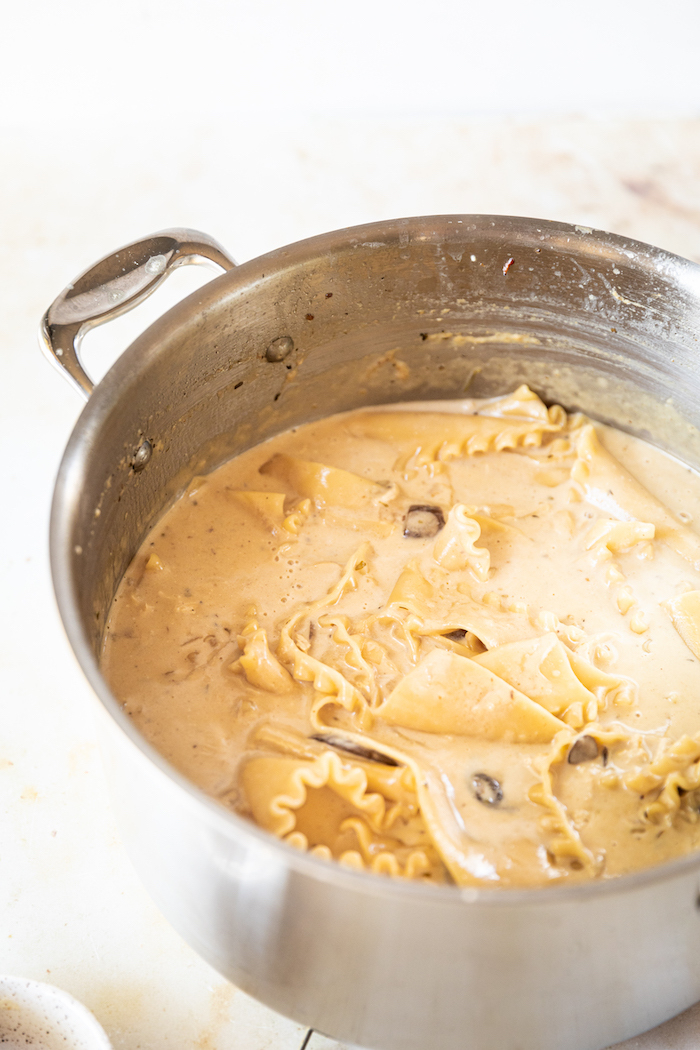 Stainless Steel Stock Pot

By NUCU

Shop Now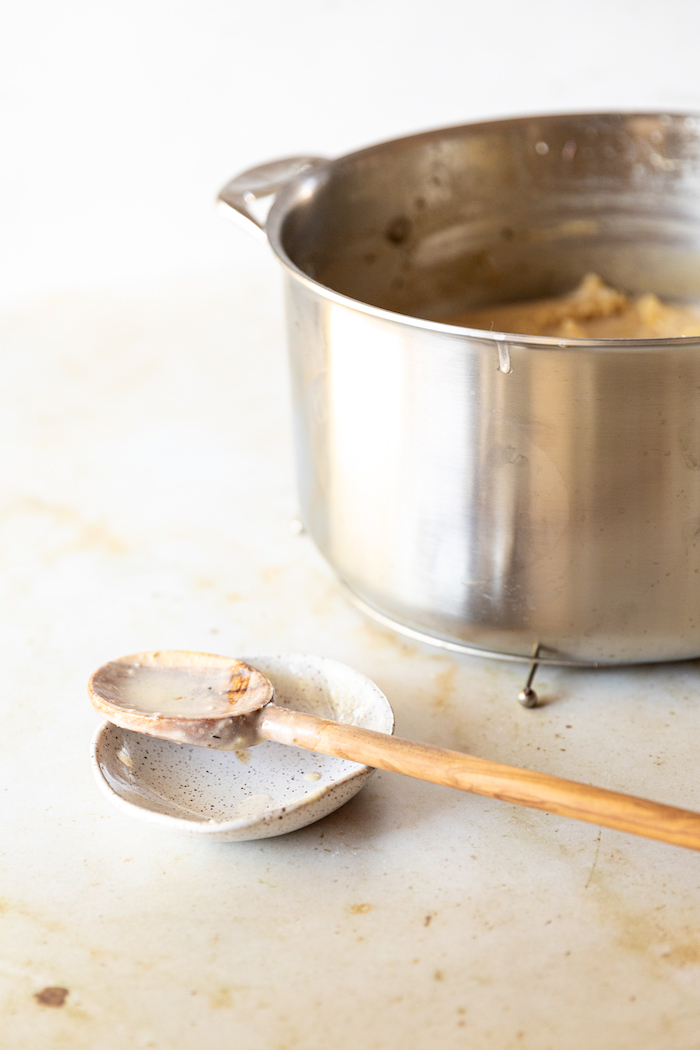 Olive Wood Mixing Spoons

By Gourmac

Shop Now
White lasagna soup can be made quickly, frozen, and delivered on a stoop in no time at all. Plus, it's interesting and warming, easy and delicious, and just what you need for a successful dinner for all.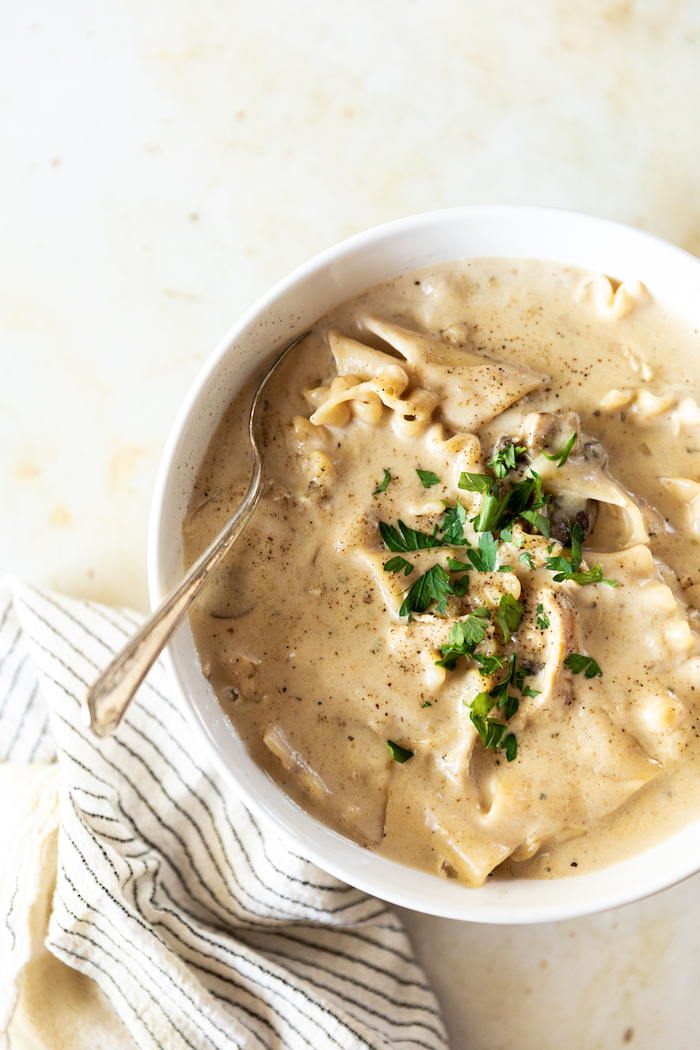 Warm up with this bowl of comforting soup. This creamy lasagna soup is the perfect meal for the entire family!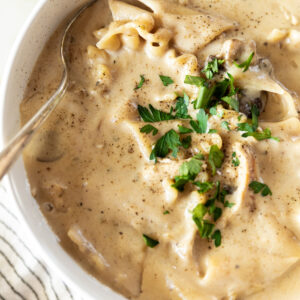 Ingredients
8

tbsp

butter

1

lb

chicken

2

cups

onion

4

tbsp

minced garlic

8

oz

baby bella mushrooms

2

cups

heavy cream

4

cups

chicken broth

8

oz

cream cheese, cubed

.25

cups

flour

2

tsp

salt

1

tsp

white pepper

1

tsp

oregano

1

tsp

Italian seasoning

1

tsp

garlic powder

8

oz

lasagna noodles, broken into quarters

5

oz

parmesan

pepper to taste

fresh parsley to taste
Instructions
In a large stock pot, melt 2 tablespoons of butter on high heat. Add the chicken breasts and a pinch of salt. Cook until about half way opaque. If the chicken is still sticking, wait a little longer. It should release on its own when it's ready to flip. Add another tablespoon of butter and the chopped onions. Cook for about another minute and then flip the chicken. Continue to cook for about 2-3 minutes. Add one more tablespoon of butter and the minced garlic and stir frequently as the chicken finished cooking. Remove the chicken, it's okay if it's not fully cooked at this point, and deglaze the pot with a little bit of the chicken broth. Cook off the liquid and remove the onions and garlic and set aside with the chicken.

Bring the heat back up to medium-high. Melt 4 tablespoons of butter and, using a wooden spoon, mix in the flour. Cook, stirring frequently to prevent burning, until bubbly and just browned, about 2-4 minutes. Slowly whisk in the heavy cream and remaining chicken broth. Bring the mixture up to a high simmer and add the cubed cream cheese. Continue to whisk until the cream cheese has melted and add the remaining salt and seasonings. Add the chicken breast and mushroom and onion mixture. Cook until the breast is cooked completely through and pull it out again to shred.

Bring the stock up to a boil and add the ½ package of the lasagna noodle pieces. Cook for about half the box instruction's cook time. While the noodles par-cook, shred the chicken. Add the shredded chicken in and continue to cook the soup until the noodles are al-dente.

Serve immediately with freshly ground pepper and chopped parsley. Enjoy!
Nutrition
Serving:
5
g
Calories:
975
kcal
Carbohydrates:
43.8
g
Protein:
52
g
Fat:
67
g
Saturated Fat:
39
g
Cholesterol:
43
mg
Sodium:
2172
mg
Fiber:
2
g
Sugar:
3.8
g
Recipe Notes
Now, because I recommend this meal as something for all, I have also included a few recipe substitutions for easy gluten-free and dairy-free alternatives. I think everyone should have access to one-pot meals and this one can be easily adapted for all allergens or dietary restrictions.
Flour Alternative. This soup base is made using a flour roux. If you need to substitute the flour, a good alternative would be to use a corn starch slurry. To do this, reserve about 1 cup of soup liquid, and whisk in 1-2 tablespoons of corn starch. Slowly whisk the slurry back into the soup and bring it up to a boil. The soup will begin to thicken.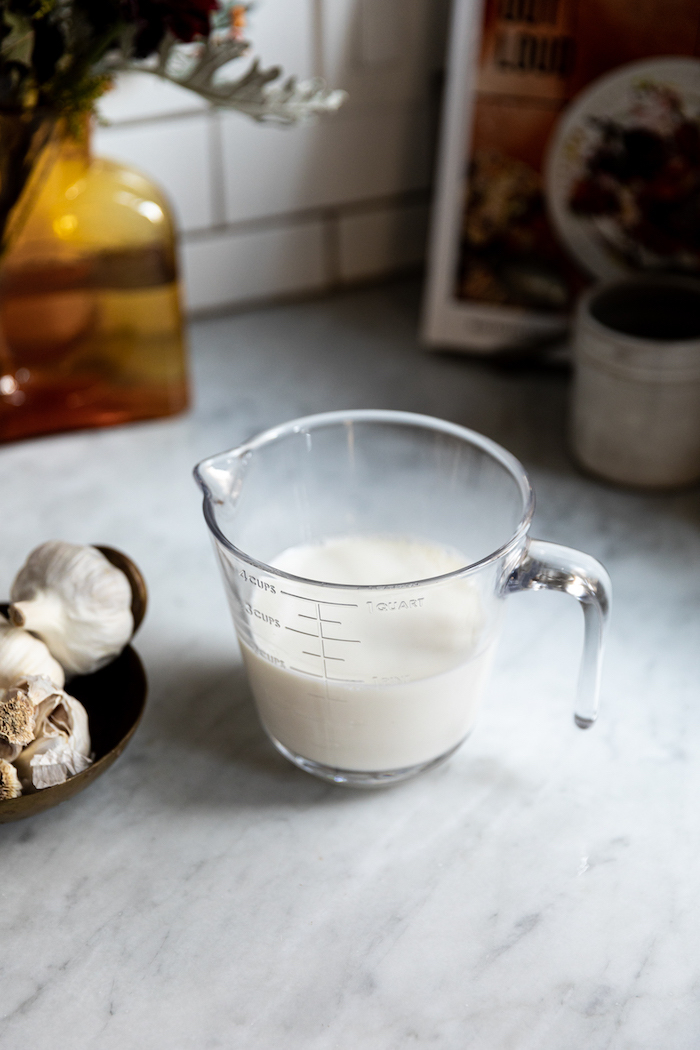 Glass Liquid Measuring Cup

By Cravings by Chrissy Teigen

Shop Now
Reheating. The addition of cream cheese and parmesan will create a deliciously rich creamy base; however, these two ingredients mixed with the starch from cooking the noodles in the soup will cause the soup to congeal when rested or refrigerated. Feel free to add more chicken stock to loosen the soup back up in reheating. Taste and add a pinch more salt or seasonings if needed.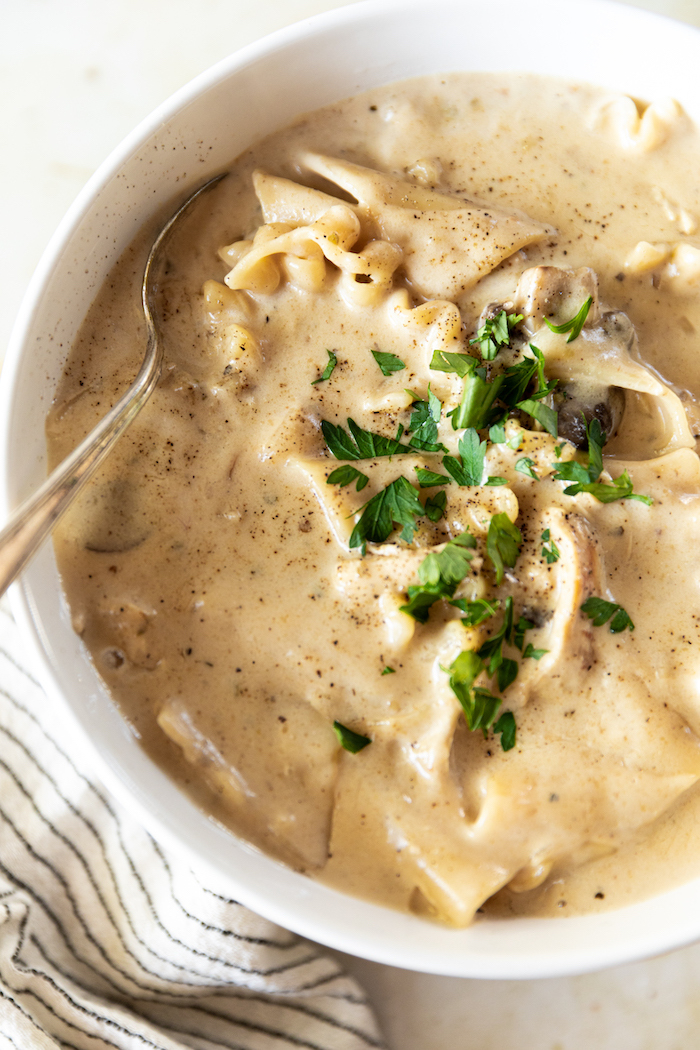 Vegetarian/Vegan Substitutions. This soup can easily be made vegetarian or even vegan with the omission of chicken, and the use of non-dairy 1:1 alternatives. Instead of parmesan, I suggest nutritional yeast. Also, note that cashew milk would be the creamiest dairy-alternative.