Vegetarian Spaghetti Bolognese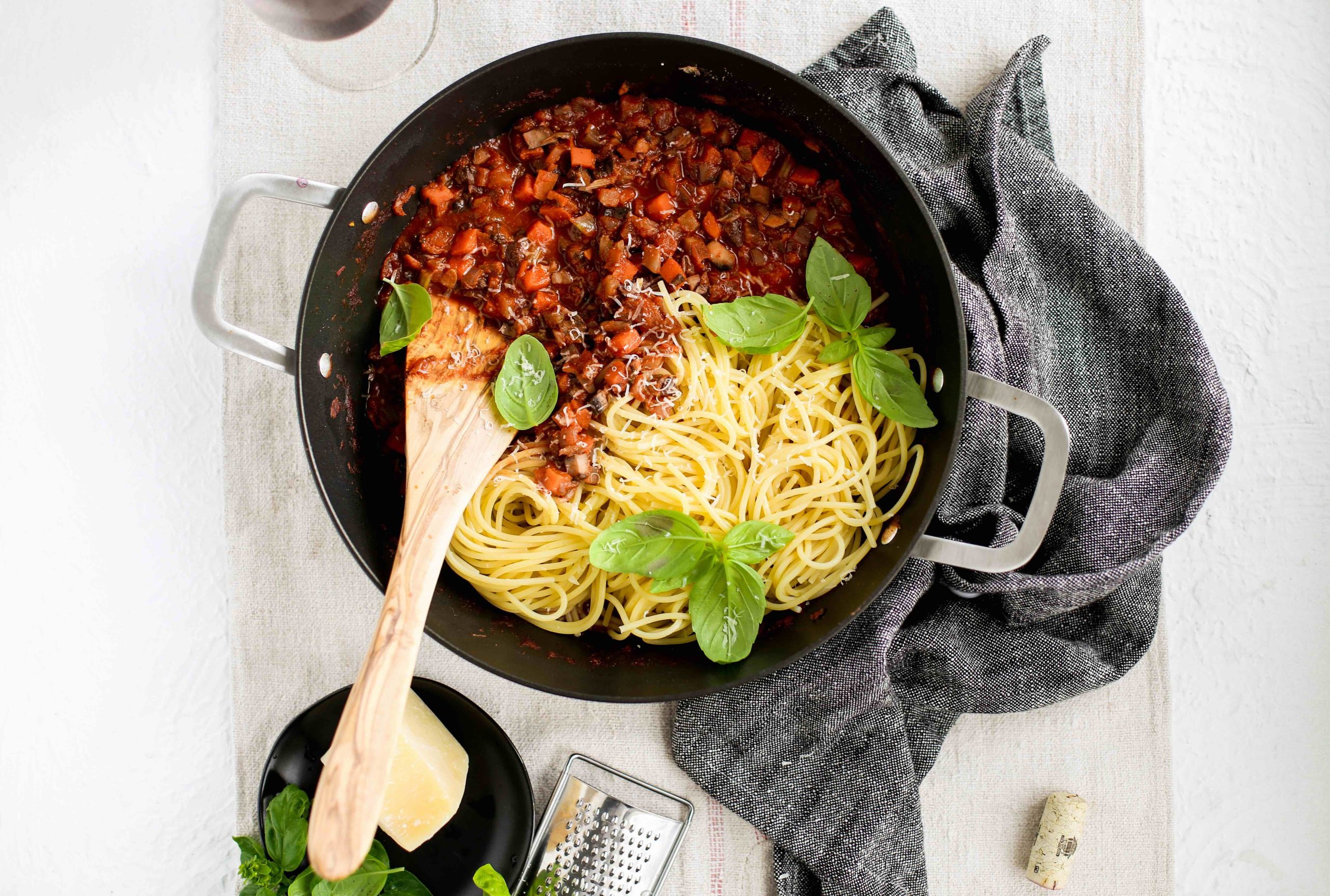 We ate quite a bit of spaghetti growing up. I can remember having it at LEAST once a week. Was this also a family staple in your house?! To this day, we still head over to my Nanna's house for Sunday dinner and more often than not she has a vat of spaghetti noodles, a batch of tomato sauce, and enough beef meatballs to feed an ARMY! Needless to say, spaghetti is a comfort meal around here. However, I wanted to make my best vegetarian version of a Spaghetti Bolognese.
For the last few months, I have made a really conscious effort to eat less meat and incorporate more vegetables into main dishes. Not only has it been a really fun challenge in the kitchen, but also I just feel so better about what I'm eating when it leans toward vegetarian.
I still have an occasional steak or burger now and then because I'm still human and… American. Plus, I've got a beef-loving boyfriend who loves any added meat into a dish. This vegetarian Bolognese is one of those 'trick' dishes that I serve up for the two of us as a weeknight dinner. Not only does the whole meal taste so savory and wholesome, most of the time Jared can't even tell there isn't meat in the recipe! Talk about a win-win!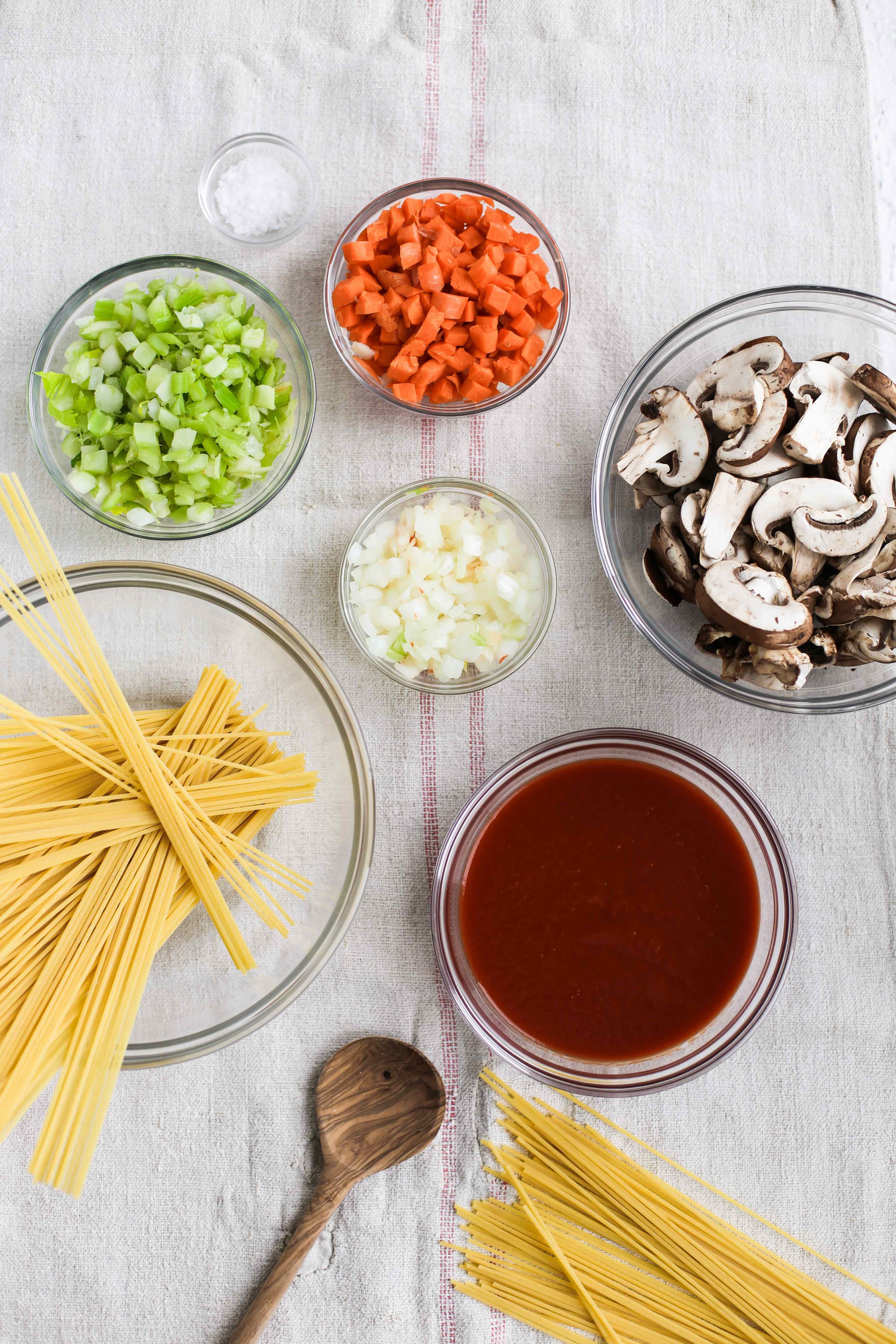 The base of this Bolognese is really similar to a meat style. It's filled with crushed tomatoes, hearty vegetables and fresh basil so the flavor is still all there even though the meat isn't. We always pair it with spaghetti but I also think it would be FANTASTIC as a lasagna sauce/filling if you're trying to make a vegetarian lasagna!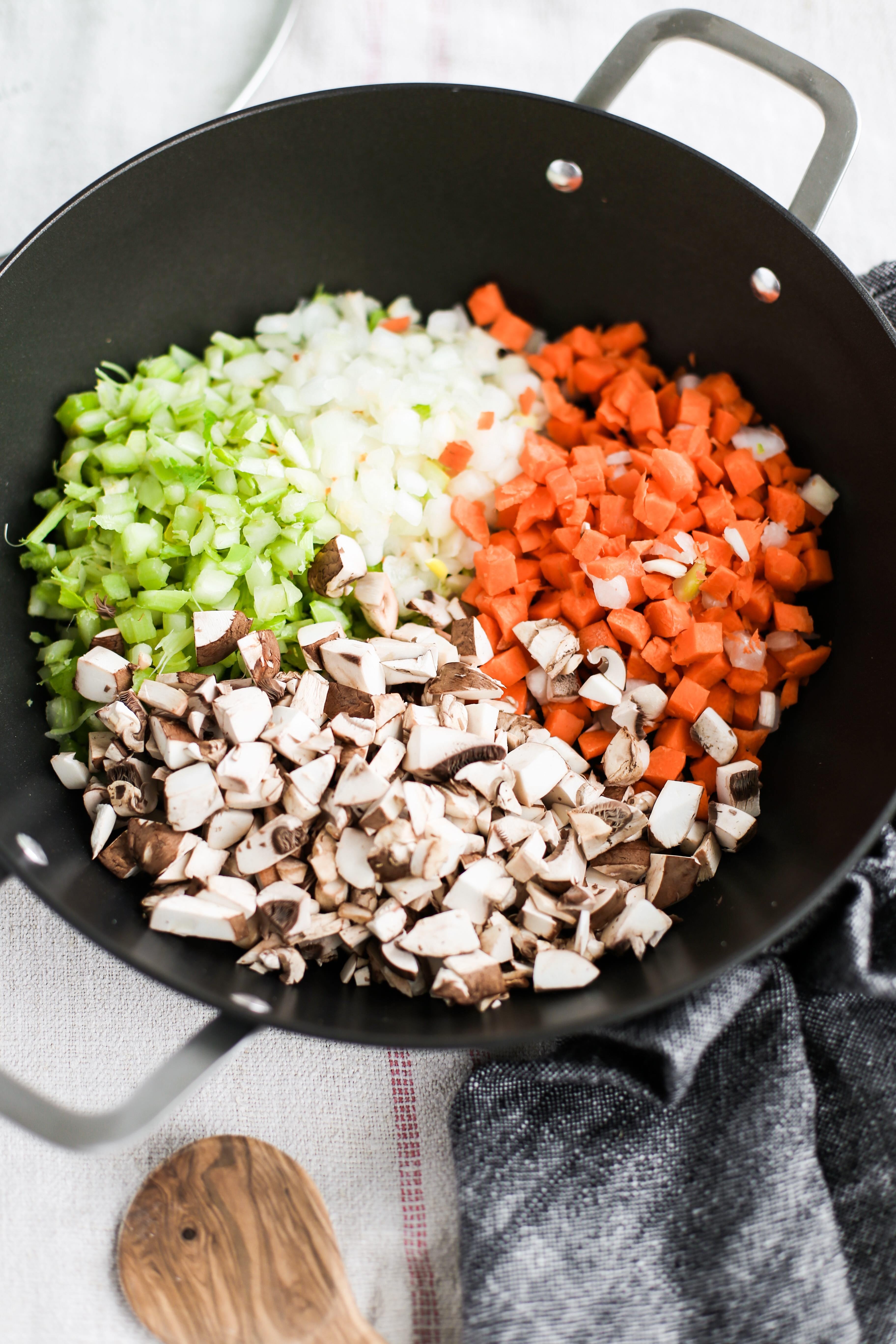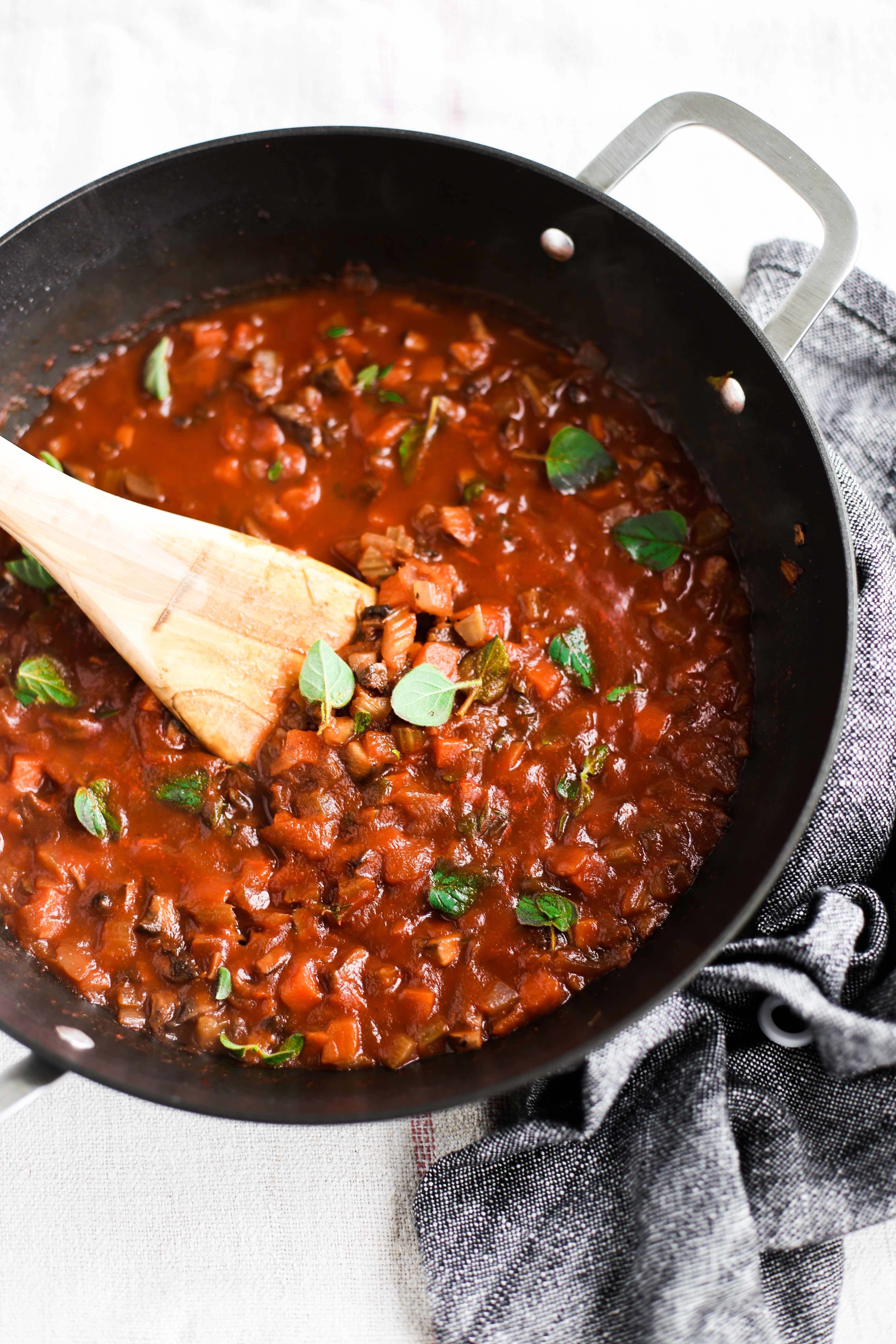 The whole meal comes together in just two pots! One, in my Calphalon ceramic nonstick all purpose pan and my Calphalon multi pot! My multi pot literally makes pasta the easiest thing to make EVER. I can even get Jared to help me make dinner sometimes because it loves the easy interior colander basket. It's the little things isn't it?!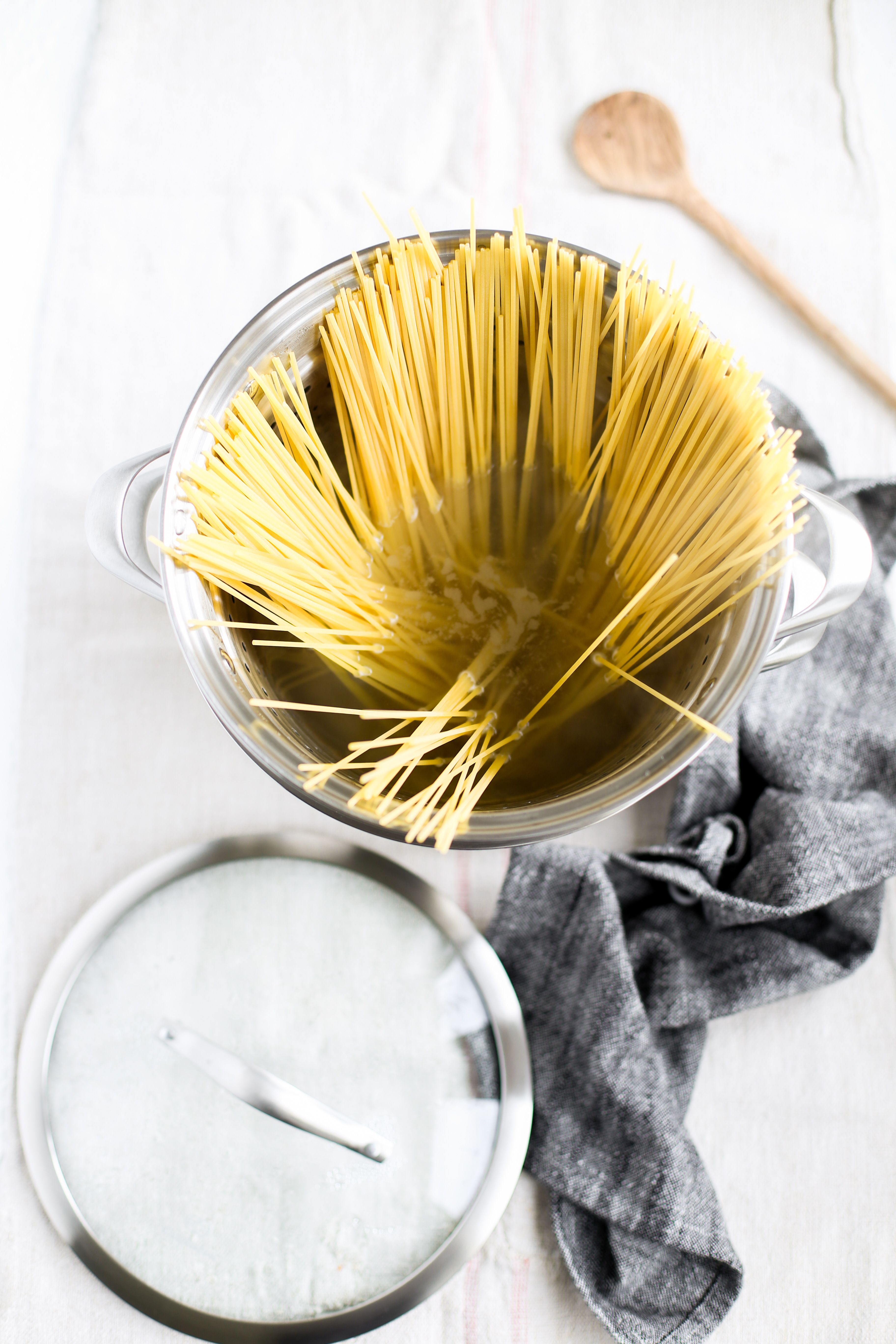 This Calphalon all-purpose pan is seriously my Swiss army knife of the kitchen. I can make the whole sauce and braise it in the same pan. This baby is like a non-stick braiser! It has higher sides than a normal non-stick but not large enough to feel like you're lugging it around! We don't have a dishwasher in our little kitchen so it also cuts are clean up time in half than an ordinary braiser!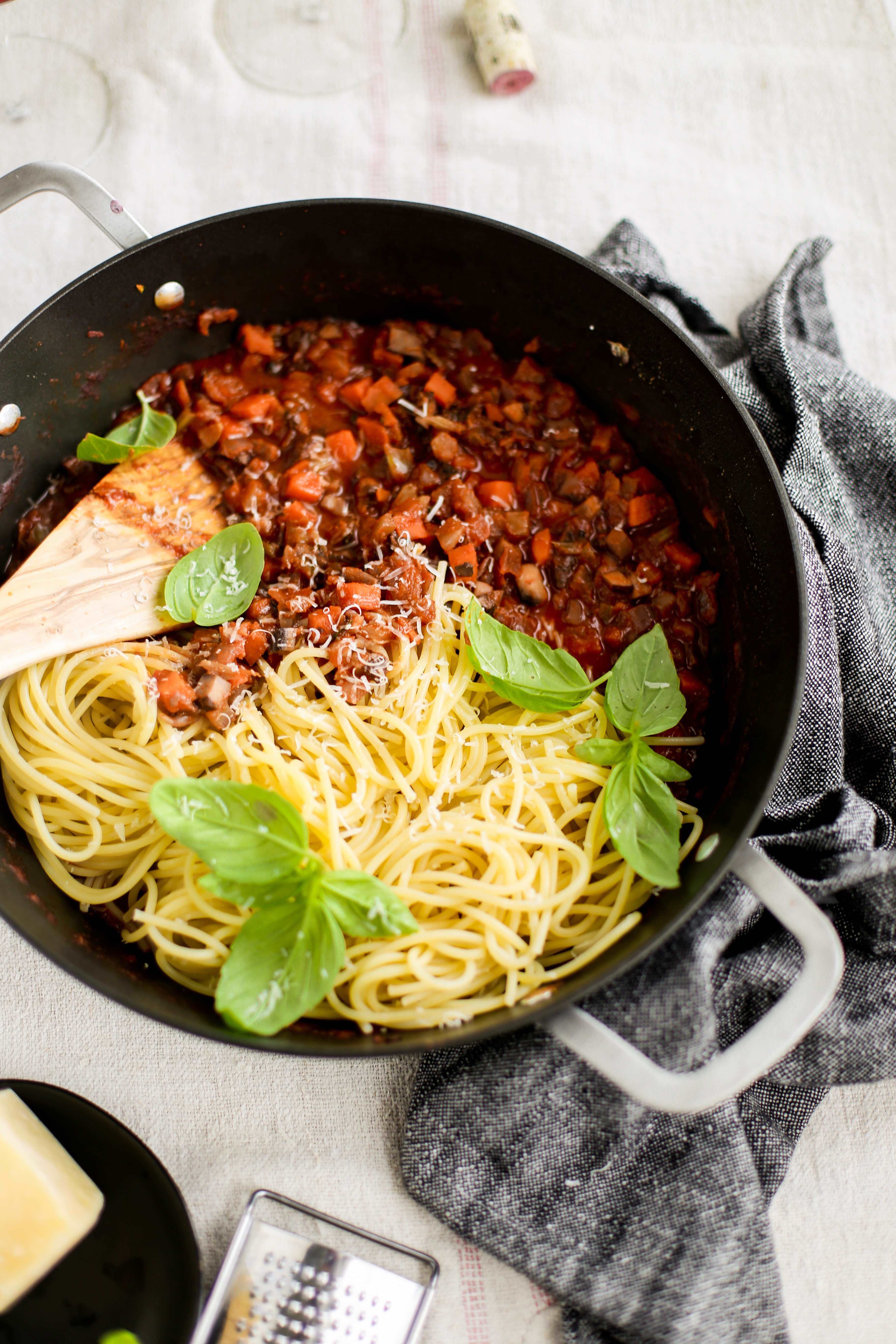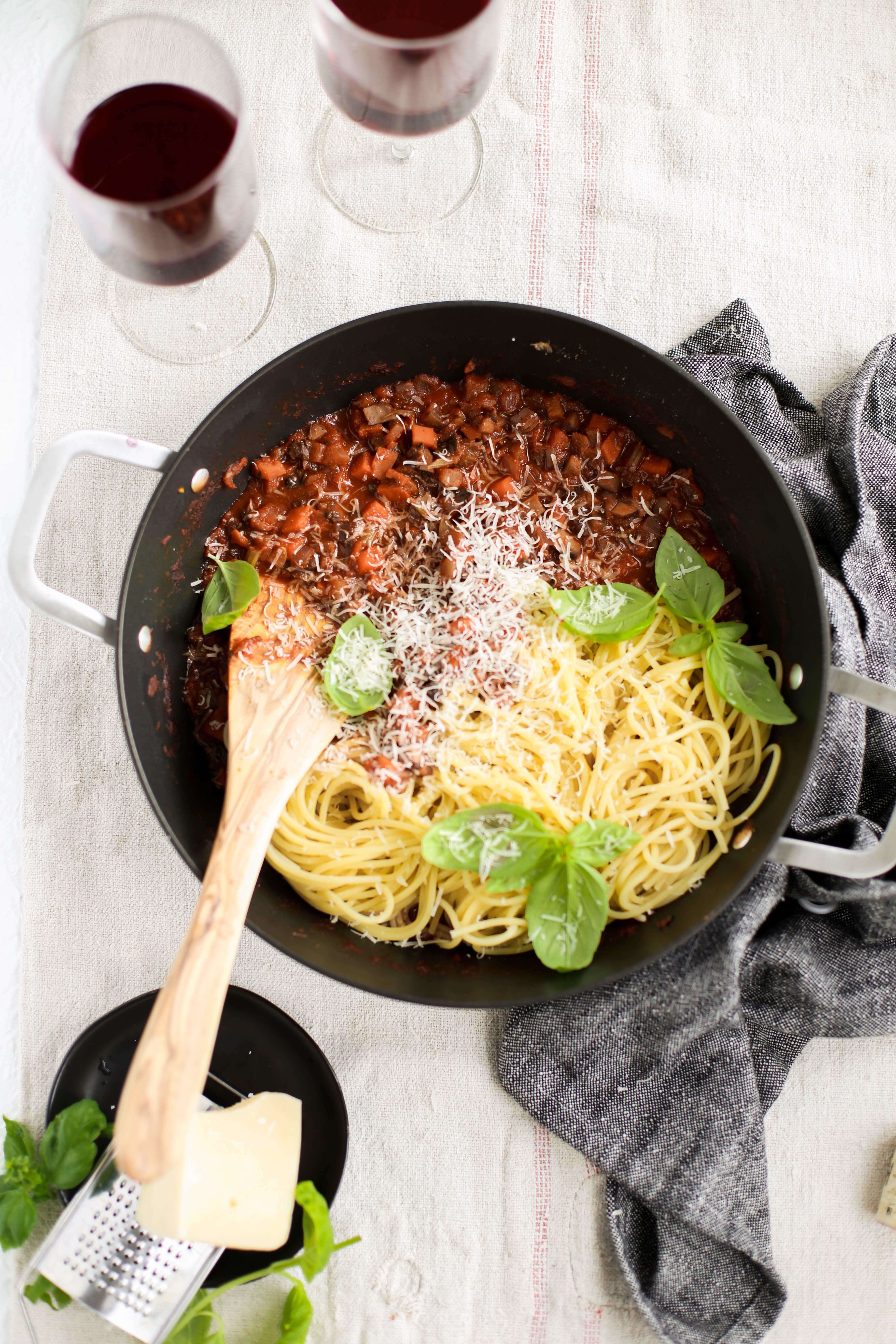 Vegetarian Spaghetti Bolognese Recipe
Not only does the whole meal taste so savory and wholesome, most of the time you can't even tell there isn't meat in the recipe! Talk about a win-win!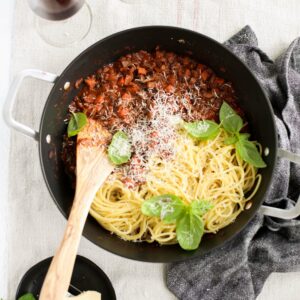 Ingredients
16

oz

spaghetti noodles

2

tbsp

olive oil

3

celery stalks, diced

2

carrots, peeled and diced

1

yellow onion, diced

16

oz

brown mushrooms, diced

5

garlic cloves, minced

.5

cups

red wine

1.5

cups

vegetable stock

1

15 oz can of your favorite tomato sauce

1

tsp

crushed red pepper

2

tsp

dried oregano

2

tsp

kosher salt

10

fresh basil leaves, thinly sliced

Grated parmesan cheese
Instructions
In a large non-stick braiser add in olive oil and heat on medium heat. Add in onions, carrots, and celery and sauté for 8-10 minutes or until translucent.

Add in minced garlic and mushrooms and continue to cook for another 2-3 minutes. Add in wine to veggie mixture and let simmer for 2-3 minutes or until most of the wine has reduced.

Add in vegetable stock, tomato sauce, salt, pepper, oregano, red pepper and stir until call combined. Bring the sauce to a strong simmer and reduce heat down to low. Cook for 20-30 minutes, stirring occasionally.

While your sauce is cooking, bring your large multi pot water to a boil. Add in dried pasta and cook to package instructions (about 8-9 minutes for al dente noodles) remove colander piece from pot and serve with fresh sauce. I top each serving with fresh basil and grated parmesan cheese!
Nutrition
Serving:
1
g
Calories:
265
kcal
Carbohydrates:
41.1
g
Protein:
10.4
g
Fat:
5.9
g
Saturated Fat:
1.2
g
Cholesterol:
44
mg
Sodium:
949
mg
Fiber:
2.4
g
Sugar:
5.1
g
Check out some of our other favorite recipes for Meatless Monday.