Vegan Niçoise Salad with Crispy Chickpeas and Mushroom "Scallops"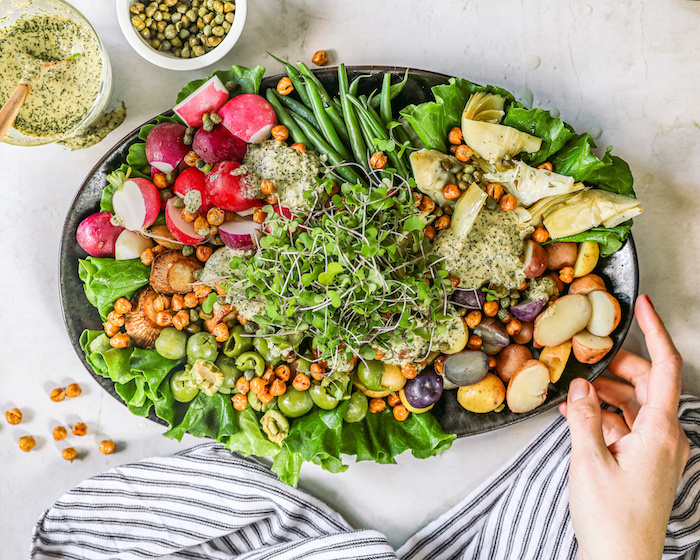 This recipe is a vegan alternative to one of my all-time favorite salads. For me, the Salade Niçoise was the salad that opened the door to gourmet flavors on a salad. Before this introduction, I was used to garden salads with basic dressings. Luckily, this introduction happened in my high school years and I haven't looked back since.
Typically, the niçoise is made using tuna or anchovies and boiled eggs. While I absolutely love this combination, I thought it would be fun to recreate it using vegan alternatives. A key part of Intuitive Eating is tuning into our bodies' hunger cues to find satisfaction in both what makes us feel good physically and what sounds good, emotionally. For me, that sometimes looks like meat and fish, and sometimes like veg. I like to know I always have the option for either. However, If you are a vegan or vegetarian this recipe is of course for you.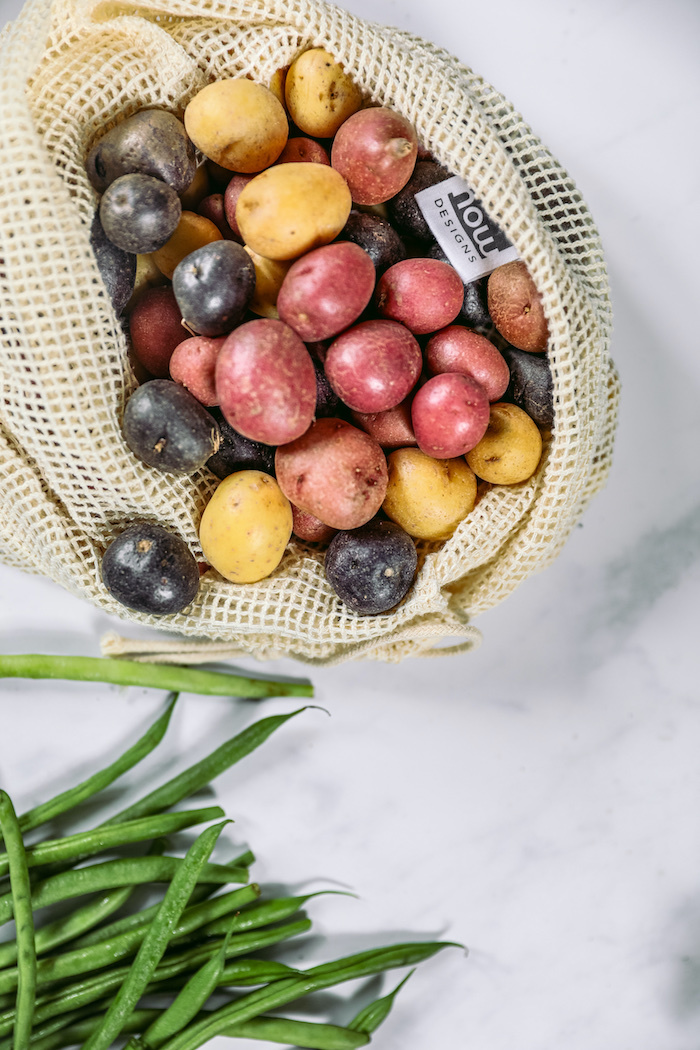 Le Marché Produce Bags

By Now Designs

Shop Now
To achieve a decent copy-cat of the traditional flavors, I oomphed up the brined foods to make up for the salty anchovies, and added my favorite "vegan scallops", aka sautéed king oyster mushrooms, to make up for the umami lost with the tuna and eggs.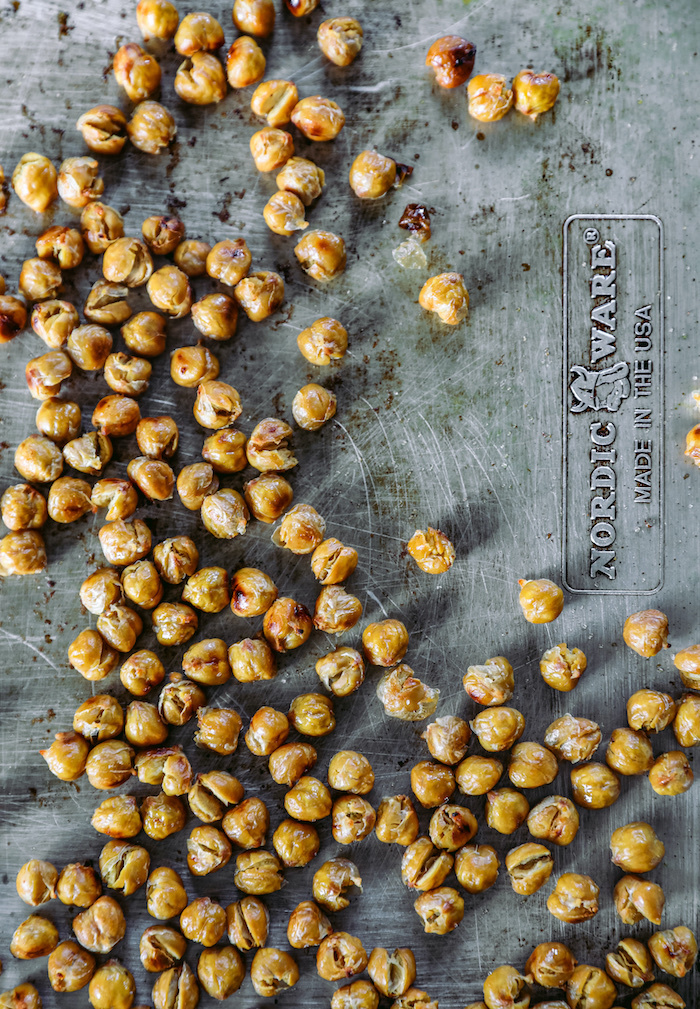 Naturals Baker's Quarter Sheet, Set of 2

By Nordic Ware

Shop Now
The crispy chickpeas are just super delicious and add a wonderful salty crunch. Instead of tomatoes, I opted for cupcake radishes because they add a really dynamic spice and crunch that pairs so nicely with the capers, olive, and artichokes.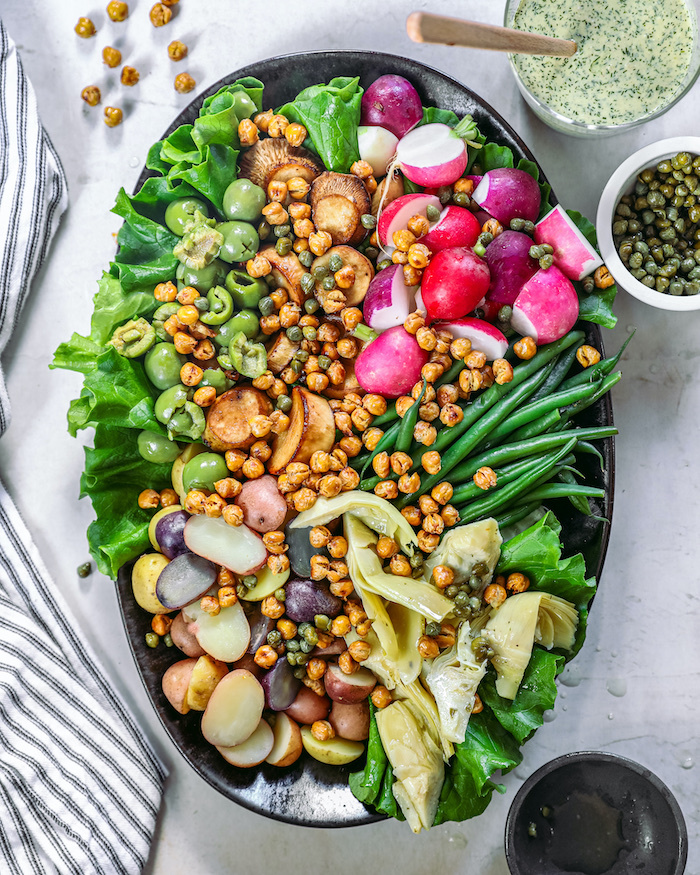 Glass Tea Towels, Black

By Now Designs

Shop Now
The most wonderful part of this salad, in my opinion, is the dressing with potatoes and string beans. Feel free to get creative and swap out different ingredients for your specific taste preferences.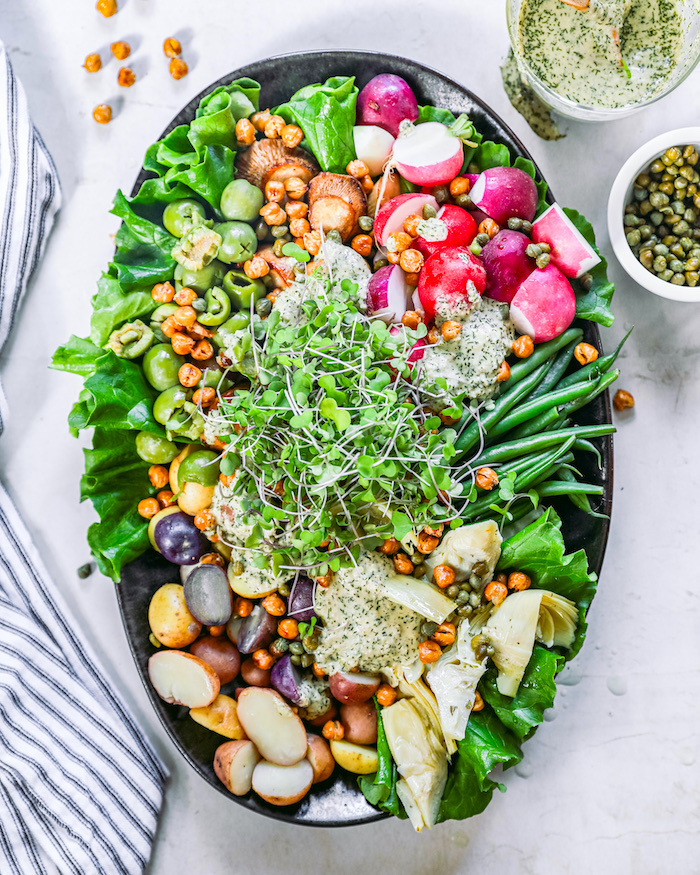 Vegan Niçoise Salad with Crispy Chickpeas and Mushroom "Scallops"
This vegan copycat of a Niçoise Salad is absolutely delicious whether or not you're vegan. The "vegan scallops" aka sautéed king oyster mushrooms stand-in for the briny anchovies and the crispy chickpeas add a salty crunch. The dressing uses an egg-free mayo alternative but doesn't compromise on flavor! You have to try this one.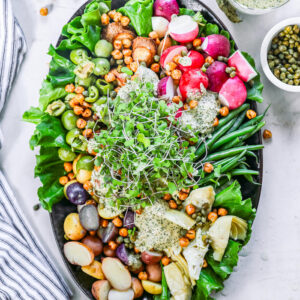 Ingredients
15.5

oz

chickpeas, drained and rinsed (1 can)

3

tbsp

oil

16

waxy potatoes, such as tri-colored baby potatoes, scrubbed and cut into quarters

pinch of salt for cooking

.3

lb

string beans, roughly 1 large handful (haricots verts)

2

large king oyster mushrooms, trimmed and sliced into ¼" rounds

.5

cups

cold water

1

head of romaine or butter lettuce, washed

1

bunch cupcake radishes, scrubbed, trimmed, and quartered

.25

cups

marinated artichoke hearts

.25

cups

Castelvetrano olives, drained and crushed

.25

cups

capers, drained

microgreens or dill for garnish

2

shallots, large, sliced thin

2

tbsp

oil

.25

cups

cold water

.25

cups

vegan mayo such as Just Mayo

1

lemon, juiced

1

tsp

salt, plus more for cooking

1

large bunch of dill
Instructions
Preheat oven to 425 degrees. On a baking sheet, drizzle roughly 1 tablespoon oil over drained chickpeas and salt generously. Bake for about 20-30 minutes, shaking to roll the chickpeas around periodically, until golden. Give the pan one more shake, turn off the heat, and let the chickpeas dry out completely in the cooling oven while you prepare the rest of the salad.

While the chickpeas cook, prepare the potatoes and string beans. Fill a medium saucepot about a quarter of the way with water. Using a steamer basket, cook the potatoes with a generous sprinkle of salt for about 20 minutes, or until tender. Remove the potatoes from the heat and let cool while you cook the string beans following the same method, cooking for about 7 minutes, until tender. If you don't have a steamer basket, you can boil the potatoes and string beans.

While the potatoes and string beans cook, prepare the dressing. In a medium pan, heat 2 tablespoons oil over medium heat and add the sliced shallots. Turn to low and cook, stirring frequently, for about 7-10 minutes until the shallots have caramelized. Sprinkle with salt. Add a ¼ cup of cold water to the hot pan and deglaze the brown bits from the bottom of the pan. Continue to cook until all of the liquid has been cooked off. Set aside to cool.

In a food processor or high-speed blender, mix caramelized shallots, mayo, lemon juice, salt, and dill on high for about 2 minutes, or until very well incorporated. Taste and add ½ teaspoon more salt as needed. Set aside.

Using the same, uncleaned pan as the shallots, heat 2 tablespoons oil over medium heat. Cook the sliced king oyster mushrooms until brown on both sides. Add ½ cup cold water to deglaze the pan. Cover to steam for about 2-3 minutes. Cook remaining water off. Salt and set aside.

Assemble the salad after each cooked component has cooled, by layering lettuce, string beans, potatoes, oyster mushroom scallops, radishes, marinated artichokes, olives, crunchy chickpeas, capers, and dressing. Garnish with microgreens or dill. Serve and enjoy!
Nutrition
Serving:
1
g
Calories:
748
kcal
Carbohydrates:
90.7
g
Protein:
26.7
g
Fat:
33.2
g
Saturated Fat:
3.6
g
Sodium:
579
mg
Fiber:
23.7
g
Sugar:
14.7
g
Recipe Notes
Crispy Chickpeas. There's a fine line between drying out the center of the chickpeas and burning them. If you have time to kill, you could do the low and slow method by setting your oven to a lower temperature and letting the chickpeas dry out in the oven over a longer period of time.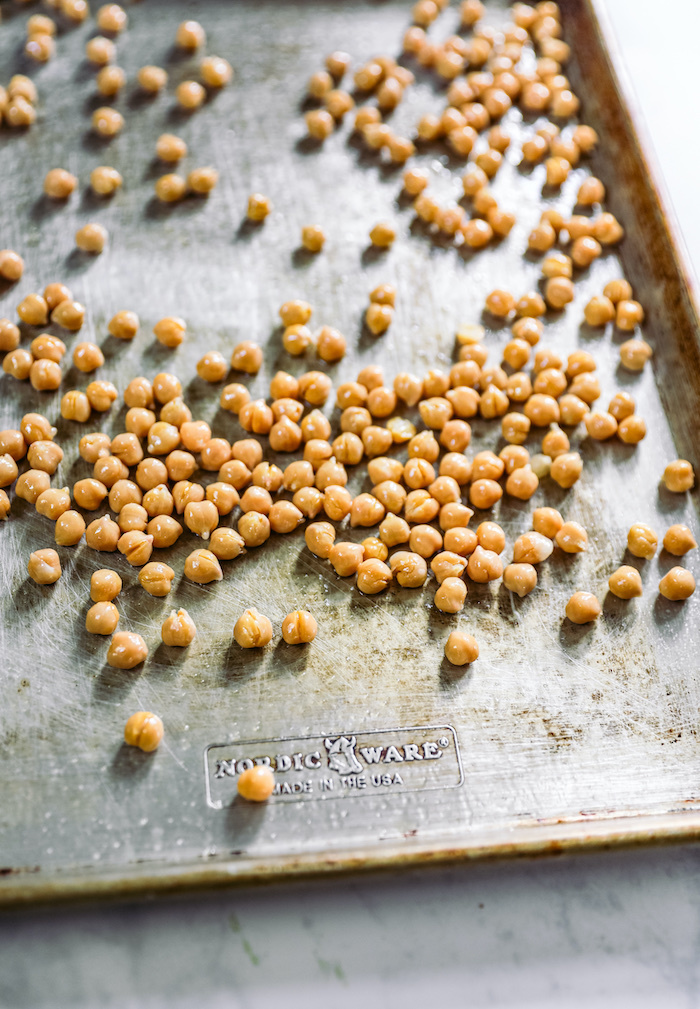 However, I find that the method I instruct below works the best, and uses a shorter amount of time. The key is to turn off the heat before the chickpeas are crunchy in the center. They should be nice and brown, with a good outer crunch, and still a little tender in the middle. At this stage, turn off the heat and let them cool inside the oven. This trick is how they become fully crunchy and not burnt.
Mushrooms. You could use any mushroom, sautéed, or marinated in place of King oyster mushrooms. If you're not vegan, try cooking them in butter for a nice flavor.
Caramelized Shallots. This is one of my favorite additions to the creamy dressing. It adds such a lovely flavor when done well, almost like a French Onion dip. However, burnt shallots will add bitterness to the dressing that is to be avoided. Sit and watch your shallots as best as you can to avoid black bits. Shoot for brown, soft, and about halved in volume.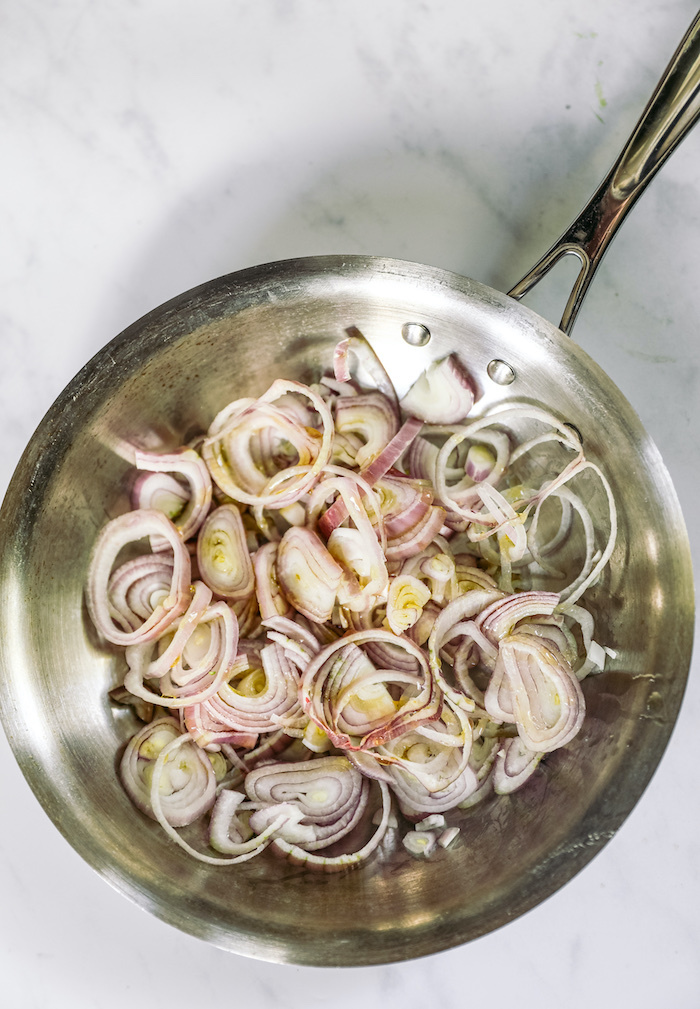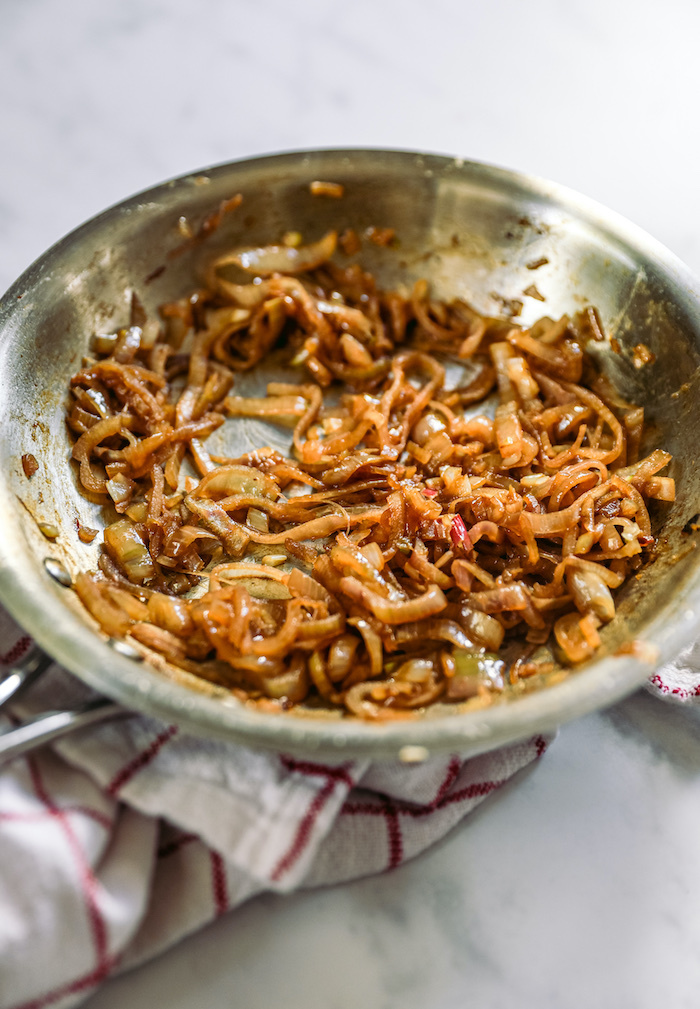 Dressing. I love Just Mayo for an egg-free mayo alternative. I find it to be a little sweeter than traditional mayonnaise. Regular mayo or any other vegan alternative would work just fine.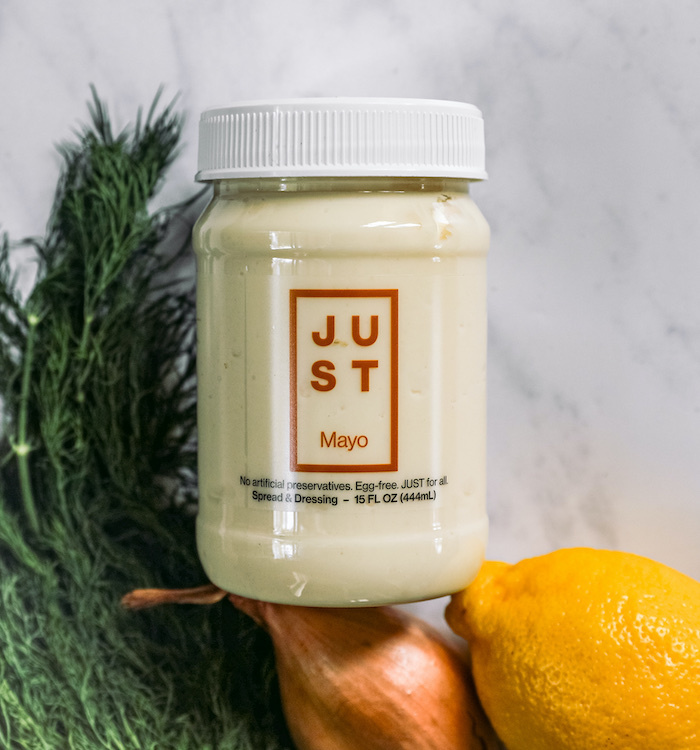 Prep 11 Plus Food Processor

By Cuisinart

Shop Now