Vegan Matcha Mint Chip Smoothies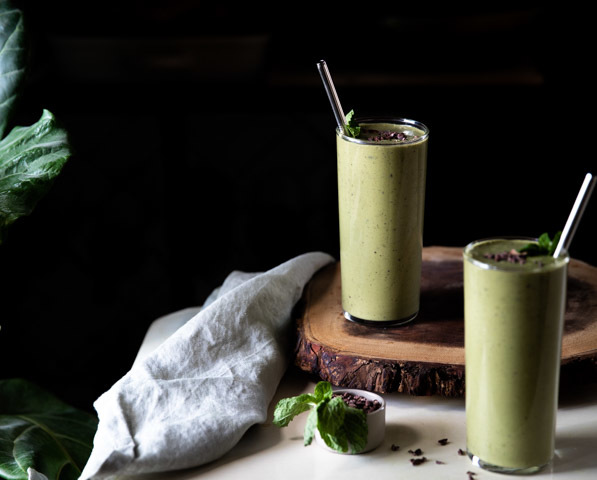 I'm typically a fruity smoothie kind of gal. My go-to is just whatever fresh fruit I have on hand, a bunch of greens, some ice, liquid, PB and done. However, the other day I realized that a. it's the middle of winter and obviously fresh fruit is less tasty/available, and b. how much more fun would it be to have a themed smoothie pair nicely with the winter months. It's kind of like the Larabar of smoothies — all of these healthy ingredients come together to make a mint chocolate yummy! How fun and a total departure from the usual.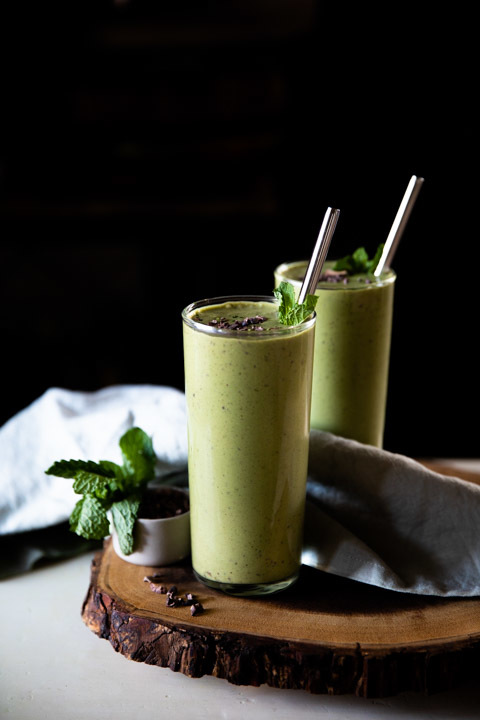 Now, I'm not suggesting you replace your mint chocolate chip ice cream hankering for this smoothie. No ma'am, no way! If you're craving it, have it. Never restrict. Studies show you'll most likely find your way to that food eventually and eat way more than you would have in the first place. Even if you don't give in to your original craving, you lose the satisfaction factor when you deprive yourself of the foods you love and try to replace them with something "healthier". And satisfaction is actually an important tool for maintaining a healthy, balanced relationship with all food.
Instead, think of this Vegan Matcha Mint Chip Smoothie recipe as a fun way to make a new kind of smoothie with some great staying power for your busy day.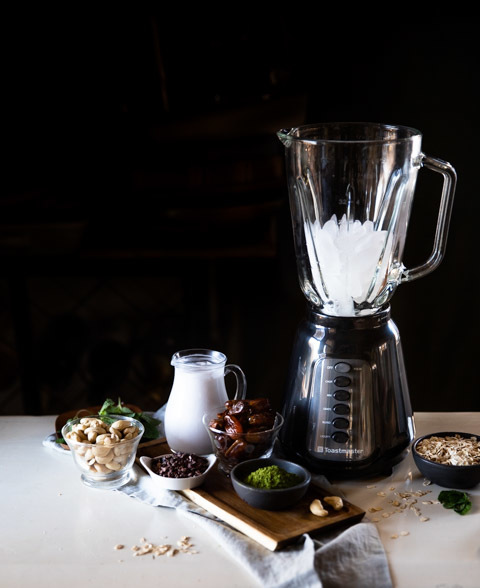 Recipe Notes
My favorite part of this smoothie is the bitter cacao nibs. They add that vital crunch that gives this smoothie a really awesome texture. Okay, what I'm trying to say is it's just really fun to eat! Be sure to add this ingredient last, we want the chunks to stay intact. If you're looking for a substitution, dark chocolate chunks, finely chopped would be great.
Frozen banana. Sometimes I make it with the banana, and sometimes without. It just depends on if I have them in my freezer. If you don't have them and don't want to buy them, feel free to omit. Just add an extra ½ cup ice and maybe a touch more dates/maple syrup to make up for the sweetness lost.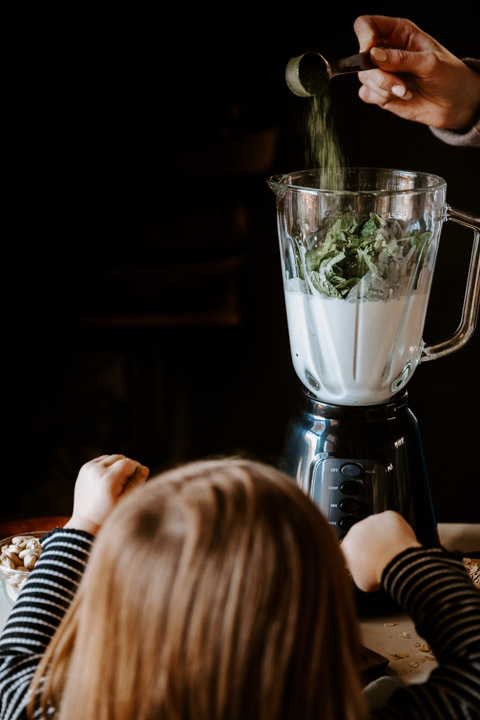 You'll see in the recipe that there are varying quantities for the dates, maple syrup, and matcha. All three of these ingredients have pretty strong flavors and if you over do them right out of the gate, they are hard to dial back. Try starting with the lesser suggested measurement, and add more as you taste!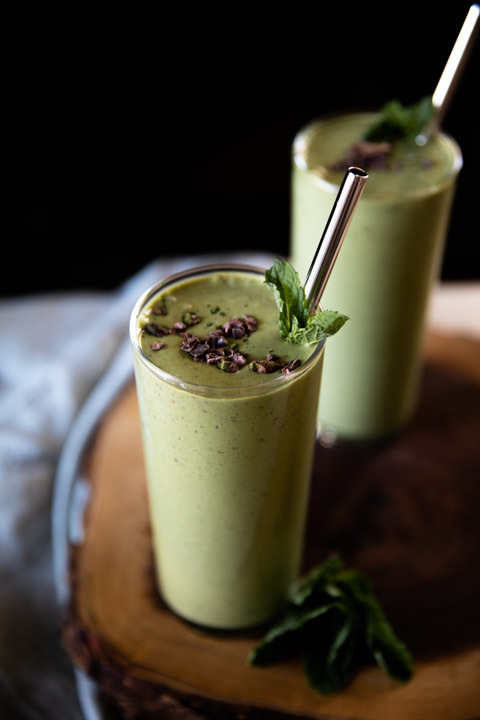 Oats. You could pre soak the oats to add a little more thickness if you have the time. If you're on the fly, don't worry. I've left it out of the instructions because it's fine without the extra step.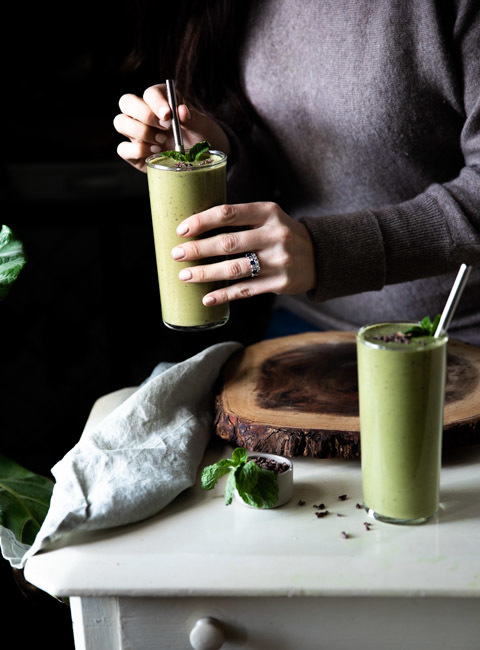 Matcha Mint Chip Smoothies
This delicious Vegan Matcha Mint Chip Smoothie recipe is a fun way to make a new kind of smoothie with some great staying power for your busy day.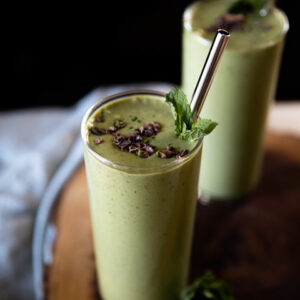 Ingredients
2

cups

ice

1

frozen banana

1

can coconut milk

.33

cups

oats

.33

cups

raw cashews

1

bunch mint (I use about 1 clamshell package if I'm buying it)

15

dates

2

tbsp

maple syrup

2

tbsp

matcha powder

pinch of salt

.33

cups

cacao nibs
Instructions
In a blender, using high speed or "smoothie" setting, combine all of the ingredients except cacao nibs. Blend about 2-3 minutes until smooth.

Taste and adjust any flavors if necessary.

Add cacao nibs and pulse or blend for until just barely incorporated.

Serve immediately and enjoy!
Nutrition
Serving:
1
g
Calories:
763
kcal
Carbohydrates:
90.6
g
Protein:
12.1
g
Fat:
45.3
g
Saturated Fat:
30.6
g
Sodium:
89
mg
Fiber:
14.2
g
Sugar:
56.2
g