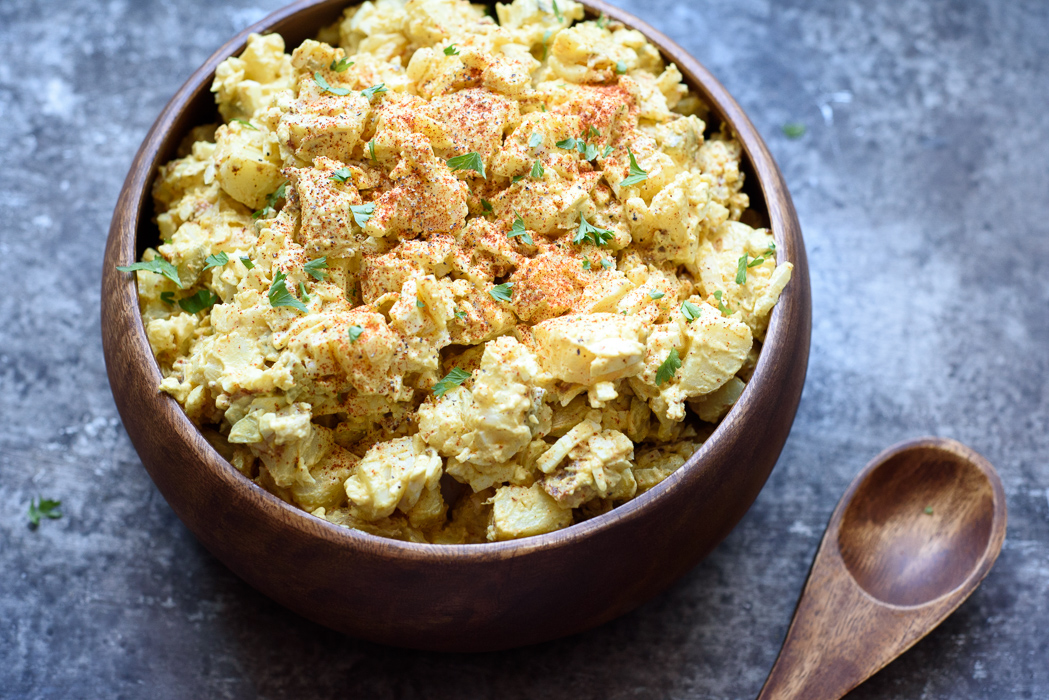 Pump up your potato salad recipe this year with all the health benefits from an age old natural remedy: turmeric!
If you haven't tried cooking with turmeric before then today is your lucky day. Commonly found in curry this health benefit packed little herb is one that we try to incorporate into our diet frequently. Turmeric boasts anti-inflammatory claims and has been said to help with arthritis, it's been touted by gurus across the world for centuries as a powerful substance. It's also happens to be delicious which is, let's be honest here, the real reason I eat it. Adding turmeric to potato salad lends a mild flavor and packs a colorful yellow hue that is just gorgeous. I hope you love this potato salad recipe as much as I do!
Let's get started!
First off… bacon. Need I say more?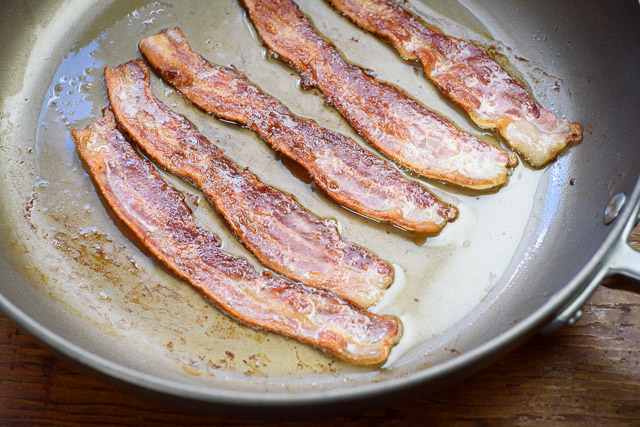 Then we need to boil some eggs. You can use a sturdy pot and lid to do this no problem.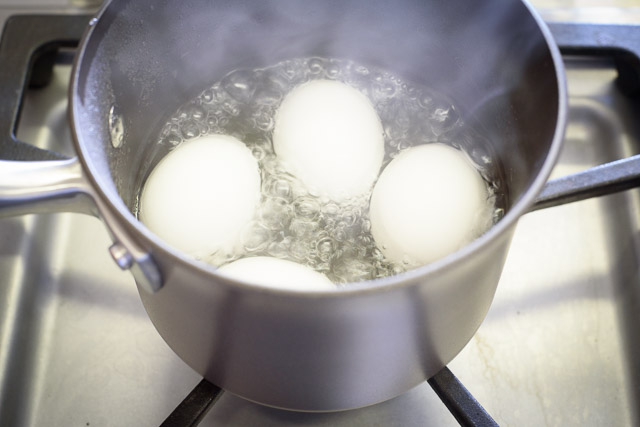 Or you can try out my new addiction… this Dash Egg Cooker. I am horribly forgetful of things and without fail I almost always overcook my eggs even with a timer. This little cooker takes all the guesswork out of making the perfect eggs. I laughed at my mom for years for having one of these but you know what? Mom was right as usual… this little machine is actually worth the cupboard space.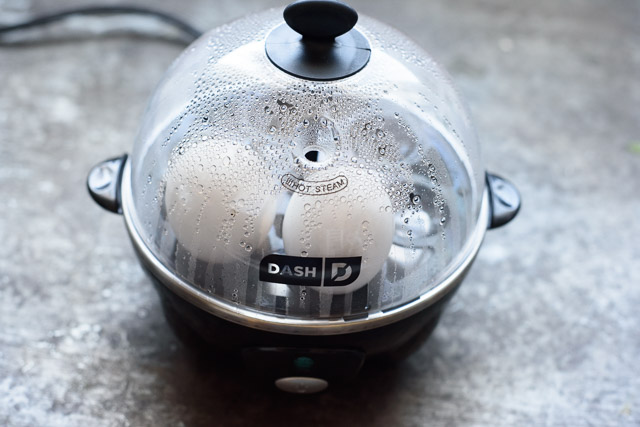 Whatever method you use be sure to shock your eggs in cold water once the time is up to stop the cooking process.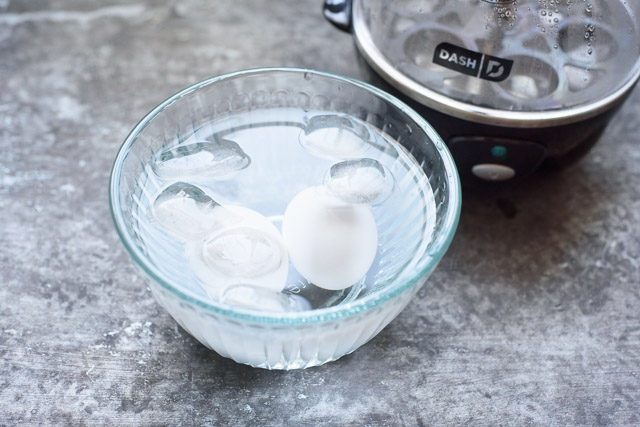 And while this is all happening you'll want to be boiling water for your potatoes as well. I'm in love with Anolon's new Advanced Umber line. Not only are they absolutely gorgeous but they are so fantastically easy to cook with and clean up is a breeze. We got rid of all our other pan sets at the studio and replaced them with these and I could not be more thrilled with that choice.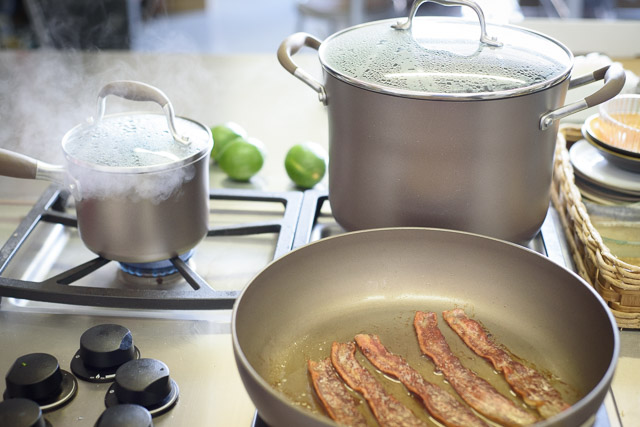 Once your potatoes are fork tender, strain and allow to cool to handling temperature. Then chop into ½ inch cubes.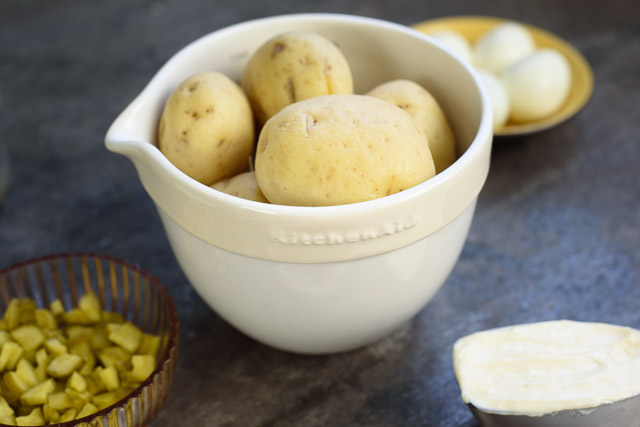 And round up your full cast of characters.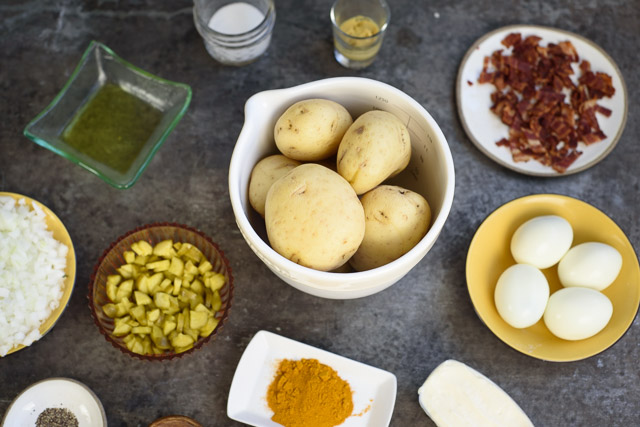 Your eggs should be cooled by now and ready to slice. I like to slice them twice so they are long and thin.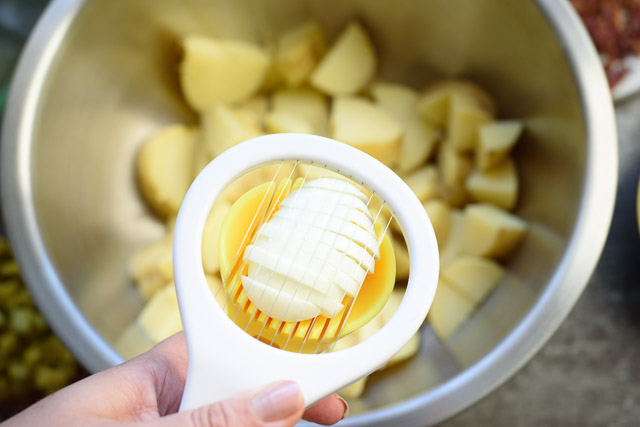 Then toss everything together.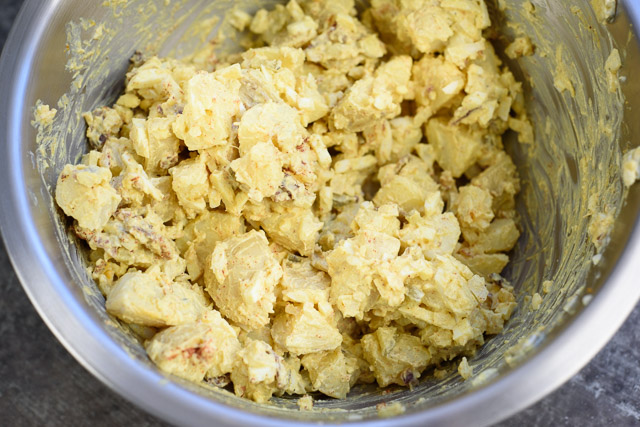 And serve!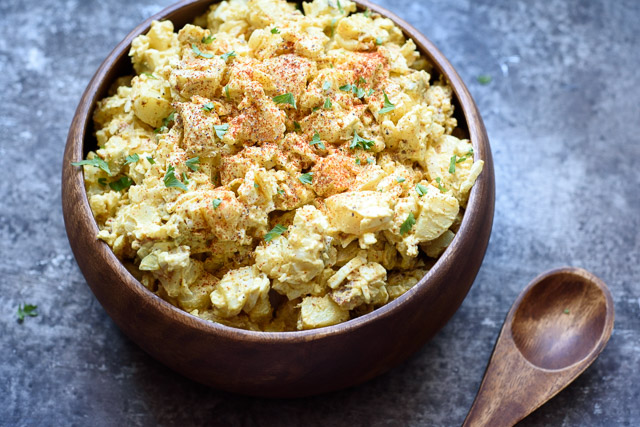 Turmeric Potato Salad Recipe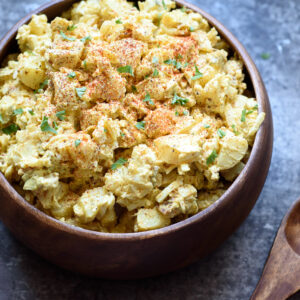 INGREDIENTS
1 pound yellow potatoes
½ onion, minced finely
5 slices bacon, crumbled
4 hard boiled eggs, sliced
½ cup diced pickles
½ cup mayonnaise
2 tablespoons pickle Juice
½ tablespoon turmeric powder
1 tablespoon brown mustard
1 tablespoon sugar
Salt and pepper to taste
INSTRUCTIONS
Boil potatoes. Chop into ½ inch cubes. Cool.
Combine all ingredients.
Serve immediately or store for up to 2 days.
Note: If storing be aware that potatoes will continue to absorb liquid and may need an additional addition of sauce ingredients and salt and pepper to taste properly seasoned.