3 Tropical Drinks for the Ultimate Tiki Party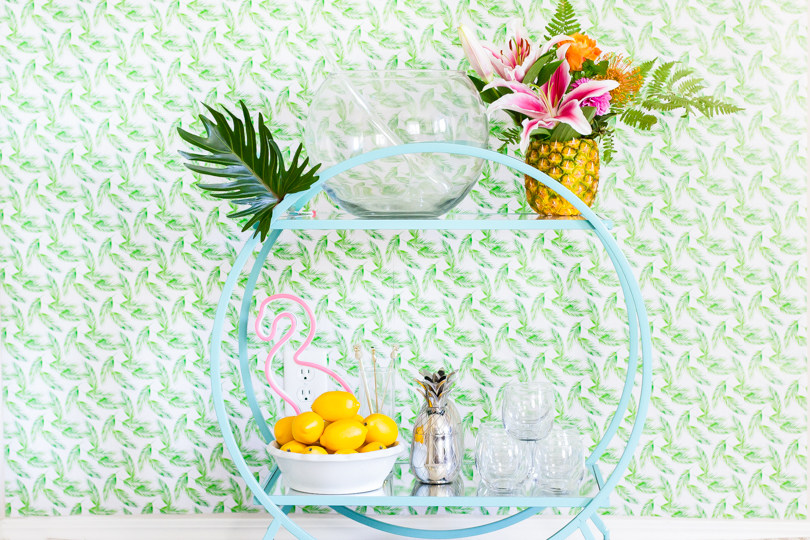 Tiki is the new gold standard for tropical summer fun – there's something truly magical about the way pink flamingos and pineapple cups get the vacation vibes going. If you want to throw the season's most epic house (or pool!) party, you're gonna wanna check out these three party-ready, crowd pleasing tiki cocktail recipes. Bonus: a floral arrangement hack and the perfect tiki playlist!
Let's start with décor, shall we? For me, tiki is all about the glassware (and, of course, what's inside it, but we'll get to that later). Presentation counts — think of all the crazy cups and straws and umbrellas you get in a tiki bar — and you can't really go full tiki in a sad red solo cup. I've long been obsessed with W&P Design's pineapple tumblers and matching metal straws, which make the perfect home for a Mai Tai. Libbey's Serene punch bowl has the most wonderful retro fish bowl shape that works especially well for big tiki batches, and the vintage-inspired spritzer glasses from True Fabrications come in the most swoon-worthy color combos, like this adorable seafoam/gold option.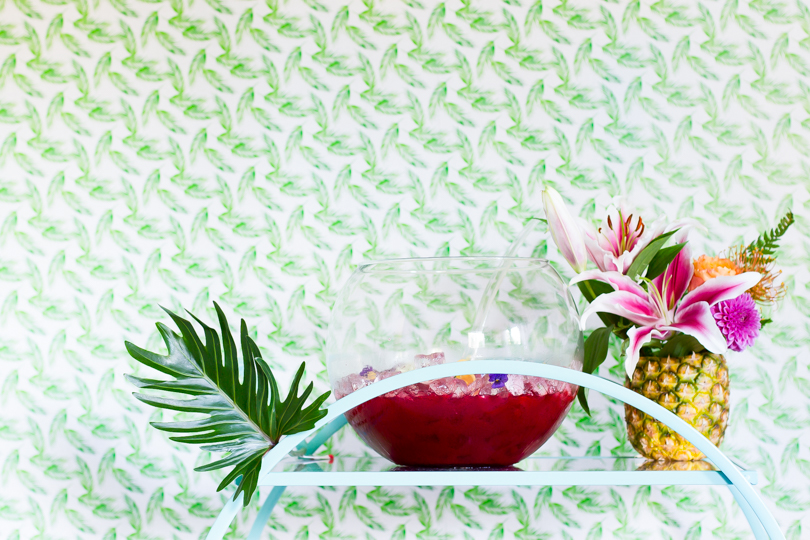 If you have a bar cart, load it up with your glassware and add some eye-catching touches. Can we all just agree that this neon flamingo from Merkury Innovations is the cutest light of all time? It lives in my office when it's not killing it as tiki décor, and it makes me smile every time I turn it on. I love that it works with batteries, not a plug, so I can put it anywhere without worrying about unsightly cords. And if you don't have a bar cart, a regular table or console works just fine — find a fun tropical tablecloth if you want to go the extra mile.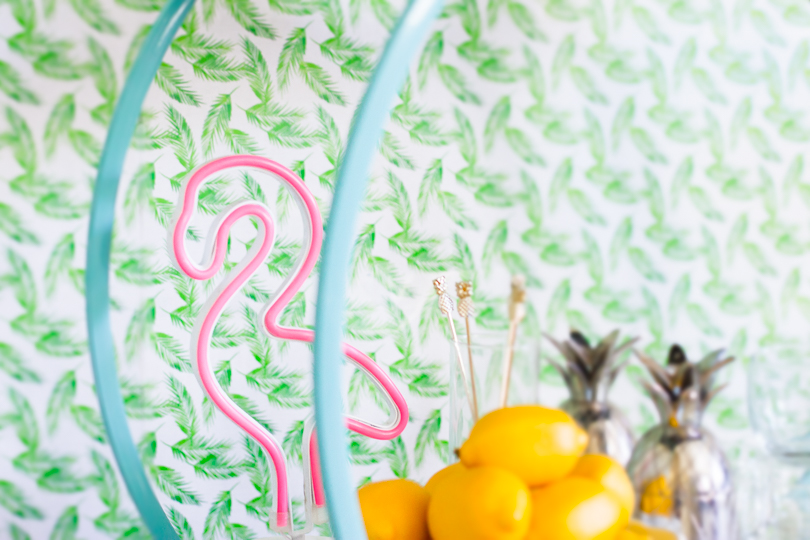 Let's talk about my floral hack, which stems from a new discovery that has changed my pineapple game forever. Did you guys know about these pineapple slicers from Tomorrow's Kitchen? I'm embarrassed to say that I didn't, and used to hollow out pineapples by hand every time I wanted to make a cup out of one. Needless to say, it was super time-consuming, messy, and inconsistent.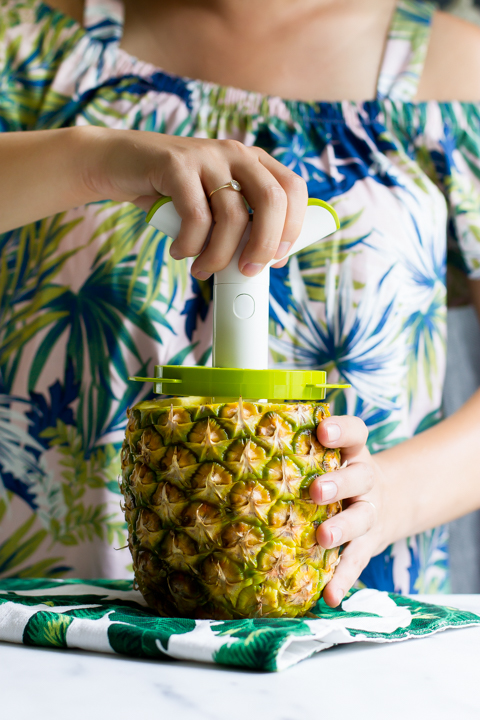 Now that I can make a perfect pineapple cup in about 10 seconds, I use them not only to serve beverages but to hold flowers. Simply fill the hollowed out pineapple with cold water, and create your own tropical arrangement. Use a big statement flower, then fill in with a few smaller stems (oranges and pinks always work well for tiki) and greens. The pineapple makes the whole thing look professional, when in reality this baby was embarrassingly cheap to DIY.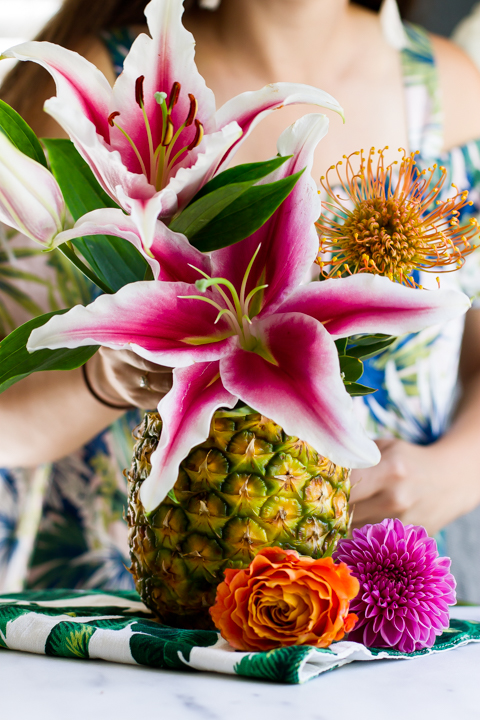 You can serve all three tiki cocktail recipes below like I did, or just pick one or two if you have a smaller crowd. The Mixed-Berry Mai Tai Punch is wonderful to make ahead, chill, and put out right when your guests arrive. For the mixed berry juice, you can use any combo you like — since berries are very much in season right now, it's a great opportunity to use something local. Juice them in a traditional juicer, or blend them in a blender and strain through a fine mesh sieve. A pint of berries produced the right amount of juice for me.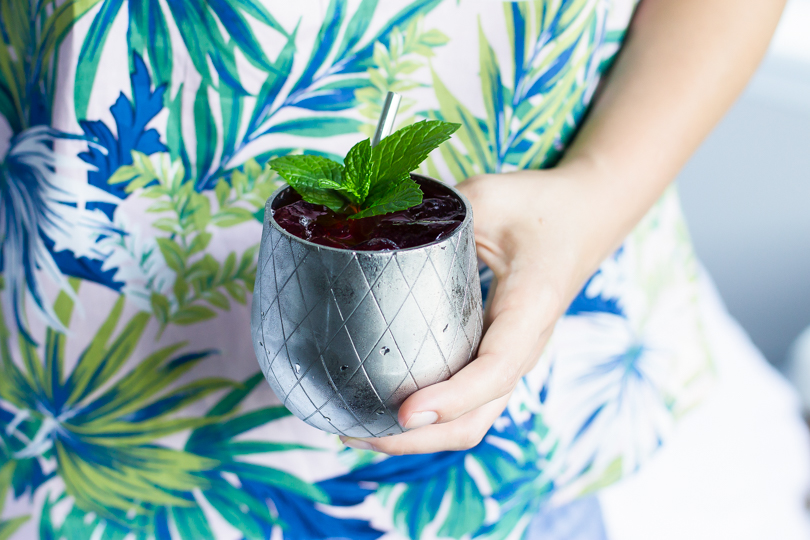 Mixed Berry Mai Tai Punch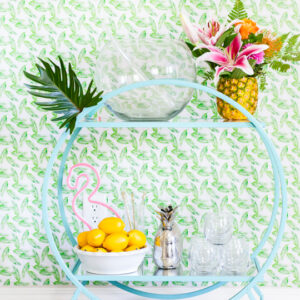 INGREDIENTS
1 cup Appleton Estate Signature Blend rum
½ cup El Dorado 12 year rum
½ cup Cointreau
1 cup fresh pineapple juice
½ cup fresh berry juice
½ cup fresh squeezed/strained lime juice (don't use the bottled stuff!)
½ cup quality orgeat (like BG Reynolds, available on the True Fabrications website)
1 tbsp angostura bitters
Hearty pinch of salt
INSTRUCTIONS
In advance of your party (no more than 6 hours ahead, 4 is ideal), combine all ingredients in a punch bowl, then cover and store in fridge.
When guests arrive, fill bowl with ice and stir. Garnish with edible flowers and serve with fresh mint.
Tropical Popsicles are another delicious make-ahead recipe, and this one you can even mix up to two days before. Tovolo's Tiki Pop Molds are just as fun and pretty as ceramic tiki mugs — just be super careful when you remove the pop from the mold, since boozy popsicles aren't as hard as regular ice and are prone to break. Of course, you could also fill these with regular juice if you have under-age or non-imbibing guests whom you want to include in the tiki fun!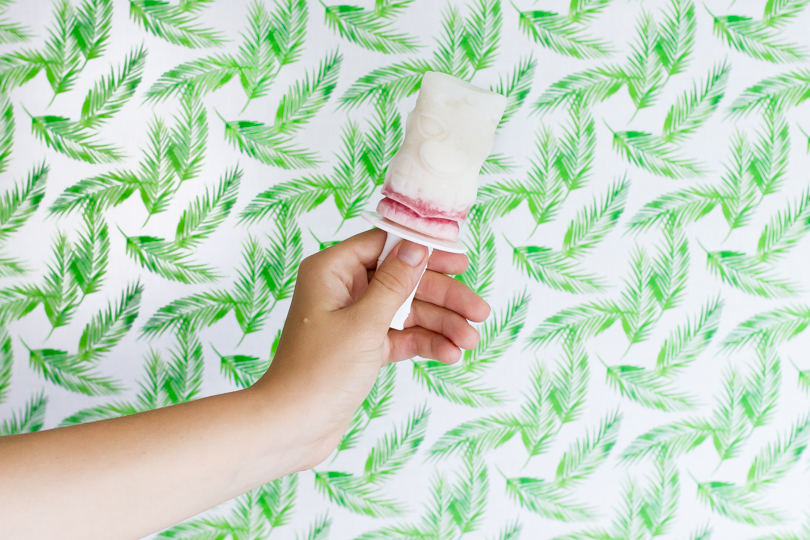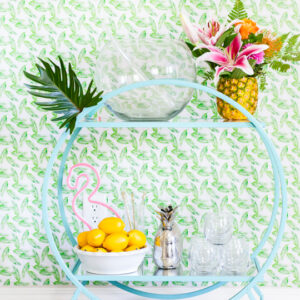 INGREDIENTS
3 oz coconut cream
2 ¼ oz fresh squeezed/strained lime juice
2 ¼ oz water
1.5 oz gin or vodka
1 oz fresh watermelon juice
INSTRUCTIONS
Combine all ingredients but the watermelon juice and divide evenly between molds. Freeze for 1 hour.
Remove molds from freezer and top with the watermelon juice (1/4 oz for each mold). Insert handles and freeze for 6 more hours.
Remove popsicles from molds very carefully according to package instructions.
The Coconut Daiquiri has to be blended to order, BUT is incredibly easy to make in quick batches. If you prep the (very short) ingredient list in advance, a batch of 4 comes together in about 30 seconds. I actually love the sound of a blender whirring in the background of a tiki party — the interactive nature of frozen drinks adds a touch of drama you just can't beat.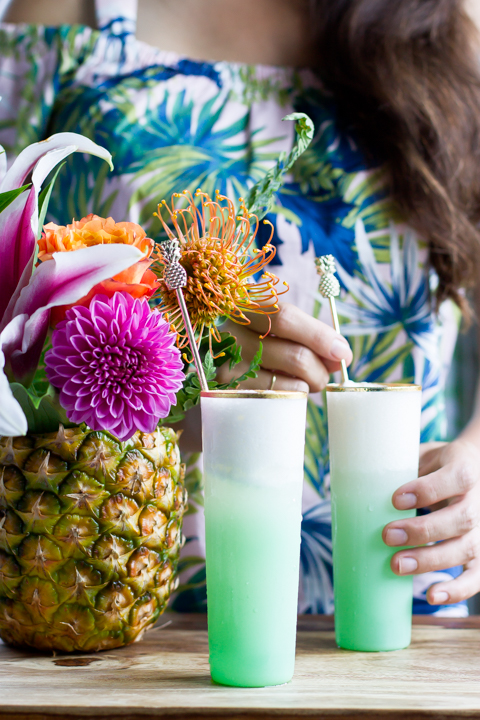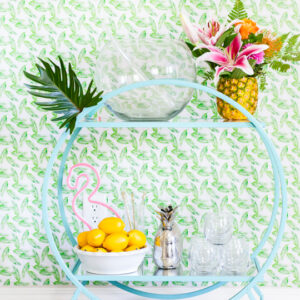 INGREDIENTS
1 cup sugared white rum (see below)
1 oz cream of coconut (I use Coco Lopez)
2 oz fresh squeezed/strained lime juice
480 grams (by weight) ice
4 generous pinches salt
INSTRUCTIONS
For the sugared rum, combine one 750ml bottle of white rum (preferably Flor de Cana) with 160 grams (by weight) of sugar in your blender. Blend on high until the sugar fully dissolves. Store in a closed container in the fridge.
For the cocktail, add the liquid then solid ingredients to the blender (rum first, ice last).
Blend on high until fully blended.
Pour and enjoy!
So stock up on some fun glassware, invite your besties and get your tiki on. Your backyard may not be Tahiti, but by the end of the night your guests will swear they've taken a vacation.