Give Your Pantry a Japandi-Style Minimalist Makeover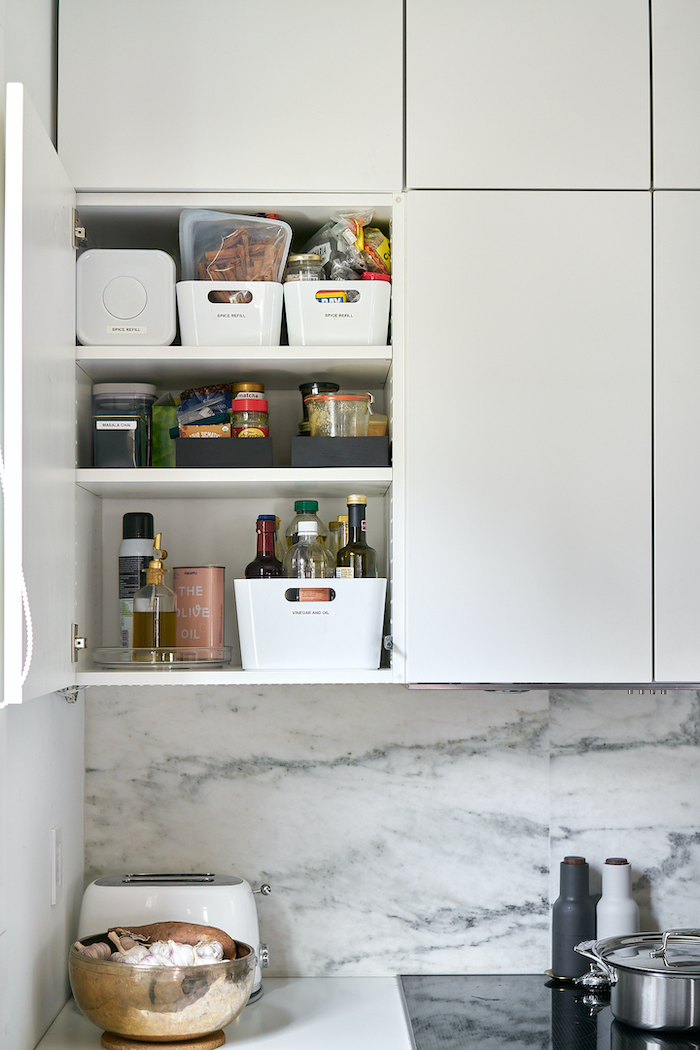 Two of my favorite countries I've visited are Denmark and Japan. My spirit city is Copenhagen. Both countries give attention to aesthetics and how they play a role in daily life that resonates with me. There's a focus on quality and detail that blankets an acceptance of leaving space in a design. It's being comfortable with just enough, not too much… because leaving space exposes potential design problem areas. And what that means is everything simply must be well-designed.
Without knowing it, our home's design is pretty "Japandi". The term Japandi is a blending of Scandinavian design and Japanese aesthetics. The minimalist design that creates calm and clean and low stress is a big part of why Japandi style might be right for you right now. The "Japandi" aesthetic has gained traction in the US recently (pre-COVID-19) because it also has a hint of environmental consciousness and sustainability (using natural, reusable materials and buying for quality).
Because our home was built in the late 1800s, that means storage space is minimal (absent). And when we renovated, we made very strategic decisions about storage in our kitchen. The space had to be a beautiful workhorse of a room to function like we wanted since we cook constantly and photograph.
Now that more of us than ever are home… and some cooking for the first time… I thought I would share what I've learned about keeping an aesthetically pleasing but highly functional kitchen space.
How to bring the Japandi look to your kitchen pantry:
Remove visual clutter like original packaging:
If you've ever looked at styled pantry spaces you'll notice most of the packaging is gone. Everything is decanted into alternative vessels. That's because packages are loud, busy, and compete for attention. Instead, consider buying in bulk and refilling reusable containers. It's less expensive and more environmentally-conscious (but only if you'll actually use that quantity of the product).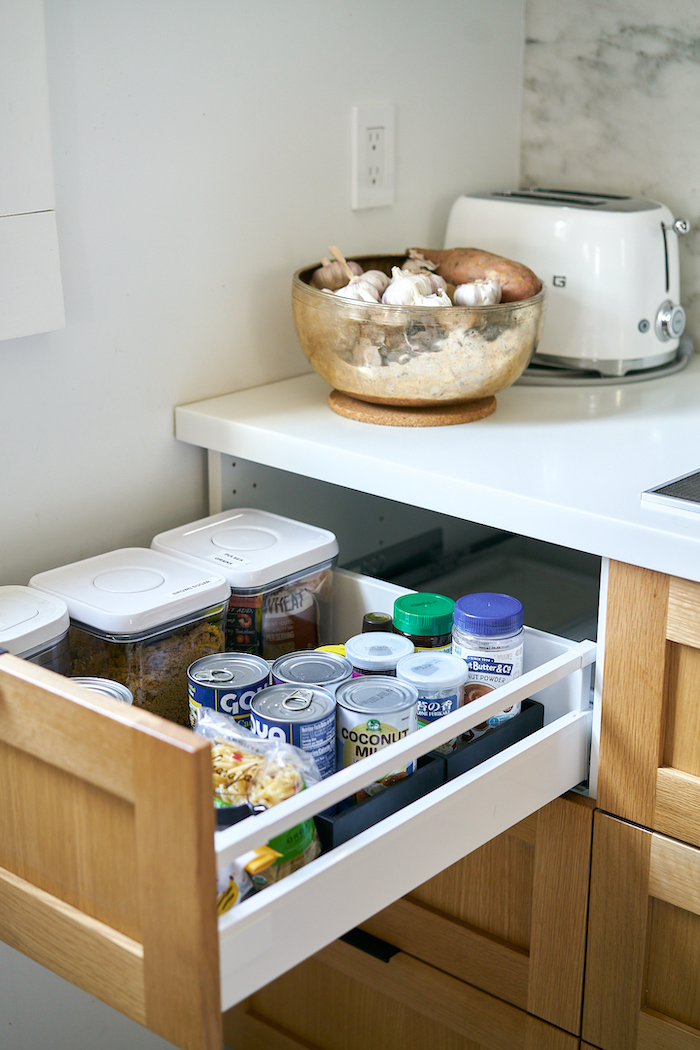 10-Piece POP Container Set

By OXO

Shop Now
Clear containers and labels:
You'll use what you see. Use jars, OXO POP Containers for airtight needs (especially for grains and pasta), and standing Stasher bags which are also great for the fridge, freezer and are dishwasher safe. Consider a label maker in drawers if you can't see the sides of containers. This goes for your spice cupboard or drawer too!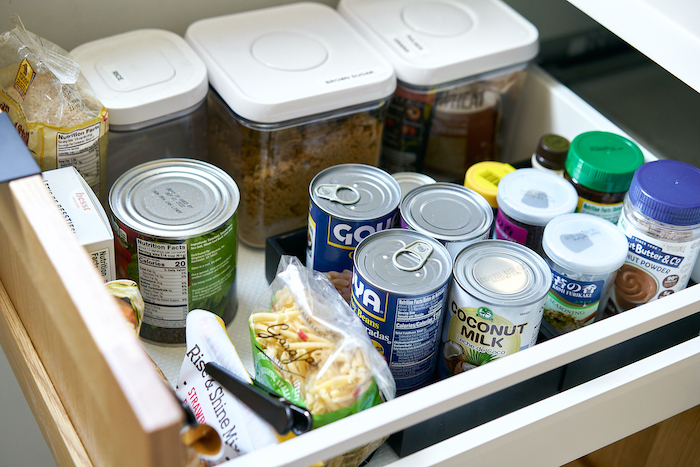 Reusable Silicone Stand-Up Bag

By Stasher

Shop Now
Keep packages space-conscious with clips:
If you have bags that aren't worth decanting into other containers (like chips), use clips to fasten excess bags to fit more into a small space. This also keeps products from spilling and at their optimal freshness.
Gold Bag Clip

By three by three seattle

Shop Now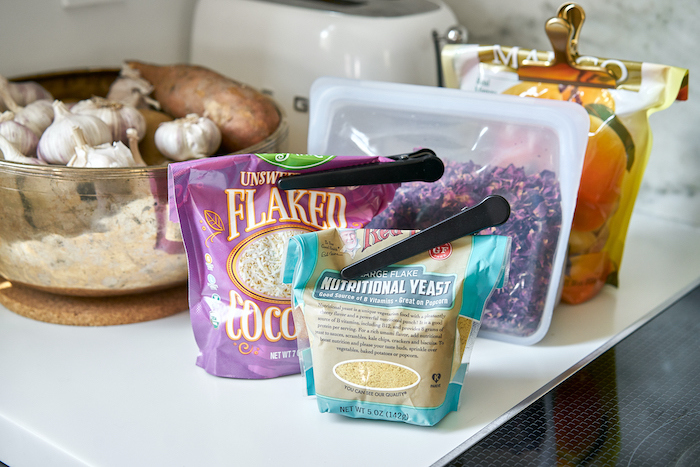 Black Alligator Clip

By three by three seattle

Shop Now
Use containers to corral like with like:
A highly underrated tactic in the pantry is to use dividers and bins in cupboards and drawers. We put all of our honey (yes, we have that much) together, all of our teas together, and even smoothie mix in packets in bins with like items.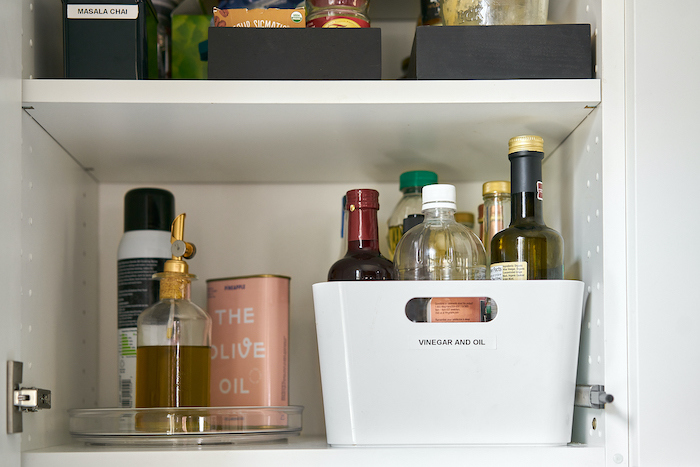 Ashland Drawer Organizers

By Design Ideas

Shop Now
Make deep cupboards usable with a Lazy Susan:
If you don't want to constantly reach behind containers, you need a Lazy Susan. You will automatically feel so much better about the space since it becomes much less frustrating to use.
Lazy Susan Turntable Organizer

By iDesign

Shop Now
Now that you have a handle on helpful tools and hacks for making the most of a smaller space and making it look good, let's talk about what to have on hand.
Pantry Staples:
Pulses: dried or canned
Rice, quinoa or other grains
Dry pasta
Olive oil
Vinegars: start with apple cider vinegar and distilled white (great for cleaning)
Honey
1-2 snacks (dried fruit, nuts, chips, etc)
Baking basics: flour, sugar, yeast, baking soda, baking powder
Spice drawer/other ingredient overflow (put overflow items for decanting in an upper cupboard)
As you cook more and more, you'll be able to make adjustments to your pantry staples to make your space work even better for YOU.