This Homemade Fall Spice Fruit Leather Puts Store Bought Brands to Shame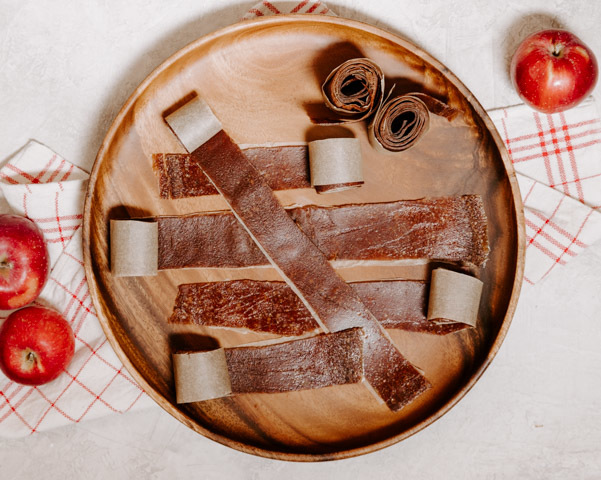 This recipe is such a winner. If you've ever had a fruit by the foot or fruit strips, you know the chewy texture is hard to resist. There's something so satisfying about ripping into it and letting the flavors emerge in your mouth while you slowly eat it. This homemade version gives you that irresistible chewiness plus the real flavor of fresh fruit without the heaps of sugar and artificial colors – a total win! My 2-year-old daughter absolutely loves this leather and I have peace of mind knowing that I'm giving her a sweet treat with a bit more substance.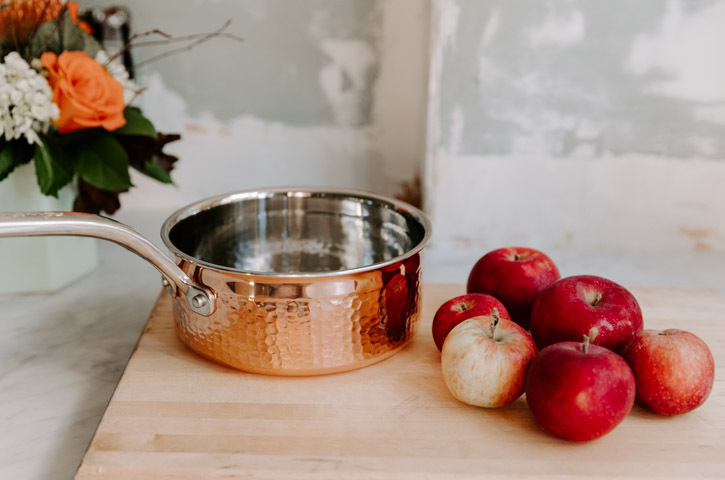 Recipe Notes
Don't be intimidated by the cook time on this recipe. I formulated it so that you can set it in your oven at a very low temperature overnight and wake up to perfectly dried fruit leather. It's as simple as making apple sauce, but something a little extra special. My favorite way to cook!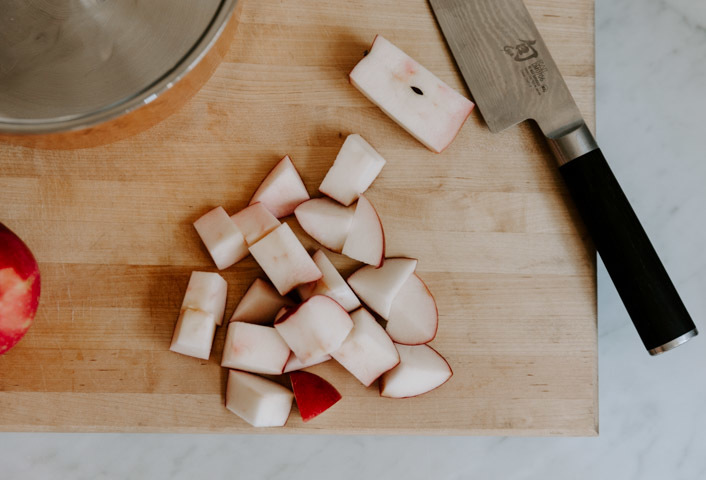 I use Bartlett pears and Honeycrisp apples because they're easy-to-find varieties that taste great, but don't hesitate to use whatever you have on hand, or whatever's local to you. This recipe is meant to be easy!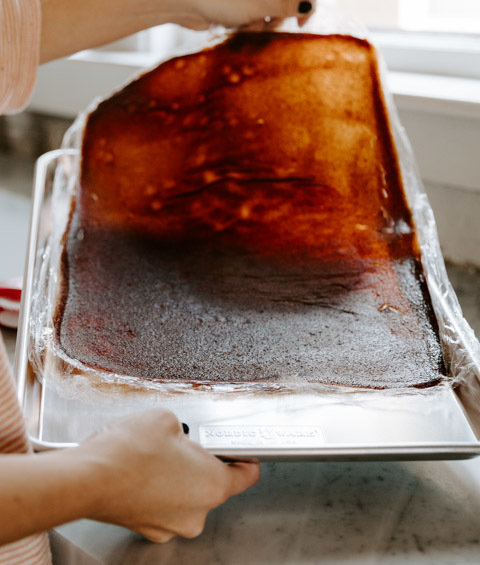 Pumpkin Pie Spice is just a mixture of ground spices (cinnamon, nutmeg, ginger, allspice, and cloves). If it's easier for you to blend your own rather than buying it premade, the proportions are as follows: 18:4:4:3:3.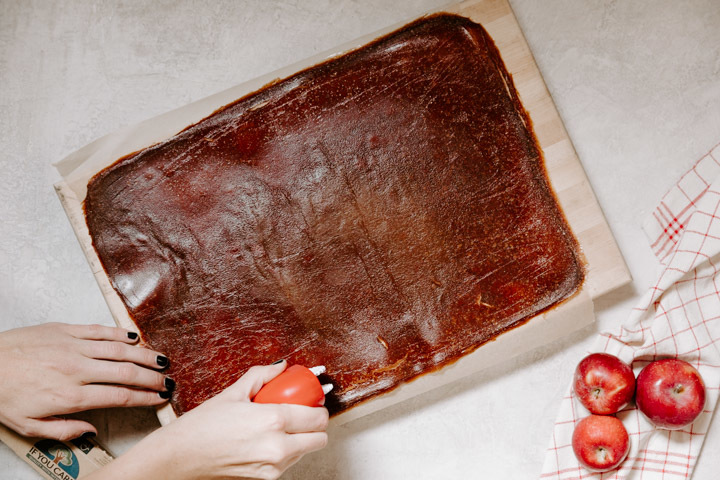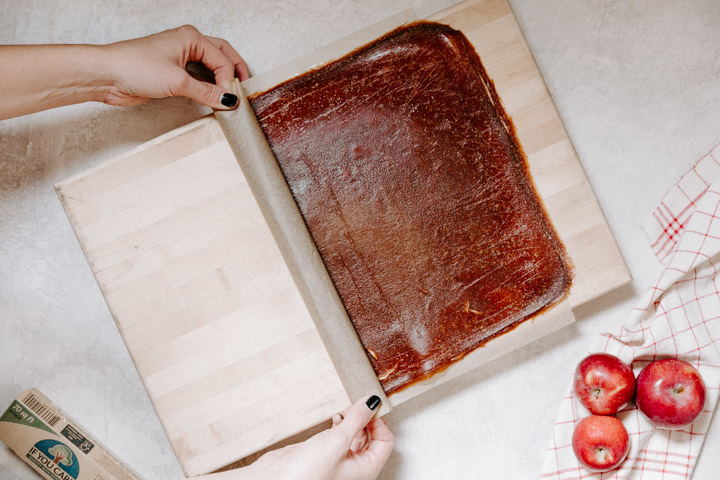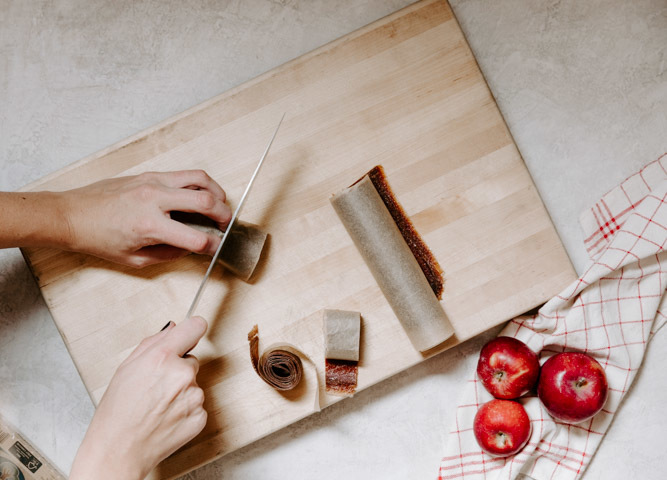 If you make this outside of autumn or winter, omit the pumpkin pie spice mix, and use whatever seasonings sound good to you! I love to make a raspberry/strawberry/blueberry version when I have too many berries that are about to go bad. This is a great way to preserve fruit in a new and different way — goodbye to dreaded food waste!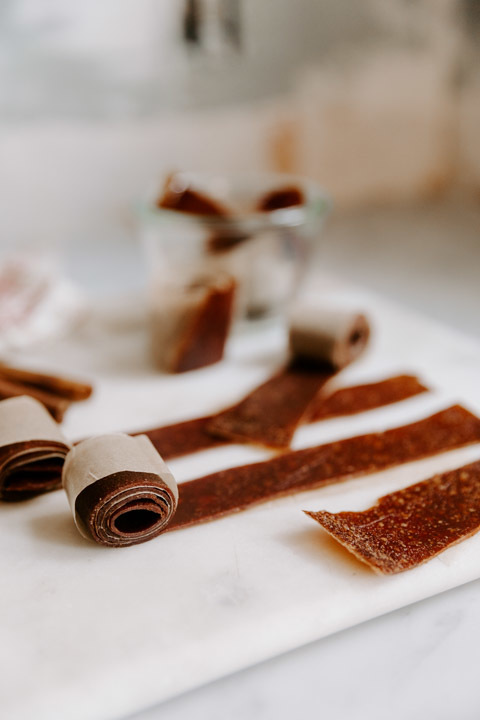 This recipe is such a winner. All the tastes of fall in a homemade and healthy fruit leather. A sweet treat with substance.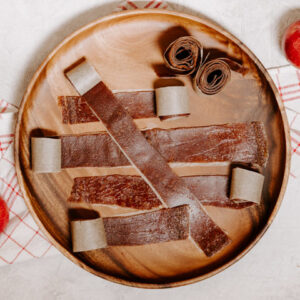 Ingredients
3

medium apples, chopped into 1" pieces (1.3 lbs of apples chopped into 3.5 cups)

3

medium pears, chopped into 1" pieces (1.3 lbs of pears chopped into 3.5 cups)

.75

cups

water

4

tsp

pumpkin pie spice

2

tbsp

sugar

.5

medium lemon, juiced (about 2 tablespoons plus to taste)

dash of salt
Instructions
In a medium saucepan, bring all ingredients except lemon juice to a boil and then down to a simmer. Cover and cook on low for 15 minutes.

Mash fruit using a blender until very smooth.

Return to pan, add lemon juice slowly to taste and adjust pumpkin pie seasoning or sugar if necessary.

Continue to cook on a low simmer for about 5 more minutes until fruit has thickened a little and any additional sugar has dissolved.

Heat oven to 150 degrees (or use a dehydrator). Line baking sheet (with edges) with plastic wrap or silicon liner.

Pour mixture into lined pan. The thickness should be a very even ¼" and no thinner. Bake overnight, about 7.5-8 hours. If your mixture is thicker than ¼", adjust cooking time to be longer.

When fruit leather is fully dried and leather-y in texture (not tacky or sticky to the touch), cut using a pastry cutter, or roll with parchment paper and cut into 1" rounds. Store in plastic bags or an airtight container.
Nutrition
Serving:
1
g
Calories:
95
kcal
Carbohydrates:
25.2
g
Protein:
0.5
g
Fat:
0.4
g
Saturated Fat:
0.1
g
Sodium:
22
mg
Fiber:
4.1
g
Sugar:
18.6
g