This Boho Friendsgiving Is the Perfect, Relaxed Way to Celebrate the Holidays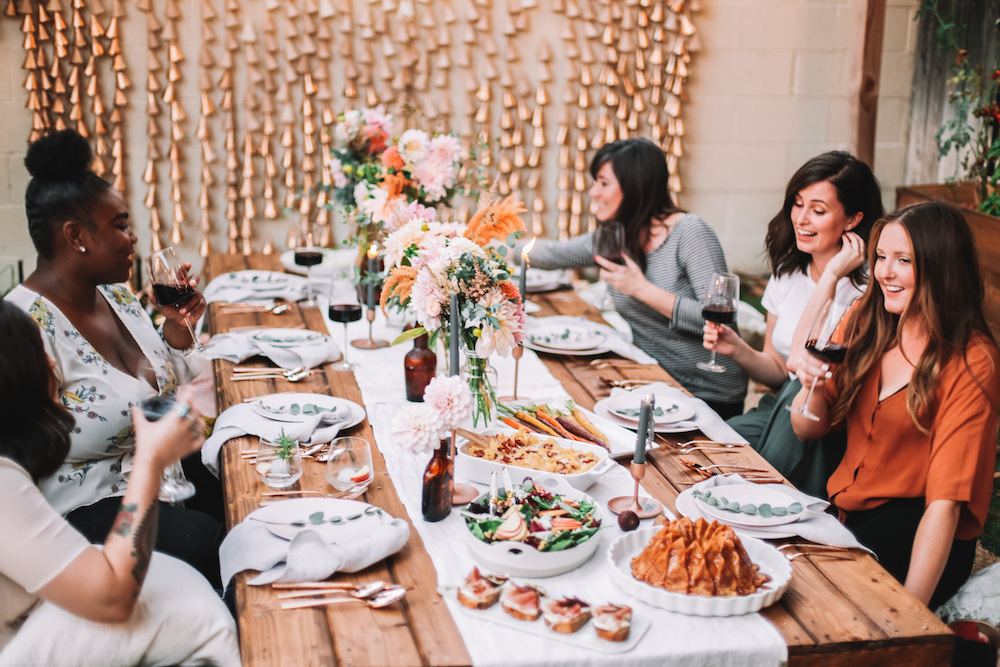 For most of us, the holiday season is a joyful time of celebrations with
friends and family, and a lot of food and drink. For others, however, it's no secret that it can present all sorts of
stressors—having to entertain, manage family conflict,
and balance all of the other daily parts of life that still
go on during these weeks.
I look forward to this time of year—seeing out-of-town
family, hunkering down by the fire, and joy that comes with
the season—but not without some hesitation.
"So when are you two getting married?" "re you going to
have kids anytime soon?" "How do you make money doing
that job?" "Did you put on some weight this year?" These
are most likely some of the uncomfortable (and often inappropriate) questions that we get asked every year during
holiday gatherings.
Spending time with my family is something I cherish
this time of year, but the chaos and intensity the holiday
season prompted me to reconsider how I kick off the season. Enter: Friendsgiving, a laid-back gathering of my dearest friends before everyone jets off to their hometown for
traditional festivities.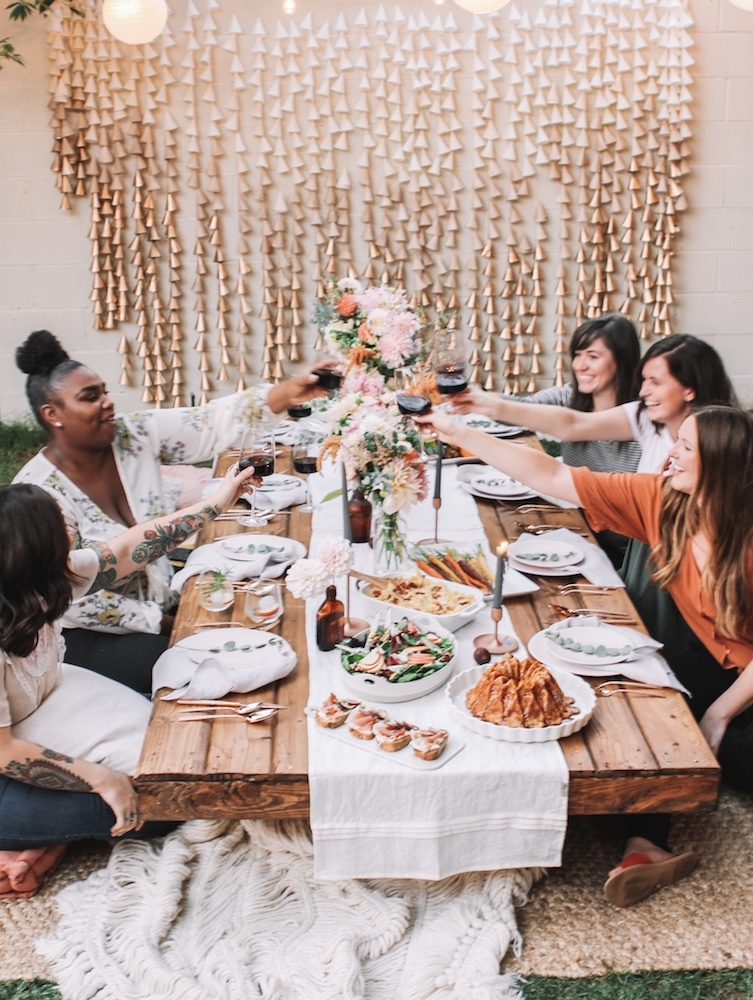 Friendsgiving is a gathering where you can bring over the
closest members of your tribe for endless wine, funky music,
and plenty of inspired fall recipes! And it truly helps me set
the tone for the festivities ahead during the holiday season
by connecting me with what's important—good times spent
with those I love.
Making sure everyone has a full wine glass, a delicious
meal, and giving thanks for traditions, and creating new ones
are my top priorities for Friendsgiving.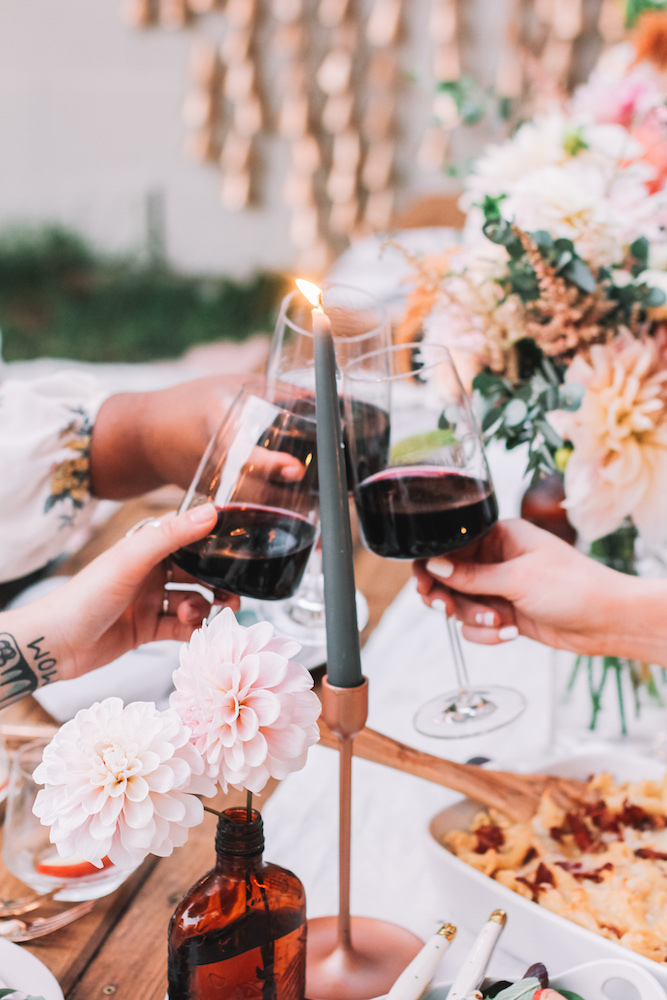 Whatever you do, don't worry about everything being perfect. It's truly the magic of the season that's important and
when you are relaxed, your guests will be too.
What to Serve Hosting a Fall Friendsgiving
The point of Friendsgiving is for everyone—including you—to have an easygoing evening with less pressure. Do as much prep work as you can in advance, consider asking friends to bring a dish, and choose simple recipes to help the focus stay on fun.
Signature Cocktail
Set the tone for the evening
by offering a signature
cocktail as guests arrive,
perhaps something
seasonally inspired.
Anything with bourbon and
a twist of orange—one of
my favorites is a Manhattan.
Not only will this keep you
from playing bartender all
night, but a signature drink
immediately creates a
sense of unity and festivity.
Check out these Apple Cider Whiskey Rose Cocktails.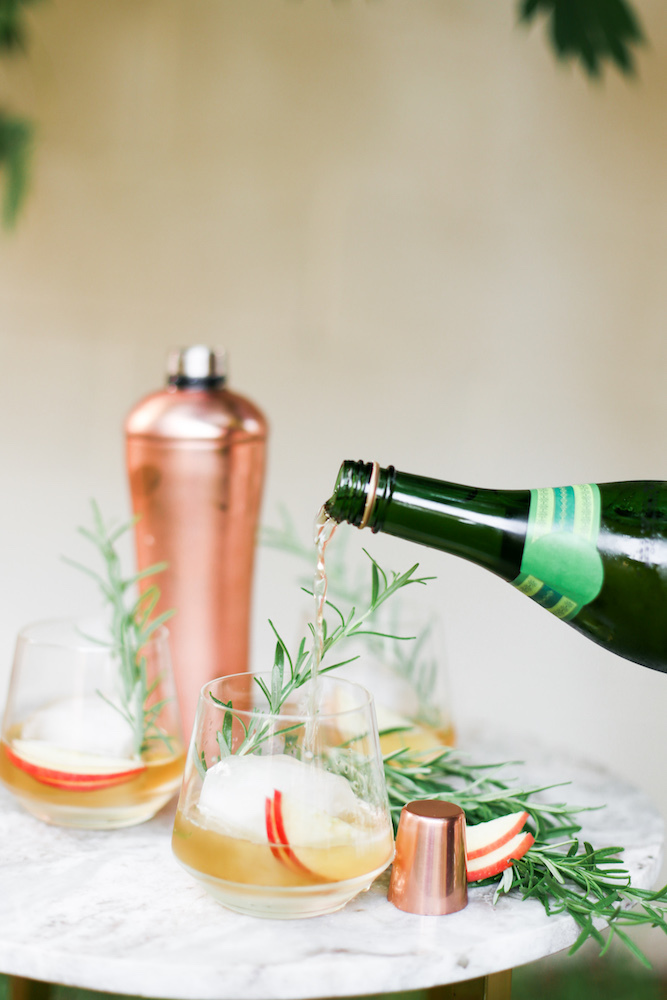 Simple Appetizer
I love offering a light, flavorful
bite at the beginning of
the evening. This could be
anything from a simple
Caprese tomato salad on a skewer to a chicken satay
dipped in peanut sauce. It's
also nice to have a crudite
platter with dip for guests
who want a healthy bite
before the main meal.
Having appetizers on hand
for guests will buy you time in
case dinner is running late.
Might we suggest Fig & Prosciutto Crostini?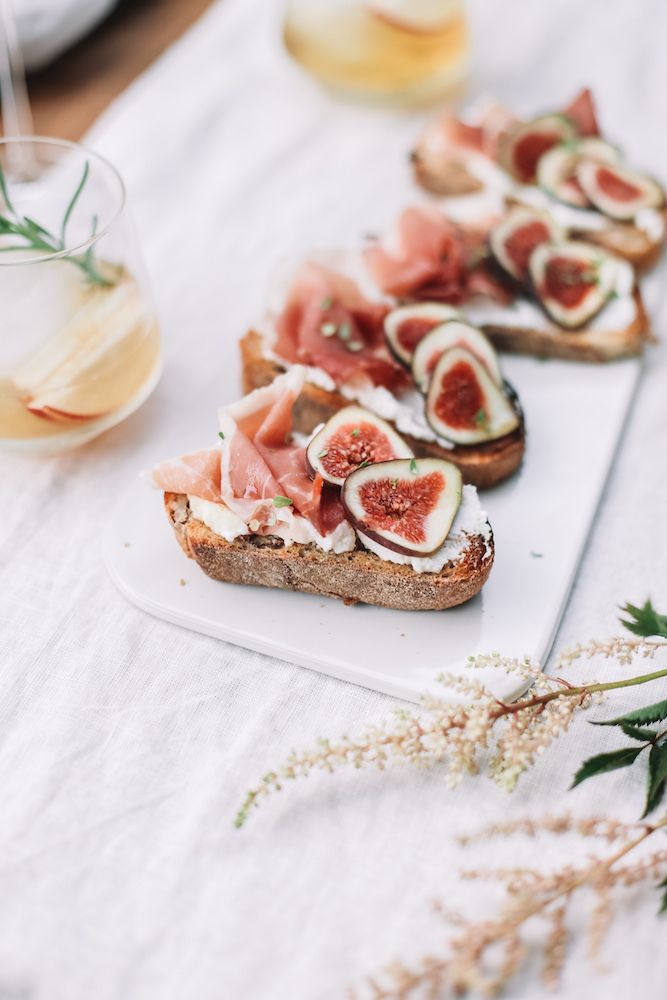 2-3 Favorite Side Dishes
When it comes to side
dishes, I am old-school. I
love having a starch-based
side dish and a vegetable
side dish. And I know that
my favorite comfort foods
will elicit an enthusiastic
response from my guests.
Think macaroni and cheese,
roasted Brussels sprouts,
potatoes au gratin, and garlic
green beans. It's all about
balance.
This Gruyere & Gouda Bacon Apple Mac and Cheese is one of our favorites.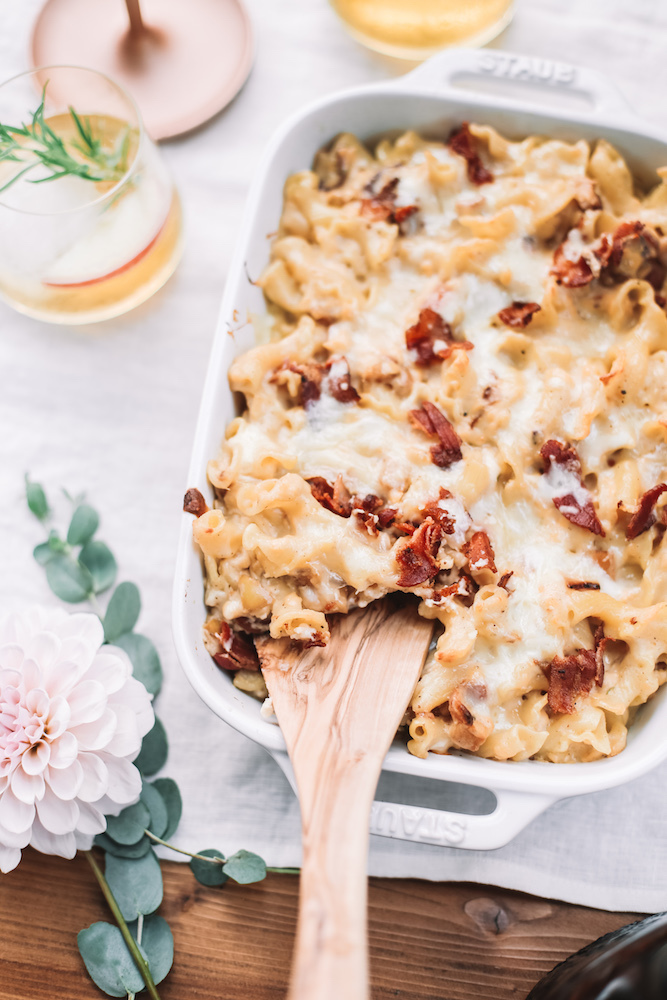 Main Entrée
For the main event, I love
doing a slow-roasted flavorful
meat like turkey or pot
roast. Not only does it taste
delicious, but it also fills the
house with the warm smells
of home cooking. If you have
a vegetarian crowd, lasagna
and risotto are great hearty
alternatives.
A Showstopping Dessert
Focus on one great dessert
that can also serve as a
gorgeous centerpiece to
your table. Fruit tarts, pies
topped with fresh whipped
cream, and anything with
a rich chocolate finish all
are go-to winners for taste
and for presentation. And
if baking isn't your thing,
there's no shame in buying
a beautiful dessert from a
bakery.
But if you are baking, this Apple Chai Bread Pudding Bundt Cake with Vanilla Bean Caramel is AMAZING.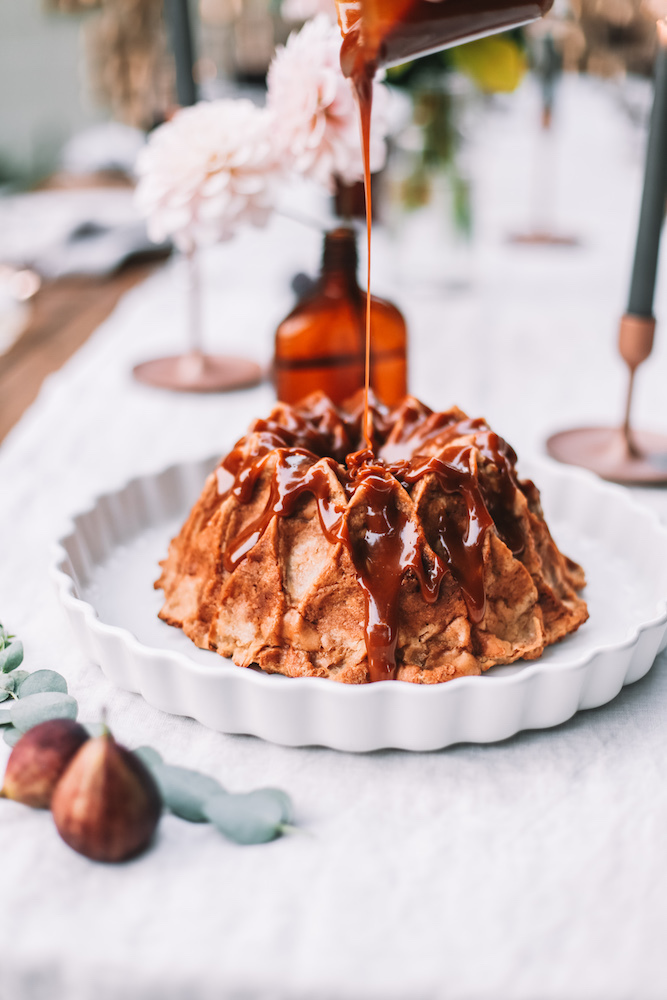 Checklist: Finishing Touches
Create an atmosphere that is warm, inviting, and sets the stage for what is to come: a fall feast! A palette of whites and neutrals provides the perfect backdrop for beautiful food.
Dishes. Consider using dishes that will immediately bring texture and color to your tablescape.
Napkins. Napkins, cloth or paper, can be in an autumnal tone and tied with raffia. I like to collect leaves and use them as seat assignment cards. Gold permanent markers write beautifully on leaves, and can be strung through the raffia.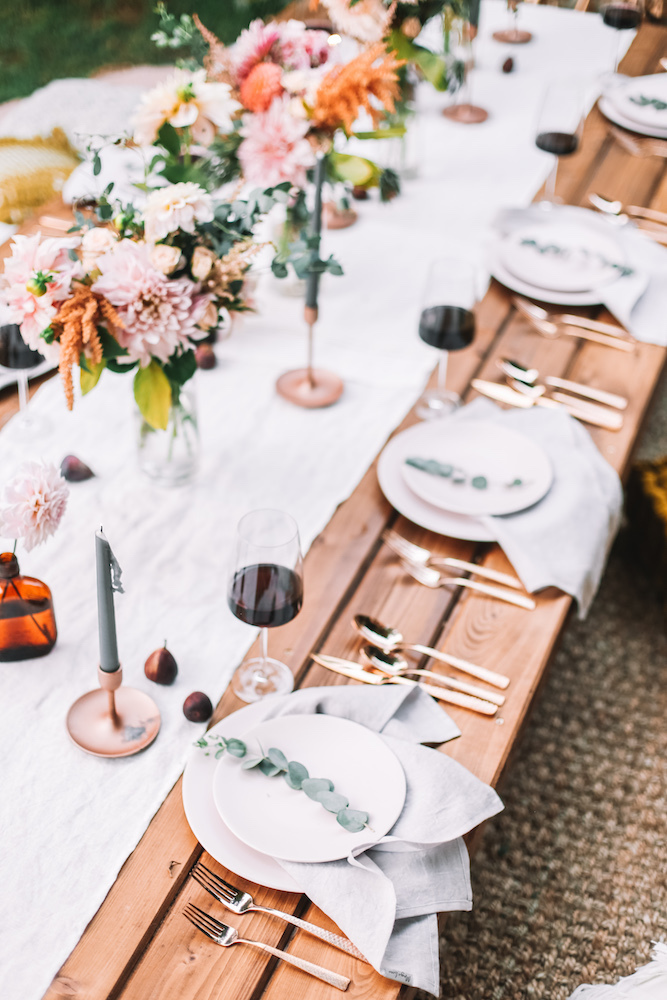 Glasses. Use water goblets and wine glasses in different sizes and shapes, bringing an eclectic and rustic look to a fall-inspired table.
Floral. Use fresh flowers in the autumn colors with pine cones and tea lights interspersed around the table. Flowers can be arranged in various containers made of different materials such as wood, metal, and glass. A little bit of flower foam in each container will help keep your arrangements stable.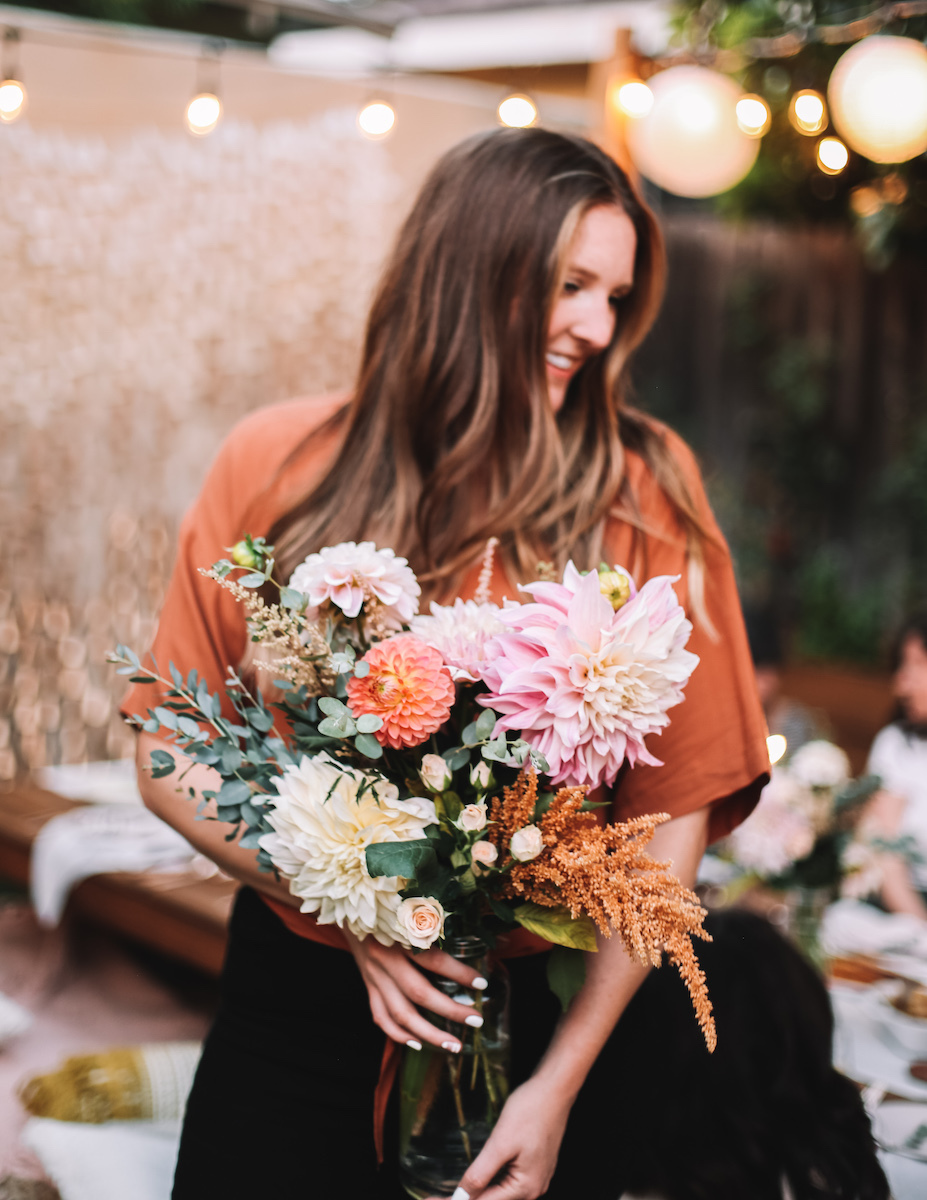 Lighting. Use candles with rustic-style candelabras. Make sure to use different heights and try to space the candelabras between flower arrangements.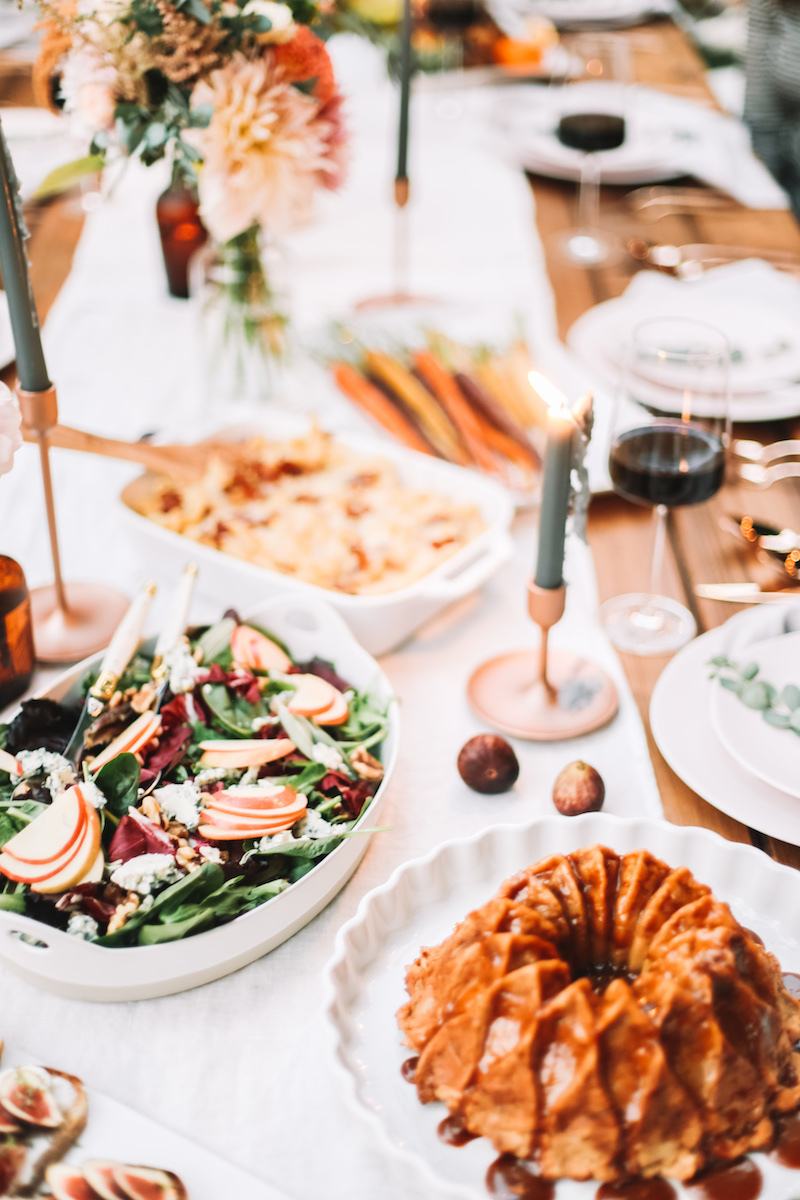 Music. Set the mood and keep energy levels high with a mix of your favorite tunes.
Gift. Don't forget containers for leftovers; everyone loves to take home a doggy bag.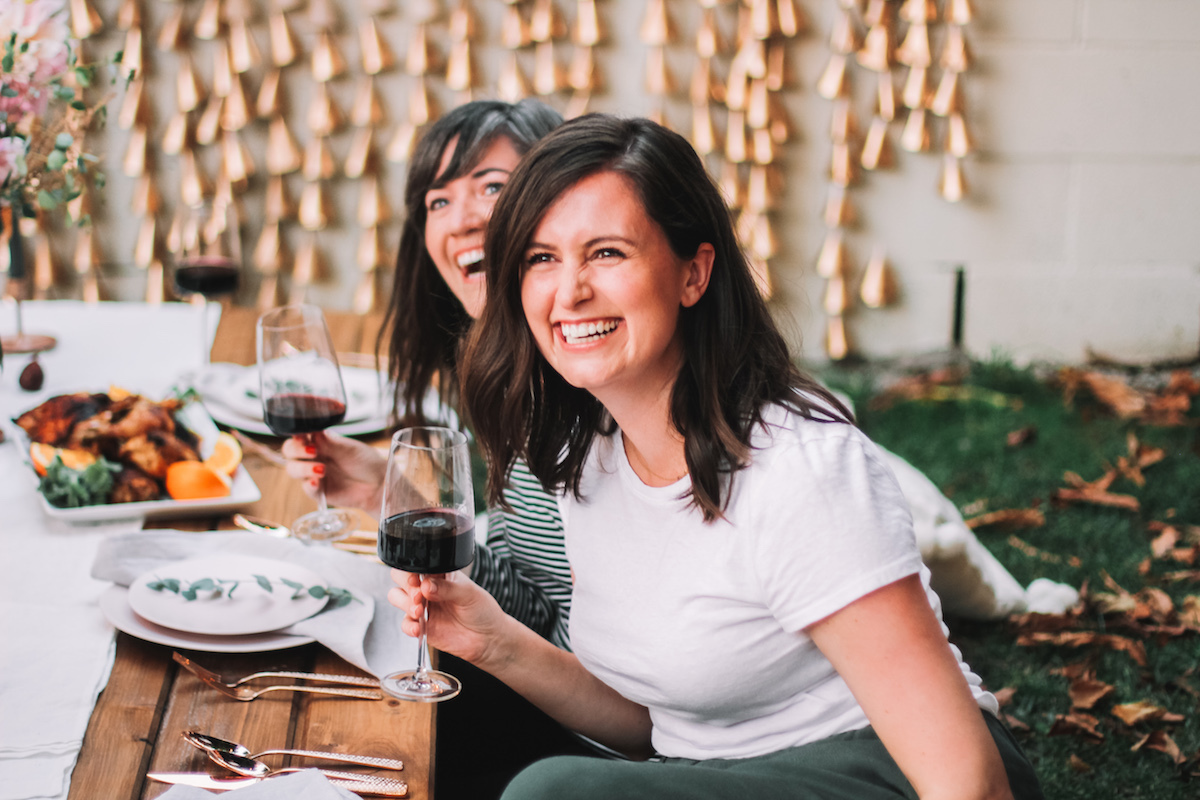 Photography by Abagail Halstead & Elizabeth Van Lierde / Text by Elizabeth Van Lierde
This story originally appeared in the Fall/Winter 2018 issue of The Inspired Home Journal, titled "Boho Bash."