4 Nutritious Winter Recipes That Don't Require Any Crazy Ingredients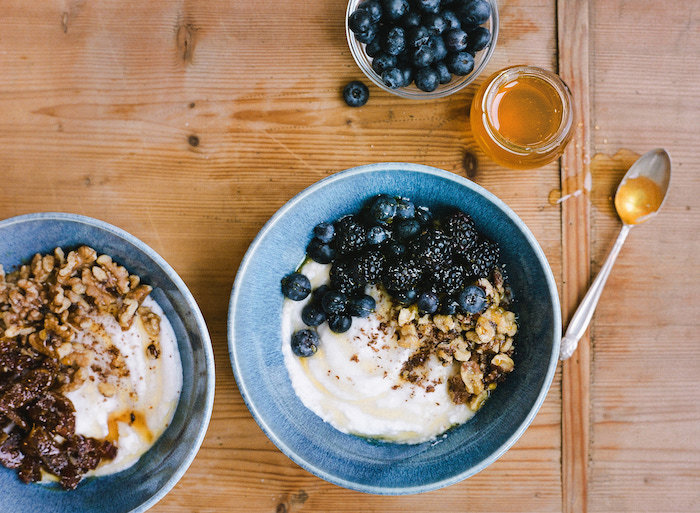 As the daughter of a
pharmacist, I'm a firsthand witness and
strong believer in the
benefits of modern medicine, pills
and all. But as a nutrition-focused
chef, I'm also aware that our first
defense against many illnesses
and stresses is in our self-care:
how we are sleeping, how we
move our bodies throughout the
day, the strength of our social
relationships, and—of course—the food we eat.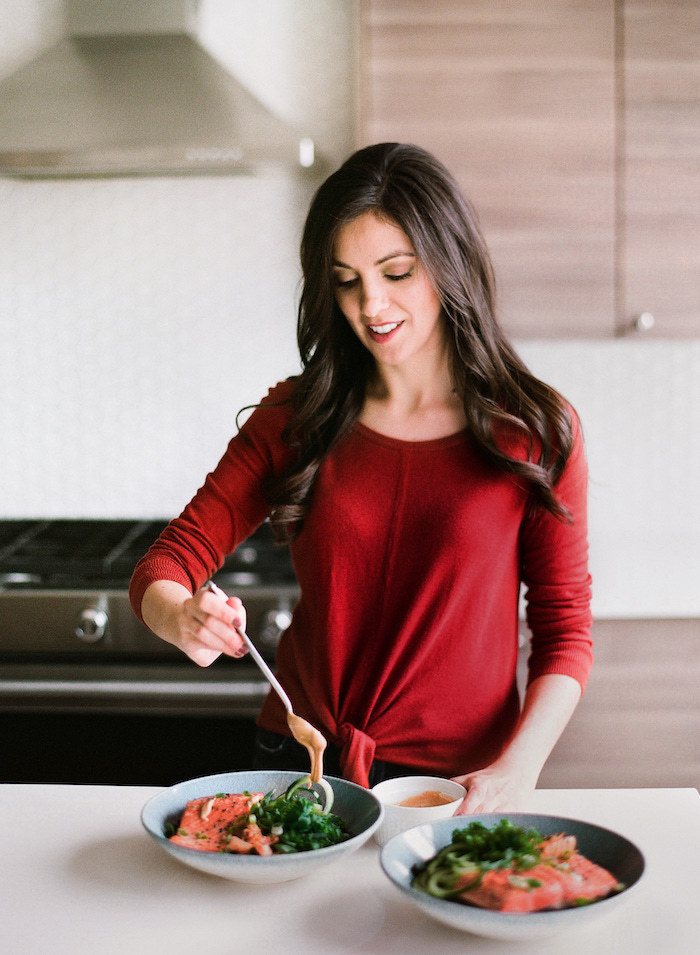 As we enter the fall and winter
seasons, it's a good time to focus
on strengthening our defenses.
One great way to do that is by
building up our kitchen apothecaries, making sure that our daily
meals are full of nutritious plants,
spices, and pantry items that can
promote natural healing, fend off
colds, and also help us feel nourished and cozy during darker winter months.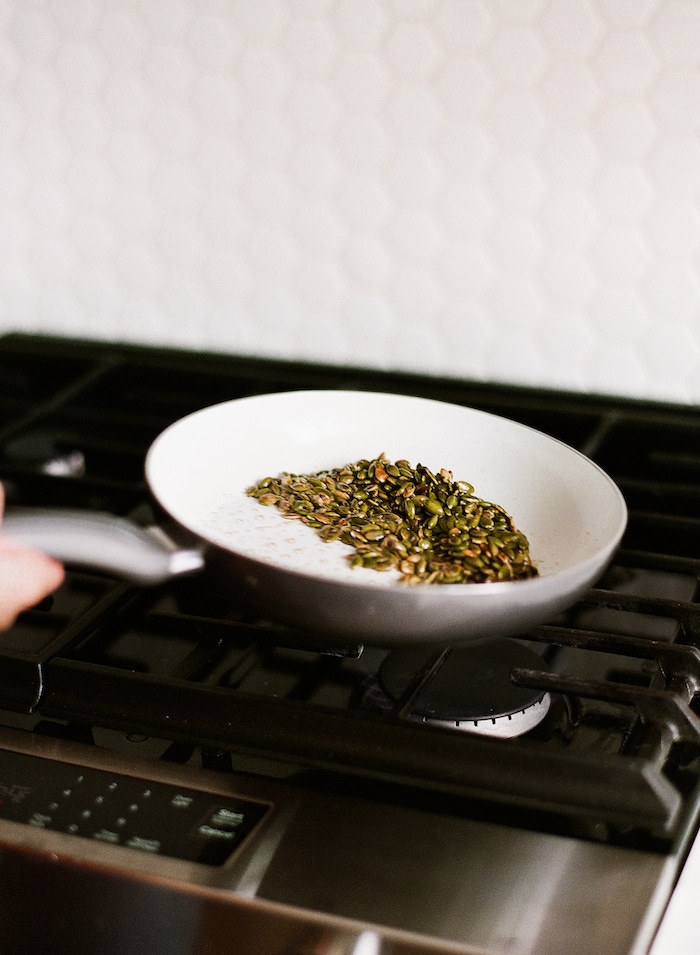 Here are a few tips that I practice in my kitchen and share
with my cooking class students.
If the phrase "kitchen pharmacy"
conjures up an image of bags of
expensive superfood powders or
bland, sterile meals, you are in for a pleasant surprise: some of the most powerful foods for health—particularly immunity and gut health—are both basic and tasty.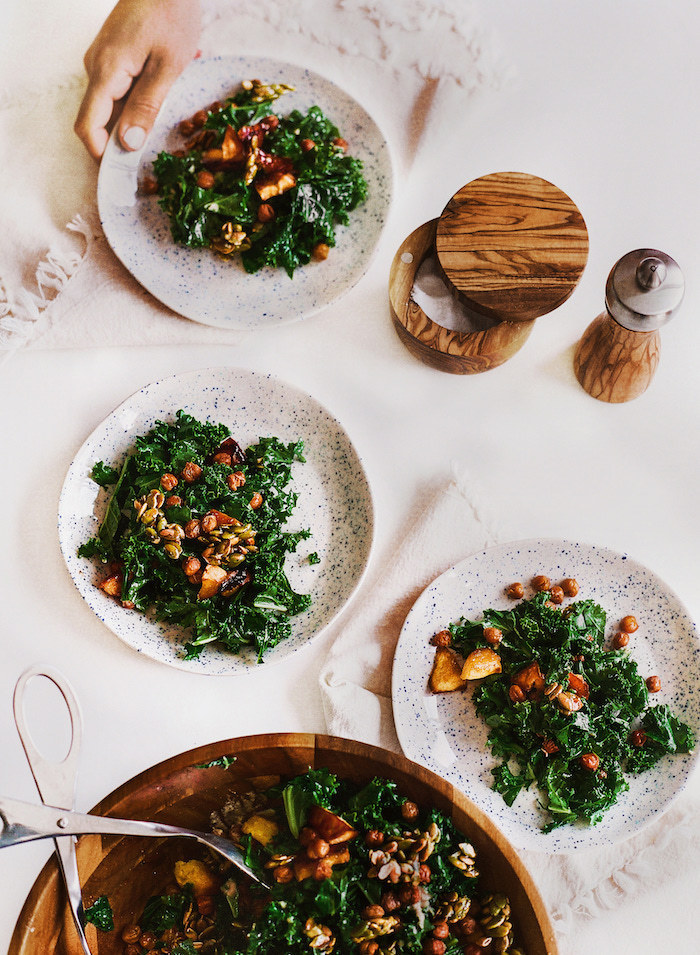 If you are building up your kitchen apothecary, here are a few must-include ingredients:
Naturally Fermented Foods
Probiotic foods including sauerkraut, kimchi, and pickles are
believed to help populate our guts with "good" bacteria, and scientists are just beginning to understand the power of the microbiome
when it comes to our overall health. Try adding two spoonfuls of
these naturally fermented vegetable foods to a macro bowl, sandwich, or on top of some sauteÃÅed veggies.
Be sure to shop for fermented foods in the refrigerated section
and look for phrases such as "live and active" cultures to make sure
they are truly living foods. Want to DIY? Rich and creamy coconut
yogurt is one of the simplest (and least messy!) home ferments you
could ever make.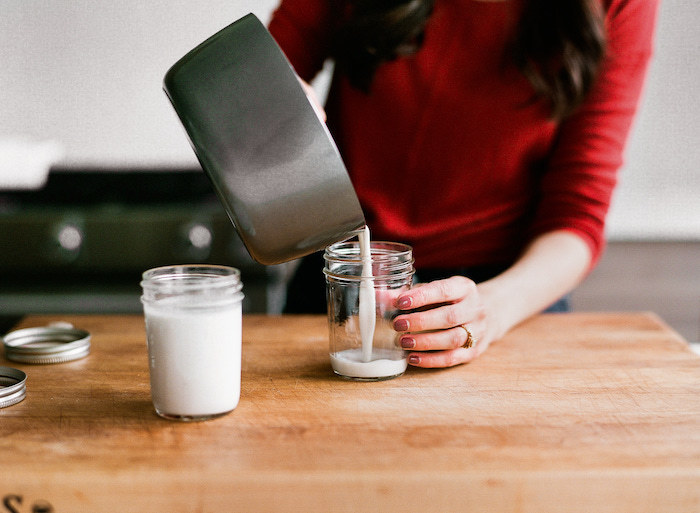 Colorful Veggies & Leafy Greens
Eat a rainbow! Pops of color make for not only a pretty kitchen, but
also a nutritious plate. Colorful vegetables like squash and beets are
typically rich in antioxidants and anti-inflammatory properties. Leafy
greens, in particular, are nutrient superheroes, full of iron, calcium,
and beta-carotene, as well as gut-friendly fiber. A hearty green like
kale can be sauteÃÅed and topped with a fried egg for a simple breakfast, or massaged with lemon and olive oil for a lunch salad that can
stay sturdy and fresh in the fridge for a few days.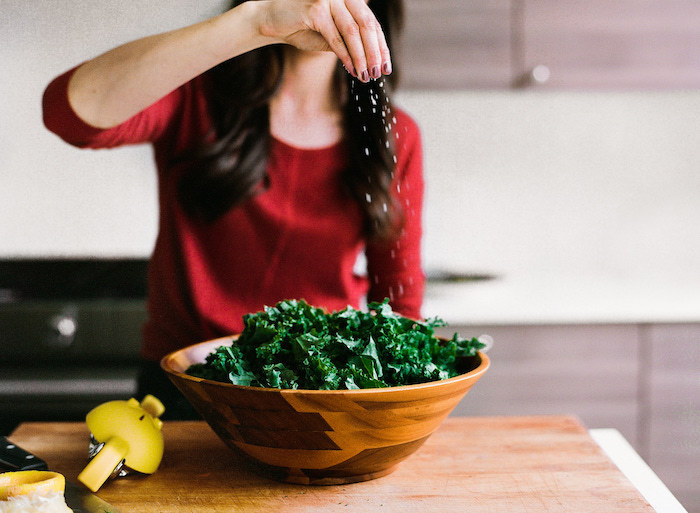 Omega-3 Rich Foods
The Standard American Diet is known for being low in anti-inflammatory Omega-3 Fatty Acids. Omega 3s are most famed for reducing the risk of heart disease, but are also believed to have a strong
influence on brain and mental health, and even skin conditions
such as acne and premature skin aging. Seek out wild and sustainably caught varieties of salmon, trout, sardines, and herring, and add
to macro bowls or salads. Fish provides a more advanced form of
Omega-3s; plant-based sources of Omega-3s include flax seeds, chia
seeds, and walnuts.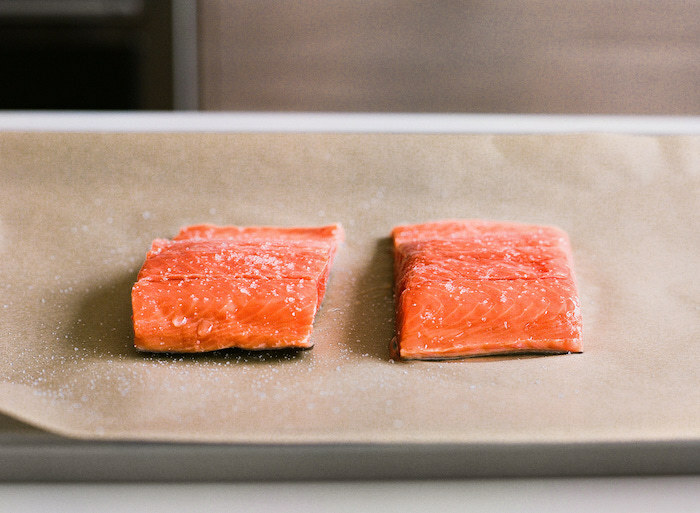 Herbs, Spices, & Seasonings
The way I season my food makes me feel most like an alchemist, perfectly calibrating my meal for swoon-worthy flavor
profiles. While salt is rightfully every chef's best friend, think
beyond it when seasoning, especially when it comes to adding
immune-boosting or anti-inflammatory properties to your meal.
Ginger and garlic are my winter go-tos for taste and immunity and
are perfect as the base to any soup. Ground spices including cinnamon, cayenne, and turmeric can be added to almost anything that's
being baked or roasted in the oven. And of course, fresh herbs bring
vitality to heavier winter meals and add energy-boosting chlorophyll and nutrients similar to leafy greens. Save extra fresh herbs
and freeze into ice cubes to add to water to help you hit your hydration goal as well.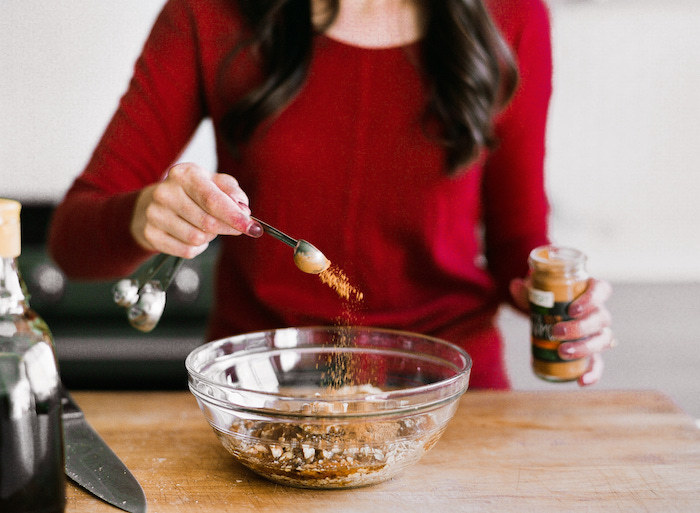 Salmon Macro Bowl with Kimchi & Greens
Recipes for macro bowls can
look complicated because of all
the different components, but
remember that you don't have to
cook them all at once. Leftover rice
from a stir-fry tonight can become
the base of tomorrow's macro
bowl. Mixing and matching different
cooked ingredients in my fridge
throughout the week is how I eat
new homemade meals everyday …
without having to cook everyday!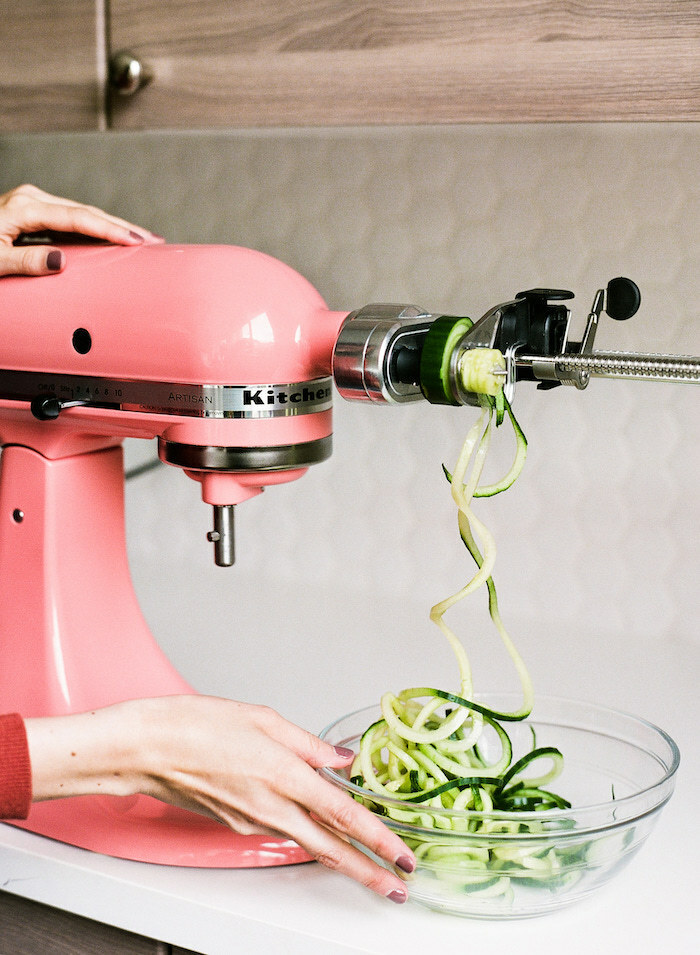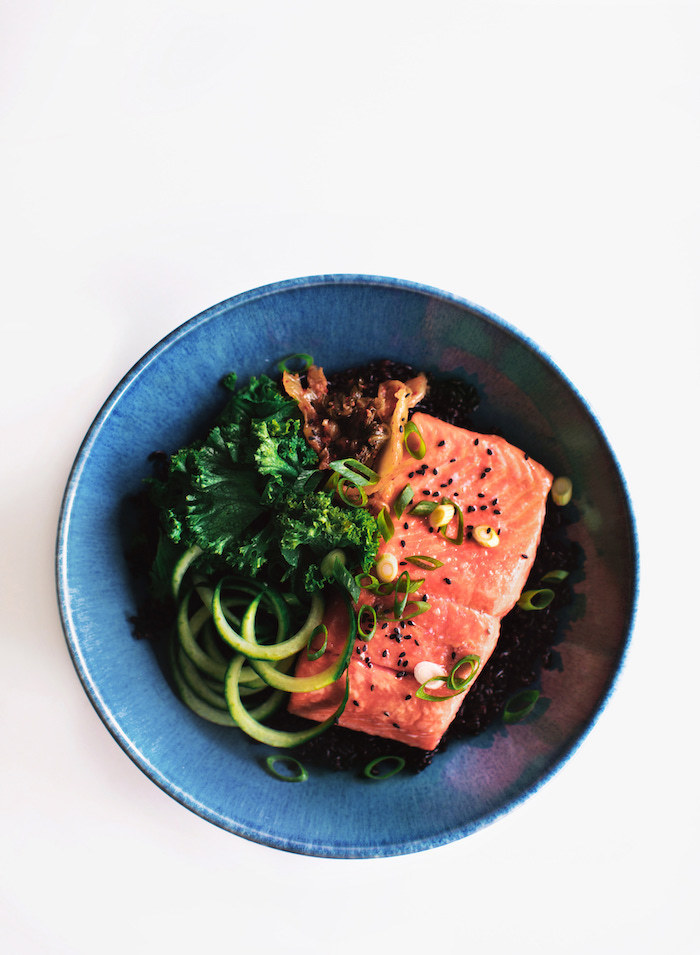 Mustard greens belong to the cruciferous family of vegetables— the same one that includes kale, broccoli, and cauliflower. I like their spicy bite (reminiscent of radishes) but if you aren't a fan, substitute another leafy green or cruciferous vegetable.
Salmon Macro Bowl with Kimchi & Greens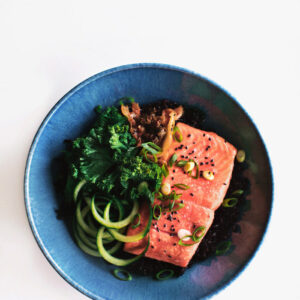 INGREDIENTS
For Roasted Salmon:
2 6-oz. wild salmon filets
Drizzle of grapeseed oil
Sea salt
For Sautéed Greens:
Drizzle of extra virgin olive oil
1 bunch mustard greens, stemmed and chopped into 2-3 inch pieces (or sub kale, chard, collards, or spinach)
Sea salt
For Peanut Sauce:
Drizzle of grapeseed or extra virgin olive oil
1 Tbsp minced ginger
1 Tbsp minced garlic
1 cup natural creamy peanut butter
2 Tbsp tamari or soy sauce
1 Tbsp Sriracha
1 Tbsp honey or maple syrup
½ cup canned coconut milk
For Serving:
1 cup cooked black or brown rice
Scoop of kimchi
Handful of spiralized or sliced cucumber
Sliced scallions, cilantro, and/ or sesame seeds for garnish (optional)
INSTRUCTIONS
To roast salmon: Preheat oven to 425°F and line a sheet tray with parchment paper. Place fish skin side down and drizzle very lightly with grapeseed oil pat into the fish. Sprinkle with salt. Roast for 10 minutes for 1-inch thick pieces of salmon (measured at the thickest/tallest part) or 5 minutes for each half-inch of salmon.
To sauté the mustard greens: In a large skillet, heat a drizzle of olive oil. Add greens and stir to help wilt. If greens are dry, add water, 1 tablespoon at a time to help them wilt and cook evenly. Sprinkle with a pinch of sea salt. Cook for 2 minutes if you like crisper and spicier mustard greens or cook for 5-7 minutes if you prefer them softer and less spicy.
To make peanut sauce: In a small skillet, heat oil and sauté ginger and garlic for 30 seconds until just cooked and mellowed out. Remove to a bowl and whisk the rest of the ingredients together or use a blender. Add very hot water if needed to thin and whisk well.
To serve: Add rice to bowls and top with fish and mustard greens. Drizzle with peanut sauce and garnish with kimchi, cucumber and scallions, cilantro and/or sesame seeds.
Cranberry Ginger Oat Crumble
Cranberries are one of the joys of
fall. These tart jewels are known for
their high antioxidant content.
This crumble is essentially a compote topped with streusel, so it's perfect for any non-bakers out there. I use coconut sugar and maple syrup for a less processed and less cloyingly sweet dessert.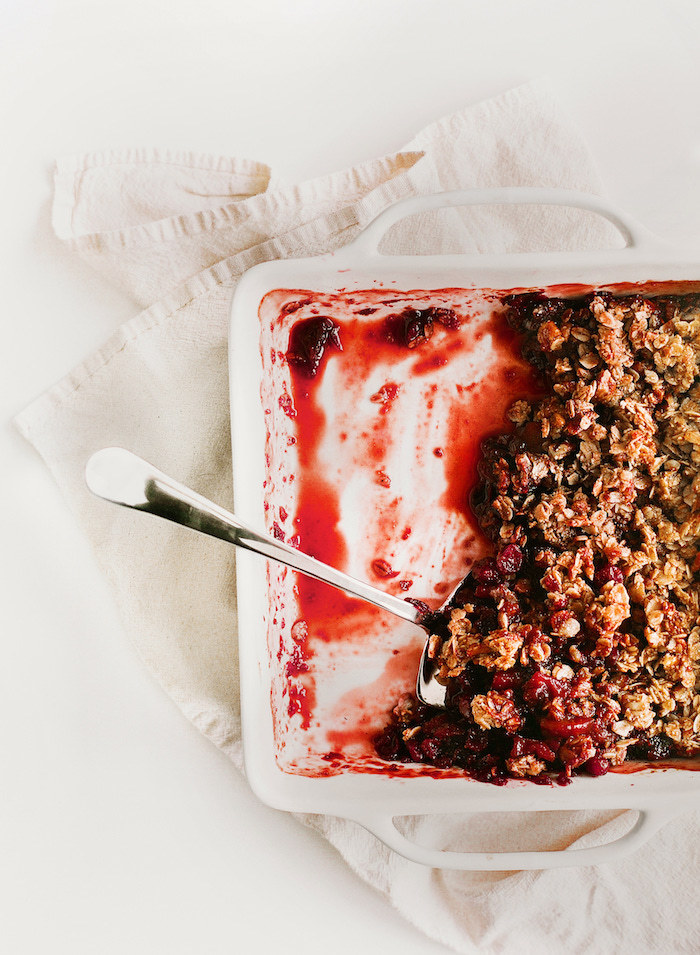 When crafting desserts, I usually skip the highly processed or refined ingredients like grain flours and substitute whole grains and monounsaturated fatty acid rich nuts. Here I use spices like cinnamon, clove, and black pepper in larger quantities than expected to create a dessert that's spicy and tart in addition to sweet.
Cranberry Ginger Oat Crumble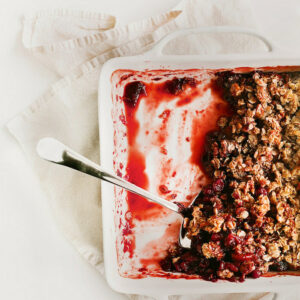 INGREDIENTS
For Cranberry Filling:
20 oz fresh or frozen cranberries (about 4½ cups)
2 granny smith apples, peeled, cored, and chopped into ½" cubes
⅔ cup coconut sugar
2 Tbsp grated ginger
1 tsp vanilla extract
½ cup water
For Oat Crumble Topping:

½ cup rolled oats
¼ cup chopped pecans
3 Tbsp almond flour
3 Tbsp coconut oil
2 Tbsp coconut sugar
¼ cup maple syrup
1 tsp ground cinnamon
¼ tsp ground cloves
⅛ tsp salt
Pinch of black pepper
INSTRUCTIONS
Preheat oven to 350°F and grease a 9X9" baking dish with coconut oil.
In a pot on the stovetop, combine all of the filling ingredients: cranberries, apples, coconut sugar, grated ginger, vanilla extract, and water. Simmer on stovetop until cranberries are broken down and mixture is like a thickened compote, about 15 minutes.
In a bowl, combine all of the crumble topping ingredients: oats, chopped pecans, almond flour, coconut oil, coconut sugar, maple syrup, cinnamon, ground cloves, salt, and a pinch of black pepper.
Into a baking dish, pour the cranberry filling and top with oat crumble. Bake for 25-30 minutes until cranberries are bubbling and topping is lightly browned. Let cool for 10-15 minutes before serving — this will help it set.
Kale Salad with Roasted Squash & Maple Pepitas
Is there any food that suggests
autumn more than roasted squash?
Butternut or acorn squash works
wonderfully for this recipe, but
try kabocha squash (also called
Japanese pumpkin) if you can find
it. You'll never look back after tasting
this creamy, dreamy fall vegetable.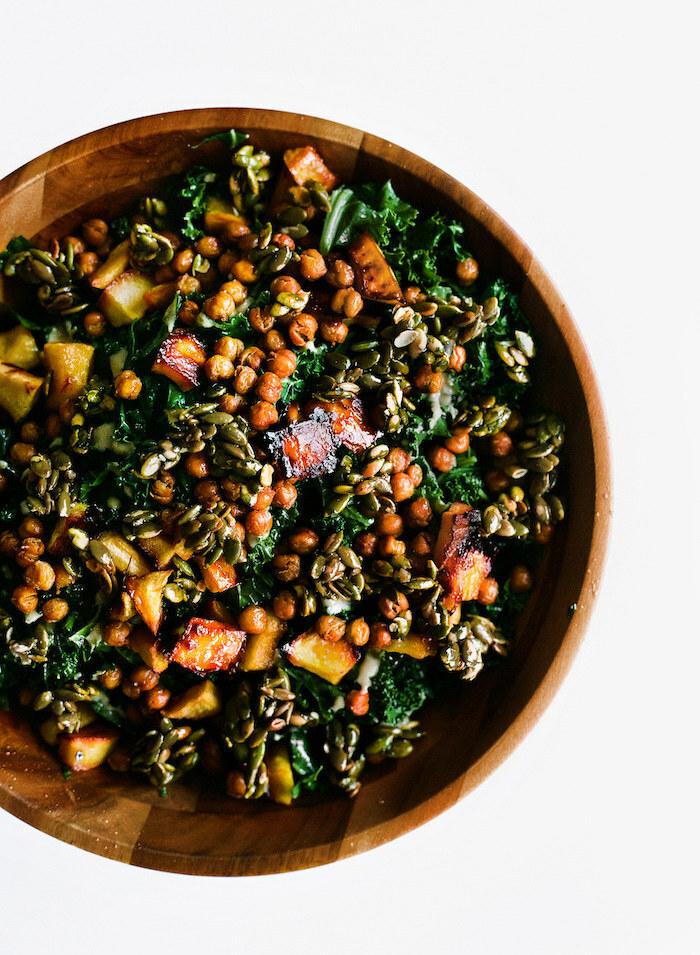 Massaging the kale with the dressing tenderizes the kale leaves and makes them juicier and less bitter. It also breaks down their insoluble fiber a bit, making them much easier on the digestive system and less likely to cause bloating.
The best part about a kale salad is that it can stay fresh in the fridge for a few days, even with the dressing on! Make this ahead for a holiday meal or for lunches for the week.
​Kale Salad with Roasted Squash & Maple Pepitas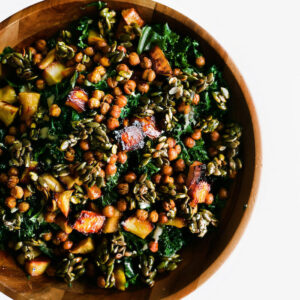 INGREDIENTS
For the Chickpeas:
2 15-oz cans chickpeas, rinsed and drained
Drizzle of grapeseed oil
Salt
For the Squash:
1 small winter squash like butternut or kabocha, peeled and chopped into ½ inch cubes
Drizzle of grapeseed oil
Salt
For the Salad:
½ cup pepitas
2 Tbsp maple syrup
2 bunches of kale, stemmed and chopped
1 lemon, juiced
2 Tbsp tahini
3 Tbsp extra virgin olive oil
INSTRUCTIONS
Preheat oven to 400°F. On a parchment-lined sheet tray, toss chickpeas with grapeseed oil and salt and roast until crispy, about 45-60 minutes, tossing once.
On a second parchment-lined sheet tray, toss squash with grapeseed oil and sprinkle with salt. Roast in oven until soft and lightly browned, about 25 minutes.
Meanwhile in a small skillet, toast pepitas until they are golden and start to pop. Drizzle maple syrup and stir as the moisture evaporates, about 2 minutes. Remove to a plate and cool.
In a large bowl, combine kale, lemon juice, tahini, olive oil and a generous sprinkle of salt. Massage with your hands until it softens, about 2 minutes. Toss in chickpeas, squash and pepitas and serve or store in the fridge for lunches for the week.
Homemade Coconut Yogurt
Agar is a seaweed-based gelatin
that's used to firm up the coconut
milk as it ferments to make the
texture mimic traditional yogurt.
Look for it in the international aisle
with other Asian products. You
could use a traditional gelatin or
leave it out if you don't mind a
runnier texture.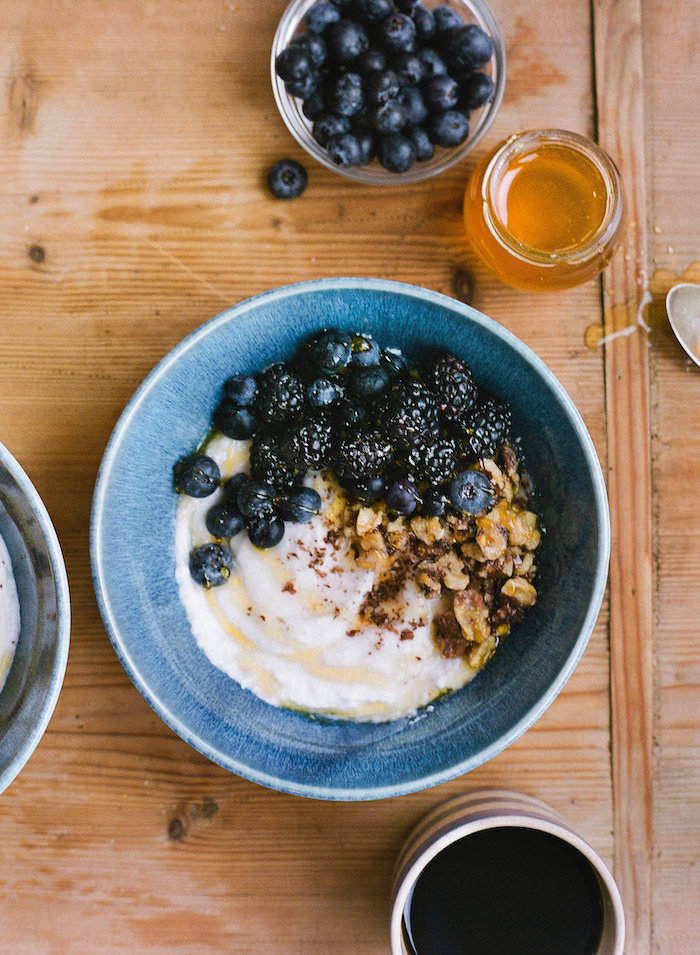 Yogurt is probably the most popular probiotic food in the American diet, but as more and more folks are sensitive to cow's dairy (or simply want to avoid factory farming), decadent coconut yogurt is an easy substitute for breakfast or even dessert. Just remember that it's very high in fat, so you'll want to keep the portion size small.
Try making this Homemade Coconut Yogurt and never buy yogurt again. This delicious non-dairy alternative is great for breakfast or even dessert!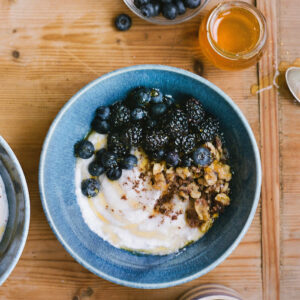 Ingredients
15

oz

coconut milk

1

tsp

agar flakes

2

probiotic capsules (use the ones you take or I bought P8 brand)

2

8 oz Mason Jars
Instructions
Preheat oven to 100°F.

Into a small pot, pour coconut milk and whisk until smooth. Sprinkle agar flakes on top (but don't stir). Put over heat and bring to a simmer. Whisk to dissolve agar and continue at an almost-simmer until agar is dissolved, about 5-10 minutes. Let cool to 100 degrees, which is just above body temperature, if you don't have a thermometer.

Open probiotic capsules and pour contents into coconut milk and whisk. Pour mixture into mason jars and seal.

Turn off oven and place mason jars on a sheet tray inside oven. Leave for 12-24 hours. Remove from oven and chill for 6 hours. Now you have yogurt!
Nutrition
Serving:
1
g
Calories:
489
kcal
Carbohydrates:
12
g
Protein:
4.9
g
Fat:
50.7
g
Saturated Fat:
45
g
Sodium:
34
mg
Fiber:
4.9
g
Sugar:
7.1
g
Photography by Constance Mariena / Text by Alia Dalal
This story originally appeared in the Fall/Winter 2018 issue of The Inspired Home Journal, titled "Kitchen Apothecary."