This Heart Cake Is Basically the Grown Up Version of a Conversation Heart
This heart-shaped pink cake is a perfect Valentine's Day dessert. The heart-shaped layers are made of a sweet vanilla cake and filled with rich chocolate ganache. For an easy and elegant topper, snip a few fresh roses and petals and place them right on the cake.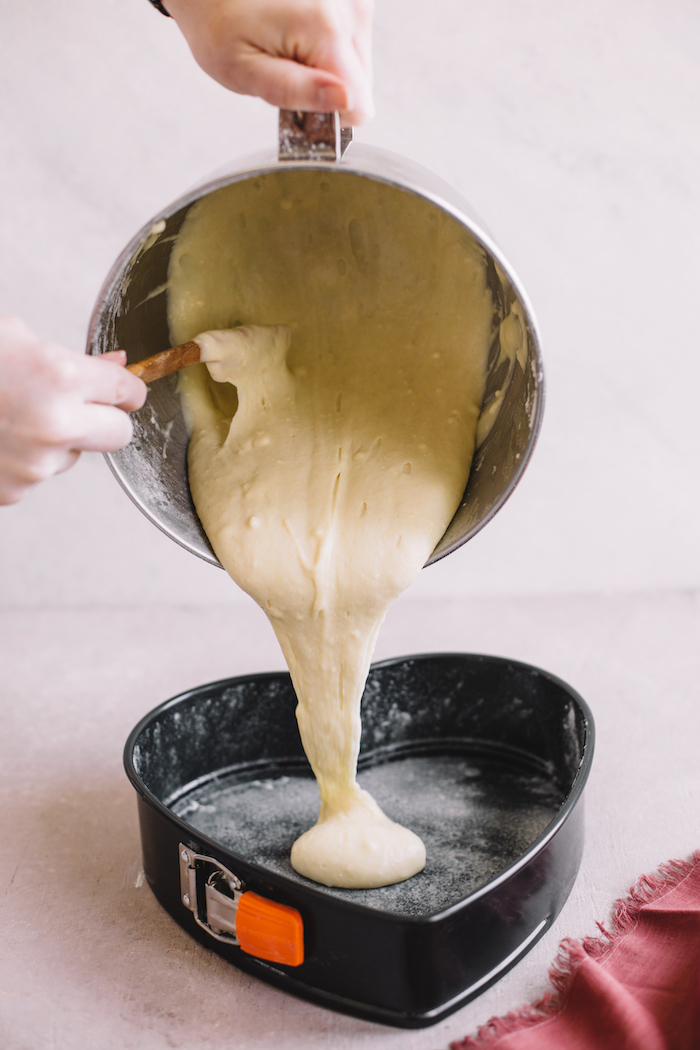 Heart Springform Pan

By Le Creuset

Shop Now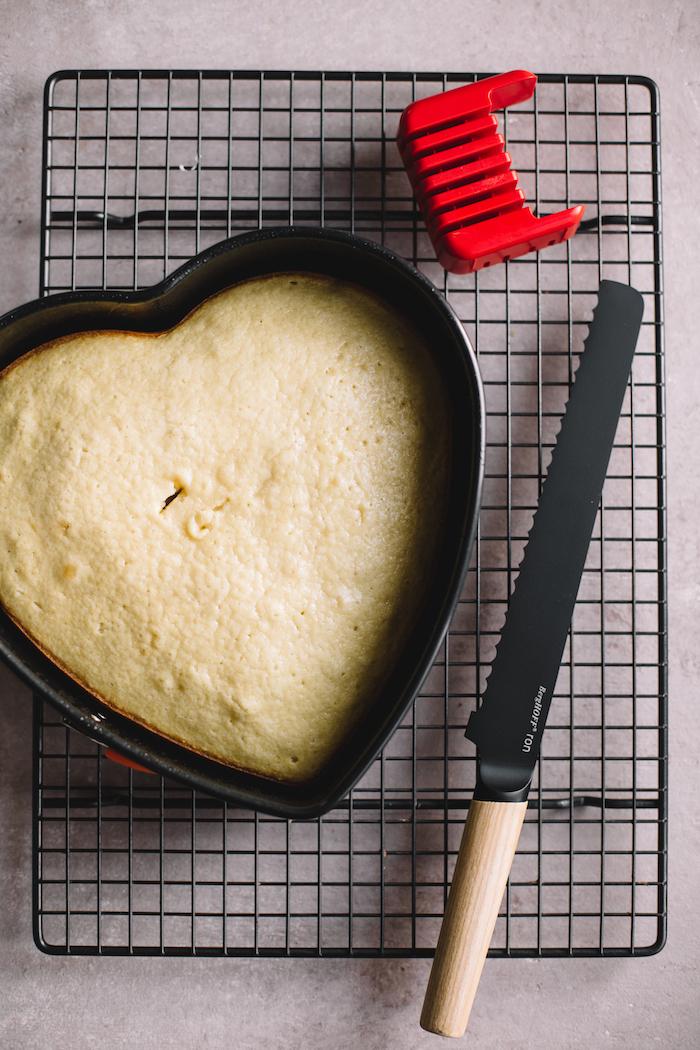 Do you guys remember boxes of conversational hearts in grade school?! Something about cracking open a new box instantly transports me to fourth grade. Those days I had very uneven bangs, light up shoes, and my Lisa Frank Valentine's cards were cooler than cool.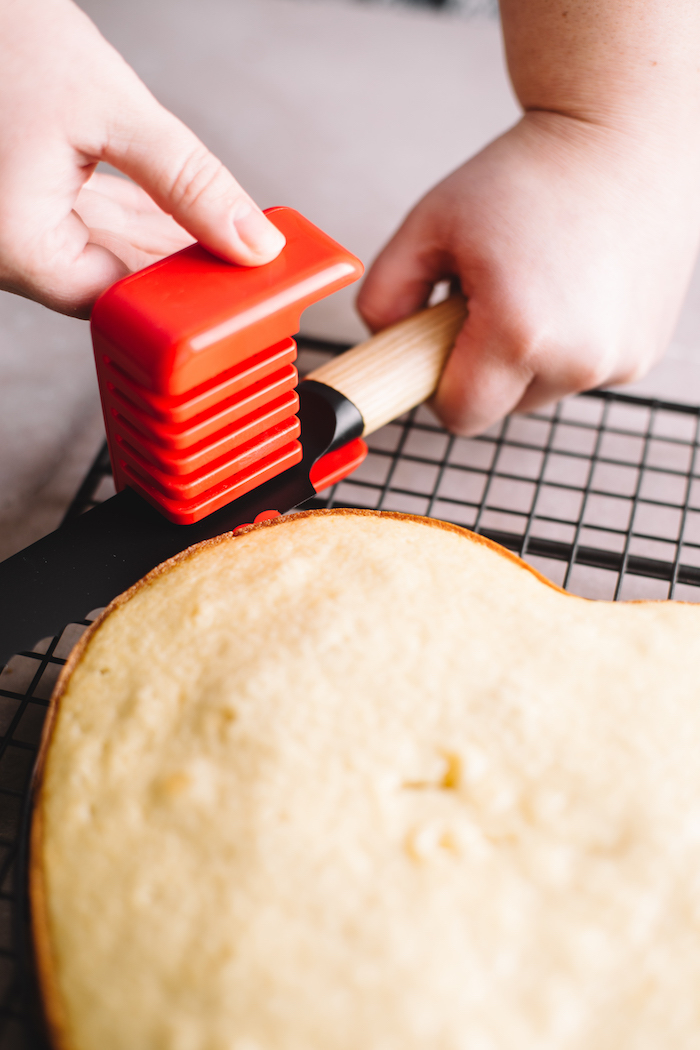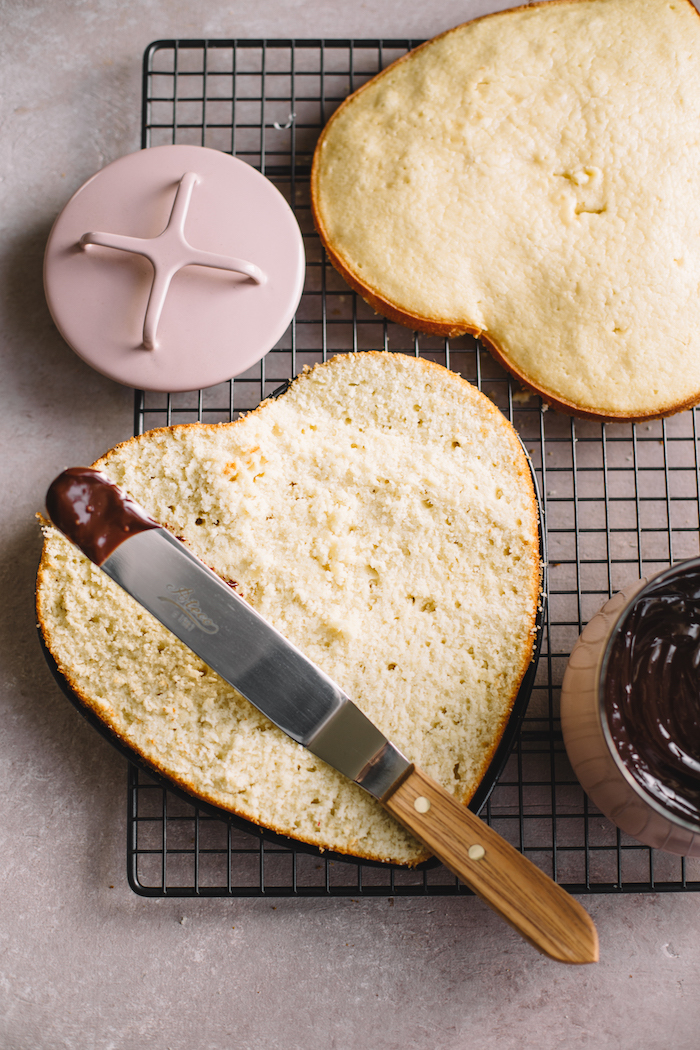 I have a real soft spot for conversation heart-inspired desserts! There is something about them that is equal parts nostalgic and adorable. I also think that the actual candies taste very 'blah' so I love the idea of reinventing them.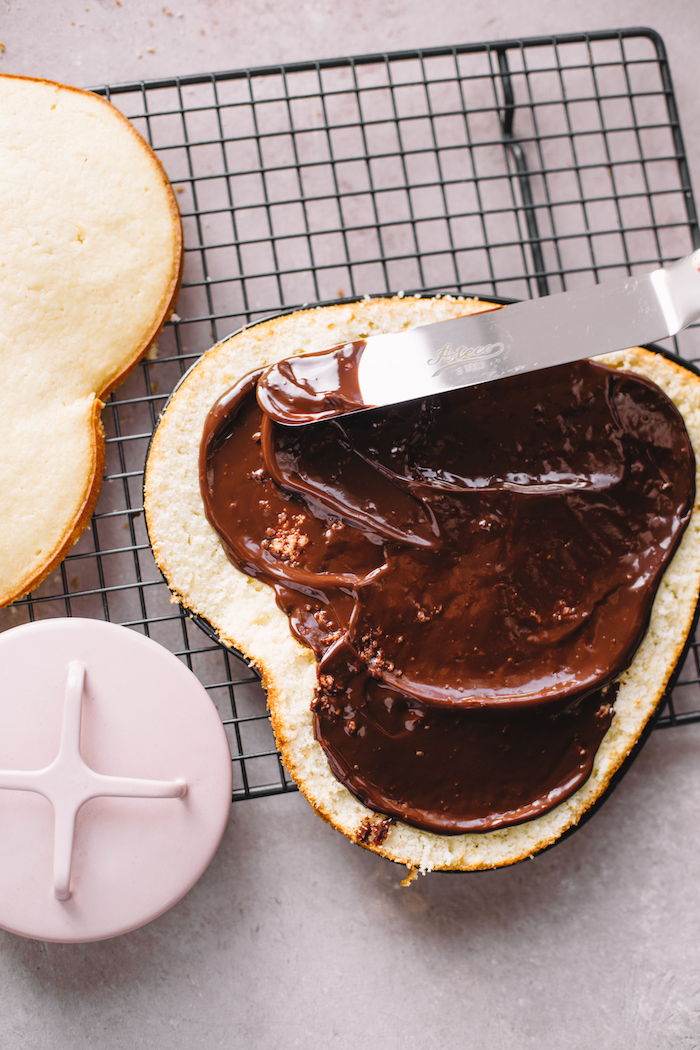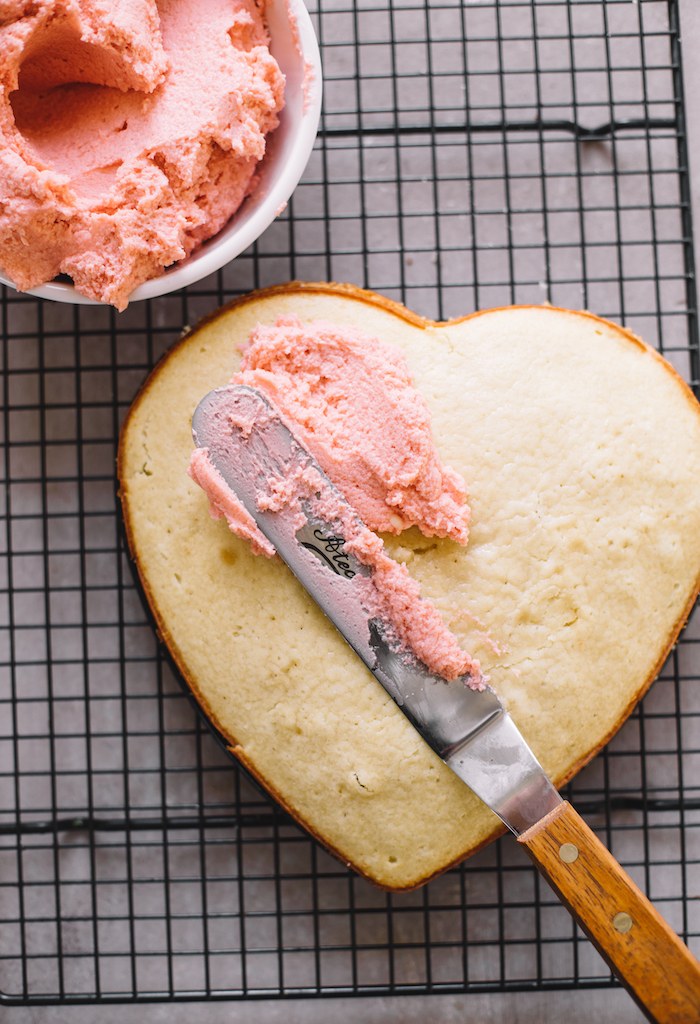 I went for a more elegant neutral look for this cake, but you can certainly put any sayings in the center of the heart with red icing and be creative expressing your mushy side.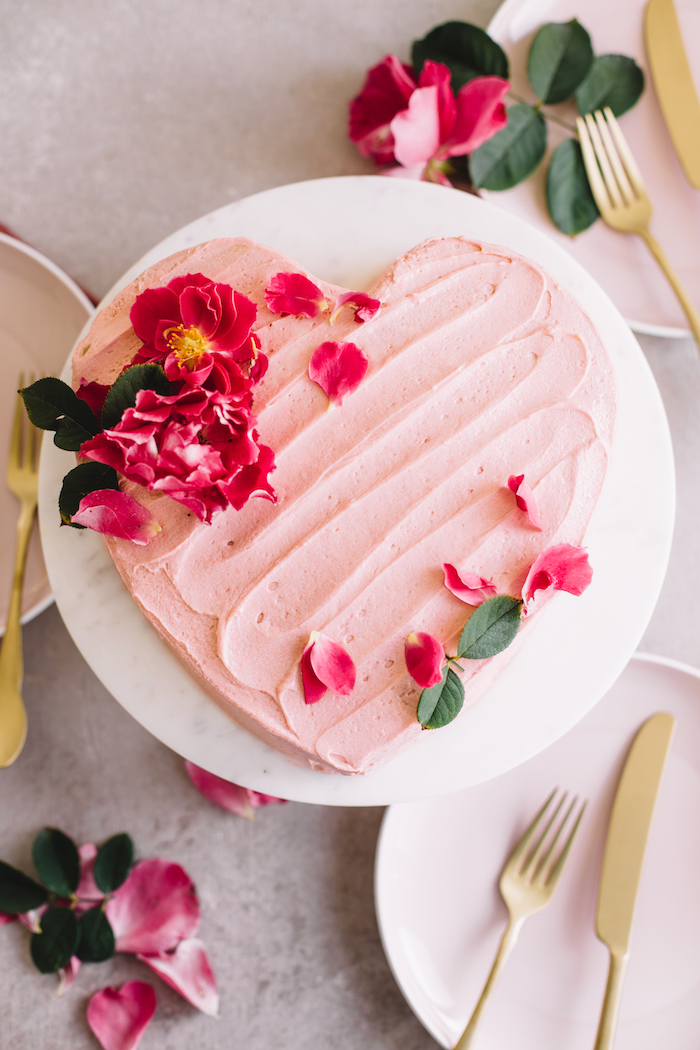 Marble and Wood Cake Stand

By Laurie Gates

Shop Now
Ingredients for a Pink Heart-Shaped Cake:
Sugar
Flour
Baking Powder
Salt
Unsalted Butter
Milk
Vanilla Extract
Eggs
Chocolate Chips
Vanilla Extract
Powdered sugar
Pink Food Coloring
Roses/Rose Petals
How to Make a Pink Heart-Shaped Cake:
Bake each cake layer: This Le Creuset Heart Shaped pan was perfect for getting a sturdy heart shape. I ended up baking two layers because I wanted extra height but you could get away with one.
Fill in with plenty of ganache: Chocolate ganache is one of the best cake fillings in my opinion. It keeps the sponge consistency super moist, has the best silky texture and tastes super-rich. I used Torte Tool and a serrated knife to get even layers between each sponge.
Top with frosting: You can never have enough in my opinion! To get that signature swirl I made the top extra thick and dragged the tip of my frosting knife in a swirl motion with a light pressured hand.
A rose by any other name… Fresh flowers, as a cake topper is one of my favorite easy ways to top a cake. It instantly transforms the look of something simple and takes no time at all. Plus, it's very timely for Valentine's Day desserts!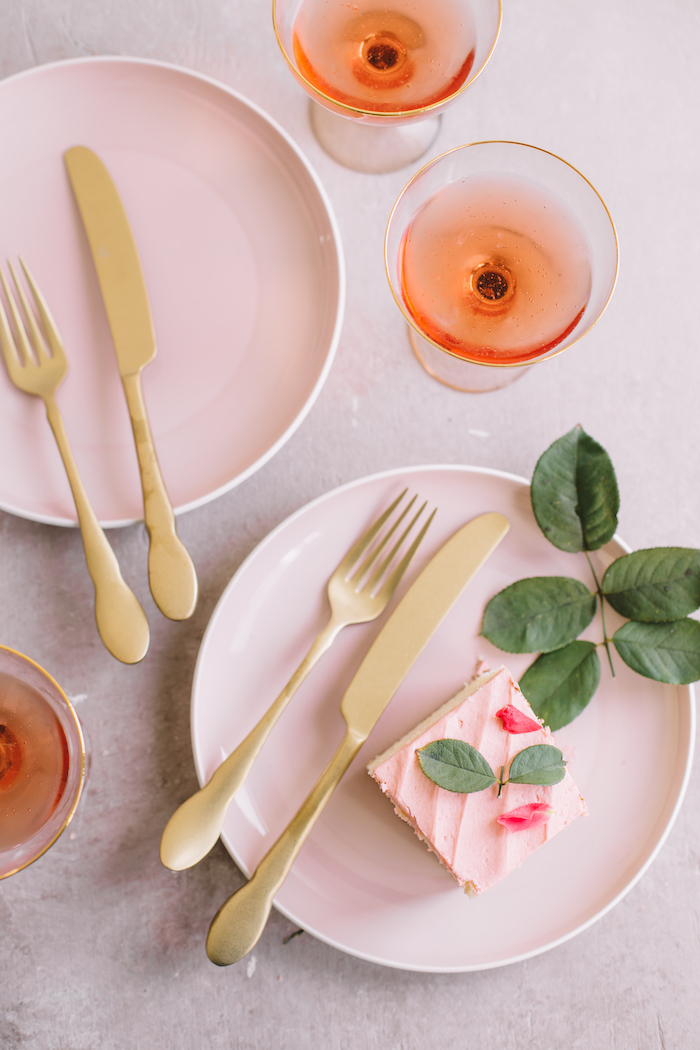 It's My Match Powder Plate Uni

By Villeroy & Boch

Shop Now
Other Cake Filling Flavor Ideas:
Raspberry/Strawberry Preserves: One of my favorite easy/fruity ways to fill a cake with. This color will totally match your Valentine's Day scheme as well.
Lemon Curd: Great for all my tart lovers! I always keep a jar of Trader Joes lemon curd on hand for this specific reason.
Fresh Fruit and Whipped Cream: If you want a filling on the lighter side this is an easy, yet flavorful, option.
Buttercream: When all else fails, go for more buttercream. You can never have enough.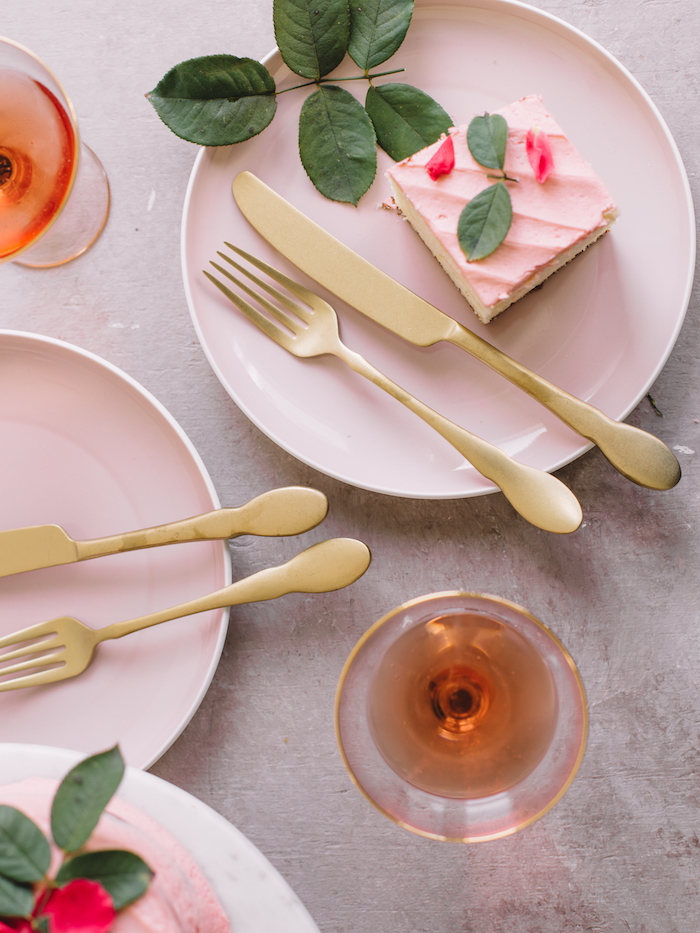 Birch 20-Piece Flatware Set

By Gourmet Settings

Shop Now
How to Top a Cake with Fresh Flowers
Fresh is best:
Top the cake off with flowers right before serving. If you're making this cake the night before, it's best to save the flower topper to avoid wilting.
Types of flowers that are safe for a cake topper: Pansy, Lavender, Viola, Violet, Rose, Marigold, Cornflower, Carnation, Chrysanthemum, Day Lily, Hibiscus, Peony, Chamomile, Freesia, Gerber Daisy, Lisianthus, Queen Anne's Lace, Primrose, Sunflower.
Rinse them: This might sound silly… but be sure to give your flowers an extra good rinse before topping. Speaking from experience here when I say flowers are traps for little bugs!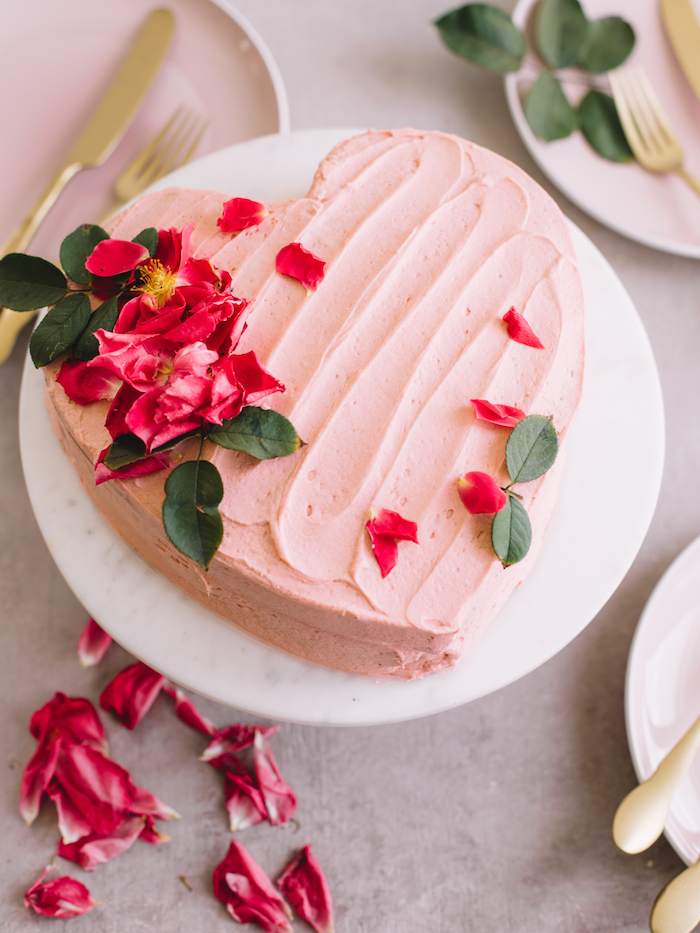 Heart-Shaped Vanilla Cake with Pink Buttercream & Edible Flowers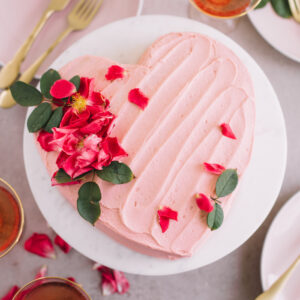 INGREDIENTS
For the Vanilla Cake:
1 cup of sugar
1 ¾ cup flour
1 ½ teaspoons baking powder
½ teaspoon salt
1 stick of unsalted butter, softened
¾ cup of milk
2 teaspoons vanilla extract
2 eggs, at room temperature
For the Chocolate Ganache Filling:
1 bag of chocolate chips (I used dark chocolate)
½ cup of butter, melted
1 teaspoon of vanilla extract
Raspberries or raspberry preserves
For the Buttercream:
2 sticks/1 cup unsalted butter
3-4 cups powdered sugar
½ teaspoon of salt
1 teaspoon vanilla extract
2-3 tablespoons of milk
Pink food coloring
INSTRUCTIONS
For the Cake:

Preheat oven to 350 F. Grease and flour heart-shaped cake tin.
In a large bowl whisk together sugar, flour, baking powder, and salt.
Add in the softened butter and beat for 1-2 minutes. Add in the vanilla extract and milk and beat for 30 seconds, increase the speed and beat for an additional minute.
For the Filling:
In a separate large glass bowl add in chocolate chips and butter. Melt in the microwave in 30-second increments until smooth and melted.
Stir in vanilla extract.
The longer the chocolate mixture sits at room temperature, the thicker it will become.

For the Buttercream:
In a large bowl fitted with a stand or hand mixer, beat butter until light and fluffy, about 3-5 minutes.
Add vanilla extract, salt, and 1/3 of the powdered sugar to butter mixture until fluffy.
Add in a tablespoon of milk at a time after powdered sugar. If frosting is stiff or you live in a dry climate, add two at a time. If you live in a humid climate, you may need less. Continue to add powdered sugar and milk in two separate increments and mix until light and fluffy.
Add in the desired amount of pink food coloring last.
*Note: Cake was made with two separate sponge layers for extra height. If this look is desired, double the cake recipe or split into two cake tins.