The Best, Chewiest Oatmeal Cookies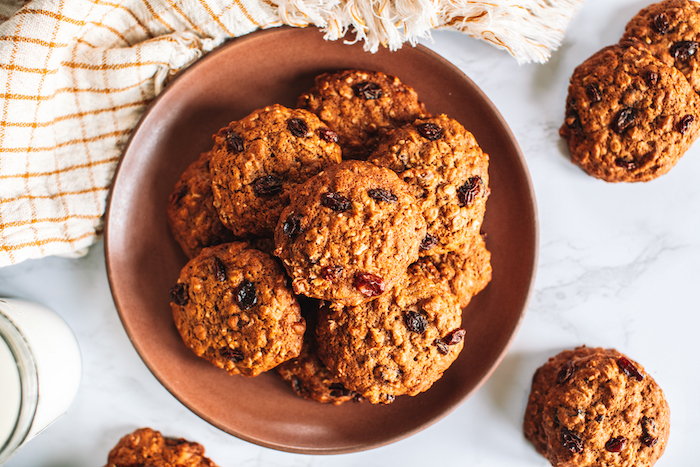 Oatmeal cookies are a quintessential classic dessert recipe. Filled with bold spices, rolled oats, and sweet raisins, this easy oatmeal cookie recipe will have you convinced you've traveled back in time.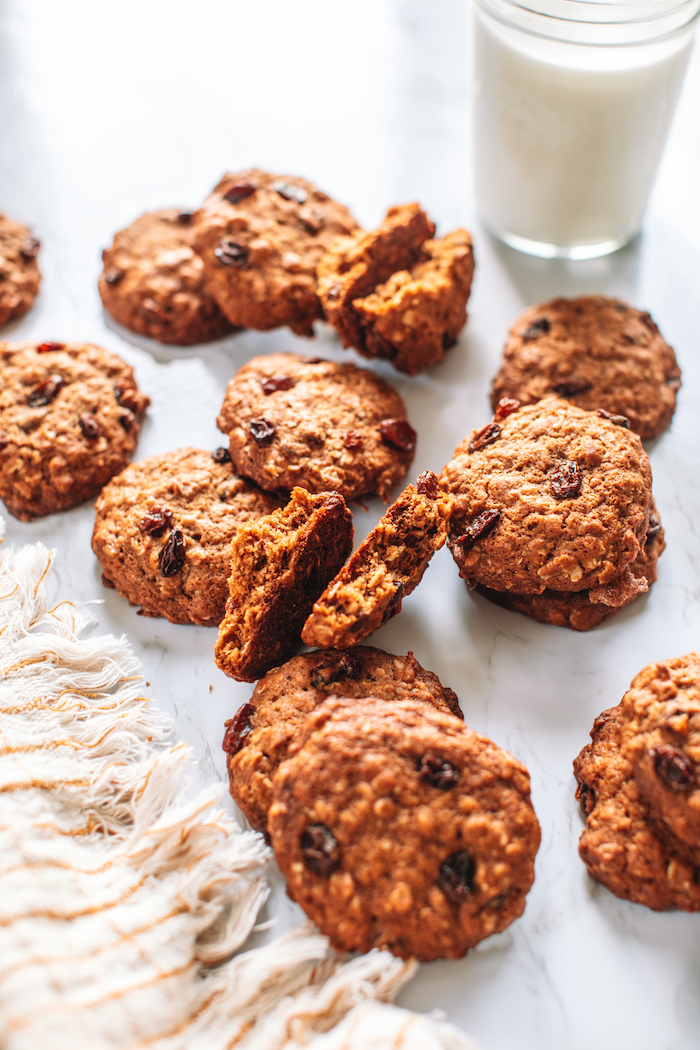 If you ask me, oatmeal cookies are terribly underrated, losing favor to chocolate chip or simple sugar cookies. However, this classic oatmeal cookie recipe holds a special place in my heart.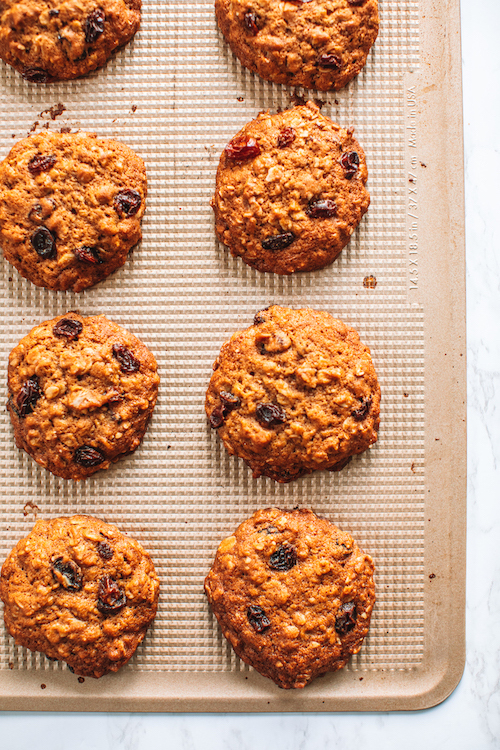 These are actually my Nana's favorite cookies, and she requests them all the time! I always love sending her treats, especially now that we aren't able to visit as much. Sometimes, I send over a batch of frozen cookies that she can whip up whenever she wants, and other times, I send her a tin filled with fresh, soft oatmeal cookies right out of the oven.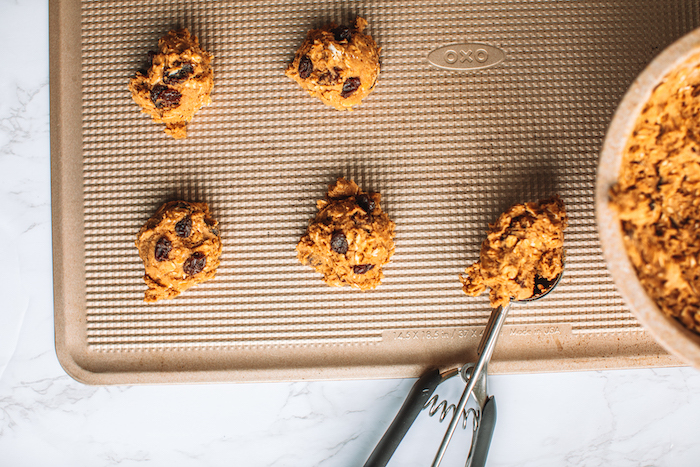 Filled with big flavors from spices and molasses, these classic oatmeal cookies are loaded with oats and raisins. The batter actually comes together fairly quickly and is perfect to make ahead or freeze.
Non-Stick Pro Baking Sheet

By OXO

Shop Now
Why You'll Love These Oatmeal Cookies
Classic favorite. When I think of classic cookies, I think chocolate chip, peanut butter, and these oatmeal cookies! Filled with nostalgia and childhood memories, food with comfort just tastes a bit better.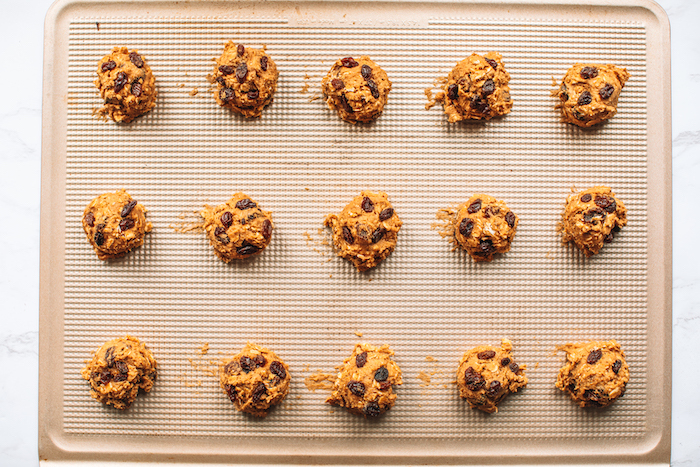 Super simple. Cookie recipes just don't get any simpler than these easy oatmeal cookies. The ingredients are baking pantry staples, plus they take just half an hour to make.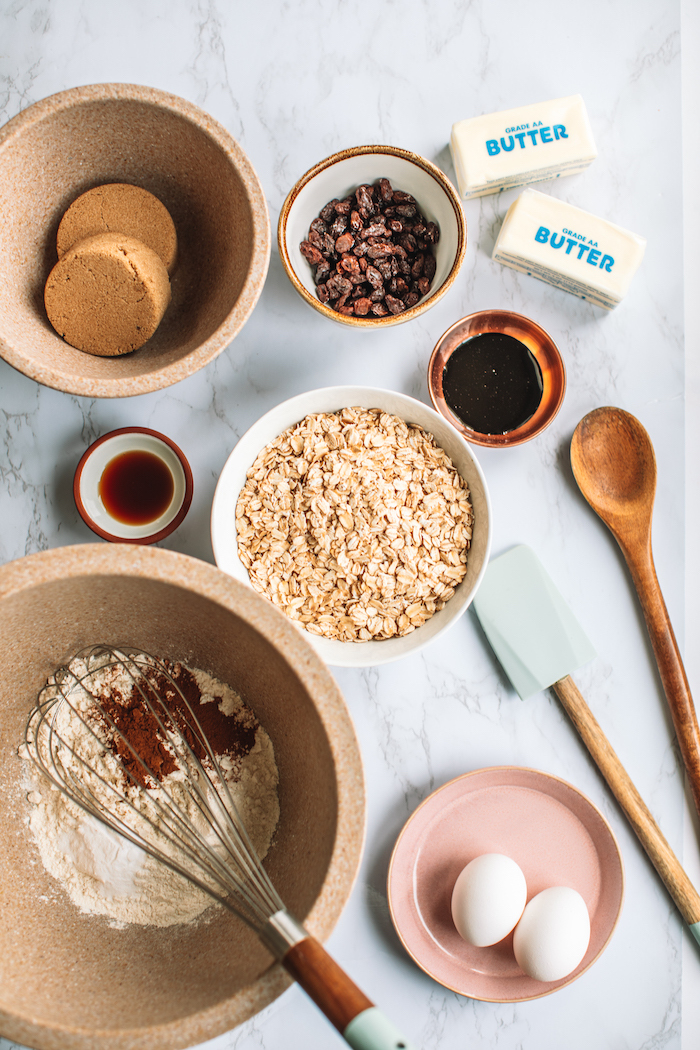 Easy storage. When properly stored in an airtight container, oatmeal cookies will last for up to 2 weeks. I always store my cookies at room temperature, not in the fridge, so they don't dry out. You can also freeze the dough to make small batches later.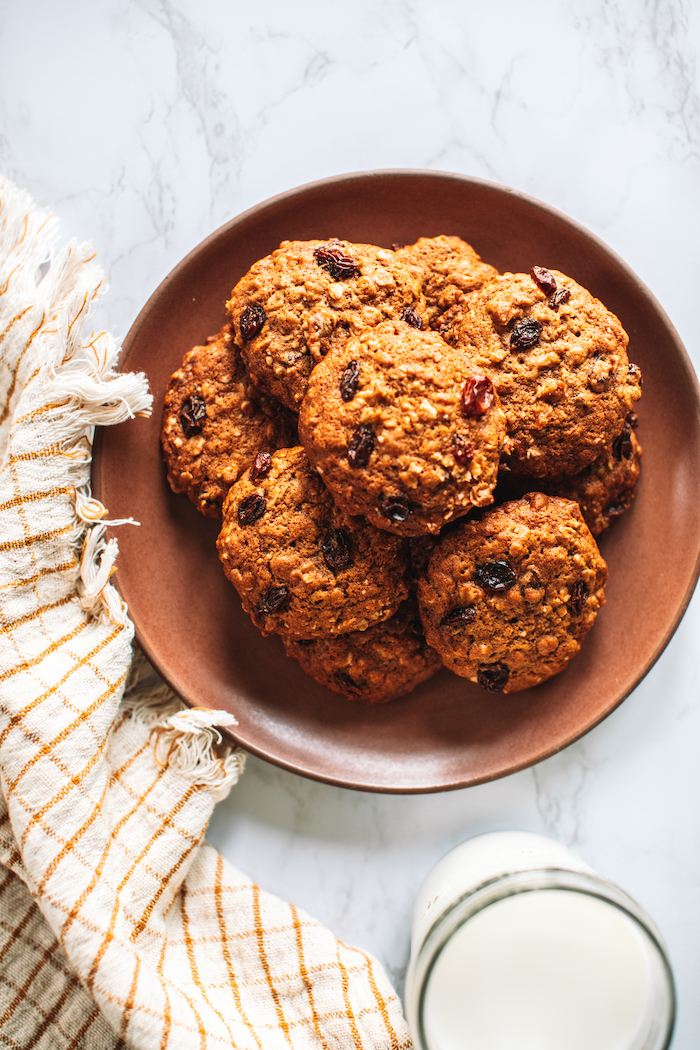 Oatmeal cookies are a quintessential classic dessert recipe. Filled with bold spices, rolled oats, and sweet raisins, this easy oatmeal cookie recipe will have you convinced you've traveled back in time.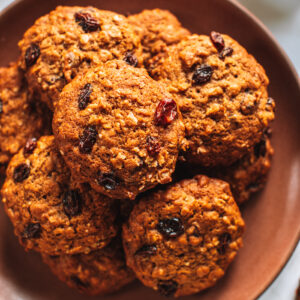 Ingredients
1

cups

(2 sticks) unsalted butter, at room temp

1

cups

brown sugar

2

eggs

2

tsp

vanilla extract

1

tbsp

molasses

1.5

cups

all-purpose flour

1

tsp

baking soda

2

tsp

ground cinnamon

.5

tsp

kosher salt

2.5

cups

old fashioned oats

1

cups

raisins or dried cranberries

5

cups

chopped pecans, optional
Instructions
With a stand or hand mixer cream together the butter and brown sugar until mixture is light and fluffy, about 3-4 minutes. Add in the eggs on medium speed one at a time or until incorporated.

Scrape down the sides of the bowl and add in vanilla extract and molasses until just combined.

In a separate medium bowl whisk together flour, baking soda, cinnamon and salt. Add dry mixture to the wet mixture and beat on medium speed or until dough is just combined. Add in the oats and raisins (and pecans if using) and mix together until dough is combined, do not over mix. Chill the dough for 30 minutes.

Preheat the oven to 350 F. Using a cookie scoop or your hands roll out 2 tbsp balls of cookie dough and place evenly spread onto your cookie sheet. Bake for 12-14 minutes or until the edges are golden brown.

Leave cookies on the baking sheet for 5-10 minutes once out of the oven to allow for residual cooking and to cool. Remove cookies and place on a cooling rack to finish cooling.
Nutrition
Serving:
2
g
Calories:
425
kcal
Carbohydrates:
57.5
g
Protein:
7.3
g
Fat:
18.7
g
Saturated Fat:
10.4
g
Cholesterol:
68
mg
Sodium:
326
mg
Fiber:
4.4
g
Sugar:
20.9
g
Tips & Tricks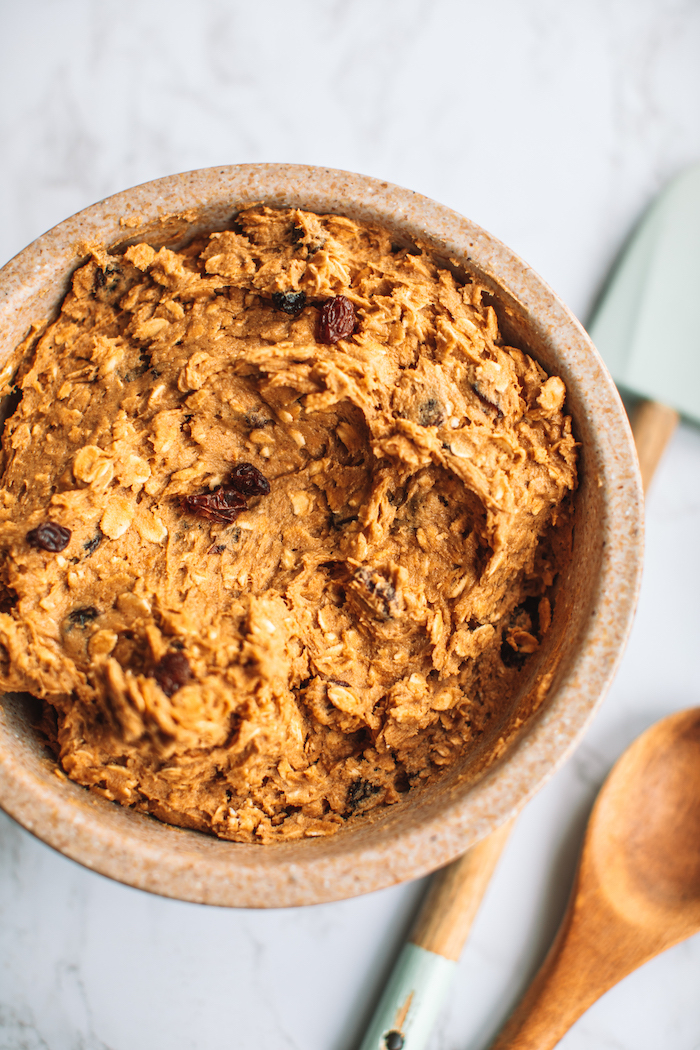 Chill the dough. Don't forget the chill time! It makes for easy scooping and better cookies altogether. If you don't have a cookie scoop, you can always use an ice cream scoop or a spoon.
Tilt Mixing Bowl Set, 5-Piece Set

By zak! designs

Shop Now
Careful not to overmix. I always fold in my ingredients when combining the cookie dough in order to avoid overmixing. If you overmix, you will lose air from the dough which will lead to less fluffy cookies.
Jamie Oliver Baking Collection

By DKB

Shop Now
Choose your oats. Oatmeal cookies taste great with old-fashioned rolled oats and quick baking oats. Personally, I prefer rolled oats because I like the heartier, chewy texture that they create.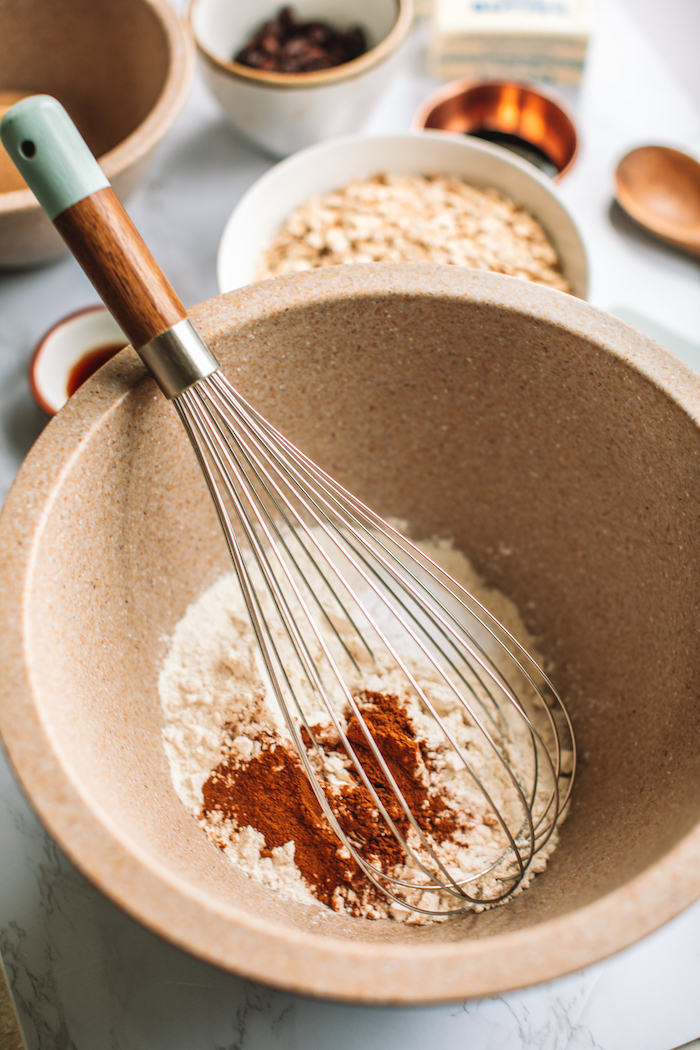 Chewy cookies are the best cookies. Try leaving out the whites of the eggs and instead adding one more egg yolk to your batter. This should result in an extra chewy oatmeal cookie!