19 of the Best Freezer Meal Recipes You'll Actually Love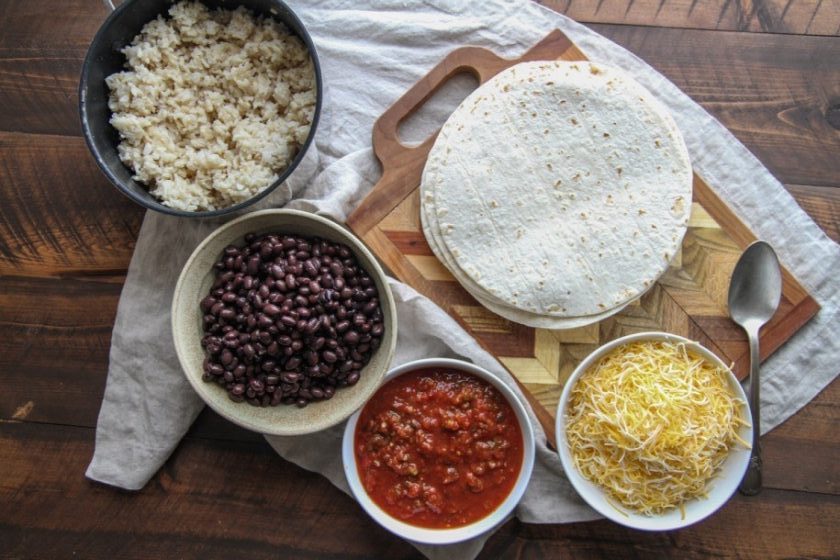 Freezer meals are one of the best and easiest solutions to the dreaded "What's for dinner?" question you likely receive daily. Let's face it, prepping dinner in the middle of the work week can be a harrowing experience. Having to prepare a meal after a long day is no one's idea of a perfect night! Luckily, you can take a bit of the pressure off your week by setting aside a little extra prep time on your days off and take advantage of a few of our favorite, easy freezer meal recipes. Not only do we have some delicious lunch and dinner recipes for you to try, but we've thrown in some grab-and-go freezer meals for breakfast to get your day started off on the right foot. We've also provided some helpful tips for creating these freezer meals in bulk. Just because you go the easy route, doesn't mean your meal should taste any less fantastic!
Choose your freezer meal:
Pasta
Spaghetti Sauce | Tuscan Pasta
Protein
Hamburger Patties | Honey Mustard Pulled Pork | Chicken Parmesan Casserole | Oven Baked Chicken Strips | Ham and Cheese Pockets | Black Bean Mexican Chicken | Chicken Pozole Verde | Vegetarian Burritos | Chicken Coconut Curry
Vegan
Healthy Snacks & Breakfast Items
Smoothie Packs | Oatmeal Cups | Banana Ice Gluten-Free Waffles | Root Beer Float Pancakes | Breakfast Sandwiches | Breakfast Burritos | Breakfast Burritos with Chorizo
Benefits of Freezer Meals
If you're already a freezer meal connoisseur and are already familiar with preparation techniques etc., skip to our best favorite freezer meal recipes for some yummy freezer meal recipe ideas. If you're new to the freezer meal world, welcome (!) and keep reading.
Freezer meals really can be healthy.
No seriously. When it comes to picking and choosing what ingredients go into each of your frozen meals (and what ingredients are left out), you're in the driver's seat. Plus, ask yourself how other big name freezer brands compare from a nutrition standpoint? That Sesame Chicken Lean Cuisine that has 15g of sugar, or those El Monterey Chimichangas, or even the famous trans fat-packed Stouffer's Mac and Cheese dishes might be good for storing in your freezer, but they aren't necessarily good for your body.
Freezer meals are convenient.
What can save you more time in a day than meals that freeze well and reheat well? Preparing certain kinds of foods, specifically meat can be really time consuming, especially if it's a process that spans across multiple days. By freezing your meals ahead of time, you not only alleviate stressors of meal-time that pop if you're having a chaotic work day, but you're also able to plan and coordinate a food schedule. Prepping food when you want to is much more enjoyable than having to prep food on demand—freezer meals are the proactive cooking that will make your days a little less taxing.
Freezer meals help you save money.
Enjoying food is part of the human experience, particularly one that's worth investing in, but there's no reason why you need to break your bank to experience good food. In fact, freezing your meals allows you to avoid giving in to the impulsive take-out decisions when nights get really busy, really fast. No one likes the dreaded feeling of choosing your food on Postmates, UberEats, DoorDash or Grubhub and getting to the place order screen where you're charged with not only the food order, but the delivery fee, the tip for the driver and/or a tip for the restaurant too.
On top of that, let's face it, we've all thrown away leftovers that we promised ourselves we would eat. Freezer meals help you avoid the possibility of wasting food and wasting the money you spent at Trader Joe's to make a bomb meal in the first place.
Freezer Meal Prep for Beginners
There are a bunch of freezer cooking methods available depending on what type of your freezer meal you're aiming to create.
Pick Your Style of Freezer Cooking
Crockpot Method – Instant pot and and slow cooker fans can buy, slice, dice, combine and freeze a lump sum of ingredients and when ready to eat, dump your thawed out ingredients into your slow cooker!
Casserole Cooking Method – is similar where you can essentially freeze a tub of ingredients until you want to heat-and-eat it. Just remember to completely cook through any casserole that contains meat, poultry or fish before freezing it. Additionally, line your cooking vessel with tin foil to make a seamless transfer from pan to freezer. Try these easy back-to-school chicken casserole recipes or this decadent overnight baked french toast.
Meals-in-a-Bag (or Box) Method – this is perfect for meal planning or dieting folks who prefer to have their meal portions sectioned out. Great for on-the-go lunches that can be reheated in the microwave at work! The best containers for freezer meals can range from wrapping large cuts of meats with tinfoil to zip-top freezer bags for soups and chilis.
Air-Fryer Method – another freezer-friendly meal prep tactic is soaking your favorite meats, vegetables, or complex carbohydrates in your favorite marinade or sauce, stowing it away in the freezer and then frying it when you're ready to eat it (fried chicken and french fry lovers, this means you). Try any one of our 8 game-changing air-fryer comfort foods to really take things to the next level.
Just remember, you don't need a designated day of the week (or month) to be a good freezer meal chef. Try testing the waters by first mapping out your biggest chunks of free-time and how much of that free-time you want to devote to some frozen meal prep. The goal is to alleviate stressors in your schedule, not create more of them.
Choose the most time-consuming part of your meal to freeze. That way you can keep a healthy balance between what's been freezer prepared and what's fresh. For example, one of the best make ahead freezer meals is cooking some well-seasoned taco meat ahead of time and complementing it with some yummy Mexican-style street corn as a side.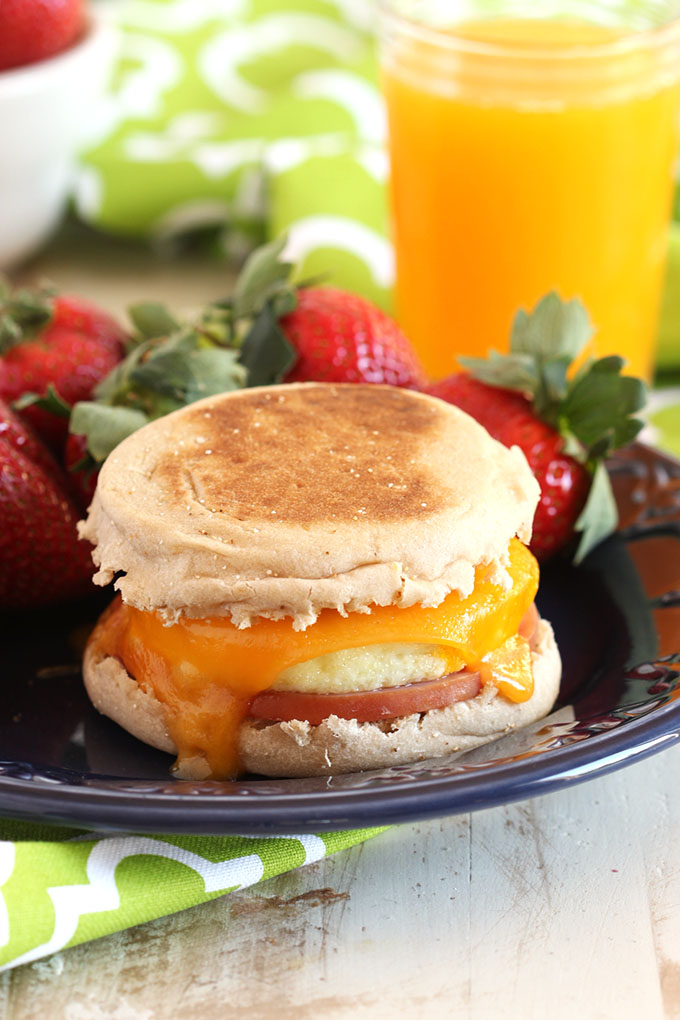 These savory breakfast sandwiches will make you wonder why you spent so much of your Saturday morning in the McDonald's or Starbuck's drive through. You'll never go looking outside of your freezer for a perfectly round egg, cheddar cheese, Canadian bacon, on an english muffin, ever again.
Get Make-Ahead Freezer Breakfast Sandwich Recipe Here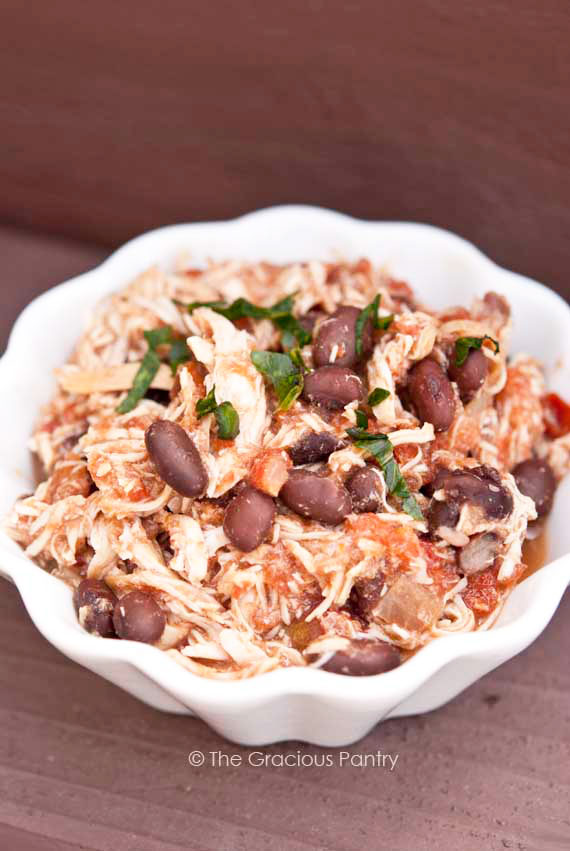 Spice up a boring chicken recipe with this healthy and hearty Mexican frozen meal option. Use it as a burrito filling for lunch or dinner or enjoy it by itself for a yummy midday snack.
Get Black Bean Mexican Chicken Recipe Here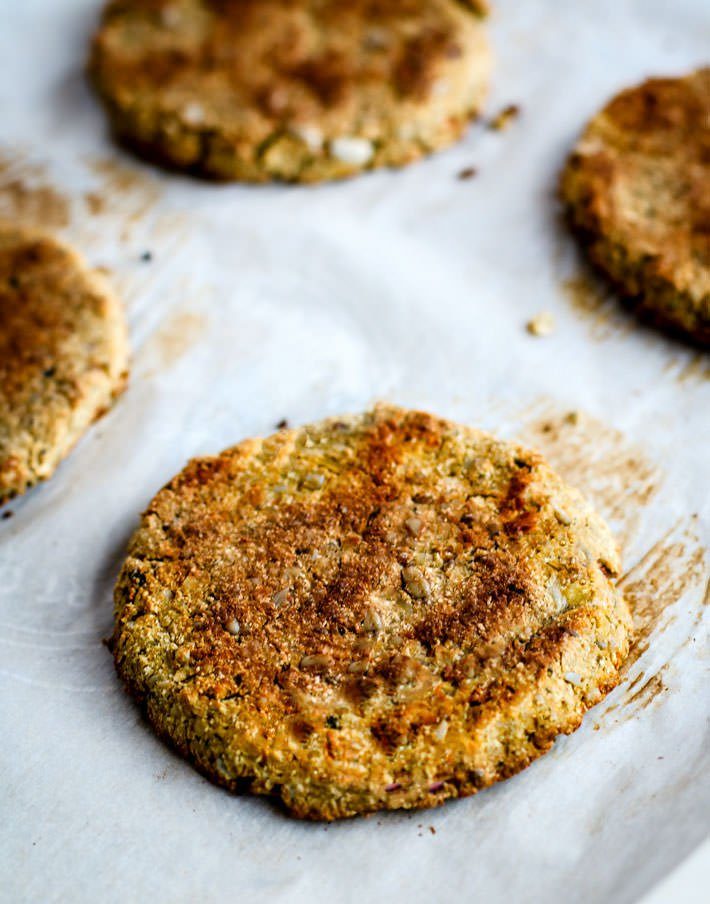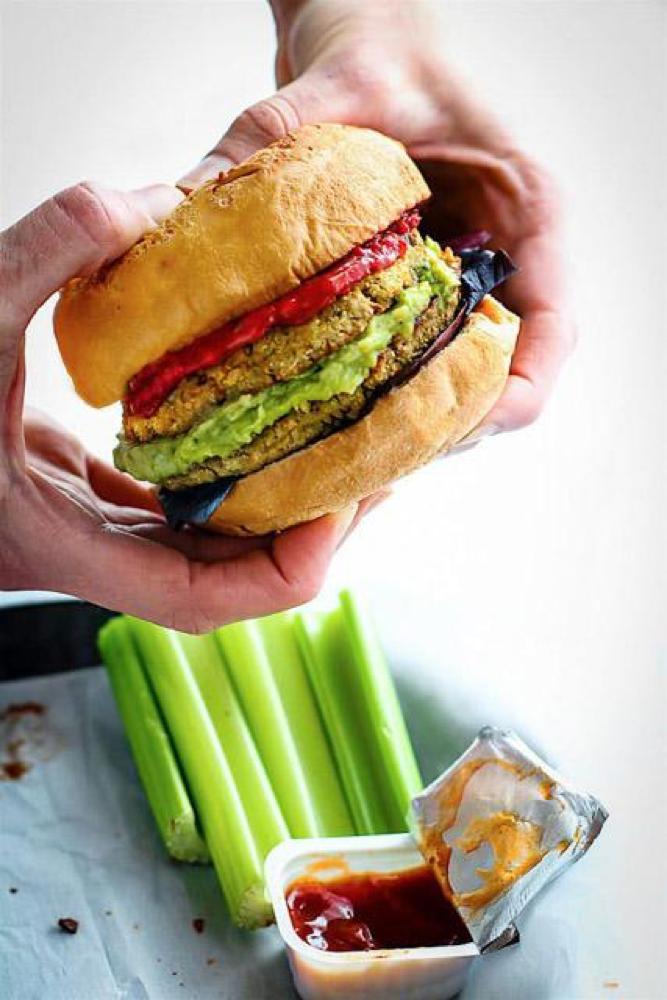 You don't have to go to a restaurant to feast on a good vegan veggie burger, it's one of the best freezer meal recipes around—these are crazy good, reheat well and are a great source of plant-based protein and iron.
Get Vegan Veggie Burger Recipe Here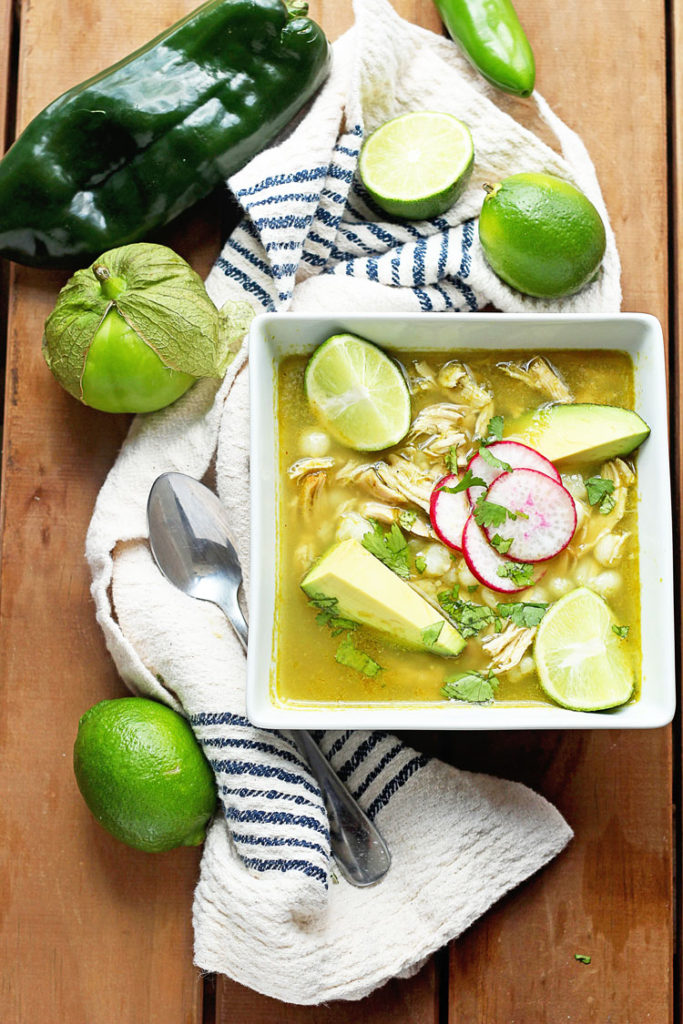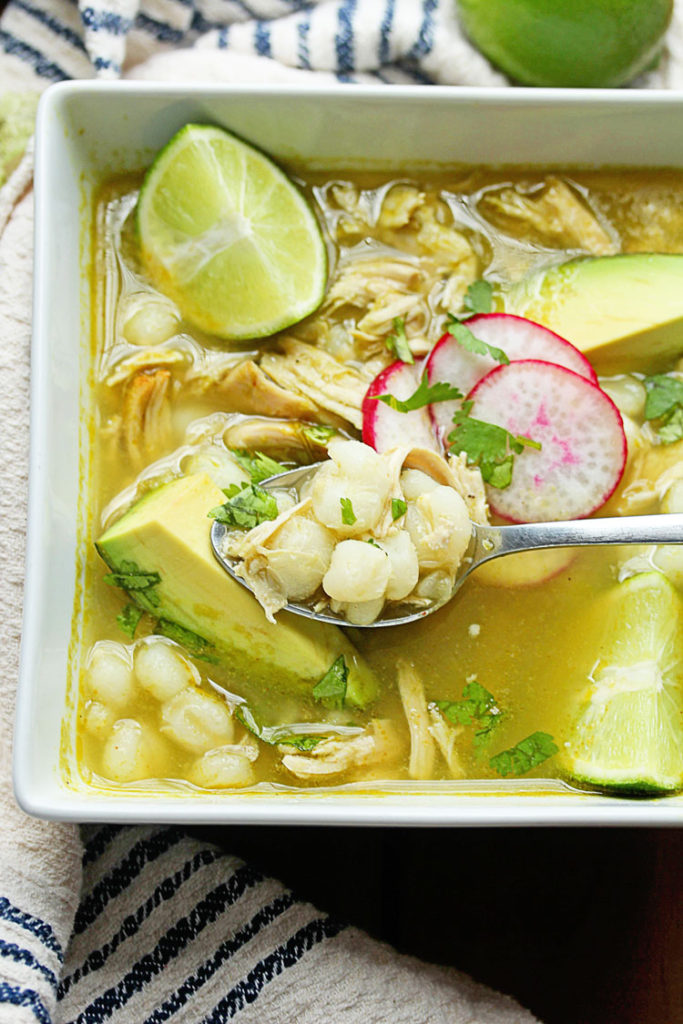 A lot of people ask me, "What are some easy freezer meals to make? The answer is this beloved Mexican soup and all of its savory goodness. If you love enchiladas, empanadas, or grilled Mexican corn salad, this warm, brothy bowl of flavor will be your new go-to freezer meal.
Get Mexican Chicken Pozole Verde Recipe Here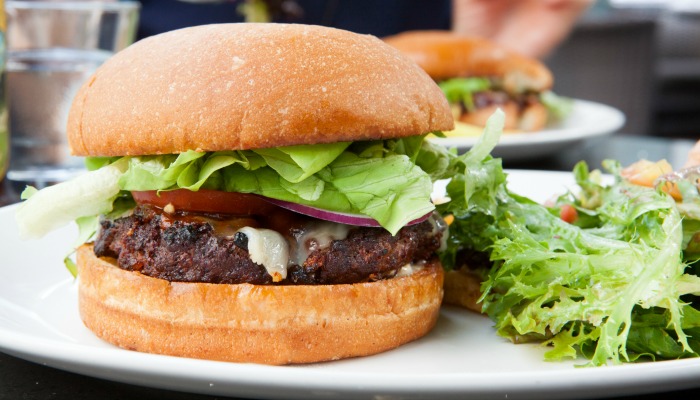 Don't bother browsing the freezer aisle for your hamburger patties anymore, these make-ahead freezer meals are way tastier (and healthier) when made from scratch!
Get Make Ahead Hamburger Patties Recipe Here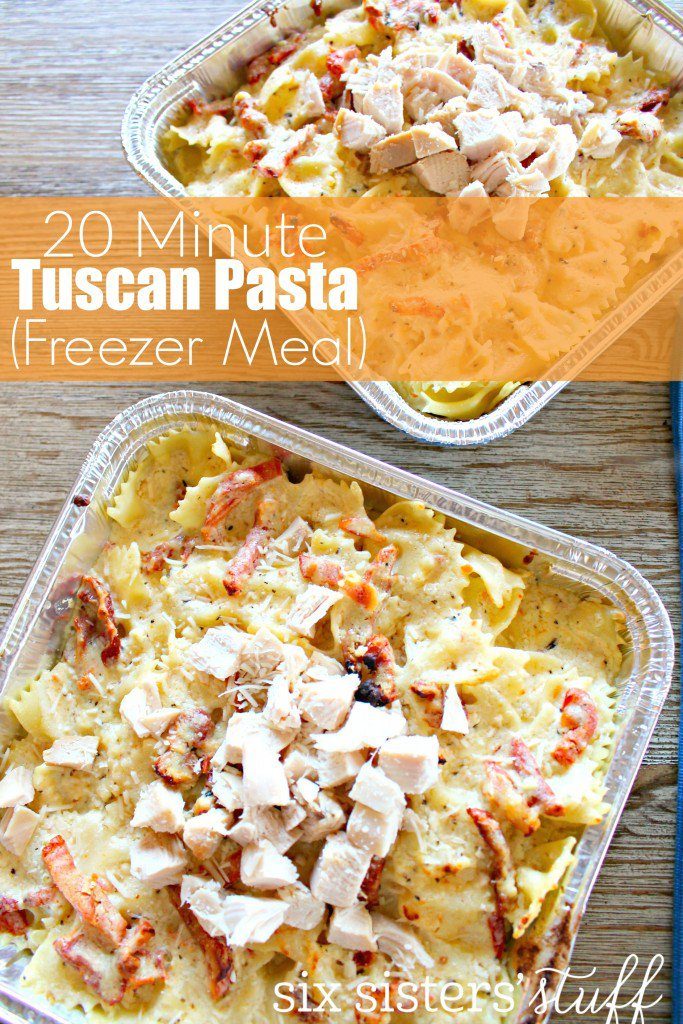 Great cooking doesn't always have to be complicated. Try this simple freezer meal prep for a delicious and super easy to make pasta. You will be instantly hooked!
Get 20 Minute Tuscan Pasta Freezer Meal Recipe Here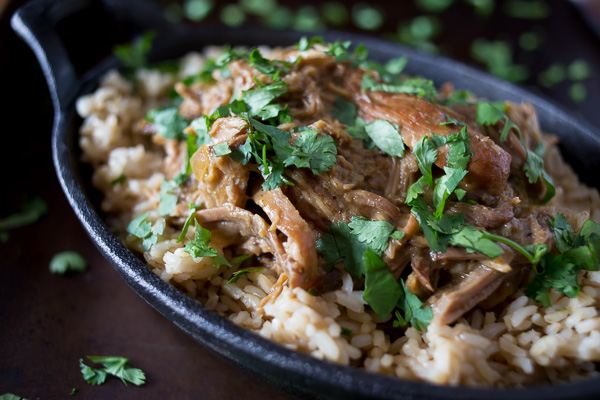 The best freezer meals call for making big batches so that you can enjoy plenty of leftovers. This honey mustard pulled pork is no exception. So tender, so juicy and so flavorful!
Get Slow Cooker Honey Mustard Pulled Pork Recipe Here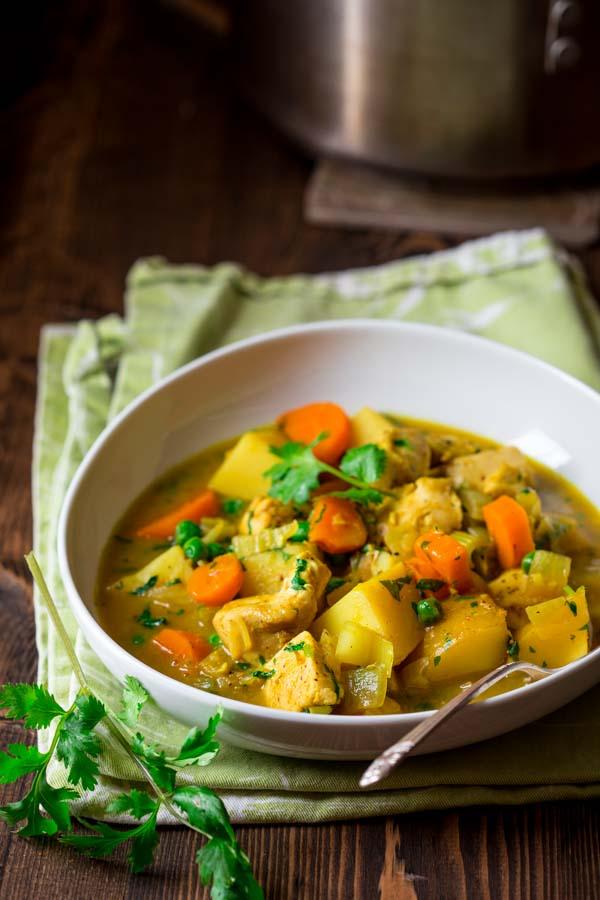 Winter is a great time for a hearty soup and this tasty recipe is perfect for freezing ahead of time and thawing for a quick weeknight dinner.
Get Chicken Coconut Curry Recipe Here
This family-favorite freezer meal is going to make dinner this week tastier and faster than you thought possible.
Get Chicken Parmesan Casserole Recipe Here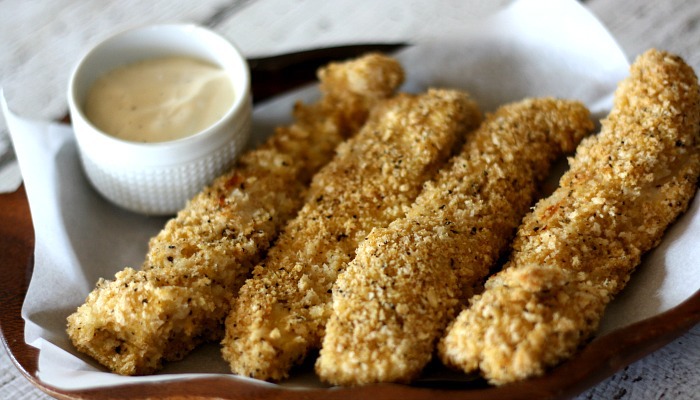 Homemade is always better than store bought and these tasty snacks are sure to go fast, whenever you decide to pull them out of the freezer.
Get Oven Baked Chicken Strips Recipe Here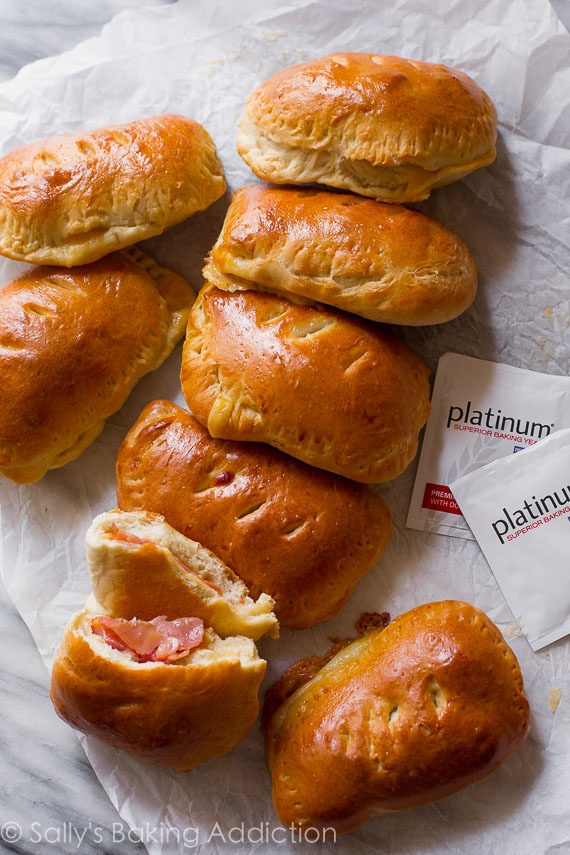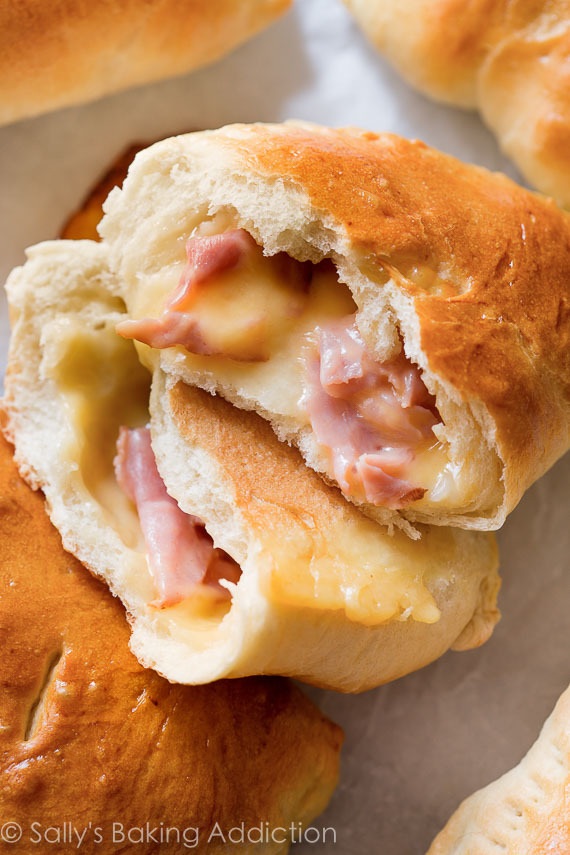 Never buy the store bought ones again, these are way better than anything in the freezer aisle.
Get Homemade Ham and Cheese Recipe Here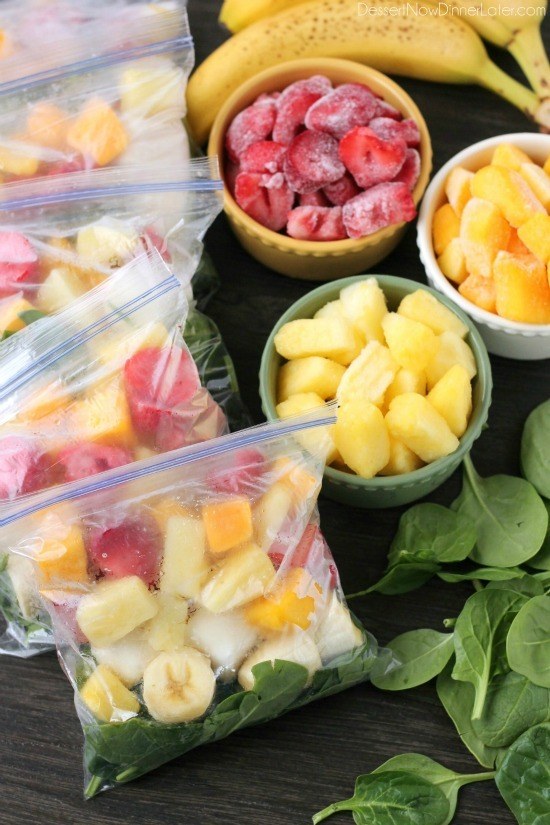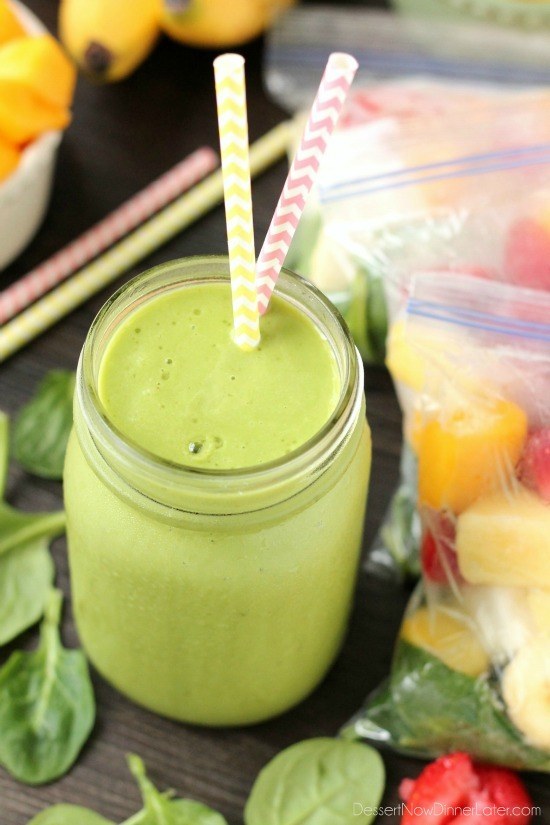 Make your breakfast smoothies even easier this week with these great make-ahead smoothie packs. I just love this idea!
Get Freezer Smoothie Packs Recipe Here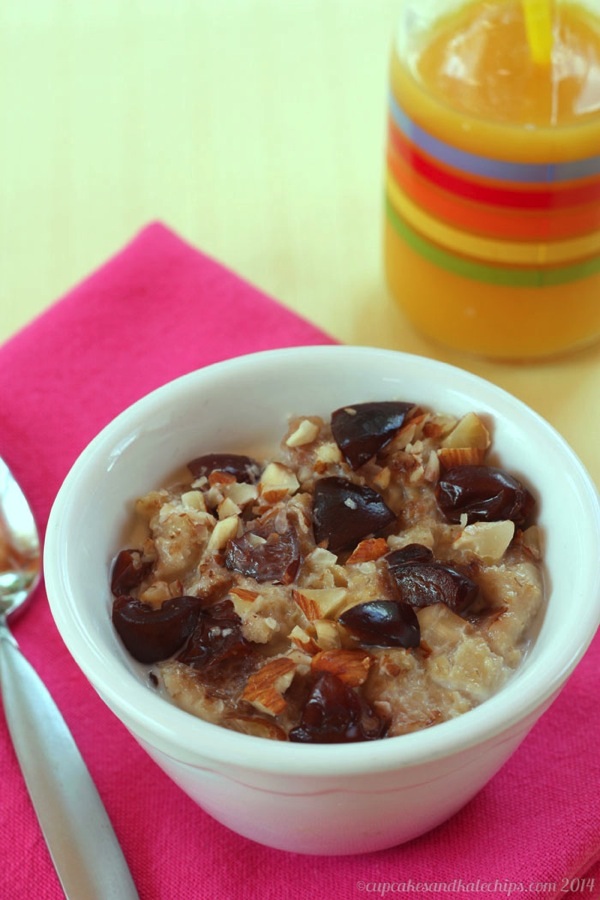 Breakfast is sure to be a tasty and healthy experience every day this week with these tasty gluten-free treats! Sprinkle our favorite fruit and nut toppings for added freshness and flavor.
Get DIY Freezer Oatmeal Cups Recipe Here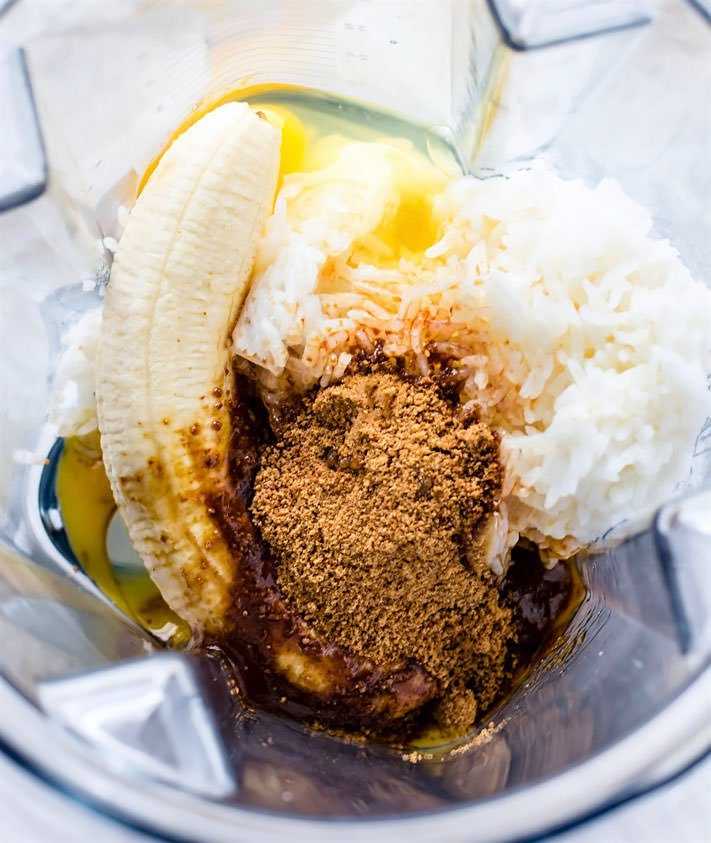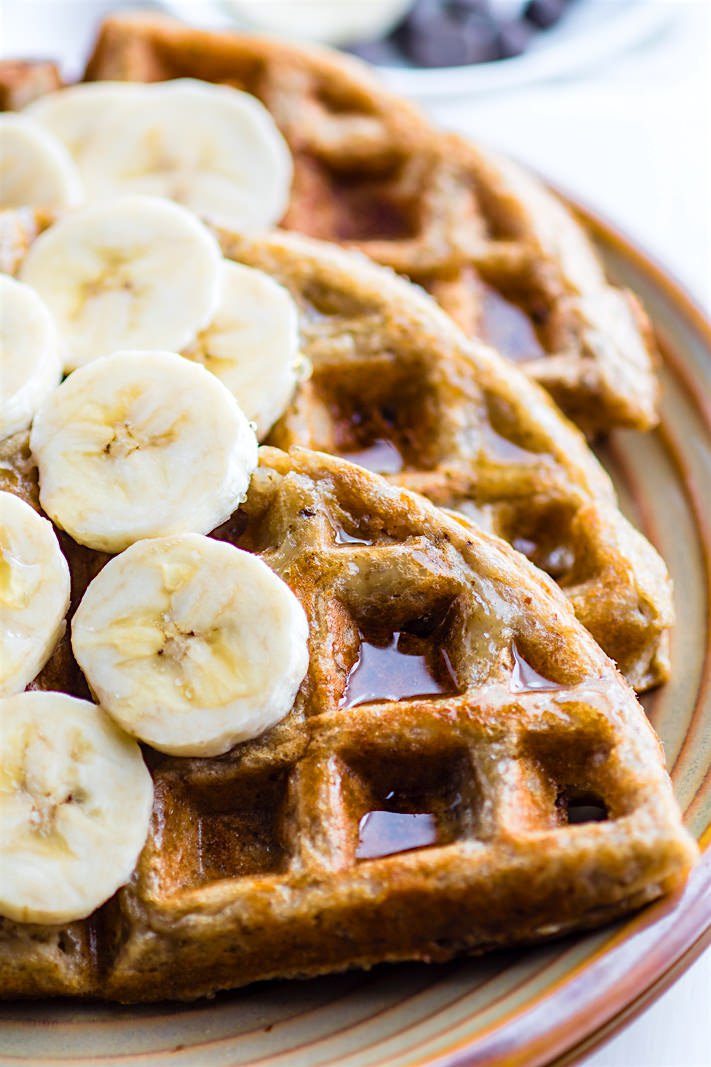 Just blend and pour to make the dairy-free and gluten-free waffles of your dreams. An easy, cheap frozen meal recipe that does wonders for giving you the breakfast fuel you need!
Get Blender Banana Rice Gluten-Free Waffles Recipe Here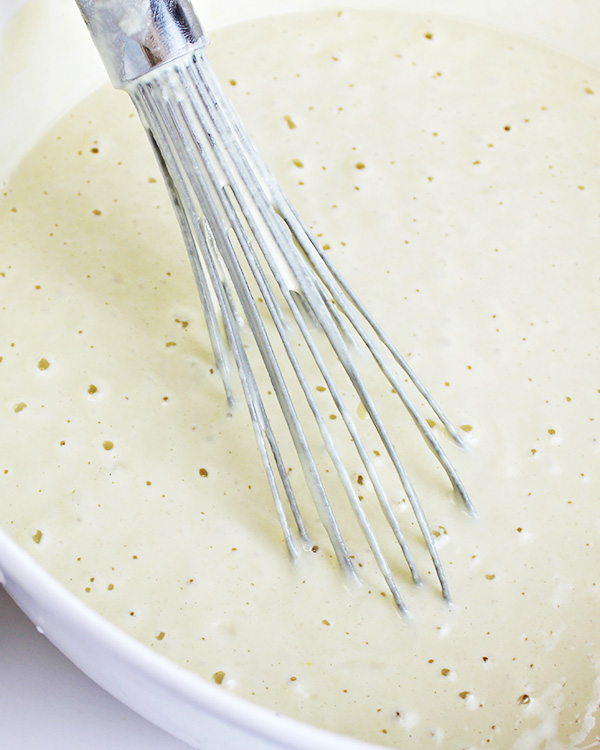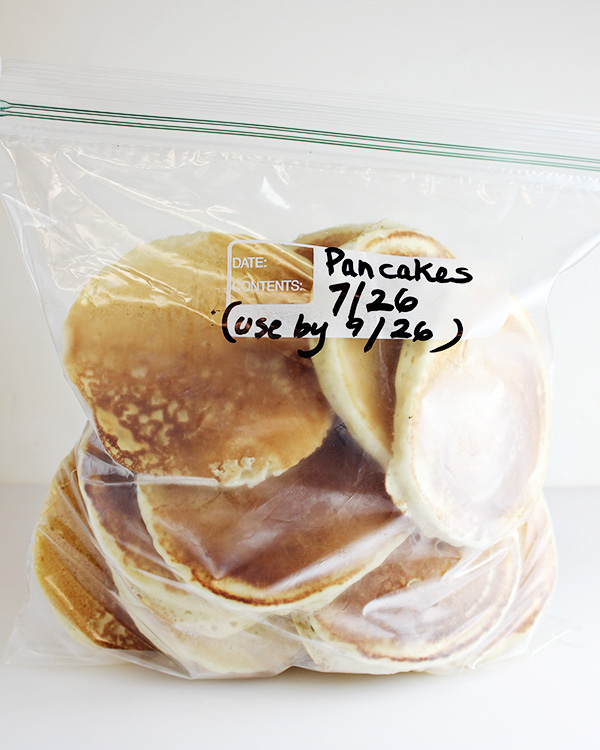 If root beer float flavored pancakes are wrong, we don't want to be right. These frozen pancakes give you all the tasty goodness of root beer's spicy kick and vanilla ice cream's, well, sweet creaminess combined into a fluffy little breakfast (or dinner) package. They're so good you'll want to kick your eggos and toaster strudels to the curb.
Get Frozen Root Beer Float Pancakes Recipe Here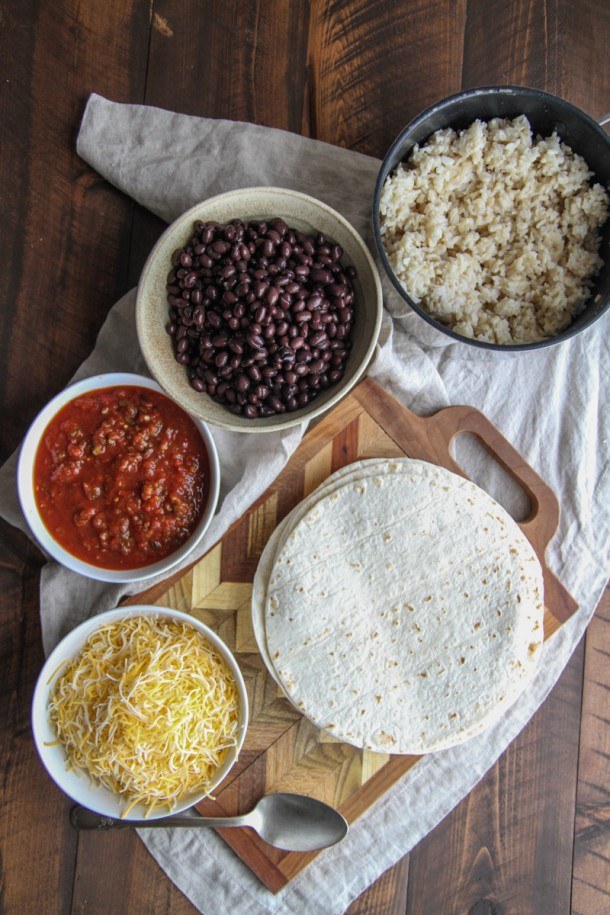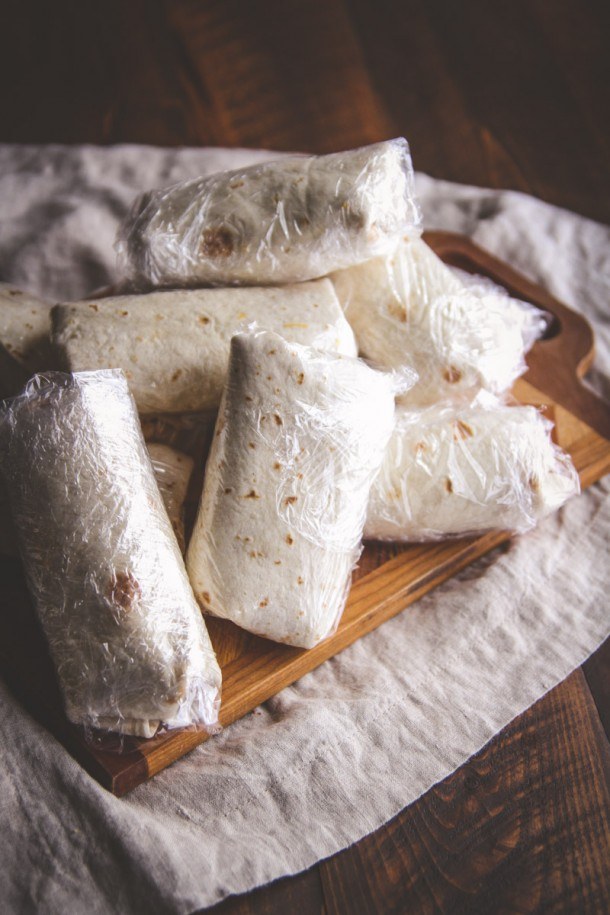 The best kept freezer meal secret are these super simple-to-make, frozen vegetarian burritos. Store them in a big plastic bag in your freezer and grab them for breakfast, lunch or a hearty snack! Make your weeknights more relaxed with any one of our other delicious make-ahead vegetarian meals.
Get Vegetarian Freezer Burritos Recipe Here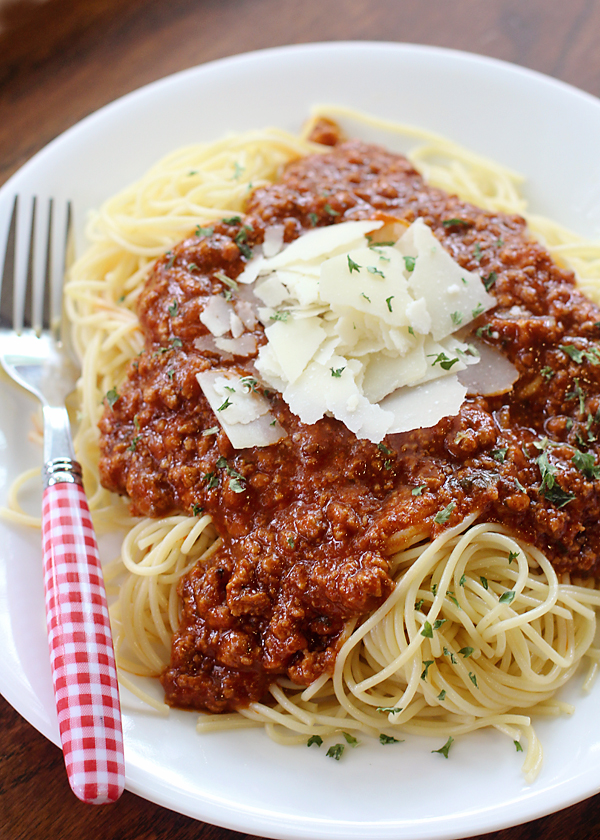 Create a comfort dish you'll crave with one of the best frozen meals out there. Freeze your from-scratch spaghetti sauce ahead of time and reheat it for a weeknight dinner.
Get Spaghetti Sauce Recipe Here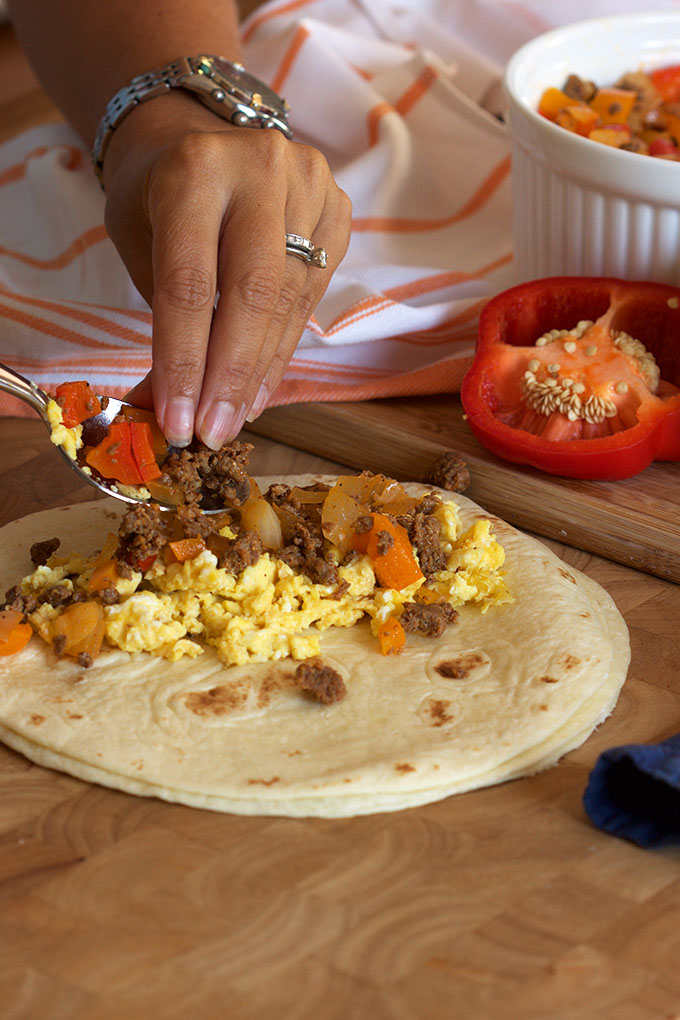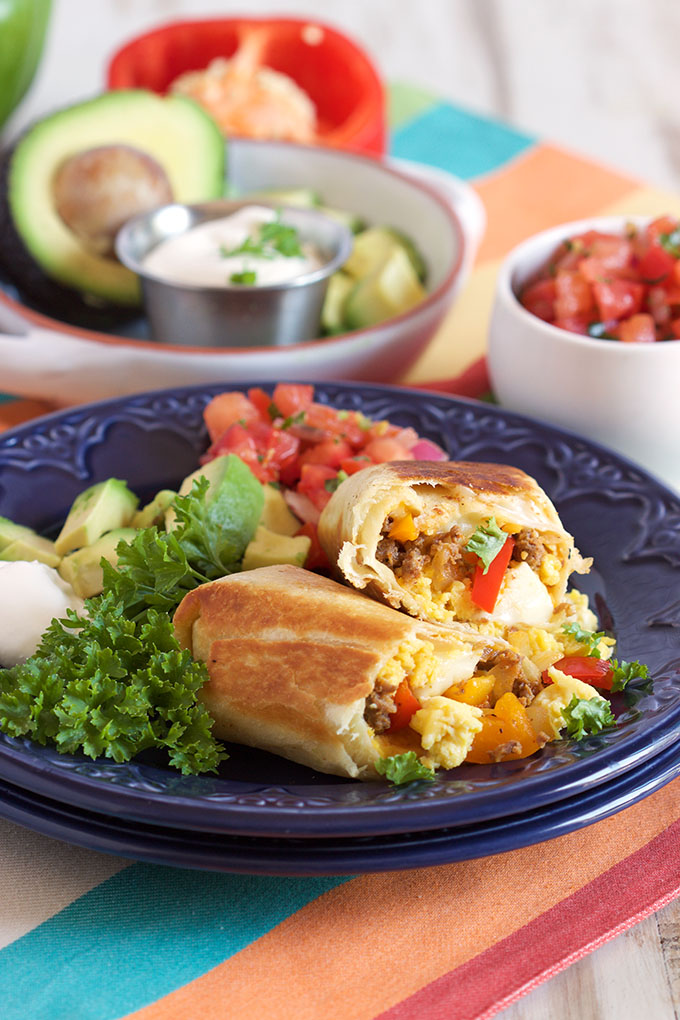 These are so easy to make and they save a whole load of time for weekday breakfasts. What's better than chorizo sausage, scrambled eggs, peppers, onions and a whole lotta cheese?
Get Freezer Chorizo Breakfast Burritos Recipe Here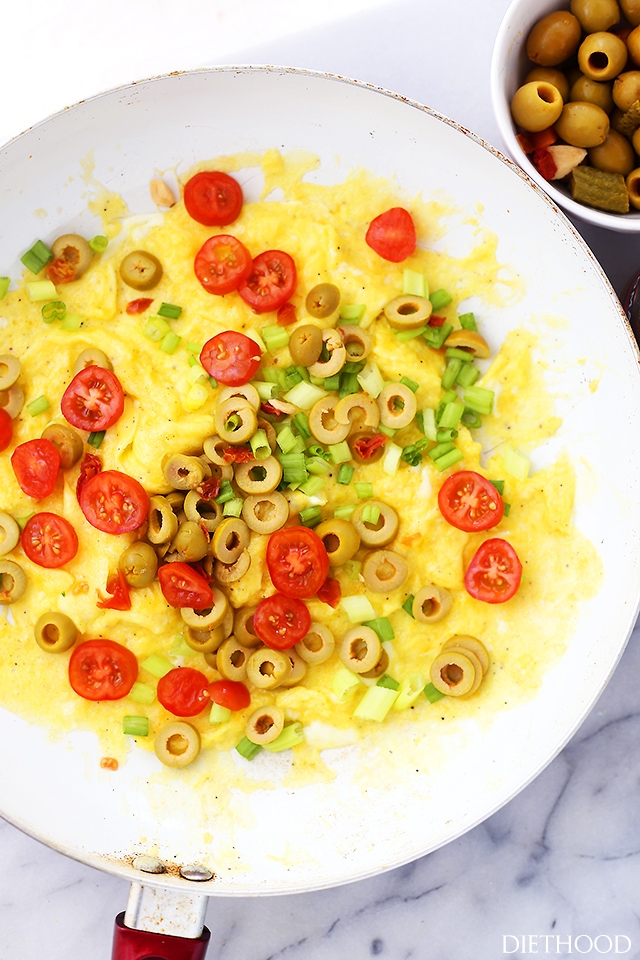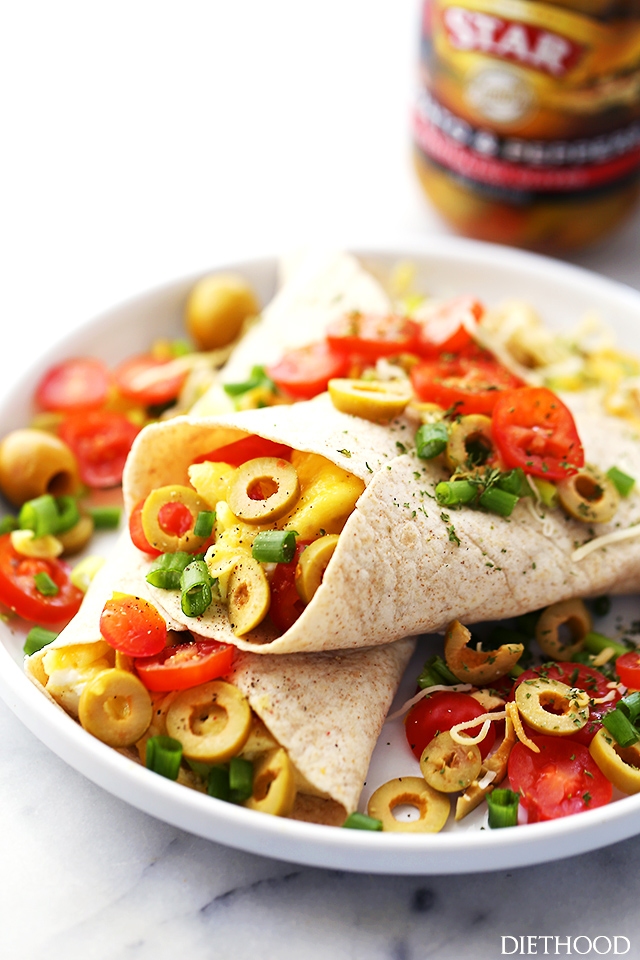 Easy frozen burritos with a mediterranean twist! Pop these texture-packed bites of flavor into the microwave and eat on the go!
Get Breakfast Burritos Recipe Here
Looking for more freezer meal tips to help you easily prep for your busy family?