Two Easy 20-Minute Meal Recipes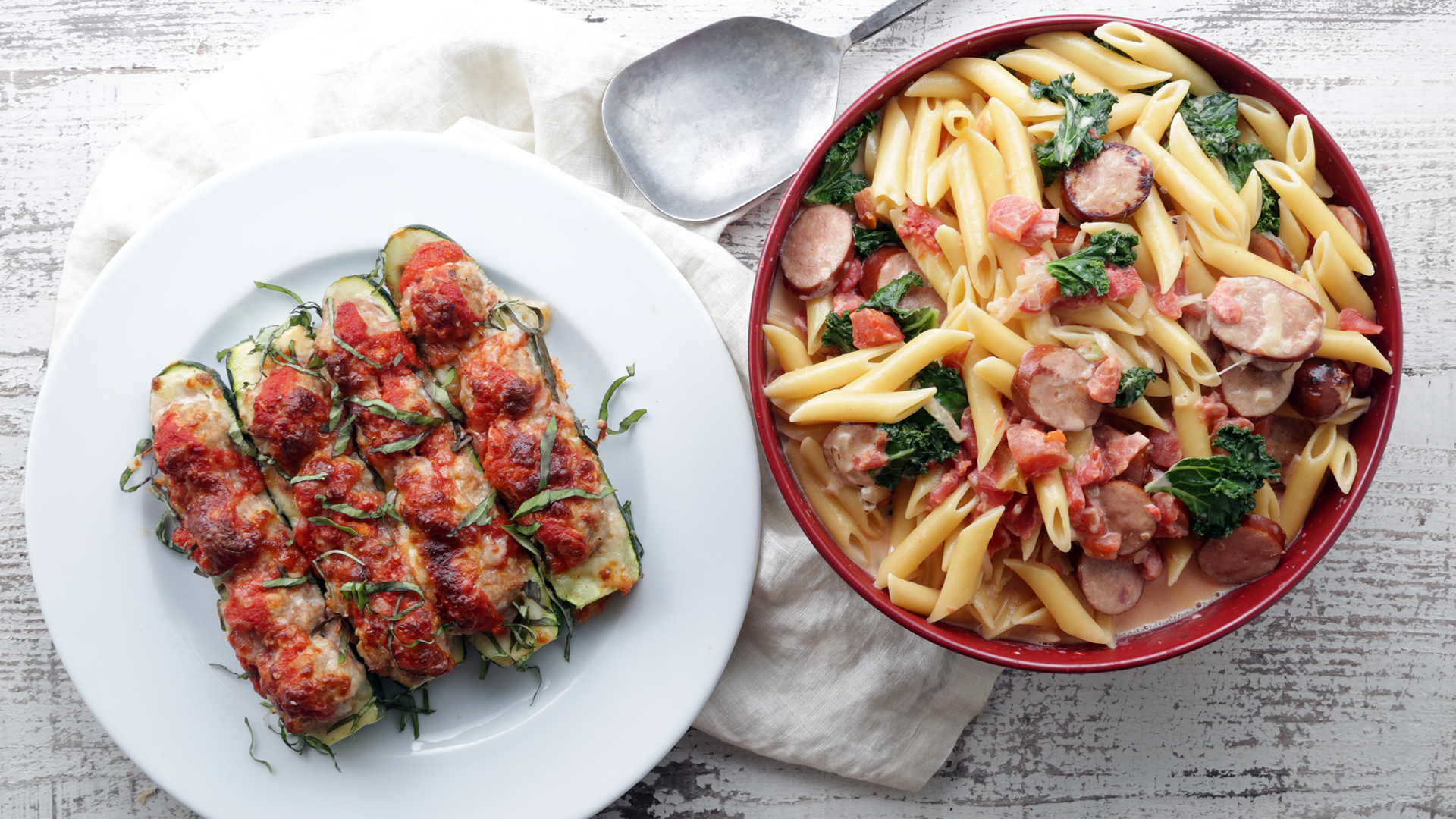 Forget the 30-minute meal, we're onto bigger and better (or faster and easier?) like the 20-minute meal! Try my zucchini boats with turkey meatballs or one pot creamy pesto pasta the next time you're looking for a quick and easy dinner idea!
The only difference really between the two is cooking times. There is always still a bit of prep, which is minimal, and then the cooking process which is 20 minutes or less. Often in my household, the faster the better, but it's sometimes hard to get a delicious tasting nutritional meal that I can be proud of in that amount of time. I'm sure if you're a parent then you can completely relate. Kids are hungry, your spouse is coming home from work… I mean, there is a lot going on so quick is great!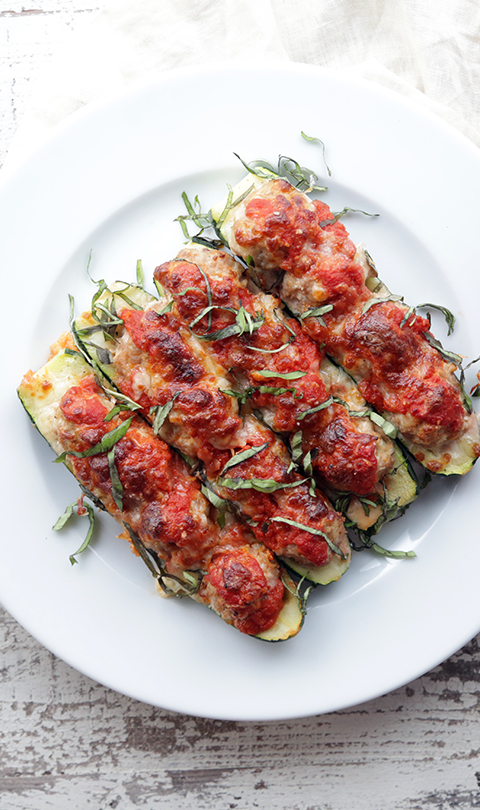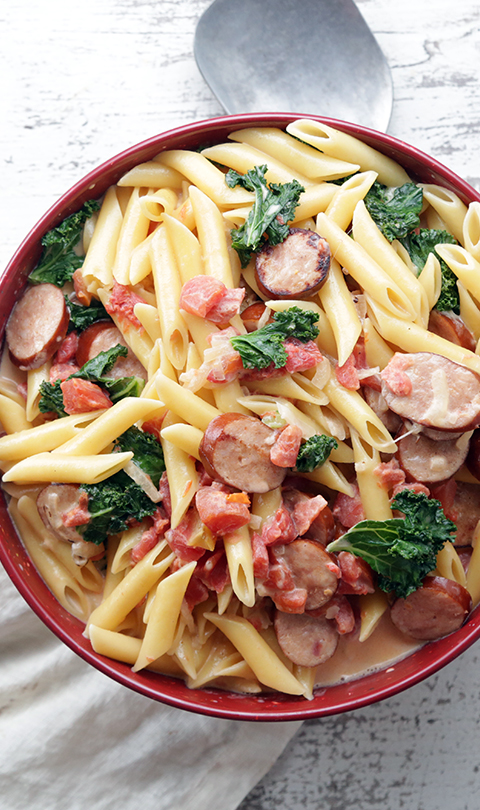 I made these two really easy 20-minute meal recipes for those folks looking for some great tasting quick to make meals.
The first one is a zucchini boat stuffed with turkey meatballs and topped off with a marinara sauce and shredded mozzarella.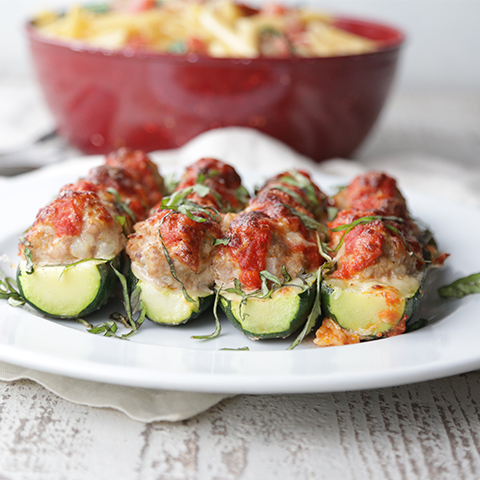 Meatball Marinara Zucchini Boats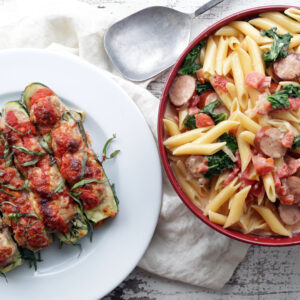 INGREDIENTS
2 pounds of ground turkey

½ peeled and small diced yellow onion
1 egg
5 zucchini cut in half long ways, seeds scooped out
2 cups of marinara sauce
8 ounces of shredded mozzarella cheese
2 tablespoons of chopped fresh basil
Kosher salt and fresh cracked pepper to taste
INSTRUCTIONS
Preheat the oven to 425°.
Mix together the ground turkey, onion, egg and salt and pepper until completely combined and then roll 40 mini meatballs from it.
Place 4 meatballs into each halved and scooped out zucchini boat and place on a sheet tray.
Top off by evenly adding on some marinara sauce and sprinkle on some mozzarella cheese.
Bake at 425° for 20 minutes or until browned on top and the turkey is cooked through.
Garnish with basil and serve.
The second recipe is for a 1 pot pasta loaded with turkey kielbasa, kale, and tomatoes in a creamy pesto pasta.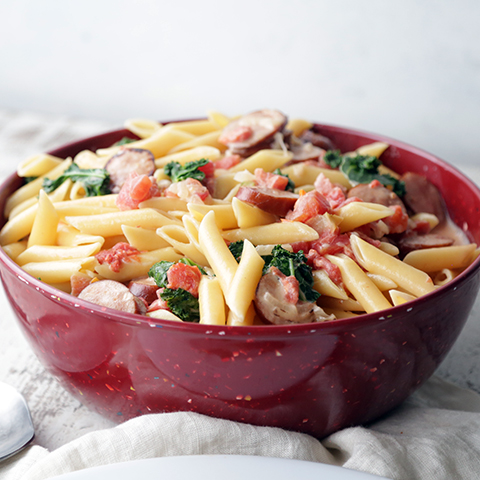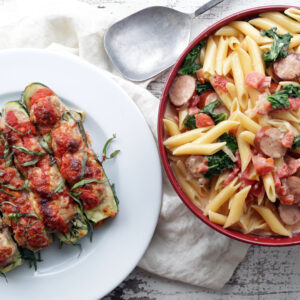 INGREDIENTS
1 tablespoon olive oil

½ peeled and sliced yellow onion
1 pound of sliced turkey kielbasa
32 ounces of chicken stock
2 cups of heavy whipping cream
2 cups of canned diced tomatoes, drained
1 pounds of penne pasta
8 ounces of smoked mozzarella cheese
2 cups of packed kale leaves
Kosher salt and fresh cracked pepper to taste
INSTRUCTIONS
Preheat the oven to 425°.
Heat the olive oil in a large pasta pot over high heat and add in the onions and kielbasa and sauté for 3 to 4 minutes lightly browning the onions.
Next add the stock, cream, tomatoes and pasta, and stir and cover and let simmer for 15 minutes or until the noodles are al dente, or slightly crunchy.
Remove from the heat, season with salt and pepper and fold in the cheese and kale.
Serve hot.
Both require minimal prep and cook in under 20 minutes! Happy Cooking!